It's quick and easy to have the best flakey 3 ingredient biscuits on the table in 20 minutes This simple rolled biscuit recipe and our tips for success will give you the best results, every time!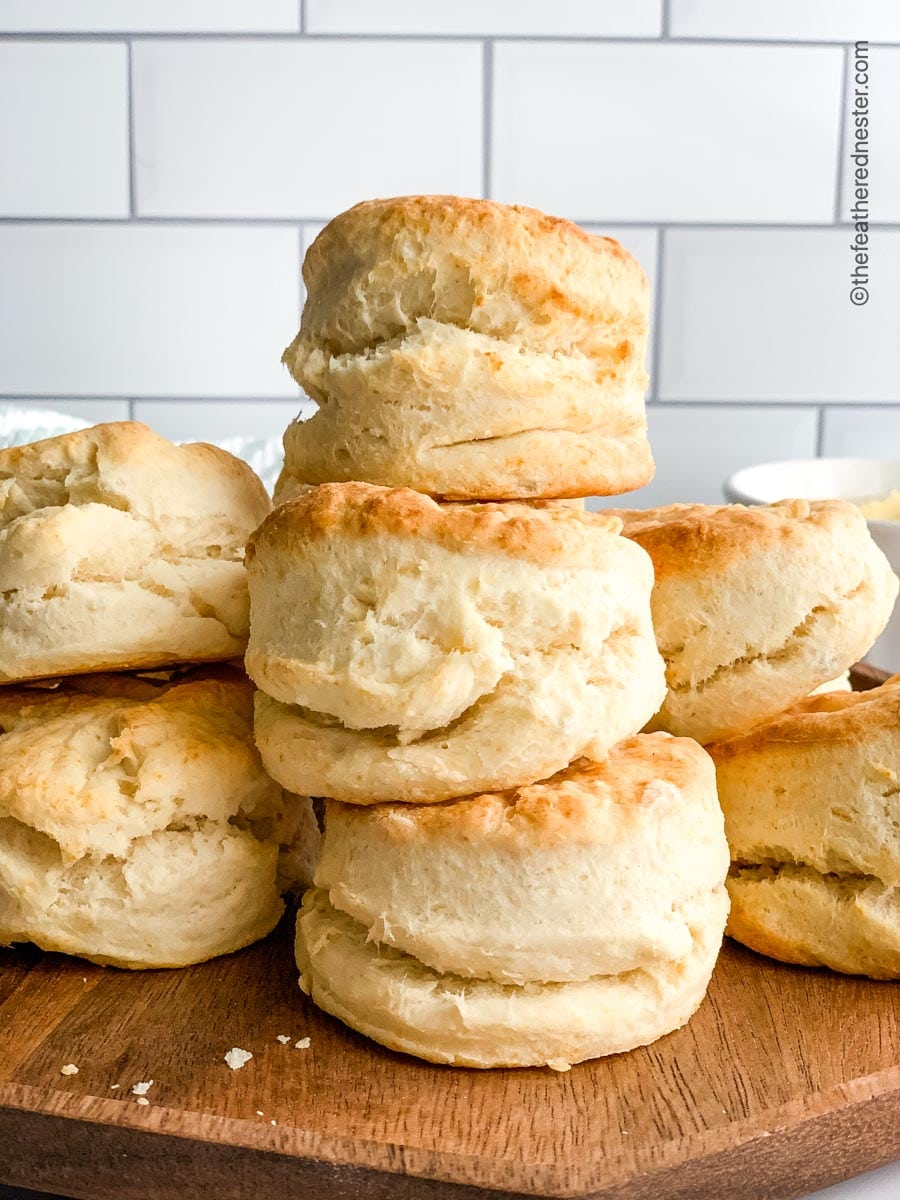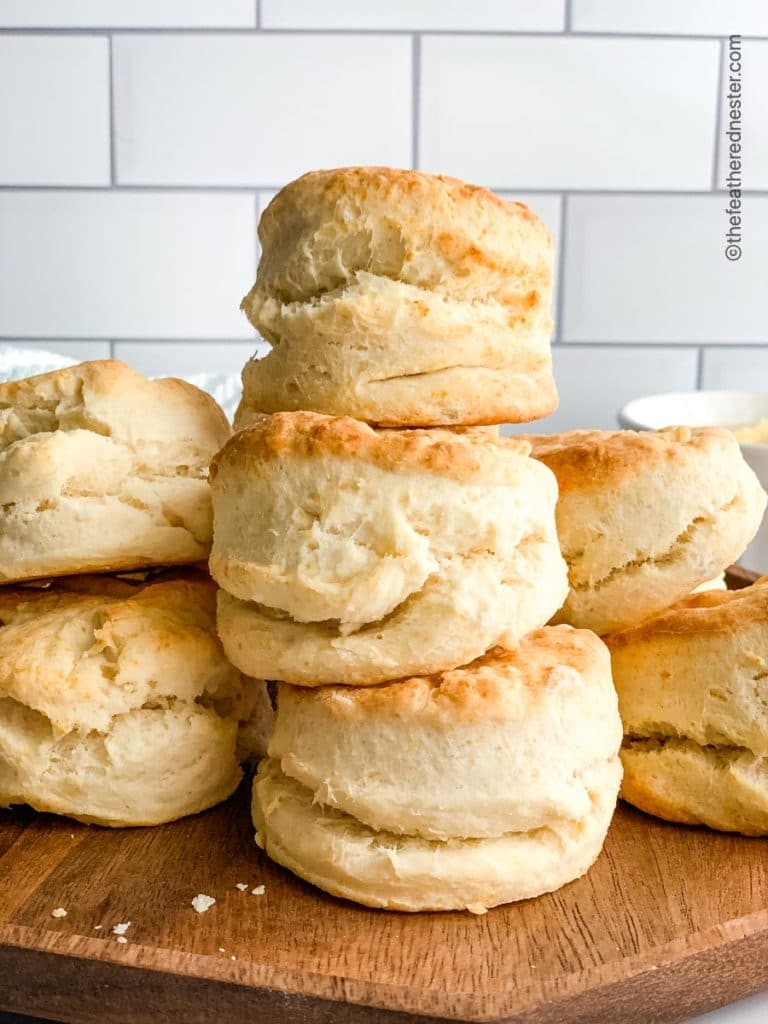 What You Need for 3 Ingredient Biscuits
Self rising flour (for all purpose flour, see below)
Heavy cream
Salt
That's it! If you don't have self rising flour in your pantry, see our post to learn how to make self rising flour.
Before you know it, you'll pull these delicious, flaky rolled biscuits out of the oven.
No heavy cream on hand? Make one of these recipes instead!

Tender buttermilk drop biscuits include buttermilk instead of cream. Or, make these drop biscuits that use milk and butter. For a little spicy kick, try our cheddar jalapeno drop biscuits.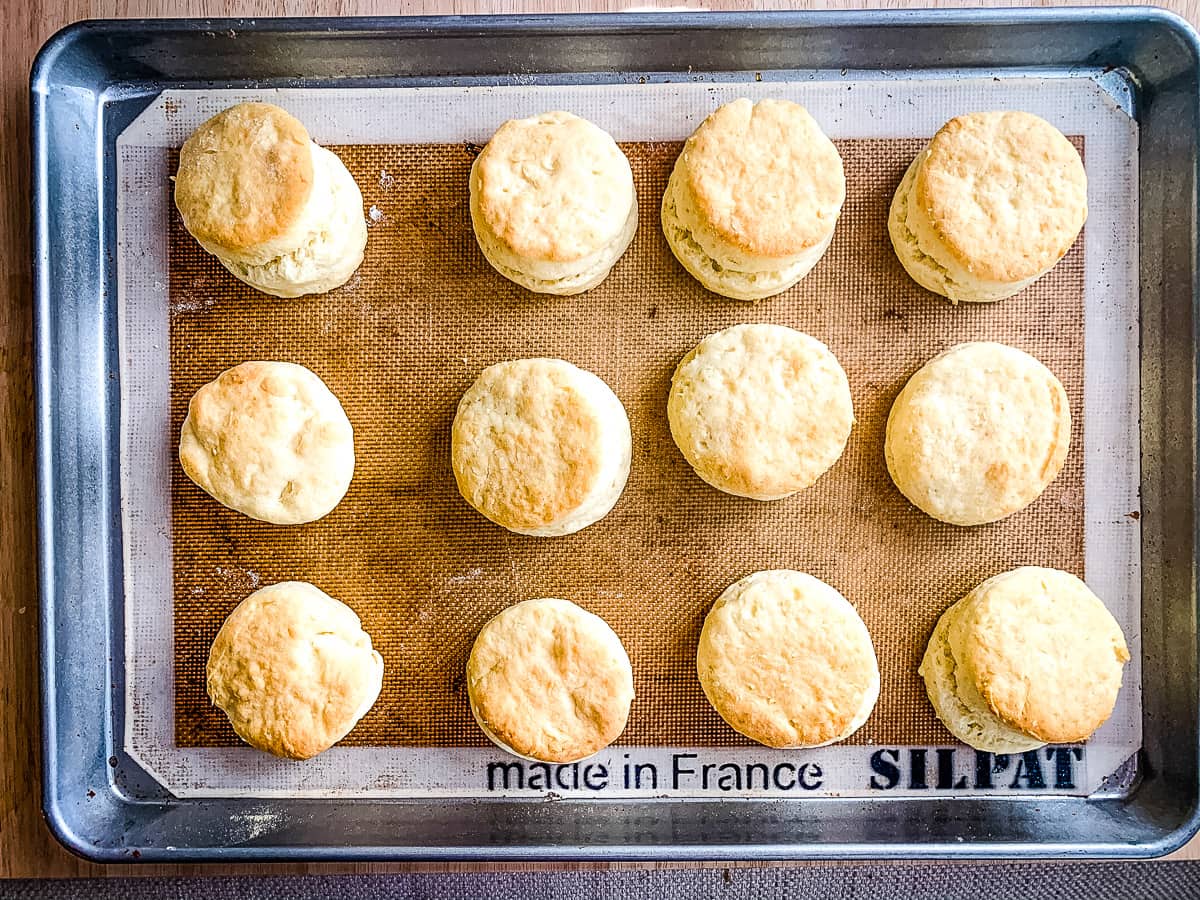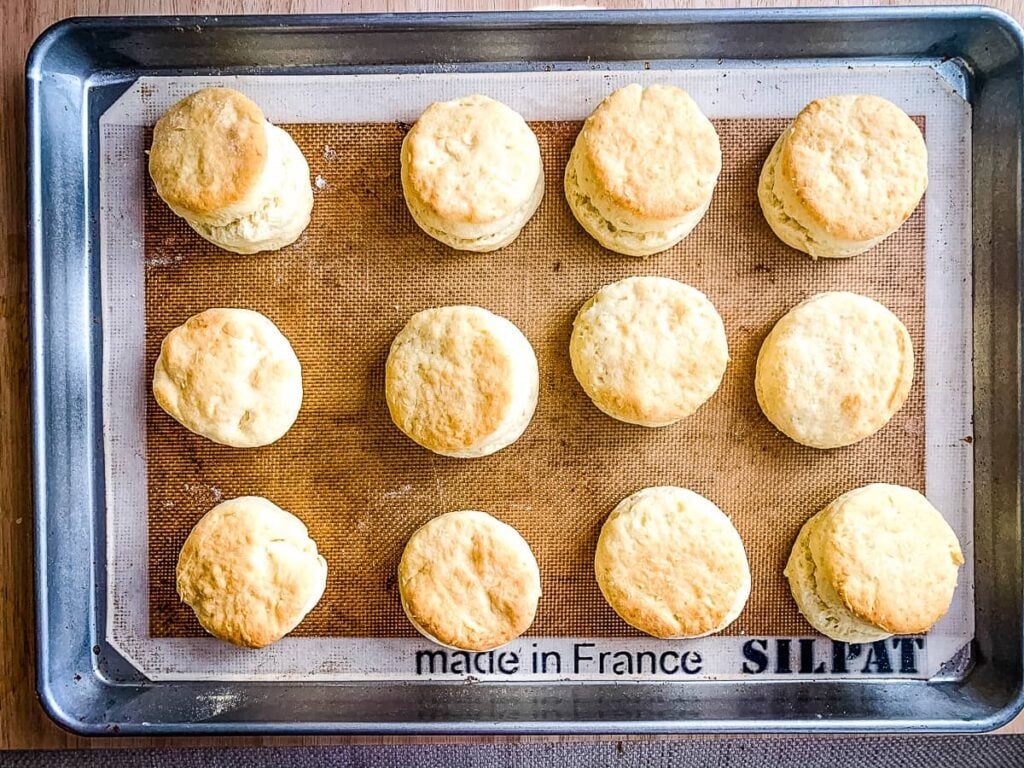 Tips for Success
Read on to discover my 3 simple tips for creating the perfect from-scratch biscuits in only 20 minutes using these 3 basic – but must have – ingredients.
Easy Baking Tip #1: The Flour
Initially, I thought self-rising flour was the secret ingredient for making the perfect biscuit. Then I began using organic flour, and I couldn't find an organic self-rising flour. So, I did what anyone would do and turned to Google.
Through a little research, I found that soft winter wheat is an ideal flour for making biscuit recipes. It's low in protein and has a lower gluten.
A search for organic soft winter wheat brought me to organic 00 flour. I already use that for pizza dough. But, after testing it out on the 3 ingredient biscuits recipe, it's now one of my favorite types of flour to use.
🎯 TFN Pro Tip
Make a batch of self rising flour from scratch. It's less expensive than buying it premade, and you'll have it on hand whenver you need it.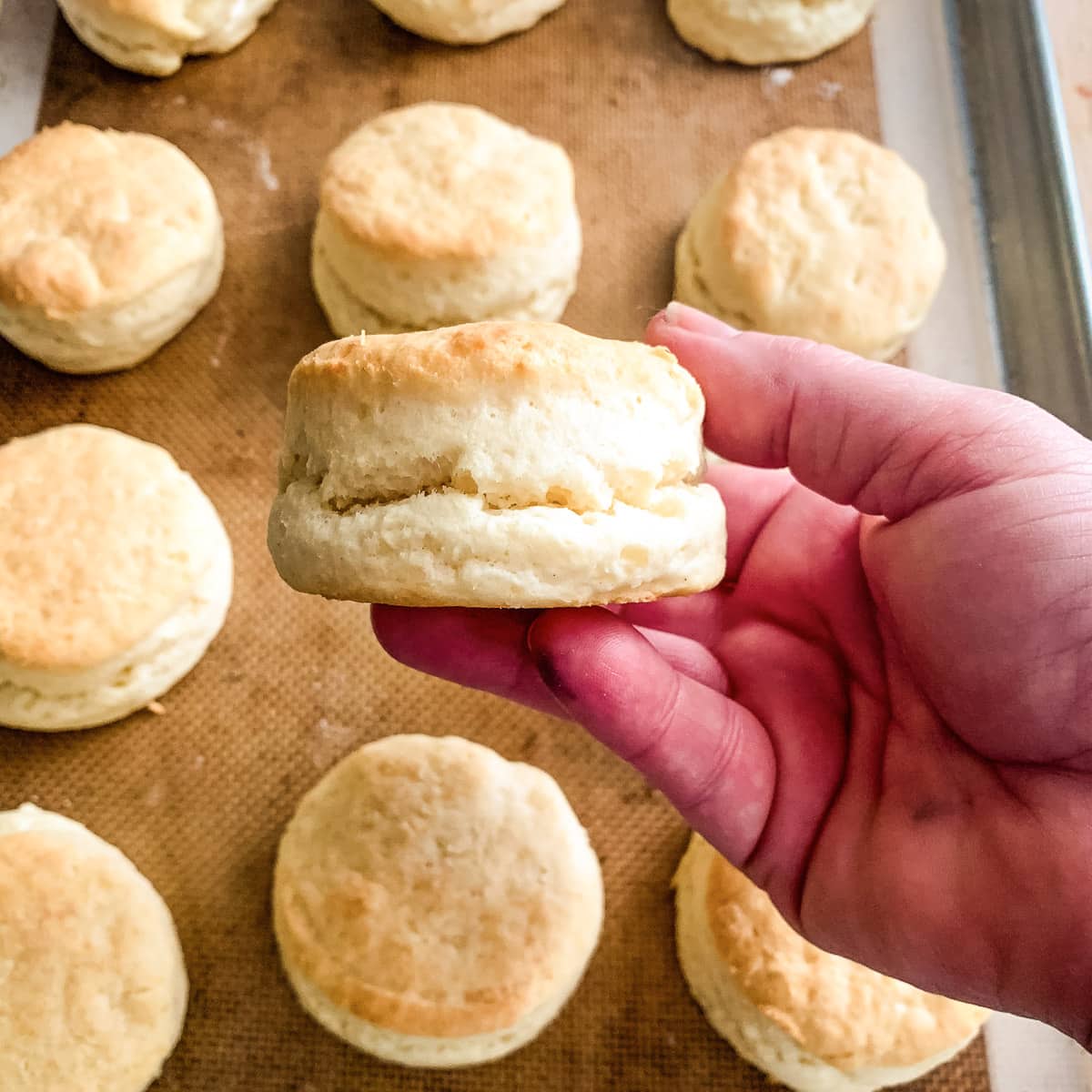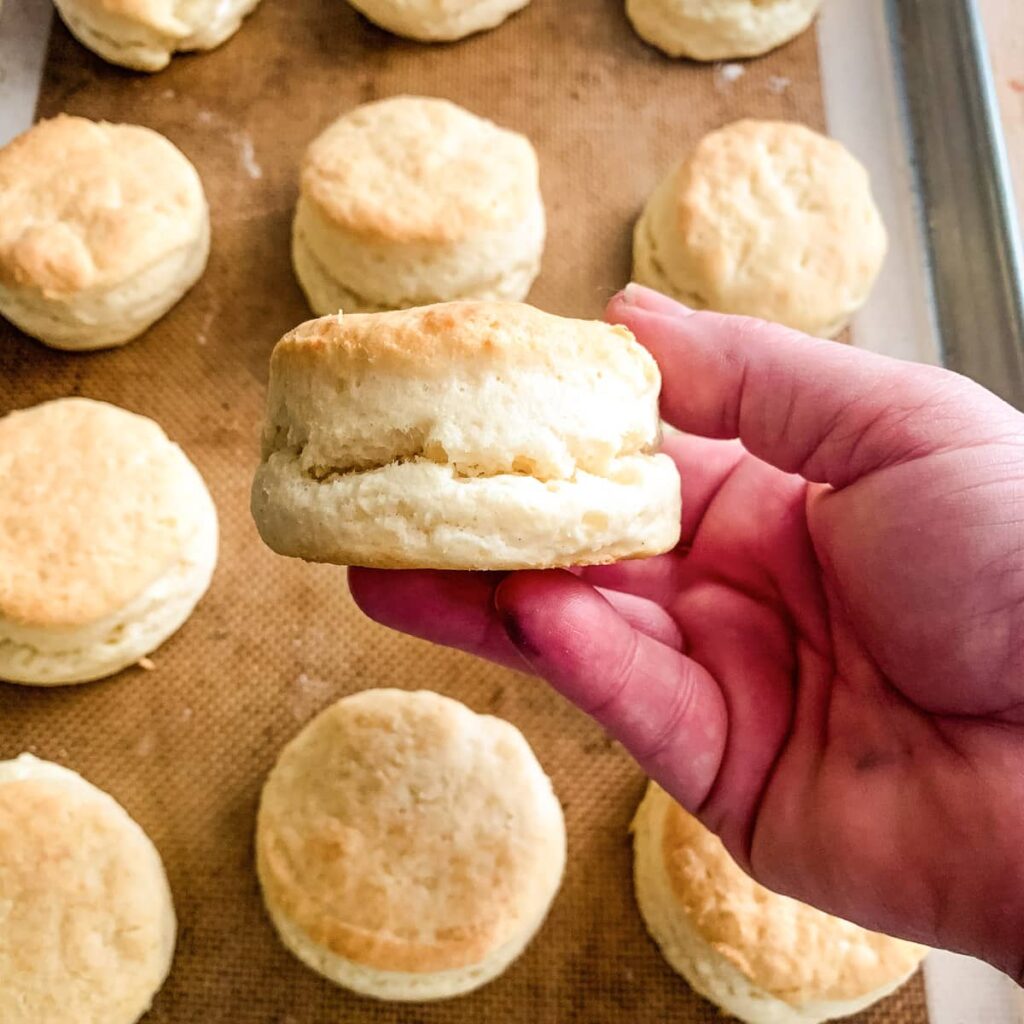 Easy Baking Tip #2: The Fat
Heavy cream is high in fat and is easy to use. You could use a combination of butter and buttermilk or milk to get that amount of fat. But, it requires more mixing.
Pouring in cold cream is just easier.
Trust me. You don't want to try substituting whole or low-fat milk for heavy cream in this simple biscuit recipe! Heavy cream makes all the difference in the world for the best moist and flaky biscuits.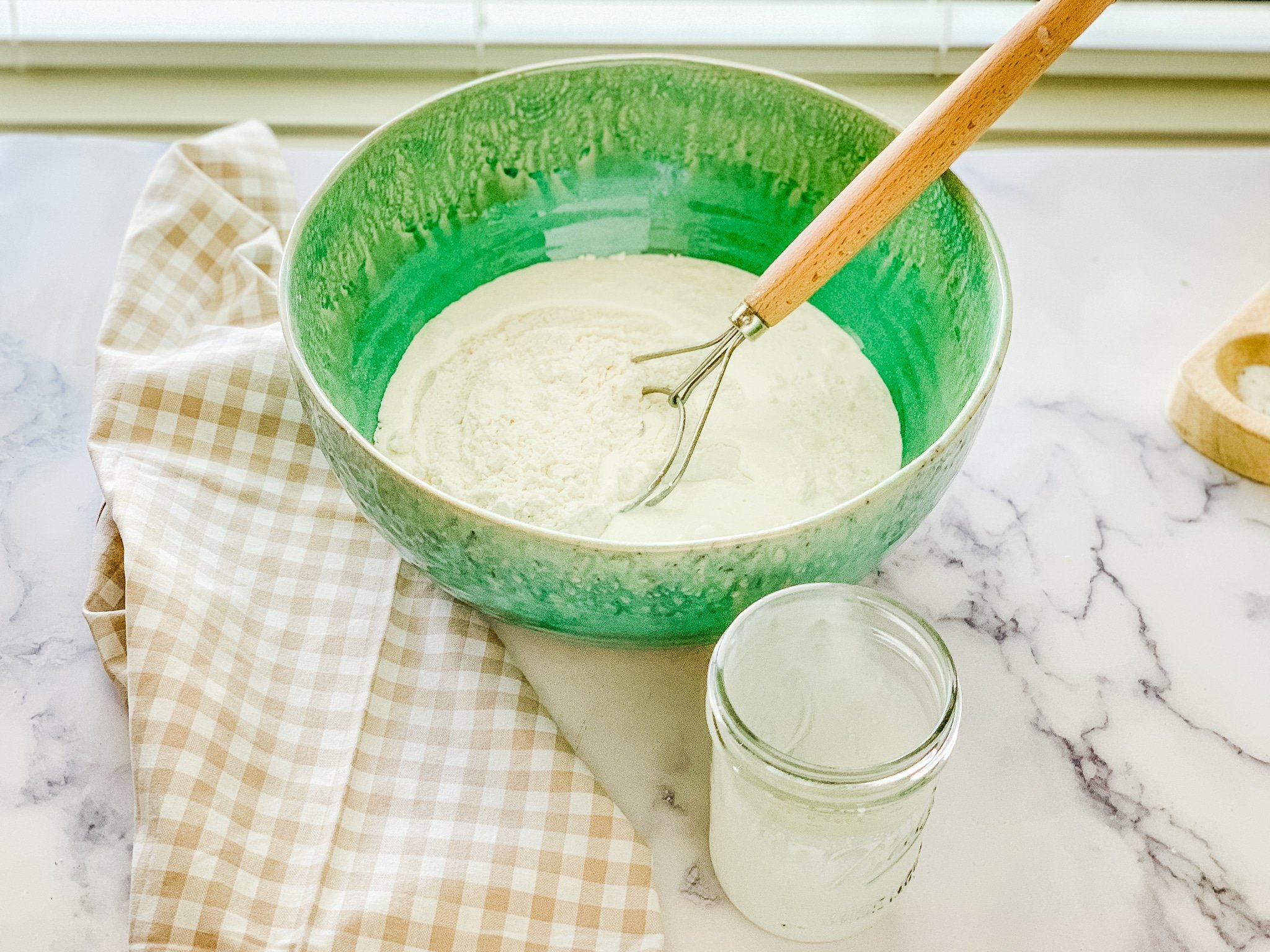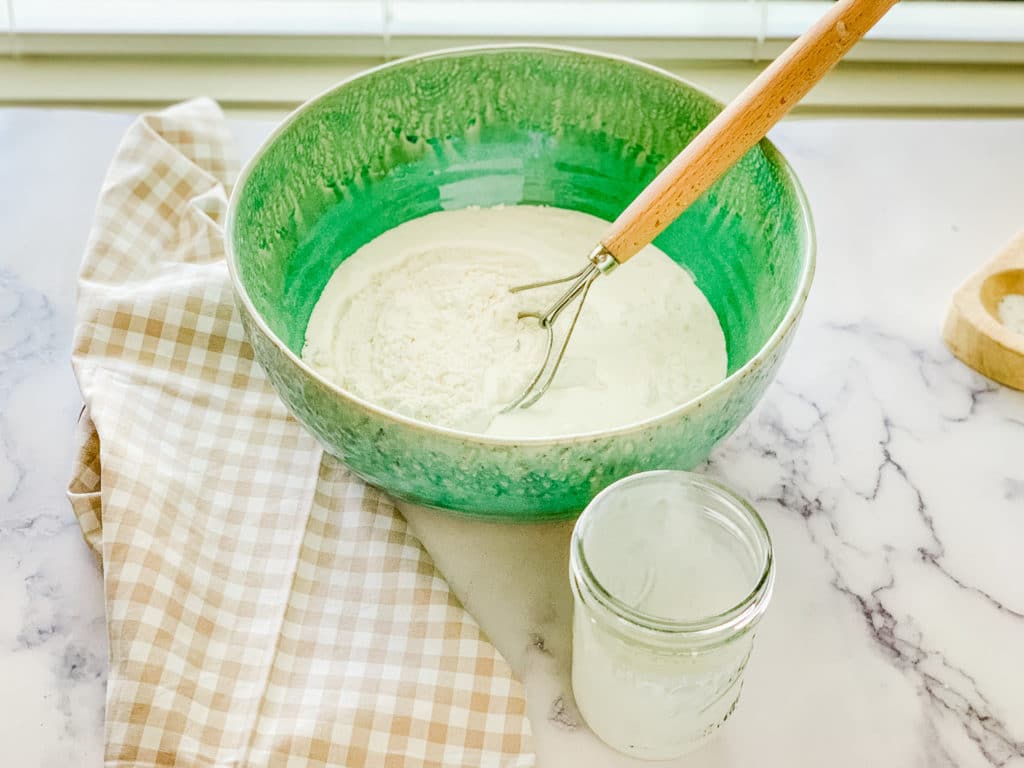 Here's a quick comparison: heavy cream contains 36-40% milk fat, while whole milk has 3.5-4% milk fat. When making biscuits with just 3 ingredients, the right amount of fat is essential for the flakiest texture!
Or, you can even add a pat in the middle before baking to give them that buttery taste.
Easy Baking Tip #3: The Techniques
There are two simple techniques to achieve fluffy, flaky homemade 3 ingredient biscuits.
The first important technique is folding.
The dough is patted out flat and folded like a letter several times over to create those beautiful layers.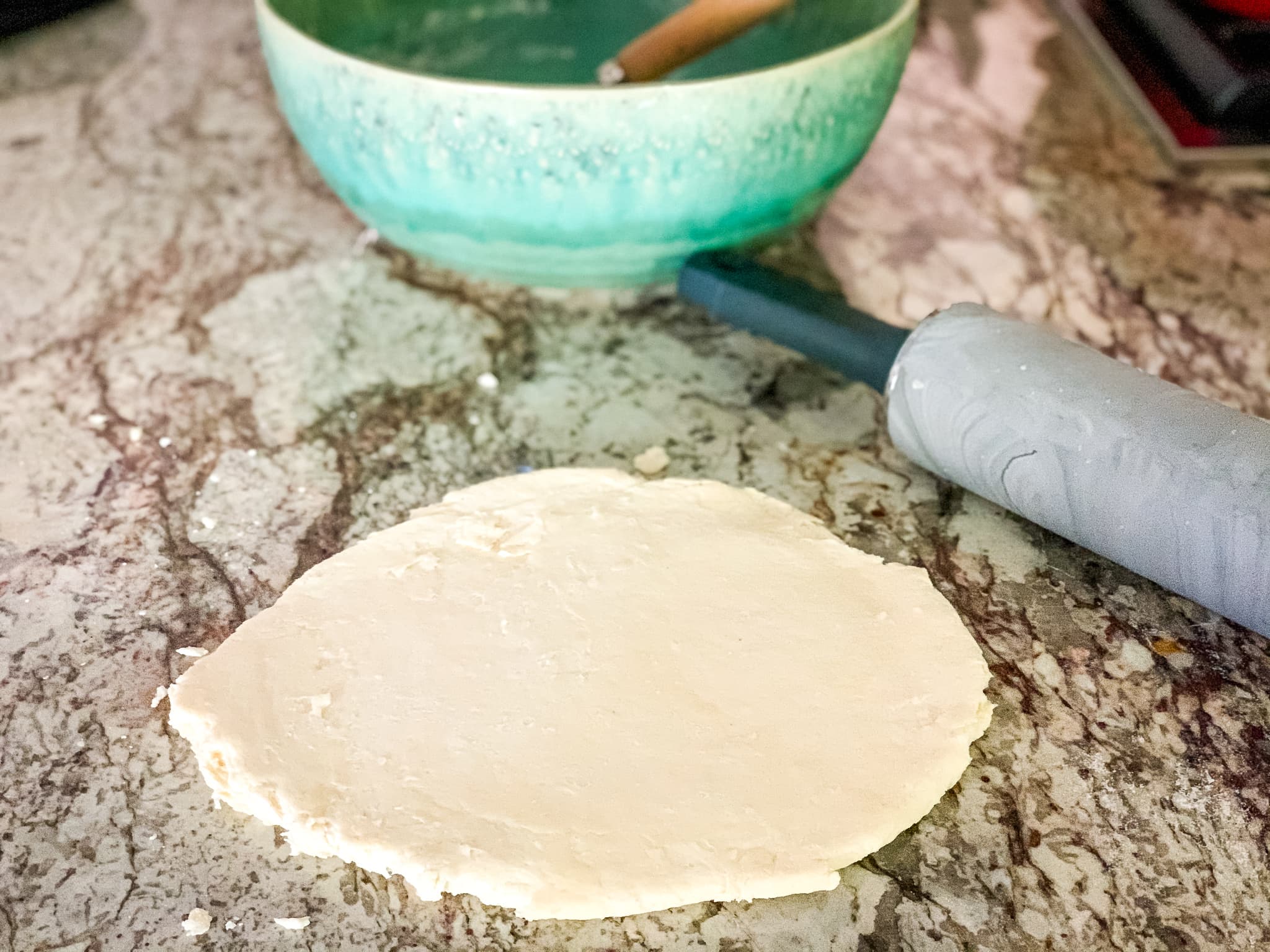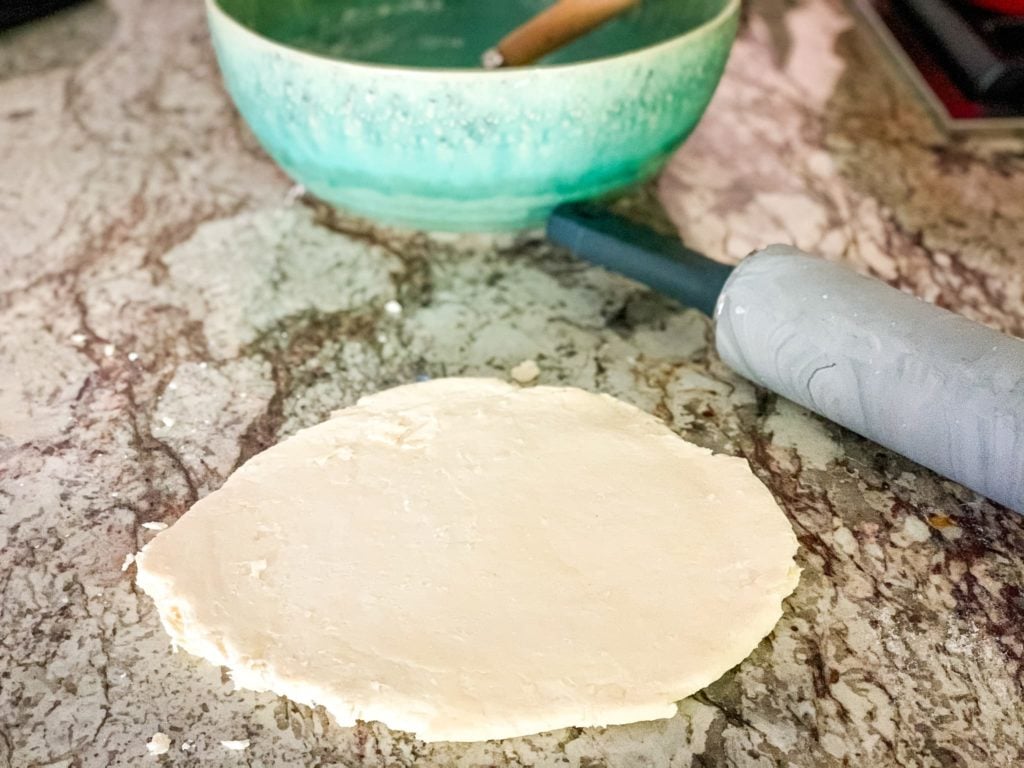 The second technique to perfection is properly cutting the dough.
Press down and come straight up when you are cutting out the biscuits from the dough. Do not twist the cutter! Moving the cutter side to side seals up the edges and prevents them from rising.
So, it's straight down and up for the highest rise!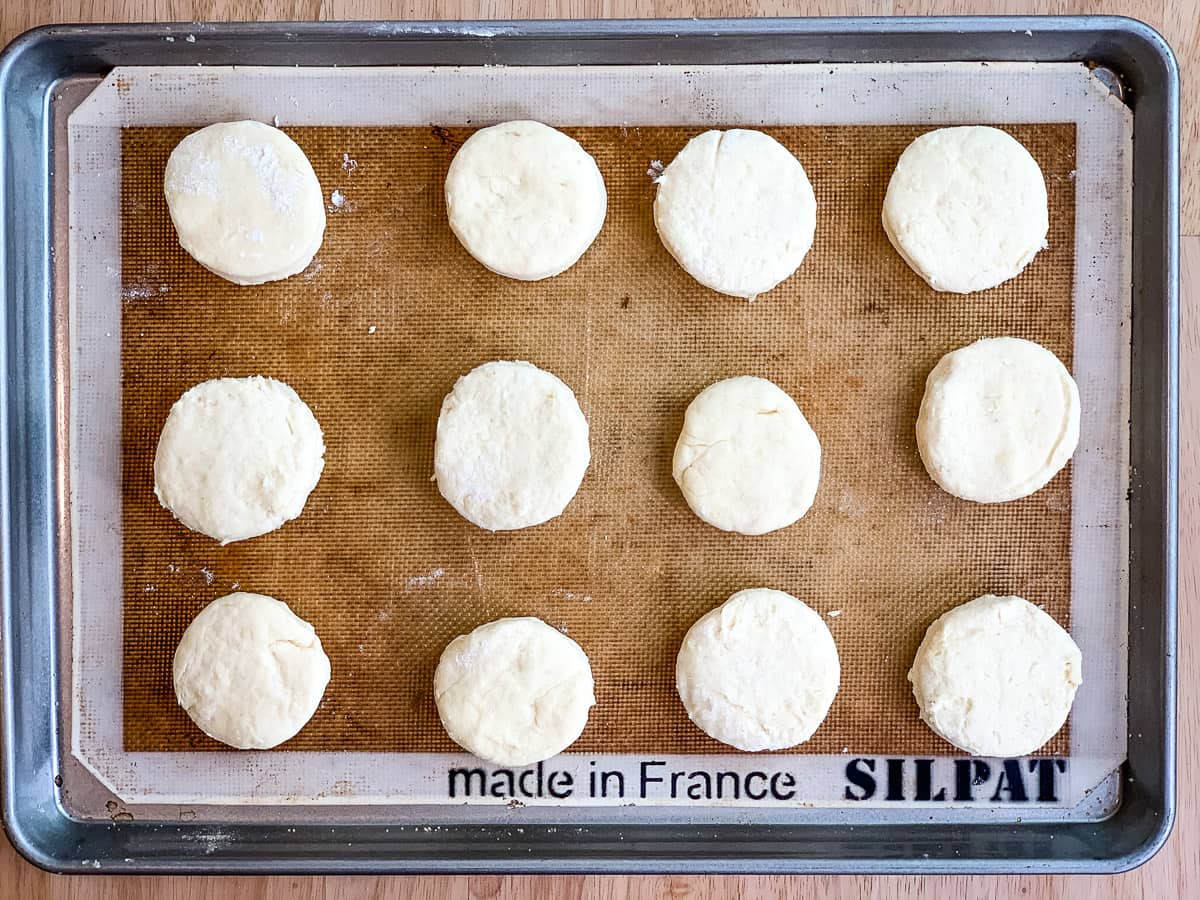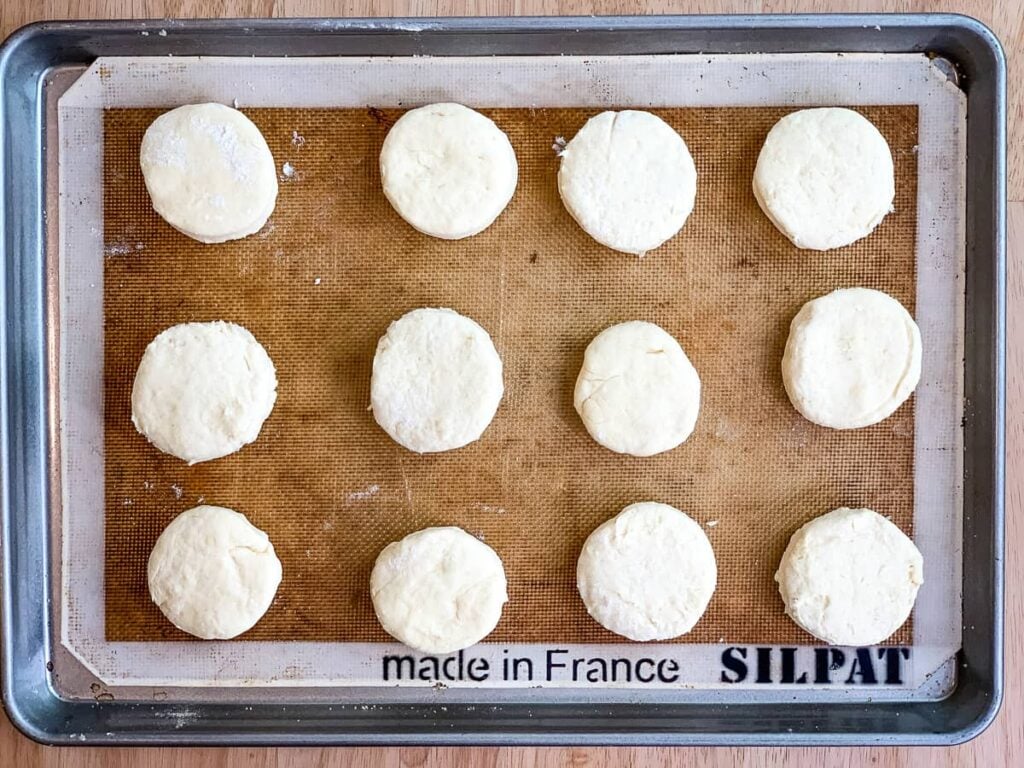 Additional Recipe Tips for the Best Biscuits
Consider using a food processor to mix the ingredients, especially if your kitchen is warm. On the other hand, keeping the dough as cool as possible is essential during preparation. So, the less you handle the dough, the better.
Heavy cream is an essential ingredient. It has a high-fat content (36%-40%). Compare that to milk's fat content of 3-4% for whole milk and 2% for low-fat.
Use a cast-iron skillet for baking instead of a sheet pan to create "cathead" style pull-apart biscuits.
A hot oven is essential for the best rise possible. Wait until your oven is to temperature before adding the pan of 3 Ingredient biscuits.
Now that you know the easy baking tips for making the perfect 3 ingredient biscuits let's make a batch – or two!
Other Easy Recipes with Self Rising Flour
These baked treats are both easy to make and delicious for breakfast or an afternoon snack.
Cranberry Almond Scones
Self Rising Flour Banana Bread
Biscuit Recipe FAQ
How do you make biscuits rise evenly?
Space the unbaked dough 2 inches apart on the baking sheet. This allows air to circulate around and between the dough, creating more rise!
How do you make biscuits taste better?
If you want the most luscious results ever, brush the tops with melted butter after they come out of the oven. It will melt into the bread, resulting in a buttery flavor in every bite.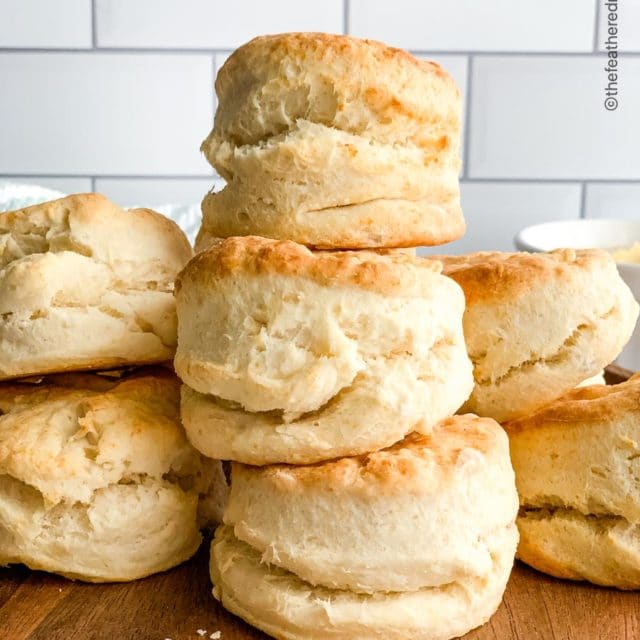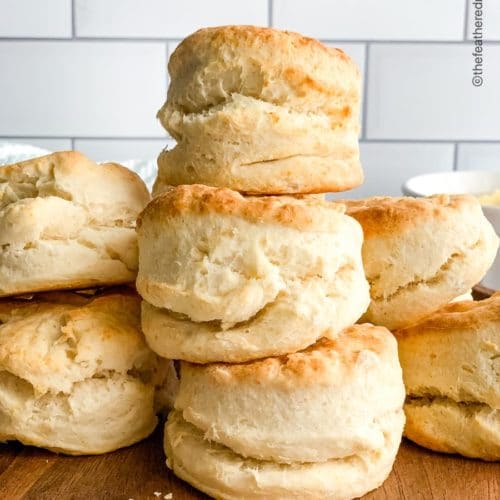 3 Ingredient Biscuits
Use our pro tips to make flaky, delicious 3 ingredient biscuits for breakfast in just 20 minutes. Top them with homemade sausage gravy!
Ingredients
2 cups self-rising flour (see notes for all-purpose flour)
1 ½ cups heavy cream (don't substitute milk, heavy cream is a must!)
½ teaspoon sea salt
Instructions
Keep cream in the fridge until you're ready to use it.

Add flour and salt to a medium bowl. Pour in cold cream and stir with a heavy wooden spoon until mixed. Preheat oven to 475 degrees.

Dump bowl onto a counter and scrape out any remaining dough or flour. Pat into a rectangle about 2" thick. Fold in thirds, turn 1/4 and fold again, continuing 3 times.

Cut biscuits with a 3" biscuit cutter. Press down and bring straight up. Do not twist biscuit cutter. Pat excess dough out, cut, and repeat process again.

Place biscuits on a cookie sheet about 2" apart. Bake for 12 minutes, until golden. Brush with butter. Serve warm.
Notes
You can use all-purpose flour in place of self-rising flour, with these additions: 2 cups of all-purpose flour, 1 tbsp baking powder, 1/2 tsp fine salt. Mix well.
Nutrition
Serving: 1biscuit | Calories: 267kcal | Carbohydrates: 24g | Protein: 5g | Fat: 17g | Saturated Fat: 10g | Cholesterol: 61mg | Sodium: 308mg | Potassium: 65mg | Fiber: 1g | Sugar: 1g | Vitamin A: 656IU | Vitamin C: 1mg | Calcium: 34mg | Iron: 1mg
PIN THIS POST!
---