If you click on a link and make a purchase, I may receive a small commission at no extra cost to you. See my disclosure policy here.
It's easy to make perfect, light and fluffy Cheddar Jalapeno Drop Biscuits from scratch. Just mix 5 simple ingredients, drop spoonfuls of dough on a baking sheet, and bake. In only 15 minutes you have the softest, lightest, cheesiest cheese biscuits EVER – with a hint of mild spice (or not). Keep reading to learn how to make the easiest homemade jalapeno cheese biscuits!
Jump to Recipe
Easy and Fast Homemade Biscuits from Scratch
For years, making the perfect homemade biscuit eluded me. I didn't understand the purpose of cold butter and a hot oven, or how to mix the cold butter in with the dough. Well, it turns out you actually don't need to know any of that to make the best flaky and tender biscuits at home.
Last year, I shared a recipe for Easy 3 Ingredient Biscuits. It quickly became my most popular blog post. After all, people – myself included – can be intimidated by making biscuits from scratch.
In that recipe, I share my three baking tips for making the easiest and tallest biscuits imaginable.
I didn't think that I could ever top that recipe for making easy biscuits. But, these Cheddar Jalapeno Drop Biscuits do. They're everything we love about biscuits with cheesy and spicy goodness.
If cheesy, spicy goodness isn't your thing, check out my Easy Drop Biscuit recipe. With only 3 ingredients, they are ready in under 20 minutes!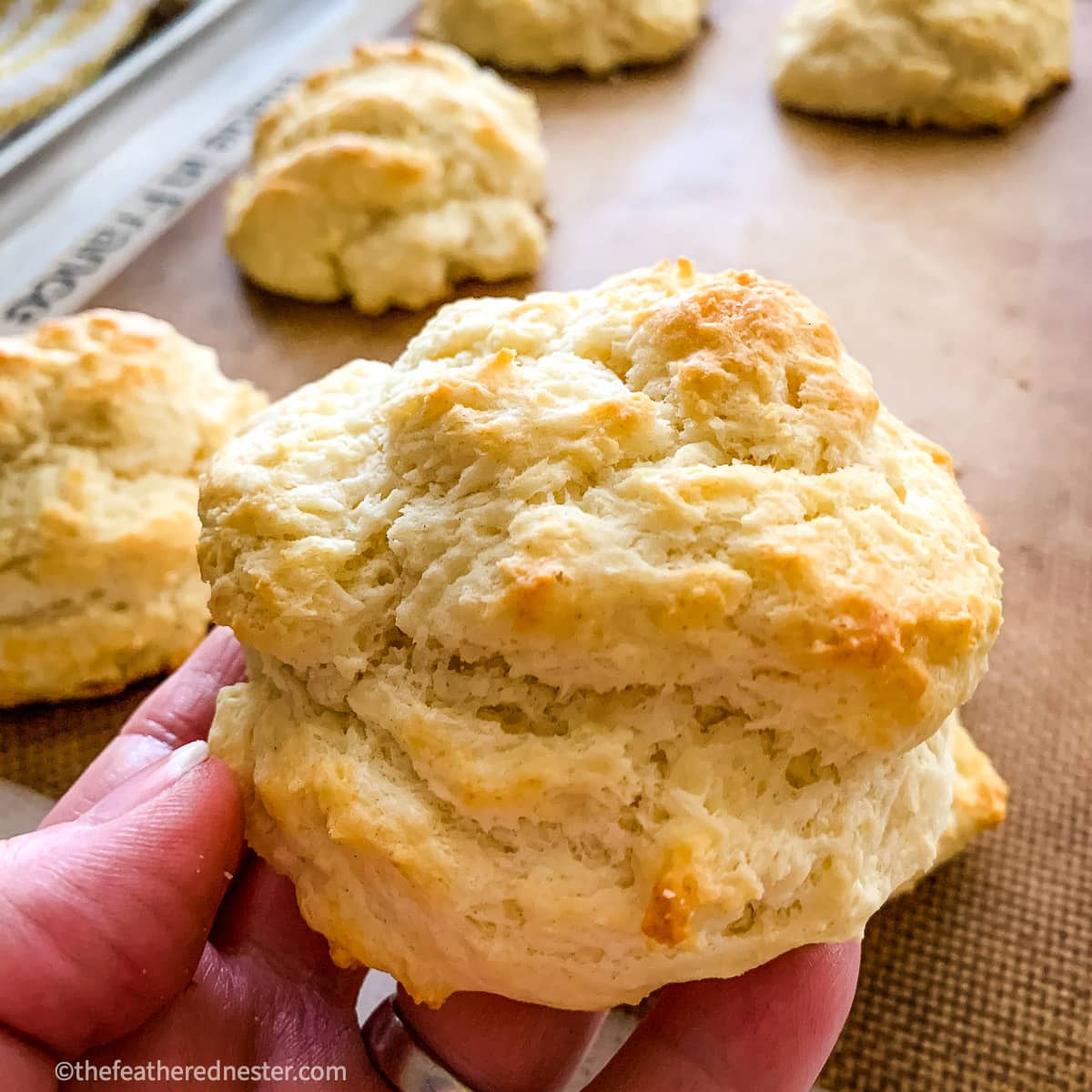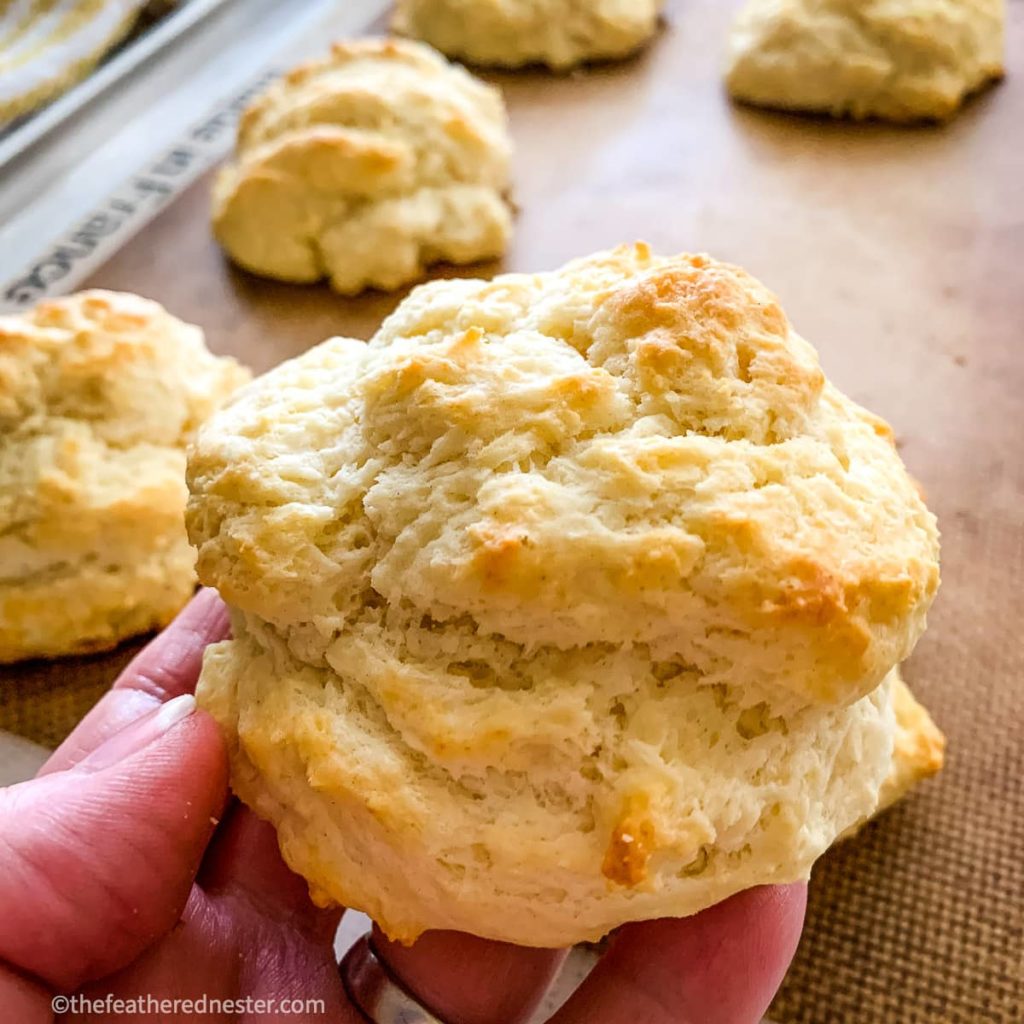 As I mentioned, learning to make great biscuits didn't come naturally to me. Sure, I saw my grandma making biscuits, but I never made them myself.
When my husband and I were first married, I tried making biscuits several times. it was hard to "cut" in the butter, so I decided to melt it in the microwave first.
After several batches of hockey pucks (as my husband fondly called them) I gave up making biscuits altogether.
Well, I don't want that to happen to you! These biscuits are truly quick and easy, plus I'm going tell you exactly how to make them using a simple drop dough method.
And, guess what? This Cheddar Jalapeno Drop Biscuit recipe does use melted butter.
What are Drop Biscuits?
After my failed venture of biscuit making as a young bride, I got rid of my round biscuit cutters and didn't have any for years. And, maybe you don't have any biscuit cutters, either.
If not, your two choices are to make rolled biscuits and cut them with a knife for square biscuits. Or, you can make easy and delicious drop biscuits like these Cheddar Jalapeno Drop Biscuits.
So, what exactly are drop biscuits? Well, biscuits (or scones) generally fall into two types: cut biscuits and drop biscuits.
When making cut biscuits, you use a biscuit cutter or knife to separate the dough into biscuits. For drop biscuits, you drop the batter into a lump right on the baking sheet.
The result is a moist and tender, fluffy and light, rustic-style biscuit. While they aren't as perfectly round as cut biscuits, drop biscuits have all the same great flavor and crumbly texture you crave – but with way less effort!
Ingredients for Cheddar Jalapeno Drop Biscuits
You really only need 5 simple ingredients to make the best jalapeno cheese biscuits recipe from scratch! These turn out perfectly flaky, and flavorful every time.
Here's what you need:
Self-rising flour (more about this below)
Milk
Butter
Cheddar cheese
Jalapeno pepper
Self-Rising Flour Drop Biscuits
Self-rising flour is an essential ingredient to making these jalapeno cheese drop biscuits. If you love making easy biscuits from scratch, then add a bag of self-rising flour to your shopping cart. But, thankfully, it is actually really easy to make your own self-rising flour.
How to Make Self-Rising Flour from All-Purpose Flour
Making self-rising flour takes only a few simple ingredients. If I run out of self-rising flour, I usually mix up a batch to keep on hand until I can get to the store.
How to make your own self-rising flour: Combine 4 cups of flour, 2 tablespoons of baking powder, and 1 1/2 tablespoons of salt. Mix well, and store in a container at room temperature for up to 6 months.
Easy Homemade Drop Biscuits with Cheese and Jalapeno
These Cheddar Jalapeno Drop Biscuits are the easiest homemade biscuits recipe. If there is such thing as a dump and bake biscuit recipe, this is it.
They are just as easy as a packaged mix. But these cheesy drop biscuits made from scratch and have way more yummy flavor than store bought boxed versions. Real cheese makes all the difference, and adding a bit of fresh jalapeno provides a tasty hint of spiciness.
Time needed: 20 minutes.
How to make these easy Jalapeno Cheese Drop biscuits
Mix the Biscuit Dough

First, add all ingredients to a medium bowl. Mix until the batter is relatively smooth, and no large lumps of flour are visible.

Drop Biscuits on Baking Sheet

Using a large spoon, mixing cup, or ice cream scoop, drop the batter onto a baking sheet. The biscuit dough should be about the size of a large golfball. Leave at least 2″ of space between the biscuits.

Bake

Bake at 400º F for 15 minutes. The biscuits should be golden and lightly browned on the bottom. Transfer to a baking sheet to cool.
Frequently Asked Questions
How do I know if I mixed the batter enough?
As long as there are no large lumps visible, it is mixed enough. Once the batter or dough hits the hot oven, the fat in the butter and cheese expand to give the biscuits their rise.
What can I do to make sure my biscuits are all the same size?
Use a 1/3 cup measuring cup instead of a large spoon to drop the biscuit batter. A large ice cream scoop is useful for measuring and uniformity, too.
Can I use lactose-free milk?
Yes, lactose-free milk will work fine in this recipe.
Will non-fat milk work in this recipe?
Non-fat milk will yield poor results with this recipe. The fat in the milk, combined with the fat from the cheese and baking soda in the flour, give rise to the biscuits. Biscuits made with non-fat milk will be flatter and denser.
I only have dairy-free milk. Can I use that?
Probably not. I tried this recipe with coconut milk and the biscuits were dry and crumbly.
Easy Cheddar Jalapeno Drop Biscuits
Now you know how to make biscuits from scratch using the super easy drop biscuit method! These homemade jalapeno biscuits with cheese are flaky, tender and loaded with cheesy flavor and the lightest kick of spice.
By using melted butter and self-rising flour, they are easy to mix, drop, and bake. With this Cheddar Jalapeno Drop Biscuits recipe, homemade is just as easy as any mix you can buy in the store.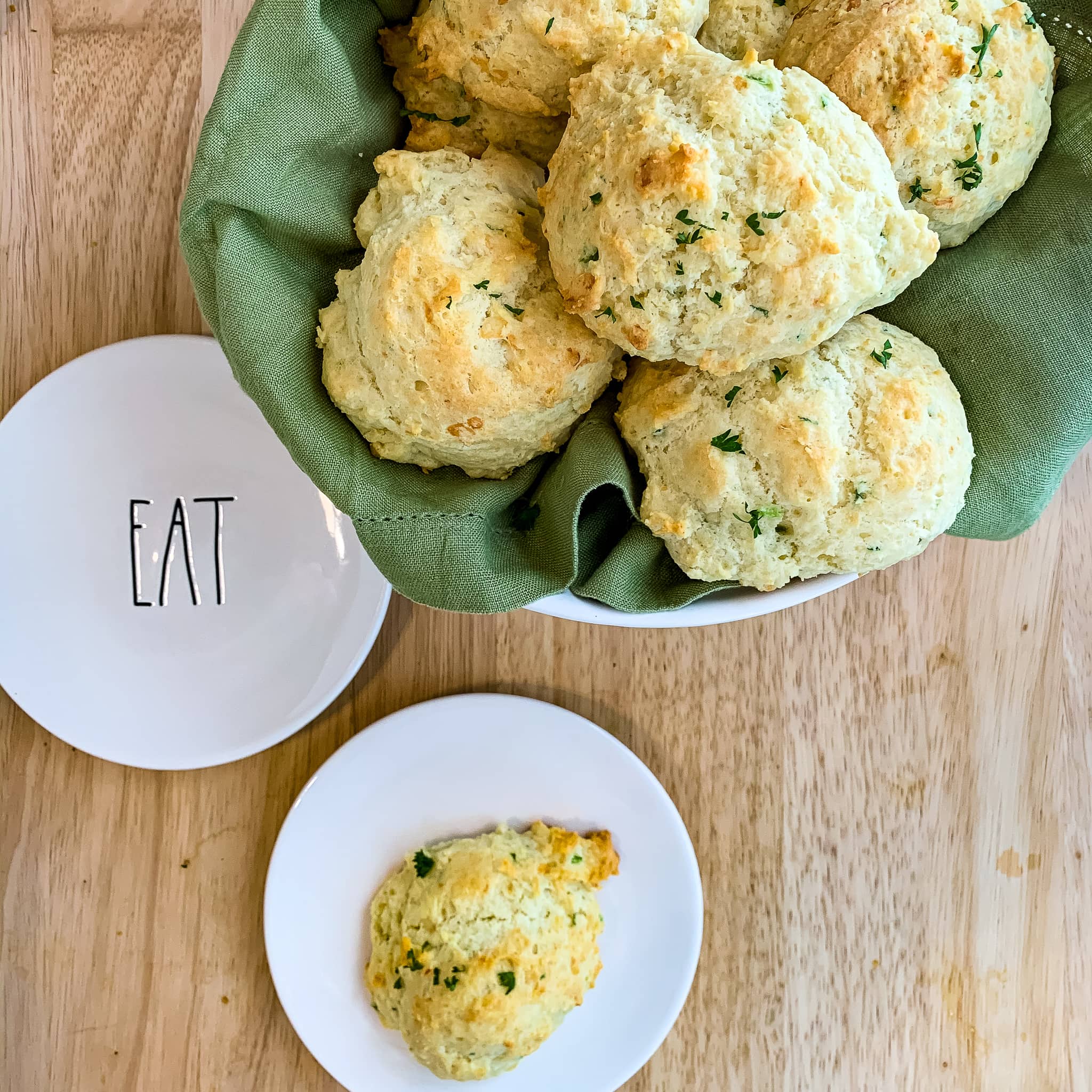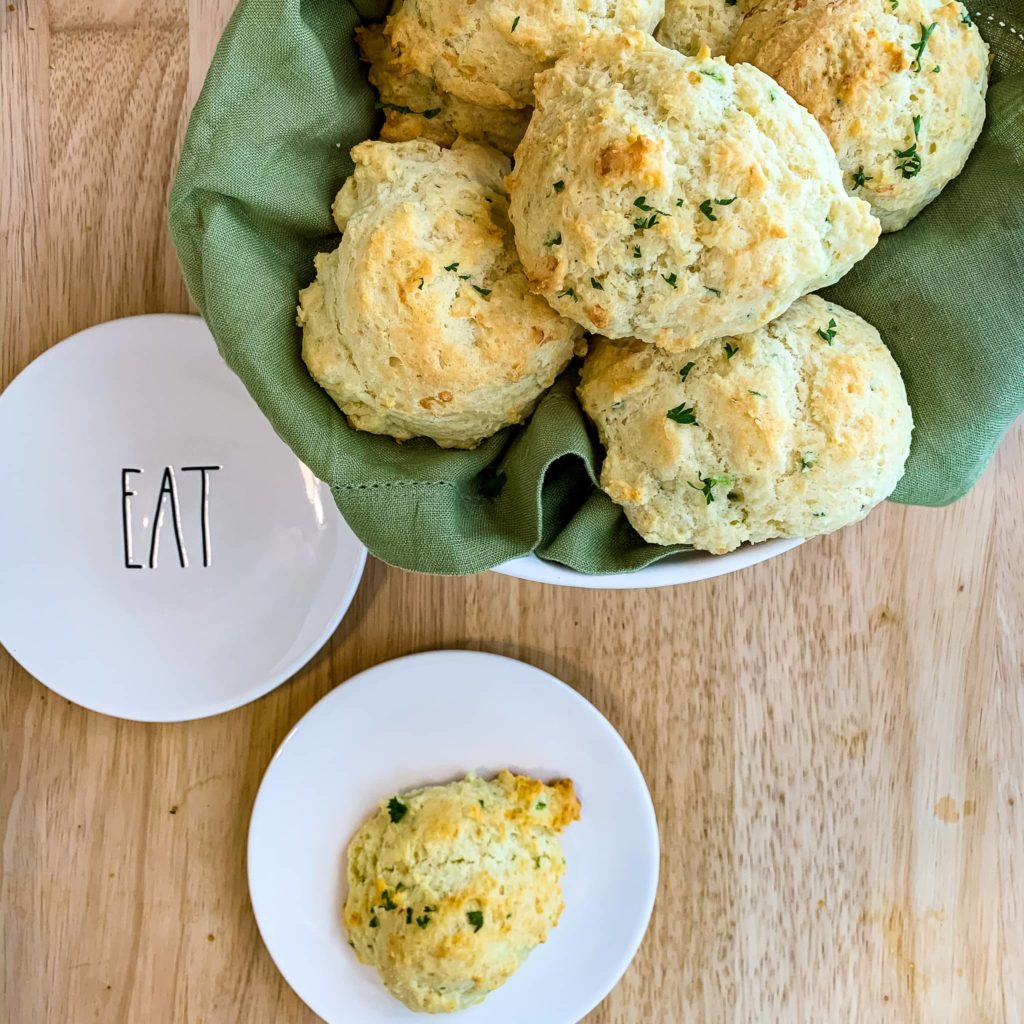 Get the Cheddar Jalapeno Drop Biscuits Recipe Here
Cheddar Jalapeno Drop Biscuits
Learn how to make perfectly light and fluffy, super cheesy Cheddar Jalapeno Biscuits from scratch – with only 5 ingredients! These tender and flaky homemade biscuits have just a hint of mild spice, and are easy to bake in only 20 minutes.
Ingredients
2

cups

self-rising flour

*see notes for all-purpose flour*

1

cup

milk

(2% or whole milk work best)

1/3

cup

butter, melted

1/3

cup

cheddar cheese, grated

(I use sharp cheddar)

2

Tbsp

jalapeno pepper, membranes and seeds removed, minced

1/2

tsp

salt
Instructions
Preheat oven to 400º Farenheit.

Mix all ingredients together in a medium sized bowl. Stir until there are no large clumps of flour visible.

Line a baking sheet with a silicone baking sheet, parchment paper, or spray with cooking oil. Scoop biscuit dough with an ice cream scoop or large tablespoon. Leave at least 2" space between biscuits.

Bake for 15 minutes, until biscuits are golden in color and lightly browned on the bottom. Serve warm (or reheated).
Notes
To use all-purpose flour in place of self-rising flour, mix together:
2 cups of all-purpose flour
1 tbsp baking powder
1/2 tsp fine salt. 
Nutrition
Serving:
1
biscuit
|
Calories:
219
kcal
|
Carbohydrates:
24
g
|
Protein:
6
g
|
Fat:
11
g
|
Saturated Fat:
7
g
|
Cholesterol:
28
mg
|
Sodium:
256
mg
|
Potassium:
85
mg
|
Fiber:
1
g
|
Sugar:
2
g
|
Vitamin A:
373
IU
|
Vitamin C:
4
mg
|
Calcium:
75
mg
|
Iron:
1
mg
Here are more easy baking recipes
You'll love these yummy dinner recipes to go with your homemade biscuits
So, let's get baking!