Jalapeno Cheddar Biscuits are soft, flaky, and so full of flavor! This simple recipe requires just 5 ingredients and 20 minutes to whip up. The result is a cheesy jalapeno biscuit that's perfect to serve with any meal of the day!
Baking from scratch can be intimidating, no matter how much experience you have in the kitchen. However, our easy biscuit recipes take the stress out of baking so you can focus on what matters—enjoying your delicious food!
Using a simple ingredient like jalapenos is a great way to add flavor and a little kick of spice. If you are a fan of savory breads, you'll love our jalapeno cheddar sourdough and Jiffy jalapeno cornbread.
Just one or two tiny chiles makes a big difference in the way a dish tastes! Or, if you really love spicy food, you can make them the star of the show in dishes like stuffed jalapeno poppers.
Reasons to Make Cheddar Jalapeno Biscuits
A nice change from plain bread and rolls.
Whether you're serving them with a bowl of soup or slathering them with sausage gravy, spicy cheddar drop biscuits like these will boost the flavor of your meal!
Minimal ingredients
Making this self-rising flour drop biscuit recipe means the baking powder is built right in. That's one less ingredient to measure!
Not a fan of spicy breads?

You can skip the chiles and just make a batch of plain drop biscuits with self rising flour!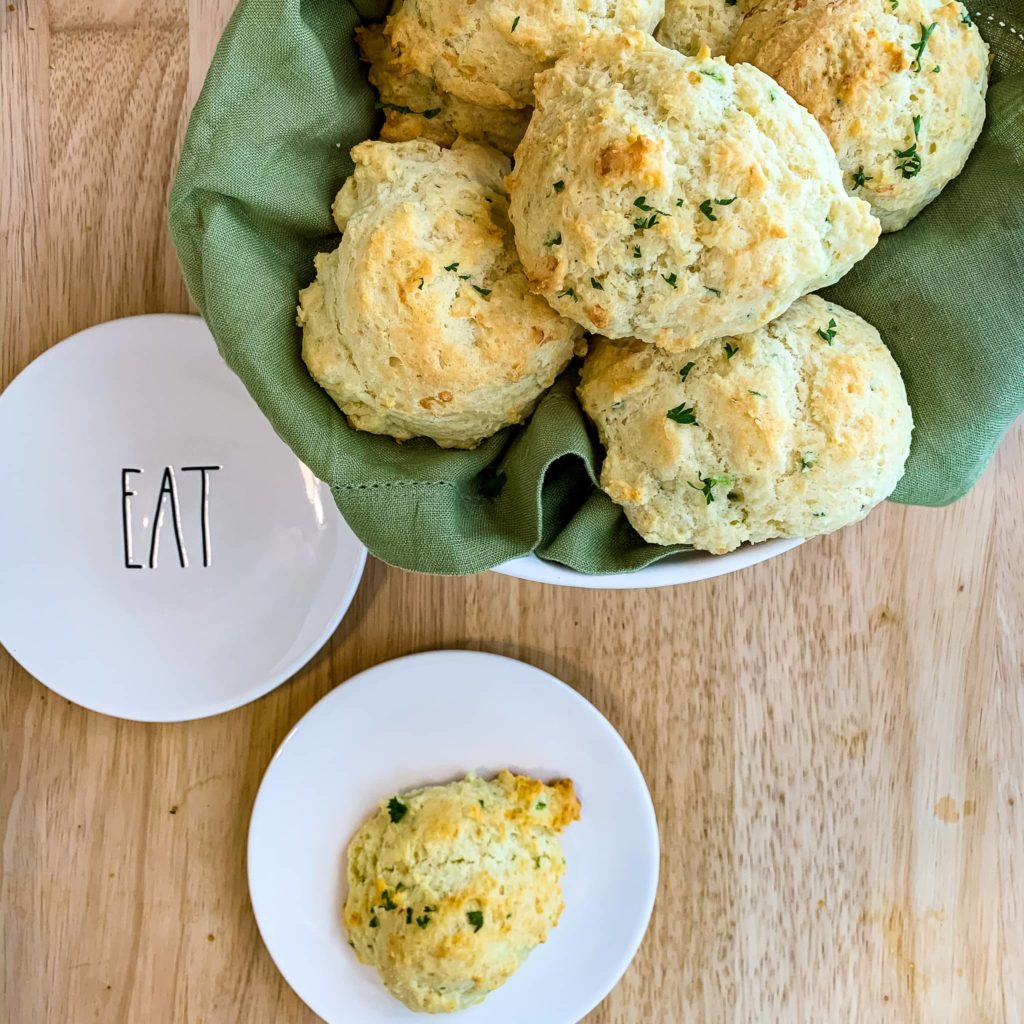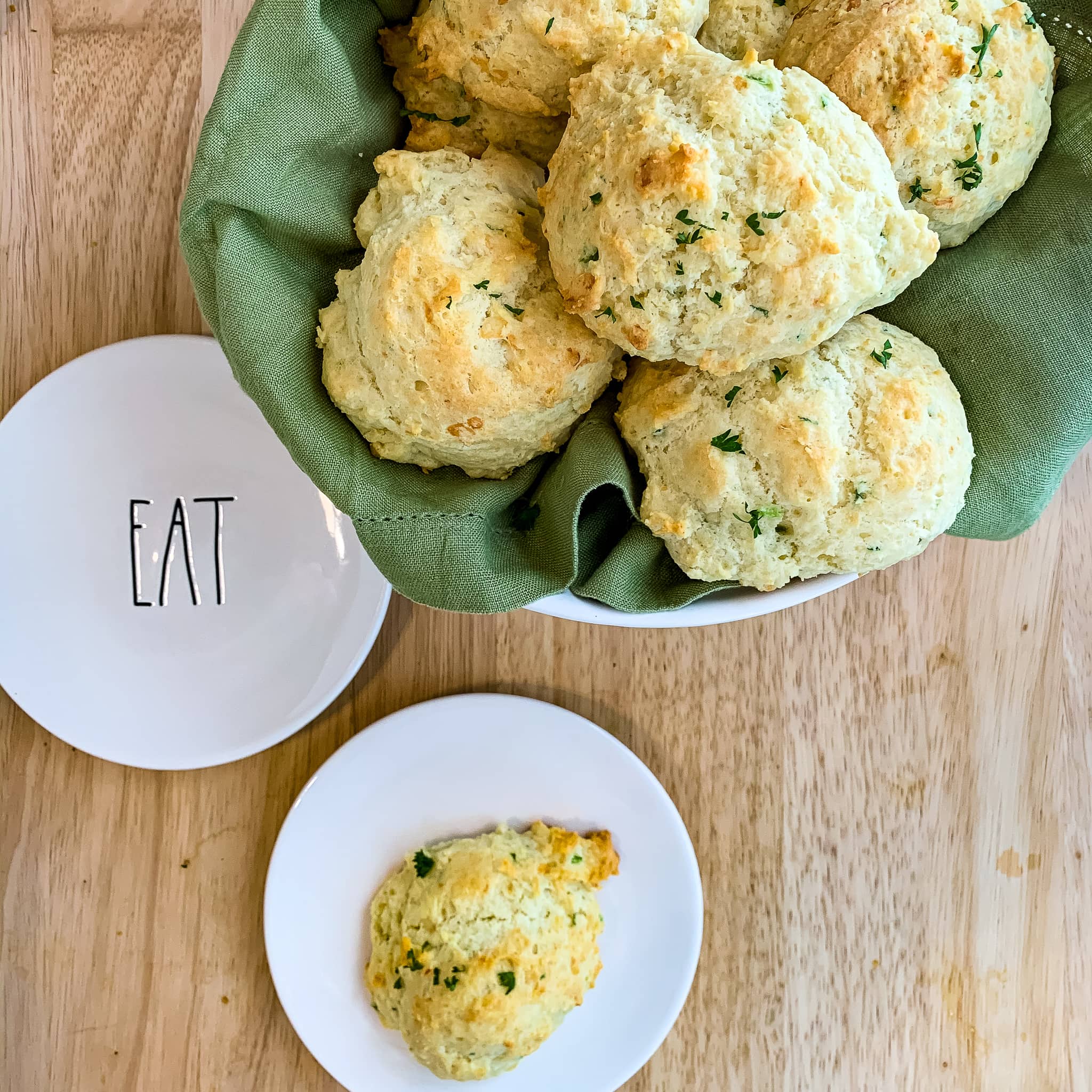 Difference Between Rolled and Drop Biscuits
There are actually two types of biscuits: rolled (also known as cut), and drop style.
After publishing our recipe for 3 Ingredient Biscuits, it quickly became the most popular rolled biscuit recipe here on TFN!
Rolled or Cut Biscuits
This type of biscuit is cut out from a large sheet of dough that's been rolled out. It's similar to making cut-out Christmas cookies.
Drop Biscuits
No rolling or cutting is necessary for drop biscuits! They get their name from the method of dropping the dough from a spoon onto the baking sheet.
The result is a moist, tender, fluffy, light, rustic-style biscuit. While they aren't as perfectly round as cut biscuits, drop biscuits have all the same great flavor and crumbly texture you crave – but with way less effort!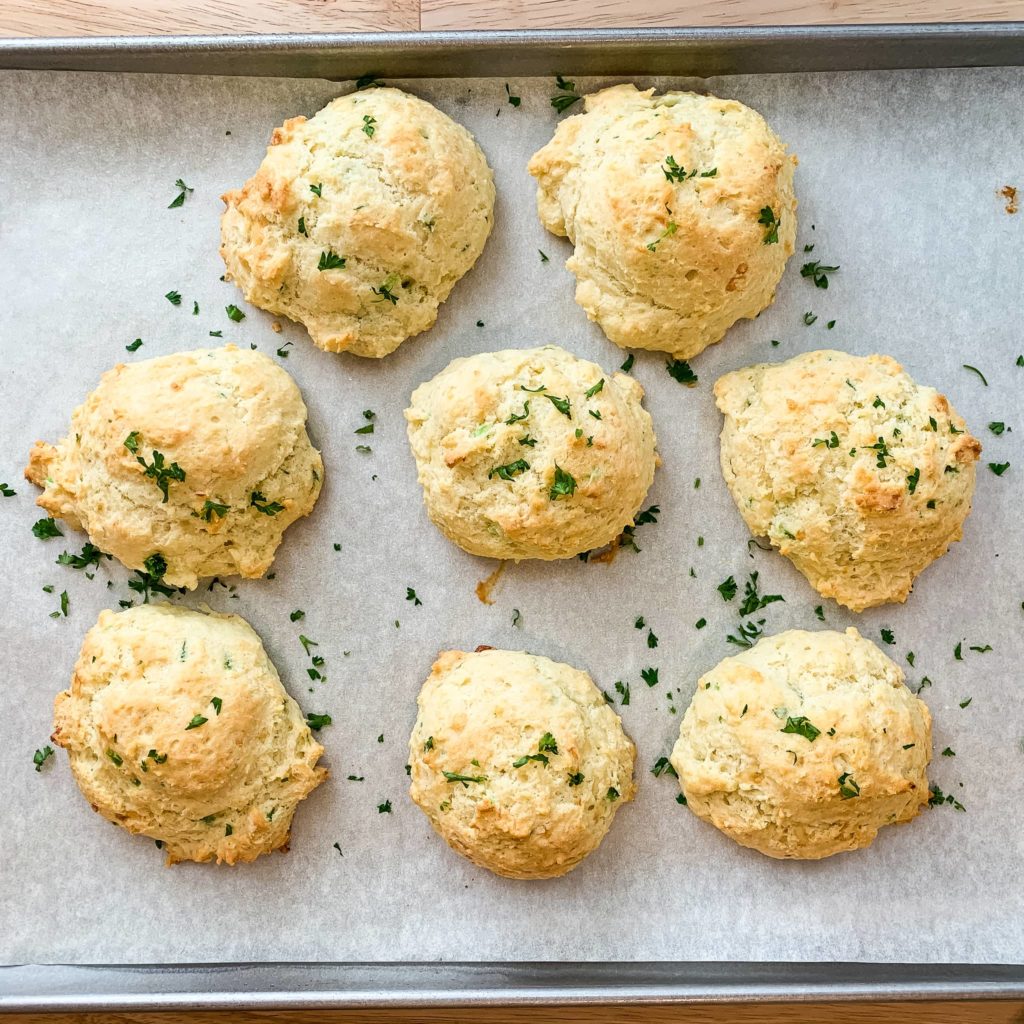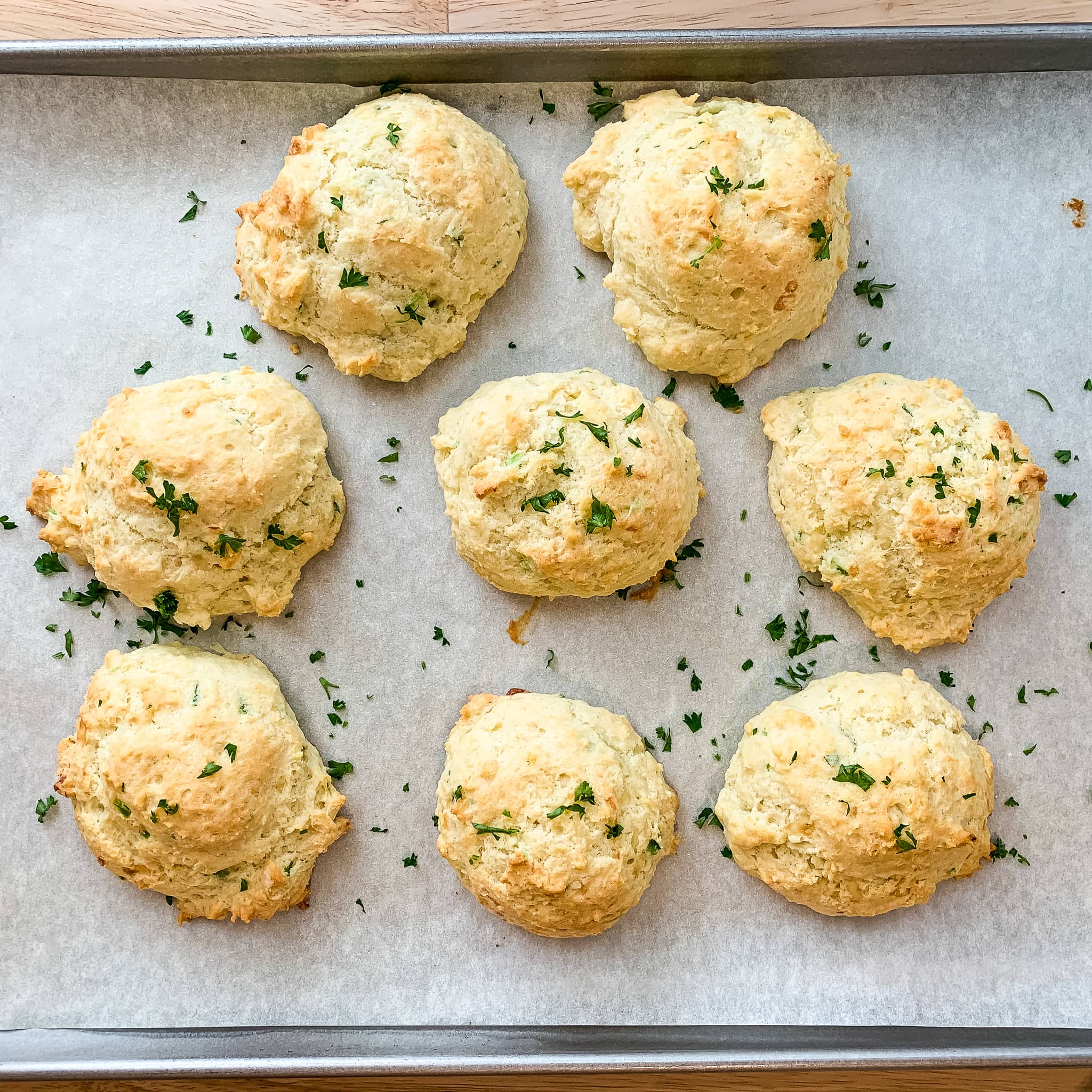 Jalapeno cheddar biscuits are everything we love about a drop biscuit recipe, plus a bit of cheesy, spicy goodness.
Ingredient Notes and Substitutions
You only need 5 ingredients to make jalapeno cheddar drop biscuits from scratch!
Self rising flour – Look for this in the baking aisle of your grocery store.
TFN Pro Tip!

If you don't have time to go to the grocery store, you can make your own self-rising flour by combining 2 cups of all-purpose flour with 1 tablespoon of baking powder and ¾ teaspoon of salt.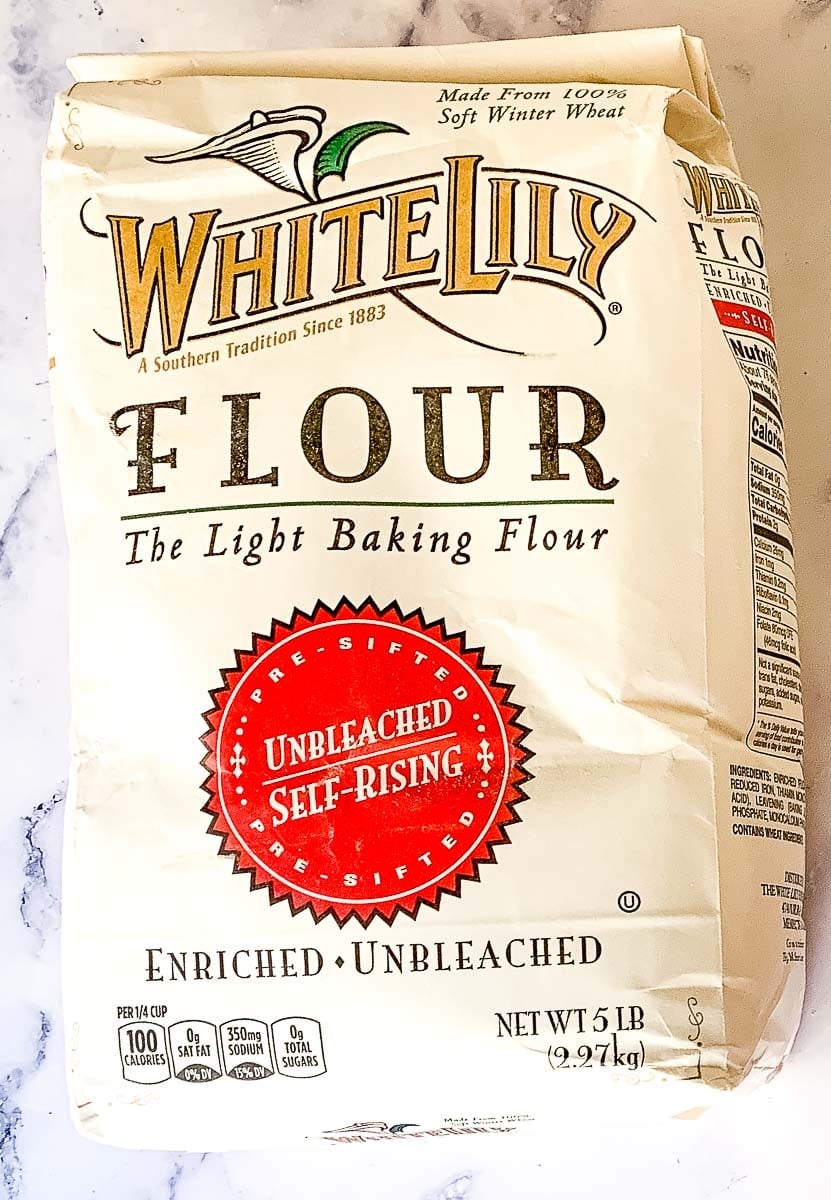 The fat from the milk helps give the biscuits their rise and texture. We recommend that you avoid using fat-free milk and nut milks. If you need a dairy free option, we suggest making dairy free cornbread, or use this paleo biscuit recipe.
Unsalted butter works best since you will add salt separately with the dry ingredients. If all you have on hand is salted butter, leave out any additional salt.
Obviously, to make jalapeno cheddar drop biscuits, you need to use cheddar cheese. A shredded Mexican blend works too, for an additional kick of heat.
TFN Pro Tip!

For the cheesiest biscuits, buy a block of cheddar and shred it yourself. The anti-caking agent in pre-shredded cheeses can hinder their ability to melt well.
A good substitute for jalapeno peppers is Anaheim chiles, or you can use poblanos. Both of these substitutes have milder heat than jalapenos.
Helpful Tips for the Best Cheddar Drop Biscuits
Measure your ingredients ahead of time.
This recipe comes together pretty quickly, so you'll want to have all the ingredients measured out and ready to use before you start.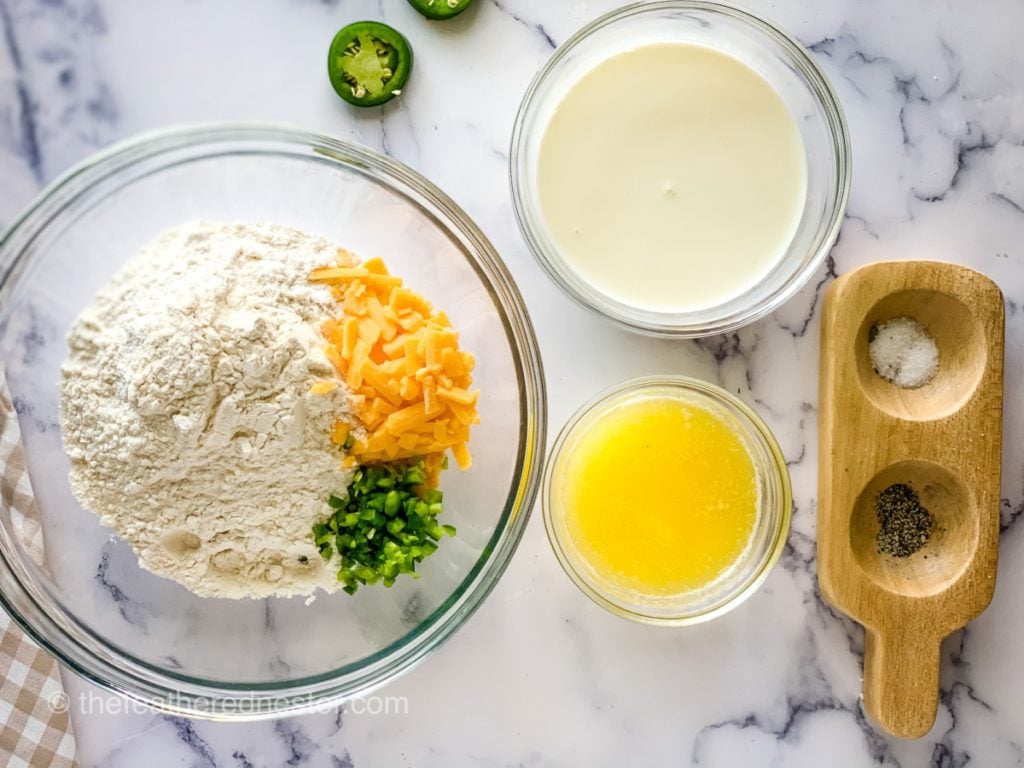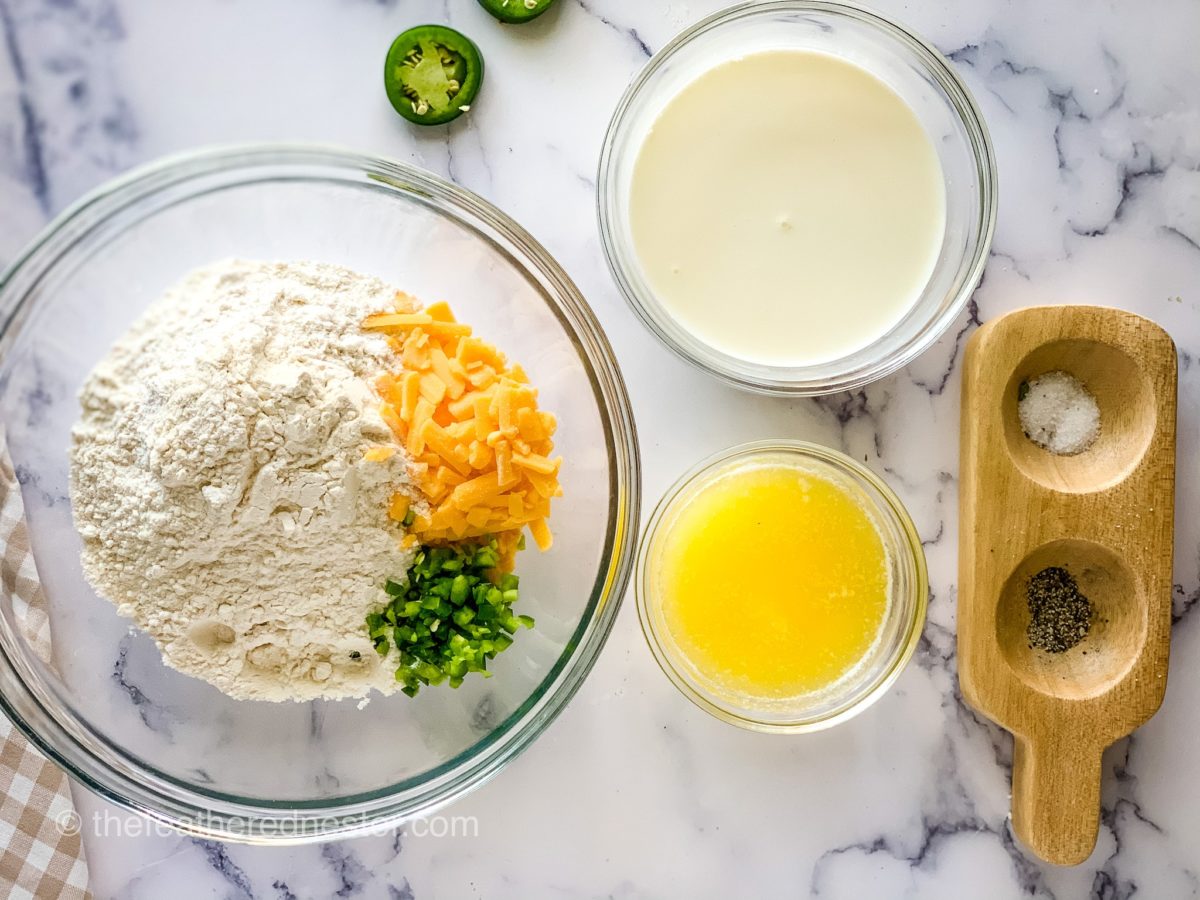 Mix your ingredients thoroughly, but don't over mix.
Mix all ingredients together in a medium sized bowl. Stir just until there are no large clumps of flour visible.
You want the cheese and jalapenos evenly distributed throughout the batter, but to avoid crumbly, dry biscuits, don't mix for too long.
Give your drop biscuits room to rise.
Line a baking sheet with a silicone mat, parchment paper, or spray with cooking oil. Drop the biscuit dough using a scoop or large tablespoon.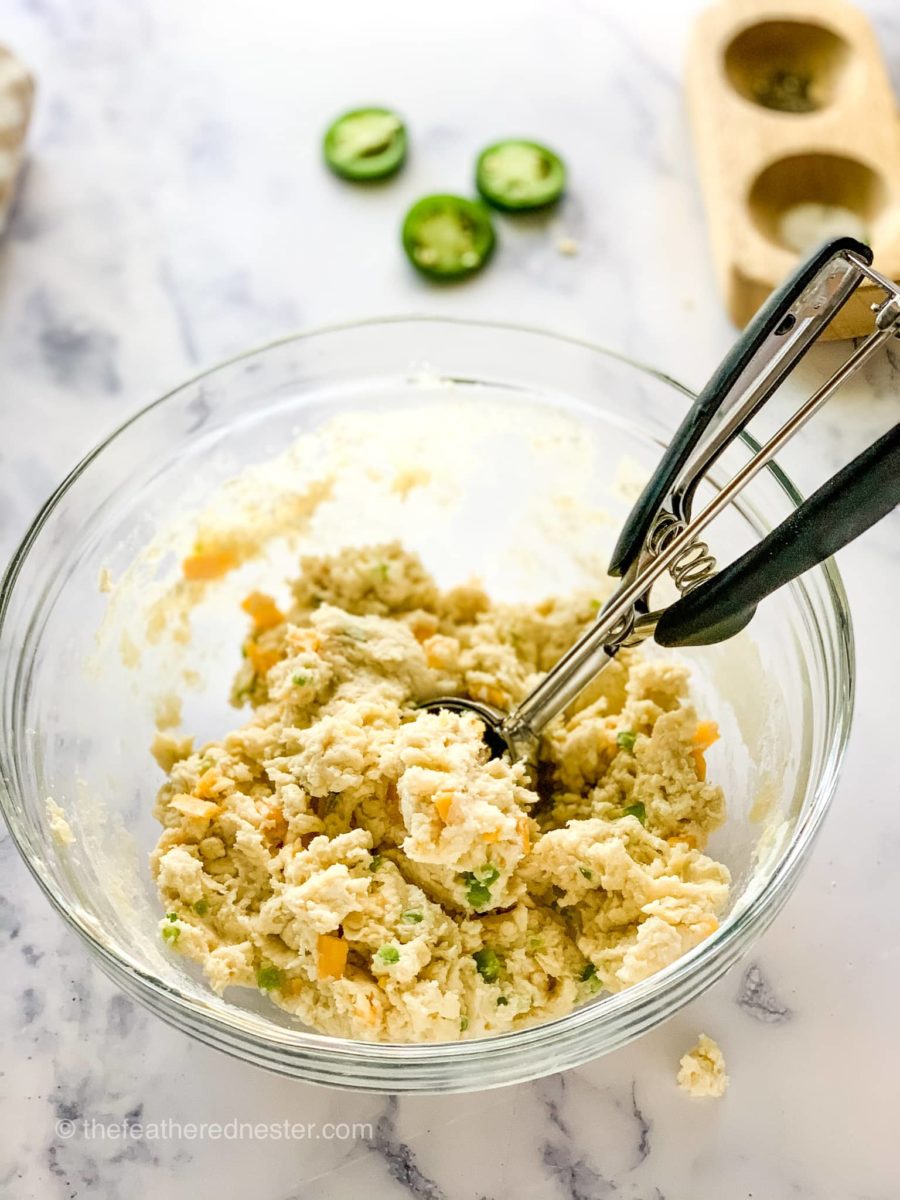 To prevent the baked goods from merging together on the pan, leave at least 2 inches of space between each one.
Drop Biscuit Recipe FAQ
What is the difference between drop biscuits and regular biscuits?
The main difference between these two types of biscuits is the amount of liquid in the dough.
Drop biscuits utilize more liquid, giving them a "batter-like" consistency. Also, they have a less uniform shape than regular biscuits, which are cut out from rolled dough.
Will non-fat milk work in this recipe?
Non-fat milk will yield poor results with this recipe. The fat in the milk, combined with the fat from the cheese and baking soda in the flour, give rise to the biscuits. Biscuits made with non-fat milk will be flatter and denser.
Why are my biscuits dry?
There are a couple of common reasons for dry drop biscuits. The first is using too much flour. Instead of scooping a measuring cup into the flour, use a spoon to place the flour into your measuring cup.

The second culprit is overbaking. Be sure to remove your biscuits from the oven as soon as they start to brown on the bottom.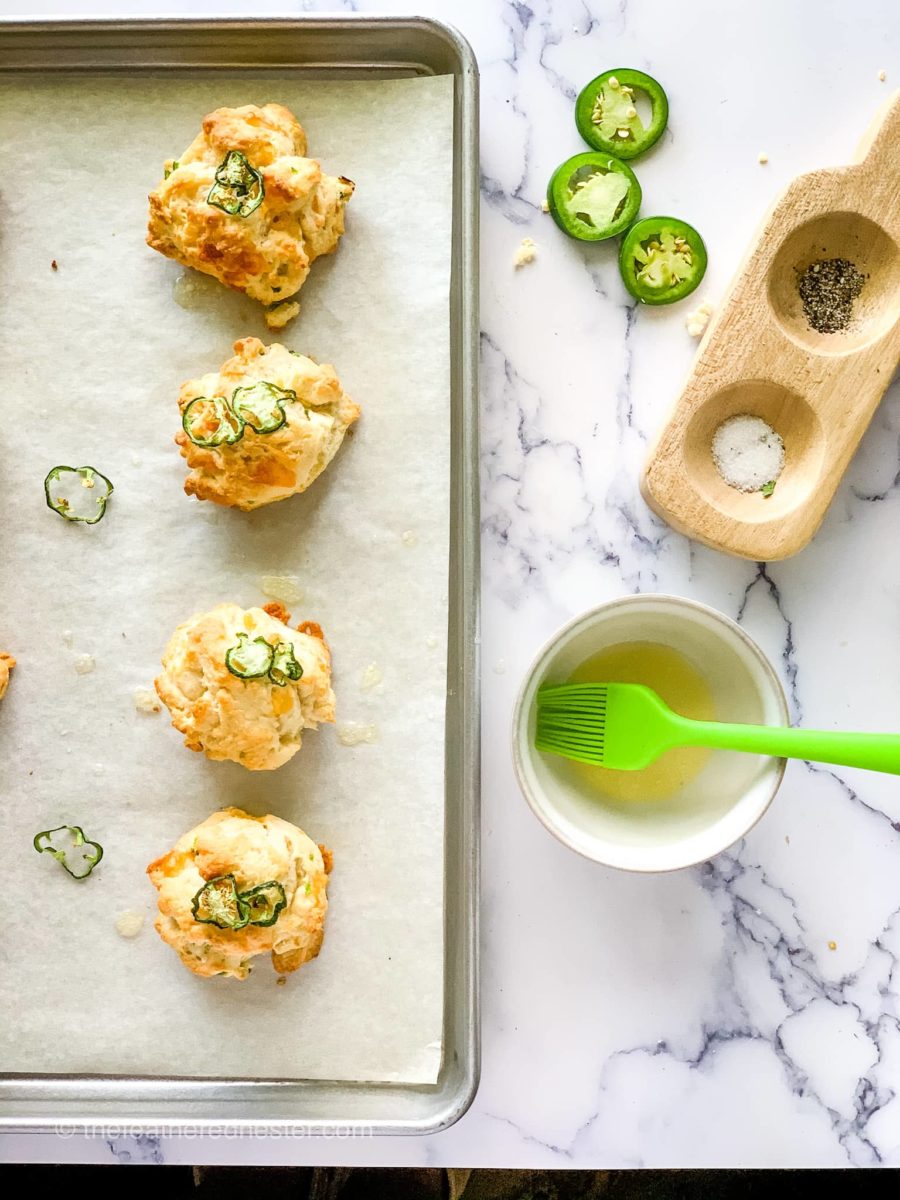 Now you know how to make biscuits from scratch using the super easy drop biscuit method!
Storing Jalapeno Cheddar Biscuits
Whenever possible, keep your homemade bread, rolls, and biscuits in an airtight container on the counter. Unless it's unusually humid in your kitchen, the jalapeno biscuits will keep for up to 3 days. If you need to, pop them in the fridge for up to a week.
**Keep in mind that refrigerating bread does affect the texture quite a bit.
Serving Ideas
We suggest serving these flaky baked goods with a healthy cowboy salad. For a filling, hearty meal, we like to pair spicy drop biscuits with our walking taco casserole. They're also delicious with eggs and bacon for a quick, classic breakfast.
For Making Drop Biscuits, Renae Recommends
Jalapeno Cheddar Biscuits
Make our recipe for Jalapeno Cheddar Biscuits – soft, extra flaky, spicy cheddar drop biscuits with self rising flour. They taste incredible!
Ingredients
2 cups self-rising flour *see notes for all-purpose flour*
1 cup milk (2% or whole milk work best)
⅓ cup butter, melted
⅓ cup cheddar cheese, grated (I use sharp cheddar)
2 tablespoons jalapeno pepper, membranes and seeds removed, minced
½ teaspoon salt
Instructions
Preheat oven to 400º Farenheit.

Mix all ingredients together in a medium sized bowl. Stir until there are no large clumps of flour visible.

Line a baking sheet with a silicone baking sheet, parchment paper, or spray with cooking oil. Scoop biscuit dough with an ice cream scoop or large tablespoon. Leave at least 2" space between biscuits.

Bake for 15 minutes, until biscuits are golden in color and lightly browned on the bottom. Serve warm (or reheated).
Video
Notes
To use all-purpose flour in place of self-rising flour, mix together:
2 cups of all-purpose flour
1 tbsp baking powder
1/2 tsp fine salt.
Nutrition
Serving: 1biscuit | Calories: 219kcal | Carbohydrates: 24g | Protein: 6g | Fat: 11g | Saturated Fat: 7g | Cholesterol: 28mg | Sodium: 256mg | Potassium: 85mg | Fiber: 1g | Sugar: 2g | Vitamin A: 373IU | Vitamin C: 4mg | Calcium: 75mg | Iron: 1mg
PIN THIS POST!
This post, first published in June 2020, was updated with new content in March 2023.