If you are in the mood for some quick, simple, and easy biscuit recipes, you have come to the right place! Whether you are looking to make them drop style or rolled, with self-rising flour or Bisquick, we have you covered!
Simple, Quick, and Easy Biscuit Recipes
Biscuits are such a versatile food. You can have them for breakfast, lunch, or dinner. You can make sweet biscuits or savory biscuits or even make biscuit sandwiches!
There are so many different ways to make biscuits, but sometimes you just want a quick and easy recipe. That is why we have collected some of our favorite recipes for you.
Most of these simple biscuit recipes are using self rising flour and Bisquick, I primarily use all-purpose flour in my baking so I have included a recipe for drop biscuits as well.
This list of quick biscuit recipes includes drop biscuits, self-rising flour biscuits, and Bisquick biscuit recipes.
Biscuit Baking Tips
Whether you are using self-rising flour, all-purpose flour, or Bisquick, there are a few things to keep in mind when baking biscuits.
Be careful not to overmix the dough. Overmixing will result in tough biscuits. Mix just until the ingredients are combined.
Use cold butter, milk, or cream. This will help create light and fluffy biscuits. If your butter is too soft, you can cut it into small pieces and place it in the freezer for a few minutes before using it.
The cold fat method is the key to making fluffy biscuits. You want to use very cold butter (or shortening) and cut it into the flour until it resembles crumbs. Then you add your liquid (milk, buttermilk, etc.) and mix just until everything is moistened.
Bake the biscuits on a baking sheet lined with parchment paper. This will prevent them from sticking to the pan and make cleanup easy.
Once the biscuits are baked, brush them with melted butter. This will give them a nice sheen and make them extra delicious!
Self-Rising Flour
First, you might be wondering "what is self rising flour?" Self-rising flour is a mixture of all purpose flour, baking powder and a bit of salt.
Years ago, it became a staple in my home when I learned it makes everything from biscuits to scones. It is traditionally made from a softer, lower-protein version of all-purpose flour, which is ideal for biscuits and tender flaky baked goods.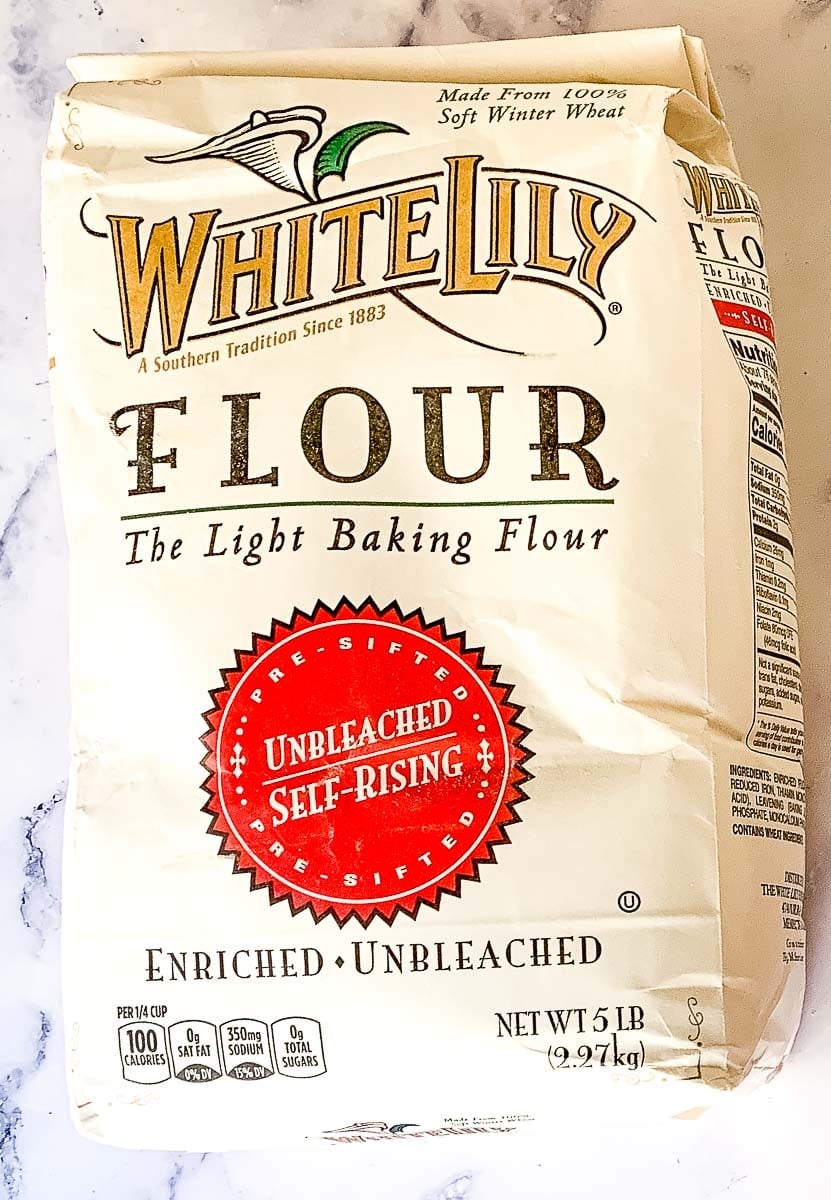 If you have this, then you can use it to make biscuits (and so many other recipes). All you need is self-rising flour and cream to make biscuits! And, if you don't have one, then check out our recipe to make your own self rising flour!
I like to double this recipe and store it in an air tight container in the pantry for up to 6 months.
Using Self-Rising Flour for Biscuits
These easy biscuits recipes are a little more work than drop biscuits, but they are still effortless to make and ready in minutes.
Simply mix the ingredients together, knead the dough for a few minutes, and then cut out the biscuits with a biscuit cutter.
Drop Biscuit Recipes
Drop biscuits are a type of biscuit that is made by dropping the dough by spoonfuls onto a baking sheet. They are easy to make and do not require any kneading or rolling out.
The dough for drop biscuits is simple to make. You just need flour, baking powder, sugar, salt, and butter (or shortening). You can either mix the ingredients together by hand or use a mixer.
Another easy way to make drop biscuits is using Bisquick or some other type of pre-made biscuit mix. All you need is milk, your choice of flavors, and the mix.
To shape, all you need for this is just a bowl and a spoon. You don't need to use a biscuit cutter to make round dropped dough! Just drop the dough by the spoonful onto a baking sheet and bake.
Bisquick Biscuit Recipes
Bisquick is a pre-made biscuit mix that you can find in the baking aisle of most grocery stores.
It is made of primarily wheat flour, corn starch, dextrose, palm oil, baking soda, canola oil, salt, and sugar with some additives.
You don't really need Bisquick to make our baking mix recipes, though! Use our DIY baking mix recipe to make your own.
These Bisquick mix biscuits are a great option if you are short on time. Just mix, stir, and bake!
Quick, Simple, and Easy Biscuit Recipes
EASY 3 INGREDIENT BISCUITS
It's easy to have hot, flakey, delicious homemade biscuits on the table in just 20 minutes with my 3 simple baking secrets and only 3 ingredients.
Ingredients: self-rising flour, heavy cream, salt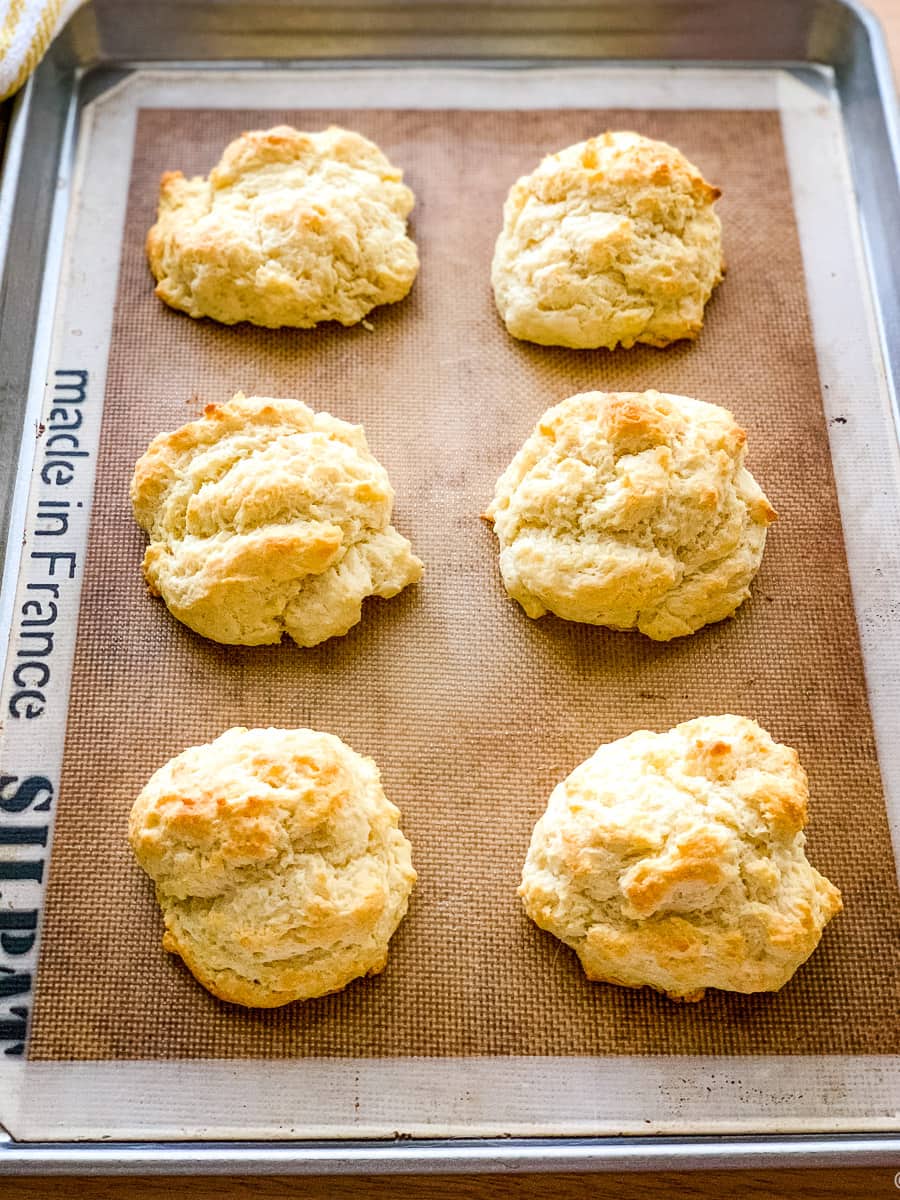 DROP BISCUITS WITH SELF RISING FLOUR
This easy drop biscuit recipe uses self-rising flour (though I'll share how to make them with all purpose flour).
Trust me when I say these biscuits are so absolutely delicious that you'll add a bag of self-rising flour to the cart on your next grocery trip!
Ingredients: self-rising flour, milk, butter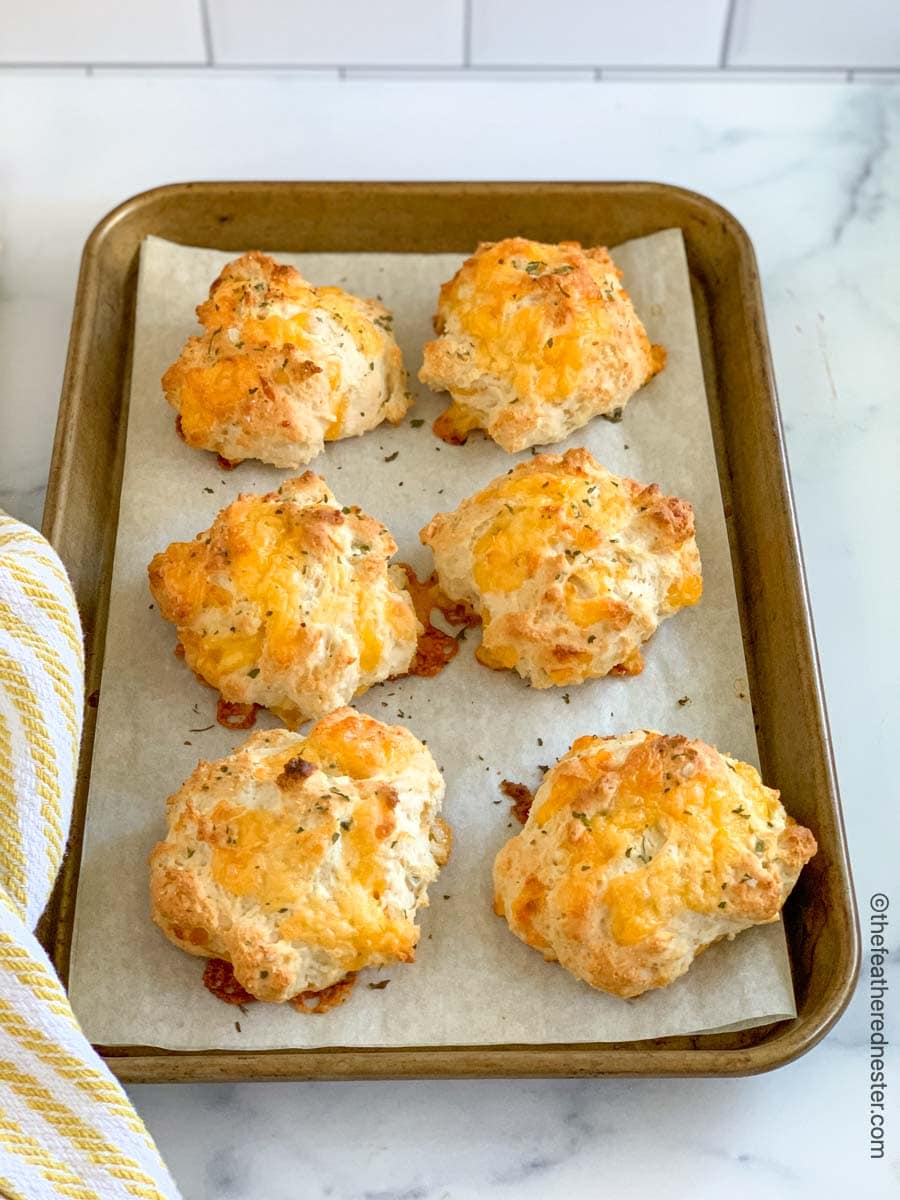 BISQUICK CHEDDAR BISCUITS (CHEDDAR BAY BISCUITS)
We all love those iconic Red Lobster cheddar bay biscuits, loaded with cheddar cheese, and garlic, and brushed with luscious melted butter. These tasty cheddar biscuits are light and fluffy; every bite is full of cheesy.
Ingredients: original Bisquick baking mix, garlic powder, shredded cheddar cheese, milk, melted butter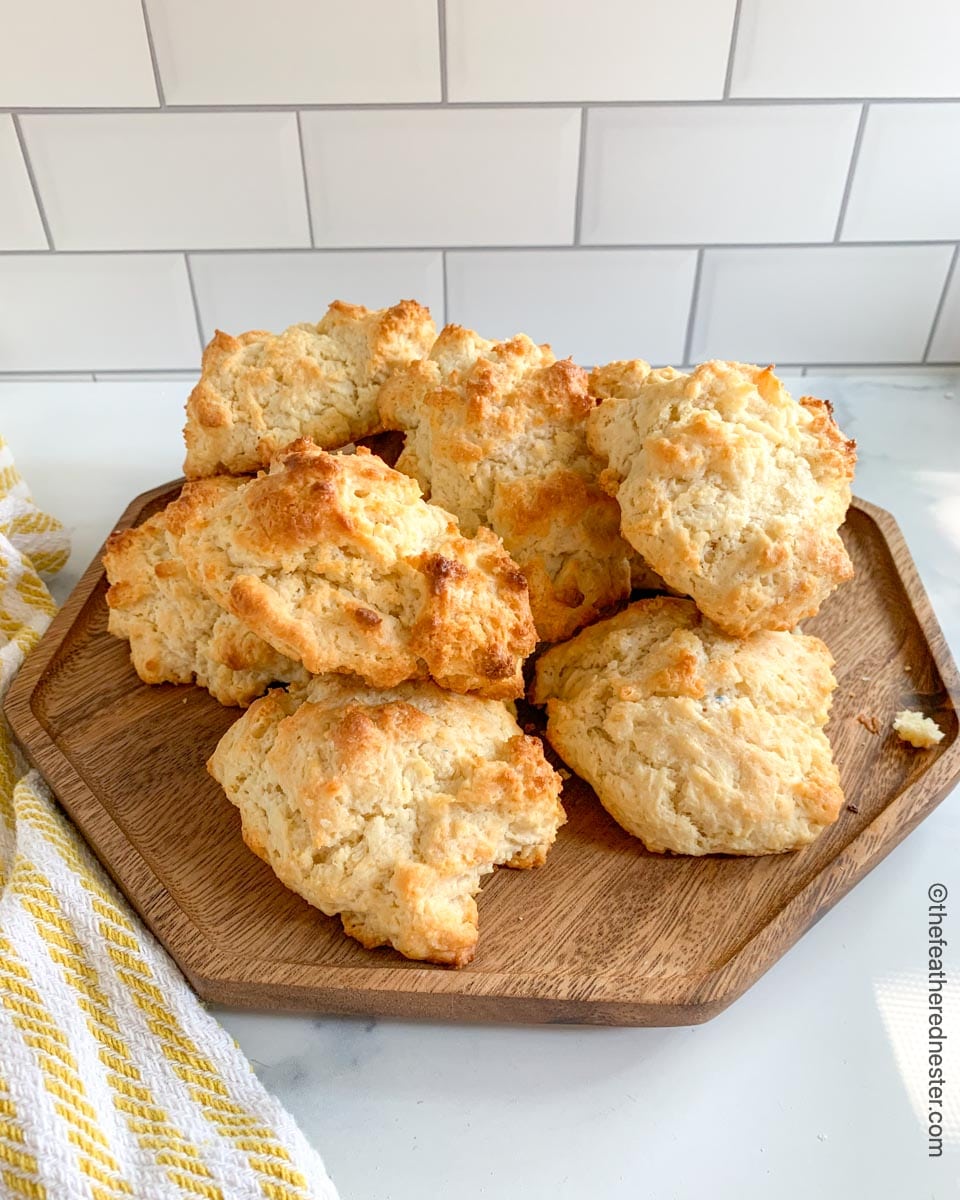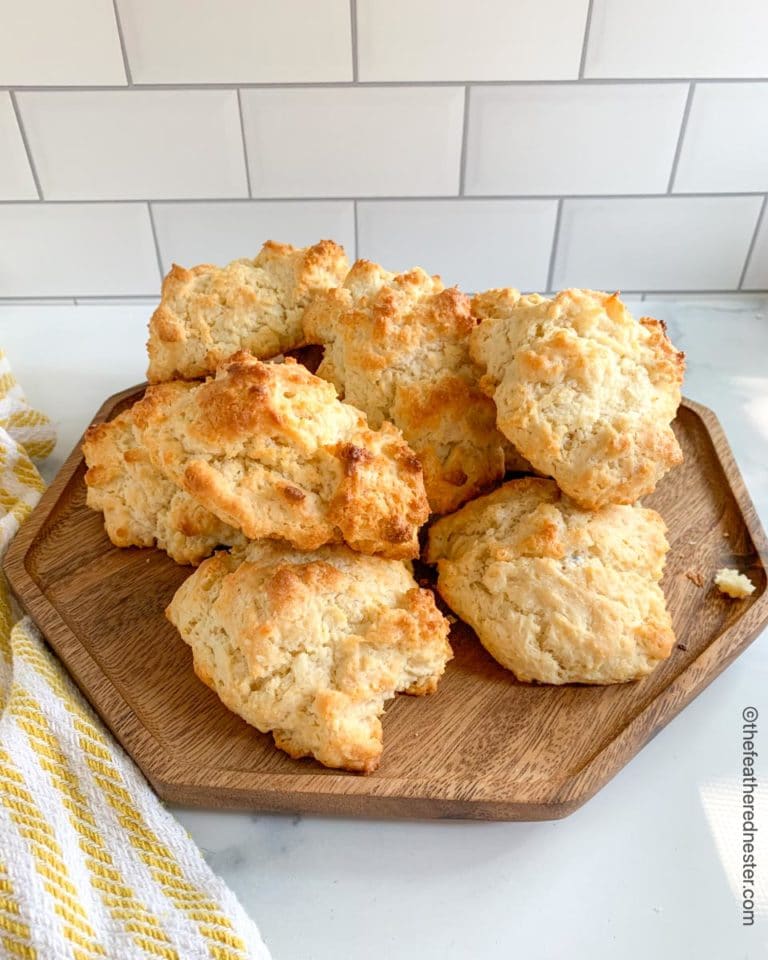 BISQUICK DROP BISCUITS
There is nothing that completes a meal quite like soft, fluffy, and warm homemade biscuits.
These tasty Bisquick drop biscuits only include 5 simple ingredients and are ready to enjoy in less than 20 minutes!
Ingredients: original Bisquick mix, baking powder, unsalted butter, milk, melted butter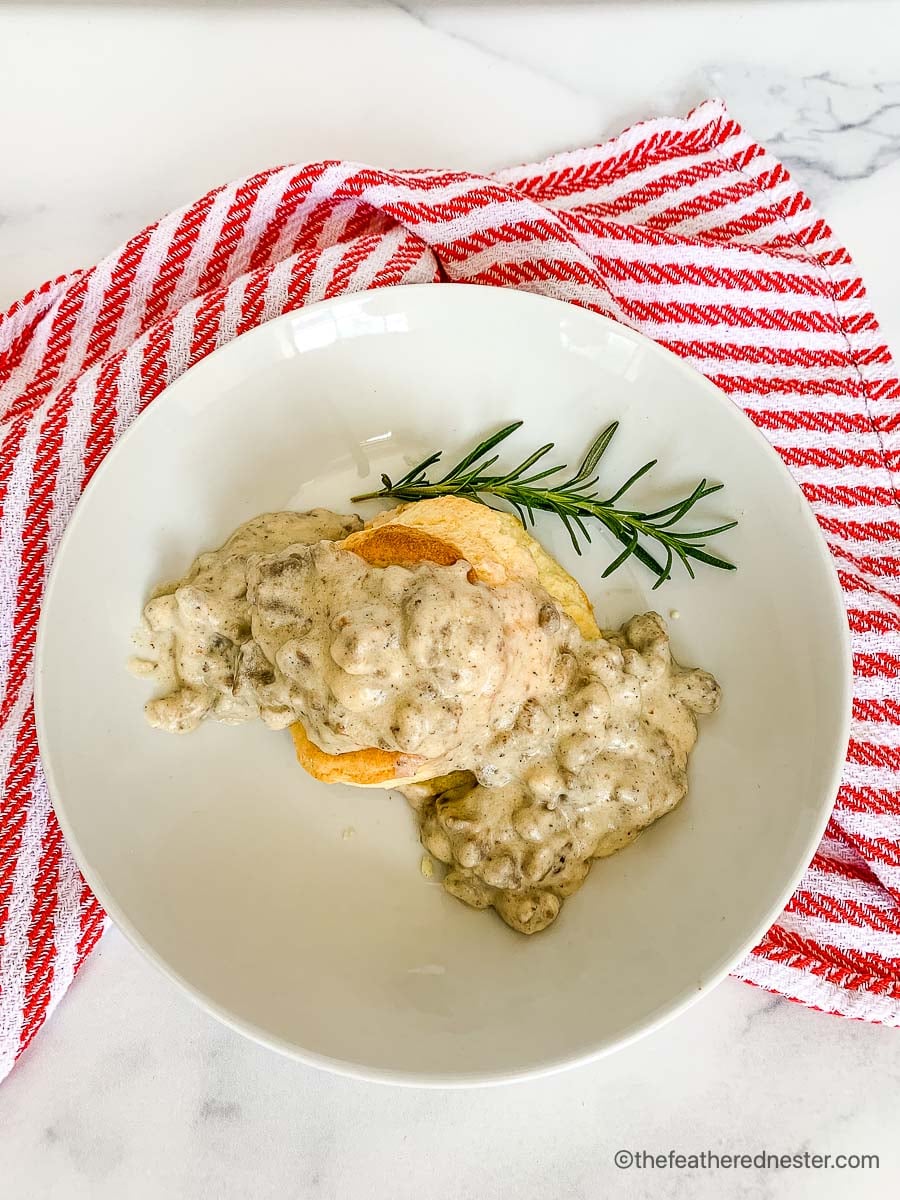 TURKEY SAUSAGE GRAVY AND BISCUITS
Turkey sausage biscuits and gravy are perfect for a comforting breakfast or brunch.
The turkey sausage gravy is creamy and peppery, and it can be cooked while preparing our Easy 3-Ingredient Biscuits.
Ingredients: self-rising flour, heavy cream, salt, turkey sausage, all-purpose flour, milk. Worcestershire sauce
MINI CHEESE BISCUITS
These Mini Cheese Biscuits are sure to be a big hit at your next potluck or dinner party.
They might be tiny, but they are loaded with lots of flavor from some of your favorite ingredients, like shredded cheese and savory bacon.
Ingredients: self-rising flour, cooked bacon, shredded sharp cheddar cheese, fresh chives or scallions, onion powder, half and half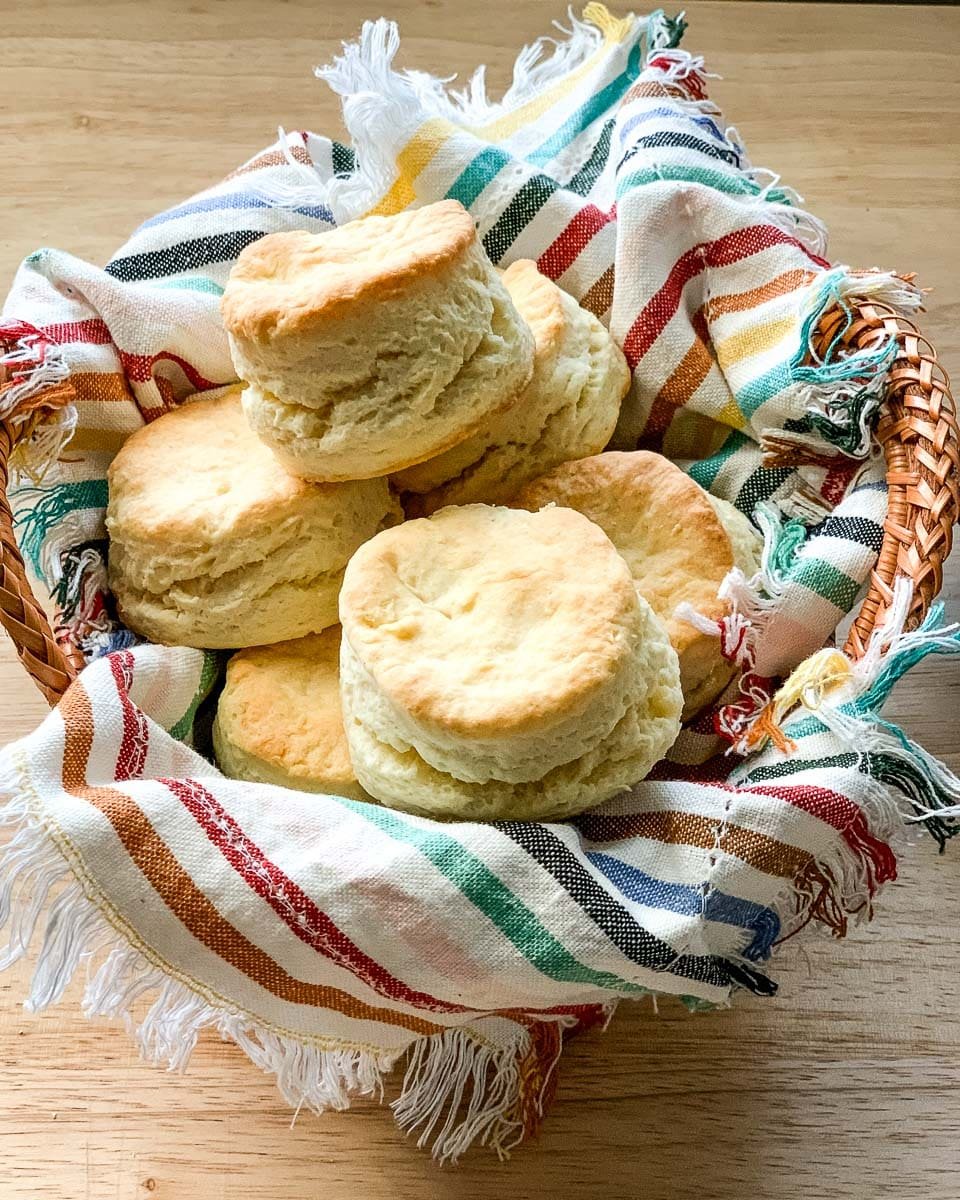 FLUFFY BUTTERMILK BISCUITS
Bring everyone to the table with the lightest, fluffiest, most tender biscuits imaginable.
These old-fashioned biscuits are made with buttermilk, so they're melt-in-your-mouth soft with a lovely fluffy golden top and lightly crisp bottom.
Ingredients: all-purpose flour, sugar, baking powder, salt, baking soda, butter or shortening, buttermilk, egg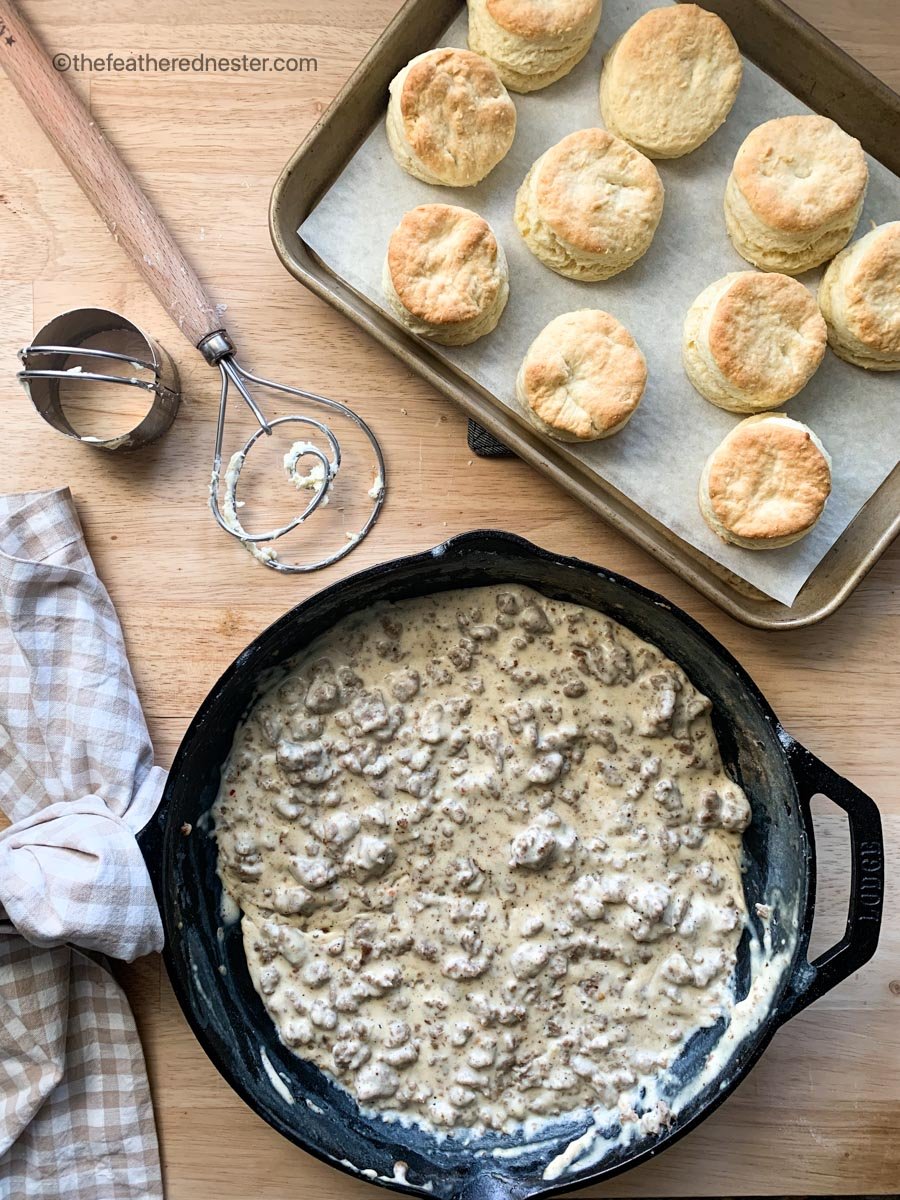 BISCUITS AND SAUSAGE GRAVY
Biscuits and sausage gravy have long been a loved breakfast staple – and it's no surprise why!
Tender, flaky, melt-in-your-mouth fresh-baked biscuits are smothered in a rich and creamy homemade gravy that's loaded with savory chunks of sausage.
Ingredients: breakfast sausage, all-purpose flour (or self-rising flour), milk, Worcestershire sauce, heavy cream, sea salt
Fantastic and Simple Bread Recipes