There is nothing that completes a meal quite like soft, fluffy, and warm homemade biscuits. When you put a basketful on the table, everyone knows that they are in for a comforting dinner! But there's no reason to spend lots of time baking a batch entirely from scratch… Instead, try this quick and easy Drop Biscuit recipe made with the Bisquick baking mix you know and love. These tasty Bisquick drop biscuits only include 5 simple ingredients and are ready to enjoy in less than 20 minutes!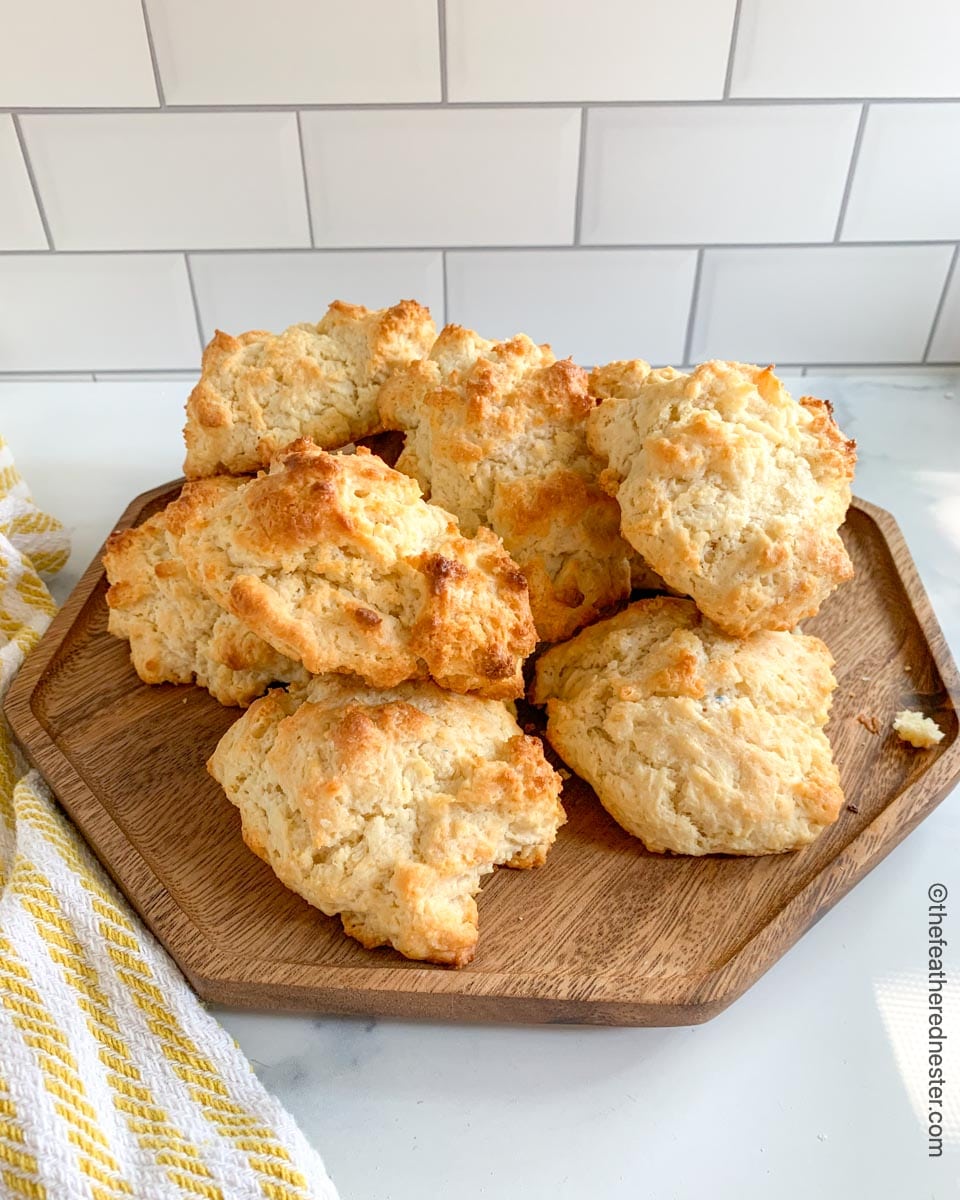 Easy Biscuits with Bisquick
Whether we're having a big or small family dinner, you'd better believe there will be a basket of fresh-made biscuits included. Tender and scrumptious biscuits complement nearly any pairing of main and side dishes! Easy homemade biscuits are even more fantastic when served with meaty stews and creamy curries, veggie soups and potatoes with gravy, and everything in between.
There are primarily two different types of biscuits you can prepare from scratch: traditional cut biscuits and quick drop biscuits. Now, these are both delicious options. Easy 3 Ingredient Biscuits is my go-to recipe for making traditional cut biscuits.
However, when I want a relaxed and effortless weeknight meal, I love making drop biscuits with Bisquick because they're on the table in less than 20 minutes. They are made with your favorite readymade baking mix and dropped by the spoonful, so there's no need to spend time folding and cutting biscuit dough into just the right shape.
Just mix, drop, bake and enjoy!
Even though this Bisquick drop biscuits recipe is made super fast, it still yields biscuits that are terrifically fluffy and soft on the inside and slightly crisp on the outside.
Give these a try for your next weeknight dinner, and I promise this will be your new favorite quick biscuit recipe!
Love Bisquick recipes? Try our Bisquick Buttermilk Biscuits, Bisquick Blueberry Muffins, Bisquick Corn Bread, and Bisquick Apple Cobbler.
Ingredients for Drop Biscuits
This easy drop biscuit recipe requires just 5 simple ingredients. You probably have all of them in your pantry right now!
You need:
Original Bisquick mix – the classic yellow box baking mix you know and love
Baking powder – to give the biscuits just the right rise
Unsalted butter – cold
Milk – I recommend using milk with at least 2% fat, but see notes for other options
Melted butter – for brushing the biscuit tops after baking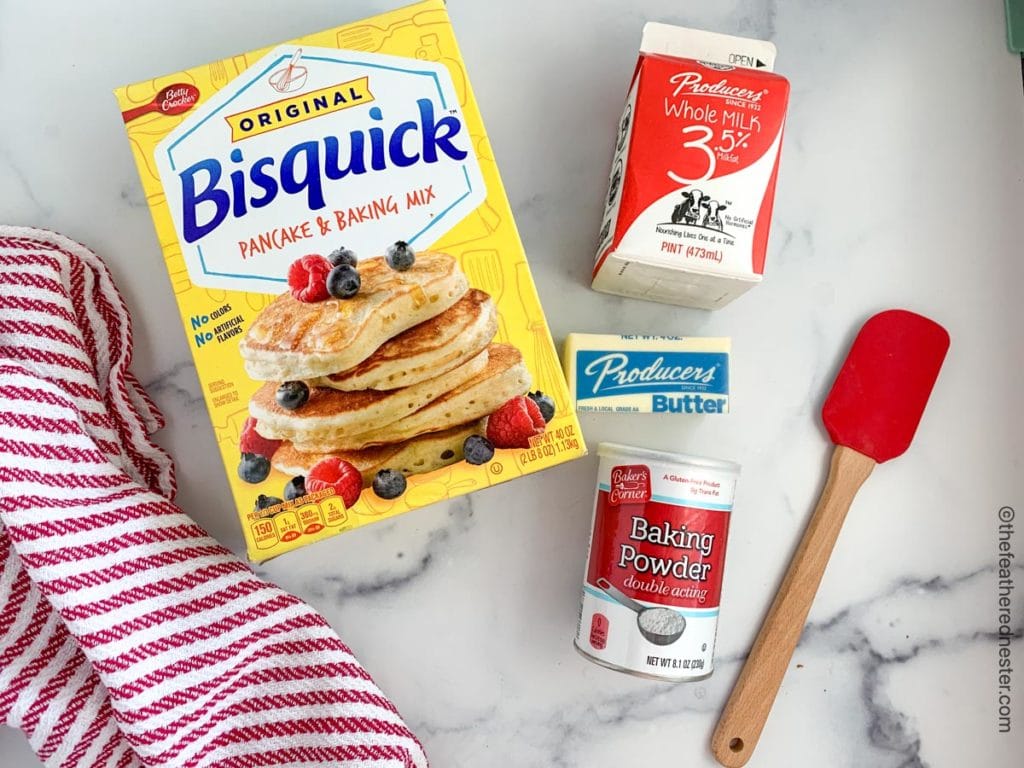 TIP: Yes, you can make drop biscuits without Bisquick! Try my recipe for Drop Biscuits with Self Rising Flour (which includes steps for how to make your own self rising flour!).
How to Make the Best Drop Biscuits with Bisquick
Bisquick drop biscuits are made in just 15 minutes with 4 simple steps.
Prepare – Preheat the oven to 425 degrees F. Grease a baking sheet or line with parchment paper. Grate the cold butter.
You can use your choice of a standard grater, food processor or pastry blender to grate the butter.
Mix the Dough – Add the dry ingredients to a mixing bowl and combine. Make a well in the mixture, and pour in the milk and grated butter. Gently mix together to form a rough dough, but do not over mix.
Drop – Use an ice cream scoop or set of tablespoons to drop the dough by the spoonful onto the prepared baking sheet.
Get the best baking sheet ever! I linked my favorite baking sheet here for you.
Bake and Enjoy – Bake in a preheated oven for approximately 10 minutes, until the Bisquick drop biscuits are lightly golden on the outside.
For the best biscuits with Bisquick I recommend that you brush the tops with a bit of melted butter and serve warm.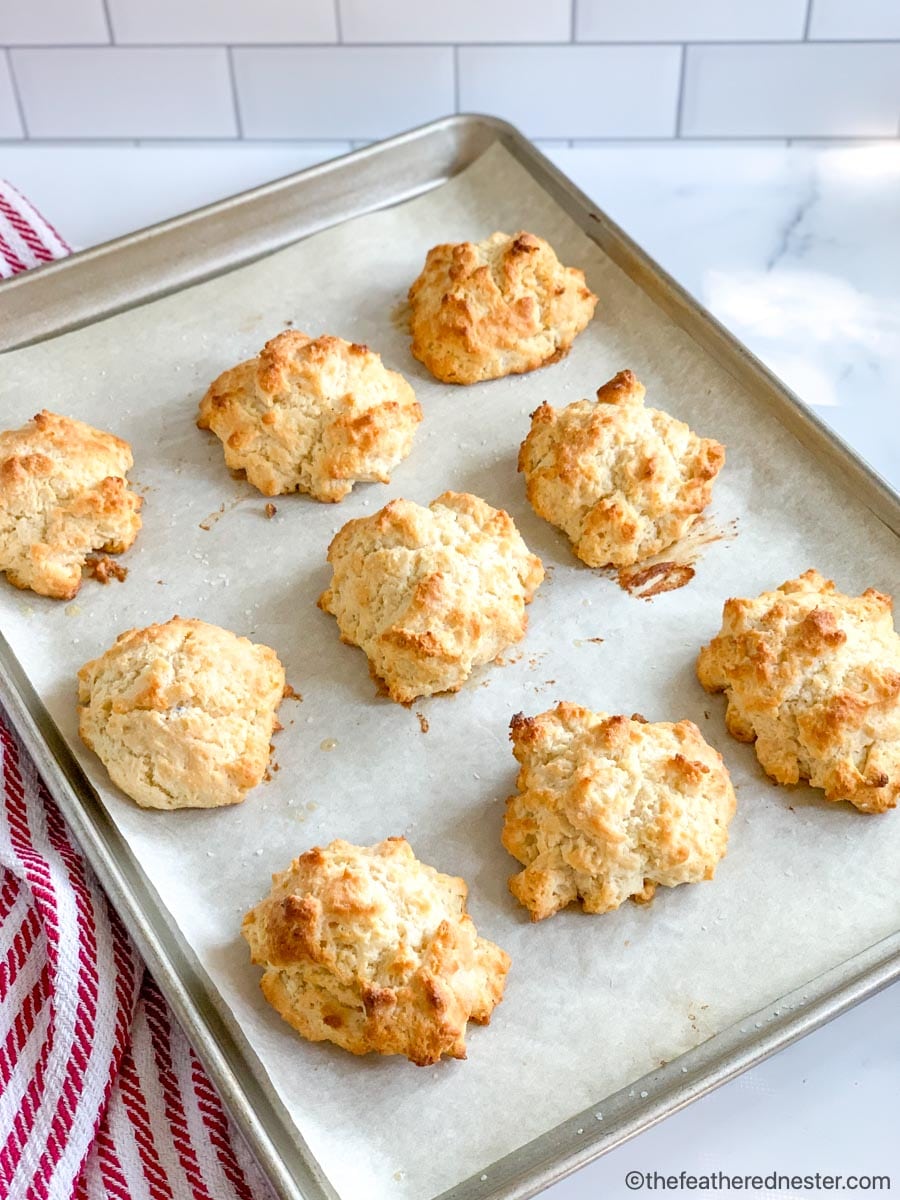 Tips on How to make Bisquick Biscuits Fluffy
Use full fat milk to get the most tender and soft biscuit texture.
Make sure the butter is cold when grated and mixed in to the dough.
Do not over mix the dough!
Don't over bake the biscuits. They should be just golden on top and not browned.
Frequently Asked Questions
Why are my Bisquick biscuits crumbly?
You likely over mixed the dough. Next time make sure to just combine the ingredients to form a rough, sticky wet dough.
Can you substitute water for milk in Bisquick biscuits?
You can swap milk for equal parts of water in a pinch. However, the biscuits won't have quite the same delicious texture and taste.
How do I make these quick drop biscuits with skim and nonfat milk?
If you choose to make this Bisquick drop biscuits recipe with low fat or no fat milk, I recommend that you increase the amount of grated butter used to 1/2 a cup.
Can I make Bisquick biscuits ahead of time?
Absolutely! They can be kept at room temperature for up to 3 days stored in an airtight container. You can also wrap the biscuits in foil, add all to a zipper sealed freezer-safe bag, and keep in the freezer for up to 3 months. See tips below in the recipe card for how to reheat from frozen.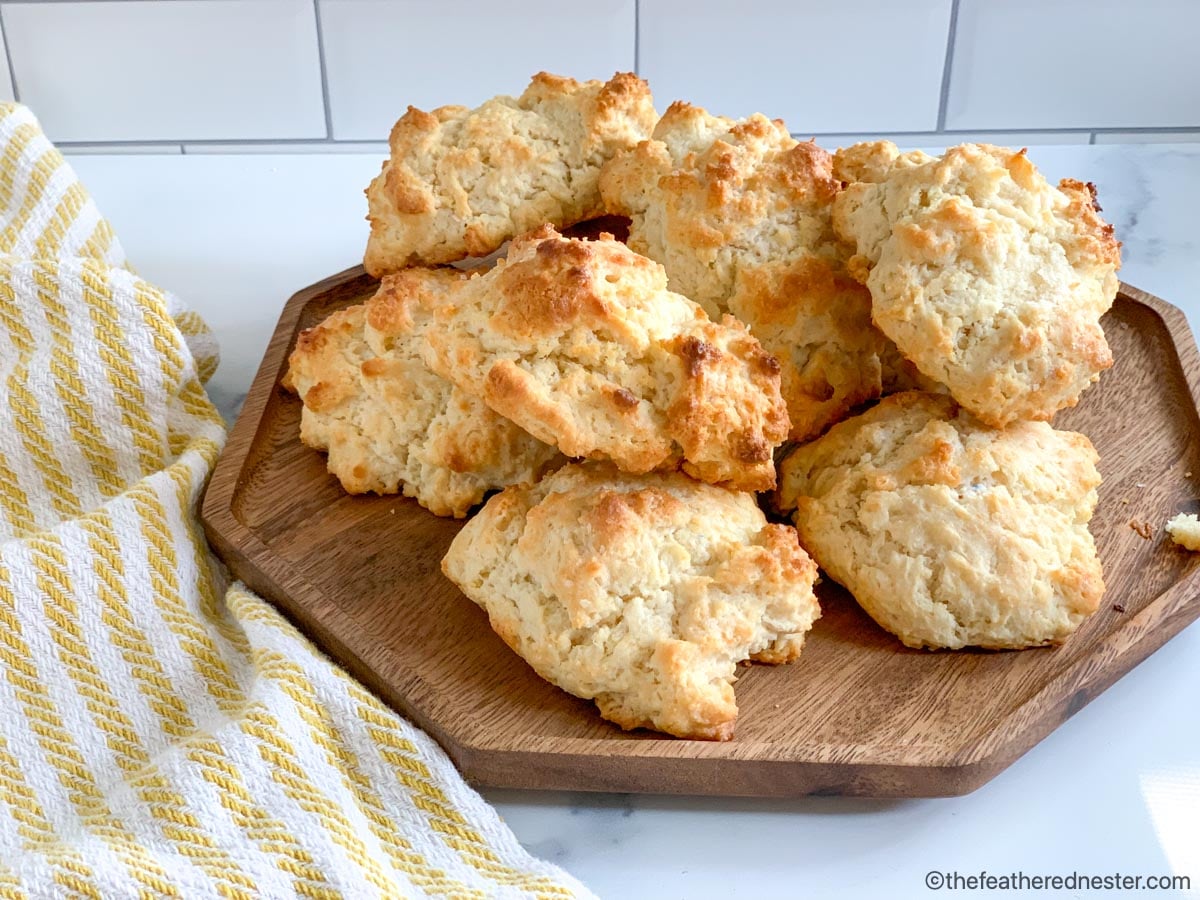 Get More Bisquick Recipes
The Best Bisquick Drop Biscuits Recipe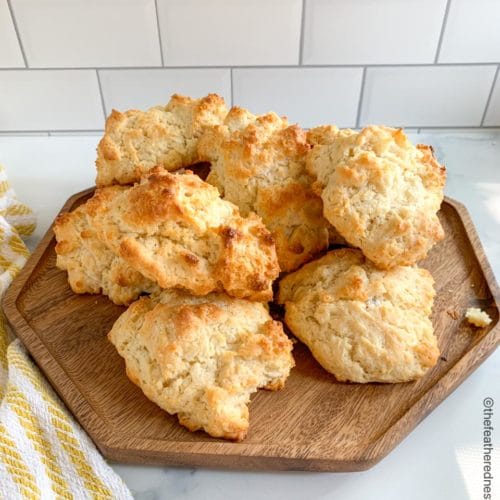 Bisquick Drop Biscuits
Our Bisquick drop biscuits are quick and simple to make – no biscuit cutters needed. You can have them on the table in 15 minutes.
Ingredients
2½ cups Bisquick baking mix homemade or store bought mix
2 teaspoons baking powder
1 teaspoons salt
⅓ cup unsalted butter cold
⅔ cup milk (At least 2% milkfat, see notes for skim and non-fat)
2 tablespoons butter melted
Instructions
Preheat oven to 425ºF. Grate very cold, unsalted butter and place in the fridge or freezer until needed. You can also use a food processor or pastry blender to combine the ingredients.

Using a medium-sized bowl, add dry ingredients and stir well to combine. Create a well in the center of the Bisquick mixture. Pour in the milk and add grated butter to the well, and stir, just until the dough comes together and away from the walls of the bowl (about 30 seconds). If biscuit dough is difficult to stir, add 1-2 Tbsp of milk. For flaky, tender biscuits, do not over mix.

Grease or line the baking sheet with parchment paper. Using a tablespoon or ice cream scoop, scoop the batter onto the prepared baking sheet 2" apart. This recipe makes 6-8 biscuits.

Bake for 10 – 12 minutes, until golden in color. Brush biscuits with melted butter and serve warm.
Notes
Make your own Bisquick with my DIY baking mix recipe (linked).
To use Gluten-Free Bisquick, be sure to follow the substitution directions on the Bisquick box.
For 1% skim and non-fat milk: increase butter to 1/2 cup.
Using lightly frozen, cold butter works easiest for grating.
Store leftovers in a sealed bag at room temperature for up to 3 days.
They will keep well in the freezer for up to 3 weeks. Wrap in aluminum foil and seal in a freezer-safe zipper bag. Reheat from frozen by baking in a 350 degree Fahrenheit preheated oven for about 10 minutes.
Nutrition
Serving: 1biscuit | Calories: 280kcal | Carbohydrates: 25g | Protein: 4g | Fat: 18g | Saturated Fat: 9g | Polyunsaturated Fat: 1g | Monounsaturated Fat: 6g | Trans Fat: 1g | Cholesterol: 35mg | Sodium: 633mg | Potassium: 95mg | Fiber: 1g | Sugar: 6g | Vitamin A: 406IU | Vitamin C: 1mg | Calcium: 155mg | Iron: 1mg
PIN THIS POST!
More Homemade Biscuit Recipes