As an Amazon Associate I earn from qualifying purchases, at no extra cost to you. See my disclosure policy here.
You don't need to wait for a special occasion to make biscuits, because you are just 3 simple ingredients and 20 minutes away from the best drop biscuits! This easy drop biscuit recipe uses self rising flour (though I'll share how to make them with all purpose flour). But, trust me when I say these biscuits are so absolutely delicious that you'll add a bag of self rising flour to the cart on your next grocery trip. So, let's get baking and make some hot and flaky drop biscuits with self rising flour!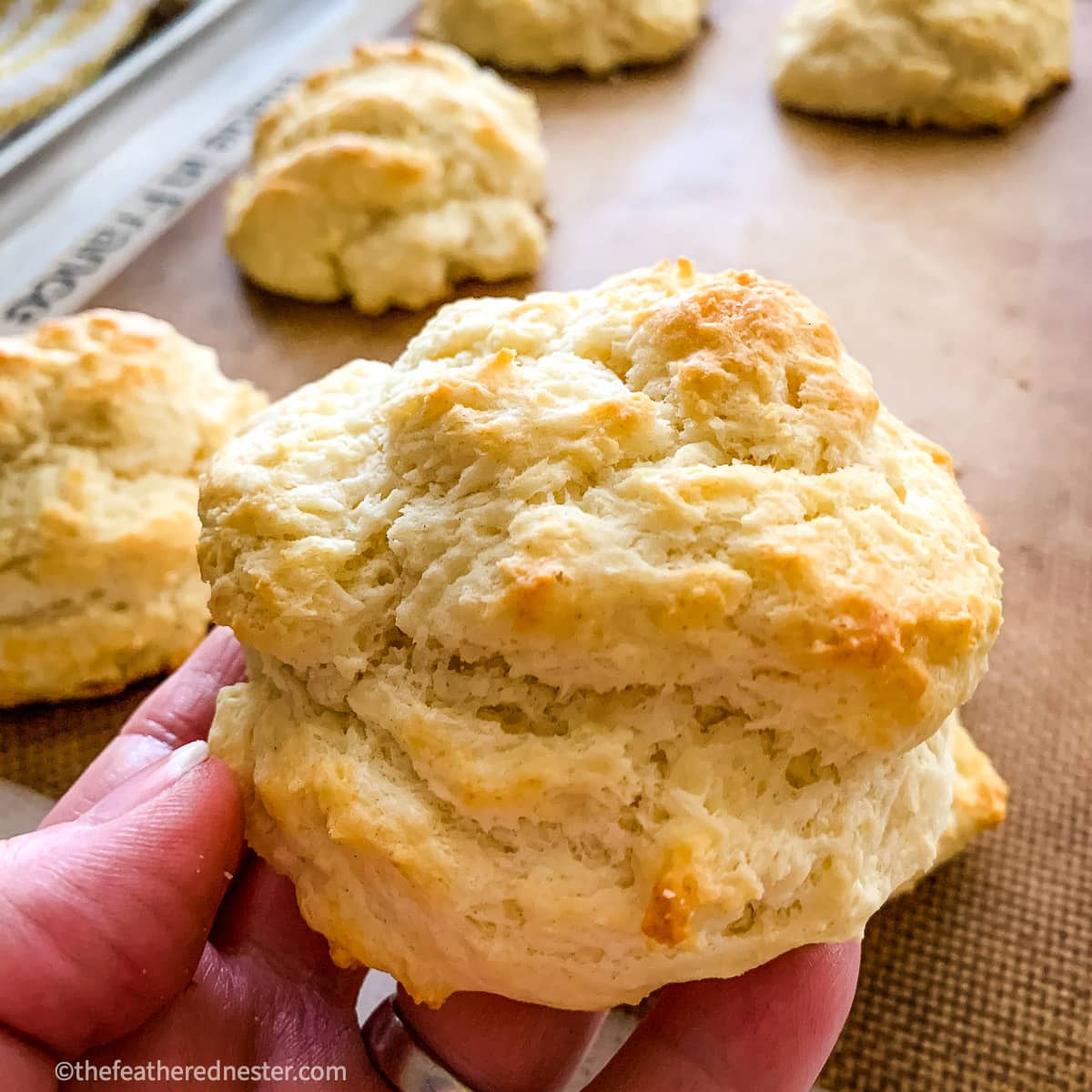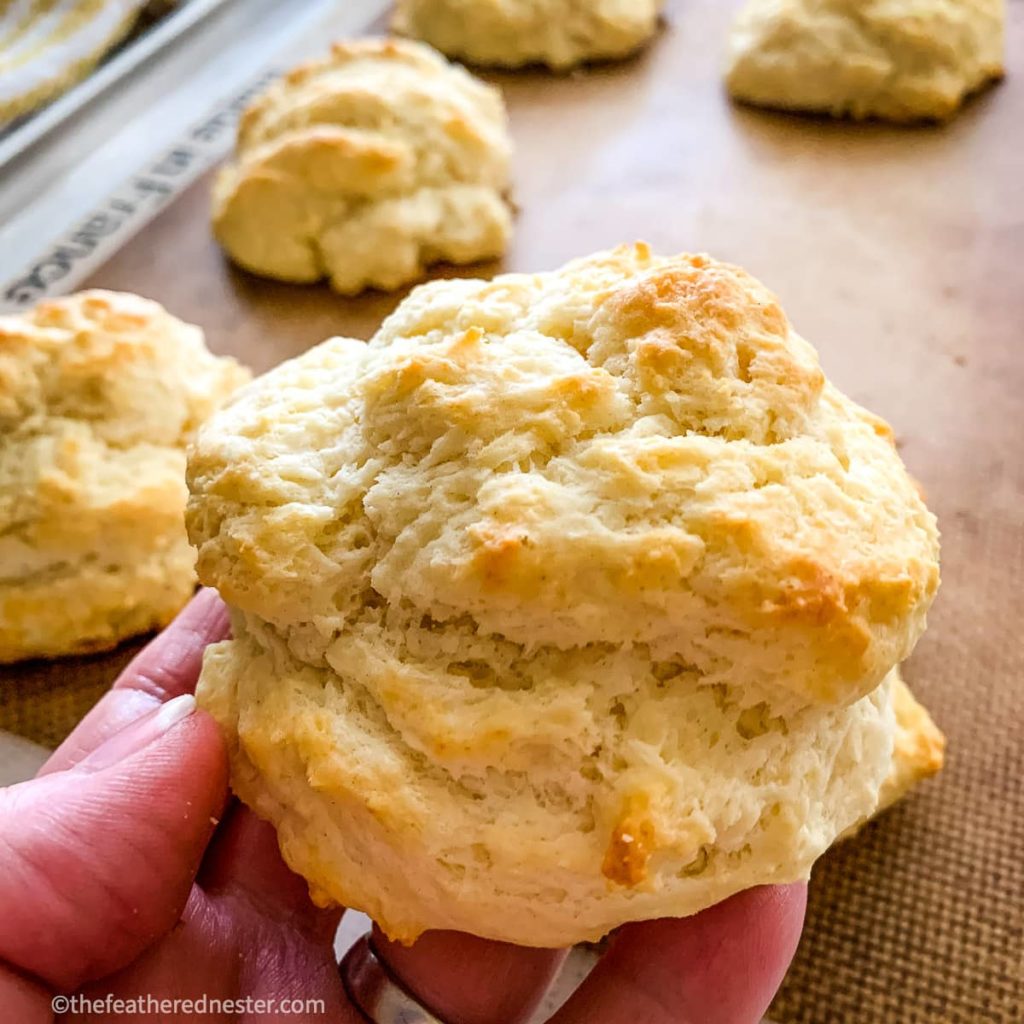 I didn't grow up knowing how to make tender, flaky biscuits. In fact, it took me years to understand how flour, baking powder, and fat come together to create tall, high rising biscuits. Read my funny biscuits story here.
Once I understood the basics of biscuit making, I challenged myself to create easy biscuit recipes with just a few simple ingredients. After all, everyone loves a good biscuit!
My first biscuit recipe was the Easy 3 Ingredient Biscuits recipe that I shared with you last November.
Then came my Cheddar Jalapeño Drop Biscuits recipe a few months ago.
And, now we have simple, drop biscuits that are perfect at any time and for any occasion!
What Are Drop Biscuits?
You might be wondering, what are drop biscuits? Well, biscuits (or scones) generally fall into two types: cut biscuits and drop biscuits.
When making cut biscuits, you use a biscuit cutter or knife to separate the dough into biscuits. A pan of cut biscuits is shown below: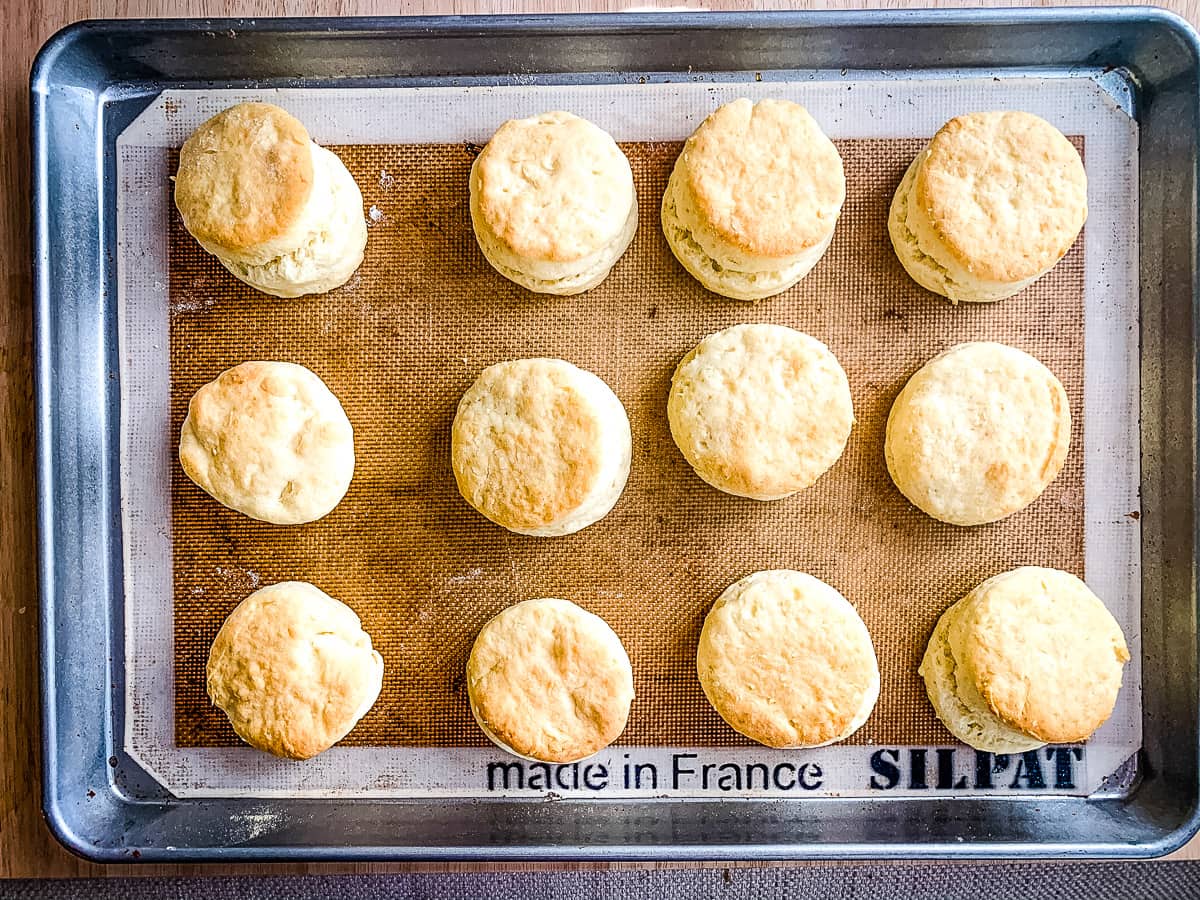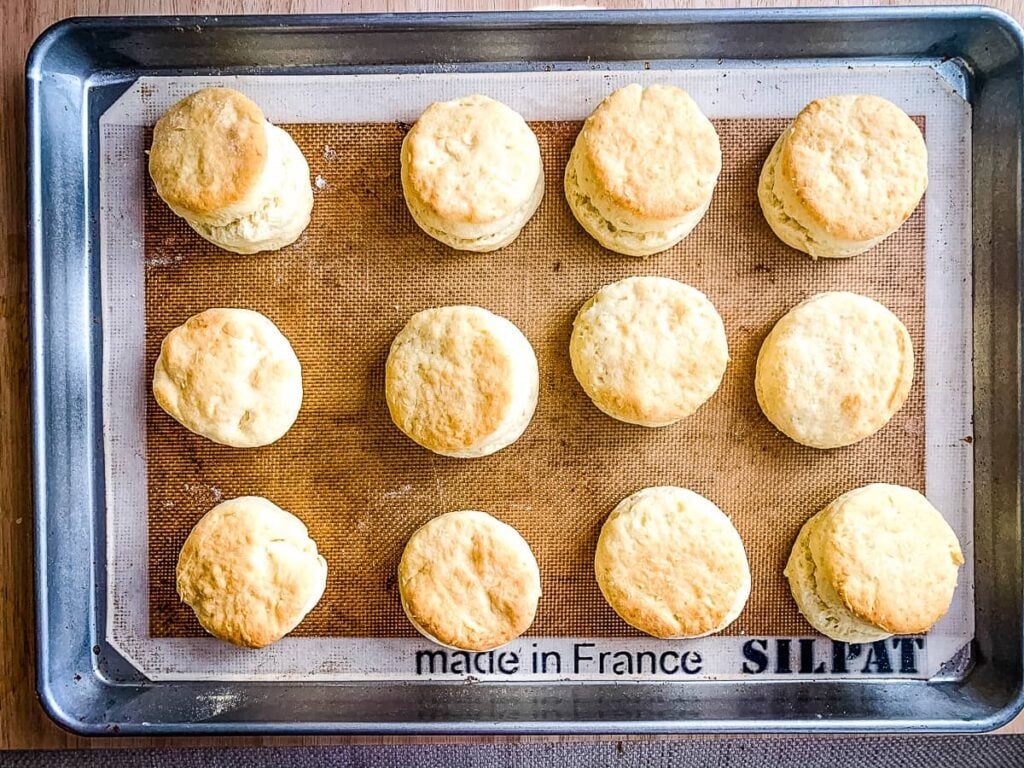 For drop biscuits, you drop the batter right onto the baking sheet.
Drop biscuits are quick and easy, and they can be used in so many ways, both savory and sweet. Use drop biscuits as easy cobbler topping in shortcake recipes, and on chicken and beef stew, for breakfast sandwiches…I could go on and on. Or use them for biscuits and sausage gravy.
Check out this Strawberry Cobbler with drop biscuits topping:
Self-Rising Flour Drop Biscuits
As I've mentioned, this drop biscuit recipe uses self rising flour. It is an essential ingredient to making these drop biscuits.
But you can easily make your own self rising flour, which is shared below.
What is self rising flour?
Simply put, it is all purpose flour that has baking powder and salt added in. Simple, right? Baking powder is a leavening agent (to make the biscuits rise) for baked goods.
If you love making easy biscuits from scratch, then add a bag of self-rising flour to your shopping list. There are so many other baked goods you can make with self rising flour – muffins, cookies, quick breads, and of course, amazingly easy biscuits.
But, it is really simple and easy to make your own self-rising flour. So, don't let the lack of self rising flour keep you from baking these delicious drop biscuits!
How to make self rising flour from all purpose (regular) flour
Making self-rising flour takes just three simple ingredients. If I run out of self-rising flour, I usually mix up a batch to keep on hand until I can get to the store.
Make your own self-rising flour: Combine 4 cups of flour, 2 Tablespoons of baking powder, and 1 teaspoon of salt. Mix well, and store in a container at room temperature. This is enough for two batches of biscuits.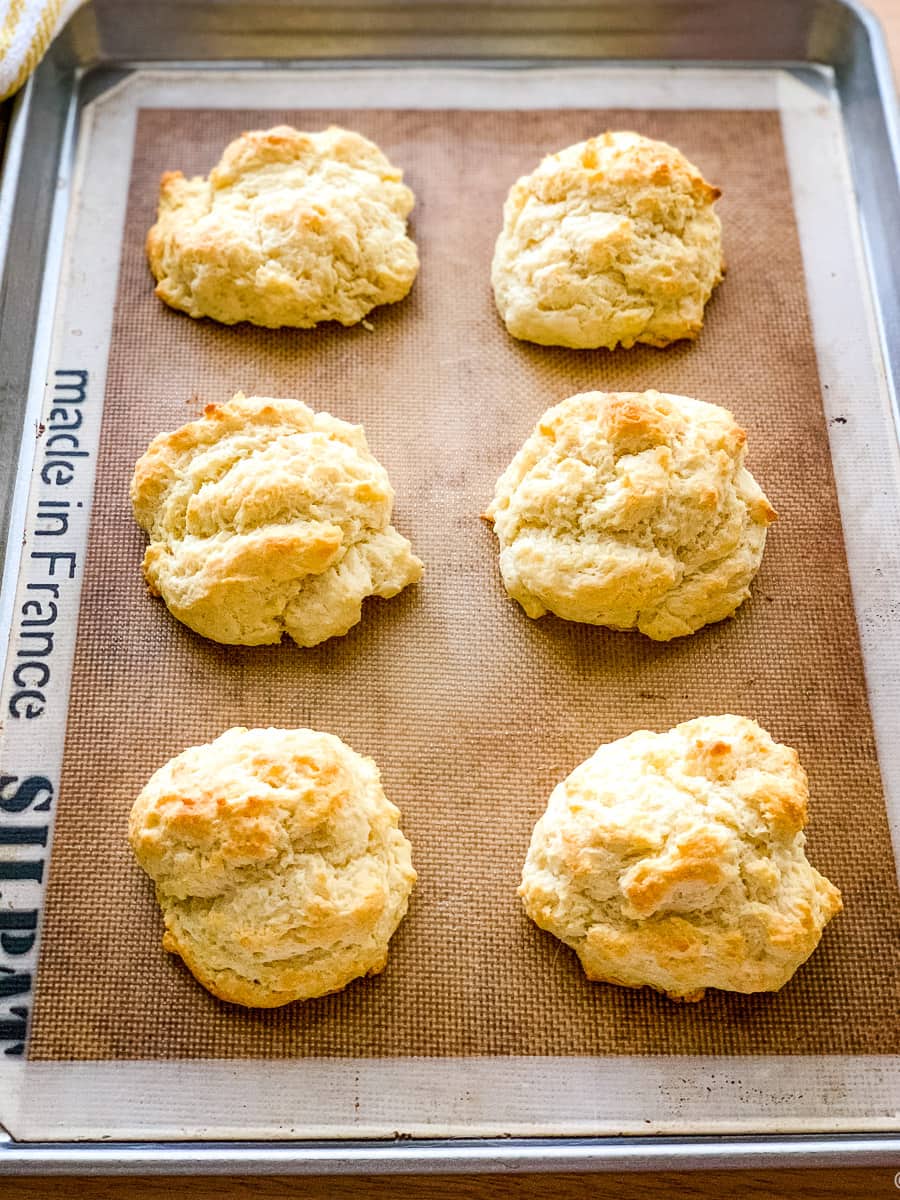 Flaky Drop Biscuit Ingredients
This is a 3 ingredient drop biscuit recipe. It is hard to believe that you can make the best drop biscuits with just 3 ingredients! But, once you make them, you will become their biggest fan.
Self rising Flour (to use all-purpose flour, see above)
Milk
Butter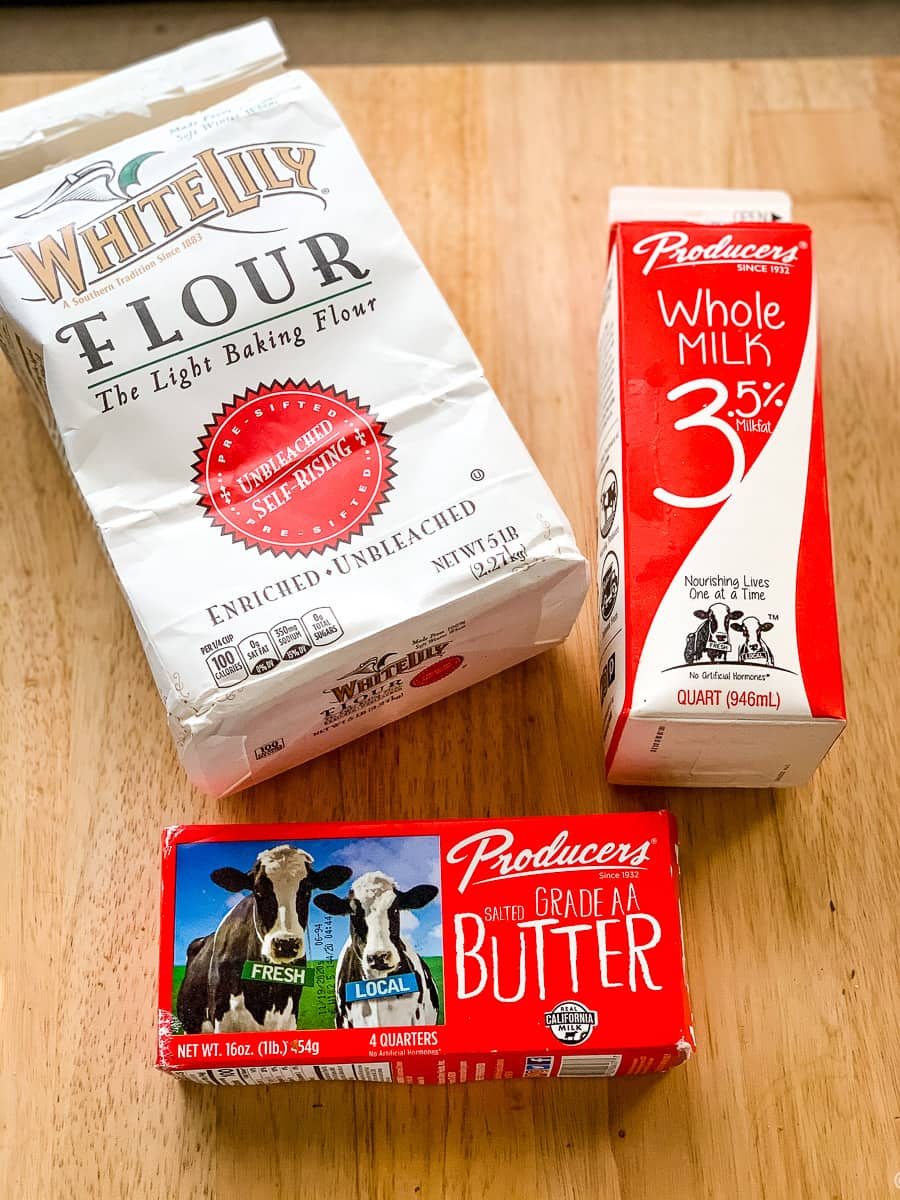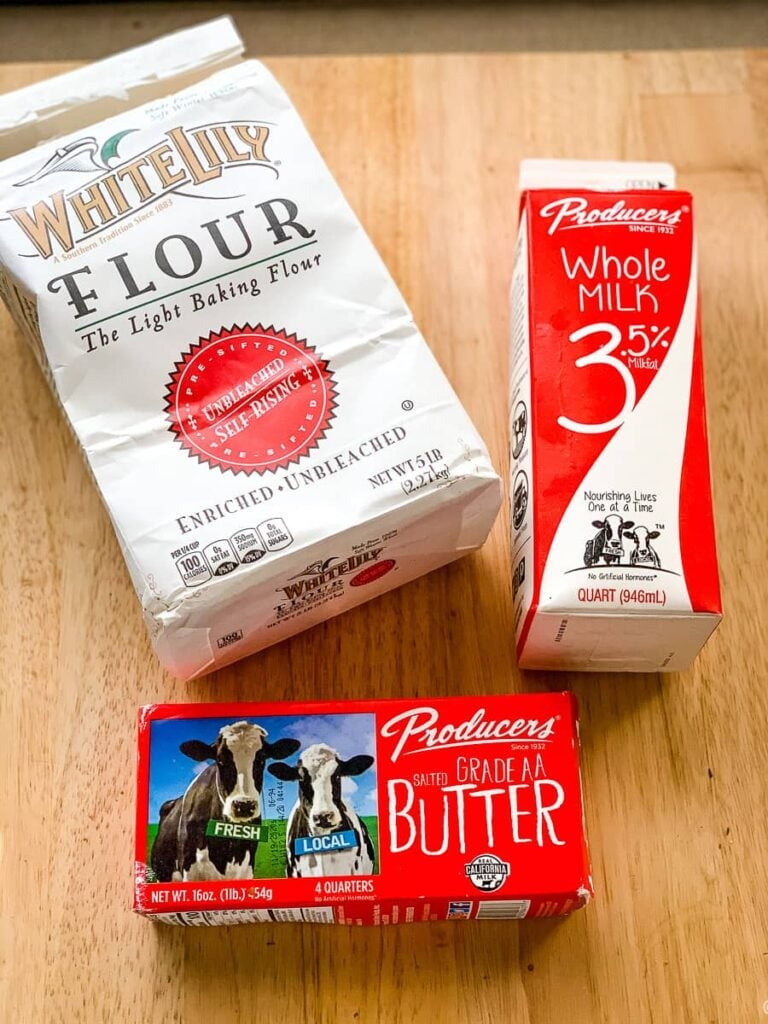 TFN Tip: place your butter in the freezer for 15 minutes before making drop biscuits. It will be easier to grate.
Although I love buttermilk biscuits, many of you don't regularly keep buttermilk on hand.
So, I created this biscuits recipe with simple, common ingredients. Many households will have these ingredients right in their pantry and refrigerator.
If you are looking for an easy, 3 ingredient biscuit recipe without buttermilk or cream, then this is perfect for you.
For savory, cheesy biscuits, check out my Cheddar Jalapeño Drop Biscuits. Make them with jalapeños for a hint of spice, or leave them out for the best cheddar biscuits.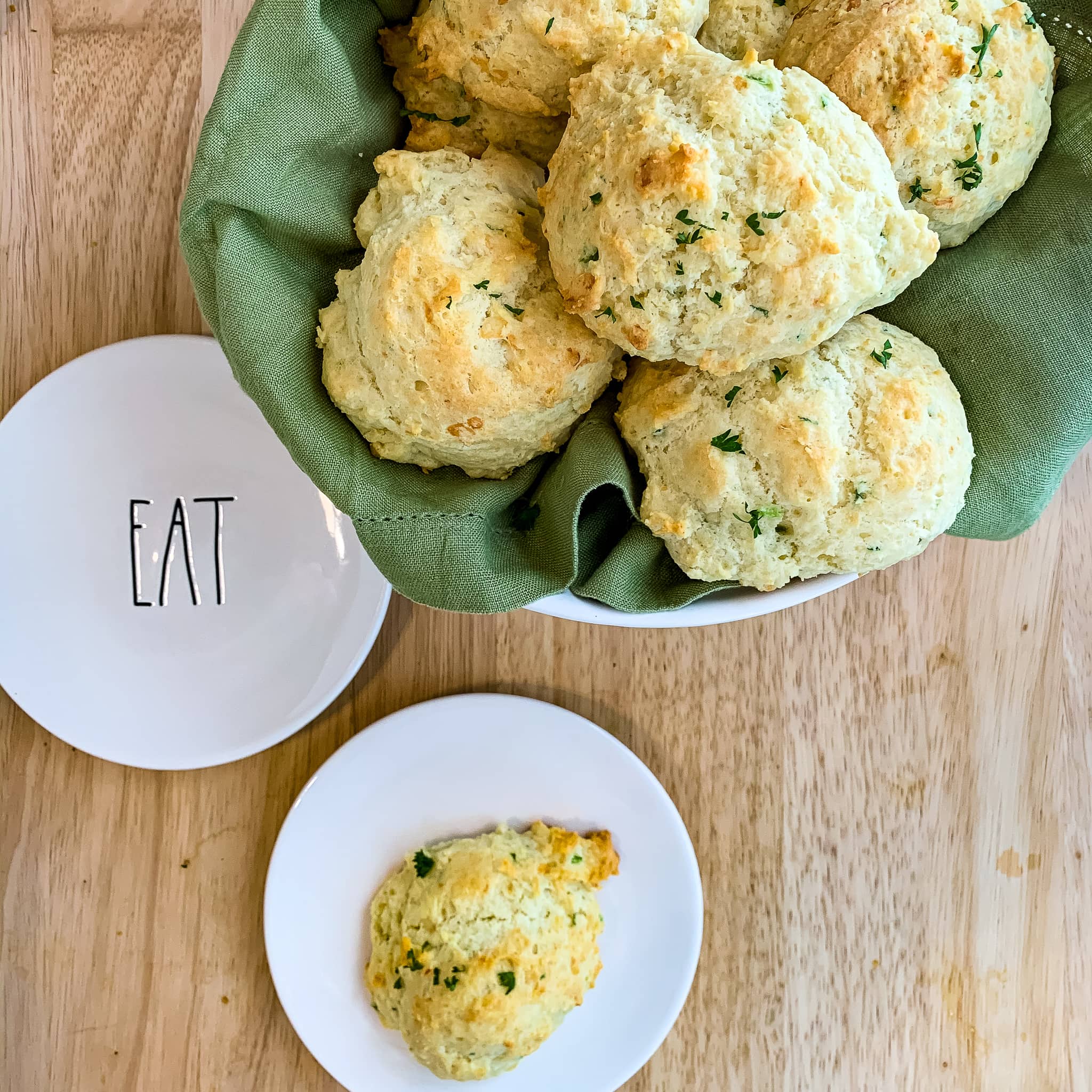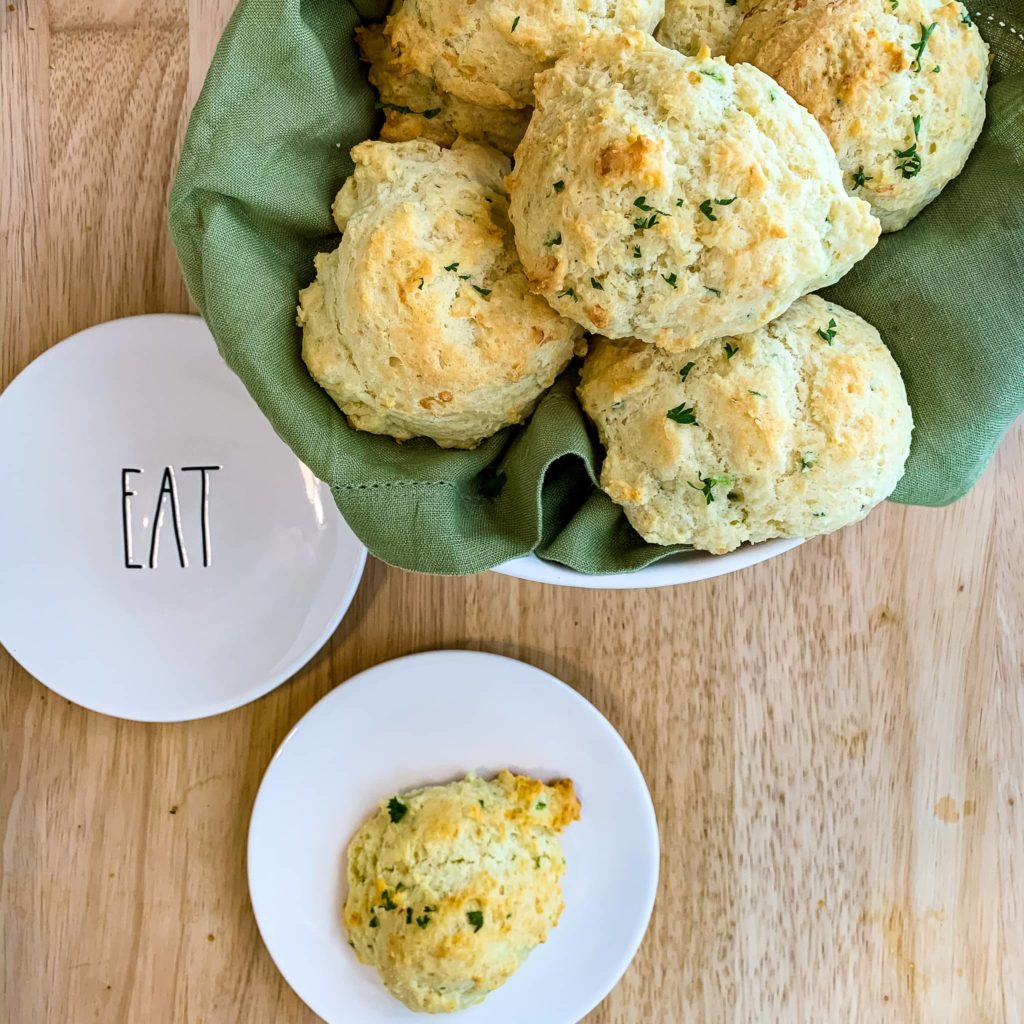 How to Make Easy Drop Biscuits
This recipe for drop biscuits with self rising flour is so easy! As you'll see below, it's literally mix, drop, and bake.
TFN Baking Tip; for making the most tender, flaky drop biscuits use a light touch. The best biscuit dough is created from minimal stirring.
So, let's make some quick and easy drop biscuits!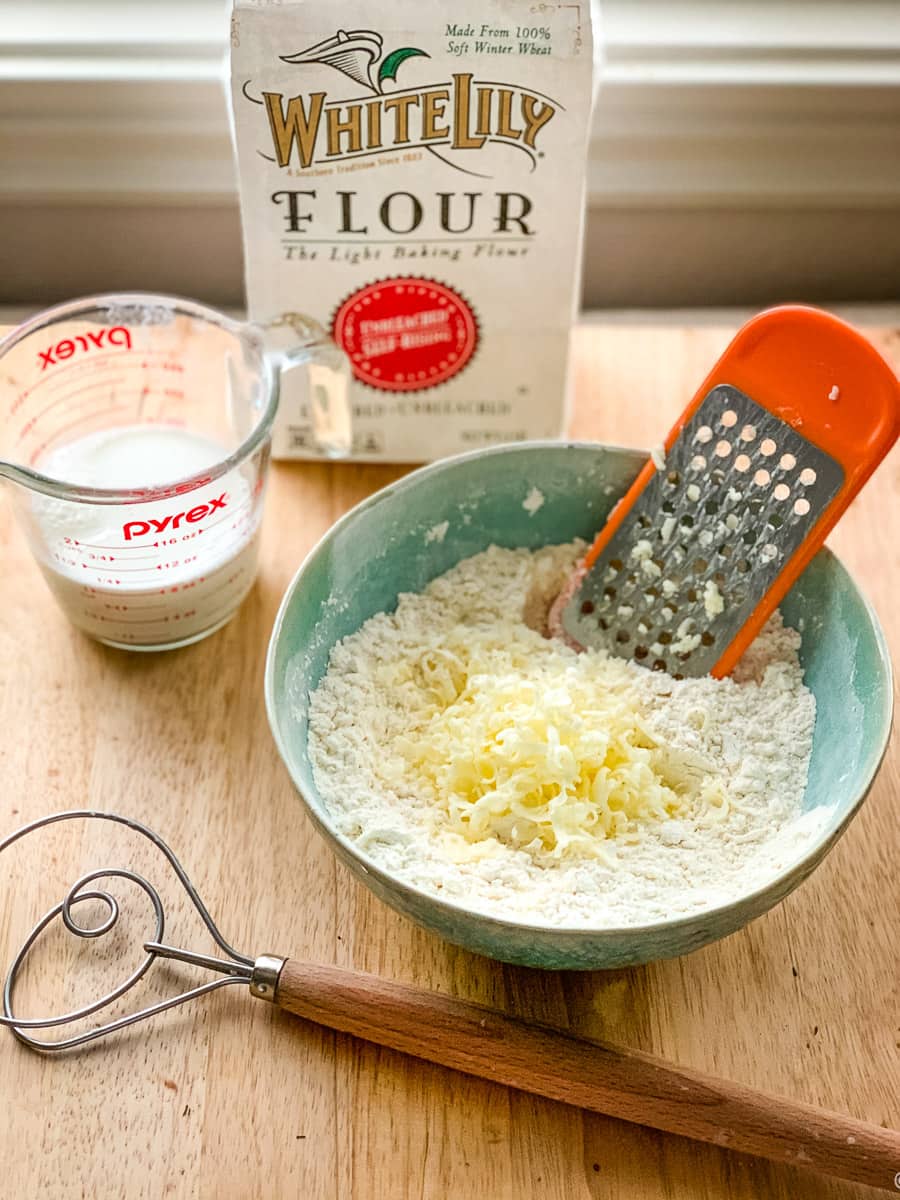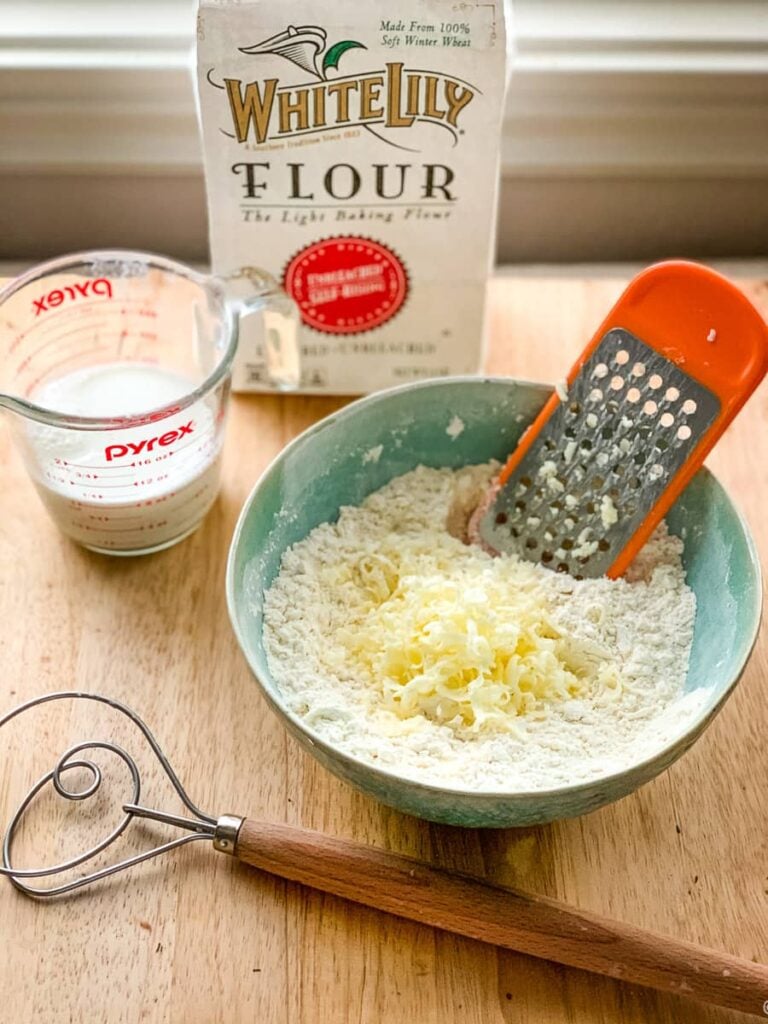 Make a well in the middle of your flour mixture, and add the milk all at once.
The goal is to just mix the dough until it's come together, and comes away from the sides of the bowl. This takes about 30 seconds.
Bake for 15 minutes, until lightly golden brown, and serve warm.
You can store biscuits at room temperature, in a sealed bag, for a few days. Get the full drop biscuits recipe below.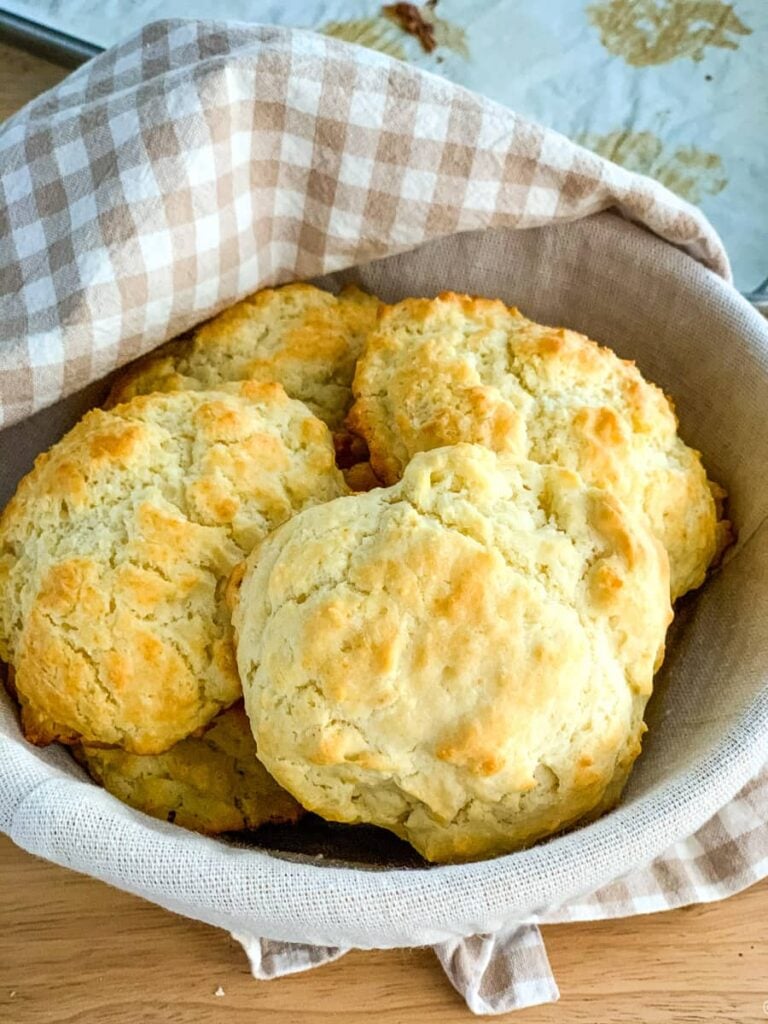 Frequently Asked Questions
Is it better to grease the baking sheet or use parchment paper?
I like using parchment paper or a Silpat (silicone sheet). When baking at 450º the bottoms of the biscuits may brown, especially if you are using a thinner baking sheet. Using the Silpat ensures a more even, golden color to biscuits. If my choice is between greasing the baking sheet and parchment, I would go with parchment paper.
My batter is lumpy. Is that okay?
Yes, you want the biscuits batter to look lumpy. It's important not to over stir the batter. Just 30 seconds or less of stirring is all it takes.
Can I cut in the butter instead of grating it?
Sure! Some people like using a pastry cutter to mix in the butter. Alternatively, you can use two knives to cut the butter in with the flour. The butter should be pebble sized.
What are the advantages to using self rising flour in biscuit making?
There are a few reasons I prefer to use self rising flour for making biscuits. It simplifies the biscuit making process because there are less ingredients to measure. And, the flour, baking powder, and salt are premixed, so less mixing is involved.
Can I use non-fat milk?
I do not recommend non-fat milk without modifying the recipe. If you only have non-fat milk, use 3/4 cup of milk and 3/4 cup of butter for the best biscuit. A high fat content is what helps make a flaky, tender biscuit.
Drop Biscuit Recipe with Self Rising Flour
Self Rising Flour Drop Biscuits
This is the easiest self rising flour drop biscuits recipe! With just 3 simple ingredients and 15 minutes of baking, you'll have the most tender, flakiest biscuits. And, they are perfect for any occassion.
Ingredients
2

cups

self rising flour (for all purpose flour, see notes below)

1/2

cup

butter, grated

1

cup

milk (whole or 2%)
Instructions
Using a medium-sized bowl, add 2 cups of self rising flour. Unwrap stick of cold butter and grate butter over the flour, then stir to evenly distribute the butter.

Create a well in the center of the dry ingredients (flour and butter). Pour the milk in the well and stir, just until the dough comes together and way from the walls of the bowl – about 30 seconds. For the flaky, tender biscuits, do not over mix.

Grease or line baking sheet with parchment paper. Using a tablespoon or ice cream scoop, scoop batter onto the baking sheet. This recipe makes 8 – 10 biscuits.

Bake for 13-15 minutes, until golden in color. Serve warm.
Notes
To use all purpose flour in place of self-rising flour:
Mix 2 cups of all-purpose flour, 1 tbsp baking powder, 1/2 tsp fine salt
Nutrition
Serving:
1
biscuit
|
Calories:
233
kcal
|
Carbohydrates:
24
g
|
Protein:
5
g
|
Fat:
13
g
|
Saturated Fat:
3
g
|
Cholesterol:
3
mg
|
Sodium:
148
mg
|
Potassium:
77
mg
|
Fiber:
1
g
|
Sugar:
2
g
|
Vitamin A:
557
IU
|
Calcium:
43
mg
|
Iron:
1
mg
Now you know how to make the best drop biscuits! And, why self rising flour is something you should keep in your pantry. So, make these easy, delicious drop biscuits today.
One last thing, if you are lucky enough to have any leftover biscuits, wrap them tightly in plastic wrap or bees wax wrap and store at room temperature for up to 3 days. Or wrap in foil and freeze biscuits for up to 3 weeks. To reheat, bake them at 300º for 10 minutes.
Get more Biscuit Recipes
You'll love these easy baking recipes