Sheet pan pancakes from a mix are the fastest, fluffiest, and most fool-proof breakfast life hack we've come across! They're so airy and light, with that characteristic maple flavor that we all crave in the morning. You can make baked pancakes in the oven with any mix and any toppings — all in less than 30 minutes!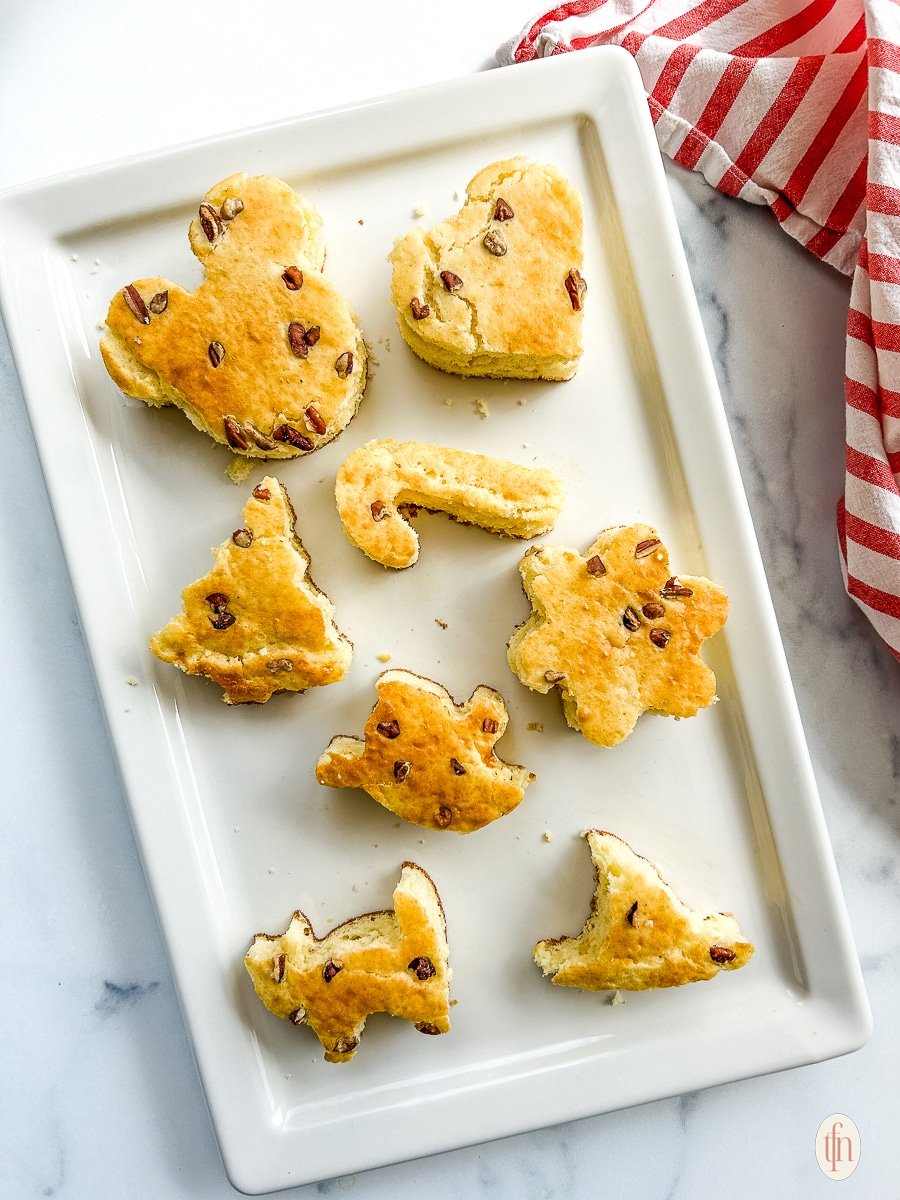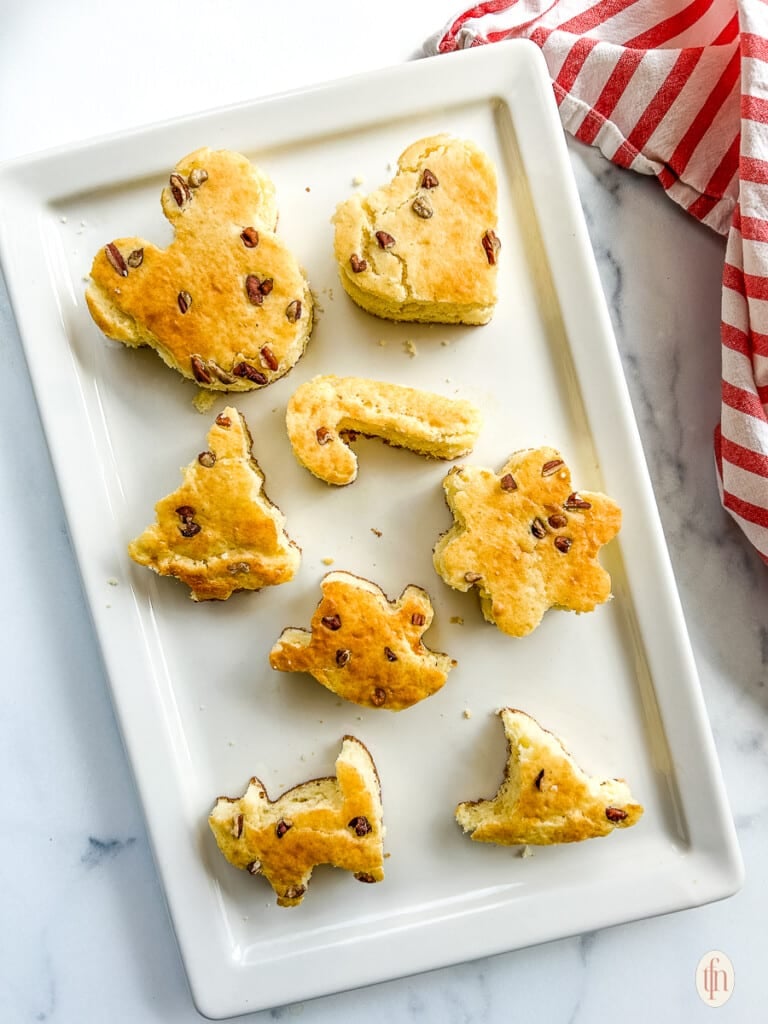 Reasons to Make Sheet Pan Pancakes From Mix
They're so convenient! You can save time by cooking them all in one batch, it makes for easier cleanup, and using mix means fewer ingredients.
You can make enough pancakes for a crowd! This recipe feeds a lot of people in one fell swoop. The perfect easy Christmas breakfast idea!
Using just one baking pan, you can prepare the rest of breakfast while they bake. There's even room for turkey bacon in the oven because they cook at the same temperature!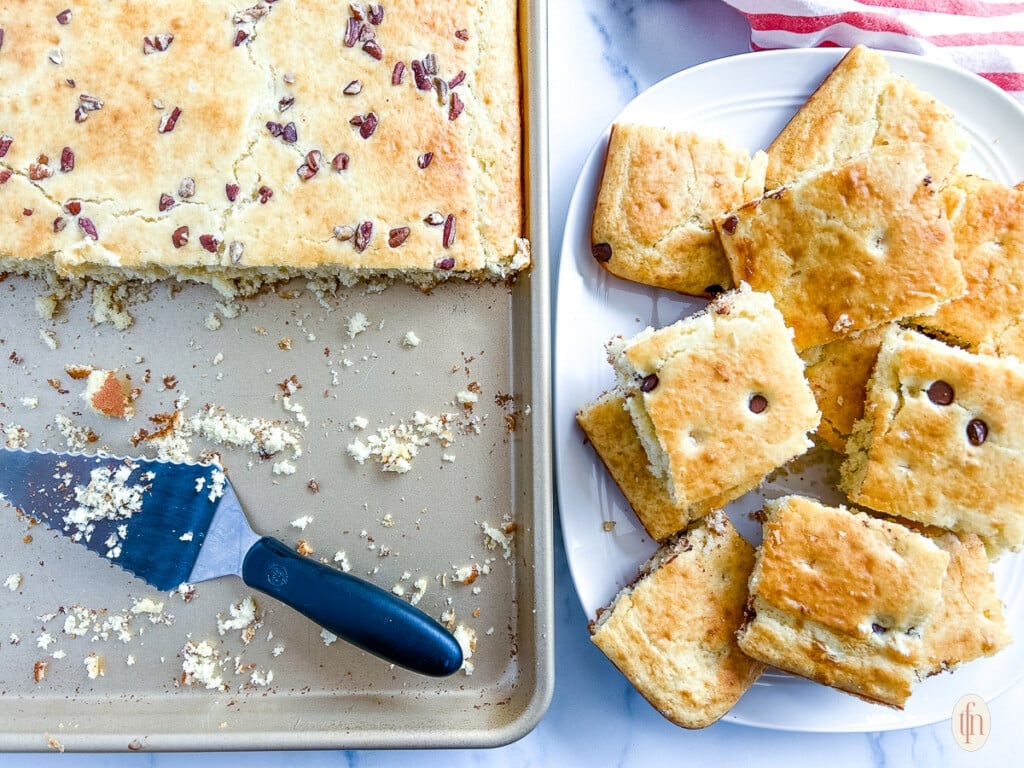 Ingredient Notes and Substitutions
Mix – Homemade baking mix, Bisquick, and even our fluffy muffin mix pancakes mix can be used to make pancakes in the oven.
Sugar – Non-sugar substitutes are easy to use, but you can't use a liquid sweetener. That would alter the dry-to-wet ingredient ratio.
Milk – Any kind of milk, heavy cream, half and half, or even a non-dairy substitute can be used when you make sheet pan pancakes from mix. It's so convenient!
Maple Extract – This secret ingredient bakes that warm maple flavor right into those flapjacks without the need for sticky syrup — but you can still pour that on at the end! Vanilla extract is a good substitute for fruity or chocolatey cakes.
🎯 TFN Pro Tip
Have the right equipment.
You'll need a rimmed baking sheet to make sheet pan pancakes from mix. We use an 18×13-inch baking sheet (also known as a half-sheet pan).
If you're working with a smaller oven, you could also use two quart-sheet pans measuring 9×13 inches. It's important to stick to this size to get the right thickness.
You might also want to grab a few cookie cutters, especially if you're making these on Christmas morning! Let the kids help make fun shapes in the sheet cake before serving for a fun, tasty holiday memory.
Pancakes in the Oven Recipe Tips
Don't overmix the batter.

Sheet pan pancakes from mix bake almost like a cake. As a result, it's important to whisk until only just combined.

Lumps are okay! It's more important to prevent dry, tough flapjacks than to have a totally smooth batter.
Let the batter rest before baking.

Once poured into the pan, give it at least 2 to 5 minutes of rest time before sliding the pan into the oven.

This allows the wet and dry ingredients to meld, giving the starch time to absorb the liquid and thicken. It's a surefire way to make your sheet pan pancakes from a mix airy and fluffy!

However, don't let it rest too long, or else the leavening agents won't be as effective once it's time to bake. 30 minutes or so is the maximum.
Planning on adding toppings?

Any toppings can be added before baking. Rather than mixing in with the batter, sprinkle the toppings across the surface of the batter. It'll look better that way, and you can get a more even distribution without overmixing.

Depending on the topping, and your desired texture, it might be better to wait until the last 5 to 7 minutes. For example, blueberries will stay plumper, crisper, and sweeter if they aren't baked for as long!
Our Favorite Add-Ins for Sheet Pan Pancakes From Mix
Another great thing about these oven flapjacks is how customizable they are.
Our fan-favorite banana chocolate chip pancakes, for example, are more than easy to make with this recipe!
Strawberries, blueberries, raspberries… Any fruit is fantastic! Steer away from frozen or excessively watery fruits, as they'll leave you with watery flapjacks.
Cinnamon apples are tasty and seasonal choices, too. You'll want to cook the apples down with the brown sugar and cinnamon first and then add to the batter once it's in the pan.
Coconut flakes, caramel chips, lemon zest, white chocolate — there's really no limit.
Sheet Pan Pancakes From Mix FAQ
What are sheet pancakes?
They're flapjacks made in the form of a sheet cake.

The batter is poured directly into the baking pan and baked all in one. It's then sliced into individual portions and served. It's like breakfast cake!
How much does 1 box of pancake mix make?
One box contains roughly 32 ounces, which translates to about 8 cups of mix. This allows for a double batch of this recipe, so roughly 24 flapjacks if you're making sheet pan pancakes from a mix.
Can I mix dry ingredients for pancakes the night before?
Yes — there's no harm in combining all of the dry ingredients beforehand.

What's important is keeping the dry and wet separate so that the baking powder doesn't start leavening too soon. You could even combine most of the ingredients but leave out the baking powder, adding that last, if you really want to.
Storing and Reheating
Carve out the flapjacks and transfer to an airtight container or storage bag (a messy choice if you've added toppings!). Leftovers do need to be refrigerated and can be kept for up to 3 days.
They can also be frozen for 3 months!
Reheating is best in the microwave to keep them soft. Do so in 15 to 30-second spurts until warmed through.
Simple Sheet Pan Pancakes from Mix
Try Sheet Pan Pancakes From Mix for a yummy, simple breakfast on busy mornings! Everyone will love these fluffy baked pancakes in the oven.
Equipment
half-sheet pan - (18 x 13-inch rimmed baking sheet) – *See Notes

medium mixing bowl

cookie cutters - optional – *See Notes
Ingredients
4 cups baking mix use our homemade baking mix, Bisquick, or other pancake mix
⅓ tablespoon sugar or granulated sugar substitute
2 teaspoons baking powder
2 cups milk any kind, or non-dairy alternative
¼ cup melted butter
4 large eggs slightly beaten
1 teaspoon maple extract or vanilla extract
Instructions
Lightly grease sheet pan with cooking oil or a light coating of non-stick cooking spray. Heat oven to 425°F.

To a medium mixing bowl, add all ingredients. Whisk to combine with a whisk or fork, only until just blended. There may be some small lumps – this is okay, do not over mix. Let batter rest for 2-5 minutes, until bubbles begin to appear on the surface.

Pour batter into the prepared sheet pan, and use an offset spatula or the back of a large spoon to spread it into an even layer. Add toppings as desired (see Notes for ideas).

Bake in preheated 425ºF oven for 15-17 minutes, or until golden brown and a toothpick inserted in the center comes out clean.

Cut into squares, or use cookie cutters to cut them into fun shapes! Serve warm with butter and maple syrup, jam, or honey.
Notes
This baked pancakes recipe requires an 18 x 13-inch rimmed baking sheet, also known as a half-sheet pan. If your oven is small or space is limited, divide the batter evenly between two quarter-sheet pans (9 x 13-inches).
If desired, you can add toppings to the pancake batter before baking. Possible options include chocolate chips, fresh blueberries, sliced or chopped strawberries, chopped nuts, and/or sprinkles or jimmies.
Transfer leftover sheet pan pancakes to an airtight container or food storage bag. Leftovers will keep in the refrigerator for up to 3 days, or may be frozen for up to 3 months.
Nutrition
Serving: 2 pancakes | Calories: 367kcal | Carbohydrates: 42g | Protein: 10g | Fat: 18g | Saturated Fat: 7g | Polyunsaturated Fat: 2g | Monounsaturated Fat: 8g | Trans Fat: 0.2g | Cholesterol: 101mg | Sodium: 971mg | Potassium: 224mg | Fiber: 1g | Sugar: 11g | Vitamin A: 414IU | Vitamin C: 0.2mg | Calcium: 255mg | Iron: 2mg
PIN THIS POST!