If you love restaurant copycats, you will flip for this In n Out sauce recipe! It makes a creamy, tangy hamburger sauce that tastes just like one at the restaurant! This homemade condiment is fantastic on sandwiches, or as a dipping sauce for fries, sausage balls, and so much more.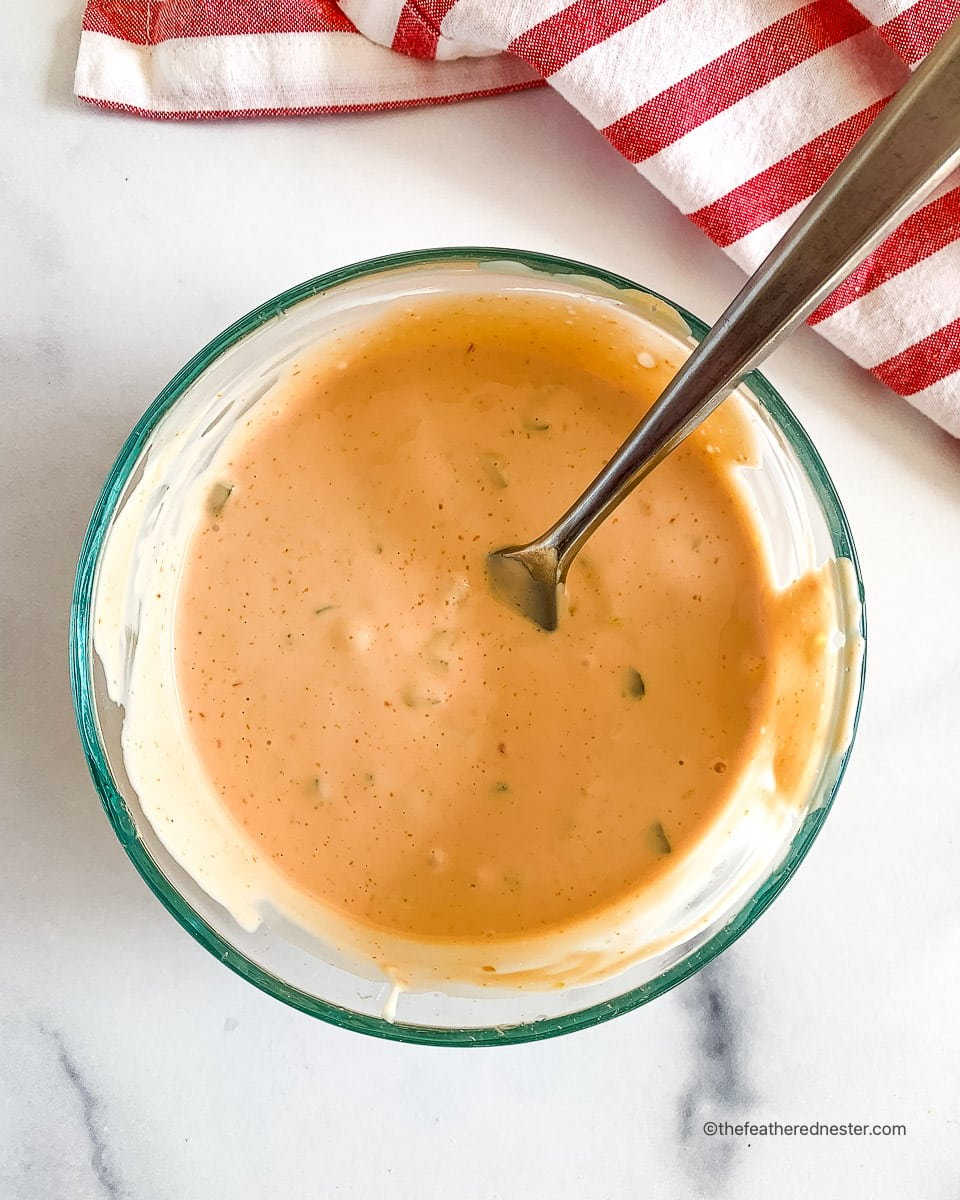 You don't have to visit the west coast or southwestern U.S. to taste their hamburger sauce. Why? Because with this recipe, you can make it at home!
Why In N Out Sauce Is So Popular
In-N-Out restaurant is known for their delicious fast food menu items. They made a solid fan base with their burgers and loaded Animal style fries.
Everyone knows that burgers taste the best served on a perfect hamburger bun, and piled high with condiments and toppings.
But what draws people into the fast food line is the In and Out sauce! The great news is, it's easy to make at home! Chances are good that after you make your own condiments, you will never want anything else.
Do you like making restaurant copycat recipes?
If so, you might want to make a copycat of Carbone's spicy rigatoni for dinner
For lunch, try a Panera green goddess salad. You can serve it with a Starbucks iced brown sugar oat milk shaken espresso!
Ingredient Notes and Substitutions
Mayonnaise – This creates a creamy and smooth consistency.
Substitutes: You can use an equal amount of light mayo, sour cream, or plain Greek yogurt. However, the difference in flavor will be noticeable.
Sweet pickle relish – This adds a sweet and tangy flavor that balances the richness of mayo.

Substitutes: If you don't have any sweet relish, finely chop up a few bread and butter pickles instead. Or, use dill relish, but know that it will affect the flavor of your In and Out sauce.
Want to make other homemade condiments?

Jazz up your next meal of ribs or Shake and Bake chicken with sweet and tangy 3 ingredient BBQ sauce.

Or, the next time you're craving nachos, cover the chips with homemade Velveeta cheese sauce!
Tips for Making In n Out Sauce
Mix the ingredient with a whisk.
Whisking will help you combine everything completely, which creates a creamier consistency.

Taste, then adjust the ingredients if necessary.
You can adjust the sweetness or tanginess of the hamburger sauce by using more sweet pickle relish or vinegar. You can even include extra flavor enhancers, like hot sauce, paprika, or Worcestershire sauce.

Chill the sauce.
I highly recommend covering the bowl with plastic wrap and refrigerating the sauce for at least 1 hour before serving. This allows time for the flavors to develop.
Other Uses For Hamburger Sauce
Dipping Sauce
In and Out sauce for burgers also tastes fantastic as a dip for Bisquick sausage balls, French fries, onion rings, or raw veggies.

The sweet and tangy flavors go well with fish and chicken tenderloin recipes, too!
Sandwich Spread
It's super tasty as a spreadable condiment for sandwiches. Try it on our Italian sliders!
Salad Dressing
It works well as a dressing for a cobb salad, or use it instead of mayo in a cold pasta or potato salad.

FAQ
How long will the sauce last in the refrigerator?
This will last in the fridge for up to 1 week if stored properly in an airtight container.
Is In and Out sauce the same as thousand island dressing?
Although they look very similar, they aren't identical. The hamburger sauce recipe includes vinegar, which gives it a tangier flavor. Also, Thousand island salad dressing is thicker.
In n Out Sauce
For a tangy and creamy homemade condiment, make some homemade In and Out sauce! It's also delicious as a dip for fries and sausage balls!
Ingredients
½ cup mayonnaise or light mayo
3 tablespoons ketchup
2 tablespoons sweet pickle relish or minced sweet pickles
½ tablespoon distilled white vinegar
1 teaspoon sugar
Instructions
Measure all of the ingredients into a medium sized bowl. Stir the ingredients with a wire whisk until the sauce is smooth, creamy, and well combined.

For the best flavor, cover the bowl with plastic wrap and refrigerate the sauce for at least 1 hour before serving.

Refrigerate any leftover In and Out sauce in an airtight container, and use within 7 days.
Notes
To lower the calories and fat, use light mayo instead of full fat mayo. This will cut approximately 100 calories per 3-tablespoon serving.
Nutrition
Serving: 1serving (about 3 tablespoons) | Calories: 216kcal | Carbohydrates: 7g | Protein: 0.4g | Fat: 21g | Saturated Fat: 3g | Polyunsaturated Fat: 13g | Monounsaturated Fat: 5g | Trans Fat: 0.1g | Cholesterol: 12mg | Sodium: 341mg | Potassium: 39mg | Fiber: 0.1g | Sugar: 6g | Vitamin A: 167IU | Vitamin C: 1mg | Calcium: 4mg | Iron: 0.2mg
PIN THIS POST!