For an impressive Italian meal that's jam packed with authentic flavor, make this Carbone spicy rigatoni recipe! One bite of this spicy vodka pasta dish and they'll think they're eating at Carbone© restaurant. Better yet, you can make this delicious meal in less time than it takes to pick up carryout for dinner!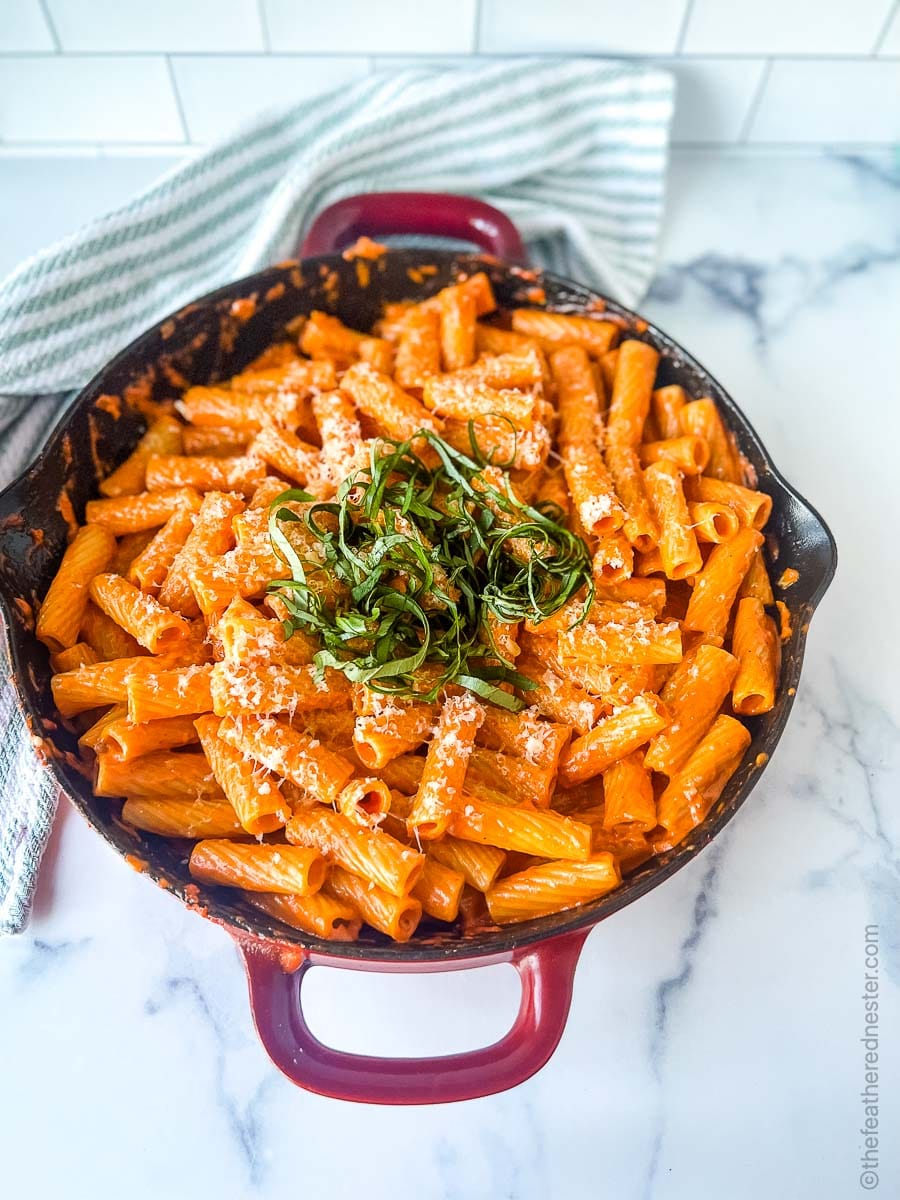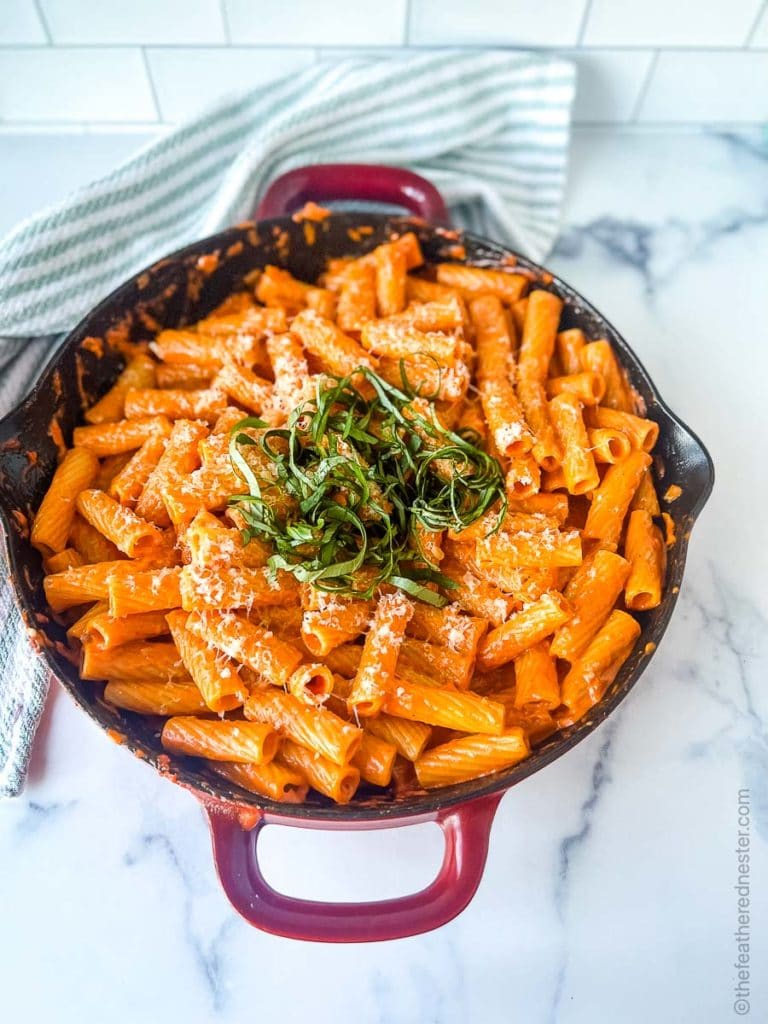 Saving time and money with restaurant copycats is one of the biggest perks of being a home cook. Check out our recipes for Cheesecake Factory chicken piccata, In n Out sauce, or Taco Bell crunchwrap next!
Reasons to Love Our Carbone Spicy Rigatoni Recipe
Quick and easy, 30 minute meal.
Rigatoni alla vodka may sound like a fancy meal that takes hours to make, but it comes together in only 25 minutes!
Possibly better than the original Carbone pasta recipe!
Our tomato vodka sauce is both creamy and decadent, with the perfect level of spice.
Doubling this recipe is very easy, and it reheats like a dream for tasty meals throughout the week.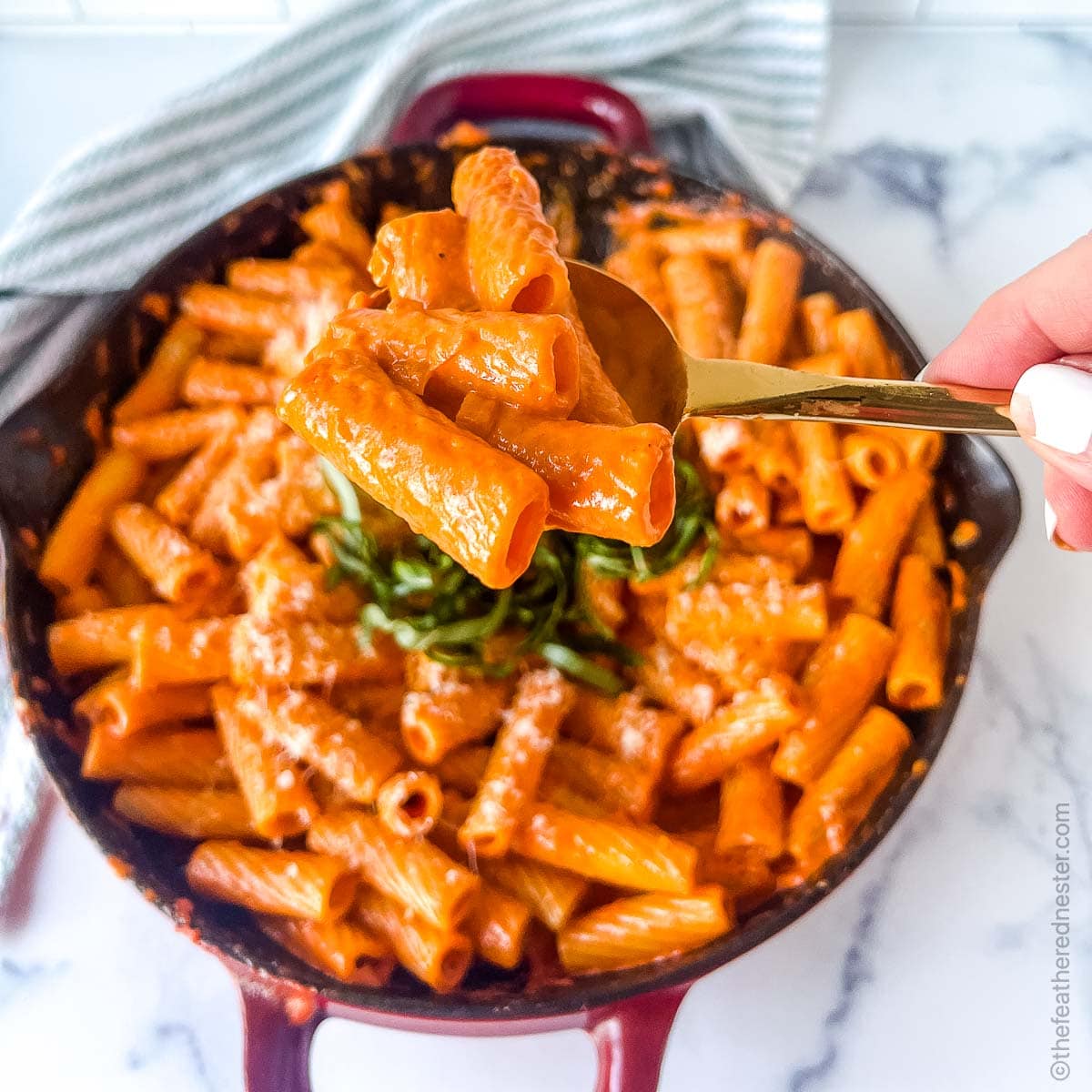 Ingredient Notes and Substitutions
Vodka – If you would rather not use it, simply substitute an equal amount of water with a squeeze of fresh lemon juice.
Heavy cream – Do not substitute half & half or milk in place of heavy cream for this Carbone spicy rigatoni recipe. The high amount of fat in cream is crucial in developing a thick consistency.
Chili pepper paste – This is our favorite to use in Italian recipes, but any brand will do. Instead of chili pepper paste, you can substitute 1 tablespoon of red pepper flakes or combine 1 tablespoon of cayenne pepper with 1 tablespoon of cooking oil.

This rigatoni recipe can also be made without the chili pepper paste. Replace it with dried red pepper flakes for a bit of heat that isn't too overwhelming. If you're looking for a similar pasta dinner that isn't spicy at all, you might like rigatoni Pomodoro.
Rigatoni – This tubed pasta is different from penne, but only slightly: penne is narrower, and cut diagonally for a pointy shape, while rigatoni is straight and cylindrical. Either works.
Parmesan-Reggiano – This sharp cheese really ties together all of the Italian flavors! If you absolutely need a substitute, Pecorino is the only one we recommend using.
Fresh garlic and onion – The secret to any great Italian sauce is to capture the onion and garlic flavors. Be sure to use fresh cloves of garlic, otherwise the dried spices cook away almost immediately, leaving you with a flavorless tomato sauce.
Variations of Spicy Vodka Pasta
Make it gluten-free. The only substitution you need for this recipe to be completely gluten-free is to use rice noodles or any other gluten free pasta.
Bulk it up for a heartier meal. As written, our recipe for rigatoni vodka pasta is vegetarian, but that doesn't mean you can't add some protein. Almost any Italian pasta dish can be bulked up with sausage or prosciutto. (If you enjoy Italian sausage, wait until you taste it in baked rigatoni!)
Carbone Spicy Rigatoni Recipe Tips
Reserve some pasta water.
Adding starchy salted water to the vodka pasta sauce not only enhances the flavor, it also marries the sauce together with the rigatoni.
Saute the onion before adding the garlic.
The onion takes about 6 minutes to soften and become golden yellow, but the garlic will burn if it's in the pan that long. For the best results, saute the onions for about 5 minutes first, then add the garlic. Keep stirring the garlic as it cooks, to prevent it from burning.
Cook the tomato paste long enough to caramelize the sugars.
After a few minutes of cooking time, the color of the paste will turn brick red. That's your cue to move on to the next step.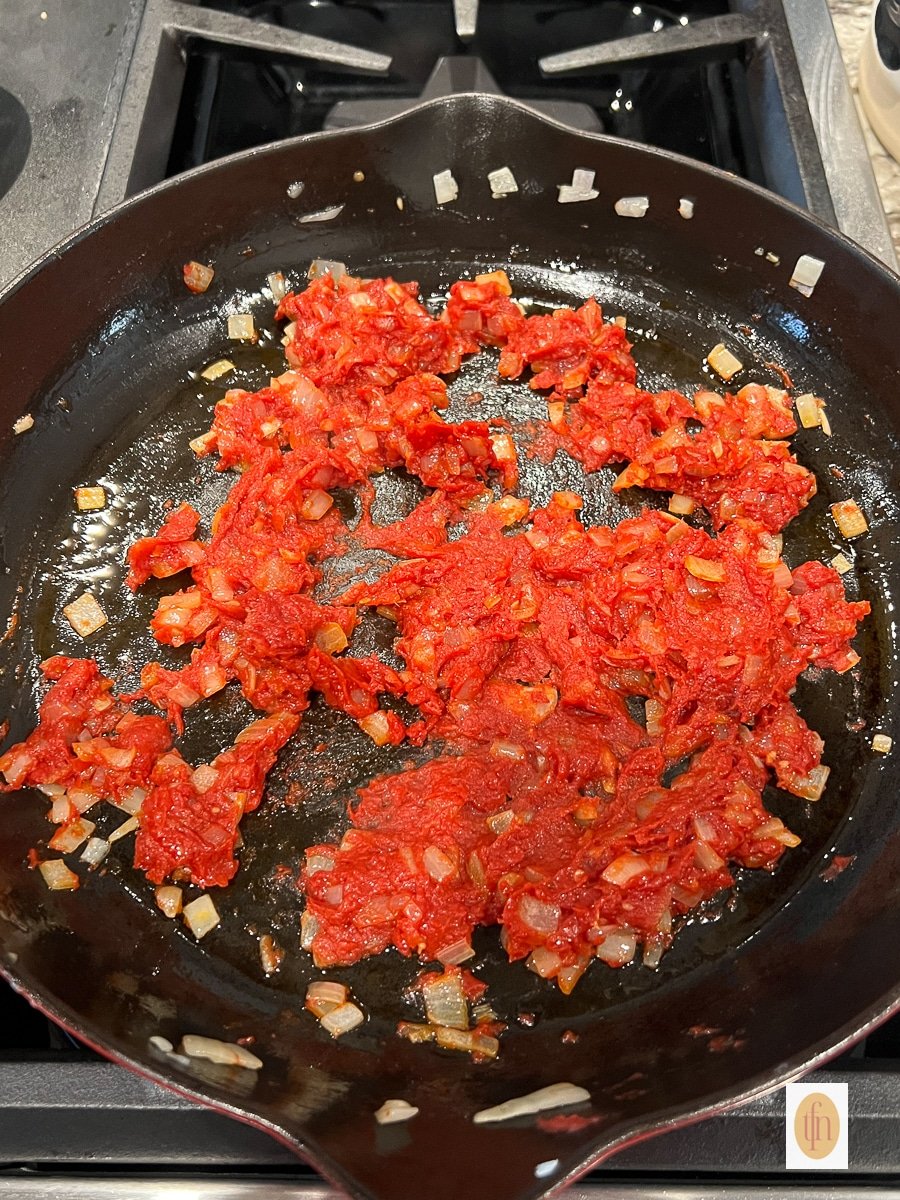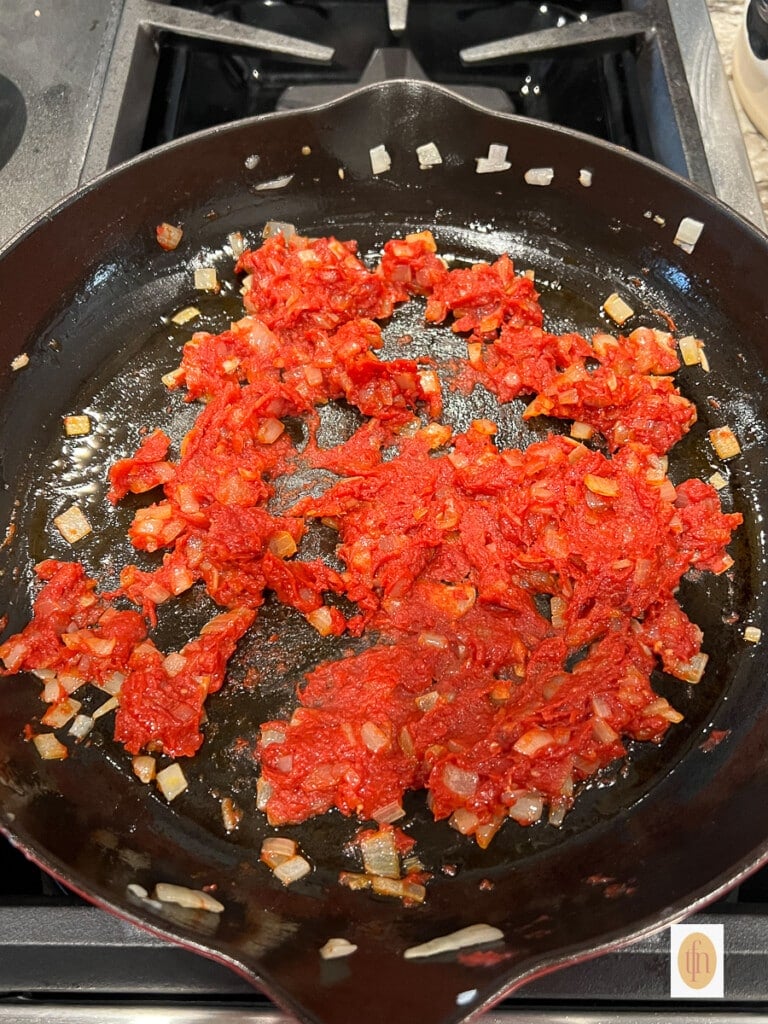 Allow the vodka to almost entirely evaporate.
Cooking with vodka is a bit tricky. Generally, less is used than other alcohols, and any residual alcohol will have a very strong, sharp flavor. Because of this, you want to cook down the alcohol until it's almost completely evaporated from the tomato sauce.
Taste for flavor before adding the cream.
Give the sauce a taste test before adding the cream and chili paste. Does it have too strong of a vodka flavor? If so, cook it a little longer, then taste it again.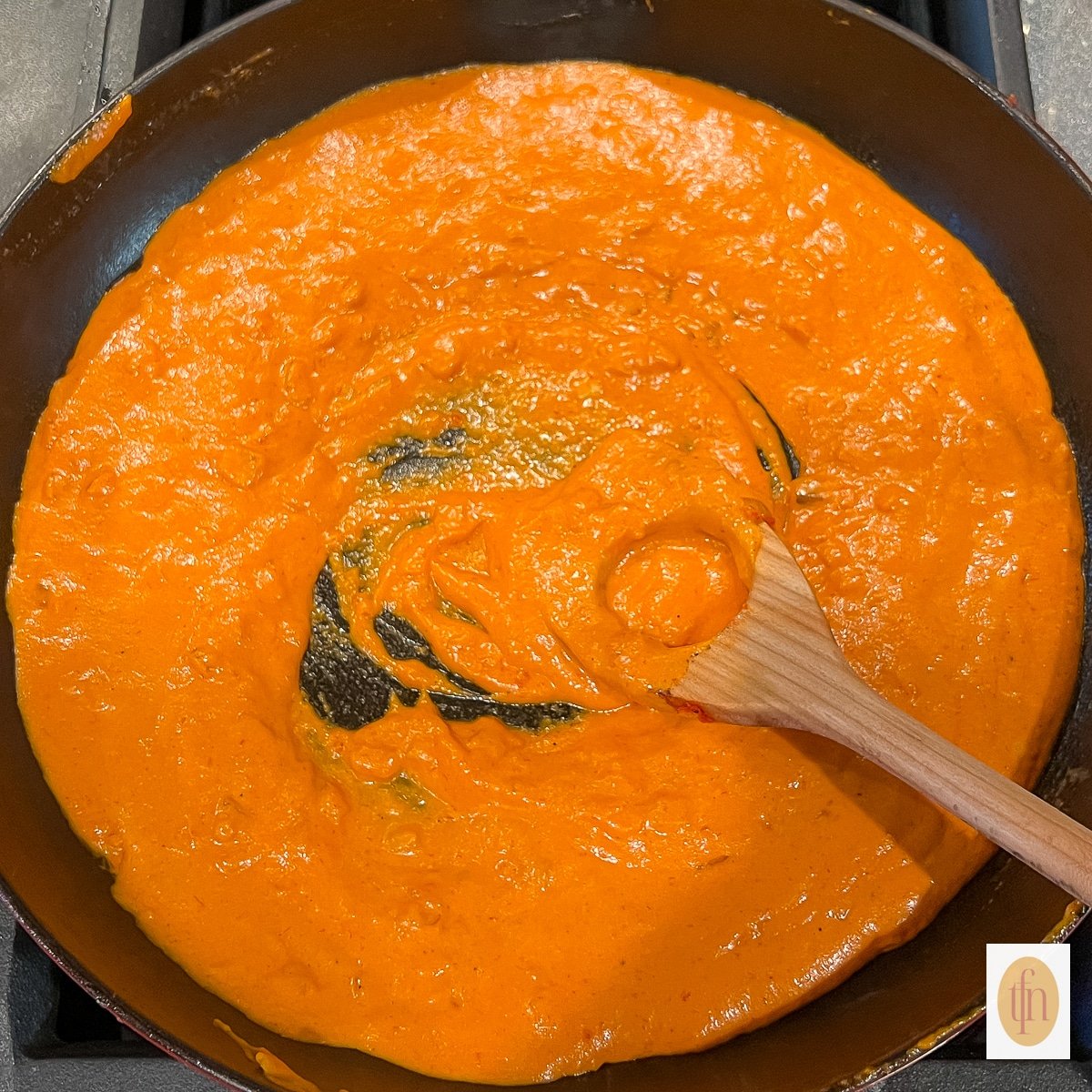 Carbone Spicy Rigatoni Recipe FAQ
What kind of rigatoni does Carbone use?
The original Carbone spicy rigatoni recipe, straight from New York, uses large, classic rigatoni. Its ridged exterior and large center make it great for pasta recipes with lots of sauce that you want to scoop up and enjoy!
How long does it take to cook rigatoni?
Generally, it takes about 10 minutes to cook pasta to al dente, which is what we recommend for our Carbone pasta recipe. It can vary, however. A good guideline is 2 minutes less than the cooking time suggested on the box of pasta you're using.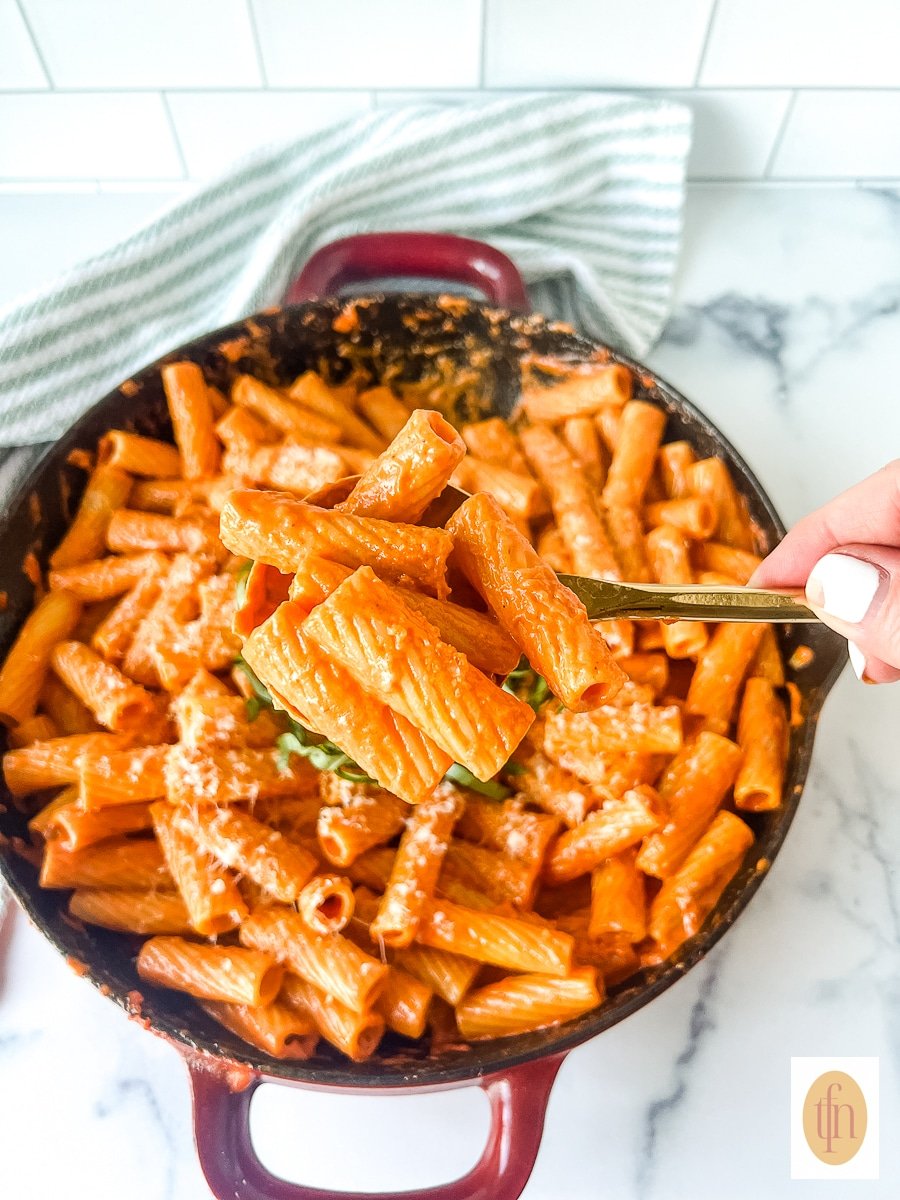 Storing and Reheating
Spicy vodka pasta can be refrigerated for up to 3 days in an airtight container. Reheat on the stovetop with all of the sauce or microwave in short 15-second bursts for best results.
Unfortunately, this spicy rigatoni recipe is not freezer friendly. The vodka sauce includes heavy cream which, like any other dairy product, will separate during thawing and reheating. This significantly changes the consistency and flavor.
Get more rigatoni pasta recipes!

You'll love how the grooves in rigatoni pasta become coated in the smooth sauce for the perfect pasta and sauce combo. Craving a different spicy pasta dinner? Try this Spaghetti Arrabbiata instead.
What to Serve with Carbone Spicy Rigatoni
Enjoy this rich and spicy vodka pasta dish with a Caesar or kale salad. Of course, a basket of soft yeast rolls or crusty loaf of sourdough French bread, and a small plate of olive oil for dipping is always fabulous on the side.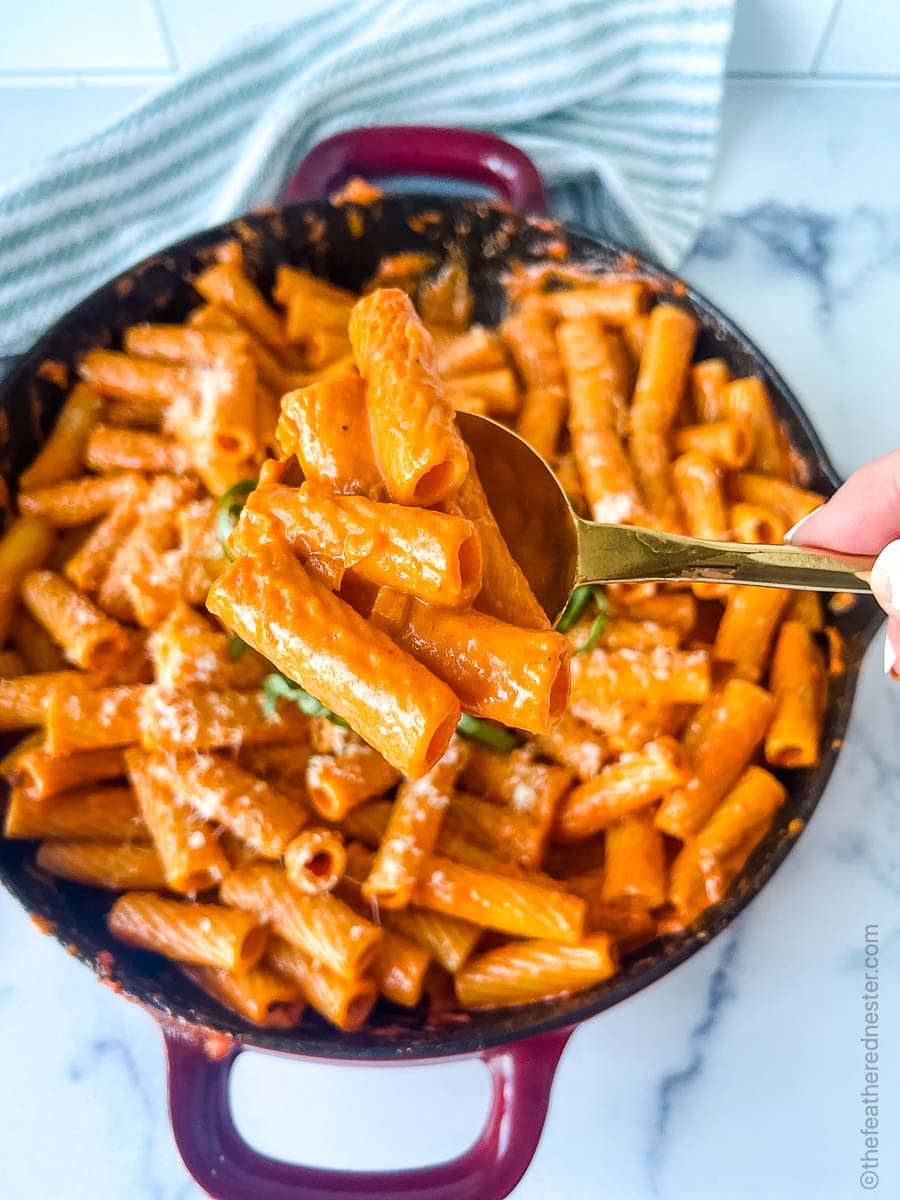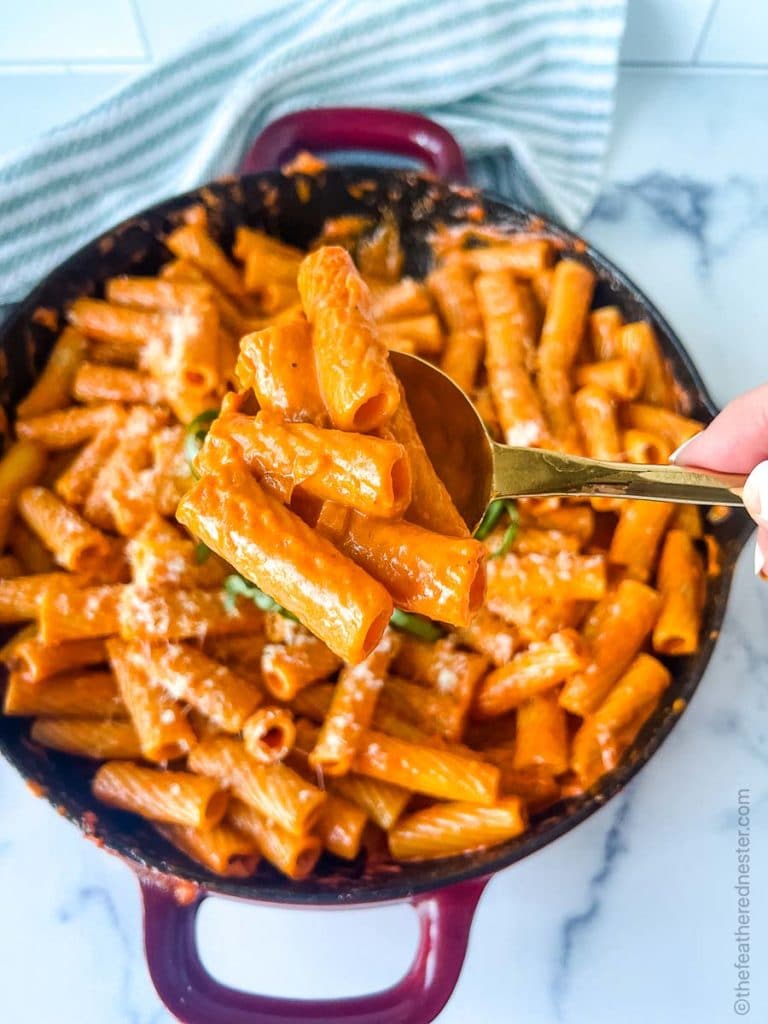 Frequently Asked Questions
What is rigatoni Carbone?
Carbone is a popular Italian restaurant in New York City. The spicy rigatoni with vodka pasta sauce is one of their most famous dishes.
How long does it take to cook rigatoni al dente?
Cooking times vary from brand to brand, so always follow the directions on the package, subtracting 2 minutes for al dente pasta.
To make spicy rigatoni vodka pasta, Renae recommends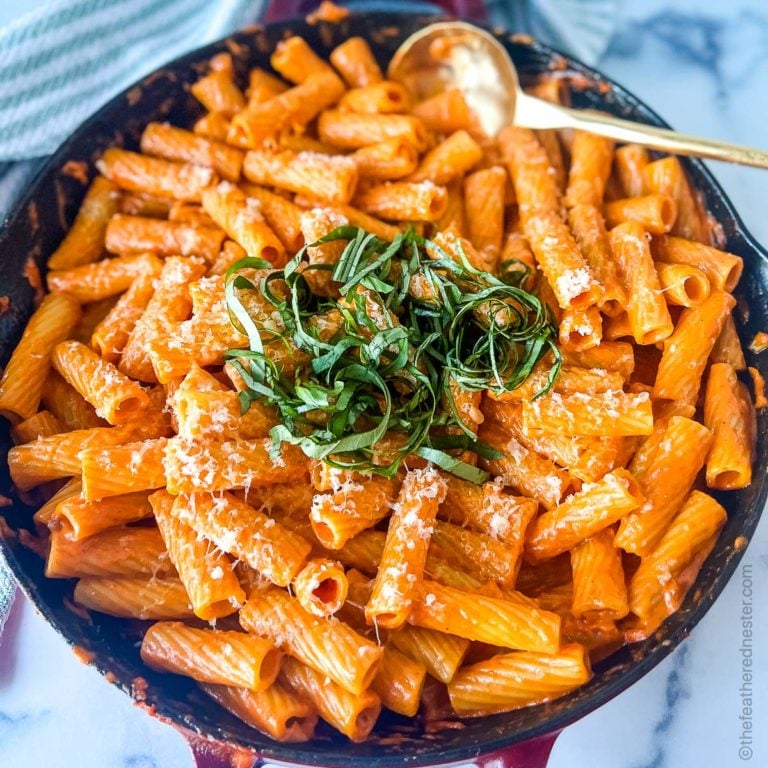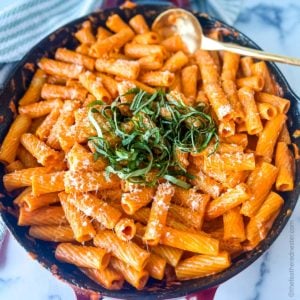 Carbone Spicy Rigatoni Recipe + Video
Our Carbone Spicy Rigatoni recipe makes an Italian restaurant meal of spicy pasta with silky vodka sauce. Make it at home in only 25 minutes!
Equipment
large stockpot - for cooking rigatoni

11 or 12-inch skillet - or a 2 or 3-quart saucepan
Ingredients
3 tablespoons extra virgin olive oil
½ onion diced
2 cloves garlic minced
6 ounces tomato paste
¾ cup vodka or equal amount of water with a squeeze of fresh lemon juice.
1 cup heavy cream do not substitute with milk or half-and-half
1 tablespoon chili pepper paste see Notes for substitutions
16 ounces uncooked rigatoni
3 tablespoons butter
½ cup grated Parmesan-Reggiano cheese for best results, grate a fresh block of cheese
salt and pepper to taste
Instructions
Heat oil in a large skillet over medium heat. Add onion and garlic and cook until soft and translucent, 3- 5 minutes.Add tomato paste and cook, stirring occasionally, for about 5 minutes, until paste is brick red in color and is starting to caramelize.

Reduce heat to low and pour vodka into the pan. Simmer, stirring often, until the liquid is mostly evaporated. Add heavy cream and red pepper chili paste, stirring well to combine. Taste sauce for flavor and season with salt and pepper as desired. Remove from heat.

Bring 3 quarts of heavily salted water to a full boil over high heat. Once boiling, add the rigatoni and cook until al dente (2 minutes less than stated on package instructions – about 10 minutes). Use a heat-safe measuring glass or bowl to reserve 1 cup of pasta water, then drain pasta through a colander.

Add the drained pasta to the skillet with spicy vodka sauce. Reduce the heat to low and stir in the butter and ½ cup pasta water. Cook the sauce and pasta, stirring often. Add more pasta water if needed, 1 tablespoon at a time, until the butter melts and the sauce is a soft orange color, thick and glossy.

Add the parmesan cheese, taste again for seasoning, adding more salt and pepper, if needed. Garnish with additional parmesan and fresh basil (optional) before serving.
Notes
I love chili pepper paste for an authentic Italian flavor, but you can easily substitute it with one of the following:
Mix 1 tablespoon ground red cayenne pepper with 1 tablespoon of cooking oil until a paste forms
OR
1 tablespoon of red pepper flakes
Nutrition
Serving: 1serving | Calories: 659kcal | Carbohydrates: 65g | Protein: 15g | Fat: 30g | Saturated Fat: 15g | Polyunsaturated Fat: 2g | Monounsaturated Fat: 11g | Trans Fat: 0.2g | Cholesterol: 66mg | Sodium: 419mg | Potassium: 530mg | Fiber: 4g | Sugar: 7g | Vitamin A: 1308IU | Vitamin C: 11mg | Calcium: 158mg | Iron: 2mg
PIN THIS POST!