With a bold Italian flavor, rigatoni pomodoro is a classic Italian dinner, featuring tender pasta covered with a simple but super flavorful tomato sauce. This easy recipe is quick enough to make for a weeknight dinner, but special enough to be a Valentines day pasta dish!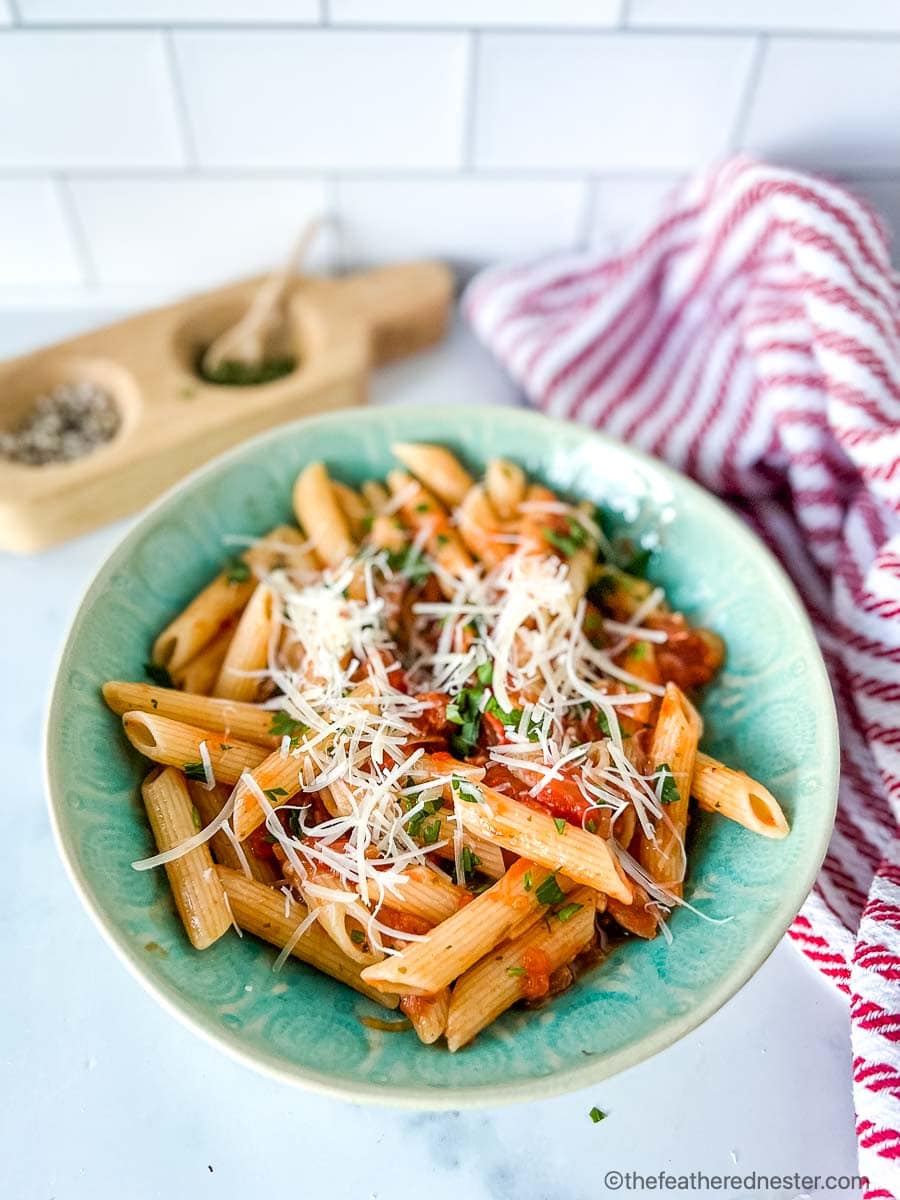 Reasons to Love Rigatoni Pomodoro
It's a 30-minute recipe.
Quick and easy dinner ideas are a favorite, especially for busy families!

Kid-friendly flavors.
Pomodoro is an Italian sauce with fresh tomatoes, basil, and spices. In fact, the word Pomodoro is Italian for "tomato." This means that there are going to be lots of sweet and tangy flavors in every bite.

The pomodoro sauce is rich enough to keep more sophisticated taste buds happy, but mild enough that kids love it, too.
But why stop there? By using pancetta and onions, this is technically a Filetto di Pomodoro sauce (in Italian). The flavor is sort of earthy, and it tastes fantastic over any kind of pasta.
Ingredient Notes and Substitutions
Extra virgin olive oil – If you ask an Italian, they will probably say that there really is no suitable substitute for olive oil. If you have to use a substitute, grape seed oil is a good option.
Prosciutto – This dry cured Italian meat has a flavor that's similar to ham. It's sold in paper-thin slices, and you should be able to find it near the deli area of your local grocery store.
Diced tomatoes – we like San Marzano tomatoes, but you can use any canned diced tomatoes
Pomodoro Pasta Recipe Variations
Gluten-Free Pasta – Use your preferred gluten-free noodles to make this a gluten-free pasta recipe.
Vegetarian and Vegan – Leave out the ham and use an extra tablespoon of oil. Plus, an extra pinch of salt.
Helpful Tips for Making Rigatoni Pomodoro
Be careful not to burn the garlic and onion.

Cook the onions until they start to soften and turn yellow, about 3 minutes. Then, stir in the garlic and prosciutto and cook for another 2 minutes.
Allow the sauce to simmer while the pasta cooks.

To bring out the Italian flavors in rigatoni con pomodoro, it's important to let the sauce cook for a bit. This isn't an all day process like when you make the sauce for a classic lasagna recipe, but give it 15-20 minutes, at least.
Cook the pasta al dente and don't rinse it!

The key to perfectly cooking your rigatoni is making sure that the pasta isn't soggy or overcooked. The way to do this is to cook the pasta for 1-2 minutes less than what the box instructions call for.

So, instead of cooking for 10 minutes, for al dente pasta, just let it cook for about 8 minutes.

Reserve some of the pasta water.

Add ½ cup of pasta water to the sauce. Keep stirring the sauce until it thickens. If the sauce is too thin, add more water until it is rich and has a glossy appearance with small chunks of tomatoes.
Taste the sauce, and add more salt if needed.
To serve, add pasta to the bowl. Top with the sauce. Garnish with Parmesan cheese, fresh basil, and ground pepper before serving.
Looking for other easy pasta sauce recipes?
If you love rich tomato sauces, be sure to try our recipe for San Marzano sauce. If rigatoni pasta is what you're craving, you'll want to make our Carbone copycat recipe for spicy rigatoni.
Frequently Asked Questions
What's the difference between pomodoro and marinara sauce?
Both sauces are tomato-based and are made with similar ingredients, like garlic and Italian spices. However, marinara is a tighter meatless sauce. Pomodoro is a more robust sauce, that coats the pasta better.
Can you freeze pasta sauce?
As long as there are no dairy products like heavy cream in the sauce, it will be very freezer-friendly. The sauce for pasta con pomodoro keeps in the freezer for up to 4 months.
What to Serve with Penne Pomodoro
This is a classic Italian pasta dish, so of course, a salad and a loaf of freshly baked sourdough garlic bread makes the perfect meal!
Storing Leftovers
This sauce and pasta will keep for up to 3 days in the fridge. Let it cool completely, then put it in a sealed container and place it in the fridge.
Rigatoni Pomodoro
Savor the flavors of rigatoni pomodoro, an easy pasta recipe with a bold tomato and prosciutto sauce that comes together in 30 minutes!
Equipment
large stockpot

11"- 12" skillet - or a large sauce pan
Ingredients
3 tablespoons olive oil
1 small onion halved then thinly sliced (1/4"-1/8")
2 teaspoon salt divided
3 cloves garlic crushed or minced
¼ pound sliced prosciutto ham diced
28 ounce can) San Marzano tomatoes, crushed (or any type of crushed tomato)
2 teaspoons Italian seasoning
12 ounces rigatoni pasta
optional
2 ounces Parmesan cheese freshly shredded
4 leaves fresh basil chopped
Instructions
Heat oil in a large skillet over medium heat. Add onion and 1 teaspoon of salt. Cook until onions are beginning to soften and yellow (3 minutes). Stir in garlic and prosciutto and cook for another 2 minutes.

Add San Marzano tomatoes with juices and Italian seasoning to the onions, garlic, and prosciutto. Cover and simmer the sauce on low heat while the pasta cooks (15-20 minutes).

Heat a large pot with 3 quarts of water plus 1 teaspoon of salt for the pasta). Once boiling, add the penne, rigatoni, ziti, tortellini, or fettuccine and cook until al dente (following the instructions on your pasta box). Drain pasta, reserving 1 cup of pasta water.

Keep the burner on low heat and stir in ½ cup of pasta water. Continue stirring until the Pomodoro sauce thickens. Add more pasta water if needed, 1 tablespoon at a time until the sauce is rich and glossy with small chunks of tomatoes. Taste the sauce and add more salt if needed.

To serve: add pasta to the bowl. Top with the Filetto di Pomodoro sauce. Garnish with parmesan cheese, freshly cut basil, and ground pepper before serving.
Notes
Nutritional facts include Parmesan cheese
Nutrition
Serving: 1serving | Calories: 437kcal | Carbohydrates: 55g | Protein: 15g | Fat: 18g | Saturated Fat: 5g | Polyunsaturated Fat: 3g | Monounsaturated Fat: 9g | Trans Fat: 0.02g | Cholesterol: 20mg | Sodium: 1225mg | Potassium: 600mg | Fiber: 5g | Sugar: 8g | Vitamin A: 410IU | Vitamin C: 14mg | Calcium: 149mg | Iron: 3mg
PIN THIS POST!