San Marzano Sauce is a rich, robust, and ridiculously delicious dish! This chunky, hearty marinara is made with authentic Italian seasonings, roasted garlic, and carefully selected tomatoes.
Looking for a meaty Italian spaghetti sauce recipe, check out spaghetti sauce with meat or salmon Alfredo recipes.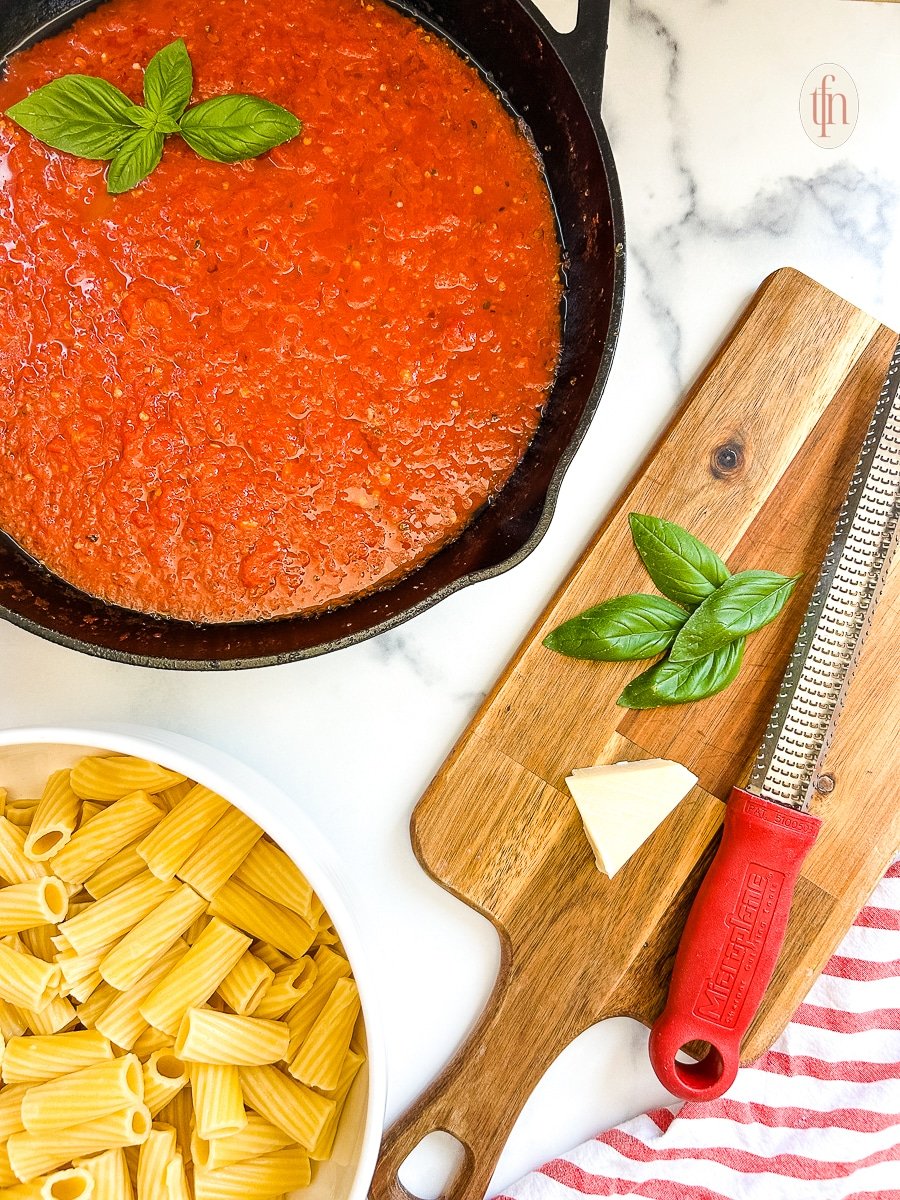 Reasons to Make San Marzano Sauce
With a large skillet, you can make a ton at once!
And since San Marzano tomato sauce freezes well, it's great for meal prep.

San Marzano sauce is a quick and easy weeknight dish.
If you're looking for a quick sauce that perfectly complements fresh pasta, this is the one. It's simple and delicious!

It's a great vegetarian option!
It's among our favorite meatless Italian sauces, along with our white bechamel, basil pesto, and Alfredo recipes.
Ingredient Notes and Substitutions
Tomatoes – We always use San Marzanos (see the section below for more info), but other plum tomatoes such as the Roma can still build a tremendous marinara.
Olive Oil – The best, most high-quality olive oil comes in a dark bottle that prevents deterioration by way of light. This one is a go-to brand in our kitchen!
Garlic – Fresh cloves slowly sizzling in olive oil sets the foundation for an aromatic, authentic Italian red sauce. Mincing will save you some mashing later on — and don't hesitate to throw in a couple more cloves!
Red Pepper Flakes – Just a teaspoon adds just a touch of heat. Like things spicier? Add another teaspoon!
Oregano – Dried or fresh, make sure you have some form of oregano in your San Marzano tomato sauce!
What are San Marzano Tomatoes?
They are long, bright red tomatoes that you might almost mistake for a tiny bell pepper or chile!
But that characteristic appearance makes them unmistakable, and they're unmistakably perfect for a homemade Italian spaghetti sauce recipe!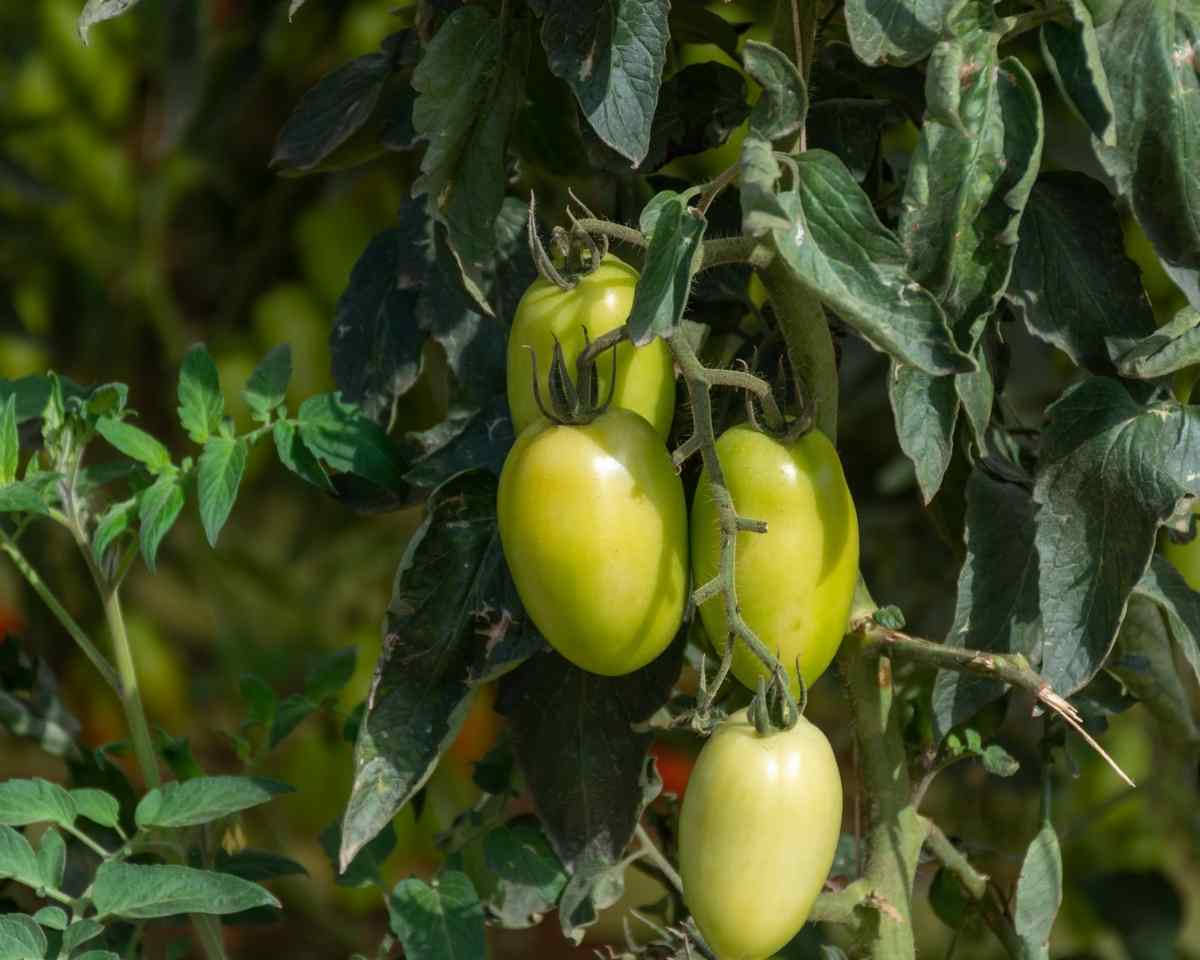 They're great for sauces for a few reasons: they have very few seeds, a thick and meaty flesh, and low moisture content.
All of this together makes for a vibrant, full-bodied, flavorful tomato. So while they're pricier than other varieties, the flavor and quality is unbeatable!
Italian Spaghetti Sauce Recipe Tips
Simmer slowly for a less acidic sauce.

Luckily, San Marzano tomato sauce is already less acidic than sauces made with other tomatoes.

And the slow simmering method makes this particular marinara sauce less acidic — that harsh acidity mellows out as the seasonings become more pronounced.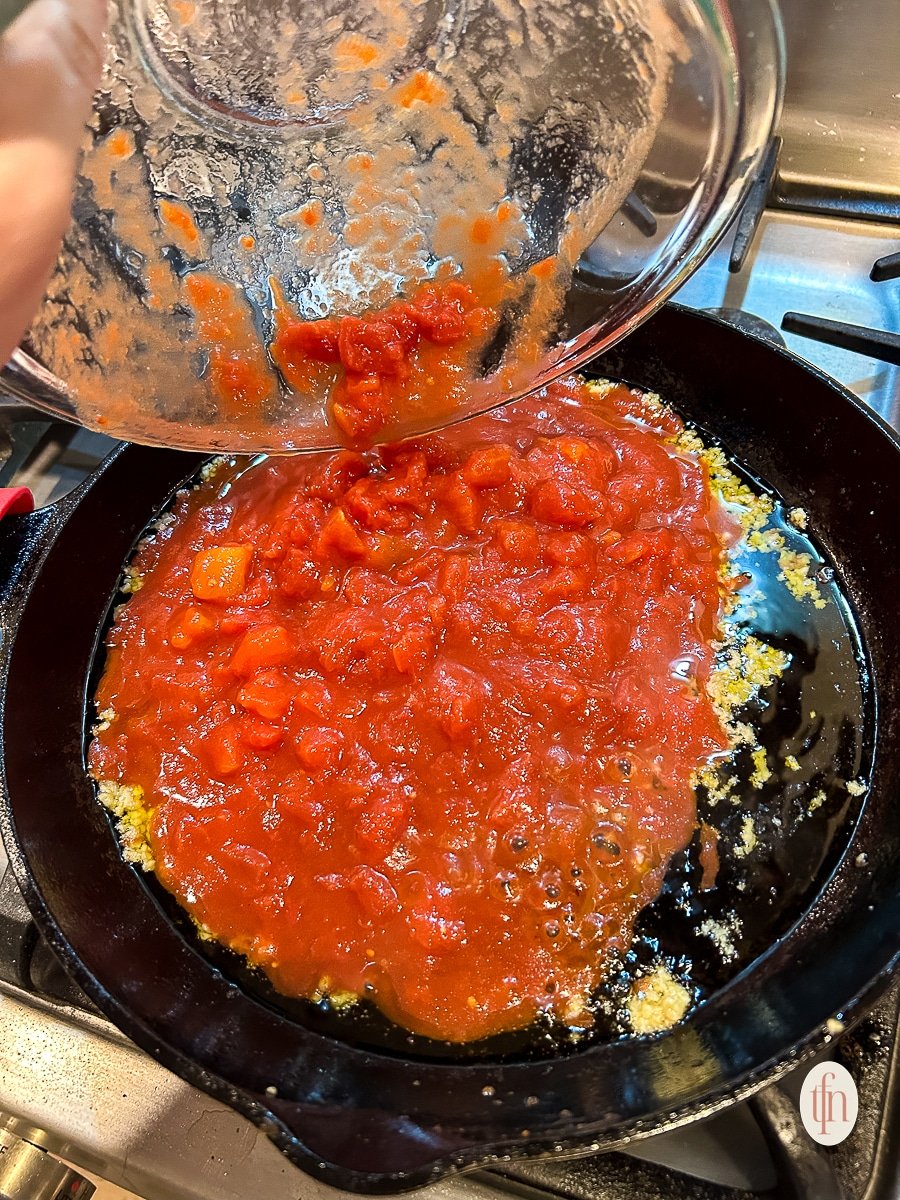 San Marzano sauce isn't just for pasta!

While it will certainly make any average spaghetti, lasagna, or other pasta something special, you can also use it as a pizza topping or alongside sourdough or French bread as a marinara for dipping!

Basically, any way you'd serve a red pasta sauce is a perfect use case!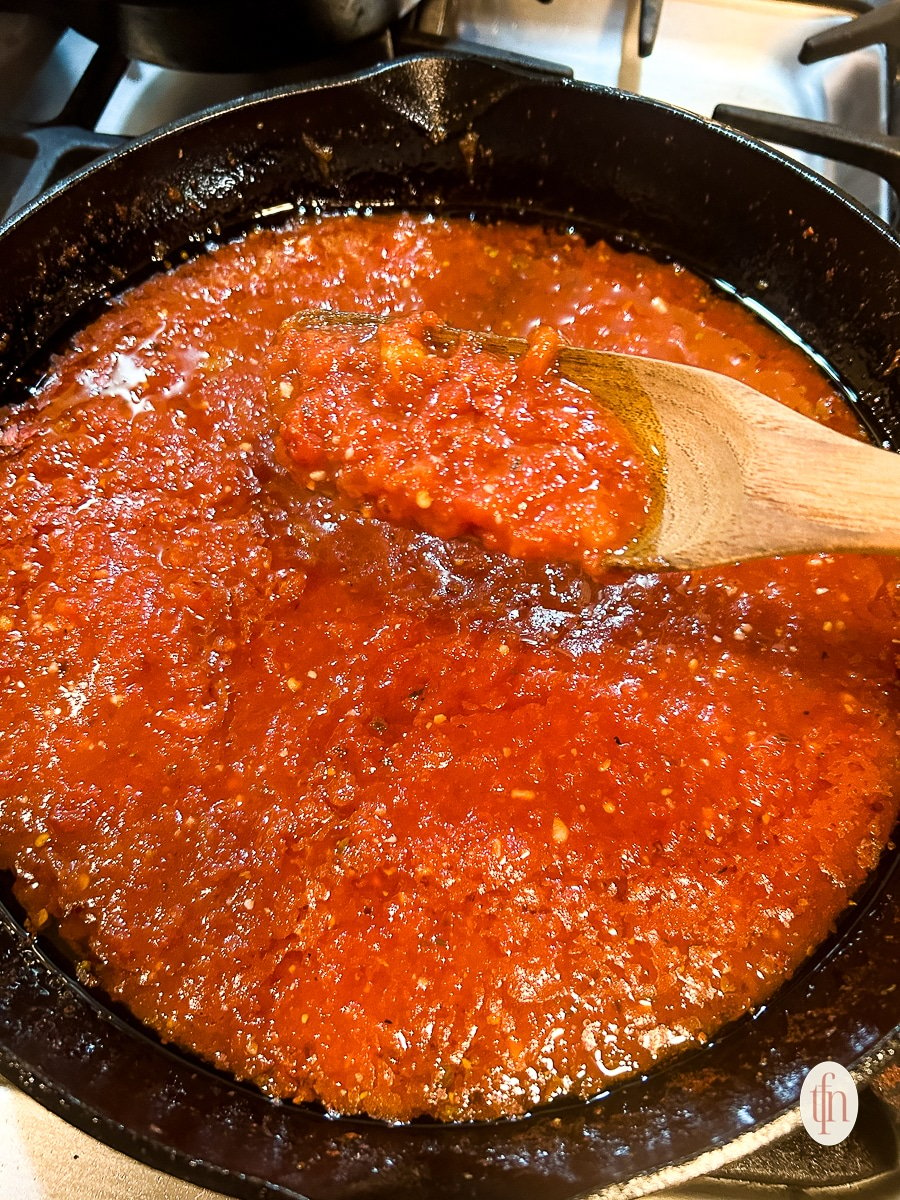 Go the extra mile with fresh herbs.

Dried herbs give you the essence of the seasoning, but fresh herbs offer a more vivid, pronounced, and nuanced flavor. They are also more aromatic.

But if you go with the fresh herbs, then add them in the last 10 minutes or so of cooking so as not to simmer away the flavor.

Additionally, while we use basil as a simple garnish, it can also be cooked along with the oregano for an even fresher, more herbaceous flavor.

Simmer the tomatoes before crushing.

To help the tomatoes come to a better consistency, allow the sauce to thicken for a few minutes before crushing them with the potato masher.

When the tomatoes are a little softer from simmering, they are easier to get to the same size.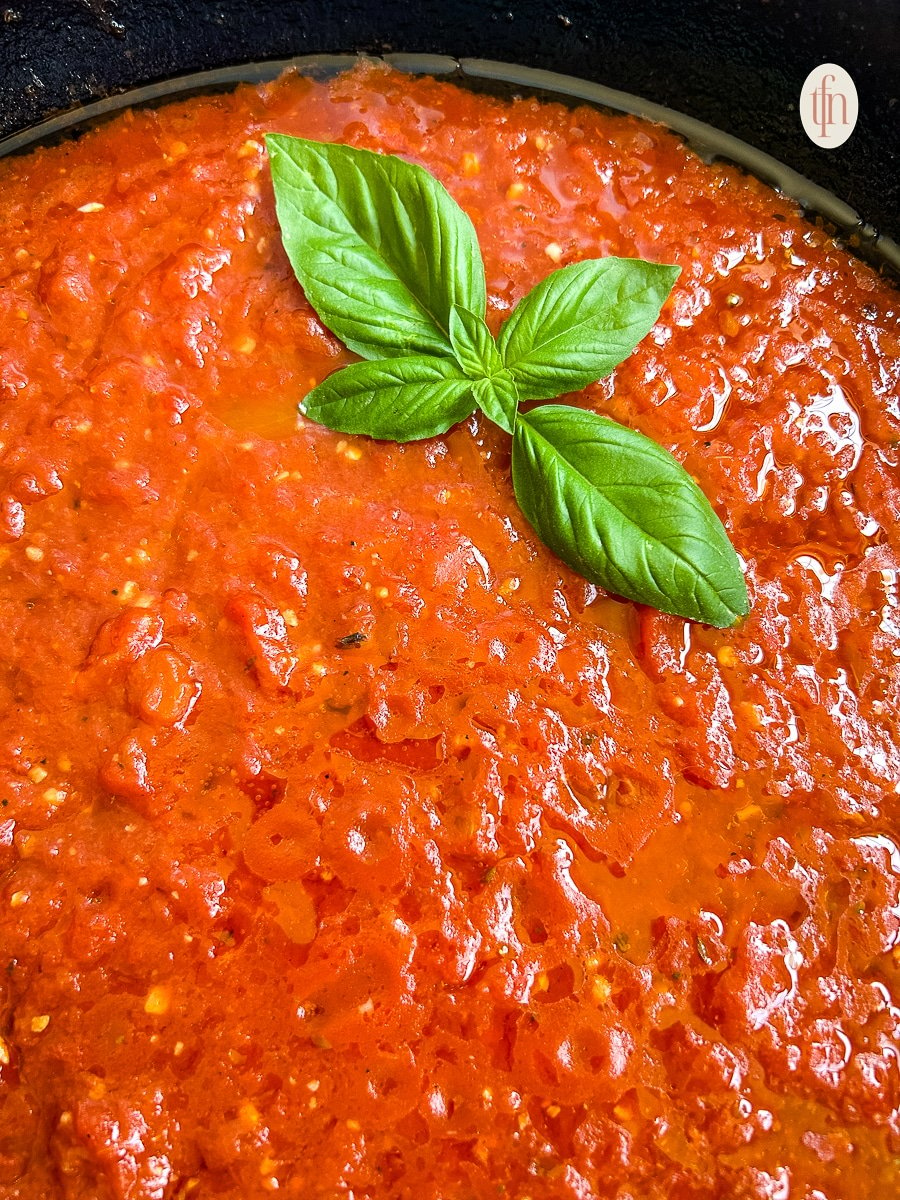 San Marzano Tomato Sauce FAQ
Are canned San Marzano tomatoes DOP certified?
Some are and some aren't. Pay attention to the label to make sure your preferred brand has "CERTIFIED" somewhere on the can.
The Cento brand that we always use is DOP certified, for example — you can see so in the picture below!
What is the flavor of an authentic Italian tomato sauce?
An authentic Italian spaghetti sauce recipe is very simple.
Tomatoes, a few iconic Italian spices, and olive oil for smoothness build a rich, robust marinara with a great match of heat, acidity, and sweetness.
Do San Marzano tomatoes need to be peeled?
We do use peeled, canned tomatoes or peel them ourselves for San Marzano tomato sauce.
This is because we are not blending or pureeing the marinara — it is simply mashed while it simmers. As a result, using tomatoes with peels will greatly alter the texture.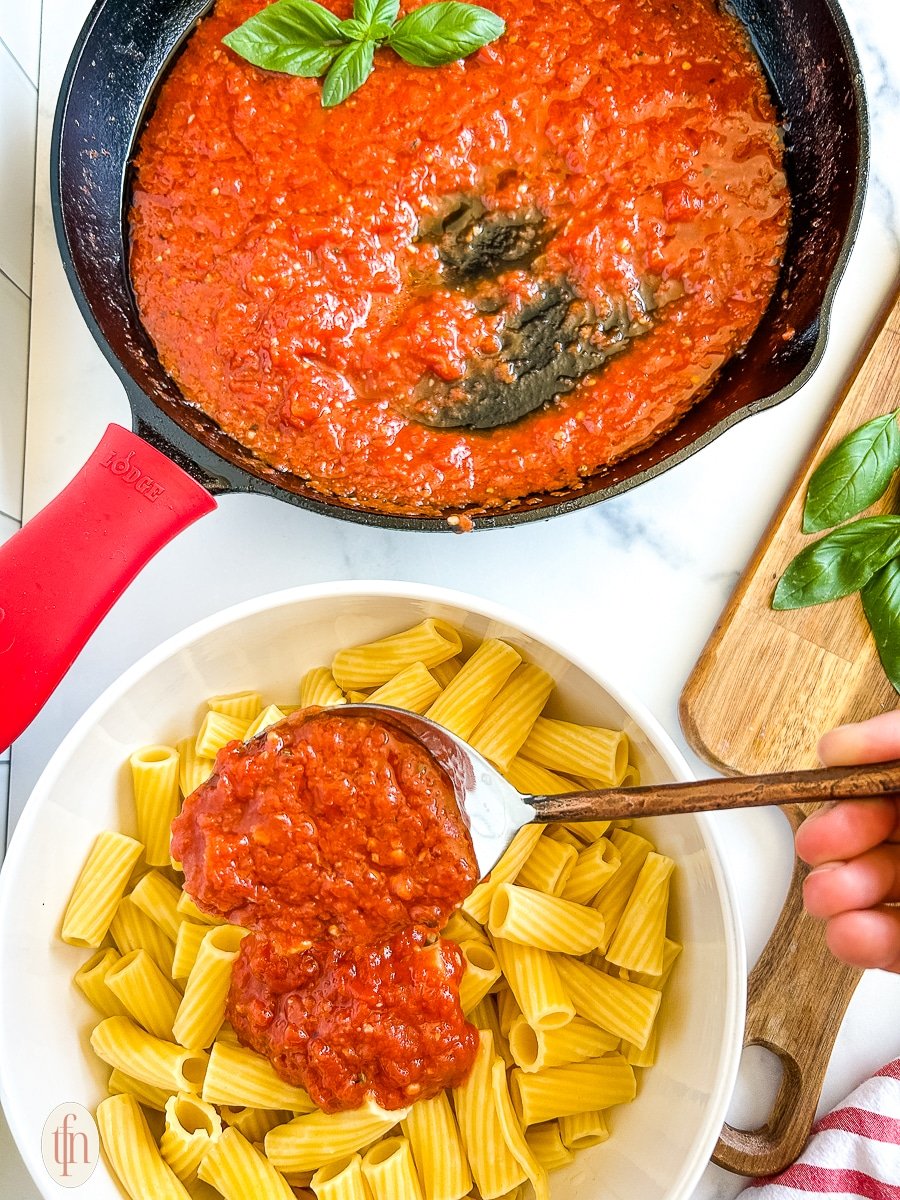 Storing and Freezing
San Marzano sauce should be refrigerated for up to 4 days or frozen for up to 6 months.
For either storing method, let it cool completely before transferring to a completely airtight container. We tend to use mason jars for homemade sauces — and holding onto old marinara jars is perfect for this!
Frozen or refrigerated, it can be slowly reheated on the stovetop.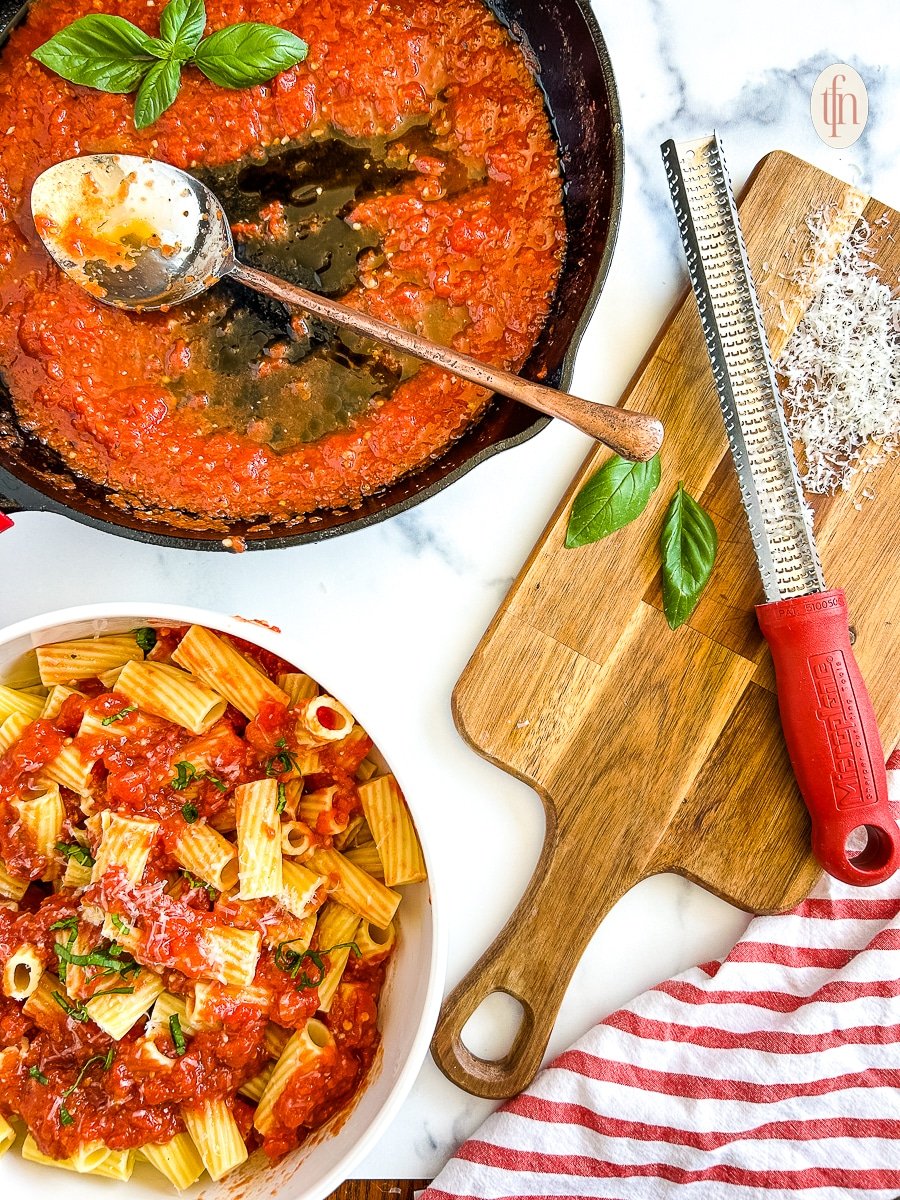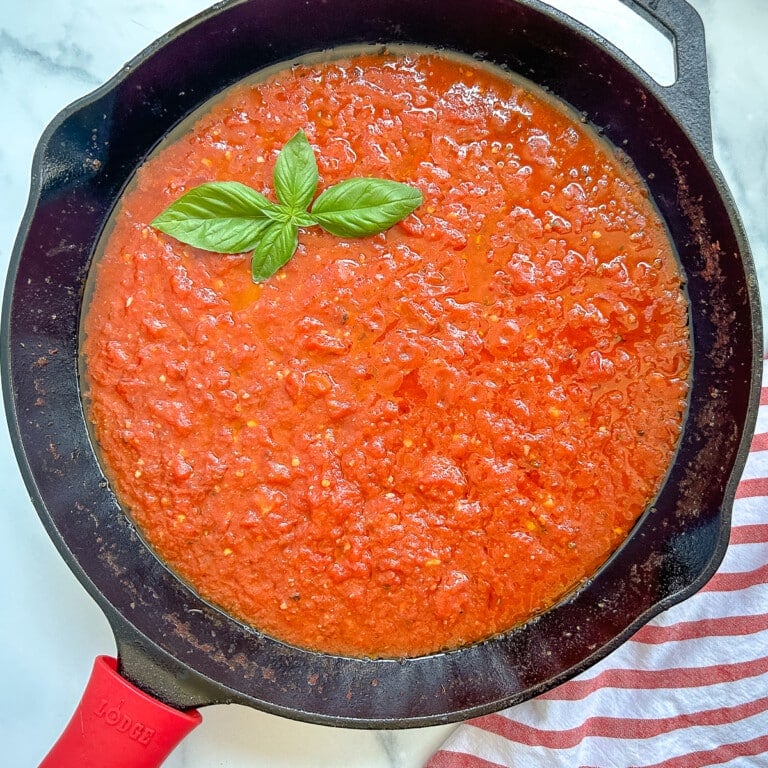 San Marzano Sauce
San Marzano Sauce expertly balances hearty tomatoes with herby Italian spices. Make our San Marzano tomato sauce recipe in just 20 minutes!
Ingredients
28 ounces whole San Marzano tomatoes or any plum tomato like Roma
¼ cup olive oil
7 garlic cloves peeled and slivered
1 teaspoon red pepper flakes crushed
¼ teaspoon dried oregano
salt and pepper to taste
fresh basil leaves chopped, for garnish (optional)
Instructions
Pour tomatoes into a large bowl and crush, using your hands or a potato masher. *Note: They may not crush all the way down at first, and that's okay. After they have simmered for 5-10 minutes, they will soften.Pour 1 cup of water into the can (to get all of the tomato juice left in the can) and set that aside.

Heat the olive oil in a large skillet over medium heat. When the oil is shimmering and hot, add the garlic.

As soon as the garlic begins to sizzle (about 30 seconds), add the tomatoes and the reserved tomato water. Stir in the red pepper flakes and oregano. Taste the sauce, then season it with salt and pepper as desired.

Simmer tomato sauce until it is rich and has thickened, about 15 minutes. After 5-10 minutes, use a potato masher to crush the tomatoes futher. This helps to create a smoother consistency.Before removing the pan from the heat, be sure to taste the sauce and add more salt and/or pepper, if needed. Garnish with chopped fresh basil before serving, if desired.
Notes
Store San Marzano marinara sauce for up to 4 days in the refrigerator or in the freezer for up to 6 months.
Nutrition
Serving: 0.75 cup | Calories: 110kcal | Carbohydrates: 7g | Protein: 1g | Fat: 9g | Saturated Fat: 1g | Polyunsaturated Fat: 1g | Monounsaturated Fat: 7g | Sodium: 13mg | Potassium: 335mg | Fiber: 2g | Sugar: 4g | Vitamin A: 1203IU | Vitamin C: 19mg | Calcium: 22mg | Iron: 1mg
PIN THIS POST!