Meatball Marinara is an easy Italian dinner recipe of super juicy pork and beef pan fried meatballs. With a blanket of pesto, red sauce, and melty mozzarella, this is a comforting and scrumptious weeknight meal!
Italian comfort food doesn't get much better than this, and the great news is, this fried meatball recipe only takes about 45 minutes to make!
Some of my favorite meals are made in one pot or skillet. From hearty chili con carne to a quick cast iron skillet chicken dinner. I mean, who doesn't love having fewer dishes to deal with at the end of the day?
Reasons to Love Meatball Marinara
Quick to make and easy to clean up.
Skillet meals are a favorite because there is so little cleanup afterwards.

A make ahead meal for a busy night!
This meal is easy to prep ahead, and meatballs are freezer-friendly.

You can double (or even triple!) the recipe.

Kid-friendly.
Almost every kid loves ground hamburger, and this comfort food meal is slathered with lots of sauce and cheese. Your kids will clean their plate!
Ingredient Notes and Substitutions
Ground meat
For this recipe, we're making pork and beef meatballs. Feel free to use all ground hamburger or pork. Or, to cut some calories and fat, substitute with a lean protein like ground turkey or chicken.
🎯 TFN Pro Tip
When using lean proteins, there's always a risk of the meatballs becoming dry. Fat is your friend when it comes to making perfectly juicy meatballs!

For restaurant-style meatballs using ground chicken, check out this chicken marsala meatballs recipe.
Bread crumbs
These help hold the mixture together and give it some bulk. Either finely ground plain or Italian-seasoned breadcrumbs are the best choice. Panko crumbs add too much crunch, but they'll work for this meatball marinara skillet meal if it's all you have.
Watching your carbs?
For a low carb and keto-friendly meatball meal idea, substitute crushed pork rinds for the bread crumbs. Also, use a marinara sauce with no sugar added, like this quick San Marzano sauce.
Mozzarella cheese. I prefer to use fresh mozzarella slices, because fresh cheese tastes better and melts better. Look for the soft cheese, which comes packaged in brine.

At the grocery store, fresh mozzarella is usually kept near specialty cheeses like feta, goat's milk, etc.

Aged mozzarella (the kind you use on pizza) is okay to use instead of fresh. If it's grated or shredded, sprinkle it over the top of the meatballs. If it's a solid block, then just cut it into thin slices and treat it as fresh.

Romano cheese. This cheese has a nutty taste that gives meatballs with marinara a nice boost of flavor. You can substitute it with grated Parmesan or Pecorino if you'd like.

Pesto sauce – My pesto recipe is easy to make, but feel free to buy ready-to-use pesto if that's more convenient.

Marinara sauce – Again, store bought is fine, but I think the fresh flavor of homemade marinara with meatballs can't be beat!!
Tips for the Best Pan Fried Meatballs with Marinara
Avoid overworking the meatball mixture.

Keep in mind that you want to thoroughly combine the ingredients, but as you handle them, try to use a light touch.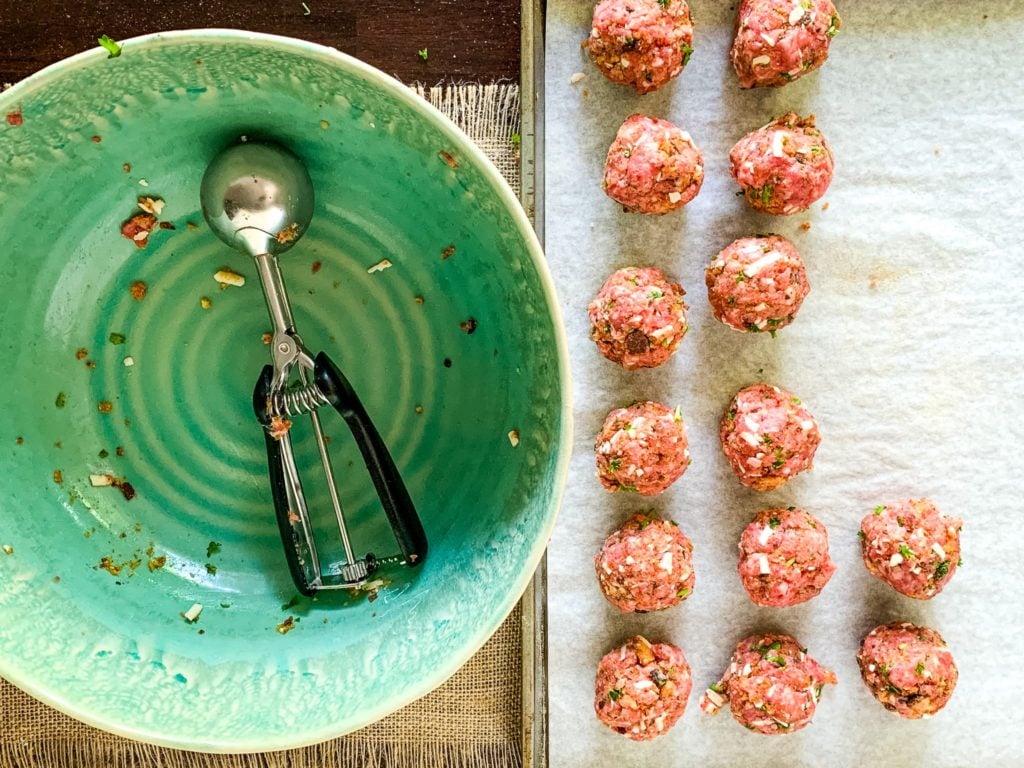 Avoid crowding the pan.

Depending on the size of your skillet, you may need to brown the meatballs in batches. Avoid overcrowding the pan, because if they are too close together, the meat will steam rather than brown.

Use an instant read thermometer to check the internal temperature.

The last thing you need is for someone to get sick, so we recommend that you use a cooking thermometer rather than judging doneness by sight alone.
🎯 TFN Pro Tip
Ground pork and beef meatballs are fully cooked when the internal temperature of the meat reaches 155°F.
Optional – Finish under the broiler.
Once the cheese partially melts, if you'd like to brown the top, place the skillet under your oven broiler for about 5 minutes, or until the marinara and cheeses covering the fried meatballs are slightly brown and bubbling.
Serving Suggestions
Before serving, you can dress up the dish with a sprinkle of ribbon-cut basil over the top.
To make ribbon cuts (also known as chiffonade), stack 3-4 leaves of basil, roll them up, then use a sharp knife to slice crosswise through the roll of basil.
To make this Italian meal even better, serve it with a green salad and homemade French bread or sourdough rolls.
Another option is to serve the meatballs and marinara with spaghetti or rigatoni pasta.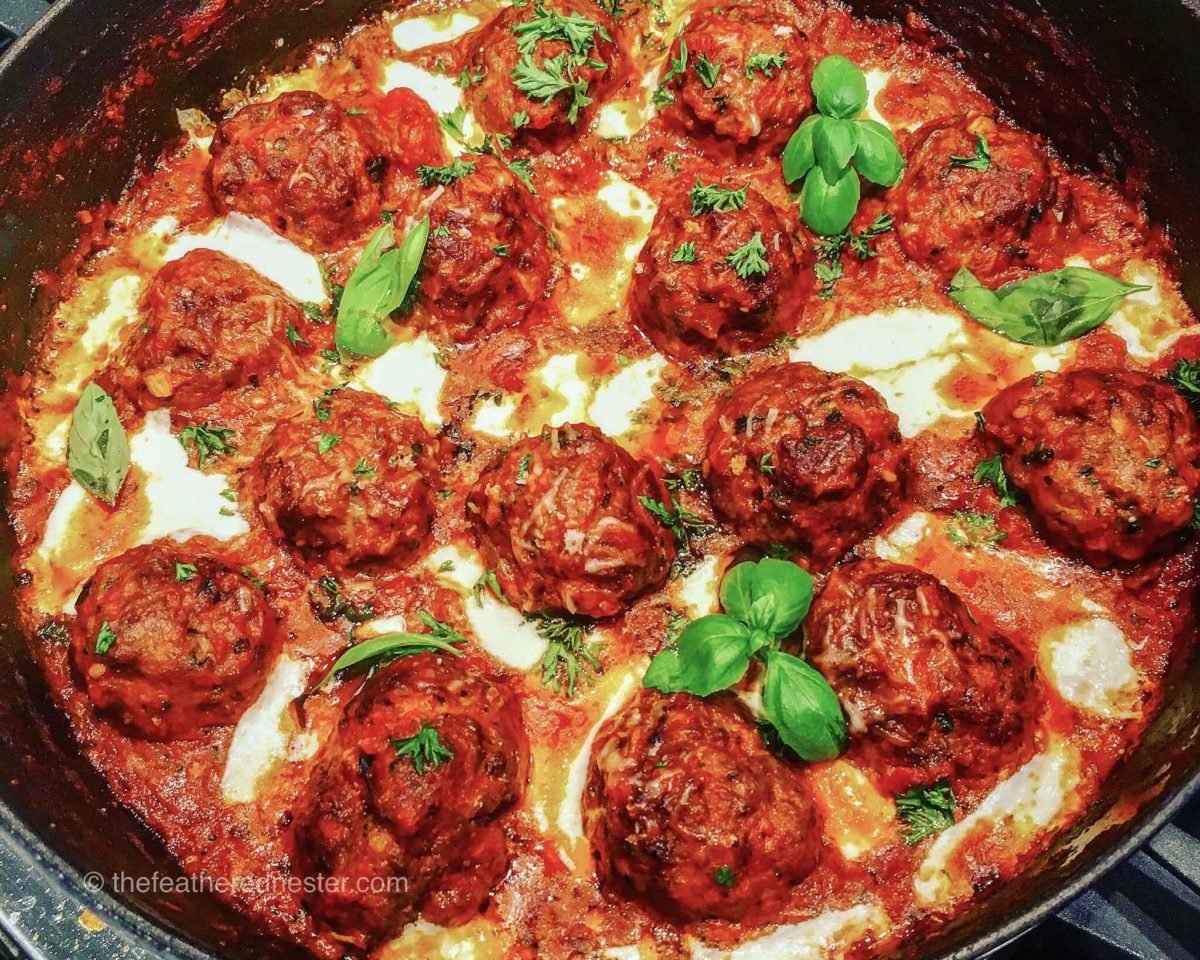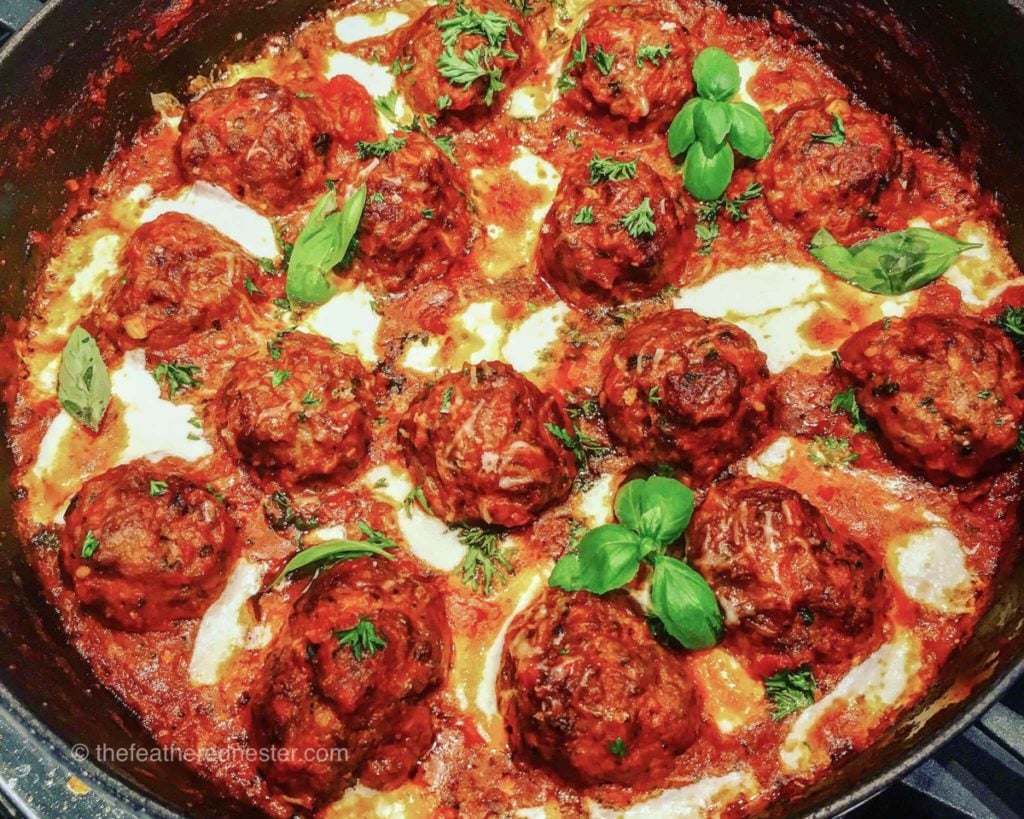 Meatballs Marinara FAQ
How do I prevent meatballs from falling apart?
There are two easy ways to prevent a pan fried meatball from falling apart as it cooks. One way is to simply toss each ball into a little bit of flour before frying.

An even easier way is, after forming them, place the tray into the fridge while you preheat the frying oil.
Can I freeze meatballs?
You can freeze them cooked or raw. First, flash freeze them on a tray or paper plate, then after they are frozen, transfer them to a freezer bag. Frozen meatballs will keep for up to 3 months. Be sure to let them thaw before pan frying or reheating.
Do I have to fry meat balls?
Our meatball marinara recipe is best with pan fried meatballs. But, if you want, you can place them on a sheet pan and bake them in a 350°F oven instead.
Skillet Meatball Marinara
Meatball Marinara is our easy one skillet recipe for juicy pork and beef pan fried meatballs with pesto, red sauce, and cheese. Delicious!
Ingredients
½ pound ground pork
½ pound ground beef
1 cup bread crumbs Italian seasoned or plain
⅓ cup grated Romano cheese or grated Parmesan
¼ cup chopped fresh Italian parsley or 1 tablespoon + 1 teaspoon dried parsley
2 cloves garlic peeled and finely chopped
1 large egg beaten
1 teaspoon salt
¼ teaspoon freshly ground black pepper
¼ cup milk any type of milk, or water
½ cup frying oil more or less, to reach a depth of 1-2 inches in your skillet.
¼ cup prepared pesto sauce
28 ounces marinara sauce
1 pound fresh mozzarella slices
Instructions
To a large bowl, add ground pork and beef, dried bread crumbs, Romano cheese, parsley, garlic, egg, salt and pepper. Gradually add milk (or water). Using your clean hands, mix the ingredients just until everything is combined. **To avoid dry, tough meatballs, do not over mix the ingredients.

Using a small cookie scoop or large spoon, portion out the meatball mixture onto a parchment lined platter or sheet pan.Use your hands to roll each portion into golf-sized meatballs. Again, avoid overhandling the meat or your meatballs will become tough and dry.If the meatballs aren't holding their shape well, place them in the fridge to chill while you proceed to heat the oil for pan frying (see next step).

Add olive oil or other frying oil to a depth of 1-2 inches in a 10-inch skillet (approximately 1/2 cup oil) over medium high heat. Add the meatballs to the skillet, making sure not to overcrowd the pan. Depending on the size of your skillet, you may need to pan fry meatballs in two batches. If so, transfer the cooked meatballs to a plate while you fry the rest of them.Cook the meatballs for 2-3 minutes on each side, for a total of about 6 minutes.

Drain the excess olive oil from the skillet, then return it to the heat. Add the marinara sauce and pesto sauce to the skillet, then add the meatballs to the sauce. Cook for about 15 minutes until they are completely cooked, no pink in the center, and the sauce is warmed. **Pork and beef meatballs are properly cooked when the internal temperature of the meat reaches 155 degrees F.

Turn down heat to simmer/low. Arrange the mozzarella slices between the meatballs and allow to melt partially, 3-5 minutes.

Optional: Place pan under a preheated broiler for 5 minutes, or until sauce and cheese are lightly bubbling on top.
Nutrition
Serving: 3meatballs | Calories: 908kcal | Carbohydrates: 36g | Protein: 56g | Fat: 60g | Saturated Fat: 27g | Polyunsaturated Fat: 3g | Monounsaturated Fat: 19g | Trans Fat: 1g | Cholesterol: 228mg | Sodium: 2771mg | Potassium: 1121mg | Fiber: 5g | Sugar: 11g | Vitamin A: 2390IU | Vitamin C: 20mg | Calcium: 816mg | Iron: 6mg
PIN THIS POST!
This post, first published in June 2020, was updated with new content in February 2023.