Cast iron chicken thighs are so incredibly crispy, juicy and tender, and they cook up in only 20 minutes! This roasted chicken skillet recipe will become one of your favorites!
This post may contain affiliate links. As an Amazon Associate, I earn from qualifying purchases at no extra cost to you. See my disclosure policy here.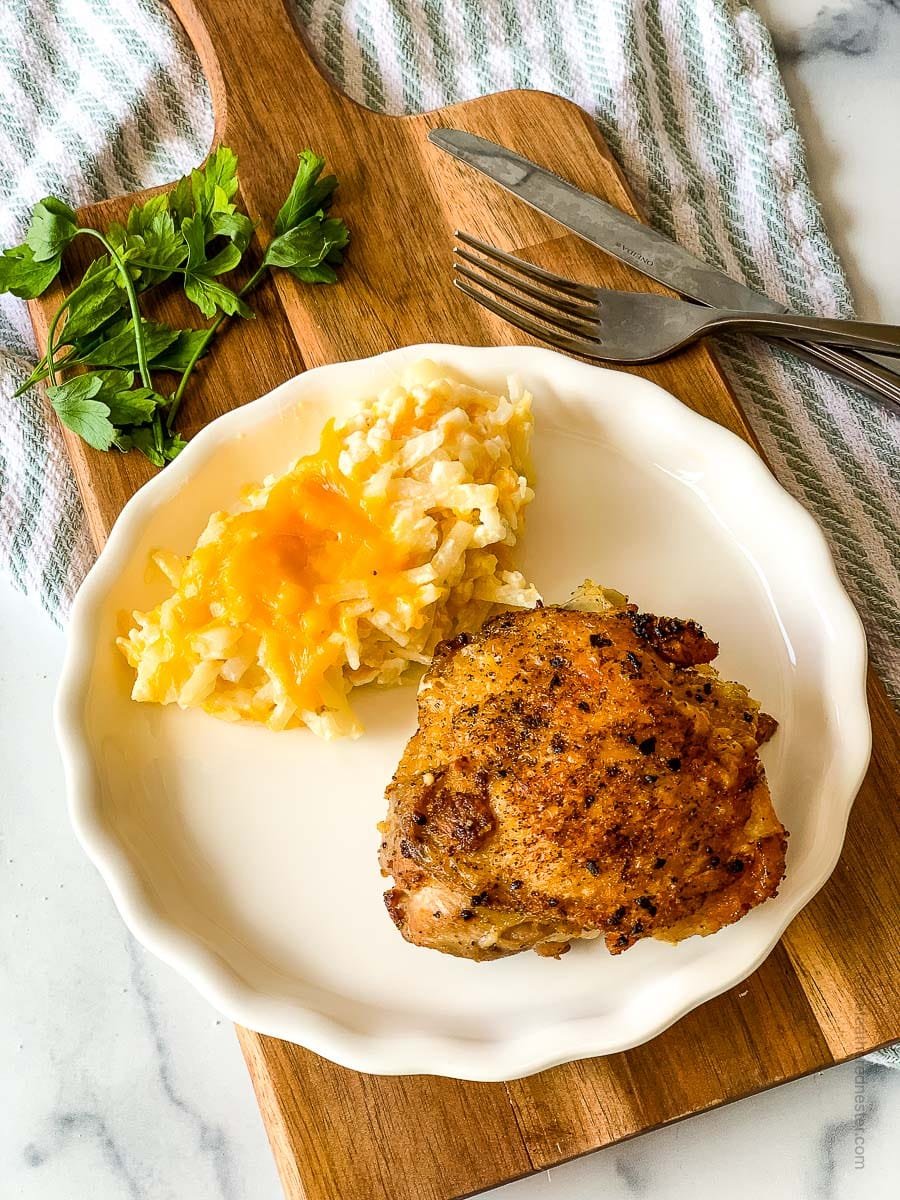 This is another of our super easy skillet chicken recipes that you can make in less than 30 minutes. When you want a delicious dinner that you can cook up quickly, that's the time to pull out your cast iron pan!
Reasons to Make Cast Iron Chicken Thighs
Quick 20-minute meal.
Chicken thighs are a great option for a quick and easy dinner. They are tasty and flavorful and cook up quickly in a cast iron skillet.
Easy clean up.
Do you know that if it's seasoned properly, cast iron cookware is actually more non-stick than Teflon?!
Simple but flavorful seasonings.
The chicken thighs are seasoned with a simple blend of spices, then cooked in a hot skillet until they are juicy and golden brown, and then roasted in a hot oven until the skin is crispy.
Ingredient Notes and Substitutions
For this recipe, you can also use boneless skinless chicken thighs, but I prefer the skin-on, bone-in chicken thighs as they have more flavor and stay juicier during cooking.
This recipe is perfect for a busy weeknight or any time you need a quick and easy dinner. The chicken thighs can also be cooked in advance and then reheated.
Love easy chicken recipes? Try our Pan Seared Chicken Thighs, Sheet Pan Chicken Thighs and Veggies, Oven Baked Marinated Chicken Tenders, and Nashville Chicken Tenders.
Chicken – We use bone-in chicken thighs, and we leave the skin on. If you prefer boneless skinless chicken thighs, you can use them, but you won't be able to sear them as well.

Also, boneless meat doesn't take as long to cook, so you will need to reduce the cooking time accordingly.


Seasonings – I used garlic salt and black pepper for this recipe. However, you can also try using different spices, such as smoked paprika, garlic powder, or a blend of herbs.

Tips For Perfect Skillet Chicken Thighs
Don't use a non-stick pan.
If you don't have a cast iron skillet, use any other type of heavy-duty, oven-proof pan. The high heat you need for searing chicken can damage non-stick cookware.
I recommend using a heavy stainless steel pan like the one below if you do not have a cast iron one.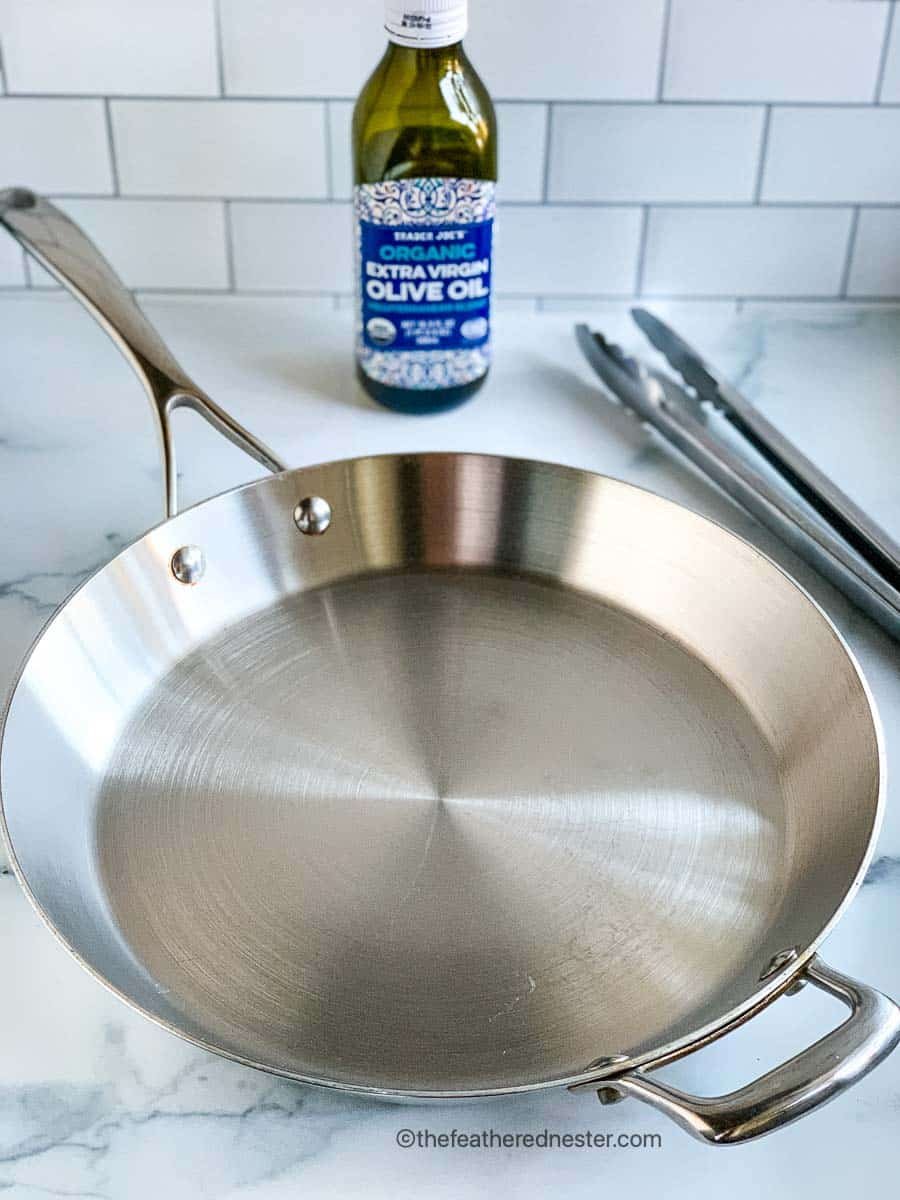 Be sure the cast iron skillet is very hot!
The key to preventing chicken from sticking in a cast iron skillet is to ensure that the skillet and the oil are both hot before adding the chicken.

Add the oil to the pan before you preheat it so it can heat up and coat the bottom of the pan.
Don't move the chicken thighs around.
After adding the thighs to the pan, leave them alone until it's time to turn them over. As soon as the skin is properly seared, it will release itself from the skillet.
Cook in batches if your pan is small.
Avoid overcrowding the pan; if the pieces are too close together, they will steam rather than sear. If necessary, cook the chicken in batches.
Finish cooking skillet chicken thighs in the oven.
Technically, cast iron chicken thighs can be cooked from start to finish in the pan on your stovetop. However, it takes a lot longer to cook bone-in chicken to 165°F when you don't have heat circulating around the pieces.
This is why we finish roasting them in the hot oven! It just needs 10 to 15 minutes to finish cooking through, and even less time if you're making boneless chicken thighs.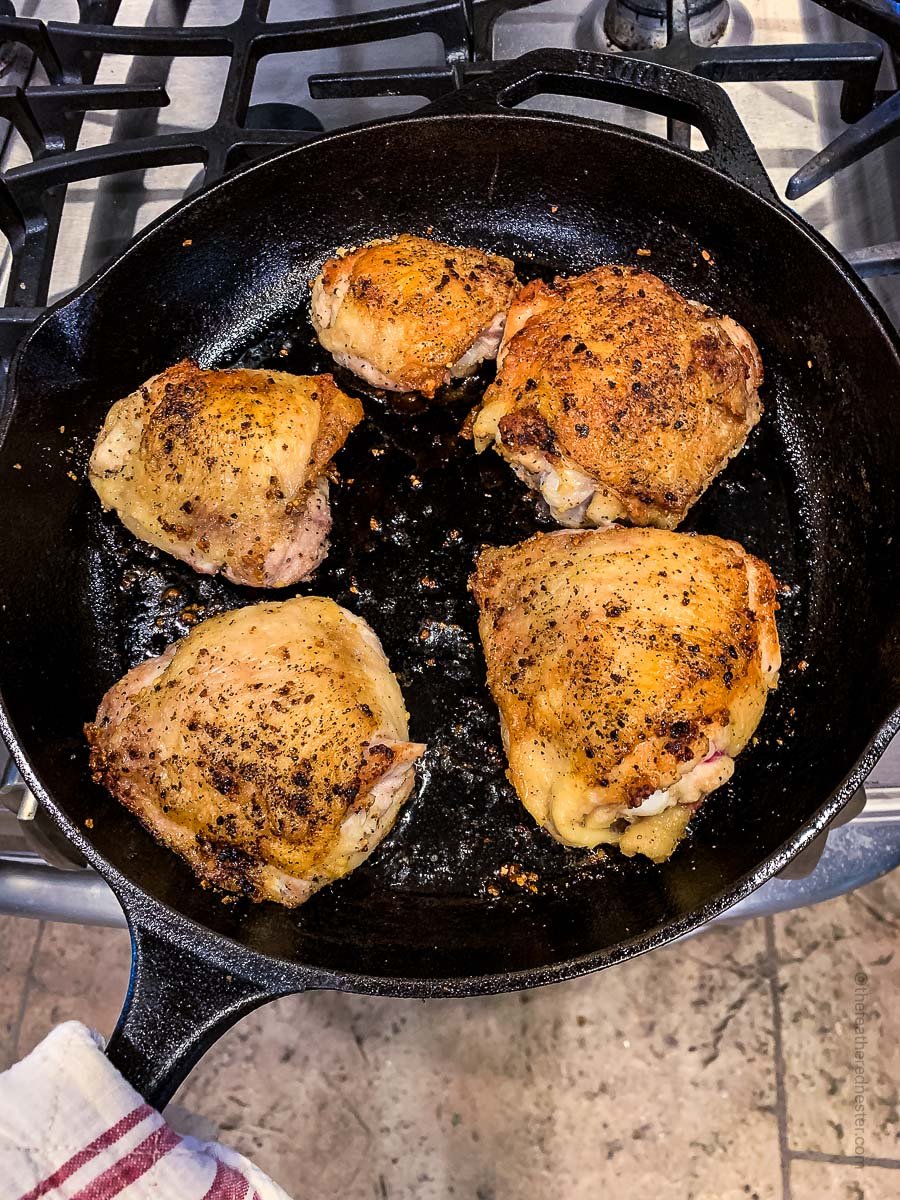 Test the internal temperature of the center of the thickest part of the chicken thighs with an instant-read thermometer. If it is 165ºF, they are done.
Recipe Variations
Add some heat with a pinch of cayenne pepper, or keep it mild with just salt and pepper.
For a more flavorful dish, try marinating the chicken with our balsamic marinade.
What to serve with Cast Iron Chicken Thighs
Wondering what to serve with these skillet chicken thighs? How about some mashed potatoes, green beans, or salad?
Want more ideas for sides to serve with chicken? We have plenty!
For Skillet Chicken Recipes, Renae Recommends
Storing Leftovers
Leftover chicken can be stored in an airtight container in the fridge for up to four days. Reheat in the microwave or oven until warmed through before serving.
You could also freeze the cooked chicken thighs for up to three months. Thaw in the fridge overnight and then reheat before serving.
Reheating instructions
To reheat, cook in a 350ºF oven until warmed through. You can also reheat them in the microwave, but cover the dish with a damp paper towel to prevent the chicken from drying out.
If you are reheating frozen chicken, thaw it in the fridge overnight before reheating.
Cast Iron Chicken Thighs FAQ
Should I cover the pan when frying chicken?
There is no definitive answer to this question, as different recipes may require different cooking methods.

However, in general, it is best to avoid covering the pan when frying chicken, as this can cause the chicken to steam rather than fry. If you want to prevent splatters, you can use a splatter screen or cover your pan with a lid that has a vent to allow steam to escape.
Why are my chicken thighs tough?
If your chicken thighs are tough, it is likely because they were overcooked. Cast iron roasted chicken thighs should be cooked until they reach an internal temperature of 165ºF. Any higher and the chicken will begin to dry out and become tough.
Cast Iron Chicken Thighs
This Cast Iron Skillet Chicken Thighs recipe is delicious and full of flavor. The chicken skin is crispy and the meat is cooked through by searing it and then baking it in the oven.
Ingredients
2 ½

pounds

chicken thighs, bone-in, skin on

(about 6-8 thighs)

2

teaspoons

garlic salt

½

teaspoon

black pepper

2

tablespoons

olive oil
Instructions
Heat oven to 425ºF.

Dry the chicken thighs by patting dry with paper towel.

In a small bowl, combine the garlic salt and pepper. Sprinkle on both sides of chicken.

Add 1 to 2 tablespoons of olive oil on cast iron skillet and preheat over medium-high heat until hot, oil should be shimmering but not smoking.

Place chicken thighs into the pan, skin side down. Do not cover with a lid, instead use a splatter screen to contain the oil. Cook without moving them at all for 5-7 minutes to give the chicken skin the perfect crispy sear.

Once the chicken skins are deep golden and crispy, use long tongs to turn flip the chicken pieces over and do the same to the other side.

Transfer the skillet with the chicken to the oven and roast for 10-15 minutes until cooked through. Test the internal temperature of the center of the chicken thighs (avoiding the bone) with an instant read meat thermometer and if it is 165ºF they are done.
Nutrition
Serving:
1
serving
|
Calories:
590
kcal
|
Carbohydrates:
1
g
|
Protein:
39
g
|
Fat:
47
g
|
Saturated Fat:
12
g
|
Polyunsaturated Fat:
9
g
|
Monounsaturated Fat:
22
g
|
Trans Fat:
0.2
g
|
Cholesterol:
236
mg
|
Sodium:
1348
mg
|
Potassium:
498
mg
|
Fiber:
0.1
g
|
Sugar:
0.003
g
|
Vitamin A:
189
IU
|
Calcium:
21
mg
|
Iron:
2
mg