For a Sunday-worthy meal any night of the week, make this Baked BBQ Chicken Tenders Dinner! With everything in the meal baked together on a sheet pan in the oven, you and your family will love this simple and convenient chicken tenderloins recipe!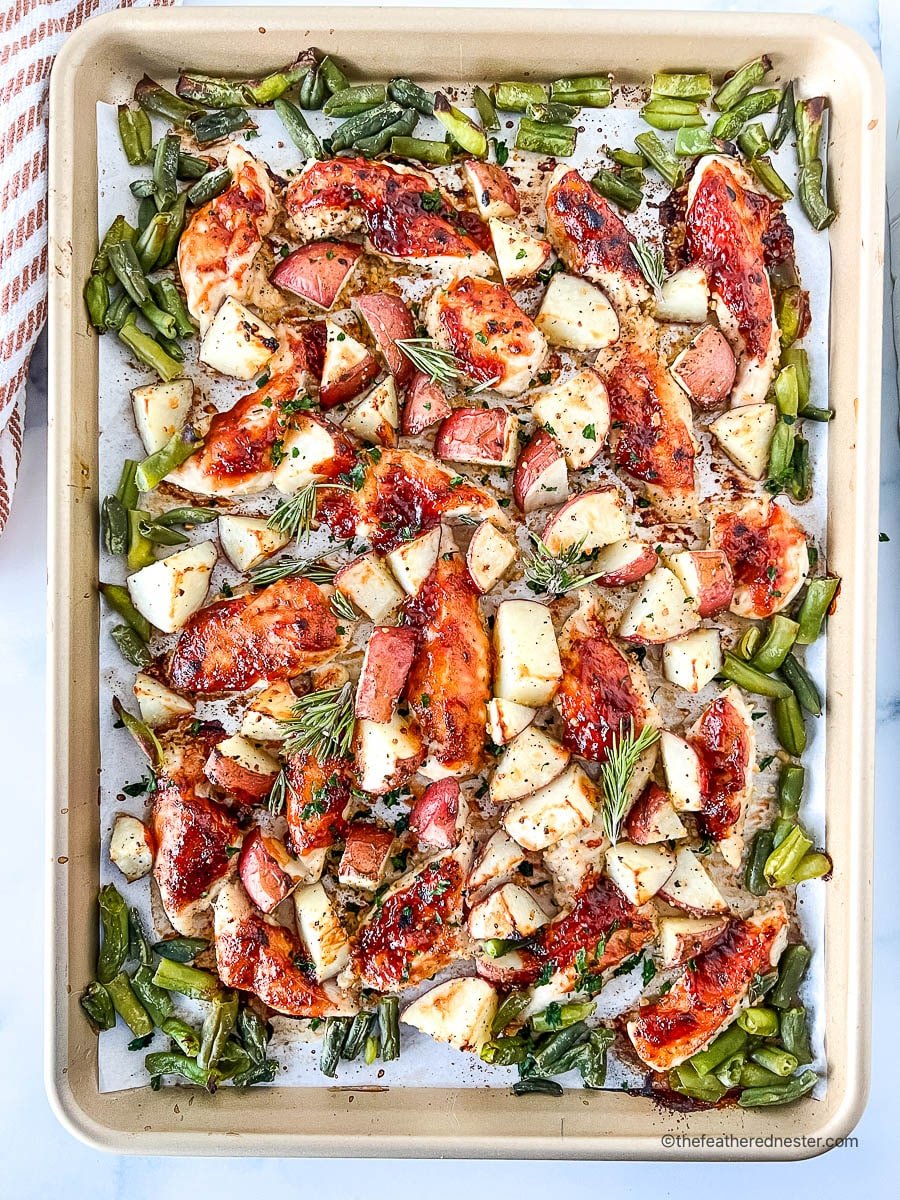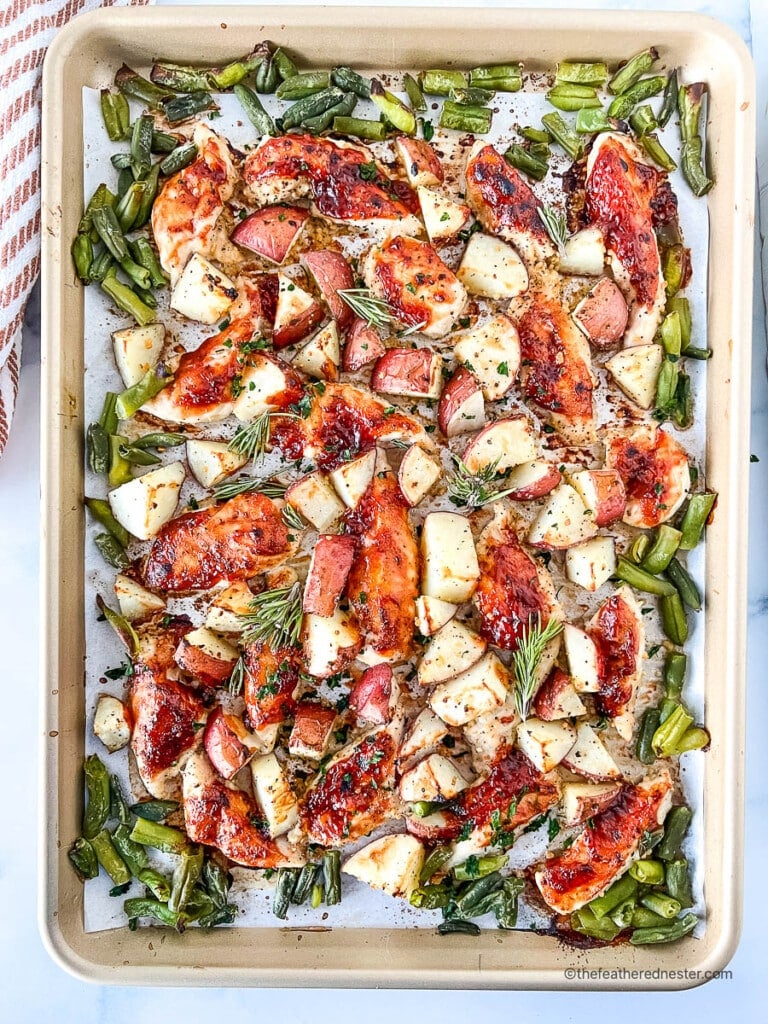 Whenever we're short on time and looking for a healthy meal, sheet pan dinners are the go-to. What could be better than arranging all of the ingredients onto a pan and sliding it into the oven?
Reasons to Love This Baked BBQ Chicken Tenders Dinner
Quick to make and easy to clean up. It will take 30 minutes from preparation to serving, and you'll have minimal cleanup.

A well-rounded, nutritious dish. The lean chicken tenderloins are full of protein. Potatoes and green beans go right onto the pan, so everything is cooked and ready to eat at the same time.

Kid-friendly. The sweet and tangy flavor of the sauce is a favorite of most kids. Even better, the chicken strips are easy for little hands to hold.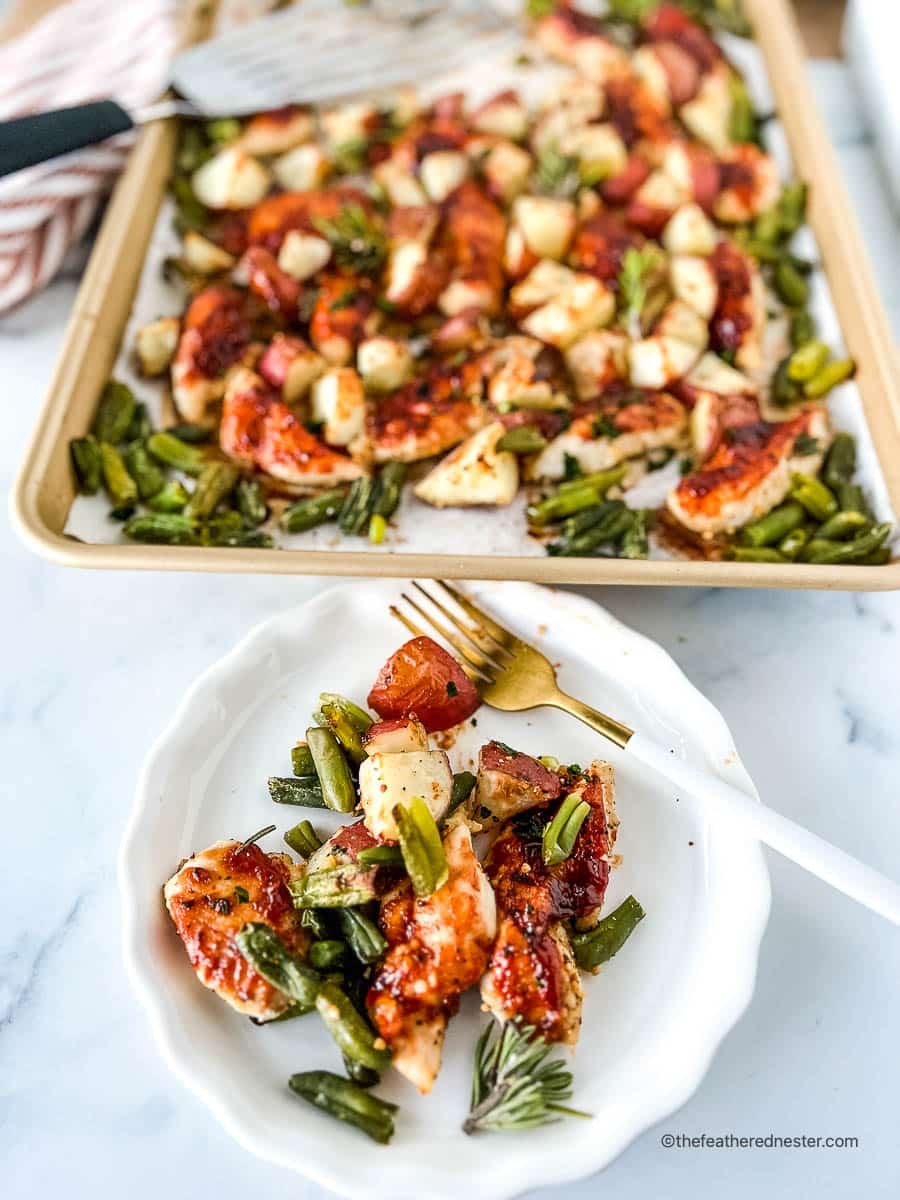 Ingredient Notes and Substitutions
Boneless Skinless Chicken Strips/Tenders
Chicken tenders, strips, and fingers are all names for boneless chicken breasts, cut into finger-sized slices.

For less prep work, use chicken tenderloins instead. Most grocery stores sell them in ready to use, in one or two-pound packages.
For more information on our favorite cut of chicken, read >> "What is a Chicken Tenderloin?".
BBQ Sauce
We use our 3 ingredient BBQ sauce in this dish. The flavor is amazing, and it's so easy to make! However, feel free to use your favorite premade barbecue sauce.
Veggies
There are plenty of options on which vegetables to use for this chicken sheet pan recipe! We like the combo of green beans and potatoes.

Feel free to use different veggies. Just be sure they will hold up to the high heat of roasting.
Good substitutes for roasted potatoes are broccoli, carrots, parsnips, sweet potato, and even winter or summer varieties of squash.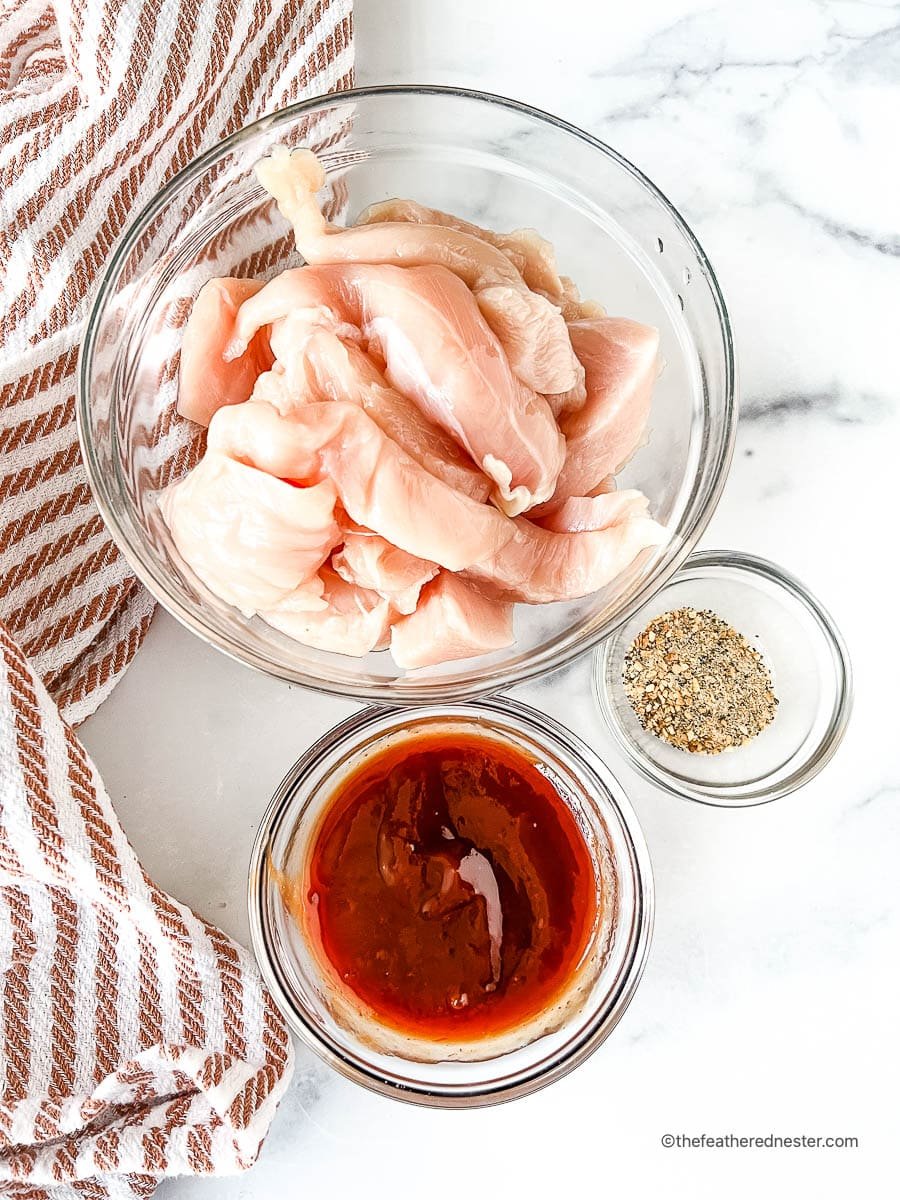 Looking for one-pan meal ideas without chicken?
We get it – Not everyone likes oven baked BBQ chicken. 🙂
Mini pepperoni calzones are like an Italian baked hand pie, and almost as much fun to make as they are to eat!

Skillet meatball marinara is a delicious Italian dinner that comes together in less than 30 minutes.
Tips for Perfect BBQ Chicken Tenders
Be sure to grease the sheet pan (or use parchment paper). The sauce gets sticky as it cooks. Using non-stick cooking spray or parchment paper makes cleanup SO much easier!
Use a sharp knife.
Do you know that a dull knife causes more injuries than a sharp one? Using a properly sharpened kitchen knife helps to prevent accidents, and it will help you cut more quickly, too!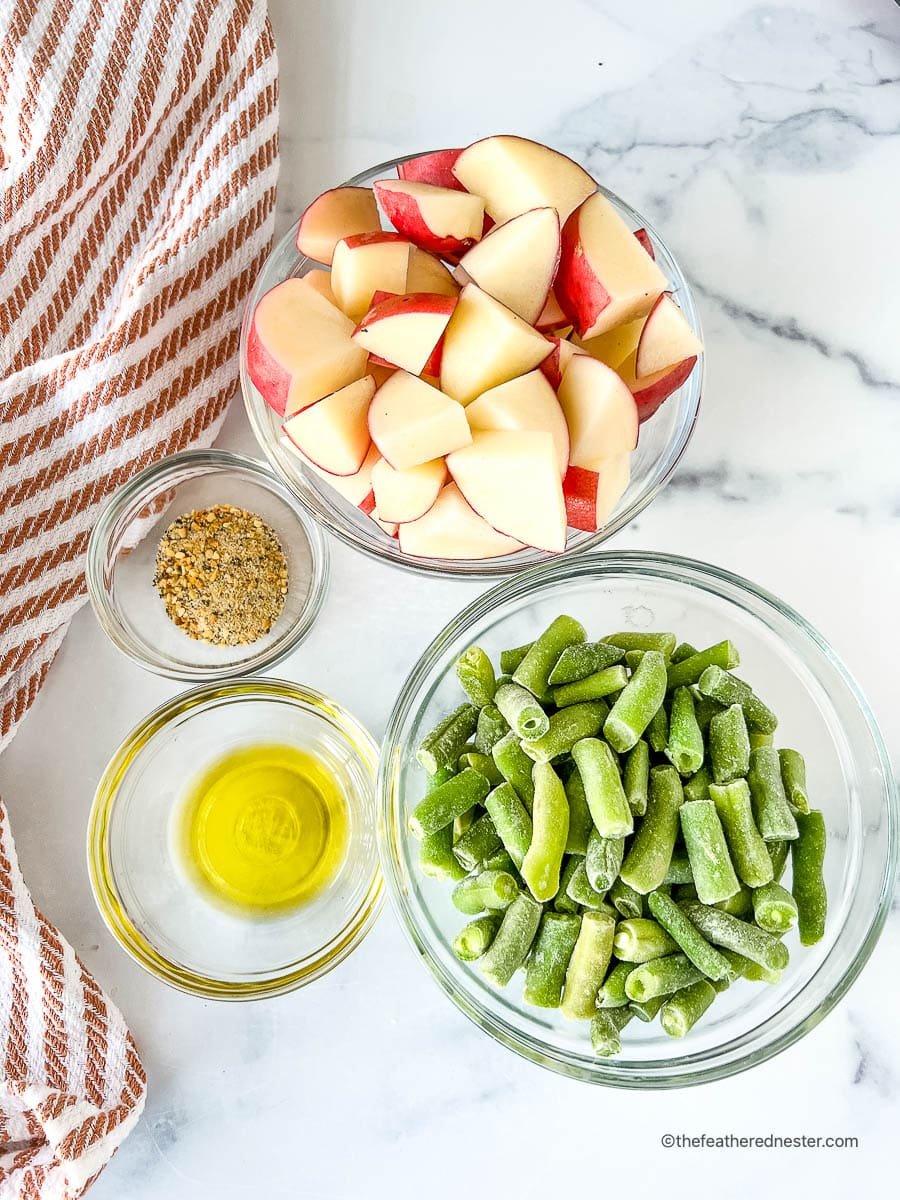 Cut the meat and veggies in uniform sizes.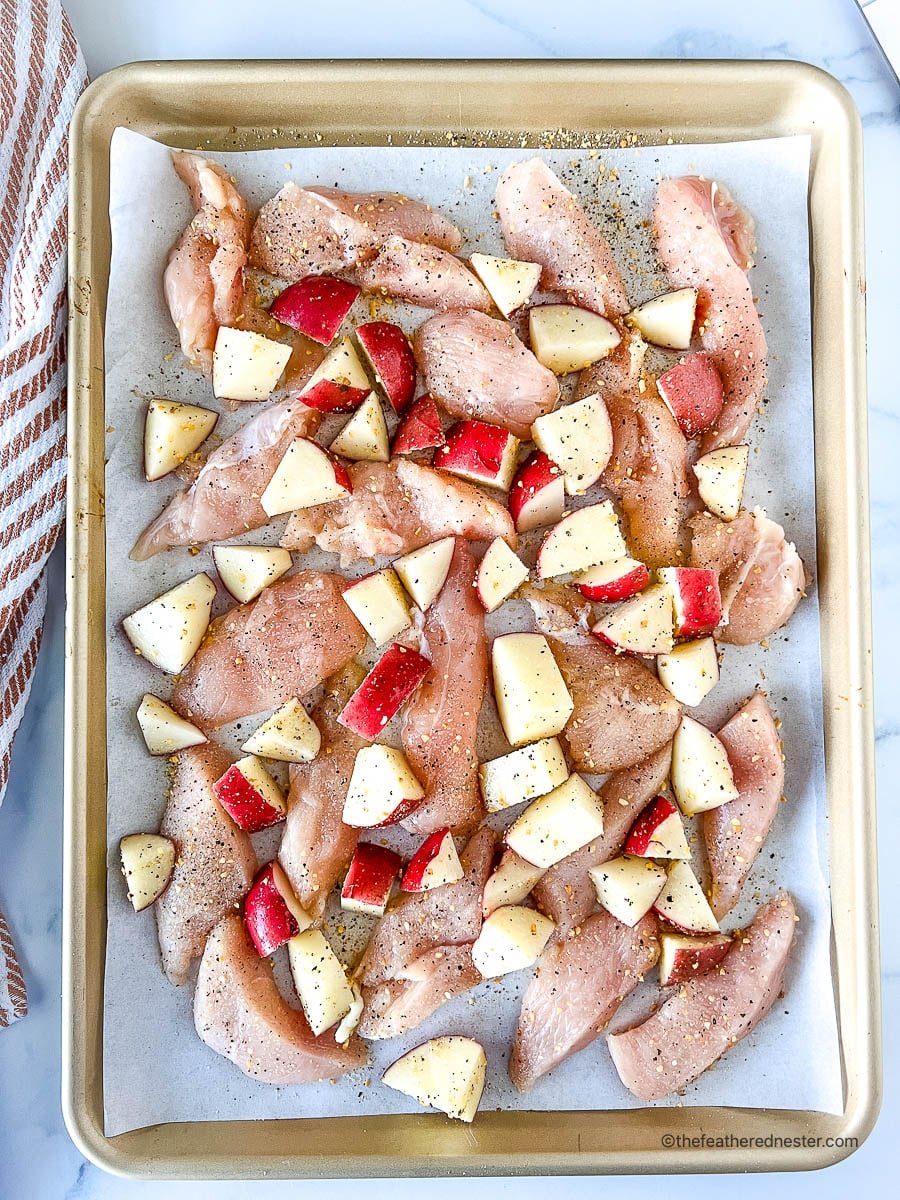 Consistent sizing helps to ensure that everything cooks evenly while in the oven. The potato chunks should be no larger than 1-inch across.
Wait to add soft veggies and BBQ sauce until the final minutes of cooking.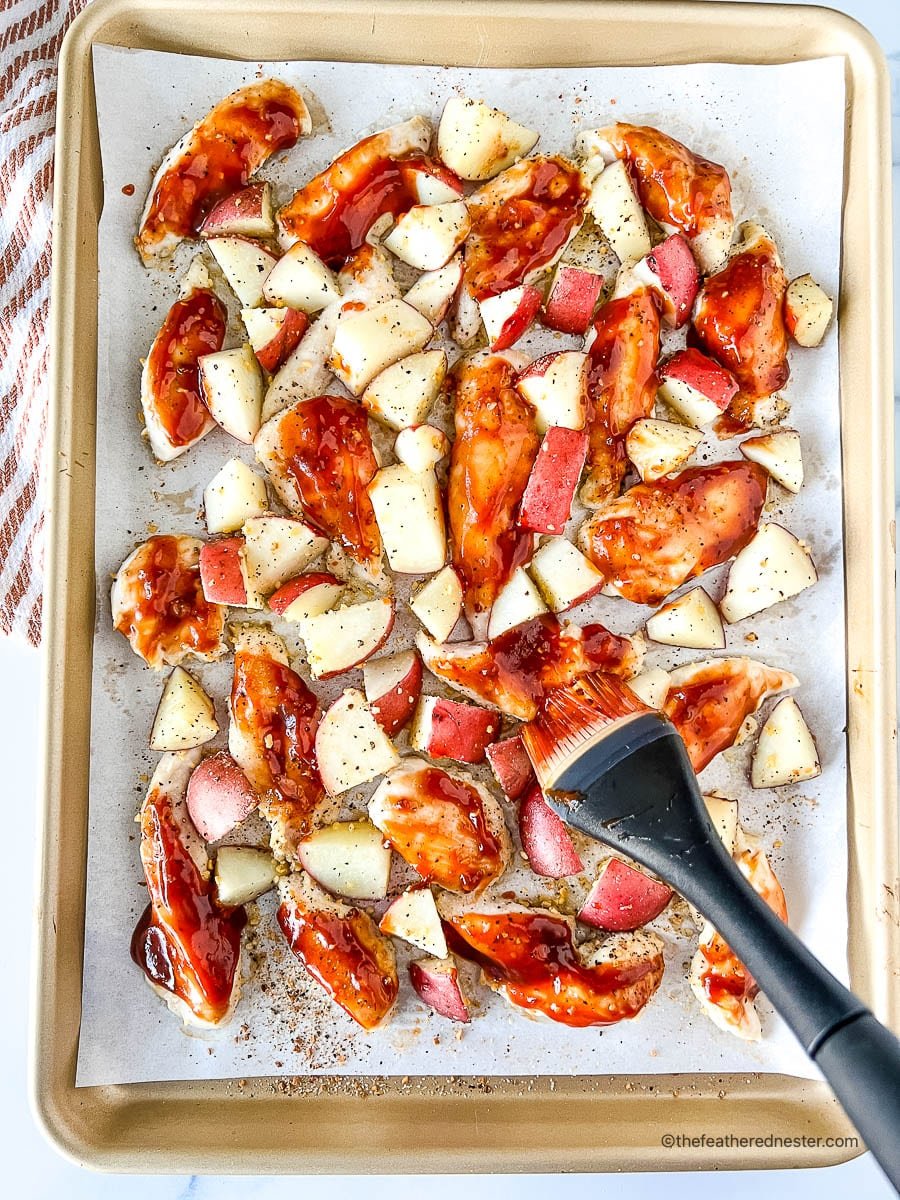 If you brush the barbecue sauce on right away, the sugars will burn. So, wait a bit; apply it about 10 minutes before the end of cooking.

Firm vegetables should go into the oven along with the chicken. Green beans and other soft veggies don't need as much time, so add them to the pan during the final 10 minutes.
TFN Pro Tip
Place soft vegetables like green beans along the outer edges of the sheet pan dinner. This way, air circulates around them, so they roast better.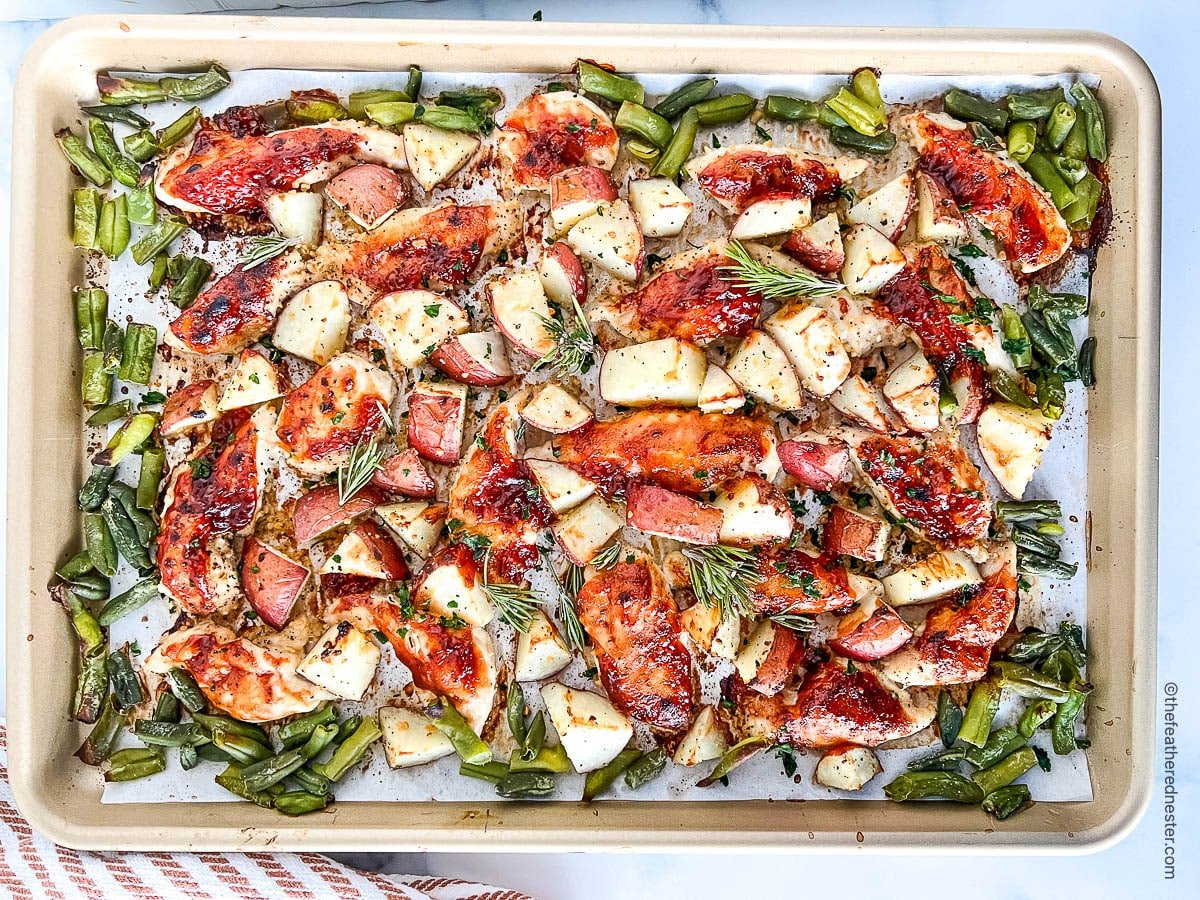 Baked BBQ Chicken Tenders Dinner FAQ
How long to bake chicken tenders?
For this sheet pan dinner recipe, the baking time is 28 minutes at 400°F., or 25 minutes at 425ºF.
When is baked barbecue chicken done cooking?
All fresh poultry is safe to eat when the internal temperature at the thickest portion reaches 165ºF. For the most accurate reading, use a digital or infrared meat thermometer.
How do you prevent chicken from drying out?
Overcooking is one of the biggest reasons for dry chicken. Using a kitchen timer can help you create the juiciest tenders possible.
Storing and Reheating
Store your leftovers in an airtight container in the refrigerator. They'll be good for up to 3-4 days. Reheat on high in the microwave for 2-3 minutes or until the chicken is 165ºF in the center.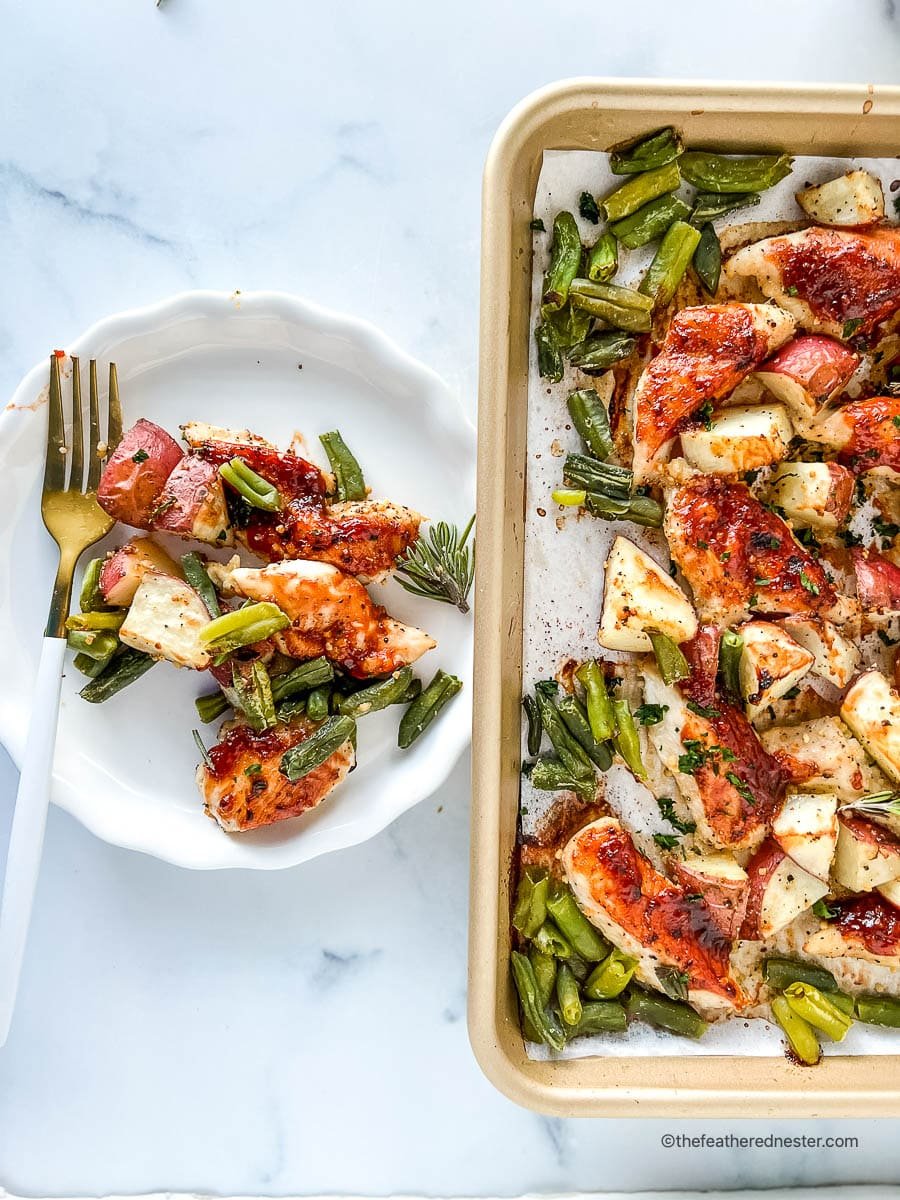 What To Serve With This One Pan Chicken Tenderloin Recipe
Breads
With this meal of barbecue chicken in the oven, we usually serve sourdough rolls. Although, buttermilk biscuits and cornbread are also great options for soaking up the extra BBQ sauce on your plate.
Salads
A cold garden salad goes well with this chicken sheet pan recipe. For some extra nutrition, make cowboy salad, which includes fiber-packed beans.
Desserts
To finish off your chicken sheet pan dinner with something simple but delicious, make a batch of chocolate chip cookies. Another favorite of ours is Bisquick funnel cake, which is quick to whip up, and everyone loves it!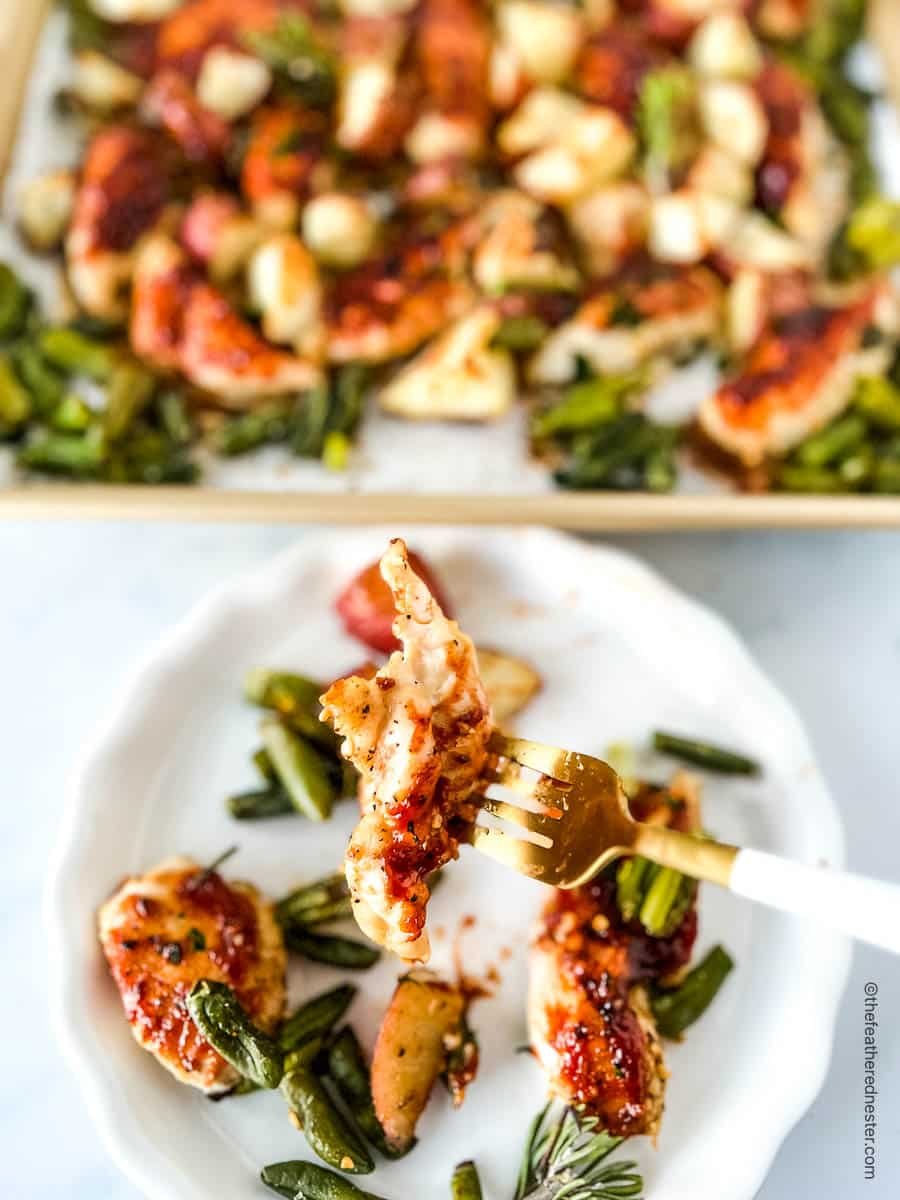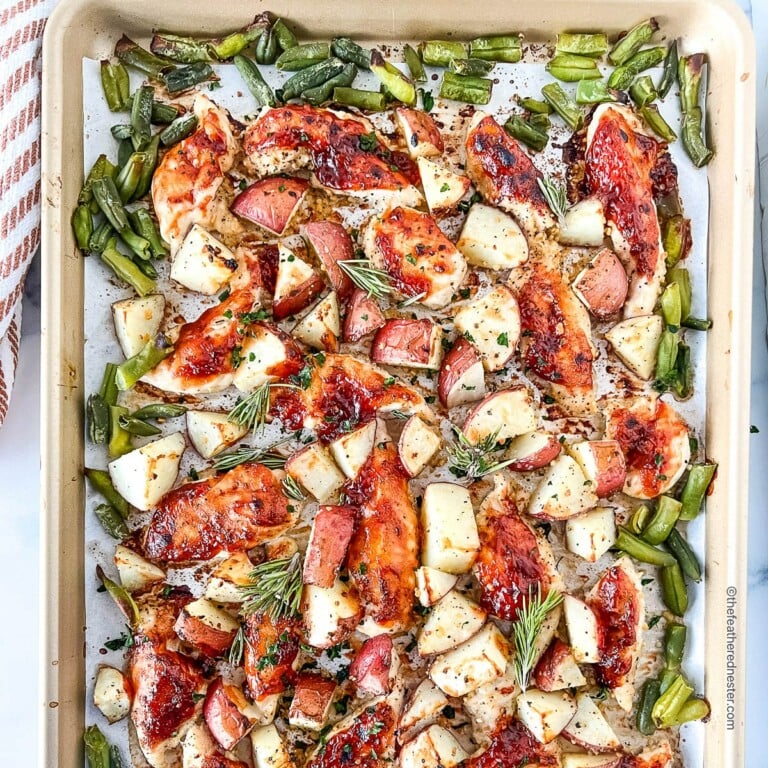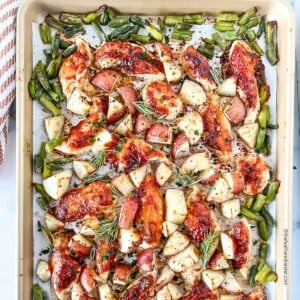 Baked BBQ Chicken Tenders Sheet Pan Dinner
Our baked BBQ chicken tenders dinner includes saucy strips with potatoes and veggies. Kids love this one pan chicken tenderloin recipe!
Equipment
9×13 inch baking sheet

small basting brush
Ingredients
optional
4 potatoes scrubbed and 1" dice
12 ounces (about 3 cups) fresh green beans
Instructions
Preheat oven to 400ºF. Prepare a sheet pan by spraying it with non-stick cooking spray, or line with parchment paper.

Add chicken tenders to the prepared baking sheet; season both sides with all-purpose seasoning.If using firm vegetables like potatoes, brush or drizzle with olive oil and seasoning. Wait to add softer vegetables like green beans until the final 10 minutes of cooking time.

Place pan in preheated oven and cook for 18 minutes. Remove sheet pan from the oven, and brush tenders with BBQ sauce. Add green beans (or other soft veggies) to baking sheet, placing them close to the edges for better roasting.

Return pan to the oven and continue cooking for an additional 10 minutes, until BBQ chicken reaches an internal temperature of 165ºF in the center. The potatoes should be tender when pierced with a fork and the green beans should be soft.

Serve the chicken sheet pan dinner with extra BBQ sauce for dipping.
Notes
Baste the chicken tenders with BBQ sauce during the last 10 minutes of cook time, otherwise it will burn.
Soft vegetables like green beans should be added to the pan during the final 10 minutes of cook time. Place green beans on the outer edges of the baking sheet so they roast better.
*Nutritional Facts are calculated without potatoes and green beans*
Nutrition
Serving: 4ounces | Calories: 170kcal | Carbohydrates: 10g | Protein: 24g | Fat: 3g | Saturated Fat: 1g | Polyunsaturated Fat: 0.5g | Monounsaturated Fat: 1g | Trans Fat: 0.01g | Cholesterol: 73mg | Sodium: 1540mg | Potassium: 475mg | Fiber: 0.2g | Sugar: 8g | Vitamin A: 87IU | Vitamin C: 2mg | Calcium: 14mg | Iron: 1mg
PIN THIS POST!