Let these chicken tenderloin recipes be your simple solution for creating an absolutely delicious meal, and in under 30 minutes! With over 10 quick and easy chicken tender recipe ideas to choose from, there's at least one that'll make your family happy.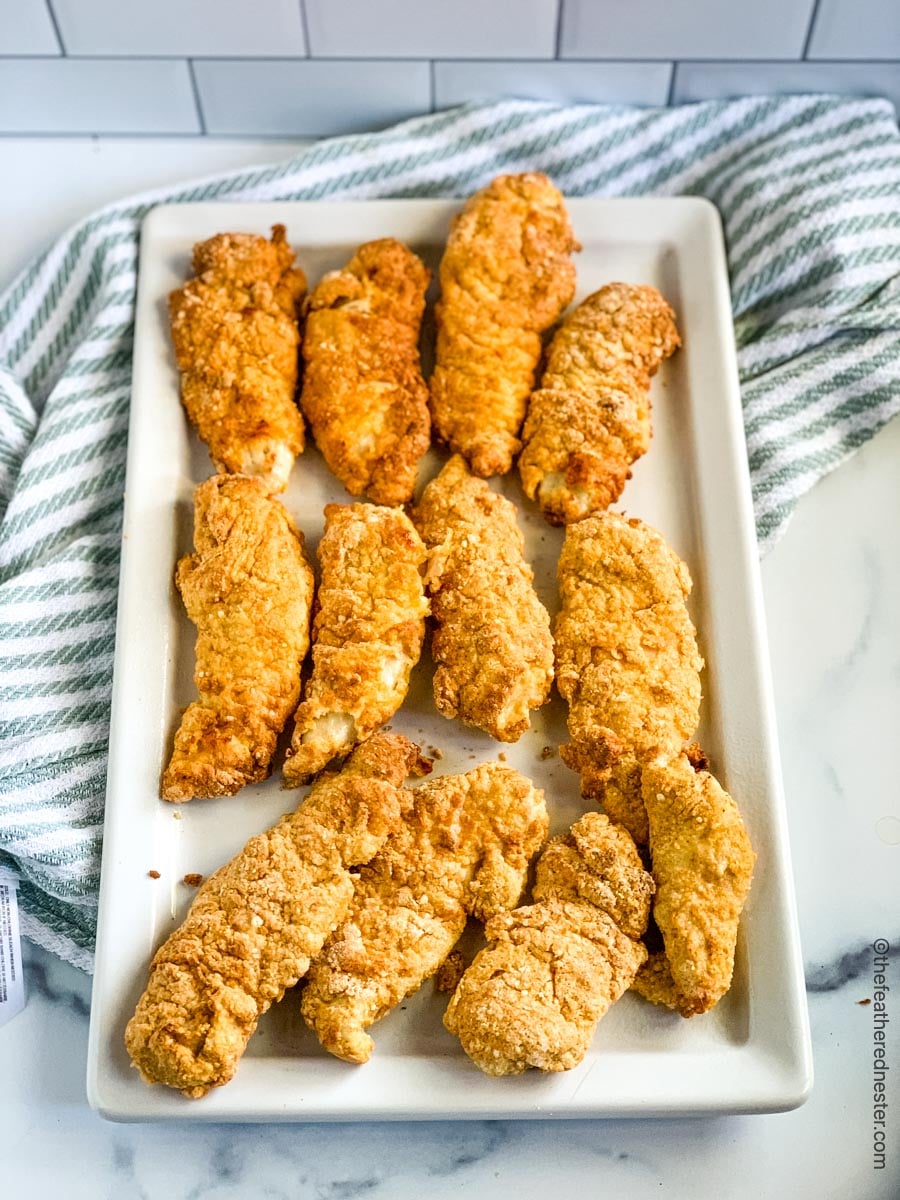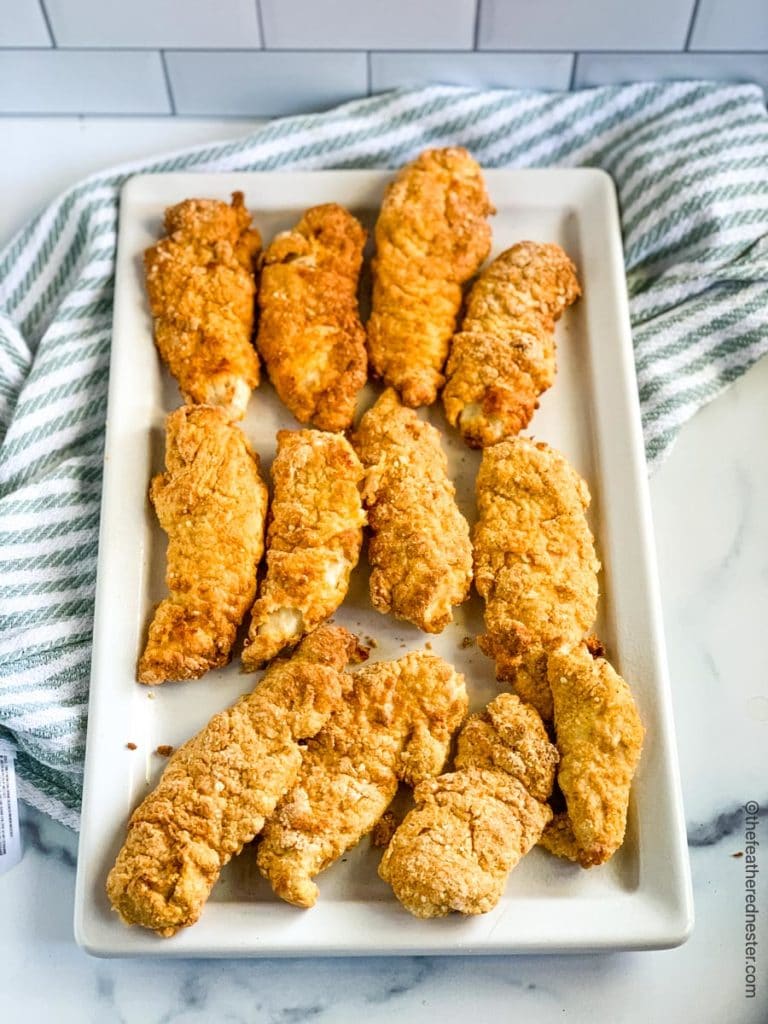 If you're tired of making the same chicken recipes week after week, this collection has plenty of new ideas to inspire you.
Whether you call them chicken tenders, fingers, strips, or tenderloins, we'll help you find a way to love them even more than you already do!
Reasons to Love Chicken Tenderloin Recipes
They help prepare stress-free dinners in a flash!
Most of these are 30-minute chicken recipes! This means, they require very little prep work, so there's no need to stress out when you're short on time.
Many different ways to cook them.
It can be frustrating when you find something you want to cook, but you don't have the special equipment or appliance the recipe calls for. After all, not everyone has an Instant Pot, Air Fryer, and Crock Pot.
If this is you, no worries! This collection also includes recipes for chicken tenderloins on the stovetop and in the oven, too.
There are plenty of great ways to cook chicken breast tenderloins. Some of the most popular are:
sautéing
deep frying
pan frying
grilling
baking
stir-frying
steaming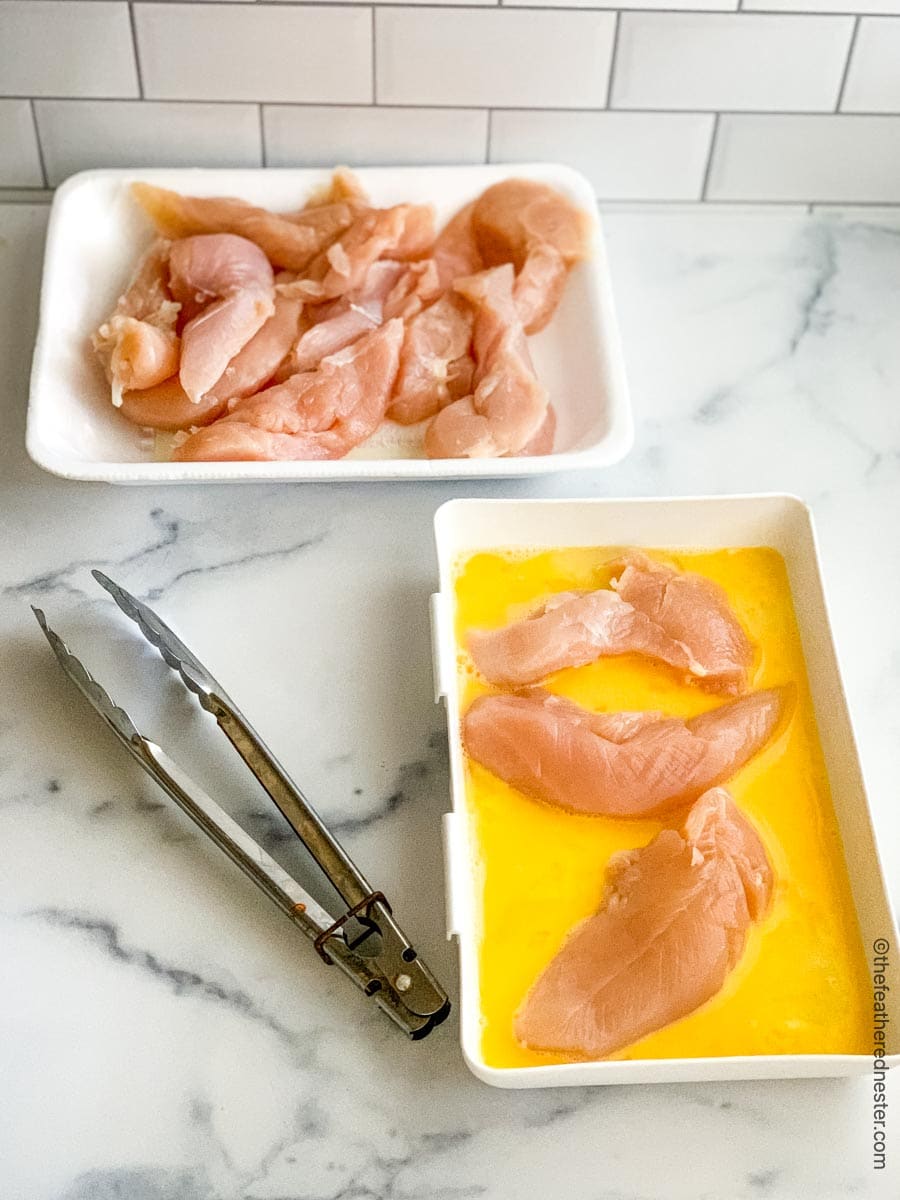 FAQ
Are chicken tenderloins, tenders, and chicken breast the same thing?
Not exactly. Chicken tenderloins are a separate piece, attached to the underside of each chicken breast.

Chicken tenders, strips, and fingers, are simply different names for slices of boneless chicken breast.

Despite the difference in names, tenders and tenderloins both describe lean, white chicken meat. So, either one of the cuts is a good substitute for the other.
What is the white string-like thing in chicken tenderloins?
That "string" is actually a piece of connective tissue, called a tendon. It attaches muscles to bones. They're safe to eat, but they don't have any flavor.

If you notice a tendon attached to chicken tenderloins, just use a pair of kitchen shears or a knife to remove it.
How do you keep chicken tenderloins from drying out?
Using a brine or marinade can help keep the meat moist. However, not every recipe includes one.

What works even better for preventing dry, tough poultry is to cook chicken tenderloins at a temperature no higher than 350° to 375°F.
For more information about this versatile cut of poultry, read our post, "What is a Chicken Tenderloin?".
FYI: Turkey breasts also have tenderloins, and turkey tenderloins are also incredibly versatile!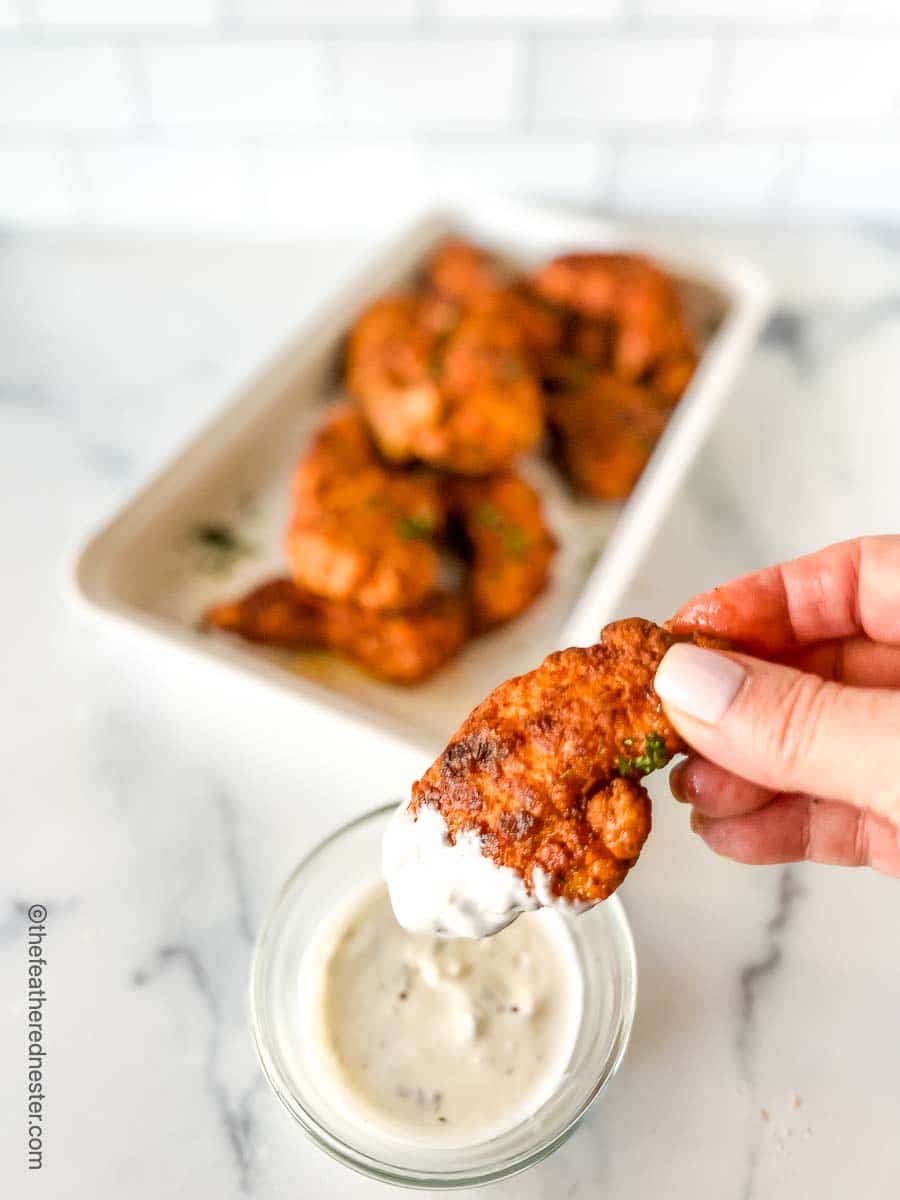 What to Make with Chicken Tenderloins
Some of our favorite chicken tender recipe ideas include breading, but there are healthier meals you can make with chicken tenderloins.
Using something as simple as chicken taco seasoning can add flavor, while also keeping the meal low carb and keto friendly.
Although marinating poultry isn't really necessary (because the white meat is lean to begin with), using a chicken marinade is a healthy way to add flavor. Many people use them as a healthy grilling option instead of coating the meat with sugar-based sauces.
Baked Chicken Tenderloin Recipes
Some of our favorite chicken tenderloin recipes are shown below, broken out by cooking method. We hope you'll find a few new ones to try!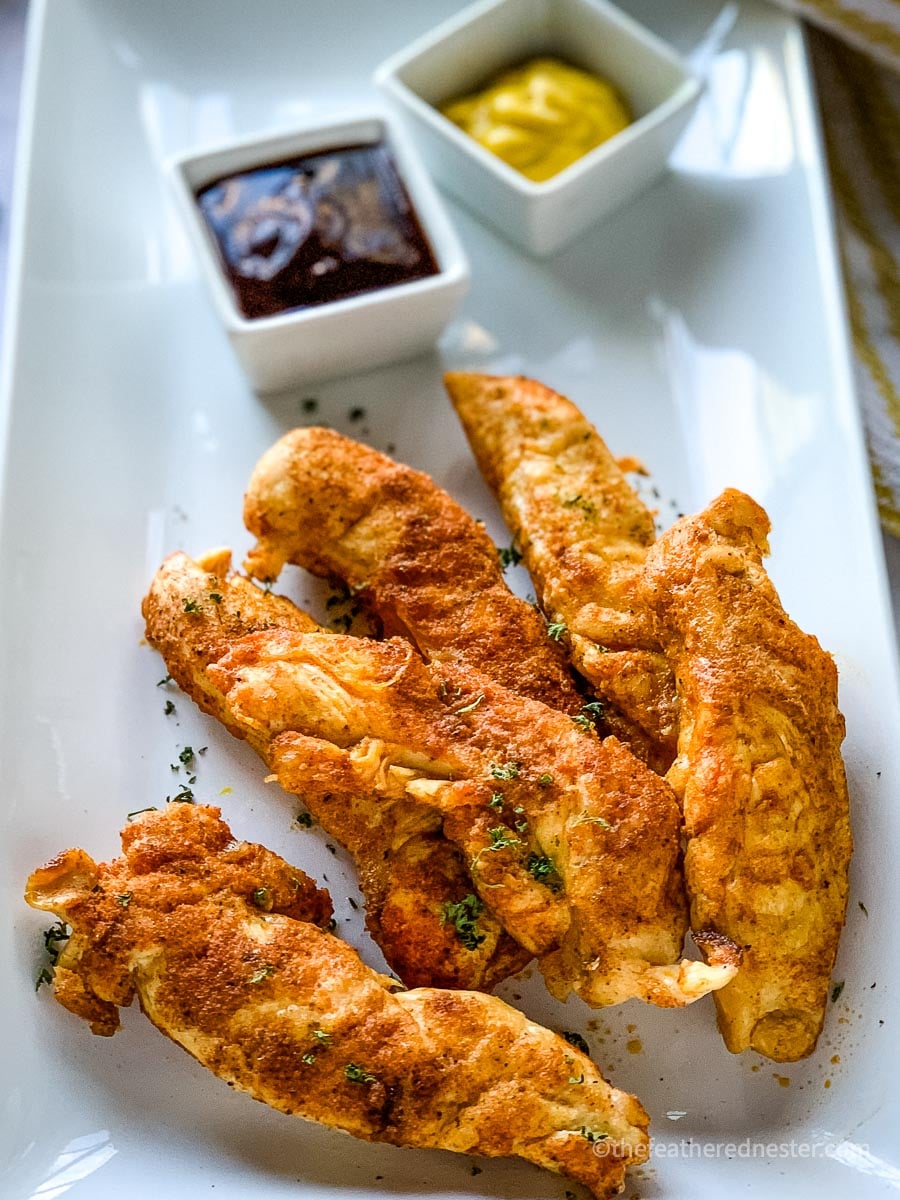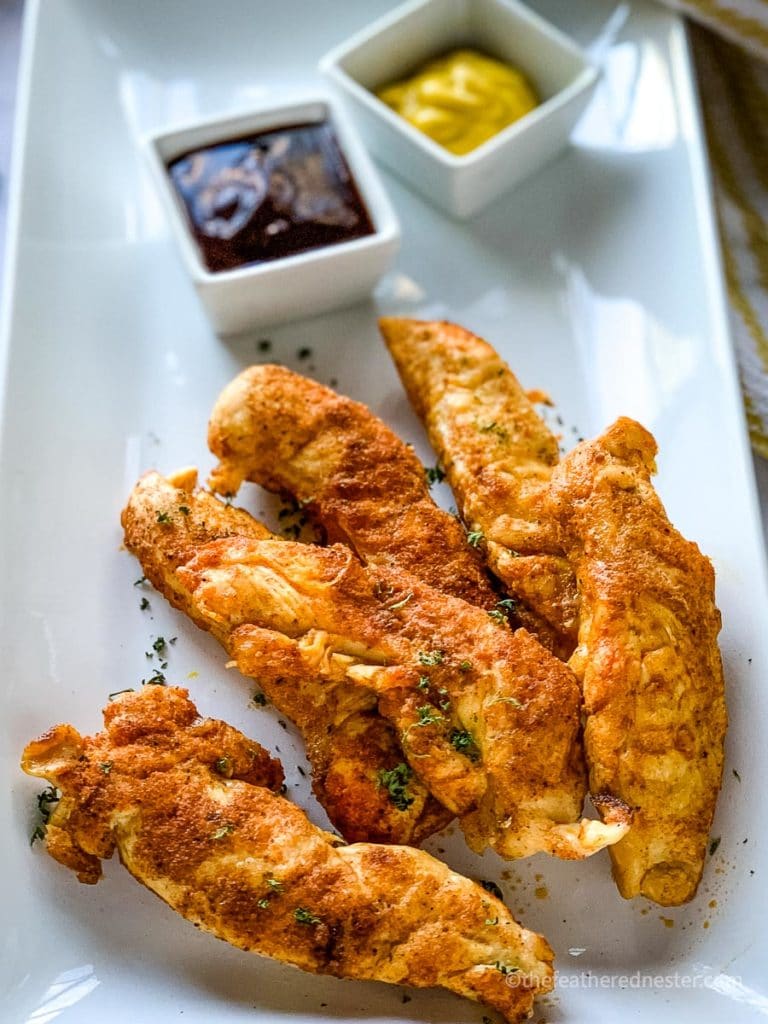 Baked BBQ Chicken Tenders Sheet Pan Dinner
Our baked BBQ chicken tenders dinner includes saucy strips with potatoes and veggies. Kids love this one pan chicken tenderloin recipe!
Click for the Recipe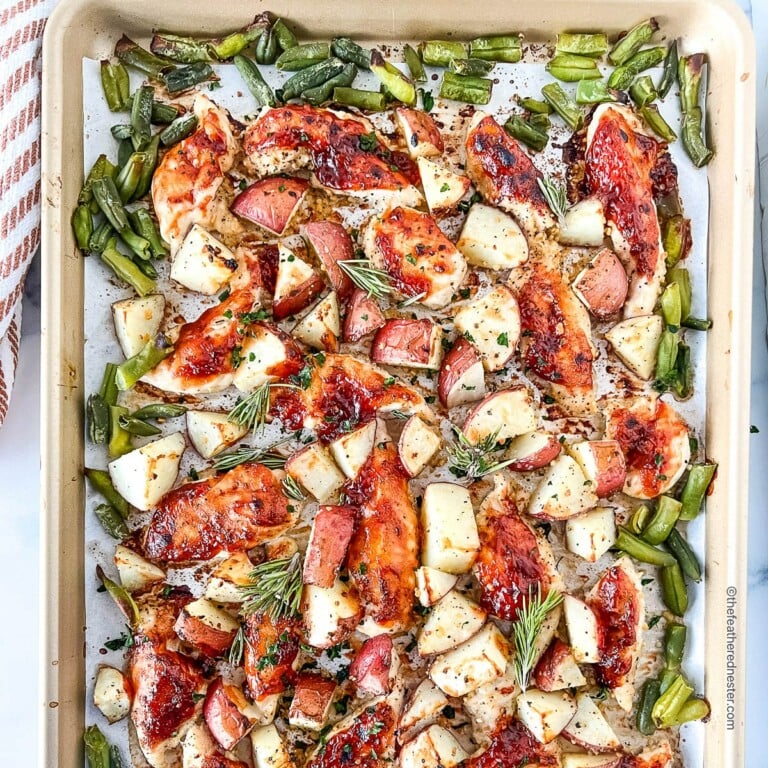 Broccoli Chicken Tater Tot Casserole
Chicken tater tot casserole is the ultimate comfort food meal. This cheesy chicken potato casserole with broccoli cooks in 40 minutes!
Click for the Recipe
Bisquick Chicken Tenders
Bisquick chicken tenders are a classic, kid-friendly dinner everyone loves. This chicken fingers recipe takes just 20 minutes from start to finish!
Check out this recipe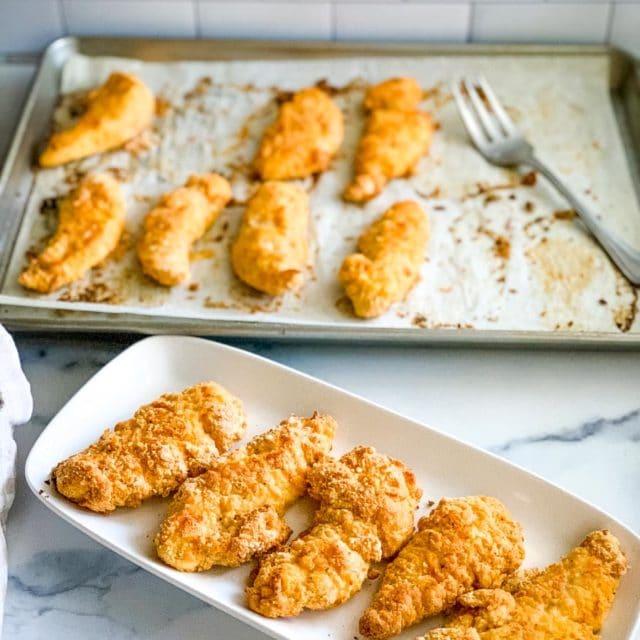 Baked Chicken Tenderloins (No Breading)
Make healthy baked chicken tenders in the oven with this easy, two-ingredient recipe! Add potatoes and green beans or asparagus to your baking sheet for a complete dinner.
Click for the Recipe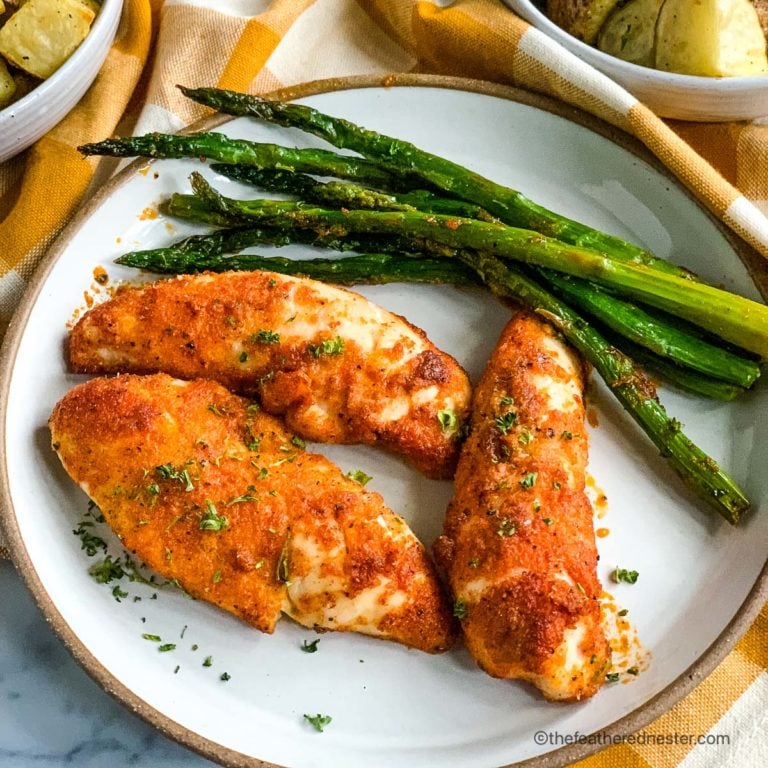 Helpful Tips for Preventing Dry Chicken

To avoid over cooking poultry, we highly recommend using a digital instant-read kitchen thermometer to check the internal temperature of the meat.

Chicken tenderloins and all other cuts of chicken are safe to eat when the thickest portion of the meat reaches 165º Fahrenheit.
Did you know you can get a reliable digital instant-read cooking thermometer for under $15? The photo below shows our favorite budget-friendly model. It works well for grilling recipes, too!
Healthy Chicken Tender Recipes
As we mentioned earlier in this post, it's perfectly fine to substitute chicken tenderloins for tenders, and vice versa. Use whatever you have on hand to make these healthy chicken recipes!
Perfect Shake and Bake Chicken Tenders
Learn how to bake juicy, extra crispy, breaded Shake and Bake chicken in the oven or air fryer for panko chicken tenders in 25 minutes!
Click for the Recipe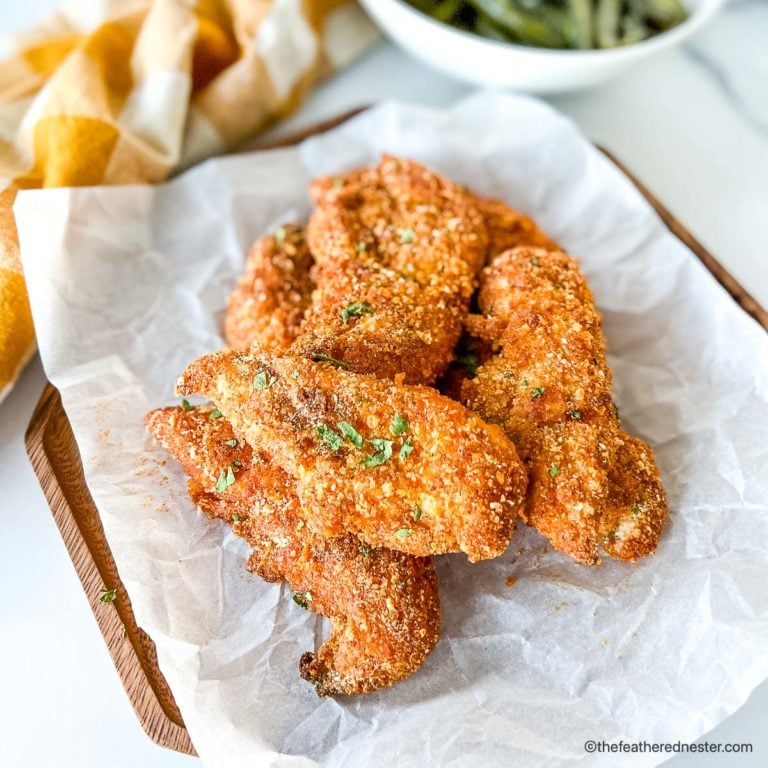 Oven Baked Marinated Chicken Tenders
This is an easy, two-ingredient recipe! Add potatoes and green beans or asparagus to your baking sheet for a complete dinner.
Click for the Recipe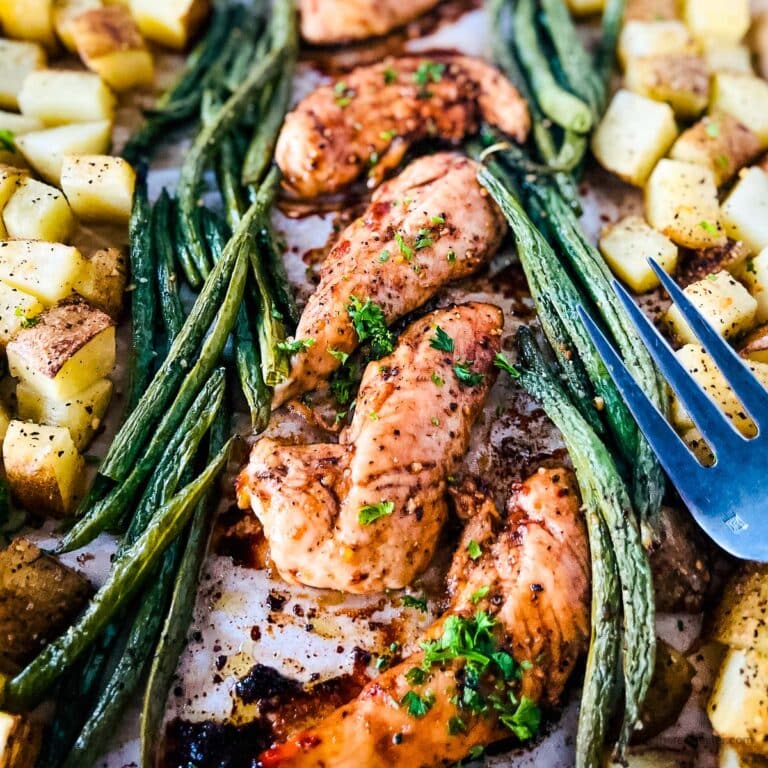 Healthy Instant Pot Chicken Tender Recipes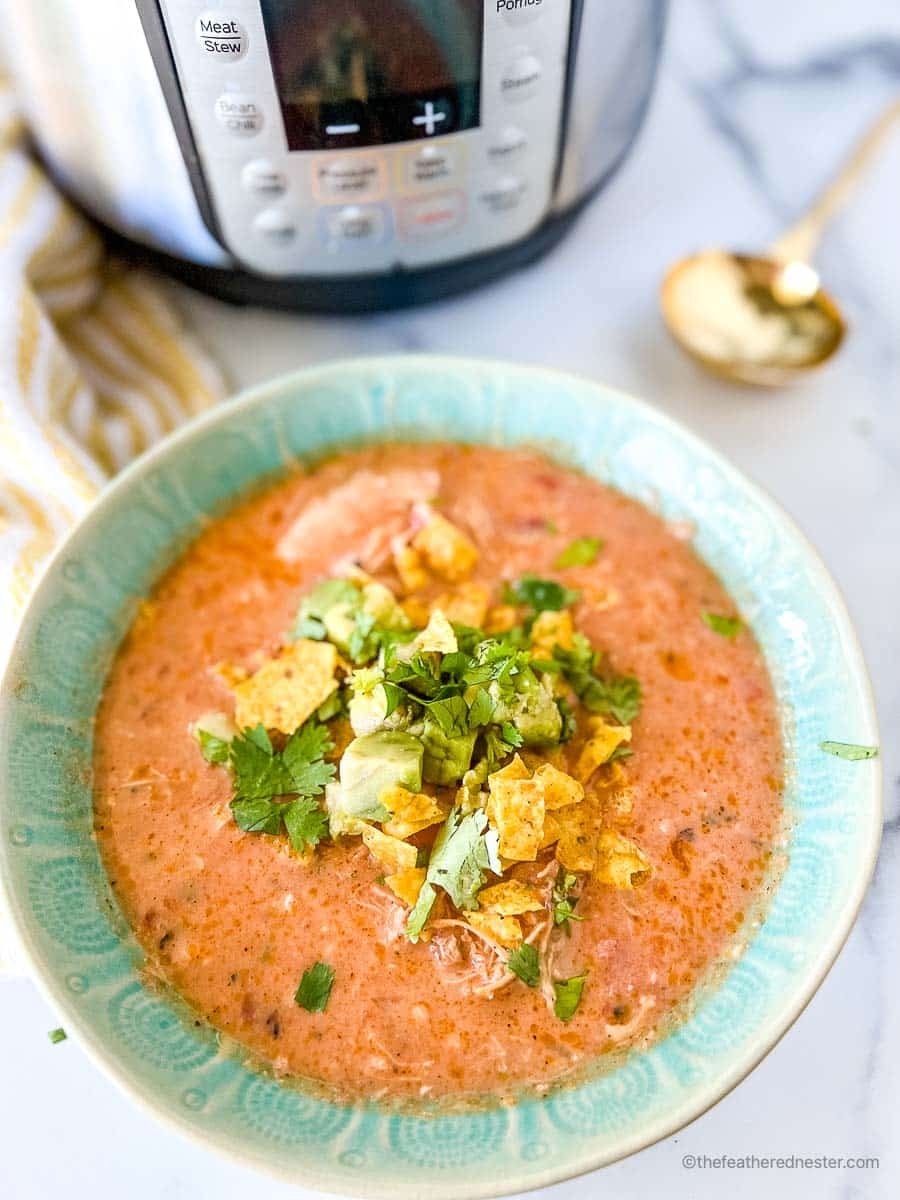 Instant Pot Chicken Tenders
This family-friendly Instant Pot chicken tenders recipe is ready in under 30 minutes. You can even make this dinner using frozen chicken tenderloins!
Click for the Recipe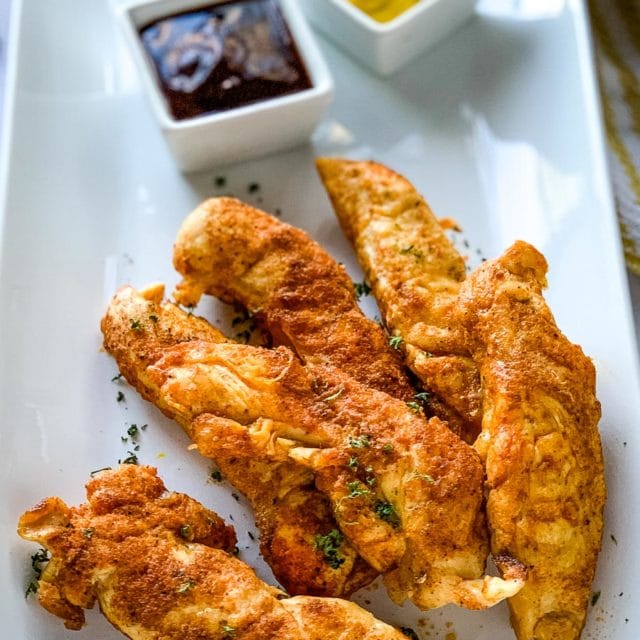 Creamy Chicken Tortilla Soup (Instant Pot)
Make this easy creamy Chicken Tortilla Soup in the Instant Pot or a slow cooker. The tasty broth is full of vegetables and lean protein!
Check out this recipe
Healthy Chicken Tenderloin Recipes for Stovetop Cooking
Hawaiian Teriyaki Chicken Pineapple Bowl
Serve dinner in a pineapple bowl- it's so pretty! Filled with saucy Hawaiian teriyaki chicken and fried rice, it's a quick tropical meal.
Check out this recipe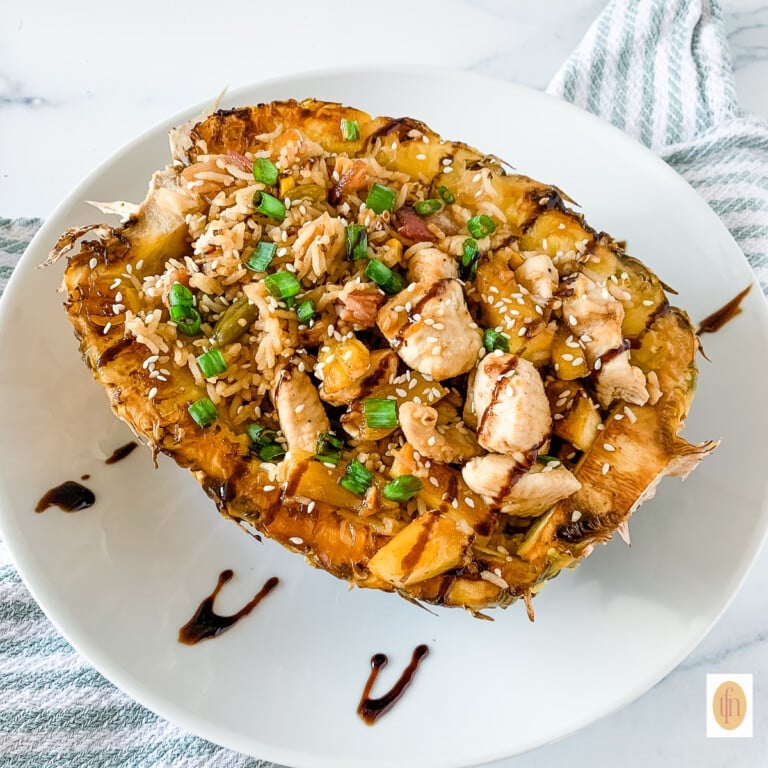 Blackened Chicken Tenders
Blackened chicken tenders have tongue-tingling Cajun flavors. Our recipe + tips explain how to blacken chicken perfectly in 15 minutes!
Check out this recipe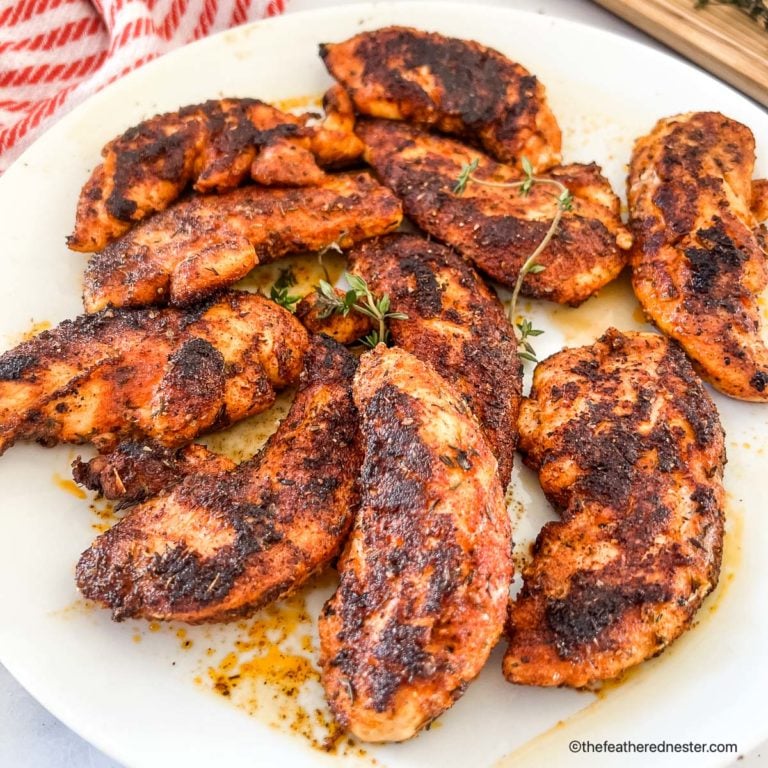 Blackstone Fajitas
Everyone loves Blackstone fajitas! This recipe includes a marinade, so your chicken fajitas are grilled to juicy perfection. They're so delicious!
Check out this recipe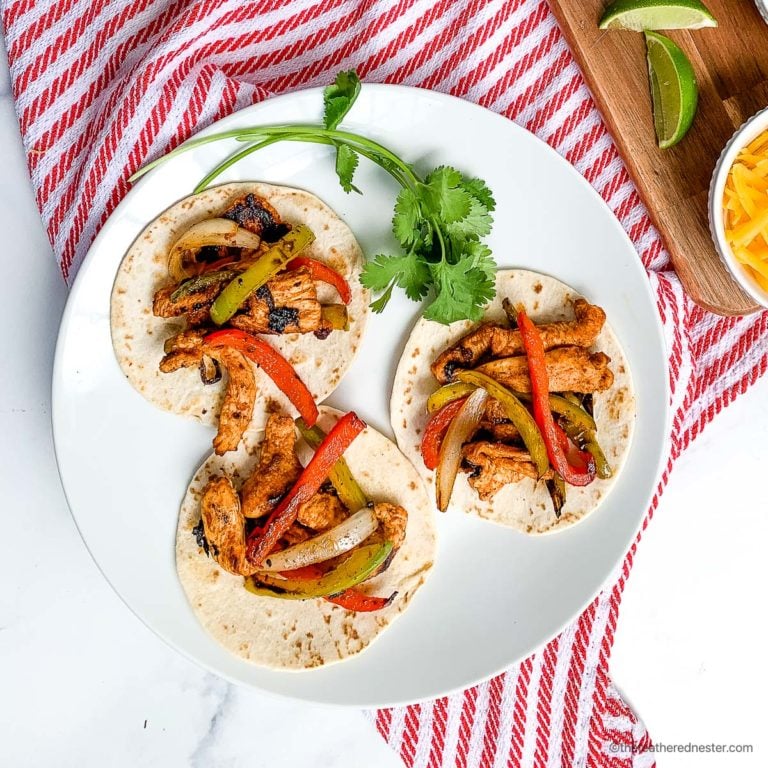 Other Favorite Chicken Tender Recipe Ideas
By the way, it's easy to use frozen chicken tenders in many of our chicken tenderloin recipes, and you don't even need to thaw them first.
Blackstone Chicken Fried Rice
Why go out for teppanyaki chicken fried rice when you can make it right at home on your flat top griddle? Follow these simple steps for the absolute best hibachi fried rice cooked right on your Blackstone for a fraction of the cost!
Check out this recipe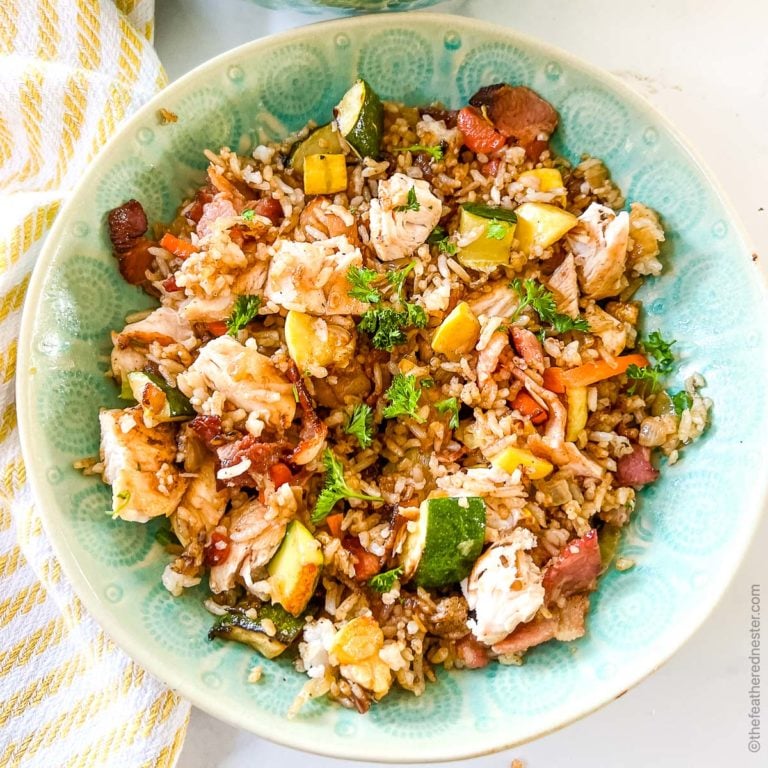 Nashville Chicken Tenders
Everyone loves this Nashville Chicken Tenders recipe, inspired by KFC! We'll show you how to make them at home, using simple ingredients.
Check out this recipe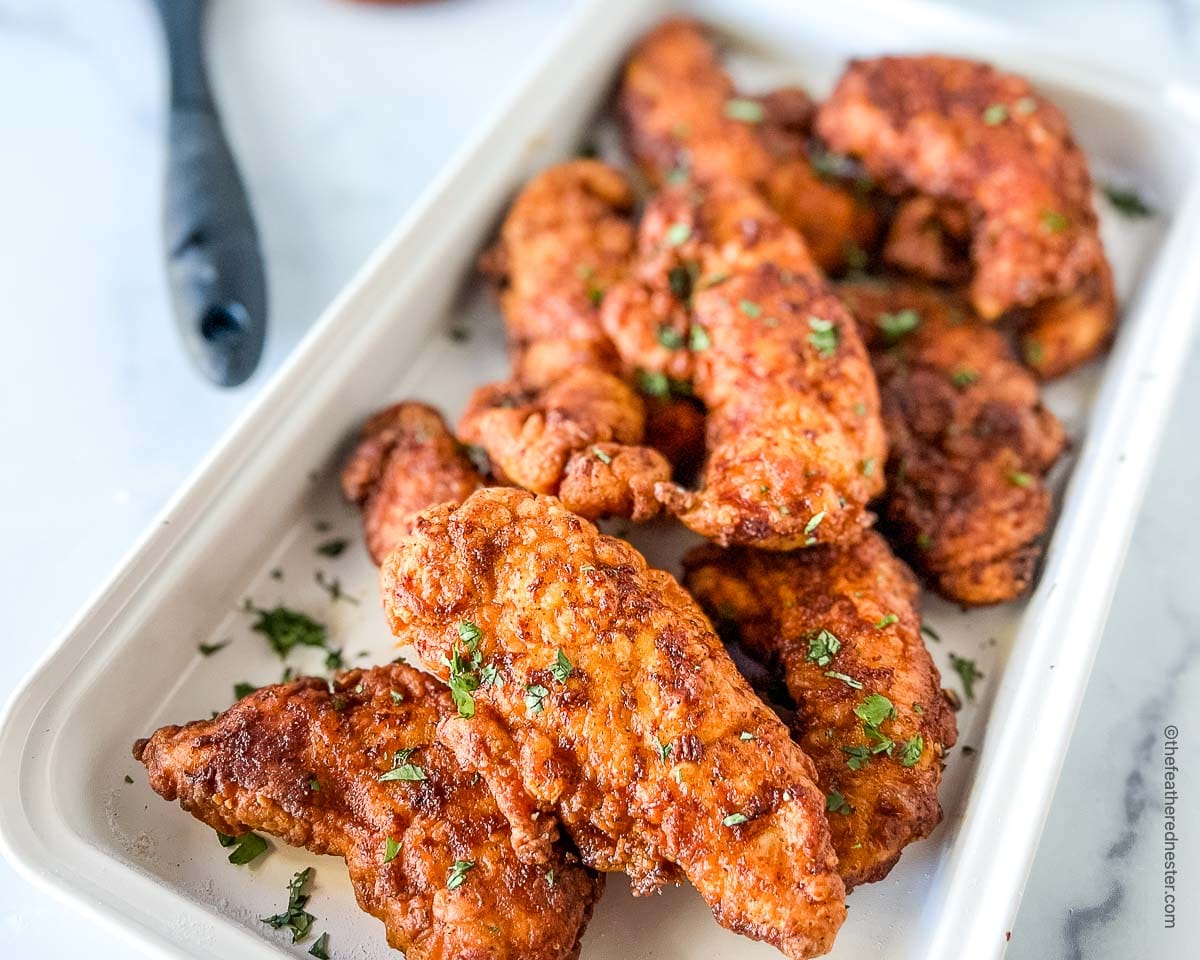 How to Make Chicken Tenders from Breasts
Grocery stores and butcher shops typically sell packages of ready-to-use chicken tenders. The problem is, the cost per pound is much higher than buying whole breasts.
You can save a lot of money by shopping for boneless, skinless breasts. Not only will you be able to cut chicken strips from them, but underneath the breast is the most tender piece of poultry – the tenderloin!
Doing this allows you to make tasty chicken strips from the entire breast with no waste, and that's always a plus!
Remove the tenderloin from the breast.
Just take each whole breast and flip it over. The piece attached near the side is a chicken tenderloin. Use a knife or kitchen shears to cut it away from the breast.
Slice the breast into strips/tenders.
Next, use your knife or scissors to cut vertical (top to bottom) strips, about 2 inches wide. If the breasts are very large, you can slice each of the strips in half. Simply place the tenders side by side on a cutting board. Then, place your hand flat against the top of the them, and carefully slice horizontally through the strips.
What to Serve with Chicken Tenderloins
Meals that include a sauce go well with a starchy side like white or brown rice, pasta or noodles. Of course, you can never go wrong serving healthy vegetable like asparagus, broccoli, or Brussels sprouts.
When making tenders or tenderloins with breading, be sure to include a variety of dipping sauces. Easy dipping sauce ideas for breaded chicken tenderloin recipes are:
BBQ sauce (our recipe has just 3 ingredients!)
honey mustard
ranch dressing
tzatziki (cucumber sauce)
brown or white gravy
sriracha mayo
Please leave a comment below! We want to know which of the chicken tender recipe ideas shown here you plan to make first!
This recipe collection, first published in August 2021, was updated in March 2023.