As an Amazon Associate I earn from qualifying purchases, at no extra cost to you. See my disclosure policy here.
Chicken tenderloin recipes are quick, easy, and absolutely delicious. This recipe roundup of over 20+ recipes for chicken tenders is kid-approved and ready in under 30 minutes. The perfect chicken recipe is waiting for you, from pan fried, keto-friendly chicken strips to oven-fried chicken tenders!
You can't beat recipes with chicken tenders for quick and easy dinners!
Not only are they perfect weeknight dinner recipes. But, they have a short cooking time. Most have 10 minutes of prep time and just 20 minutes of cooking time.
Whether oven-baked chicken on a sheet pan, seasoned air fryer chicken fingers, or fried chicken strips, they're all equally delicious.
What are Chicken Tenderloins?
Chicken tenderloins are juicy and delicious strips of chicken that come from an area under the chicken breast. Because of their size, chicken tenders cook quickly.
You might see them seasoned, breaded, and baked. Or used for deep frying.
But, you'll find many recipes here without any breading that are low carb and keto-friendly.
Who needs breading when you have tasty seasonings like Italian seasoning or parmesan cheese to boost the flavor? Just don't forget to add a pinch of salt and black pepper before you add the chicken.
The easy chicken recipes shared below have many variations for cooking chicken tenderloins.
Chicken Tenderloin vs Breast
What is the difference between a tenderloin and the breast? If you're unfamiliar with chicken anatomy, you may not know where to find the tenderloin.
Tenderloins are part of the overall breast. They're long, thin, and connected by a thin line of tissue to the breast. They come by their name, honestly. They really are juicy and tender white meat.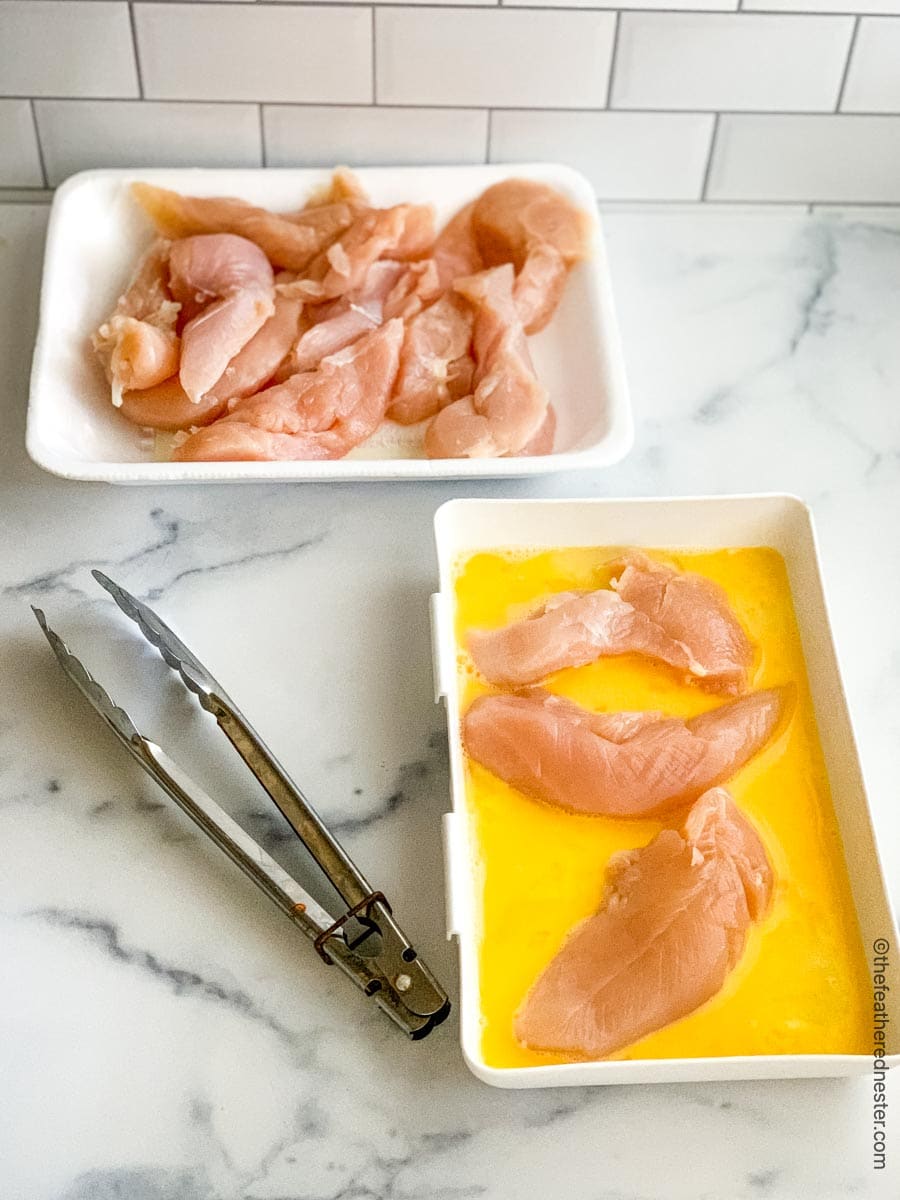 Each bird has two tenderloins because they have two breasts.
Tenderloins are sold separately from chicken breasts at the store. However, you can use the entire breast for these chicken tender recipes.
How to Make Chicken Tenders from Breasts
It's easy to make chicken tenderloin recipes from breasts. There's no need to buy them separately.
Just take the whole breast, find the piece hanging off the side, and pull it from the breast. Now you have a tenderloin!
This will allow you to make tasty chicken strips from the entire breast with no waste, and that's always a plus!
What to Do with Chicken Tenderloins
These recipes for chicken tenders cover a wide and delicious range of how you can cook them.
Since chicken tenderloin or strips are thin, it's easy to use frozen chicken tenders in many recipes without thawing them. Especially when pressure cooking, like with Instant Pot Chicken Tenderloins. They go straight into the pressure cooker without defrosting, then are pan-seared for that crispy golden exterior.
Use raw chicken tenderloins straight from the package to make air fry chicken tenders, cook chicken tenders in the Instant Pot, or make oven-baked chicken tenders in a preheated oven.
Meals to make with Chicken Tenderloins
As you can imagine, chicken tenders are very versatile. They cook quickly and are easily substituted for boneless chicken breasts or thighs in most recipes. Simply shorten the cooking time to 3-5 minutes for the tenderloins.
Since chicken tenders cook so quickly, use a digital instant-read thermometer to check the temperature. When the center of boneless chicken is 165º Fahrenheit, it's fully cooked.
Did you know you can get a reliable digital instant-read thermometer for under $15? This is our favorite budget-friendly digital thermometer from Amazon (we use it when grilling).
Get over 20 simple chicken tenderloin recipes for easy meals below. Great recipes include Baked Chicken Tenderloins, Keto Chicken Tenders, Blackened Chicken Tenders, Mushroom Chicken, Grilled Honey Mustard Chicken, Easy Homemade Chicken Fried Chicken, and Pickle Fried Chicken Tenders.
What's good with chicken tenders
There is such a wide variety of dishes below that many great sides and dips can pair well with them.
For the skillet recipes in a sauce, some great sides may be white or brown rice, a pasta salad, or grilled or roasted vegetables like asparagus, broccoli, or Brussels sprouts.
For the crispy chicken tenders, some great dipping sauces are called for. Some dipping sauce ideas are BBQ sauce (our recipe has just 3 ingredients!), honey mustard, mango sweet chili sauce, ranch, tzatziki, gravy, cheese sauce, or sriracha mayo.
Frequently asked Questions
20+ Easy Chicken Tenders Recipes
More chicken tender recipes
Here's Our Newest Chicken Tenders Recipe!