Chicken tater tot casserole, or as it's known in the Midwest, tater tot hotdish, is a chicken potato casserole. It's simple comfort food at its very best. It features white meat chicken, broccoli, and potatoes baked in a creamy, cheesy sauce!
As an Amazon Associate I earn from qualifying purchases, at no extra cost to you. See my disclosure policy here.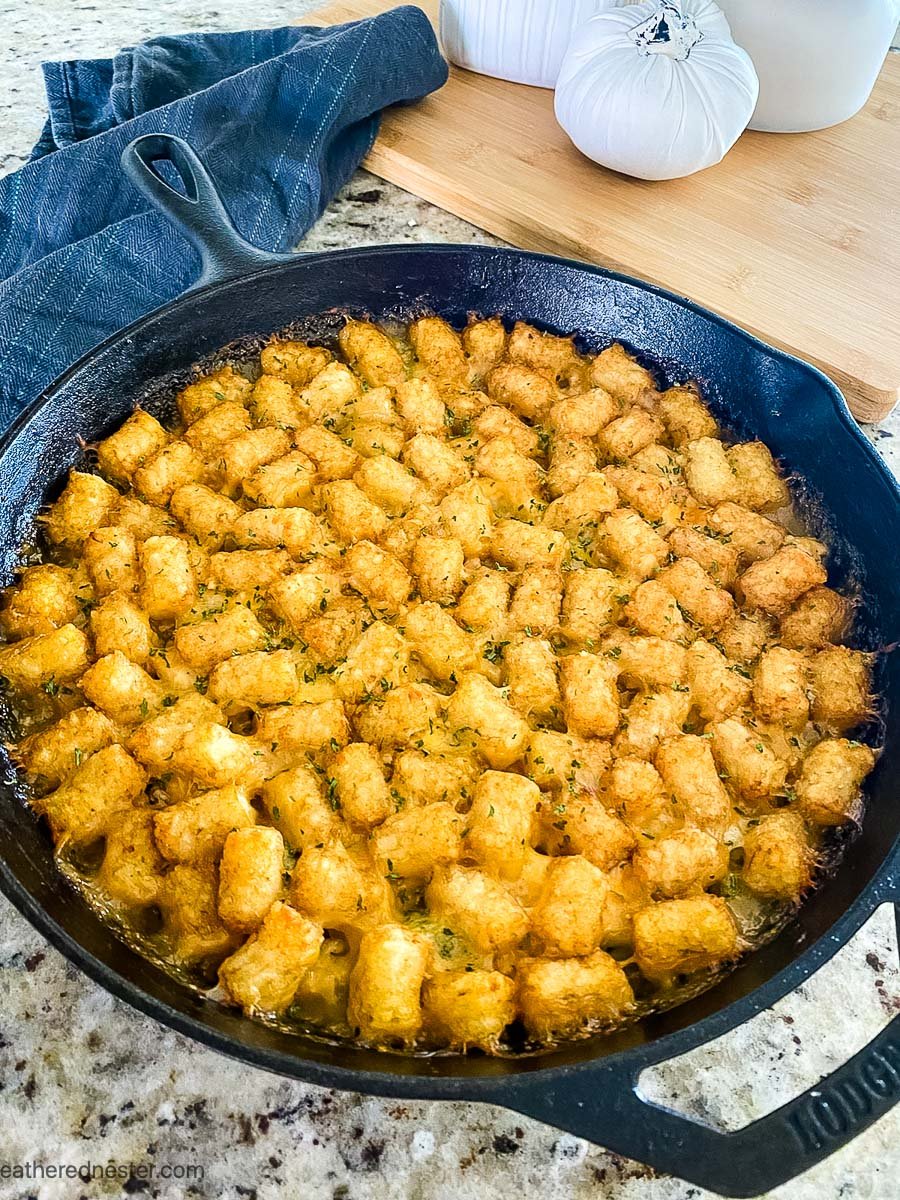 If you have never had them, tater tots are a tasty, bite sized potato side dish, made from seasoned shredded potatoes. Sort of like compressed hash browns that are deep fried like French fries.
Because they come frozen, and the seasonings are nothing more than salt and pepper, tater tots are easy to incorporate into casseroles.
Chili tater tot hotdish is one of my favorites, but it can be pretty high in fat and calories. To lighten the easy casserole recipe up and make it more wholesome, this version incorporates chicken tenderloins and broccoli.
Reasons To Love Chicken Tater Tot Casserole
This chicken potato casserole is easy to make for a very satisfying, hearty meal. Besides that, this recipe:
Is healthier comfort food. Who doesn't love a cheesy, chicken potato casserole?! It's a comforting dinner with a healthy addition of broccoli, so both kids and adults love it!
Versatile – Feel free to use whatever fresh, canned, or frozen veggies your family likes.
Cooks up quickly. This dinner is ready to serve in just about 40 minutes!
Hotdish vs Casserole
I like to make recipes that remind me of my favorite dishes from when I was a kid. My family's favorite meals included such things as beef stew and sheet pan meals with veggies.
My husband was raised in the Midwest on classic comfort food recipes like hotdishes, and Shake and Bake chicken with mashed potatoes and gravy.
What is a hotdish?
Essentially, it's a baked, main dish casserole. A hotdish always includes a protein, a starch of some sort, and a canned or frozen vegetable. People in the Midwest like to make them because they are easy and affordable.
Meanwhile, casseroles don't always have to be the main dish, and there are plenty of casserole recipes that don't include any protein.
This skillet chicken tater tot casserole is like a chicken pot pie, but even better, because there's no crust to make!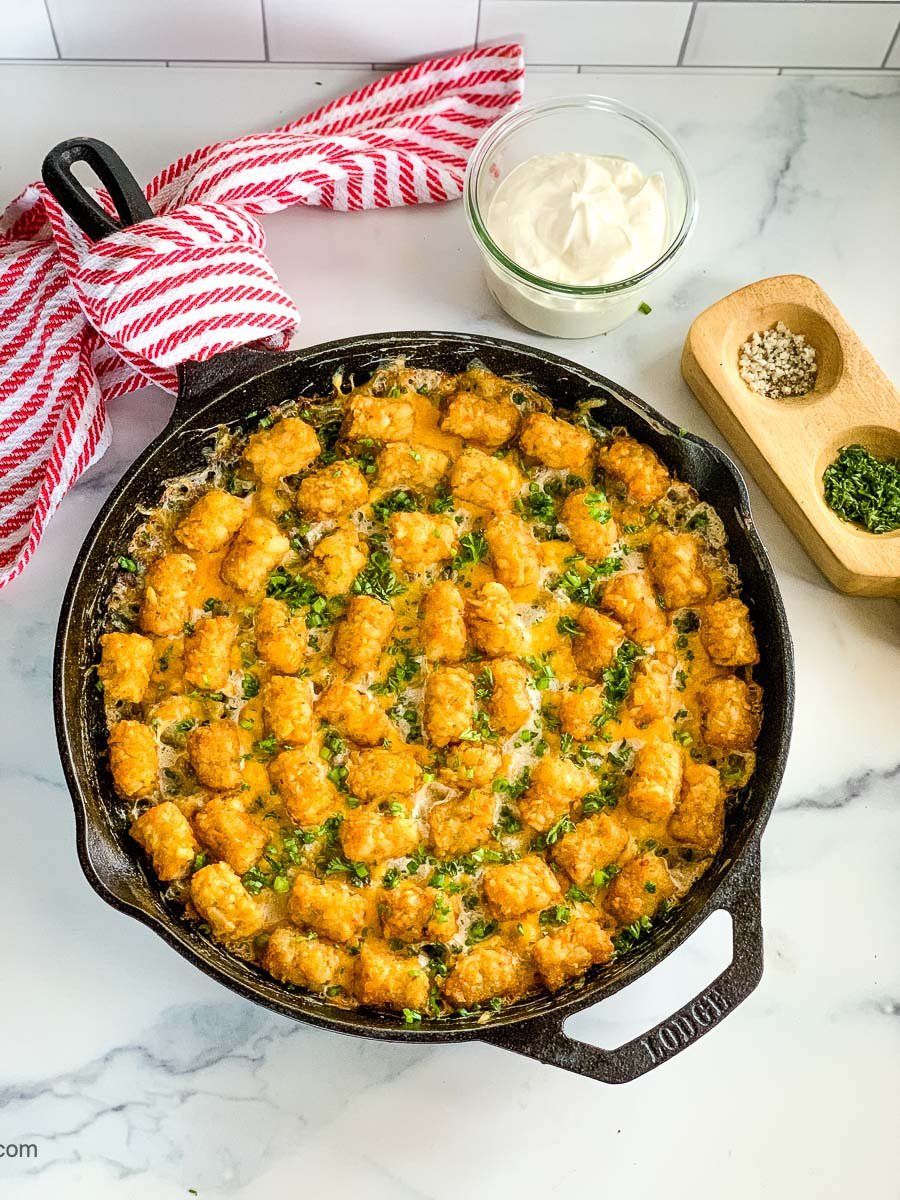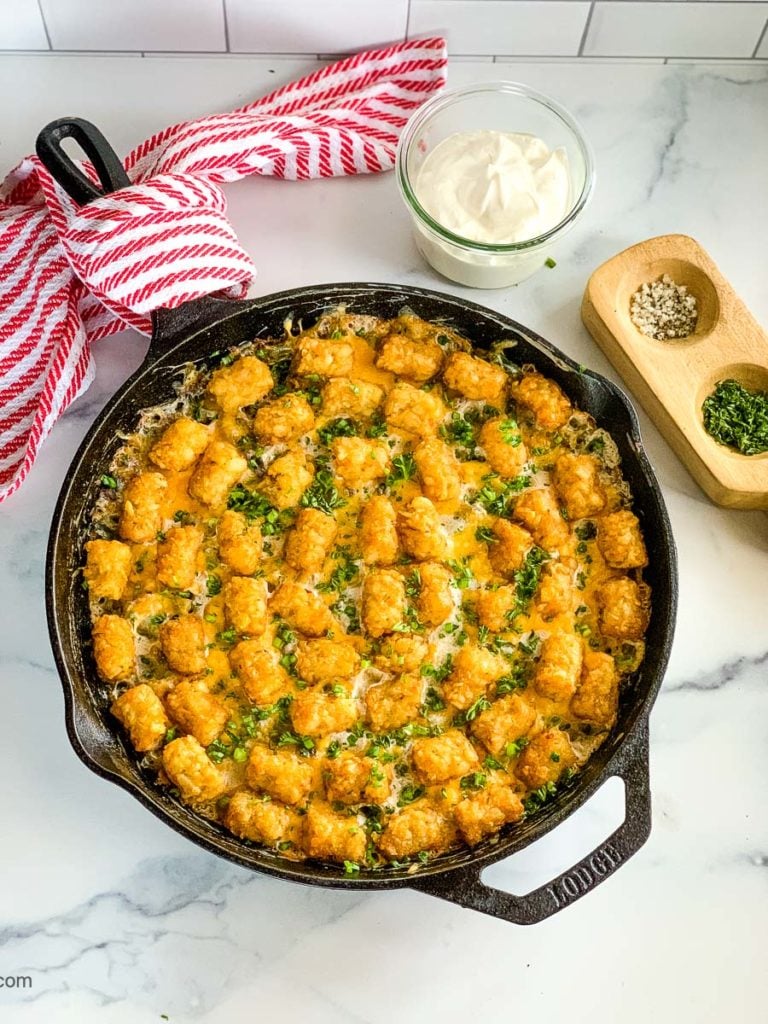 Ingredient Notes and Substitutions
Chicken
Because chicken tenderloin recipes are my favorite, chicken tenders is what I use. Boneless skinless chicken breasts will also work.

Or, you can use leftover chicken or turkey for this casserole recipe. This is a good way to use up Thanksgiving leftovers.
Onion
Sweet yellow onions are best, but for a stronger onion flavor, feel free to use white onion.
Cream of chicken soup
Using condensed soup is a big time saver, but if you aren't a fan of using them, consider using homemade condensed cream of chicken soup.
Veggies
Fresh or frozen vegetables work. I like chicken and potatoes with broccoli, but there are plenty of substitutes. Sturdy vegetables like carrots, cauliflower, green beans, or frozen mixed veggies would all work well!

Avoid using softer vegetables, which tend to become mushy when they're baked in the tater tot casserole.
Tater tots – Regular or mini-sized tater tots are fine; just be sure not to thaw them. Use them frozen or they'll lose their crispiness.
Cheese – Because this is a kid-friendly casserole recipe, I use cheddar cheese, but any hard cheese works well.
PRO TIP:
Make the cheesiest tater tot casserole by grating or shredding your own cheese. The anti-caking agents in packages of shredded cheese can affect how well the cheese melts.
Recipe Variations
This tater tot hotdish recipe is made with cream of chicken soup. But you can use any of condensed cream soups if you want. Cream of mushroom, asparagus, or celery are good options. You can also use condensed cheddar cheese soup for extra cheesy goodness.
Choose your favorite vegetables to put in the casserole. Broccoli is a traditional choice, but other sturdy vegetables will bake well too! You can try cauliflower, carrots, or corn.
If you don't want tater tot casserole with chicken, you could make my recipe for the casserole with green beans.
Kitchen Tools Needed
How to Make Chicken Tater Tot Casserole
Prep the chicken and vegetables. Try to cut the tenders in even sized pieces so that everything cooks evenly. Same goes for the onion.
Saute the chicken tenders until golden on the outside. Remove to a plate and cover with foil.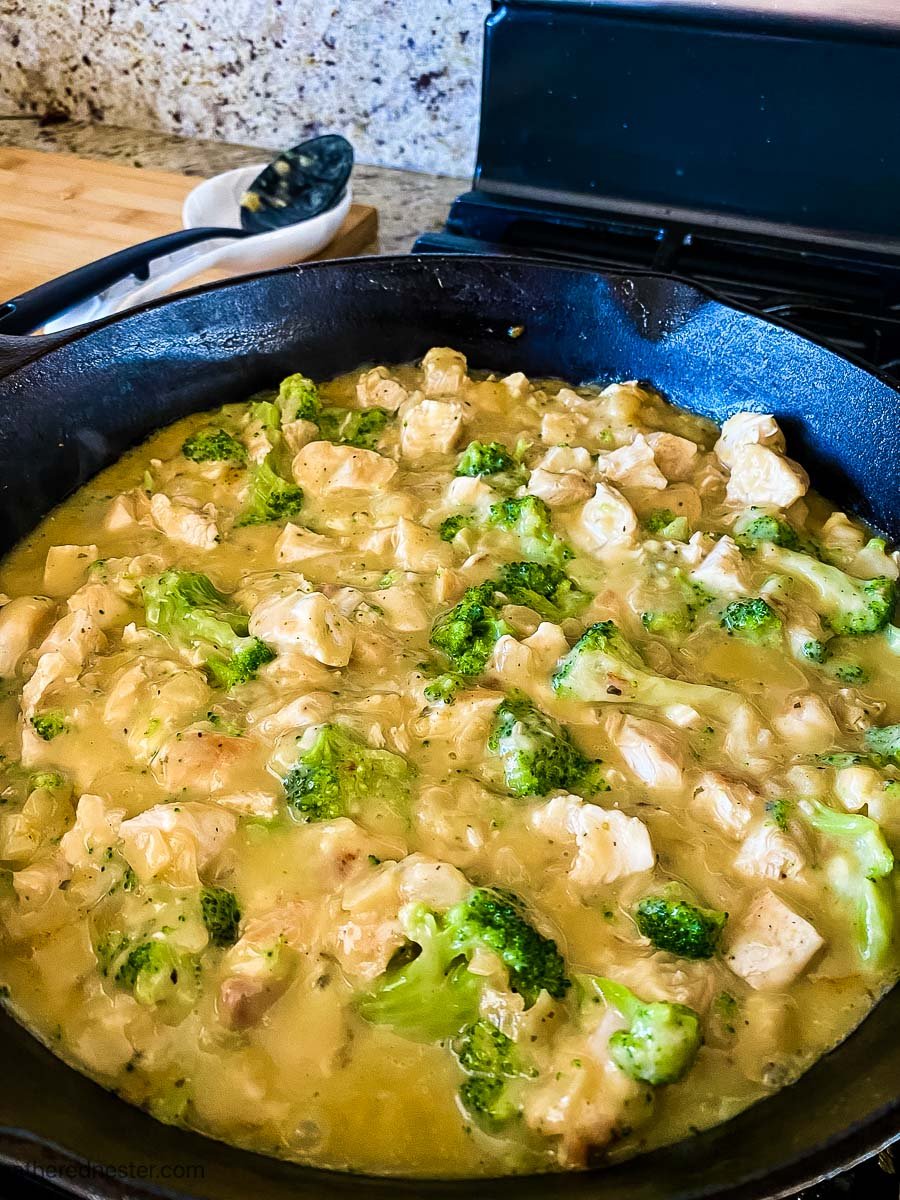 Shred or chop cooked chicken and add them to the skillet. Stir in the condensed soup and broccoli. Sprinkle the grated cheese evenly across the top, then fold in the frozen tater tots.
Bake for about 30 minutes, until the potatoes are crispy and the edges of the casserole are bubbly.
Garnish the hotdish with sour cream, sliced green onion, or chopped fresh parsley.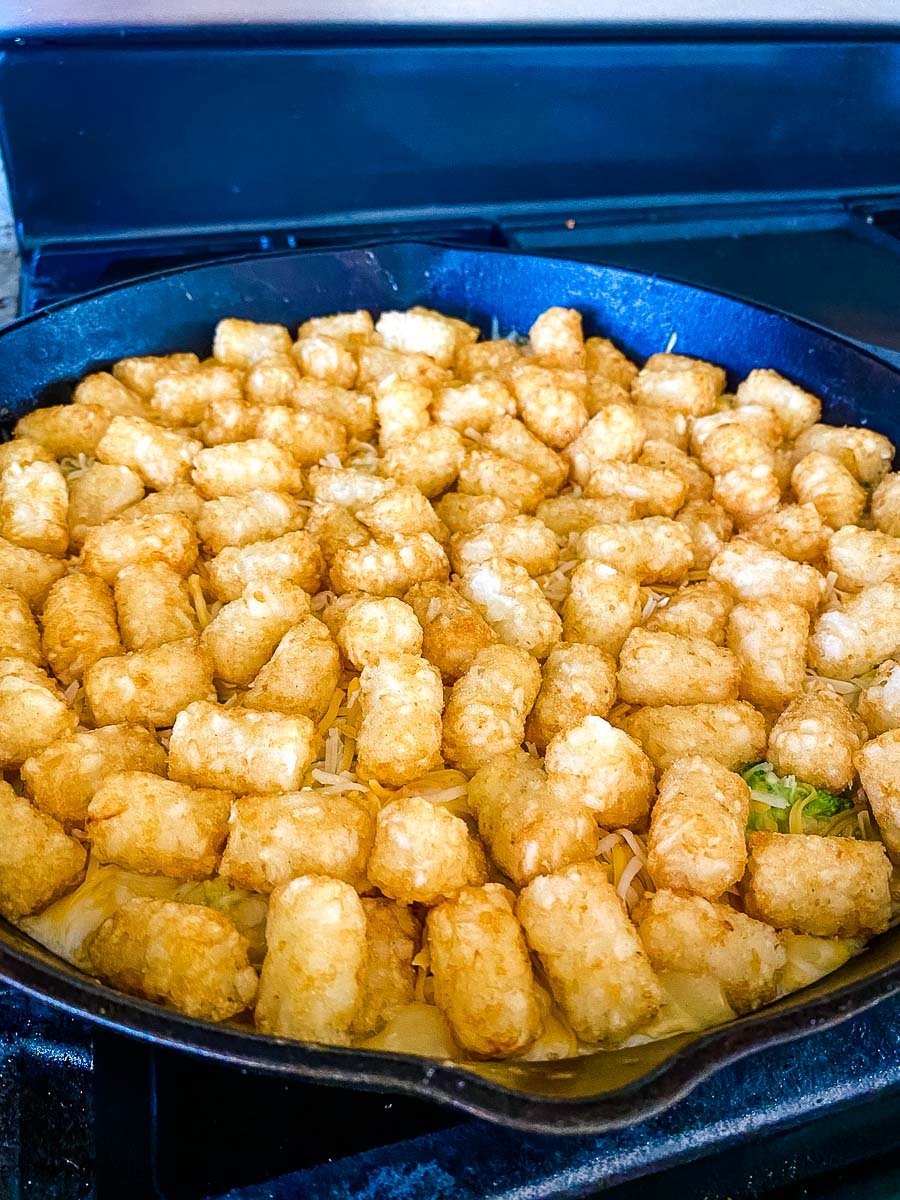 Make Ahead Chicken Potato Casserole
You can make this chicken potato casserole ahead of time!
Assemble the tater tot casserole with chicken, but don't add the tots yet. Cover the baking dish well and refrigerate your hotdish for up to three days.
When ready to cook, preheat the oven to 375º F., add the frozen tater tots and bake for 35 to 40 minutes. The chicken casserole is done when the tots are golden brown and the edges of the casserole are bubbly.
FREQUENTLY ASKED QUESTIONS
Can you freeze tater tot casserole after cooking it?
Yes, you can freeze the baked chicken potato casserole after cooking. Allow it to cool completely before freezing. Then cover tightly with aluminum foil or freezer wrap and add a label. Store frozen for up to three months.
Other Tater Tot Recipes to Love
If you love Tater Tots, I'm sure you'll love our famous Loaded Tater Tots Appetizer. These appetizers are great for parties or afternoon snacks. For a tasty breakfast or brunch recipe, our Tater Tots Egg Nests is a perfect option.
Chicken Tater Tot Casserole with Broccoli
Chicken tater tot casserole (hotdish) is a one-pan dish made with layers of chicken tenderloins, broccoli, and cream of chicken soup – all topped with tater tots and shredded cheddar cheese. It's an easy recipe that's ready to serve as a complete meal in under an hour!
Equipment
10-12" oven-safe skillet (like a cast-iron skillet)

OR a non-stick skillet and casserole dish
Ingredients
1

pound

chicken tenderloins or chicken tenders

(can substitute with chicken breasts cut into 1" to 2" strips)

1

cup

onion, chopped

(1 small onion)

2

cloves

garlic, minced or pressed

1

can (10 oz.)

cream of chicken soup

(see notes for soup variations)

1

cup

broccoli

2

cups

cheddar cheese, grated or shredded

16

ounces (1/2 bag)

frozen tater tots

salt and pepper to taste
Instructions
Preheat the oven to 375ºF.

Saute chicken tenders in a 10-12" skillet over medium heat until lightly golden, about 5 – 7 minutes. Remove them to a plate and cover with foil.

Saute chopped onion, and garlic in butter, until onions are translucent. Stir in canned soup and broccoli.

Shred or chop chicken tenderloins and add to skillet. If your skillet is oven-safe, continue on to the next step. Otherwise, add the mixture to a round or oblong casserole dish.

Sprinkle the grated cheese evenly across the top. Then top the casserole with a layer of tater tots.

Bake at 375º uncovered for 30 minutes, until the tater tots are golden brown and the edges of the casserole are bubbly. Let cool 5 minutes before serving. Garnish with sour cream, sliced green onion, or parsley.
Notes
Make this a make-ahead dish! Follow steps 2-5 in the instructions, then cover and refrigerate the casserole for up to 3 days. Bake at 375º F for 35-40 minutes, until

the tater tots are golden brown and the edges of the casserole are bubbly. Let cool 5 minutes before serving. Garnish with sour cream, sliced green onion, or parsley.
Use any of Campbell's condensed cream soups, like cheddar cheese soup, cream of celery, cream of asparagus, or cream of potato to customize this chicken tater tot casserole.
Nutrition
Serving:
1
g
|
Calories:
389
kcal
|
Carbohydrates:
23
g
|
Protein:
28
g
|
Fat:
21
g
|
Saturated Fat:
10
g
|
Polyunsaturated Fat:
2
g
|
Monounsaturated Fat:
7
g
|
Trans Fat:
1
g
|
Cholesterol:
88
mg
|
Sodium:
653
mg
|
Potassium:
608
mg
|
Fiber:
2
g
|
Sugar:
2
g
|
Vitamin A:
499
IU
|
Vitamin C:
22
mg
|
Calcium:
300
mg
|
Iron:
1
mg
This post, originally published November 2021, was updated with helpful content in December 2022.