Ham and Tater Tot Casserole is delicious ham egg and cheese casserole with potatoes for the crust! Enjoy the baked eggs for breakfast, brunch, or as breakfast for dinner! It's a deliciously rich, quiche-like dish, and it's an easy potluck dish, too!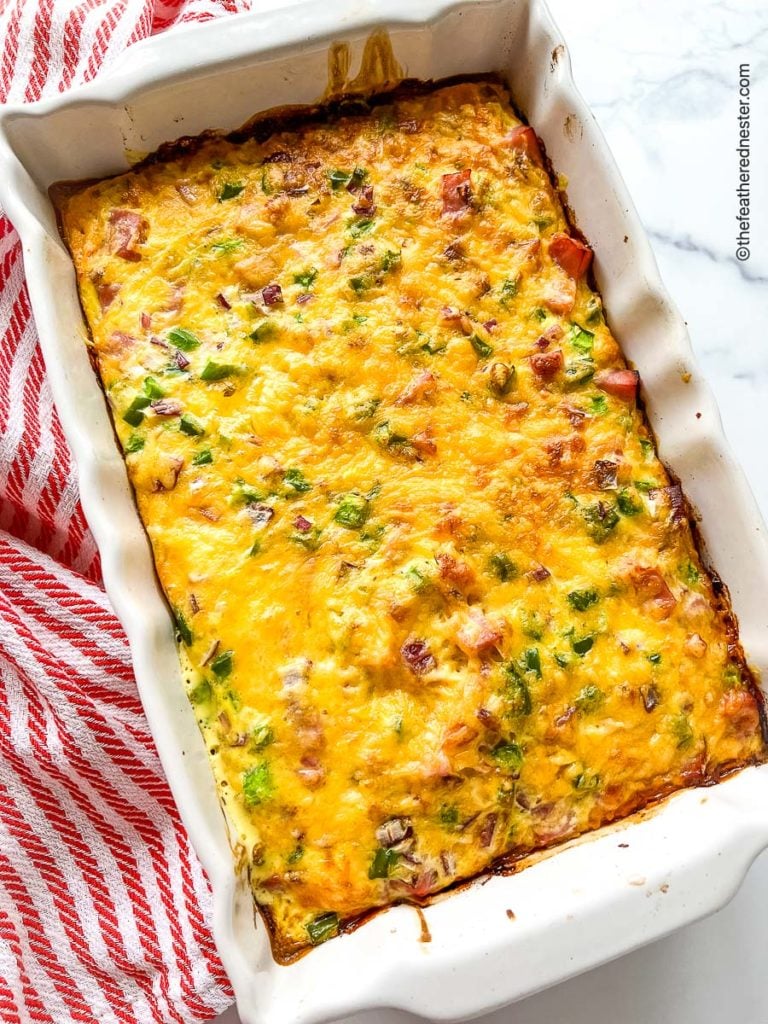 That bag of frozen tater tots you've got stashed in the freezer is the secret ingredient to making some of the tastiest and easiest meals ever. Transform those frozen potatoes into kid-friendly, comfort food dishes for any meal of the day!
We love crispy potatoes in breakfast and brunch favorites like this ham, egg and cheese casserole, but there so many other ways to use them!
On game day, forget the boring nachos… serve a platter of loaded tater tot tachos instead! When it comes to a making a quick weeknight dinner, you can't go wrong with chili tater tot casserole, or make a similar dish with chicken and tater tots!
Reasons We Love Ham and Tater Tot Casserole
Budget friendly.
The cost of groceries has gone up a lot recently, but the little frozen potatoes that everyone loves are still very affordable. And with just a few ingredients, overall, it won't drain your wallet dry.
Great use for leftover ham.
This is ideal for using up any leftover ham from last week's dinner or a holiday meal. So, there will be no leftovers going to waste. It's also a great day-after-holiday brunch dish!
Cooks up quickly and is easy to make.
This tater tot breakfast is ready to enjoy in under an hour, and to save time, the chopping and other prep work can be done ahead.
Feeds a crowd.
Breakfast is the most important meal of the day, but it isn't always the easiest to prepare – especially if you are trying to feed several people! This is why we love this ham and potato breakfast casserole.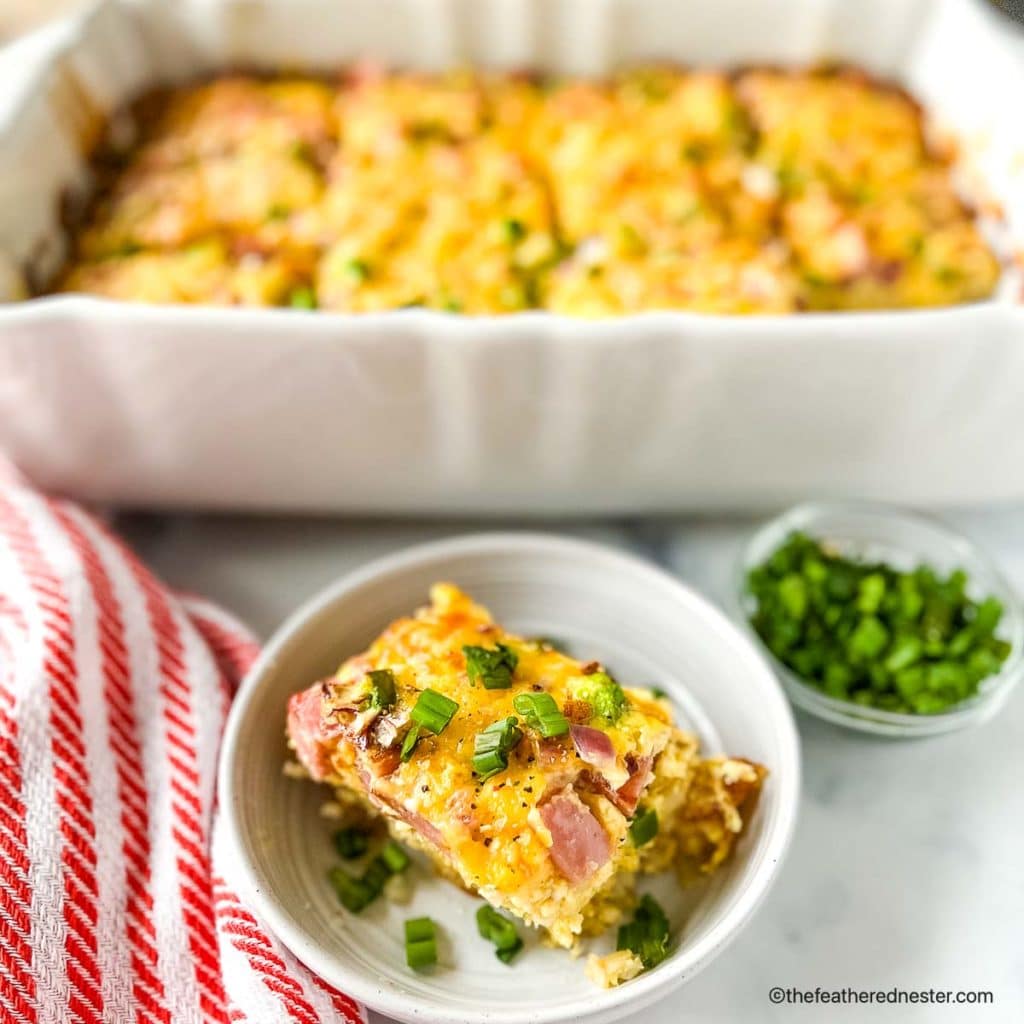 Ingredient Notes and Substitutions
Tater tots Frozen tater tots are the best for this recipe. If they're not an option for you, consider making a hash brown breakfast casserole instead.

Eggs – This recipe works best with large eggs, but medium or extra-large will work if needed.

Cheese – Shredded cheddar is the classic choice in most breakfast casserole recipes. You can substitute with any good quality cheese that melts well.

Milk – We use whole milk because it gives a custard-like consistency to the baked eggs, but with fewer calories than heavy cream. Feel free to use Half and Half or heavy cream for a more indulgent dish.

Precooked ham – We usually make this recipe using leftover crock pot ham. However, even thick slices of deli meat will work fine for this ham and tater tot casserole.

Breakfat Casserole Recipe Variations
Use a different protein: Not a fan of pork? Not a problem! Use turkey, chicken, sausage, or bacon. Or, leave out the meat and include extra veggies instead.
Play with the seasonings. We use a basic, all-purpose seasoning for the ham egg and cheese casserole. Give it Tex Mex flair by using a tablespoon or two of taco seasoning. Or, use your favorite Mediterranean or Italian spice blend.

Add a kick of heat to the casserole by swapping half of the shredded cheddar cheese with shredded pepper Jack.

Lighten it up with lower fat milk. This breakfast casserole turns out well using 2% fat milk, if you prefer. We do not recommend using 1% or skim; they don't have enough fat to help support the weight of the veggies and ham. You'll end up with all of the ham sitting on the bottom of the baking dish.
Low Carb Ham Egg and Cheese Casserole
If you're looking for a keto option, leave out the potatoes. As much as we love breakfast casseroles with potatoes, they do have a lot of carbs!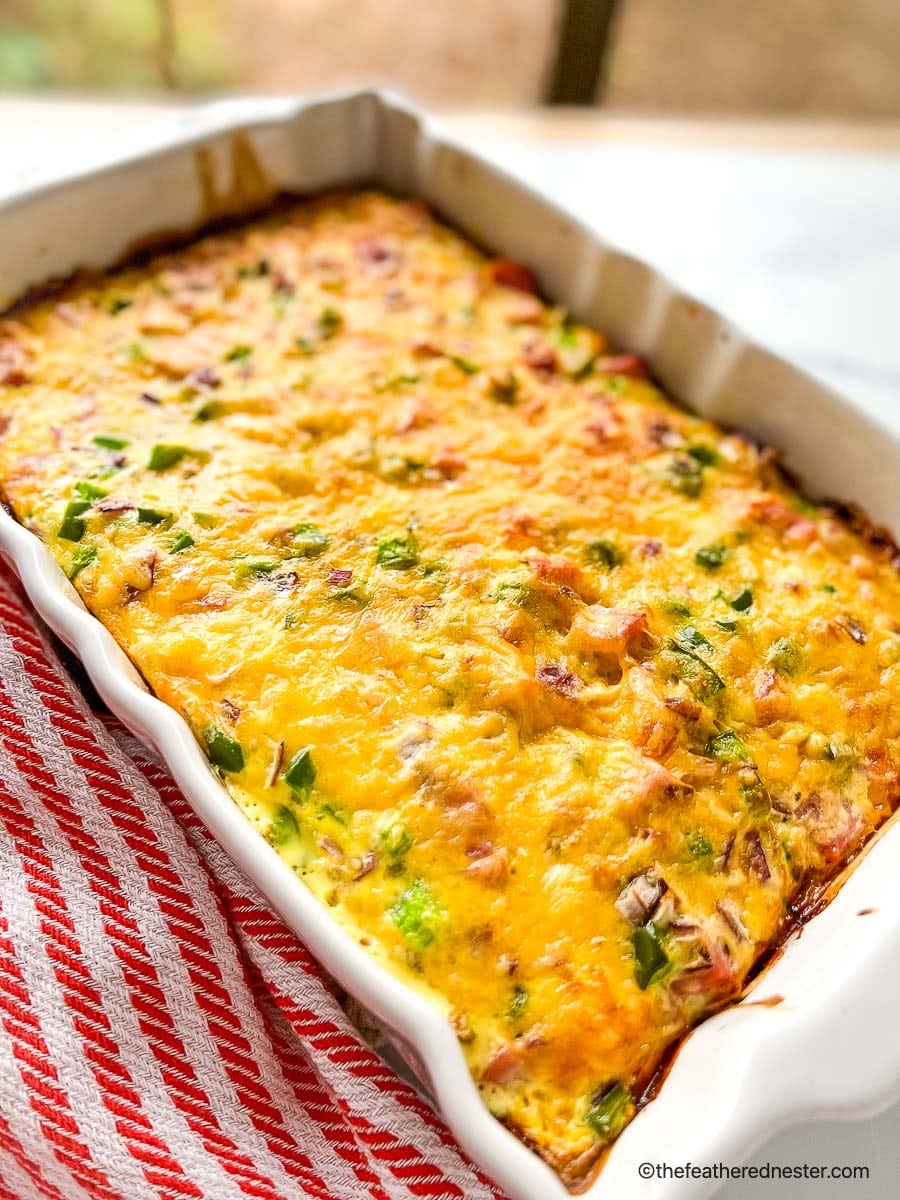 Recipe Tips
Don't let the frozen potatoes thaw out.
Keep the tots in the freezer until you're ready to layer them in the baking dish. Otherwise, they will become mushy and lose their crispiness in the oven.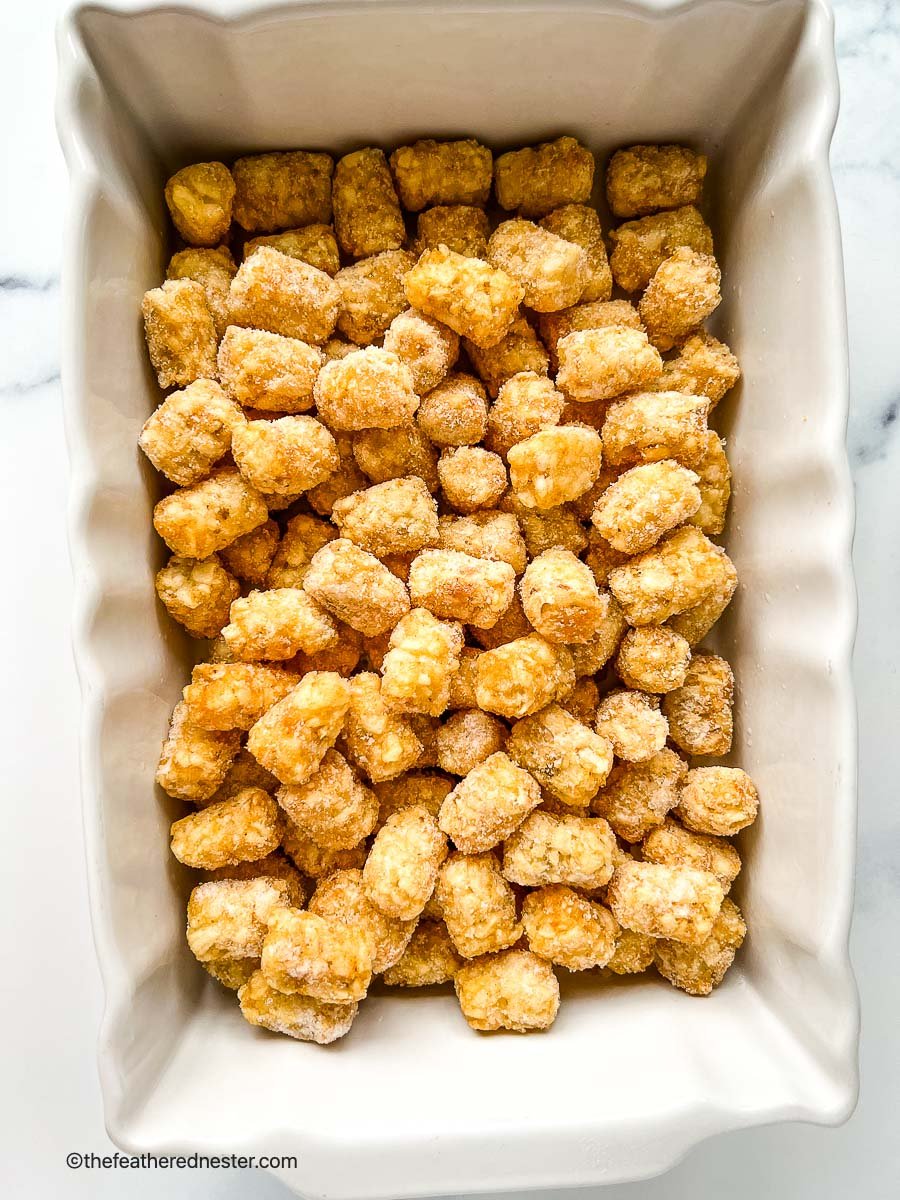 Whisk the eggs really well.
Don't be shy when you're beating the eggs. To create a thick, custard-like base, you need to combine the whites and yolks completely. It's similar to what you do for a French toast casserole or when making fluffy scrambled eggs.
Shred the cheese yourself, for the best meltability.
Oh, and be sure to set one cup of the shredded cheese aside; it goes on top of the ham and tater tot casserole just before baking.
Use the right tools for the job.
To create the tater tot crust, you'll need a flat bottomed glass, or a spatula, to smash the tater tots. Be sure to use one that's one solid piece, without any holes or slits in it.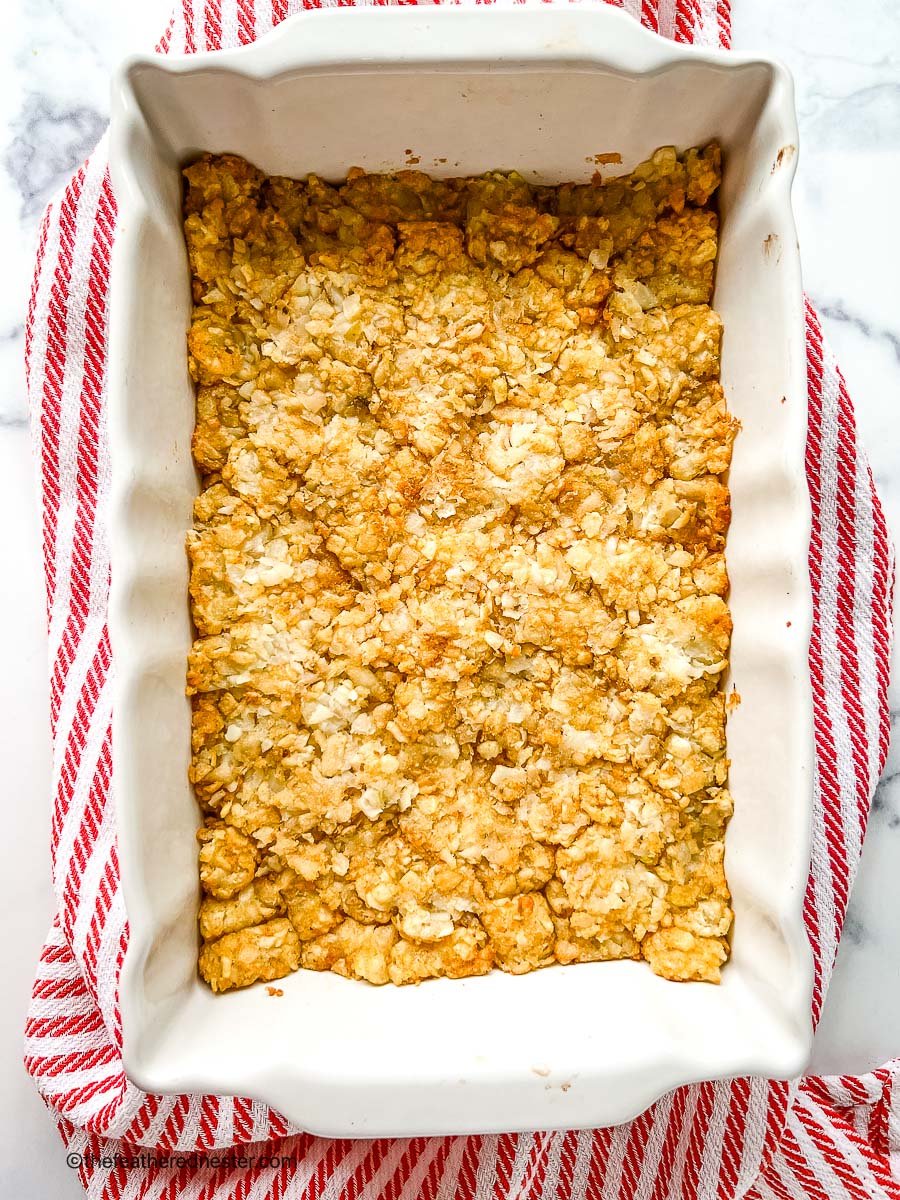 Remember to lower the oven temperature.
After you smash the potatoes, you will need to lower the oven temp, down to 400ºF. Otherwise, your crust will burn.
Pour the egg mixture over the tater tots crust. Add diced ham. Then top with the last 1 cup of cheddar cheese.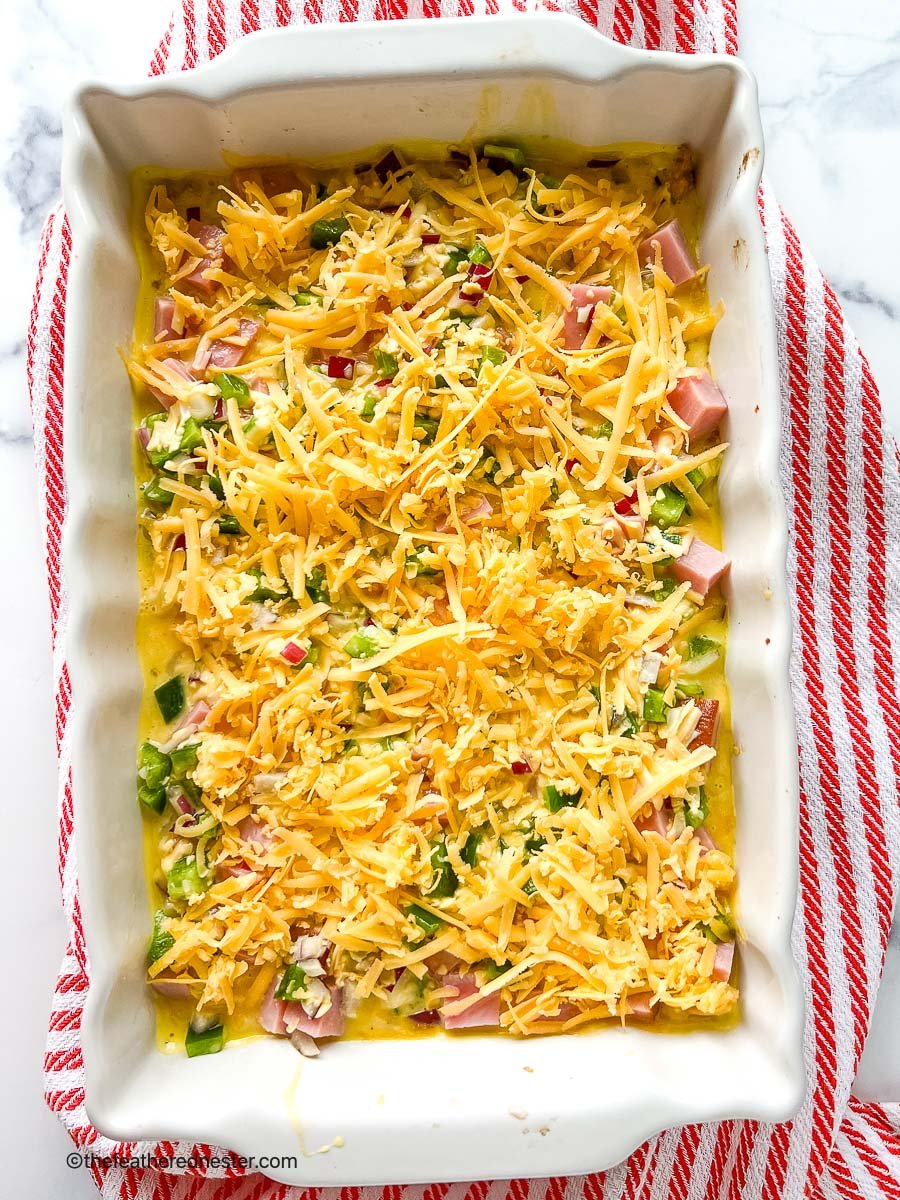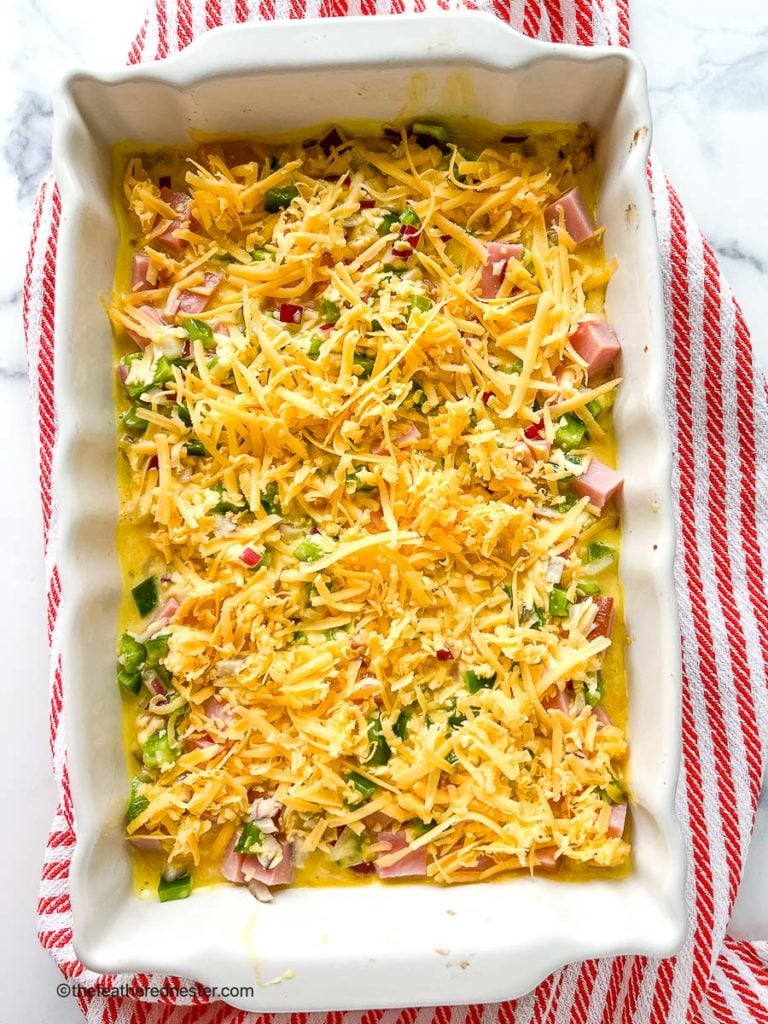 Bake for 20-25 minutes, until the eggs are set, the cheese is melted, and the top is golden and bubbly.
Storing and Reheating
Store your tater tot breakfast casserole in the fridge for up to 5 days.
To prevent the eggs from drying out, cover the pan with aluminum foil, or transfer the leftovers to a covered container.
Reheat the ham and tater tot casserole in a covered baking dish in a 350°F oven until it's warm all the way through to the center. Reheating usually takes 15 to 20 minutes.
Of course, a microwave will do the job too. But, to prevent the eggs from becoming rubbery, we recommend microwaving at 50% power.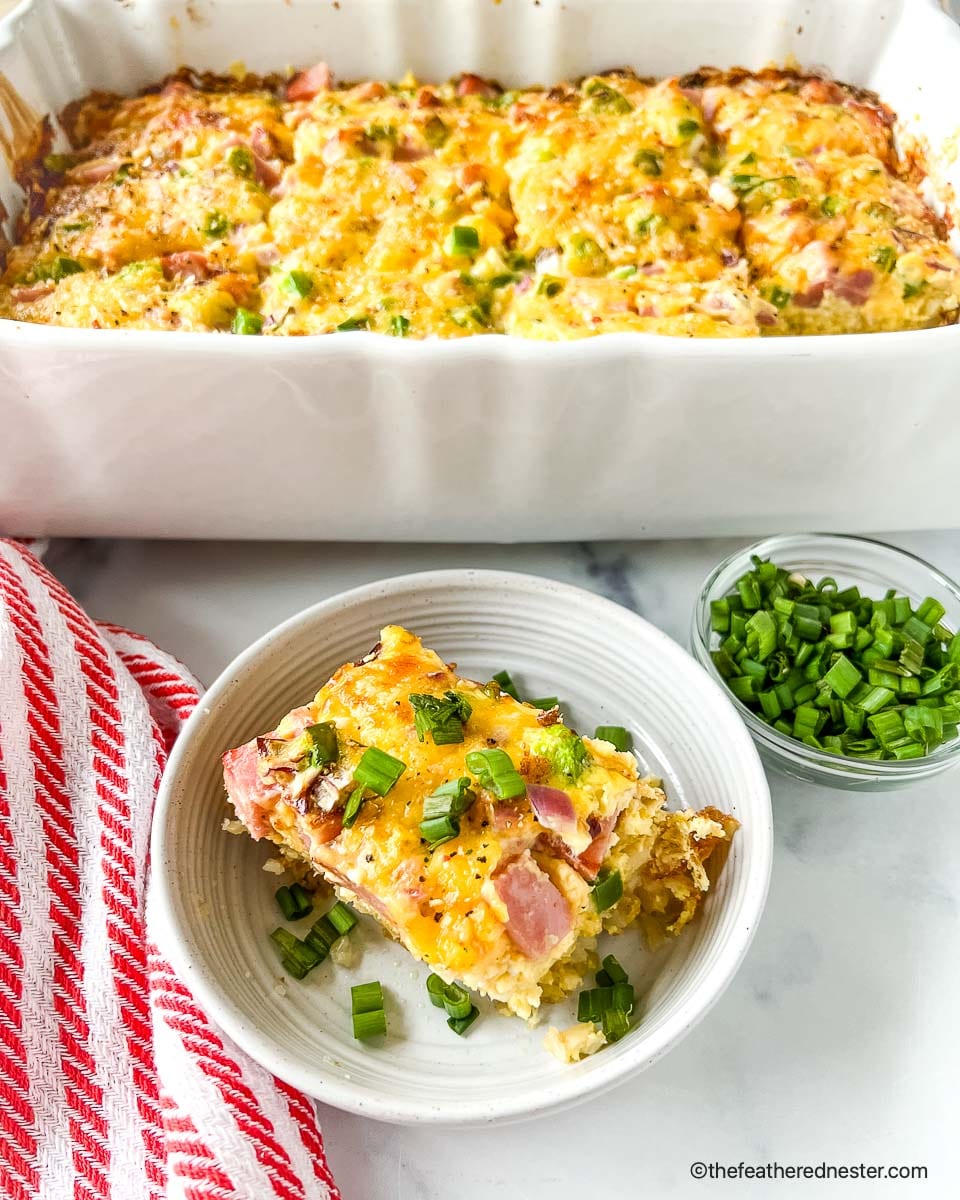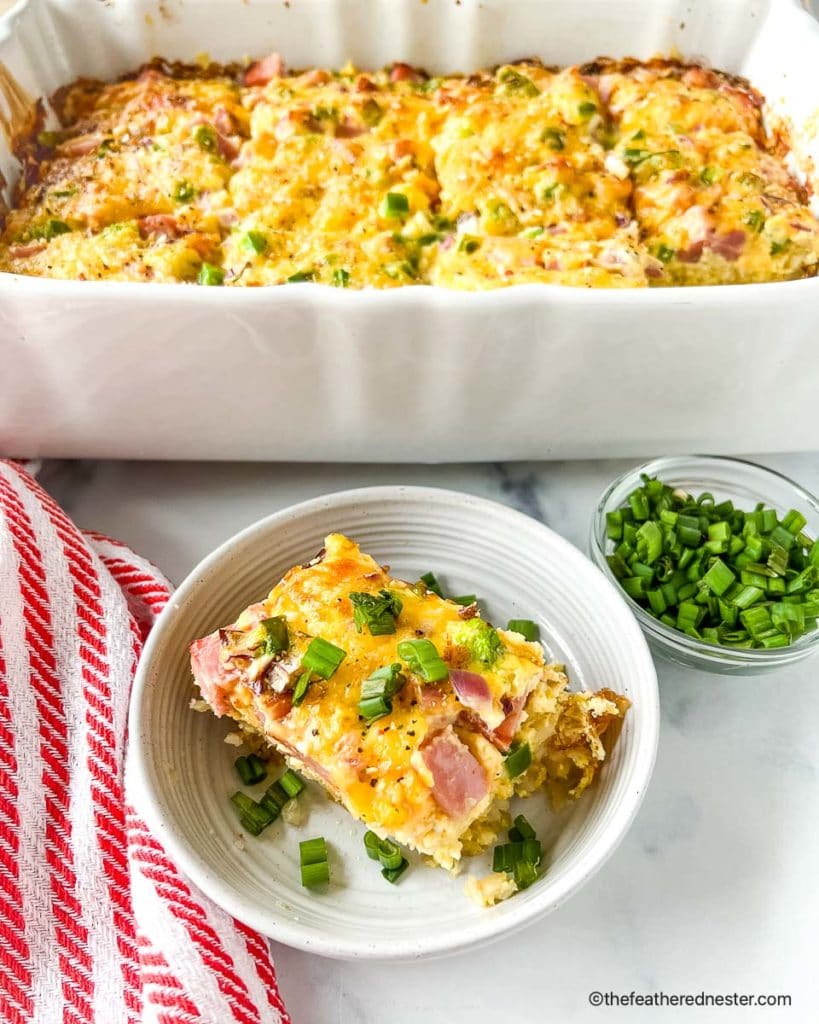 Ham and Tater Tot Casserole Recipe FAQ
Do tater tots have gluten?
According to their website, Ore-Ida Tater Tots are naturally gluten-free, and are also produced in a wheat-free facility.
How far ahead can I bake ham and tater tot casserole?
A fully baked breakfast casserole will keep for up to 5 days in the refrigerator. Just keep the dish covered with plastic wrap or foil. This prevents the eggs from absorbing odors from other foods in the fridge.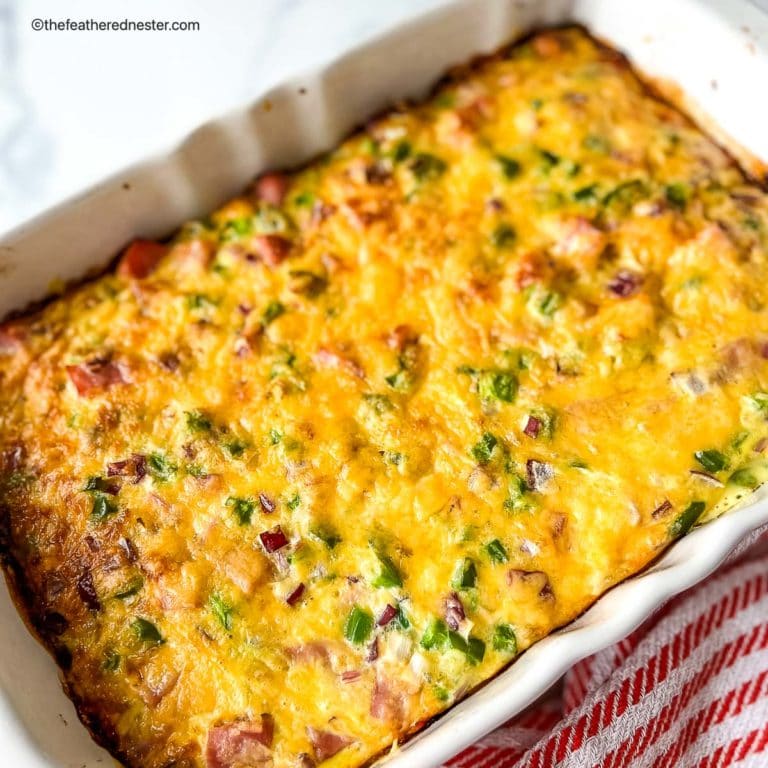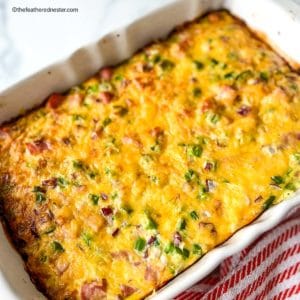 Ham and Tater Tot Casserole
Indulge in the ultimate comfort food with this Ham and Tater Tot Casserole! It's like a fluffy egg omelette baked in a crispy potato crust.
Equipment
9 x 13 inch baking dish

drinking glass - with a flat bottom, or use a spatula without holes

medium mixing bowl
Ingredients
32 ounces (4 cups) tater tots
8 large eggs
8 ounces (2 cups) shredded cheddar cheese divided
½ cup whole milk or half & half *See Notes for substitutions
1 tsp all-purpose seasoning We use Kinder's
2 cups diced cooked ham
½ cup diced onion
1 green bell pepper finely diced
½ cup chopped green onion green parts only
Instructions
Preheat oven to 450ºF. Spray baking dish with cooking spray or grease with butter or cooking oil.

Arrange tater tots in a single layer in the bottom of the baking dish. Place dish of tots the preheated oven and bake for 10 minutes. Meanwhile, prepare the egg mixture.

In a medium mixing bowl, whisk to combine together eggs, 1 cup cheddar cheese, milk, bell pepper, diced onions, and seasoning. Set aside.

After 10 minutes, remove the casserole dish from the oven. Using a flat bottomed glass or a spatula, flatten the tater tots to form a bottom crust in the baking dish. Return the baking dish to the oven for another 10 minutes, until the tater tot crust is golden and slightly crisp. Remove the dish from the oven and turn the oven temperature down to 400ºF.

Pour the egg mixture evenly over the tater tot crust, then sprinkle in the cooked ham. Top the casserole with the remaining 1 cup of shredded cheese.

Bake for 20-25 minutes, until the eggs are set in the middle of the casserole and the top is golden and bubbly. Top with green onions before serving.
Notes
Substitute for whole milk – To reduce the fat and calories in this recipe, substitute 2% milk for whole milk. For a dairy free option, use full-fat coconut milk.
Nutrition
Serving: 1serving | Calories: 344kcal | Carbohydrates: 6g | Protein: 31g | Fat: 22g | Saturated Fat: 10g | Polyunsaturated Fat: 2g | Monounsaturated Fat: 6g | Trans Fat: 1g | Cholesterol: 300mg | Sodium: 1703mg | Potassium: 230mg | Fiber: 1g | Sugar: 4g | Vitamin A: 1433IU | Vitamin C: 28mg | Calcium: 339mg | Iron: 2mg
PIN THIS POST!
This post, first published January 2022, was updated with new content in March 2023.