The best picnic food is easy to eat, and our Shredded BBQ chicken sliders fit the bill perfectly! We've designed this chicken sliders recipe to be quick and easy, featuring juicy rotisserie chicken that falls off the bone.
The end result is an abundance of saucy, moist meat that's so good you could eat it on its own. (If you'd rather go that route, take a look at our baked barbecue tenders recipe!)
Top your mini sandwiches off with a simple, sweet, and smoky homemade BBQ sauce, and you've got a winning meal for summer picnics and potlucks, or a crave-worthy game day meal.
Why We Love Shredded BBQ Chicken Sliders!
Versatile recipe.
We'll show you how to shred rotisserie chicken in a snap. This allows you to use the meat in a variety of recipes, from sandwiches and chicken street tacos to soups and chicken stuffed crescent rolls.

Easy 30-minute meal.
Using a prepared and ready-to-shred protein is much quicker, and definitely easier, than slow-cooking or smoking the meat. There's a time and place for those labor-of-love Dutch oven sliders, but this meal is all about speed and convenience.

BBQ chicken makes great leftovers!
Shredded meat reheats very easily, and it sometimes tastes even better the next day after sleeping in the barbecue sauce.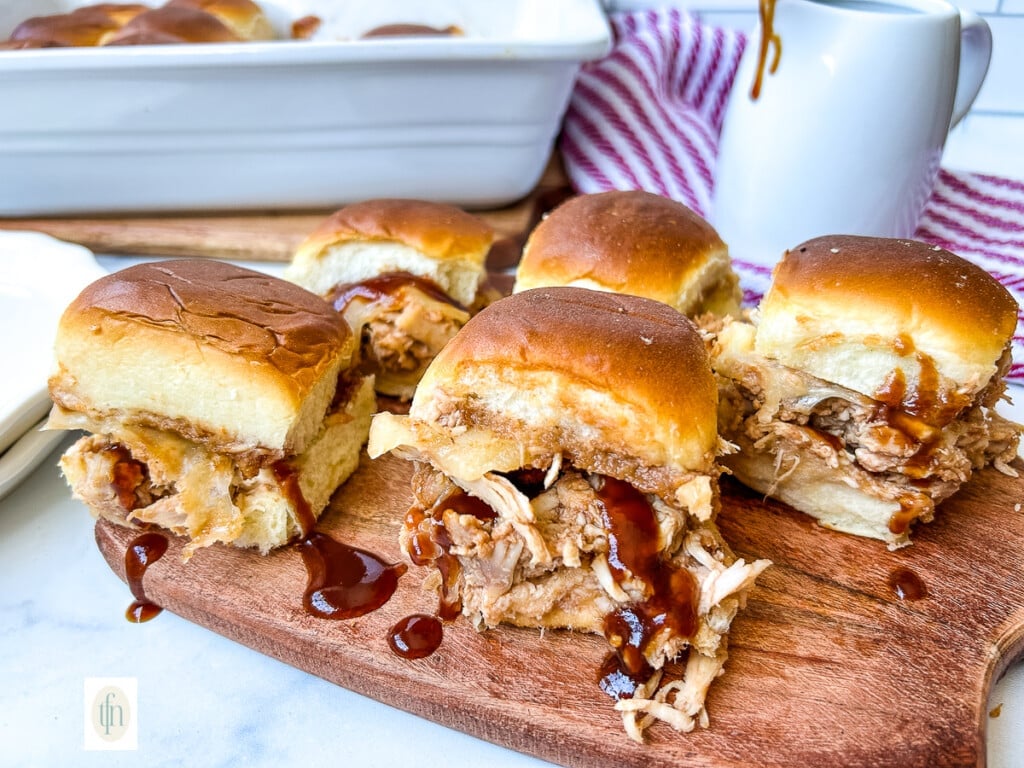 Ingredient Notes and Substitutions
Rotisserie Chicken – Take care to remove the skin and bones as you prepare the meat. Learn how to shred rotisserie chicken painlessly in the section below!
Chicken Seasoning – Create your own by mixing salt, pepper, paprika, garlic and onion powder, and some dried rosemary and thyme.
BBQ Sauce – Make it yourself with our 3 Ingredient BBQ Sauce recipe, or use your favorite brand.
Slider Buns – Sourdough buns or traditional hamburger buns are good substitutes for making full-size sandwiches. If you can't find slider buns, you can use Parker house rolls or sourdough dinner rolls instead.
Are you a fan of 30-minute meals?
If you have a busy schedule, the last thing you need is to spend a long time making meals!

Some of our most popular quick and easy dinner ideas are 30-Minute Chicken and Gravy and Instant Pot Ranch Chicken and Potatoes.
How to Shred Rotisserie Chicken
Rotisserie chickens are such a great way to save time and energy preparing breakfast, lunch, or dinner! The meat is always easy to shred and can be quickly seasoned to suit any recipe.
When deciding how to shred rotisserie chicken, there are two methods. Some people like to use two large forks, but an even quicker method is with a stand mixer. For either method, you'll first have to remove the skin from the bird.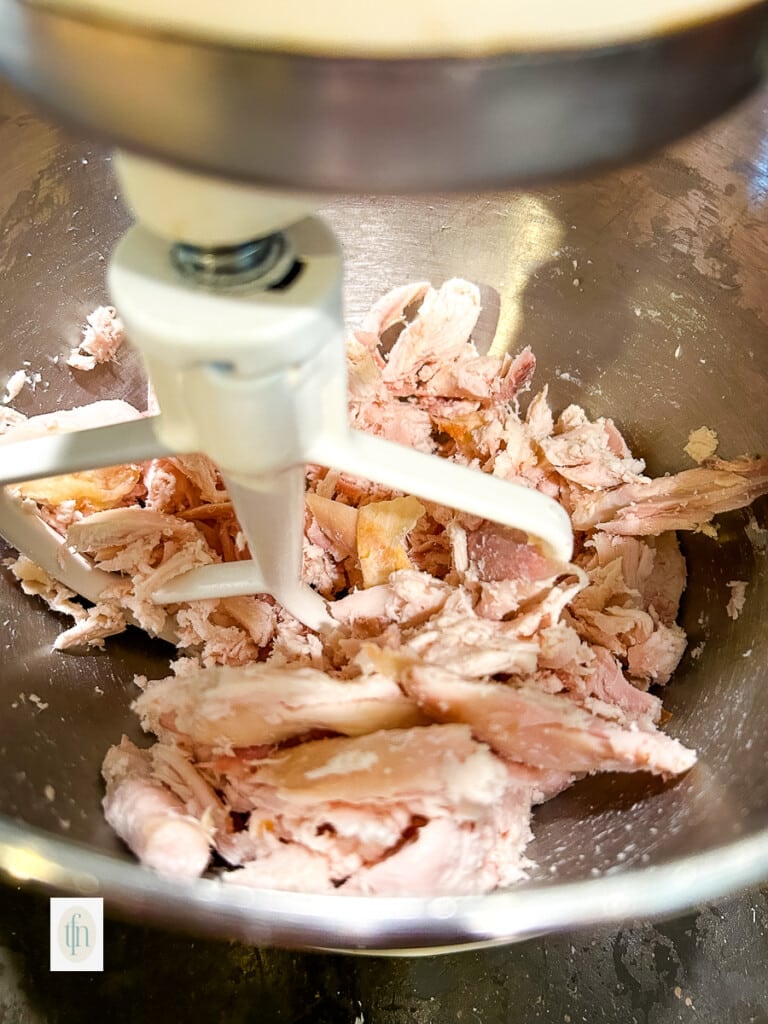 The fork method can be used while the meat is still on the bone, which can save you a bit of time and stress. Simply dig two forks into the meat while pulling in opposite directions to shred and pull the meat off the bone.
To use the stand mixer, you'll need to get the meat off the bones in large chunks and transfer to your mixing bowl. Use the paddle attachment on low speed for a minute or so — it does the rest of the work for you!
Chicken Sliders Recipe Tips
Use pull-apart rolls to build all of the sandwiches at one time.
Make these into pull-apart sliders for a fun game-day dish! You'll see the gooey cheese spread and sauce drip as everyone grabs their bite — talk about appetizing!

Purchase a pack of rolls that are still connected at the edges, not cut all the way through. Remove the top buns while maintaining that connection to the bottoms.

Lay that entire layer of still-connected bottom buns into the dish, and make sure the top buns are still connected when you place them back on top.
Don't use all of the sauce right away.
As you assemble the BBQ chicken sliders, keep in mind that some of sauce goes into the meat. The rest goes on top of the meat and cheese before you bake the sandwiches.

So, if the meat looks a little dry when you first add the sauce and seasoning, it's perfectly okay. The cheese adds a little layer of protection to keep the sliders solid.

Avoid mixing too much of the BBQ sauce with the meat itself. Otherwise, the excess can make the bottoms of the buns very soggy.
Brush the tops with melted butter for better color and flavor.

It isn't the end of the world if you forget, but just a little bit of melted butter adds a whole lot of flavor to the shredded chicken sliders!
BBQ Chicken Sliders FAQ
What kind of cheese is good on a BBQ chicken sandwich?
Our first recommendation for this chicken slider recipe is provolone cheese. It melts perfectly and has a creamy texture that's much better than mozzarella.

Monterey Jack is also good, though it doesn't melt quite as well, and Pepper Jack is both creamy and spicy if you want to kick up the heat an extra notch.
How many sliders per person for a party?
Plan on making enough for 2 to 3 chicken sliders per adult. For kids younger than 10, one mini sandwich should be plenty.
What can I add to BBQ chicken to keep it moist?
The chicken in this recipe is wonderfully moist with the right amount of barbecue sauce. When you
Serving Suggestions
We always recommend serving a cool cucumber slaw either on the side or right on top of this rotisserie chicken sliders recipe. It adds a nice change in texture!
Then there's the chunky, crispy cowboy salad — avocado, tomatoes, peppers, and onions are a nice break from the tangy BBQ sauce.
We also recommend pinto beans with bacon! These can simmer in your crockpot to build those bold, savory flavors that seal the deal in any barbecue spread.
Storing and Reheating Shredded Rotisserie Chicken
Leftovers can be refrigerated for up to 3 days. Store any unused meat separate from the rolls to keep the bread from getting soggy in the fridge.
Reheat already assembled BBQ chicken sliders on a sheet pan in a 350°F. oven. 15 to 20 minutes should be plenty to warm them through, while also toasting the buns.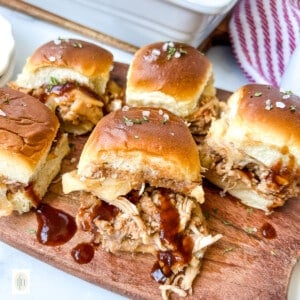 Shredded BBQ Chicken Sliders
BBQ Chicken Sliders are an easy and delicious game day meal! Make this chicken sliders recipe with a rotisserie chicken to save time!
Equipment
large casserole dish

basting brush

cooking spray
Instructions
Preheat oven to 350ºF.

Remove and discard skin and bones from the rotisserie chicken. Add meat to a large bowl.

Use two forks to shred the meat, or use a stand mixer fitted with the paddle attachment. Run the mixer on low speed.

Add seasoning and stir well to combine. Then stir in 1/3 cup of barbecue sauce.

Spray your casserole dish with non-stick cooking spray.

To assemble chicken sliders: Place bottom half of rolls or buns in the casserole dish. Add 1/3 cup of meat to each slider bun (2/3 cup for hamburger buns). Lay cheese slices over the shredded meat. Drizzle remaining BBQ sauce over each, then add tops of rolls/buns. Brush tops with melted butter.

Bake for 15-20 minutes, until sliders are golden on top.

Separate slider buns and serve.
Nutrition
Serving: 2 sliders | Calories: 635kcal | Carbohydrates: 49g | Protein: 54g | Fat: 27g | Saturated Fat: 11g | Polyunsaturated Fat: 2g | Monounsaturated Fat: 4g | Trans Fat: 0.2g | Cholesterol: 173mg | Sodium: 1031mg | Potassium: 150mg | Fiber: 4g | Sugar: 18g | Vitamin A: 494IU | Vitamin C: 3mg | Calcium: 254mg | Iron: 3mg
PIN THIS POST!