Making a delicious cucumber slaw for fish tacos really cuts through excessive heat, adds a fantastic crunch, and makes homemade tacos something to remember! And it's versatile — the creamy dressing is a spectacular topping on seafood. Mix this seasonal summer coleslaw with common kitchen ingredients and blow your kitchen guests away!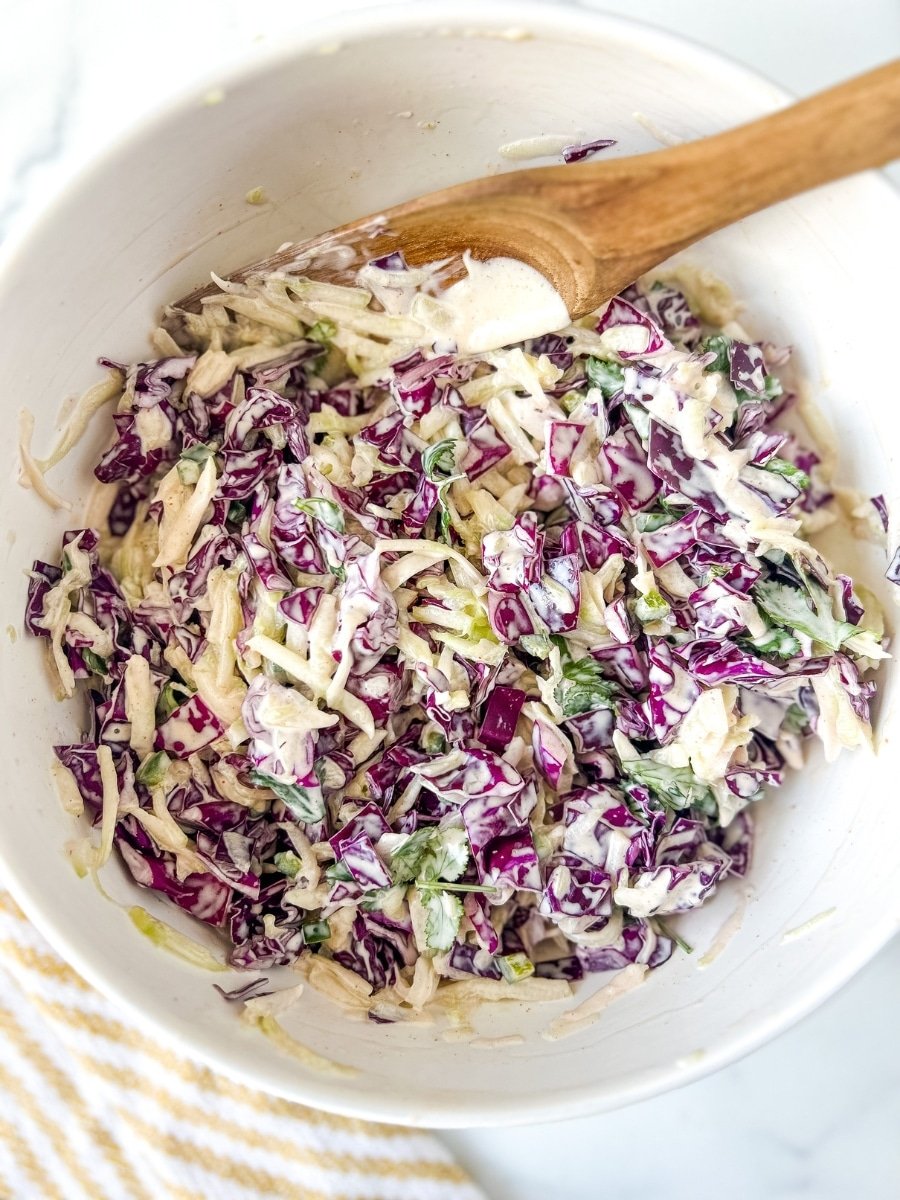 Reasons to Make Cucumber Slaw
It's a 10-minute way to level up homemade tacos. As long as you have the ingredients on hand, it adds flavor, texture, and dimension without any extra effort or planning.
The creaminess can calm down the heat! Any spice expert knows that a bit of cream can help even spice newbies handle a bit of heat. The sour cream and mayonnaise in this slaw will be a taste bud saver!
Pairs well with everything. This slaw adds a crunch factor to egg or tuna salad sandwiches. It is especially delicious as a slaw for fish tacos (we have a recipe coming out in a few days!) and is also fantastic on chicken street tacos!
Ingredient Notes and Substitutions
Red Cabbage – This is one of the firmer types of cabbage, which makes it very popular for slaw! It's actually great for a number of recipes, so it's never a bad ingredient for a home cook to keep in their refrigerator.
Paprika – The fruity yet slightly spicy flavor of paprika is wonderful in this recipe. Chili powder and cayenne are its best substitutes.
Cilantro – Flat leaf parsley is a bit fresher than cilantro, but is the closest cilantro substitute that you'll find!
And if you're one of the unlucky few that thinks cilantro tastes like soap, this substitution will absolutely save you in the kitchen!
Jalapeño – This is actually a relatively mild pepper. But if you need less heat in your cucumber slaw, try a banana pepper. For a feisty kick of heat, use an ancho chile, or add some ancho chili powder.
Types of Cucumbers and Substitutions for Taco Slaw
We always use English cucumbers when we make cucumber slaw. They're a fair bit sweeter and have fewer seeds, so you actually get more flesh and flavor overall! They're also often not skinned before slicing and eating because of their thinner skin.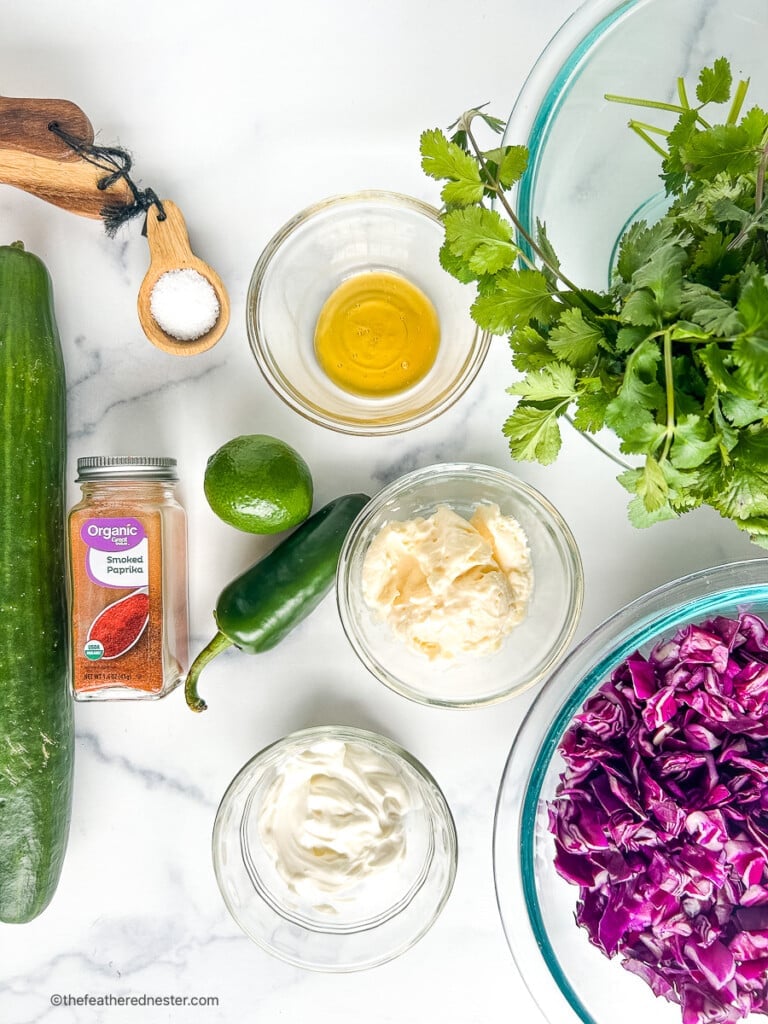 We also like Persian cucumbers, which are short and seedless and also have relatively thin skin. You'll need 4 Persian cucumbers per English cucumber.
Then there's the North American common garden variety of cucumber that has thick skin and large, bitter seeds that should be removed before pickling. Two of these can be used in place of one English cucumber.
Any variety is fine for making the slaw for fish tacos — it's just a matter of knowing what you're dealing with before getting started!
Cucumber Slaw Recipe Tips
1. Don't overdo the sweetness the first time.
Honey is thin and has a much fresher sweetness than cane sugar or corn syrup, so it's easy to add too much the first time you make cucumber slaw dressing. An abundant amount of sweetness in your fish taco slaw (especially for your guests without a sweet tooth) can be a bit much!
We recommend mixing the dressing, taste testing, and then adding the honey for sweetness the first time around to make sure you don't end up with a dressing that's too sweet.
2. Consider adding some other firm, flavorful vegetables to the mix.
Our slaw for tacos is very simple — just cabbage and cucumbers, which is perfect as-is. However, there are plenty of other vegetables that are great in homemade veggie slaw that we don't want you to leave out.
Carrots are in season from May through the end of the year (depending on where you are in North America), so you can make them in a summer slaw or throw them into a December dish.
Radishes are another year-round veggie that can add both color and a zesty, crispy taste to your cucumber slaw!
3. Uniform, even strips of cabbage and cucumber make for a gorgeous slaw for fish tacos.
Flavor matters most, of course, but presentation always counts for something! Using a sharp knife, julienne peeler, mandoline, or spiralizer can make it a bit easier to get even shreds of multiple types of vegetables in your taco slaw.
Taco Slaw FAQ
What is the difference between coleslaw and slaw?

In modern recipes, the shorthand "slaw" is usually used to reference any kind of collection of thinly sliced vegetables mixed with a mayo-based dressing.

Coleslaw is almost entirely made with cabbage but some versions do include finely minced or shredded carrot.
Can you substitute Greek yogurt for mayonnaise?

Greek yogurt is a high-protein substitute for mayonnaise, and is generally healthier for you, too.
However, it doesn't have the same fatty or salty flavor that mayo tends to have, so don't be surprised if you have to compensate with a bit more salt or sour cream.
Storing and Serving
Homemade cucumber slaw lasts for up to 5 days in the refrigerator. Because of the mayonnaise and sour cream in the dressing, it is very important that the dressing does not come to room temperature or sit out for any extended period of time. Otherwise, you're drastically shortening its shelf-life!
Use cabbage slaw for tacos quickly, and try to prepare it as close to the serving date as possible.
To make this cucumber side dish, Renae recommends
Crunchy Cucumber Slaw
Cucumber Slaw is a crispy, creamy slaw for tacos that takes 10 minutes to make! Don't wait to make your homemade tacos better than ever!
Equipment
1 small mixing bowl

1 medium mixing bowl
Ingredients
Dressing
¼ cup mayonnaise
¼ cup sour cream
1 lime juiced
1 tablespoon honey
1 teaspoon kosher salt
½ teaspoon smoked paprika
Slaw
2 cups finely shredded red cabbage
1 English cucumber peeled and shredded (see notes for substitutions)
1 jalapeño seeded and minced
¼ cup chopped cilantro or flat leaf parsley
Instructions
In a small bowl, use a fork to combine dressing ingredients: mayonnaise, sour cream, lime juice, honey, salt, and paprika until smooth. Set aside.

To a medium bowl, add the red cabbage, cucumber, jalapeño, and cilantro. Add the creamy dressing and stir until well combined. Serve with fish tacos or shrimp tacos.
Notes
Can substitute English cucumber with 4 Persian cucumbers or 2 regular cucumbers.
To make ahead, store dressing separate from cabbage/cucumber slaw mix, and toss together just before serving.
Nutrition
Serving: 0.5 cup | Calories: 114kcal | Carbohydrates: 9g | Protein: 1g | Fat: 9g | Saturated Fat: 2g | Polyunsaturated Fat: 4g | Monounsaturated Fat: 2g | Trans Fat: 0.02g | Cholesterol: 10mg | Sodium: 501mg | Potassium: 185mg | Fiber: 1g | Sugar: 5g | Vitamin A: 625IU | Vitamin C: 22mg | Calcium: 37mg | Iron: 1mg
PIN THIS POST!