Sometimes the side dish really makes the meal, and cilantro lime brown rice is a prime example. There's just something about those fluffy, soft, zesty grains that keep you coming back for more! With this Chipotle brown rice recipe, you can recreate the restaurant's healthy side dish without leaving your house!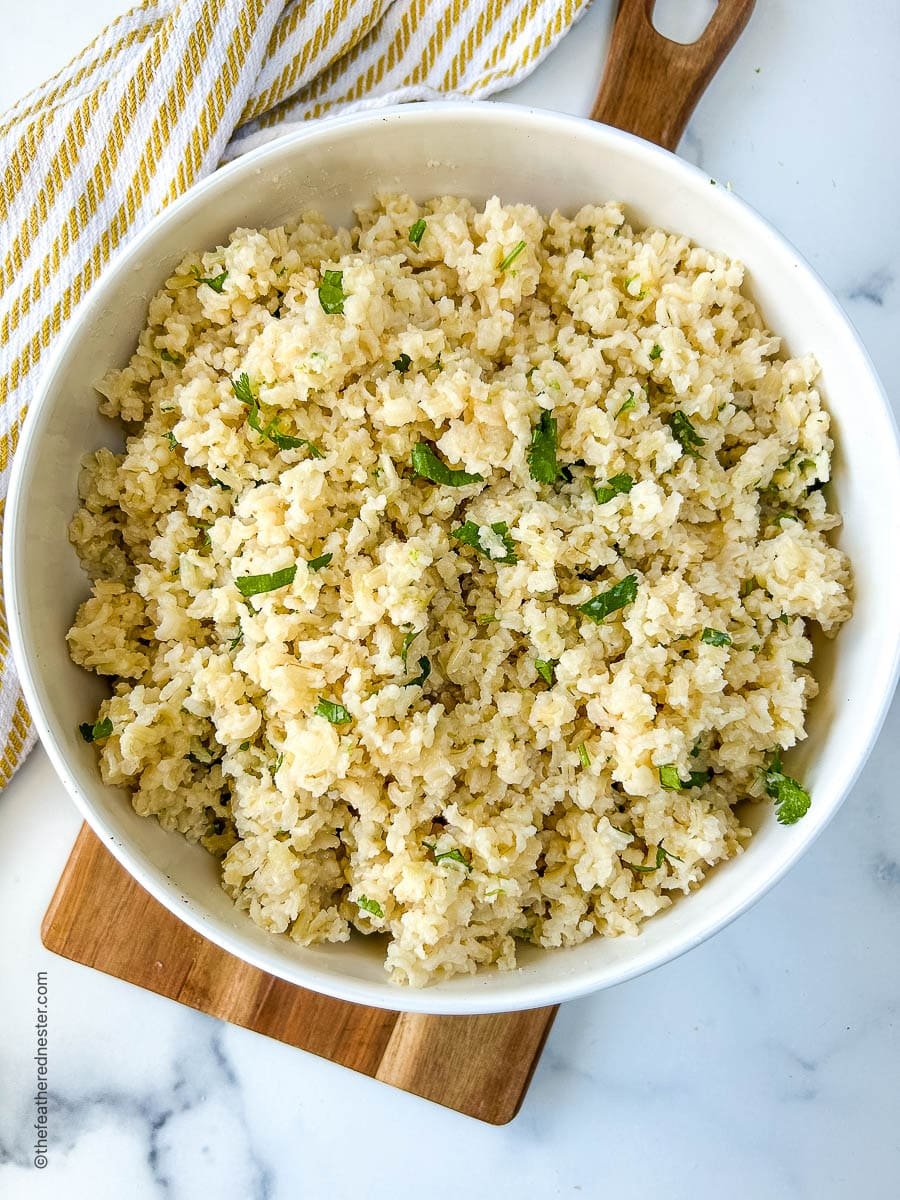 Why We Love Cilantro Lime Brown Rice
It's a flavorful alternative to a usually plain dish.
Rice is an inexpensive, easy-to-make, gluten-free grain to bulk up any meal. With this Chipotle Mexican Grill® copycat recipe, you can make it a part of the meal to look forward to!
Healthy, filling, and delicious!
Packed with heart-healthy nutrients, brown rice is so much better for you than white rice. Now you can make the switch without sacrificing flavor!
Goes well with everything.
Regardless of the proteins or vegetables on your plate, this side dish will complement every forkful. We think it tastes the best with Tex Mex and Mexican dishes, like walking taco casserole and smash burger tacos.
Ingredient Notes and Substitutions
Brown Rice – Use either short-grain or long-grain, though long-grain is certainly best. It results in a much fluffier texture that is most similar to the original Chipotle brown rice recipe. Short-grain, on the other hand, comes out very soft and sticky.
Broth – Vegetable and chicken broth are both good choices! You could also use only broth for your liquid, omitting the water entirely, if desired. You need 2 cups of liquid for every 1 cup of rice. Whether that's a combination of broth and water or just broth is up to you!
Lime Juice and Zest – Fresh ingredients yield fresh-tasting results. To get enough juice and zest, you'll need 1-2 limes depending on their size. One large lime will do the trick.
Cilantro – Are you a member of the unlucky 8% of the population that thinks cilantro tastes like soap? Even if you're not, maybe you just don't like the taste of cilantro. If that's the case, it's okay – you can use flat-leaf parsley instead.
Chipotle Brown Rice Recipe FAQ
Is the brown rice at Chipotle cilantro lime?
Yes. Like the restaurant's white rice, Chipotle's brown rice is also a cilantro lime recipe.

The biggest difference between our recipe and the restaurant's is the addition of bay leaves while steaming, as well as a combination of both lime and lemon juice. But the same process is done with white and brown rice!
How many calories are in cilantro brown rice?
Our Chipotle brown rice recipe has a total of 220 calories per half cup serving. It can vary a little bit, depending on the exact ingredients you use.
Recipe Tips
Rinse the rice so it's not overwhelmingly starchy, clumpy, and gummy.
Season the water with herbs and spices, or use broth instead of (or in addition to) water.
Finally, stay hands-on while cooking — keeping an eye on the liquid — so that it doesn't end up either undercooked and crunchy or drowned and mushy.
Know how much rice you're making.
Keep in mind that long-grain rice yields more than short grain. While 2 cups of uncooked long-grain rice yields 5 cups cooked, the same amount of uncooked short-grain rice yields just over 4.5 cups cooked.
Brown rice takes a bit of hands-on moderation.
Cooking brown rice on the stovetop isn't a walk-away affair. Once the water boils, the heat needs to be reduced.
Then, after a good 35 to 40 minutes of simmering, the temperature might need to be reduced more if the cooking liquid is reducing too quickly. In this case, you may need to add more water.
Finally, a bit more seasoning is done just before serving. However, all of the effort is worth it! You'll taste it with that first bite.
If you're looking for something a bit more hands-off, try our Instant Pot brown rice instead!
Season to taste at the end.
While this cilantro lime brown rice recipe uses a few seasonings at the beginning, more lime and herbs are added at the end. This gives you the chance to increase the lime and cilantro flavors to your liking. Don't throw in a ton of seasonings to begin with! Wait and taste it first.
Serving Suggestions
Here are a few ways to enjoy this homemade Tex-Mex rice:
Storing and Reheating
It's very important to store brown rice in an airtight container so that it doesn't dry out too much. Stored well, leftover brown rice lasts for 5 days in the fridge.
To reheat cilantro lime brown rice, microwave it with a bit of water, or cover the bowl with a damp paper towel to return some moisture to the grains.
Cilantro Lime Brown Rice
Cilantro Lime Brown Rice is our stovetop version of Chipotle's brown rice recipe. Make it for a flavorful and healthy Tex-Mex side dish!
Equipment
2-3 quart saucepan with lid
Ingredients
2 cups uncooked long grain brown rice or short grain *See Notes
2 cups water plus more, if needed *See Notes
2 cups chicken broth or vegetable broth
2 tablespoons butter
2 tablespoons fresh lime juice (1-2 limes, depending on size)
¼ teaspoon lime zest (1 lime)
2 tablespoons chopped cilantro
Instructions
Add rice, water, broth, butter, and fresh lime juice to a large saucepan over medium-high heat. Cover the pot with a lid.Bring to a boil, then reduce the heat to medium-low. Simmer for 35-40 minutes. *Check brown rice after 20 minutes; if the cooking liquid is absorbing too quickly, lower the burner heat. Then, stir in 1-2 additional tablespoons water, and continue cooking.

After 35 minutes, or when grains are tender and liquid is absorbed, stir in lime zest and chopped cilantro.Transfer to a serving bowl, and use a fork to fluff rice before serving.
Notes
When cooking brown rice on the stove top, the ratio of water to rice is 2 cups of liquid for every 1 cup of uncooked rice. For this Chipotle brown rice recipe, as long as you use 4 cups of cooking liquid, it can be all water, all broth, or a combination of both.
Yield (Total Servings) for Cilantro Lime Brown Rice
The amount of cooked brown rice this recipe makes depends on whether you use long or short grain. Long grain rice contains less starch than short grain, so the cooked grains aren't as sticky and compact. This means, long grain brown rice yields more than short.
On average, 2 cups of uncooked long grain brown rice makes 5 cups cooked. Using 2 cups of short grain brown rice yields a little more than 4 1/2 cups cooked.
Nutrition
Serving: 0.6cup | Calories: 220kcal | Carbohydrates: 38g | Protein: 5g | Fat: 5g | Saturated Fat: 3g | Polyunsaturated Fat: 1g | Monounsaturated Fat: 2g | Trans Fat: 0.2g | Cholesterol: 12mg | Sodium: 333mg | Potassium: 92mg | Fiber: 3g | Sugar: 1g | Vitamin A: 130IU | Vitamin C: 2mg | Calcium: 24mg | Iron: 1mg
PIN THIS POST!