Ruth Chris stuffed chicken is a fabulous meal of seasoned and stuffed chicken breast, with cheese and savory herbs. This baked chicken recipe is inspired by the Ruth's Chris chicken recipe, and it's SO simple to make at home!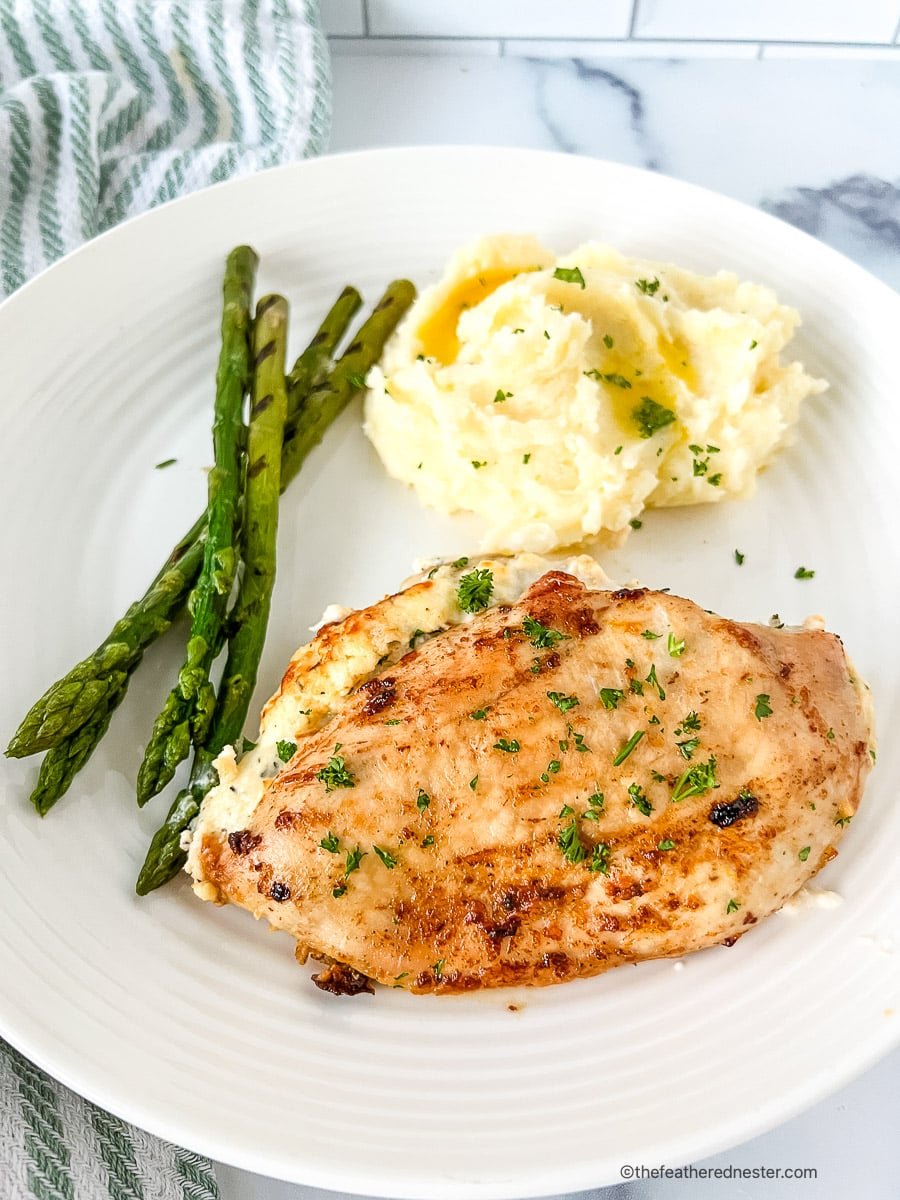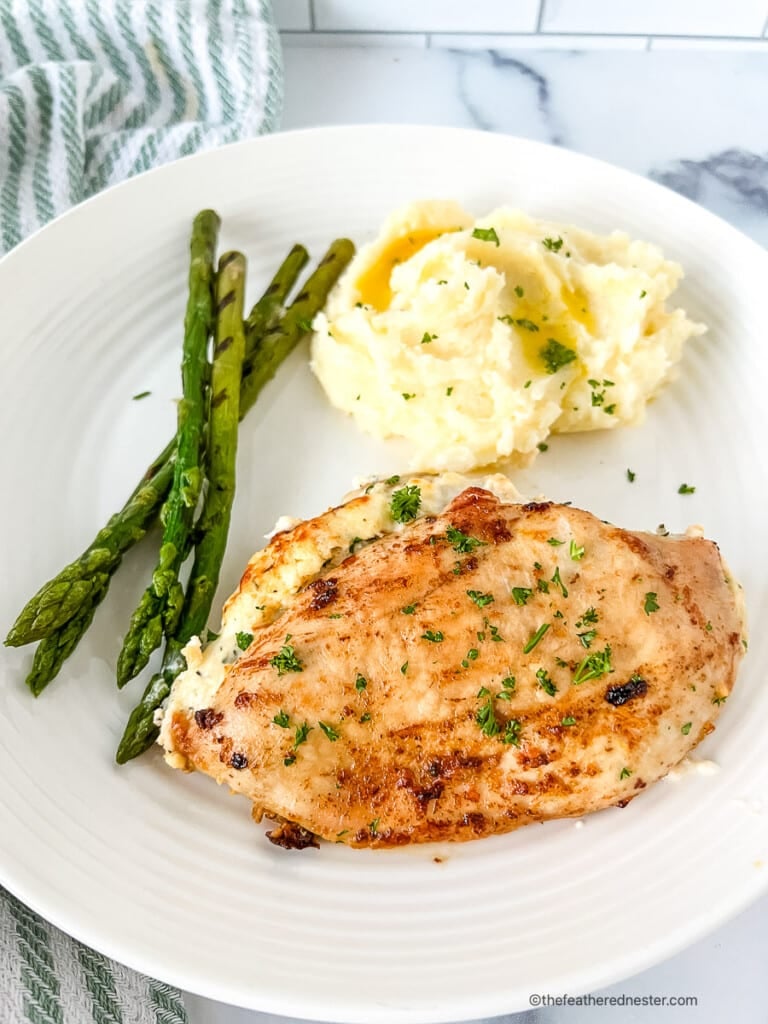 Have you ever eaten at Ruth's Chris Steakhouse? It's a high end restaurant that got its start in New Orleans, but now has over 145 locations. More than anything else, they are known world wide for their steaks, served on sizzling platters.
Really, all of their menu items are top-notch, but there's something extra special about their cheese stuffed chicken breast. The seasonings they use are nothing short of perfection, and the poultry is unbelievably juicy and succulent!
Why You Should Make Ruth Chris Stuffed Chicken
Less expensive than dining out.
Although their food is amazing, you definitely pay top dollar for it. The cost of beef and chicken is at an all-time high right now, but there's no reason to miss out on your favorite restaurant dishes!
Quick to make.
Our version of the dinner has the same classic flavors as Ruth Chris stuffed chicken, and it can be on your table in 45 minutes.
Impressive looking, but easy recipe.
As part of this recipe, we'll explain how to butterfly chicken breasts. The process sounds fancy and impressive to family and friends, but honestly, it's just a way of creating a pocket for the fillings.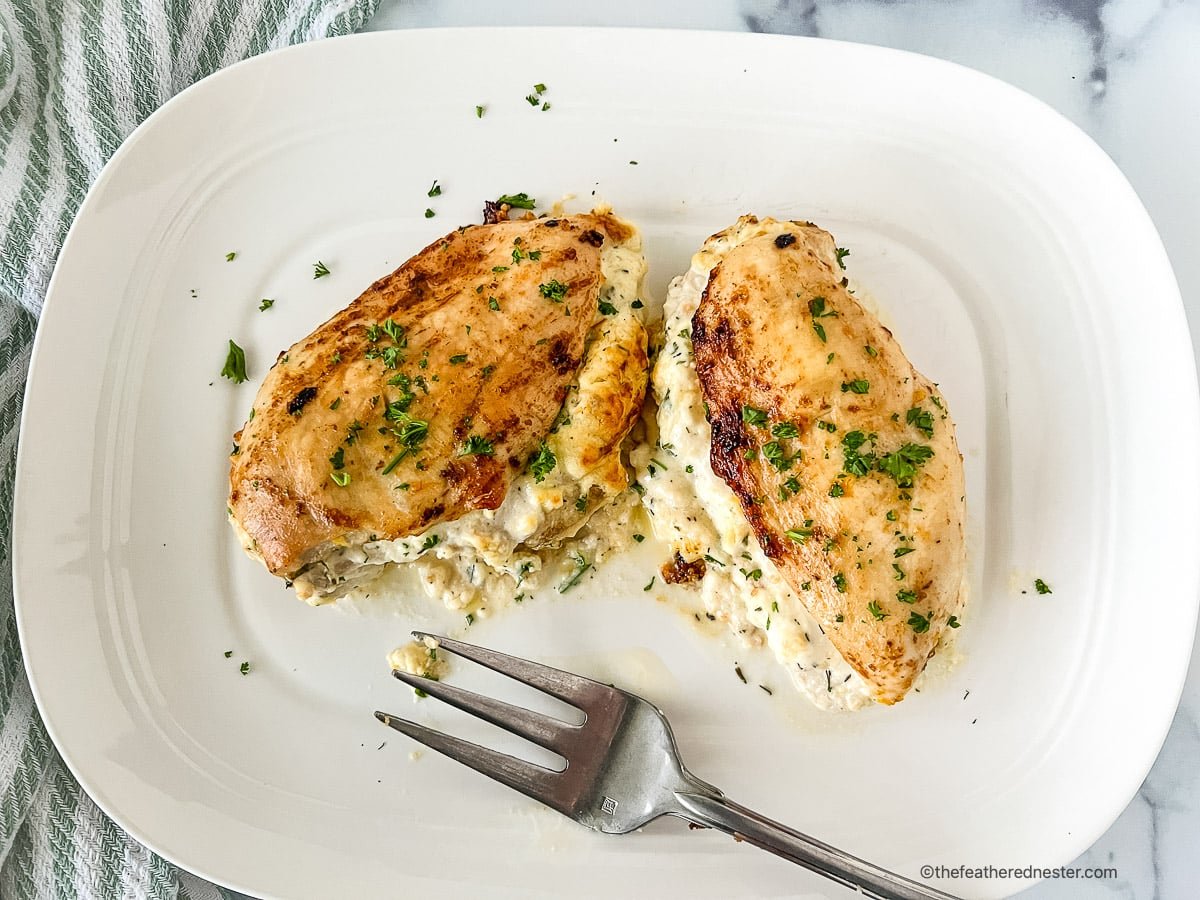 Ingredient Notes and Substitutions
Boneless skinless chicken breasts – At the Ruth's Chris restaurant, they actually serve a double breast. In other words, it's both breast pieces, still connected.

To make things easier, and for smaller portion sizes, we butterfly each breast for this Ruth Chris chicken recipe. Don't worry; further down in this post, we'll walk you through exactly how to butterfly chicken breast.

Cheese filling – The ingredients in our filling include cream cheese, shredded Parmesan cheese, garlic, and basic herbs.

NOTE:
There are other versions of this Ruth Chris chicken recipe around the Internet. Some of the other recipes season with dry ranch powder, but the restaurant website doesn't mention that ingredient at all.

However, the website does mention that Ruth Chris stuffed chicken is filled with garlic herb cheese. We think the flavors we use for our version match the restaurant's dish perfectly!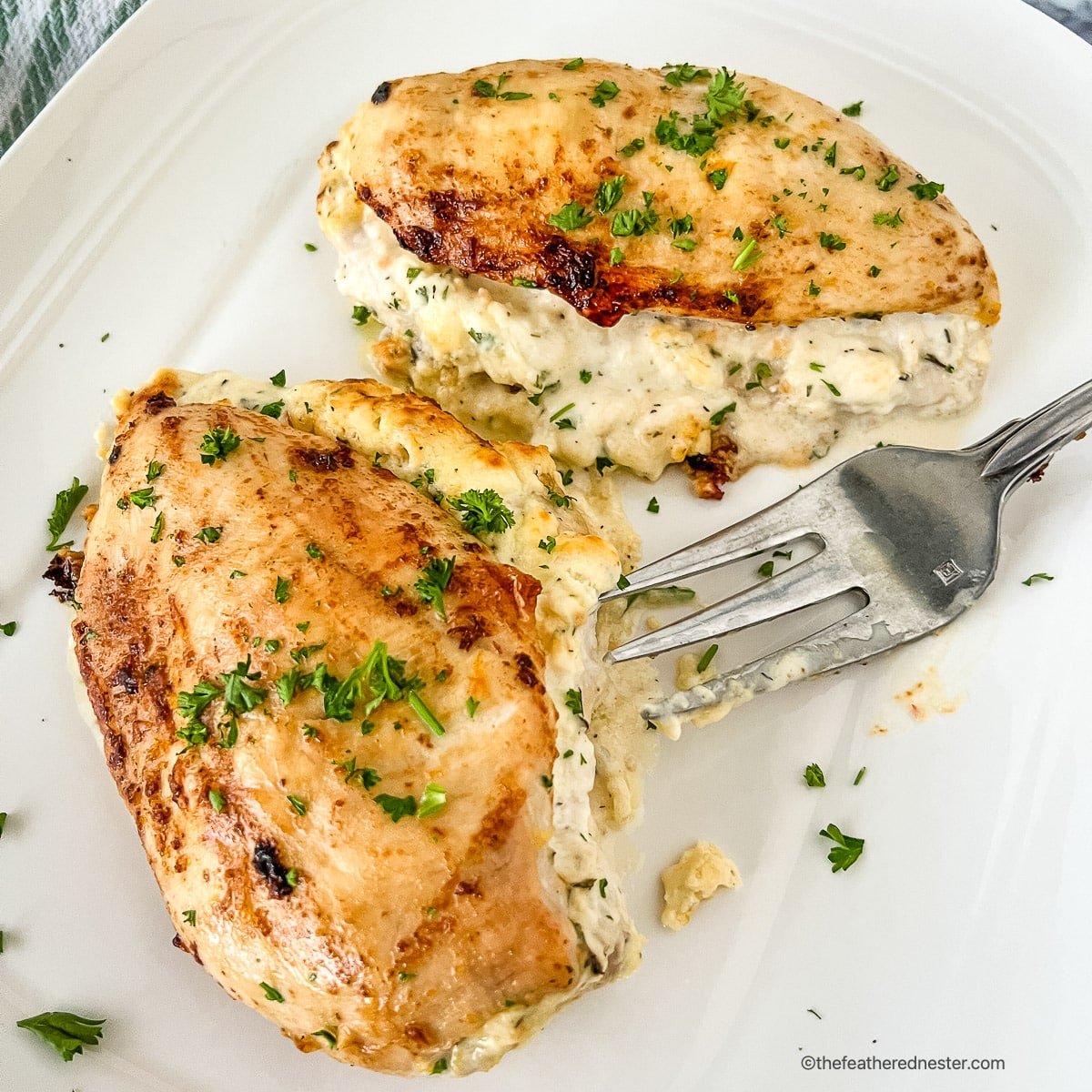 How to butterfly Chicken Breast
Place your boneless skinless chicken breast on a cutting board.
Pro Tip!
To prevent the board from slipping, place a damp kitchen towel under it.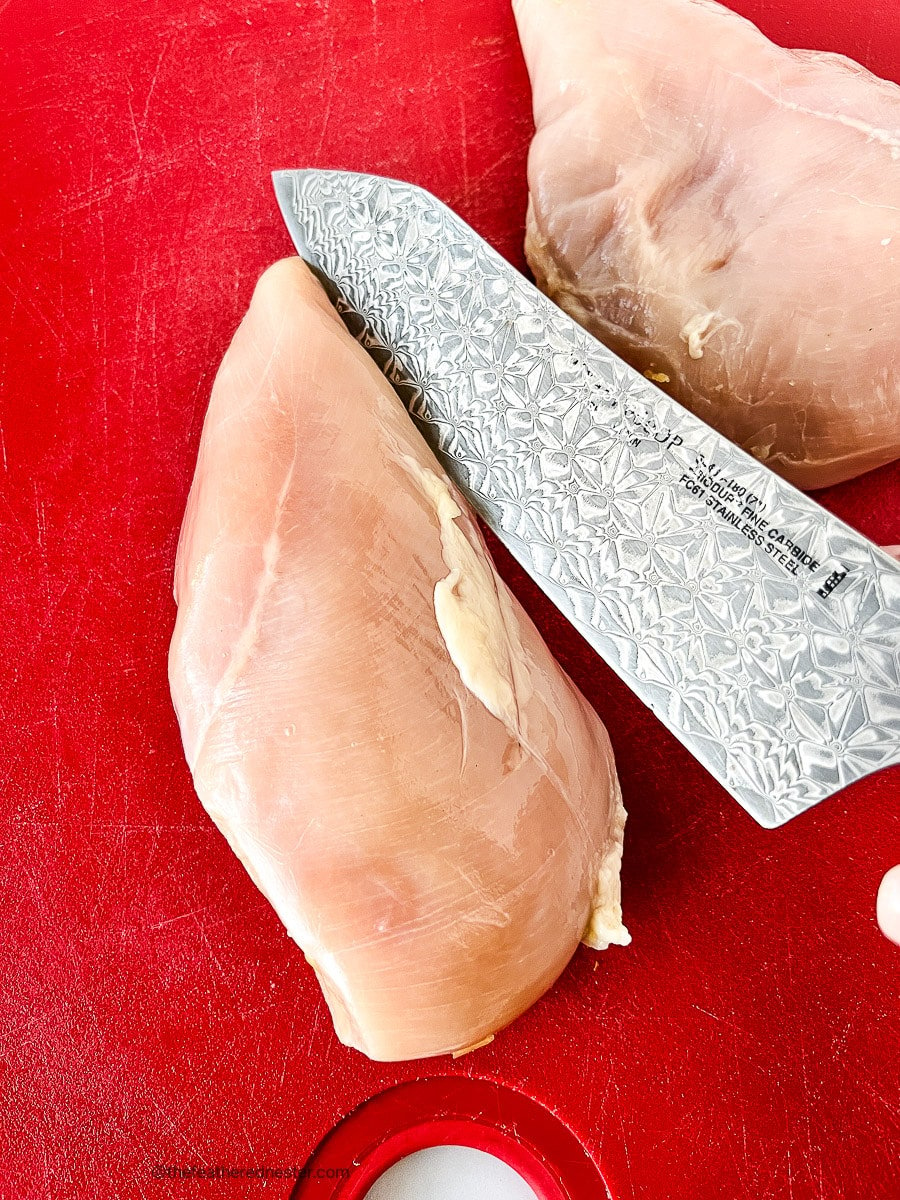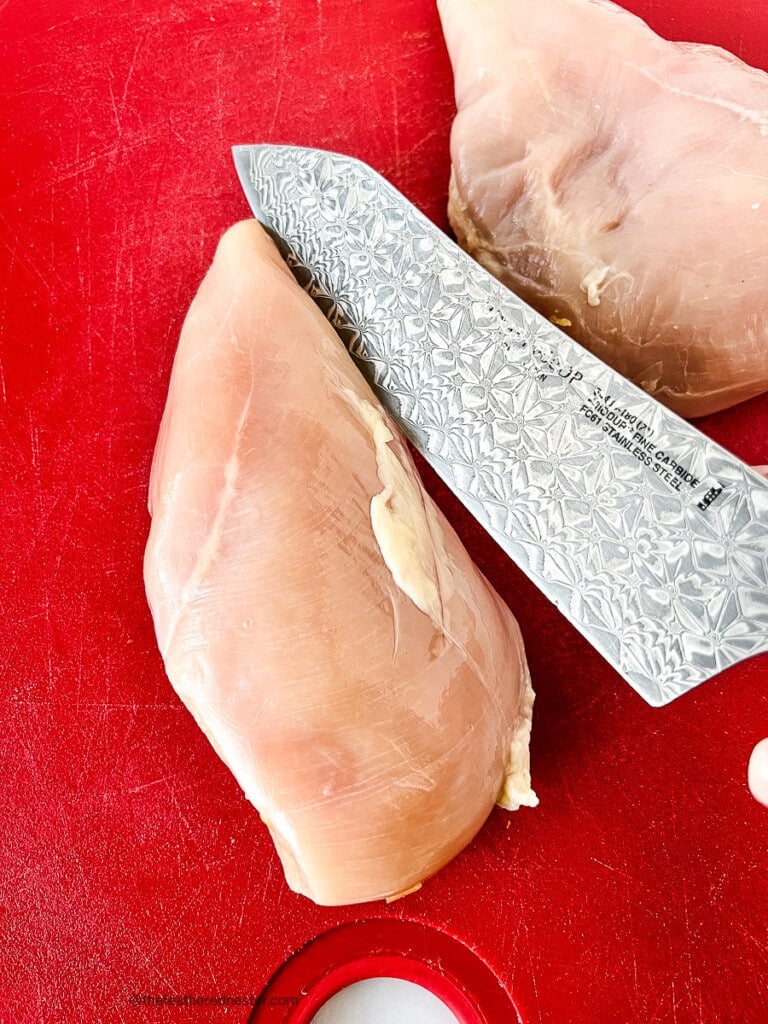 Use a sharp knife to cut into the breasts horizontally, stopping when the knife reaches about 7/8ths of the way through the meat.
IMPORTANT: Do not cut completely through to the other side! If you do, your herb cheese filling will fall out.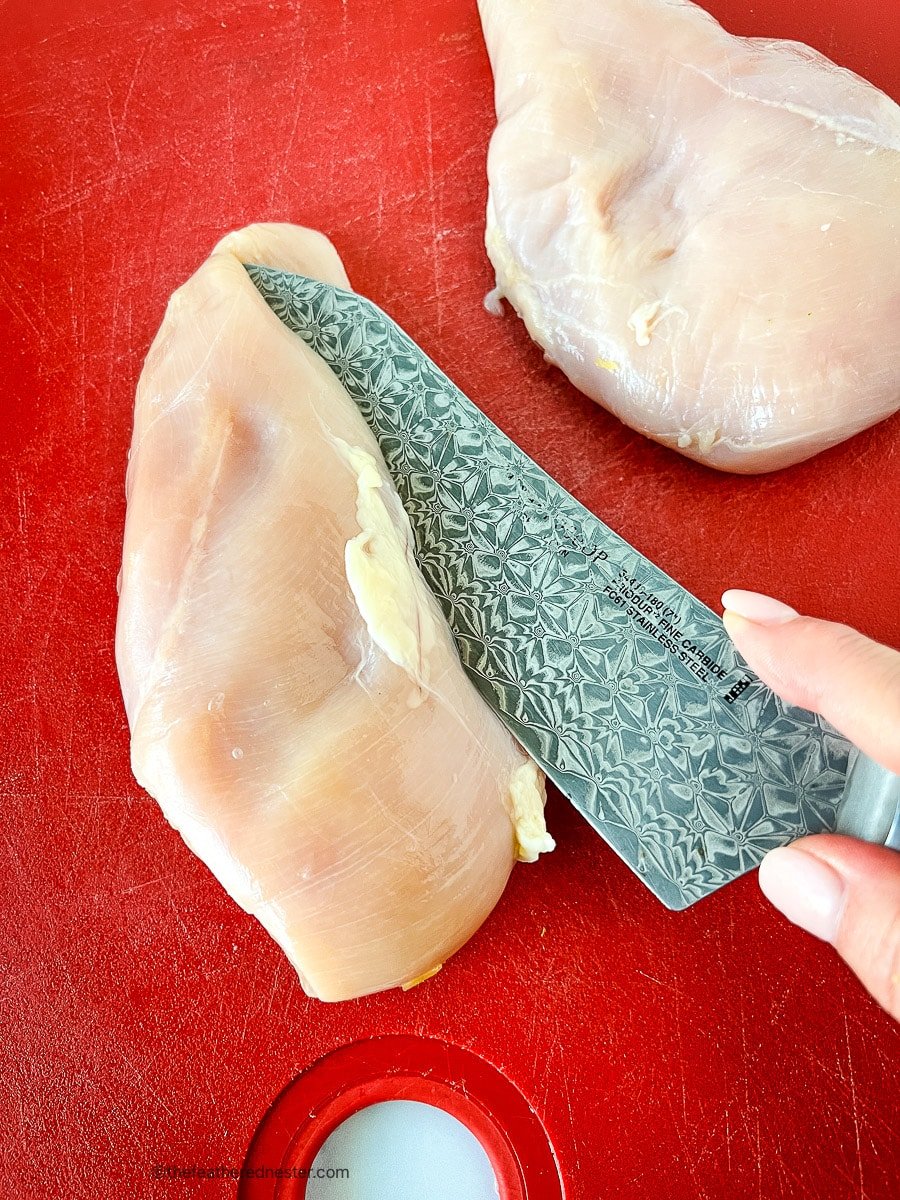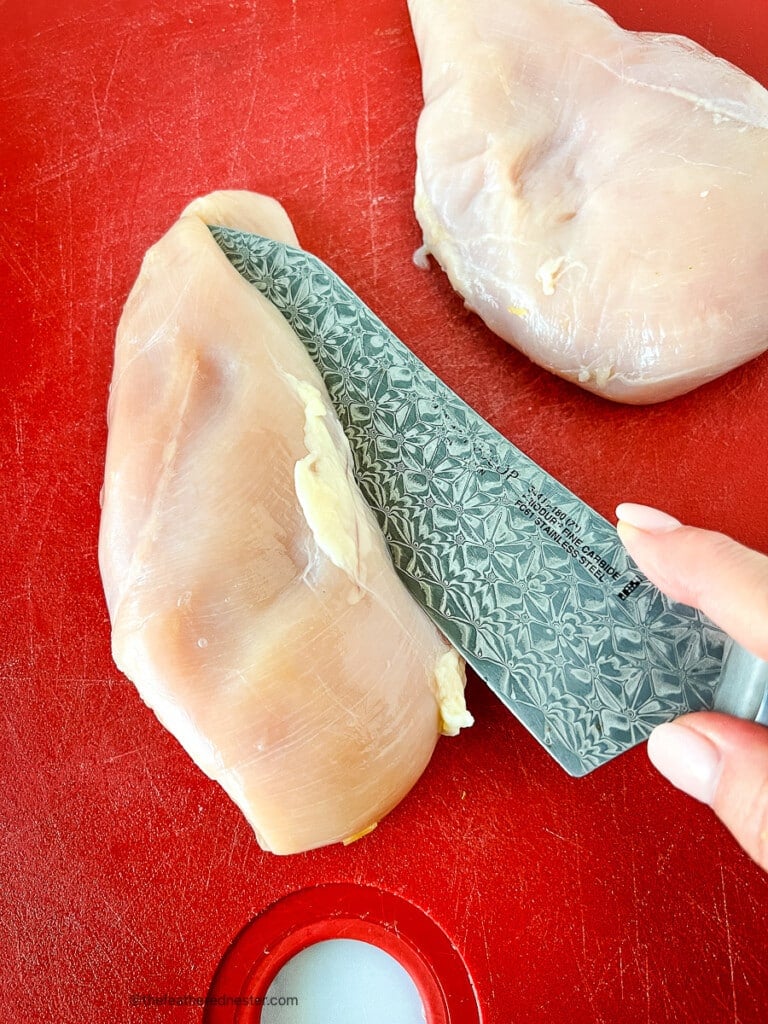 PRO TIP:
To prevent the chicken from sliding around on the cutting board, lay the palm of your hand on top of it.

Please be careful so you don't accidentally cut your hand with the knife as it slides underneath.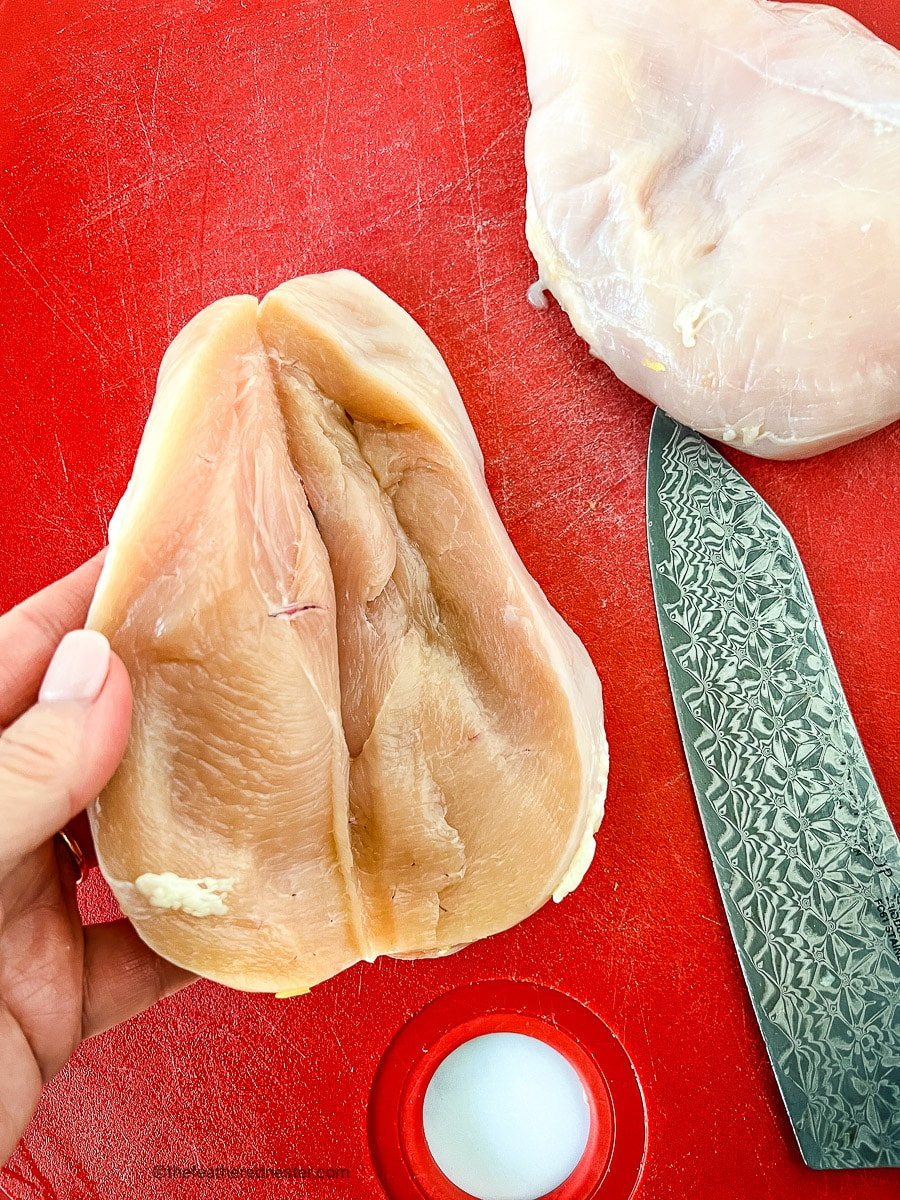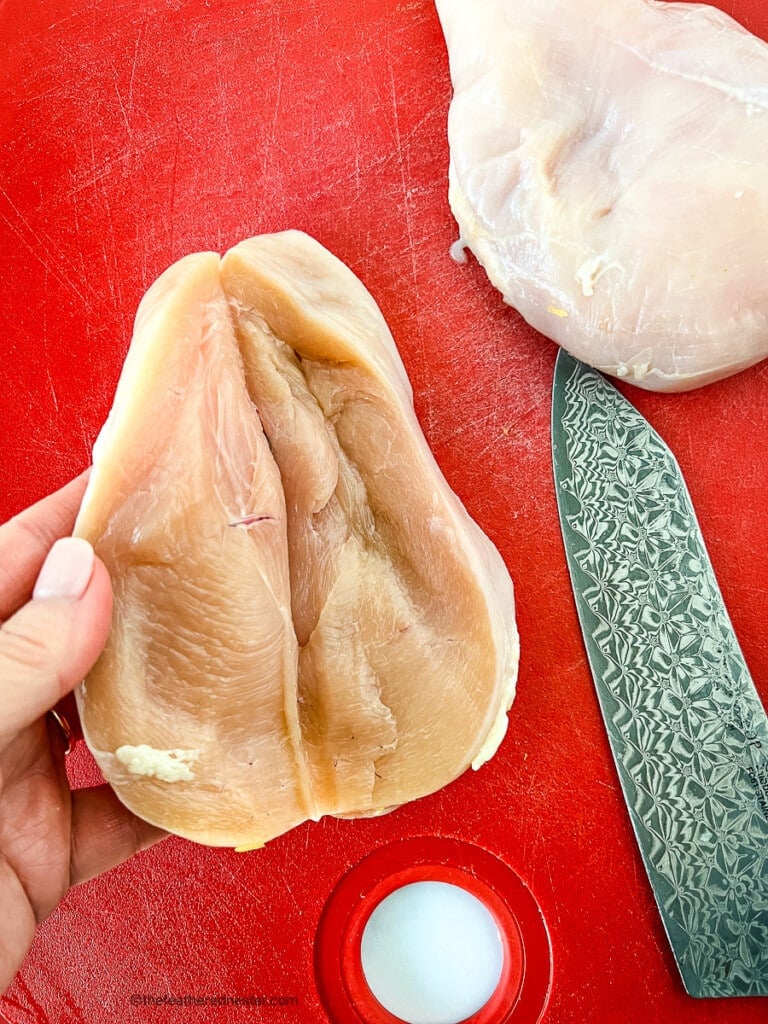 Now, open both of the cut sides, like you're opening a book. If you are successful, the shape of the breast will look a little bit like a butterfly.

**FYI, this is where the cooking term "butterflying" comes from!
Cheese Stuffed Chicken Breast FAQ
Does stuffing a chicken keep it moist?
Yes, a stuffed chicken breast retains more moisture than an unstuffed one. Plus, the filling adds flavor, too.
How do you keep butterflied chicken breast closed?
You can use toothpicks or small skewers to hold the pocket closed during baking. This way, all of the filling will stay inside of the breast.
Recipe Tips + Notes
Make the meal ahead, to save time!
Ruth Chris stuffed chicken breasts can be prepped ahead of time for easier meal prep later.
After you add the filling, wrap the breast pieces tightly in plastic wrap. Store them in the refrigerator, and you can keep them there for up to 2 days before cooking.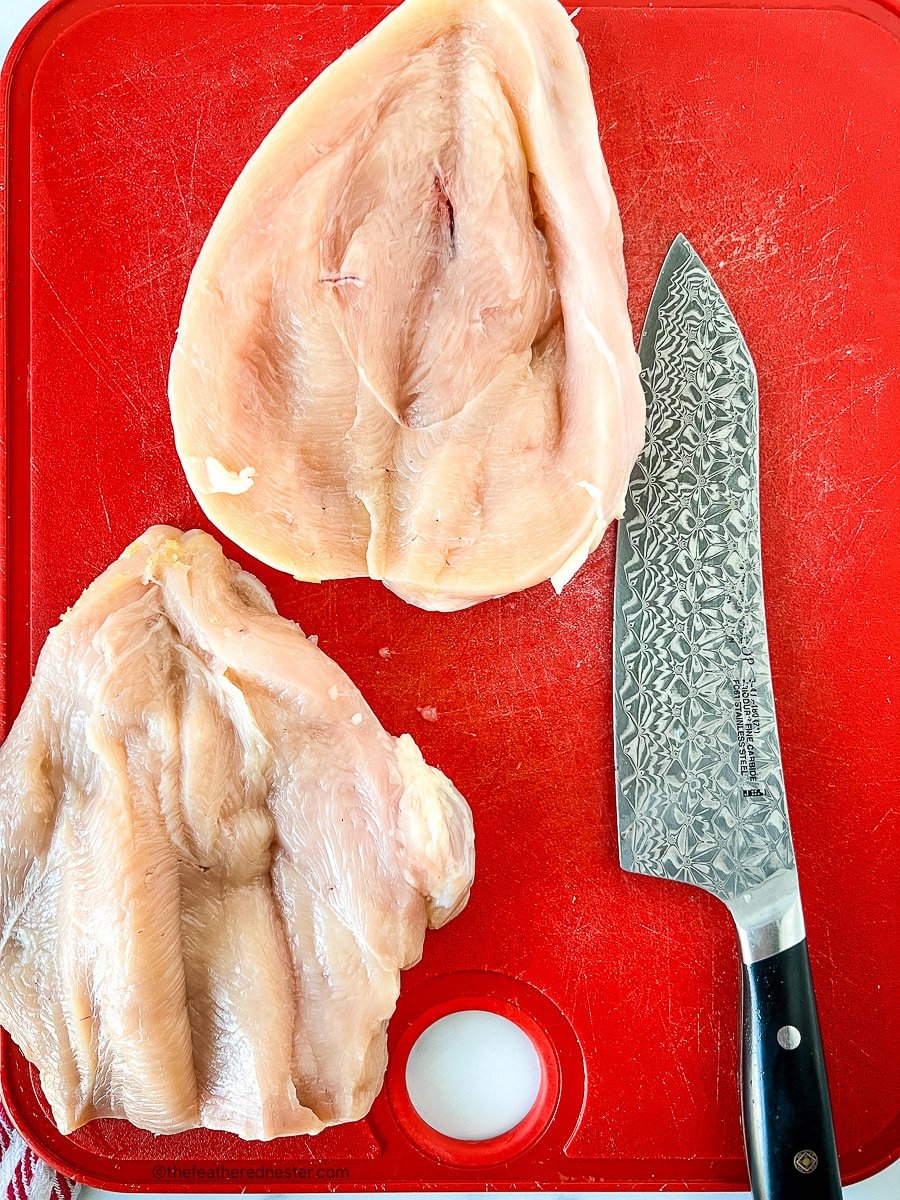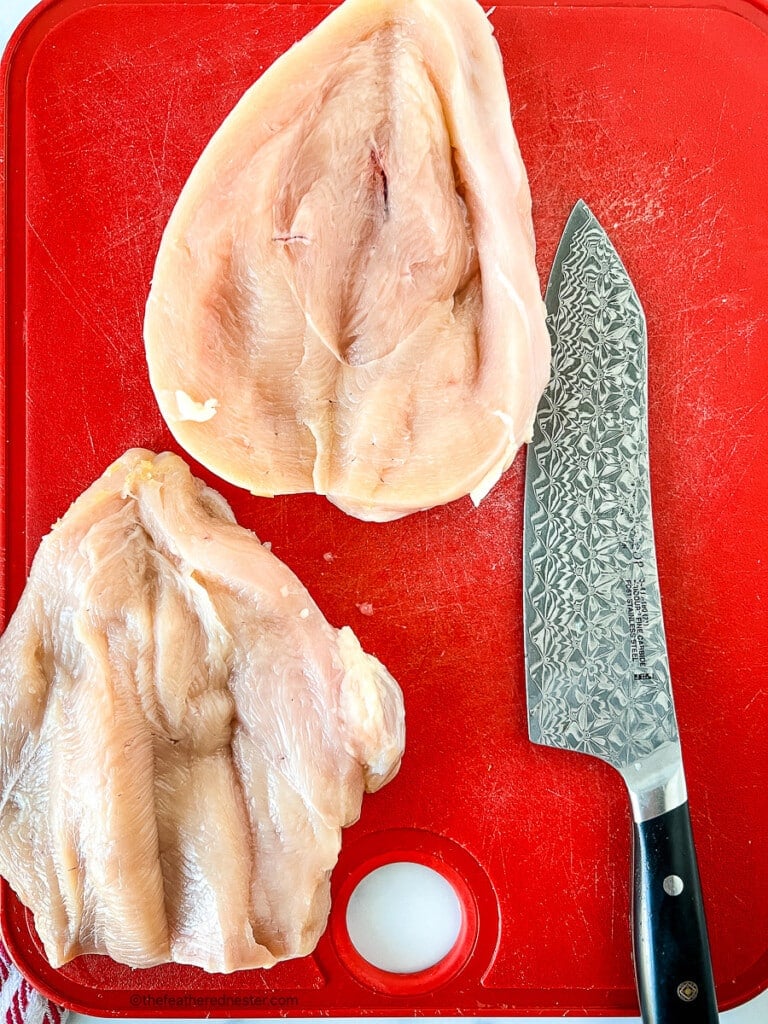 Use your oven's "roast" or "convection cooking" setting.
If your oven has a roast or convection roast mode, we highly recommend using it. Use 400ºF for convection roasting.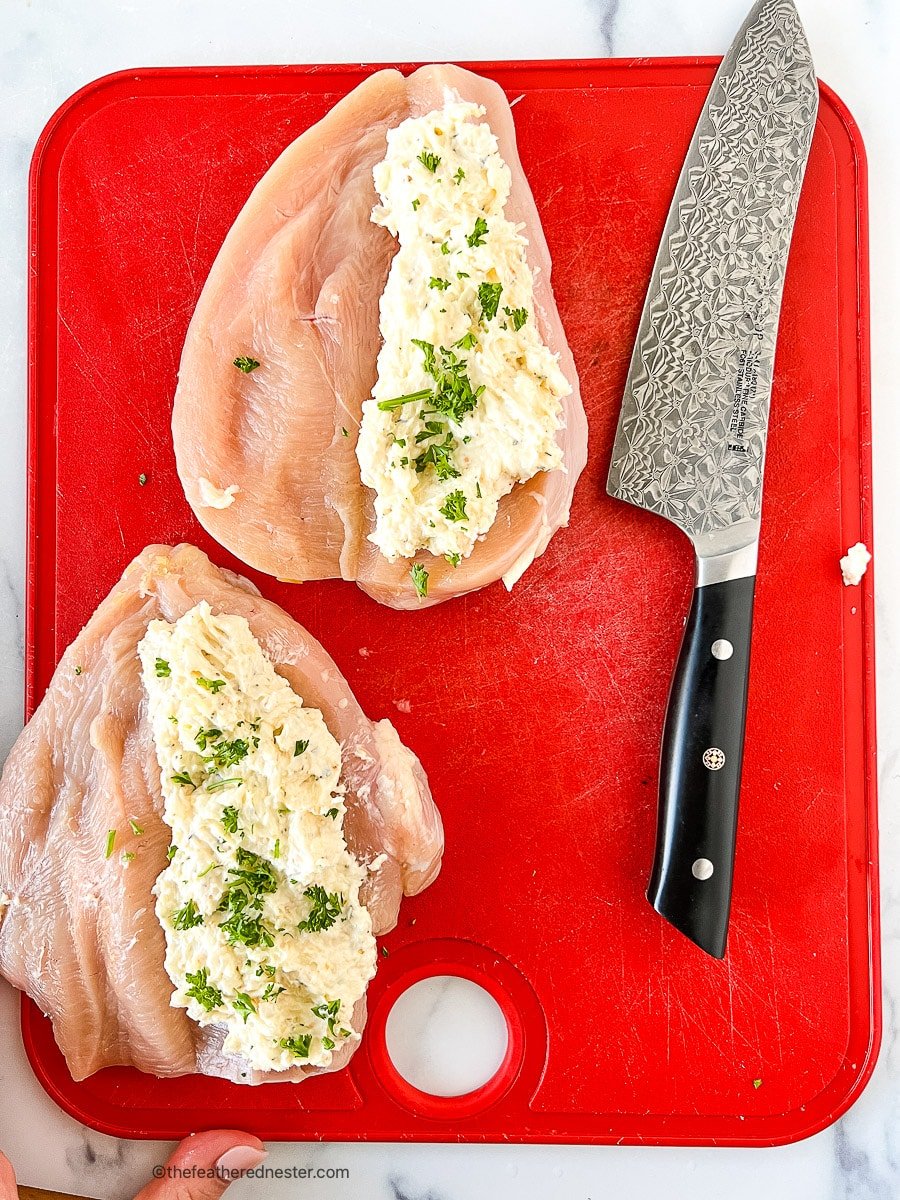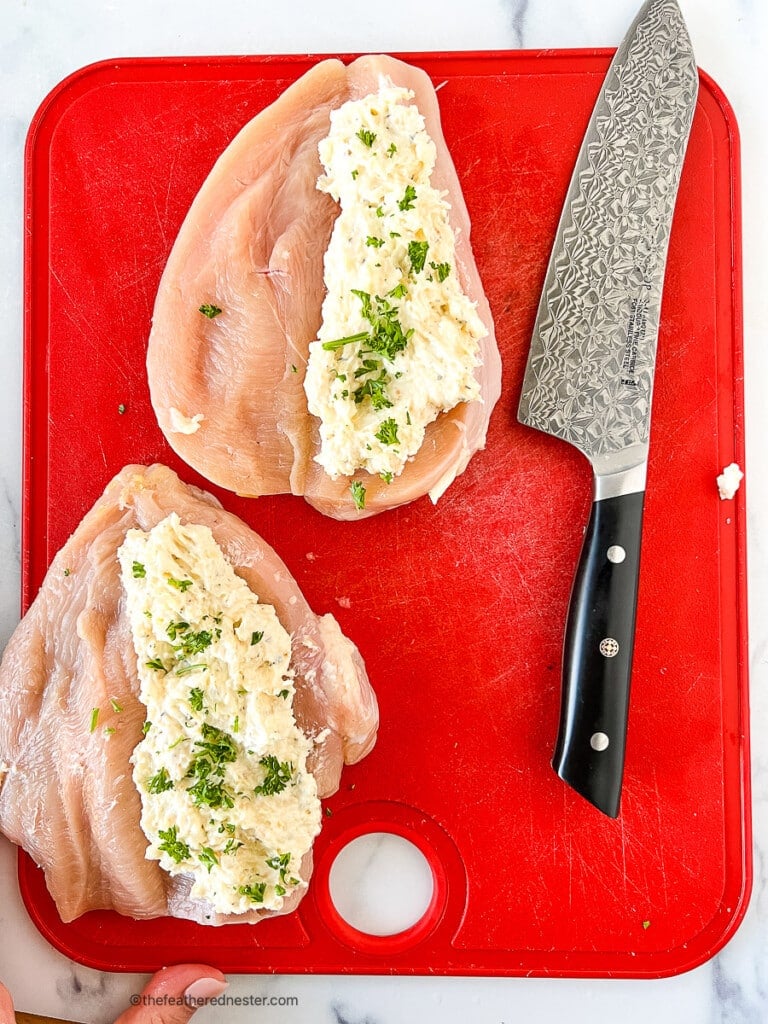 Avoid over stuffing the chicken breast.
Keep in mind that you'll be folding the breasts in half to hold the filling in. If you use too much herb cheese mixture, when the cheeses melt, they will ooze out.
If you need them, toothpicks do a great job of holding the pockets closed.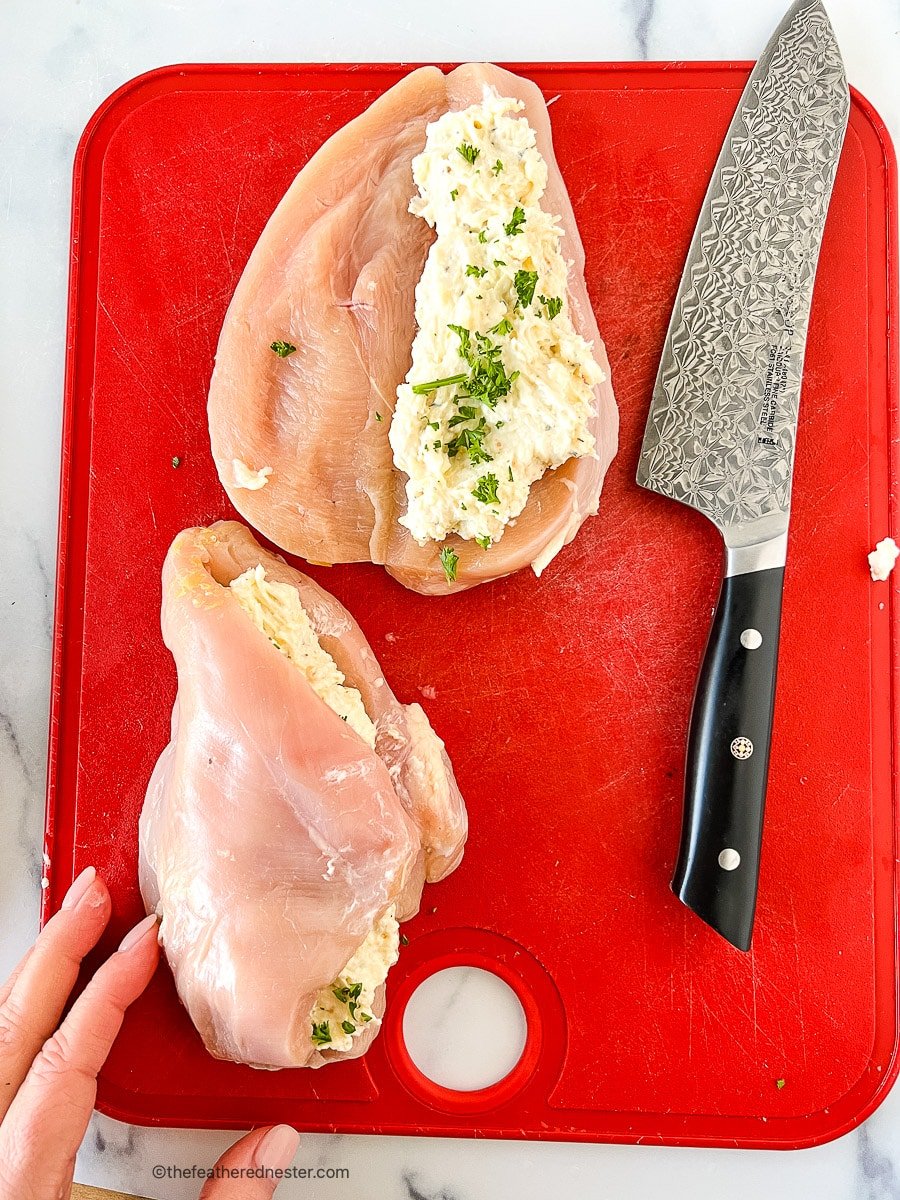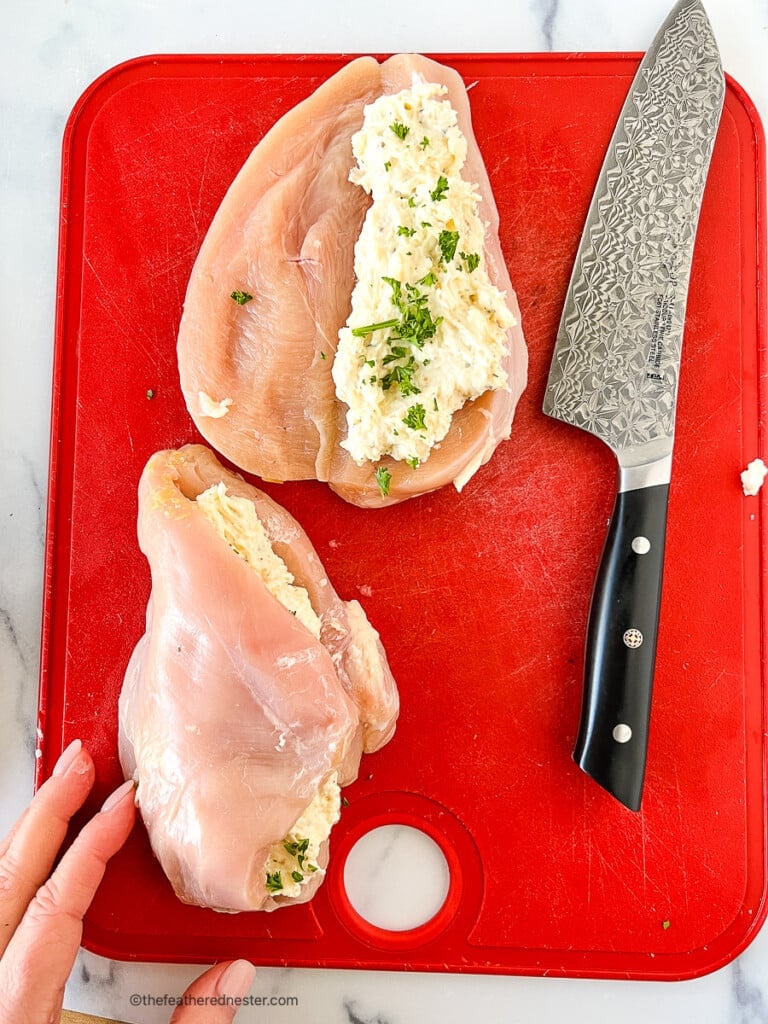 Baste your Ruth Chris stuffed chicken with the herb butter before baking.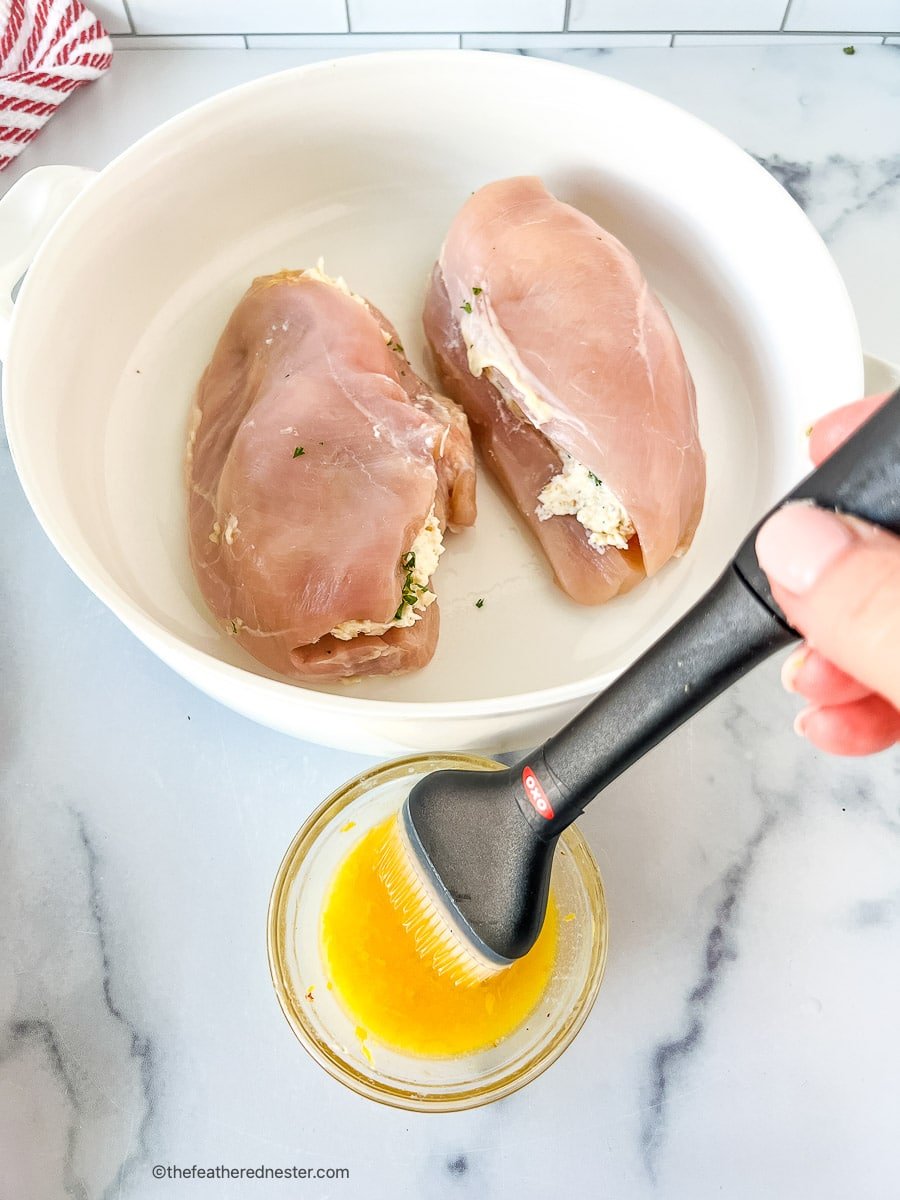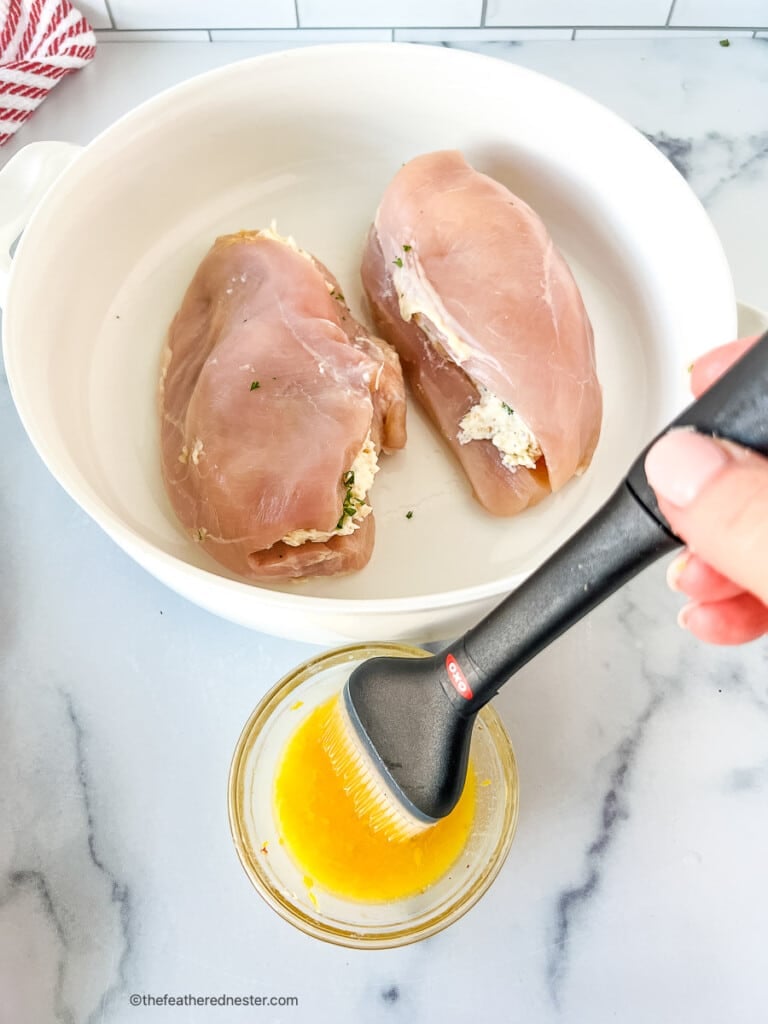 Baste again after 20 minutes, and check the internal temp.
After 20 minutes of roasting time, baste the tops of each breast with the buttery chicken drippings in the pan. It helps to brown the chicken perfectly.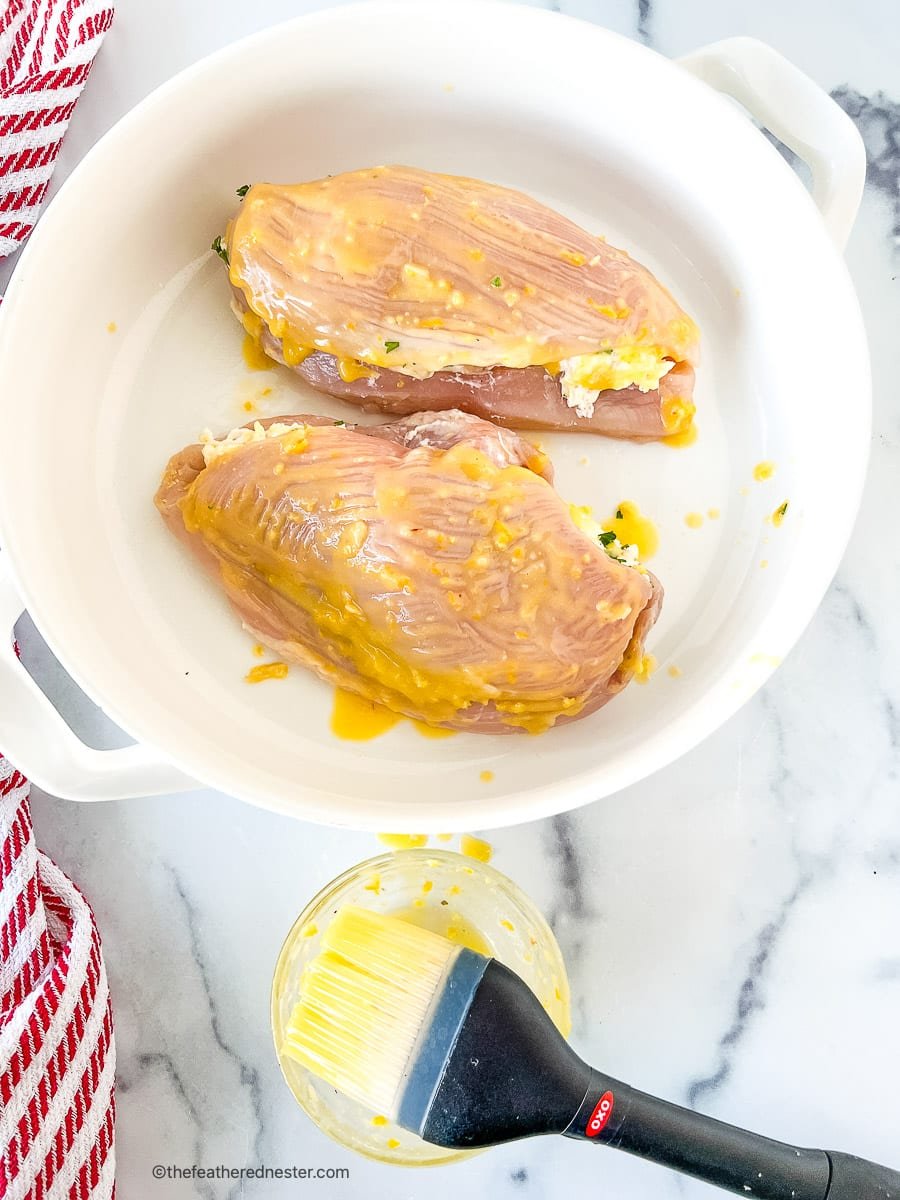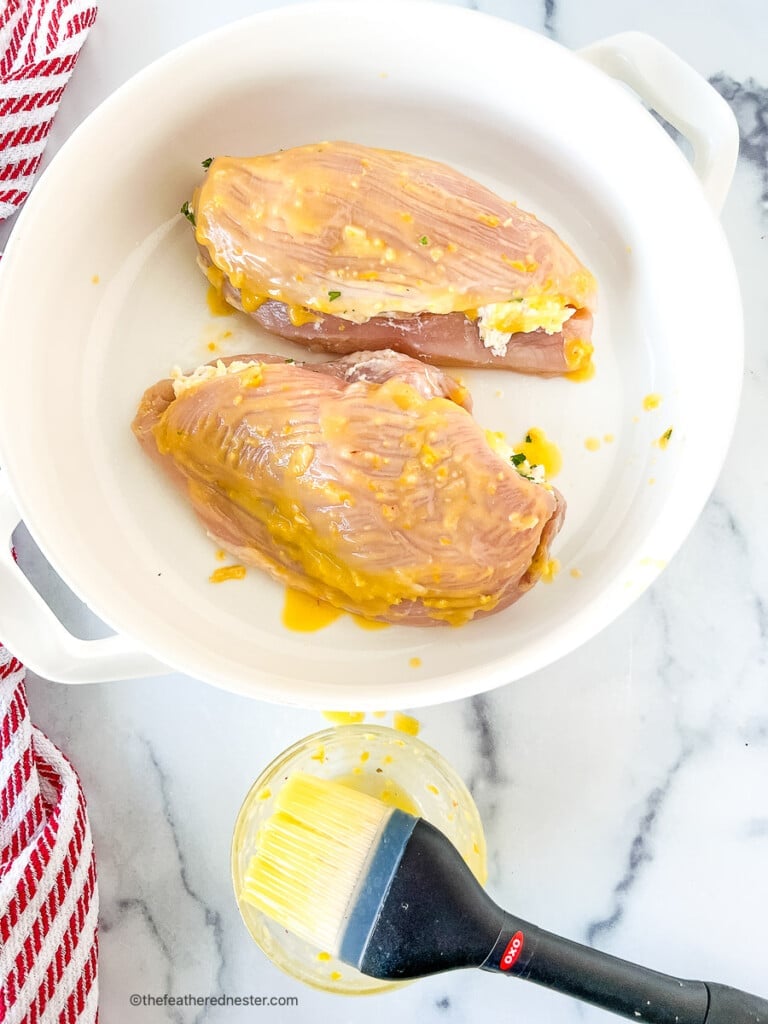 What to Serve with Ruth Chris Stuffed Chicken
Technically, this is a fancy restaurant meal, so we suggest serving it with side dishes that you might find at a quality steakhouse.
The dish pairs perfectly with a mountain of creamy mashed potatoes or garlic mashed potatoes. We usually serve it with a green salad and asparagus, but green beans is another great option.
For a little extra indulgence, serve your Ruth Chris stuffed chicken breast with a side of white cheddar mac and cheese!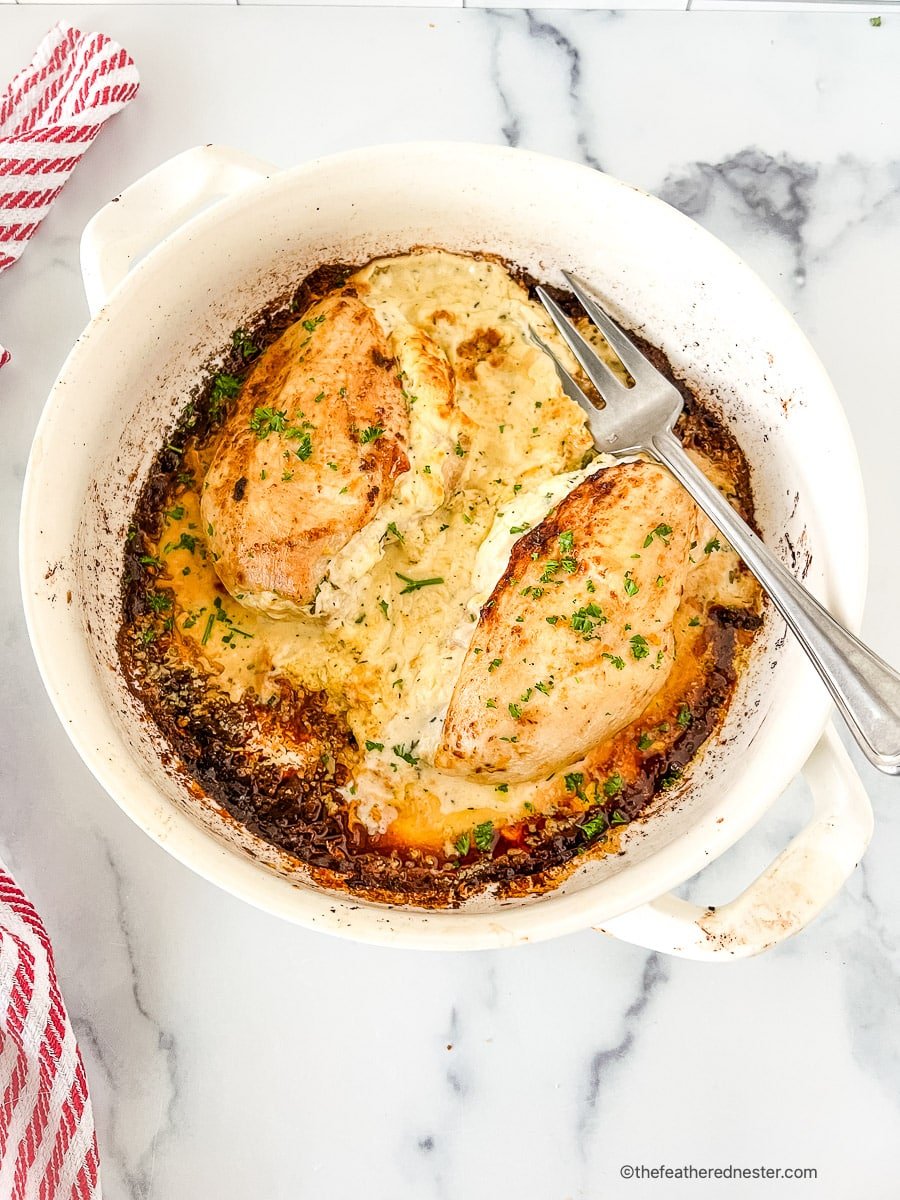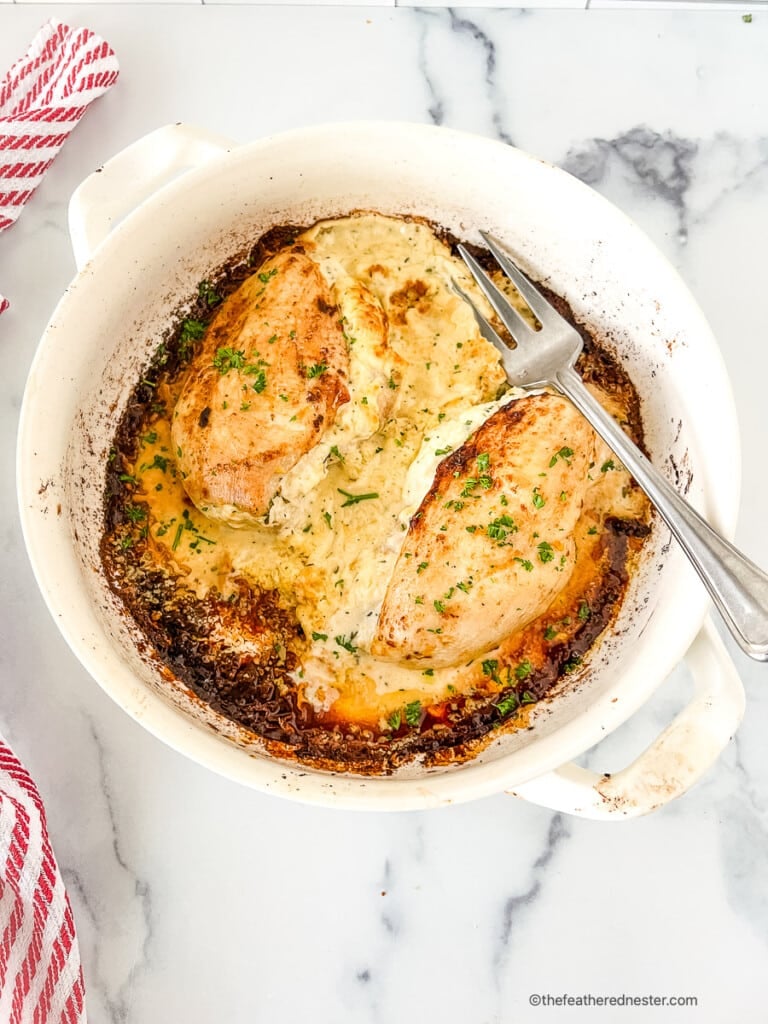 Looking for other simple and quick chicken recipes?

If you are short on time, grab a skillet and make Nashville Chicken tenders. It only takes 25 minutes, and they're inspired by the KFC recipe!

In just 30 minutes, you can be serving up succulent chicken asparagus bake.

Or, make some mouthwatering Shake and Bake Chicken tenders!
Storing and Reheating
Fridge. Any leftovers will keep for up to 4 days if refrigerated in an airtight container.
Freezer. After roasting, let the chicken breasts cool down. Then, transfer them to a freezer-safe container. Once frozen, they should keep for up to 3 months.
Before reheating, thaw the frozen baked chicken overnight in the refrigerator.
Reheating: To reheat, place them on a baking sheet or in a baking dish. Cook in a preheated 350°F oven for 15-20 minutes, or until an instant-read digital thermometer inserted into the thickest portion of the breast reaches 165°F.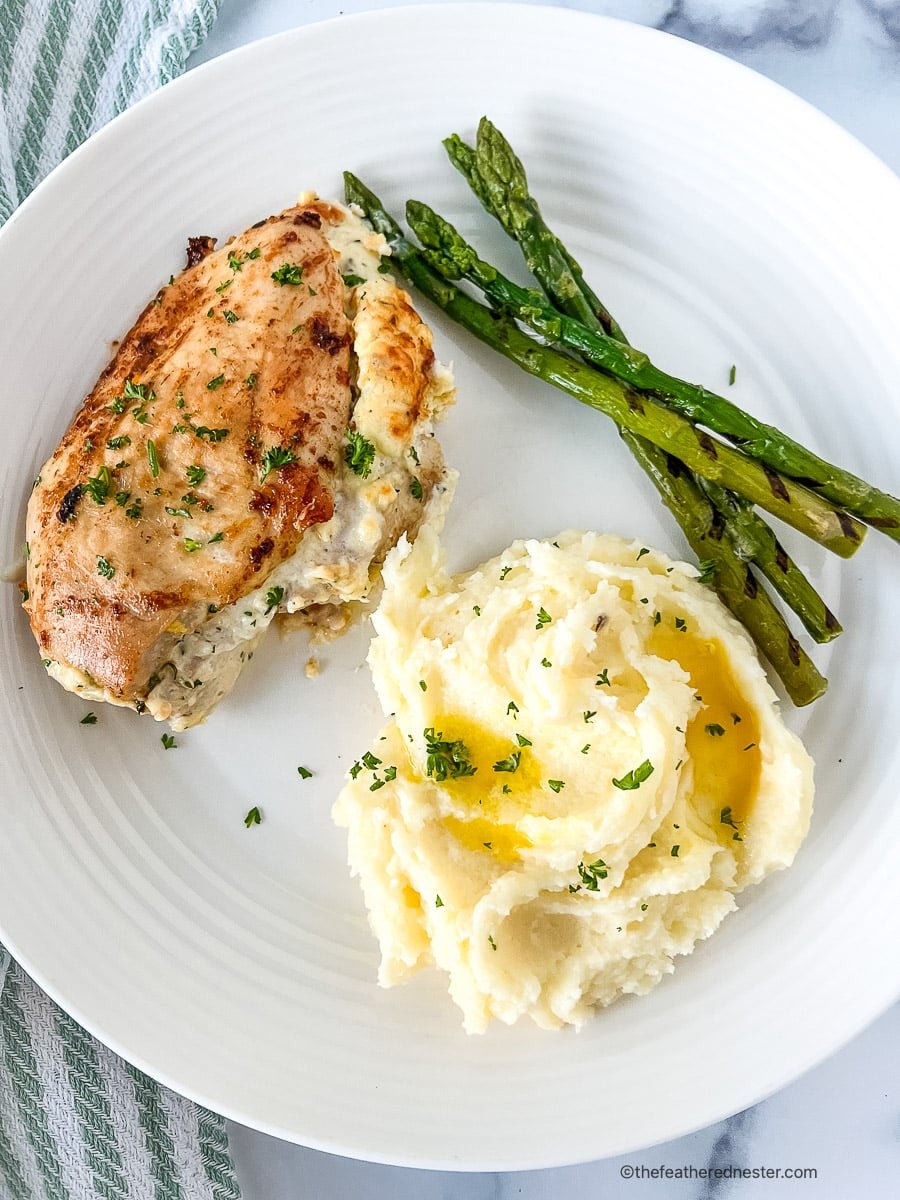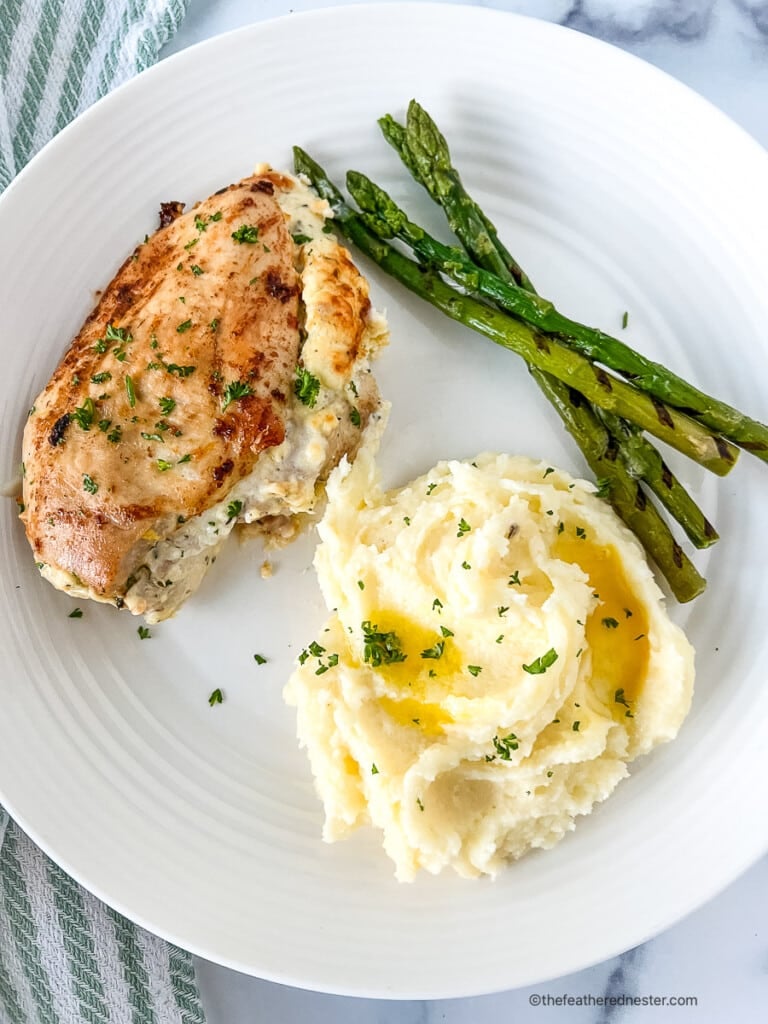 Renae Recommends These Tools for Stuffed Chicken Recipes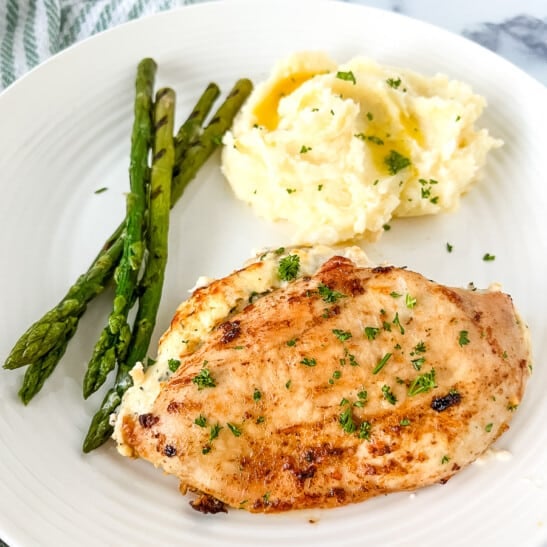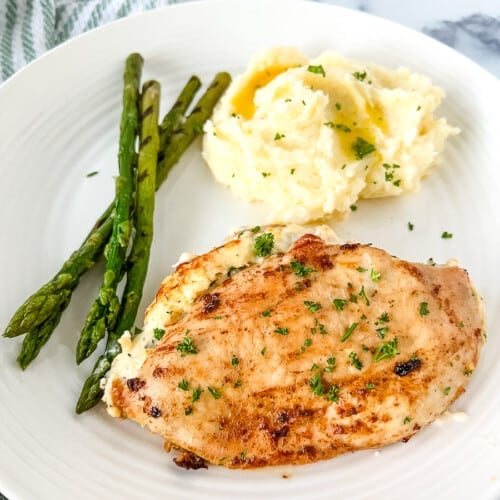 Ruth Chris Stuffed Chicken (Copycat)
Ruth Chris stuffed chicken is seriously delicious cheese stuffed chicken breast, and easy to make with our Ruth Chris chicken recipe!
Equipment
shallow casserole dish

basting brush
Ingredients
2 large boneless skinless chicken breasts *See Notes
4 ounces cream cheese
2 ounces (about 1/3 cup) shredded parmesan cheese
2 teaspoons garlic powder or granulate
2 teaspoons onion powder
1 teaspoon salt
1 teaspoon dried thyme
½ lemon zested and juiced, separately
2 tablespoons butter melted
optional
2 tablespoons fresh parsley
Instructions
Preheat oven to 425ºF.

Butterfly the chicken breasts by cut the breasts lengthwise 3/4 of the way through. Start at the tip and be sure to keep the knife level while slicing through the chicken breast.

In a small bowl, mix together the cheese filling: cream cheese, parmesan cheese, garlic, onion, salt, thyme, and lemon juice.

Stuff each butterflied chicken breast with half of the stuffing mixture leaving a 1/2" margin along the outer edge. Sprinkle the filling with fresh parsley.

Prepare a baking sheet or casserole dish by lining it with parchment paper or spraying it with cooking oil. Place the stuffed chicken breasts on the baking sheet.

Mix together the melted butter and lemon zest. Brush the tops of the chicken breasts with melted butter mixture.

Bake the cheese stuffed chicken breasts at 425ºF for 30 minutes. After 20 minutes, use a digital instant read thermometer to check the temperature of the chicken, then baste the chicken breasts to help them brown better. Chicken is done when the internal temperature in the center of the thickest portion is at least 165ºF.

Let chicken rest for 5 minutes. Before serving, cut each breast in half crosswise for serving. Serve with your favorite sides.We recommend mashed potatoes and asparagus or green beans, or a garden salad.
Notes
The average size of boneless chicken breasts varies a lot. On average, one breast can weigh anywhere from 6 to 12 ounces. If the chicken breasts you plan to cook weigh less than 6 ounces, you can double the amount of herb cheese filling and use 1 chicken breast per person.
Nutrition
Serving: 0.5breast | Calories: 311kcal | Carbohydrates: 4g | Protein: 19g | Fat: 24g | Saturated Fat: 13g | Polyunsaturated Fat: 2g | Monounsaturated Fat: 7g | Trans Fat: 0.3g | Cholesterol: 89mg | Sodium: 980mg | Potassium: 218mg | Fiber: 1g | Sugar: 2g | Vitamin A: 894IU | Vitamin C: 10mg | Calcium: 218mg | Iron: 1mg
PIN THIS POST!