There's no better grab-n-go Mexican meal than pork street tacos! Whether you use store-bought carnitas meat or prep the pulled pork from scratch, this recipe is going to be a favorite. You can feed up to a dozen people, and they'll love the delicious carnitas street tacos topped with a crispy, quick pickled slaw!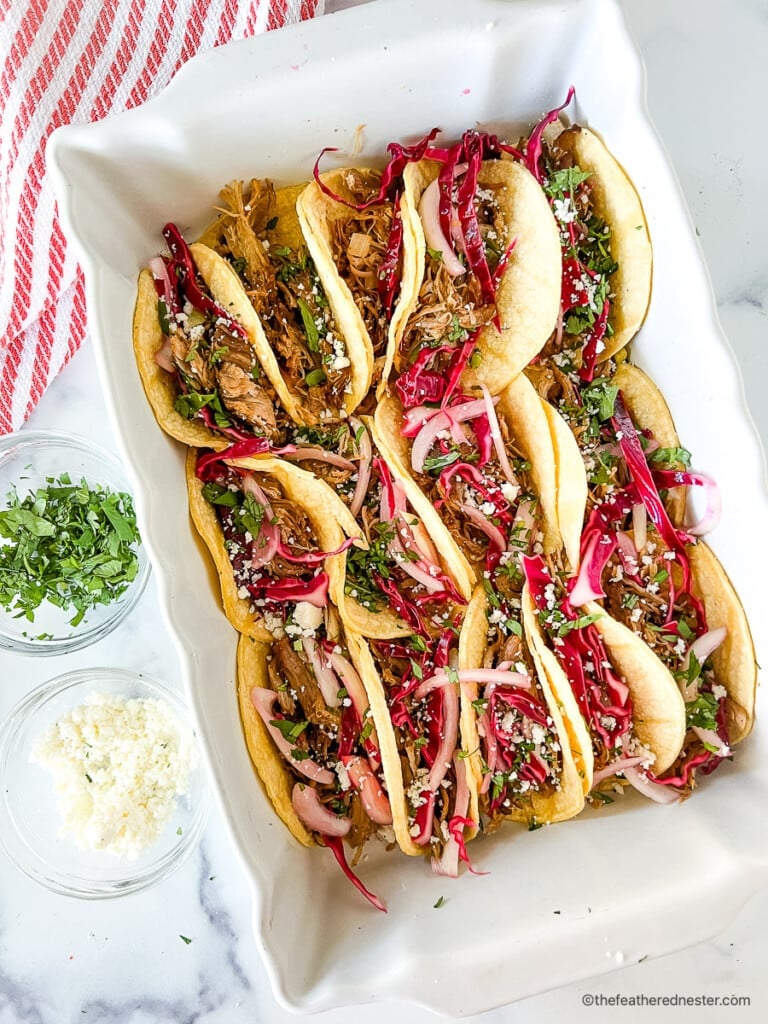 Reasons to Make Pork Street Tacos
To enjoy delicious, authentic Mexican flavors at home. This recipe will teach you a few tricks for making taco nights something to really look forward to! Pork not your favorite? Try our chicken street tacos instead!
Great use for leftover meat. You don't have to use authentic Dutch oven carnitas, but it's our favorite for leftover pulled pork tacos.
The pickled taco slaw on top adds a great crunch and breaks up the heavy, savory meat with a pop of sharp, spicy flavors.
Make some of our other favorite pork dinners too!
Everyone loves our recipes for baked pork steak, sheet pan pork tenderloin, and zesty crockpot ranch pork chops!
Carnitas Street Tacos FAQ
What is a street taco?
Street tacos are Mexican tacos served on small corn tortillas. That's really all that sets them apart from regular tacos! They also tend to have minimal toppings, for a true "grab-and-go" meal.
What is the difference between carnitas and pork tacos?
Carnitas is the Mexican name for the pulled pork that goes inside of the tortillas for pork street tacos.

The final step for making carnitas (after the initial cooking) is to roast the meat in the oven. This extra step creates a crisp, browned crust, giving the meat extra flavor and texture.
Ingredient Notes and Substitutions
Shredded Red Cabbage – This crisp, vibrant cabbage is perfect for taco slaw! You can use regular green cabbage, but the flavor won't be as strong.
Red Wine Vinegar – This does the pickling and adds a hot and fruity flavor to the slaw. Apple cider vinegar, white wine vinegar, and balsamic are the best substitutes – but you can really use whatever vinegar you have on hand.
Mexican Pulled Pork – Shredded, slow-cooked pork that's spiced, tender, and juicy. You can save time by buying it ready to use, but the best pork street tacos use carnitas made from scratch!
Corn Tortillas – Street tacos are authentically served on small corn tortillas that you can easily eat one-handed. They are also often doubled to absorb any grease that may come from the meat, keeping your hands clean!
Tajin Chile Lime Seasoning – If you're watching your salt intake, there is also a low-sodium version of this popular seasoning.
Need more taco recipes?
Our version of chicken taco seasoning is better than anything you can buy in a store! Use it season the meat for phenomenal chicken street tacos.

If appetizers are more your style, you're going to love taco wonton cups!!
The Best Toppings for Leftover Pulled Pork Tacos
Traditional pork street tacos actually have very few toppings — just raw white onion and some cilantro! We took things a step further by adding a delicious quick pickled slaw.
But if you're not too worried about making these carnitas tacos authentic and are looking for some other great toppings, try tangy cotija cheese or some fresh pico de Gallo.
Some guacamole or avocado crema will add a bit of moisture and creaminess, too — and are way tastier than plain sour cream!
Tips for Making Pork Street Tacos
Use a food processor or mandoline for quicker shredding.
When it comes to shredding cabbage for the taco slaw, a sharp chef's knife will get the job done. To save some prep time, use a food processor and shredding disc, or a mandoline slicer.
To save even more time, cook the meat ahead, too.
There's no reason why you can't use fresh pulled pork to make these tacos, but our carnitas recipe takes just over 5 hours to make. It's a labor of love and well worth it, but it might also be worth making it the day before. That's what we do! It's a great way to save time.
If you're making pulled pork specifically for this street taco recipe, you might want to consider making the slaw first. This way, it can chill while the meat is cooking.
Enjoy the tortillas soft or crispy.
We like to microwave the tortillas for 30 seconds or so, to make them soft and malleable.

But, another way to enjoy your pork street tacos is to briefly heat the tortillas in a skillet for just 10 – 30 seconds per side. This way, the tortillas become just a little bit crispy around the edges, which gives them a toasted flavor.
Storing and Reheating
The lifespan of leftover pork street tacos depends on when the pulled pork was initially made. Cooked pork will keep for up to 4 days in the fridge.
The cabbage slaw lasts a few days longer, but you may want to remove it from the pickling liquid to prevent it from becoming too soggy.
Reheat the meat in a skillet on the stovetop with a bit of oil until it warms through.
For Making Street Tacos, Renae Recommends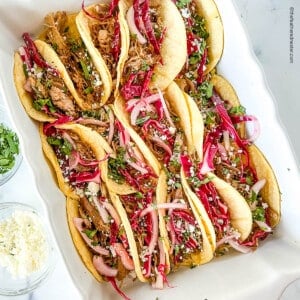 Pork Street Tacos
Pork street tacos are a delicious Mexican street food of chili lime pulled pork on tortillas with quick pickled slaw. SO easy to make!
Ingredients
Pickled Taco Slaw
4 cups shredded red cabbage (approx. 1/2 head)
1 large white onion very thinly sliced
1 tablespoon sugar
¼ cup red wine vinegar or other vinegar of choice
1 cup water
1 Tablespoon lime juice (approx. 1 small lime)
1 pinch crushed red pepper flakes (optional)
For Serving
24 6-inch corn tortillas or other small taco-size tortillas
1 bunch cilantro or flat leaf parsley, chopped
crumbled Cotija cheese (optional)
Pico de Gallo (optional)
Instructions
For Taco Slaw:Place all slaw ingredients into a large mixing bowl; using a large spoon or clean hands, toss all ingredients well to combine.Cover the bowl with a lid or plastic wrap and chill in refrigerator for at least 6 hours, and up to 24 hours.
Pork Tacos
Add oil to a large skillet over medium-high heat. When the oil is hot, add onion and jalapeno; sauté until onion is soft and translucent, about 4 minutes.

Add cooked shredded pork and Tajin to the skillet, and stir to combine. Cook on medium-high heat until meat is warmed through, about 5 minutes.

Meanwhile, stack the tortillas on a microwave-safe plate. To prevent them from sticking together, place a paper towel between each.Cover the plate with a damp paper towel, then microwave tortillas on high for about 30 seconds.

Assemble each tortilla with 2 ounces of shredded pork, 2 tablespoons slaw, cilantro, and any other desired toppings.
Notes
Nutrition shown is for 2 pork street tacos served on 6-inch white corn tortillas, with 2 ounces of shredded/pulled meat and 2 tablespoons pickled taco slaw on each.
Nutrition
Serving: 2 tacos | Calories: 344kcal | Carbohydrates: 29g | Protein: 33g | Fat: 11g | Saturated Fat: 3g | Polyunsaturated Fat: 2g | Monounsaturated Fat: 4g | Trans Fat: 0.1g | Cholesterol: 91mg | Sodium: 309mg | Potassium: 783mg | Fiber: 5g | Sugar: 3g | Vitamin A: 906IU | Vitamin C: 20mg | Calcium: 99mg | Iron: 3mg
PIN THIS POST!