This is one of the most simple, easy recipes ever. With your pork roast (almost any type will work here) make either pulled pork or carnitas, depending on the seasonings you use. It is our family favorite and soon to become yours, too. And, it might just become your go-to or signature dish.
As an Amazon Associate I earn from qualifying purchases, at no extra cost to you. See my disclosure policy here.
About 10 years ago, I found a recipe in a low carb/keto cookbook that inspired the recipe I use today. Over the years, carnitas (or Mexican pulled pork) became my signature dish, one that I made for BBQs, potlucks, and anywhere I needed a meal to share.
My secret ingredient for this pork roast is the seasoning. I use McCormick's Montreal Steak Seasoning. Have you ever tried is? If not, do yourself a favor and get some.
It is one of the most versatile seasonings around. I've been known to add it to everything from macaroni salad to spaghetti sauce. It even makes an awesome seasoning for guacamole.
Recently, McCormick's sent me their All Purpose Garlic & Onion with Black Pepper & Sea Salt seasoning to try. And, it is every bit as good as Montreal Steak Seasoning. In fact, I think it might be my newest favorite. It transforms everything I've added it to.
Pulled Pork or Pork Carnitas? You choose!
It's easily adaptable because you can put it in the slow cooker or oven, and use it as pork carnitas or pulled pork. It all depends on what kind of sauce you add to it.
Almost any cut of pork roast will work here. Below are the two I use most frequently: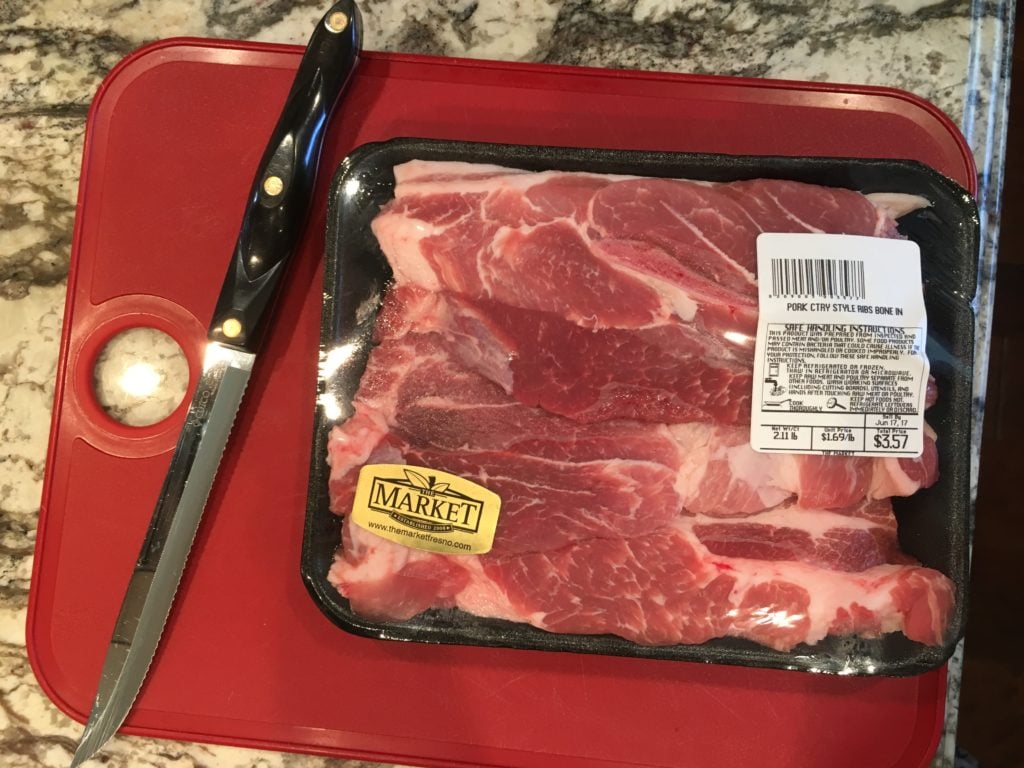 OR
You can use a roast or the country ribs to make Pulled Pork or Carnitas.
Before browning, completely dry the roast by patting it with paper towels. Then rub the roast with olive oil and sprinkle liberally with Montreal Steak seasoning or your favorite seasoning. The oil helps the seasoning stick to the meat.
Searing the pork. Use a heavy pan.
Brown on all sides
And, it's ready! Pulled pork is perfect served over quick and easy homemade buns or serve carnitas in tortillas, with guacamole or easy salsa from canned tomatoes.
Frequently Asked Questions
What cut of pork is used for carnitas?
Carnitas are the Mexican version of pulled pork. It's traditionally made with pork shoulder (also known as pork butt) because of the higher fat content, which helps the meat stay super tender and juicy while it's cooked.
How do you eat pork carnitas?
Carnitas are so versatile, you can fill any burrito, taco, quesadilla OR use them as a topping for Nachos! Include them in a salad like this Chipotle Carnitas Salad! Serve them with the typical onion/cilantro topping typically seen served on Mexican food trucks OR a good Guacamole or Pico De Gallo!
What does milk do to carnitas?
Carnitas are made from pork shoulder (pork butt). Why do people add milk to carnitas? Milk is a tenderizer. Similar to using buttermilk for tender buttermilk biscuits or a fluffy pancake recipe, the milk breaks down the toughness of the pork so that it comes out juicy and flavorful
Here is the Easy Carnitas or Pulled Pork Recipe
Pork Carnitas or Pulled Pork
This is such a simple and easy recipe. It's amazing how spices and slow roasting transforms a pork roast to a tender, tasty meal. Skip the cumin and chili powder if you are making pulled pork.
Ingredients
4

lbs.

Pork shoulder roast or country-style ribs

2-3

Tbsp.

Montreal Steak Seasoning

2

cups

Beef Broth

1

tsp.

ground cumin

2

tsp.

ground chili powder
Instructions
Heat a skillet or cast iron dutch oven pot with the oil on medium-high heat. If using country-style ribs, cut up them into 2-3 inch squares. Liberally sprinkle pork with the Montreal steak seasoning.

Once the oil is almost smoking, brown the pork on all sides. Turn off heat. If using a slow cooker, transfer the meat to the pot before proceeding. If baking, preheat oven to 250 degrees.

Mix the Knorr container with the water and pour over the meat, or add the 2 cups of beef broth. Set the crockpot for 5-7 hours on low. If baking the roast place the pot in the preheated oven for 5 hours (checking at the 2.5 hour make to add more fluid if necessary.

The meat should be tender and easily separated when it is done. Before serving, remove the pork from the crockpot and separate it with two forks or just mash it with a fork. .
Nutrition
Serving:
1
serving
|
Calories:
155
kcal
|
Carbohydrates:
2
g
|
Protein:
26
g
|
Fat:
4
g
|
Saturated Fat:
1
g
|
Cholesterol:
68
mg
|
Sodium:
184
mg
|
Potassium:
475
mg
|
Fiber:
1
g
|
Sugar:
1
g
|
Vitamin A:
235
IU
|
Vitamin C:
1
mg
|
Calcium:
33
mg
|
Iron:
2
mg
Looking for more pork recipes?