You are going to want avocado crema in your kitchen at all times! It's a creamy and refreshing Mexican condiment with a silky smooth consistency. The mild flavor of avocado cream sauce makes it the perfect complement to everything from street tacos and nachos to fish and vegetables.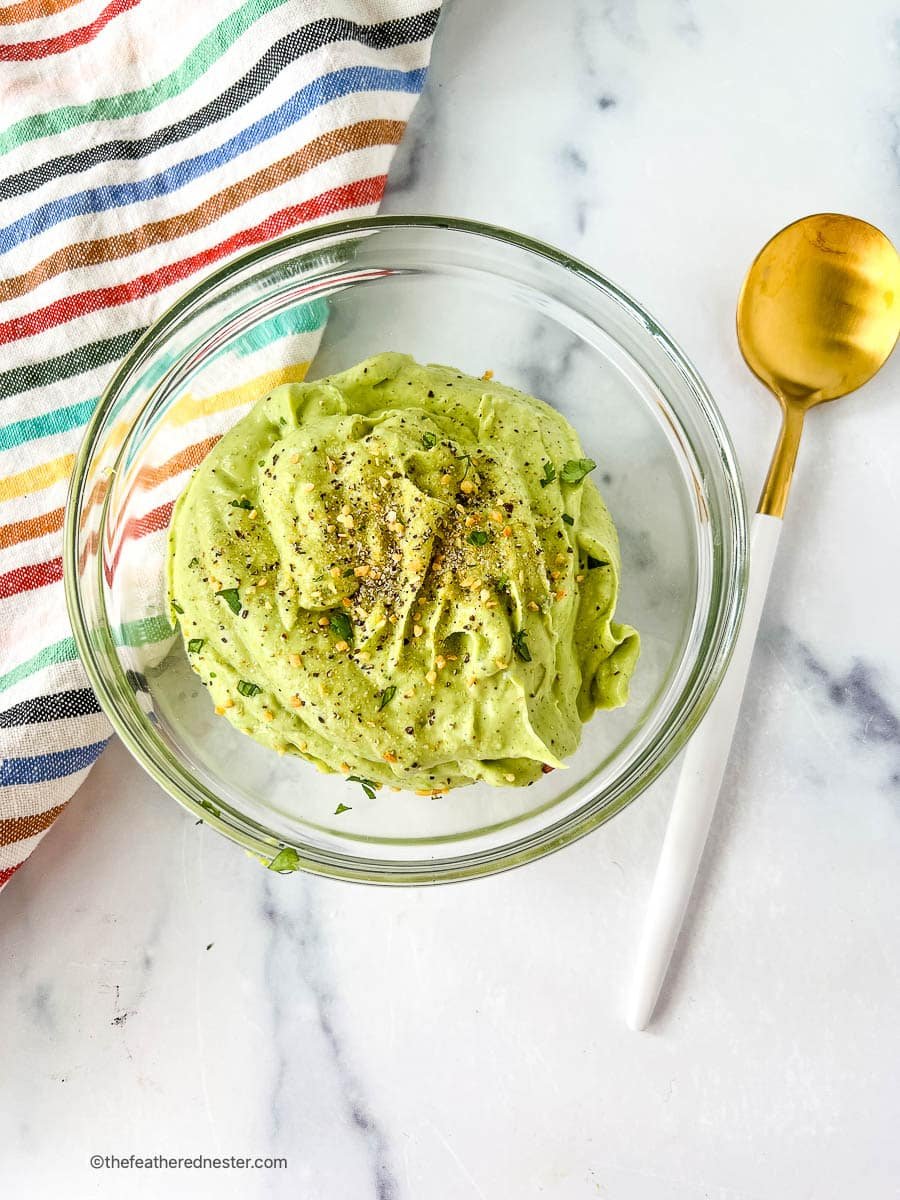 Condiments are so simple to make, you may never want to buy them from a store again. Honestly, you will be amazed at how much better things like salad dressing, spice blends, and BBQ sauce taste when you make them fresh, without preservatives!
You'll want this one in your kitchen at all times! It's incredibly creamy and silky smooth, but with a mild flavor that complements all varieties of proteins, vegetables, and grains.
Why We Love Avocado Crema
1. It's light and flavorful. This sauce is simple and all-natural, featuring plain herbs and vegetables. It's a low calorie condiment with a rich, refreshing taste!
2. It's quick and easy to make. You only need 10 minutes and 5 ingredients!
3. It goes well with everything! Our avocado crema recipe makes a fantastic sauce for street tacos or fish tacos, lightens up a plate of nachos (or tachos), and levels up even simple breakfast recipes.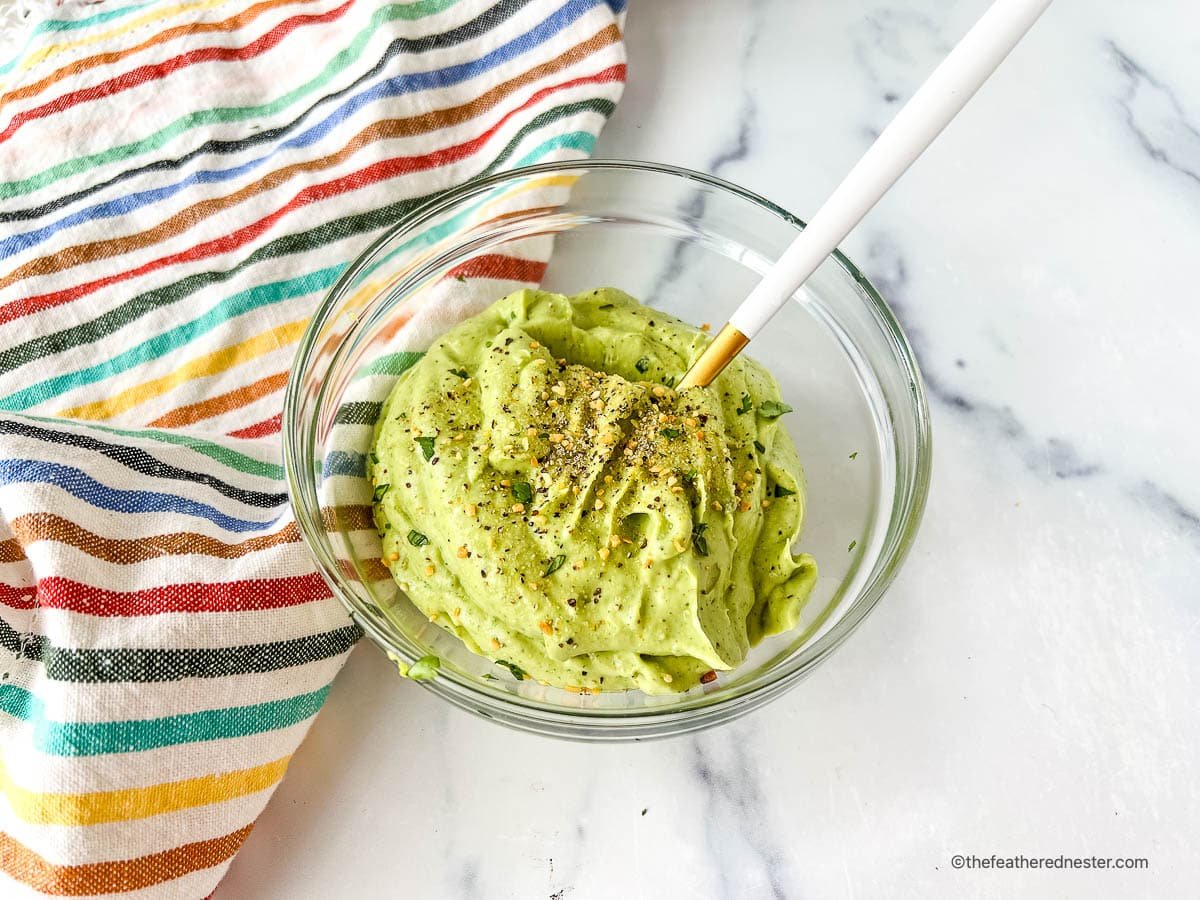 Difference Between Crema and Sour Cream
Crema, sometimes known as Mexican sour cream, is made with heavy cream and buttermilk. It's just a tad tangy, and very creamy, thick, and rich.
However, it doesn't stand out the way sour cream does. It's very much a "supporting role" ingredient that provides a great base for sauces, stews, or other cream-based dishes, and is great to pair with spicy meals to tone things down.
Another difference between Mexican crema and sour cream is their percentage of fat. Regular (full-fat) American sour cream is about 20% fat compared to 30% for Mexican sour cream.
Avocado crema is even higher in fat, due to the high fat content of avocados. However, they are heart-healthy fats!
Ingredient Notes and Substitutions
Mexican Crema

Sour cream is an okay substitute, but can make the avocado cream sauce thicker overall, (depending on whether or not it contains a thickener). Also, with sour cream as the base, the flavor will be tangier, too.

Most larger grocery stores carry this; look for it near the other dairy products. If you can't find it there, any Hispanic grocery market will have it.


Chopped Cilantro – Fresh herbs are much better than dried. The best alternative to cilantro is flat leaf parsley!

Avocados – Be careful pitting and peeling! The fruit is creamy and slippery.

You can save a bit of blending time by running a fork through the skin and into the flesh (while still in the peel), preemptively breaking it apart.


Lime Juice – Use lemon juice if you can't find lime, but either way, freshly squeezed juice is best! It really makes a difference in the overall aroma and flavor.
How to Make Fresh Squeezed Lime Juice
The best way to get great, freshly squeezed juice is with a good citrus squeezer or juicer. This is the less mess, less stress way of doing it. You don't need to pick out seeds or anything!

Another way is to use a fork. Cut the fruit in half, jam a fork into the center, then squeeze while rotating the lime back and forth on the fork. It's a bit messy, but very effective!
TFN Pro Tip

A quick trip in the microwave will make a lime more willing to let go of all its juice! Give it just 15 or 20 seconds, let it cool for the same amount of time, and the juice will come pouring right out.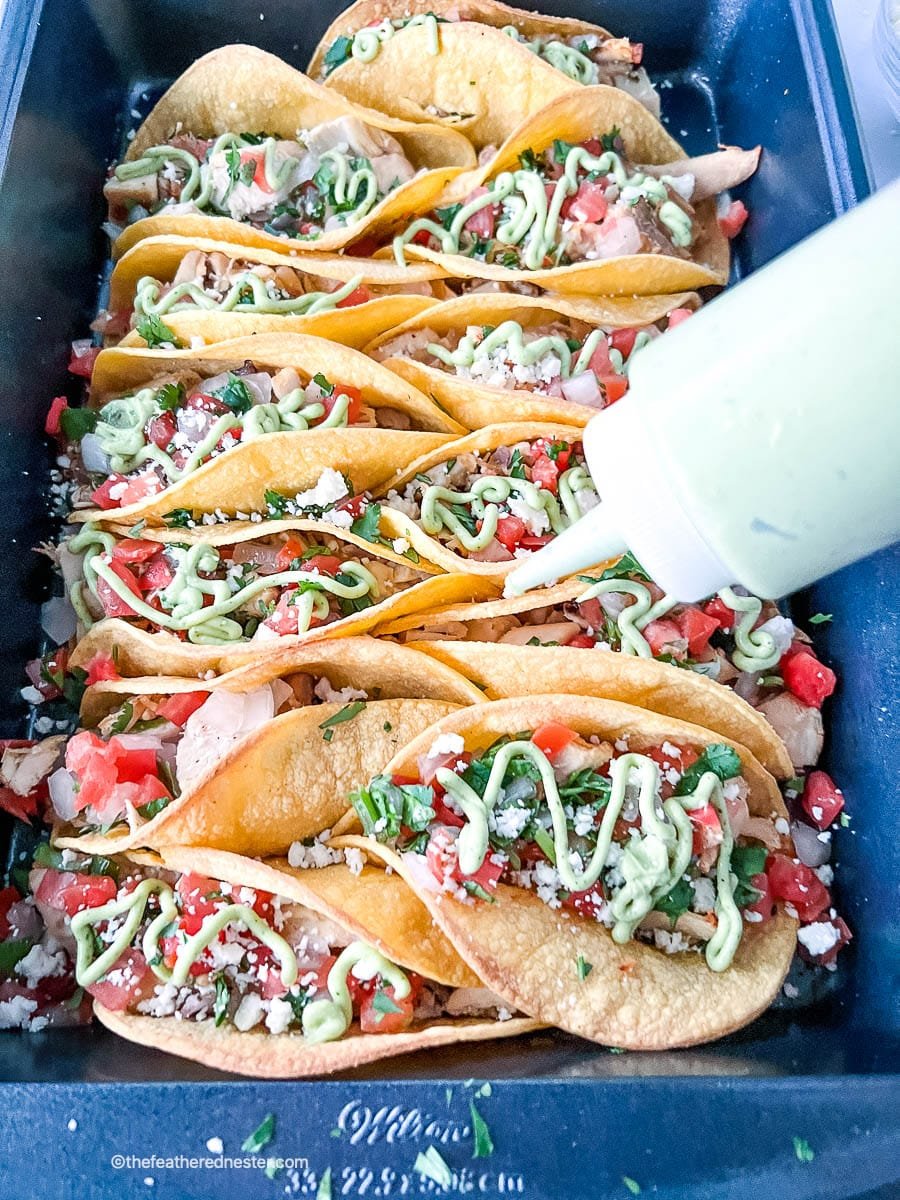 Avocado Crema Recipe Tips
1. Have the right equipment on hand.
You'll want to have a food processor or high speed blender to get the silkiest crema sauce possible.
Give it a few quick pulses to help break up the avocado, then blend on high until it's smooth and creamy. Aside from the bits of herbs you'll see dotted in the cream, all ingredients should be totally incorporated.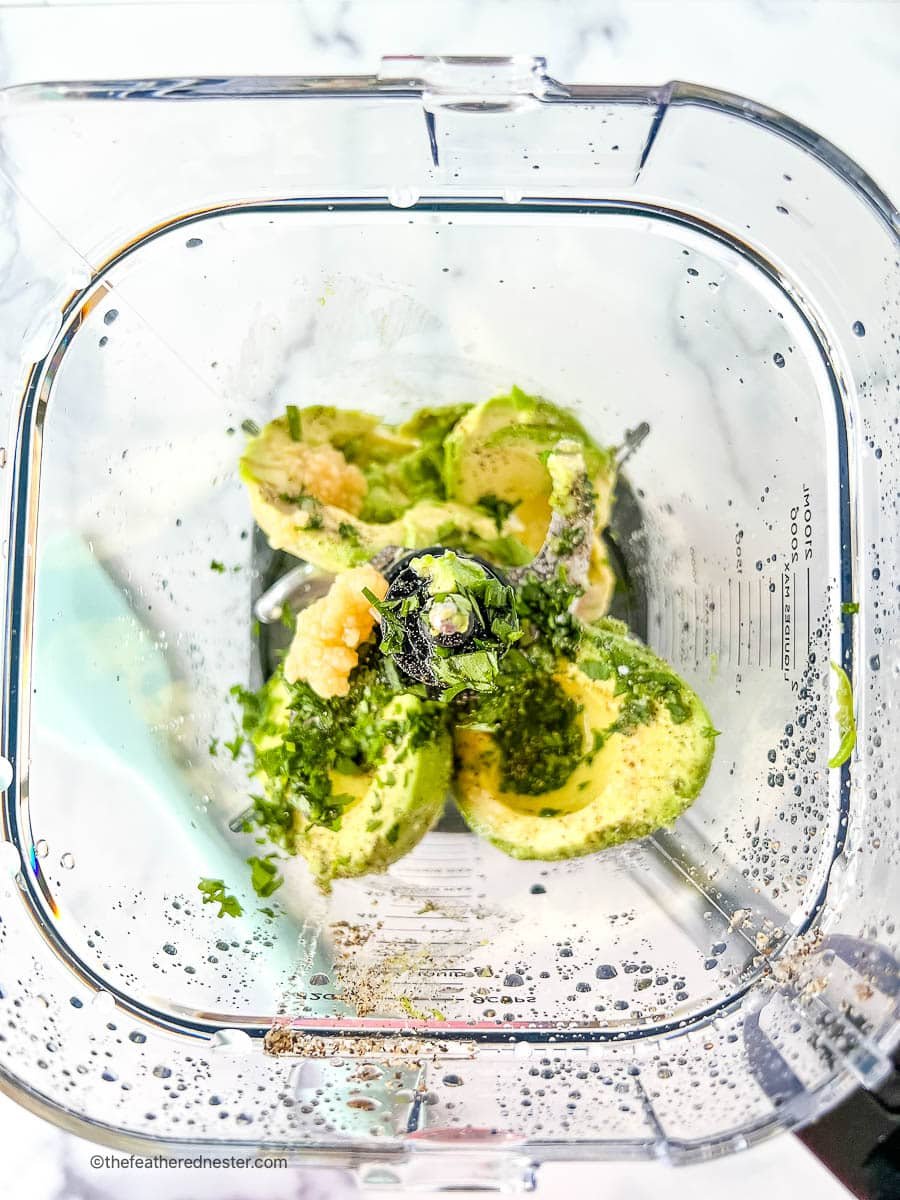 2. Adjust the avocado cream sauce thickness to your liking before storing.
Give the contents a stir to check its consistency before transferring to a squeeze bottle or mason jar.
Is it too thin? Add some more avocado or sour cream. Too thick? Add just a teaspoon of water until it's thin enough. Blend again until it comes together and is as thick as you like it!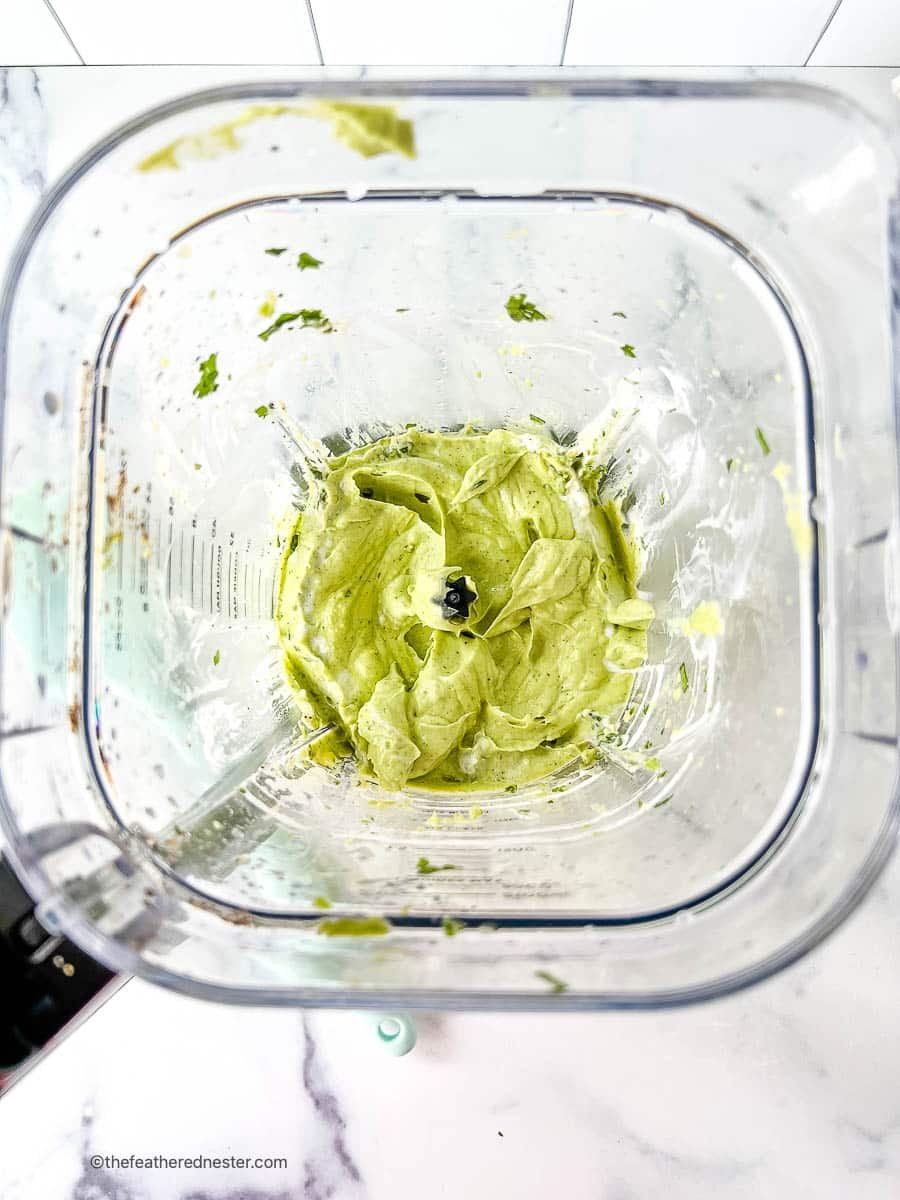 3. Add a kick with cayenne or hot sauce!
If you like spicier sauces, you can kick up the avocado cream sauce with ⅛ teaspoon of cayenne or just a few dabs of your favorite hot sauce. We recommend something a bit thinner, with a lot of flavor – Cholula, for example!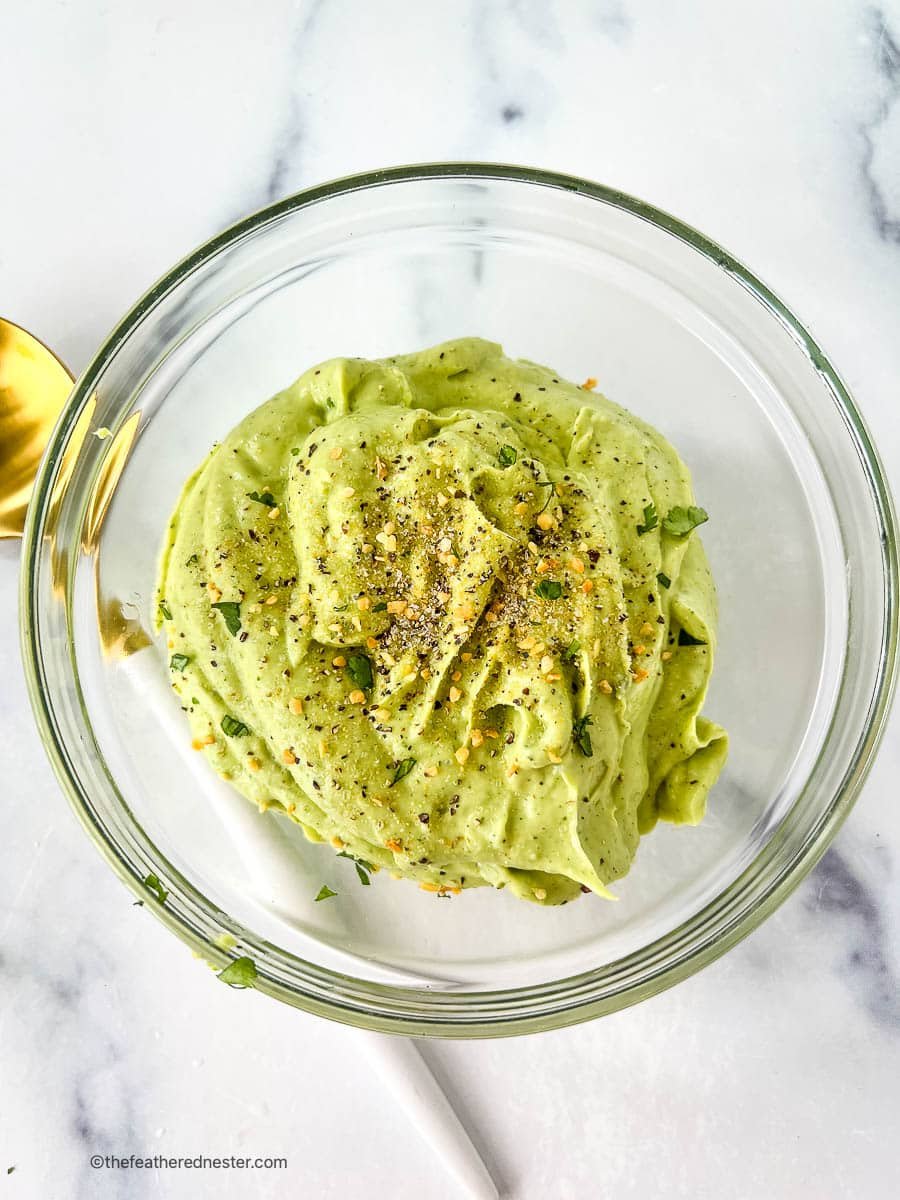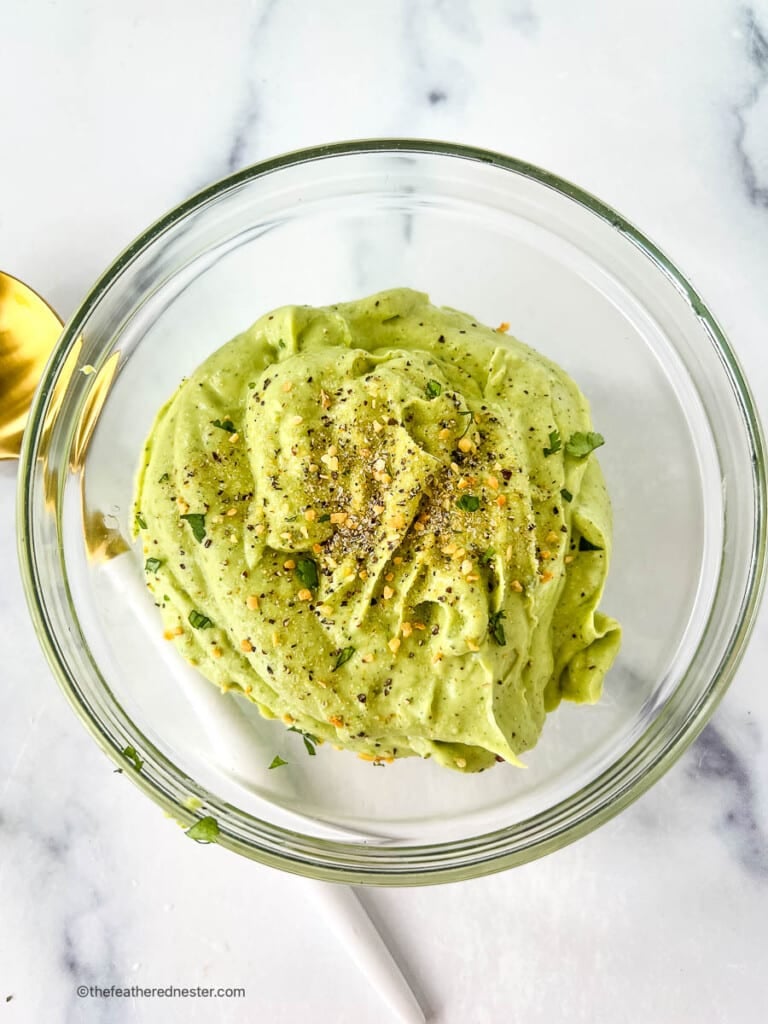 Do you love Mexican food?

We love it, too! Some of our most popular Mexican recipes are the ones you'll want to make first. Enjoy a huge platter of carnitas in tortillas with avocado cream sauce on top!
Make some Instant Pot black beans and jalapeno poppers to serve with the tacos.

Don't forget dessert! We recommend Bisquick Funnel Cake – it's so good!
Storing Instructions
Transfer your completed sauce to a squeeze bottle or mason jar with a lid. Depending on how you plan on serving and using the sauce, either could be more convenient!
If you plan to drizzle the thick sauce onto your food, you will definitely appreciate having a squeeze bottle.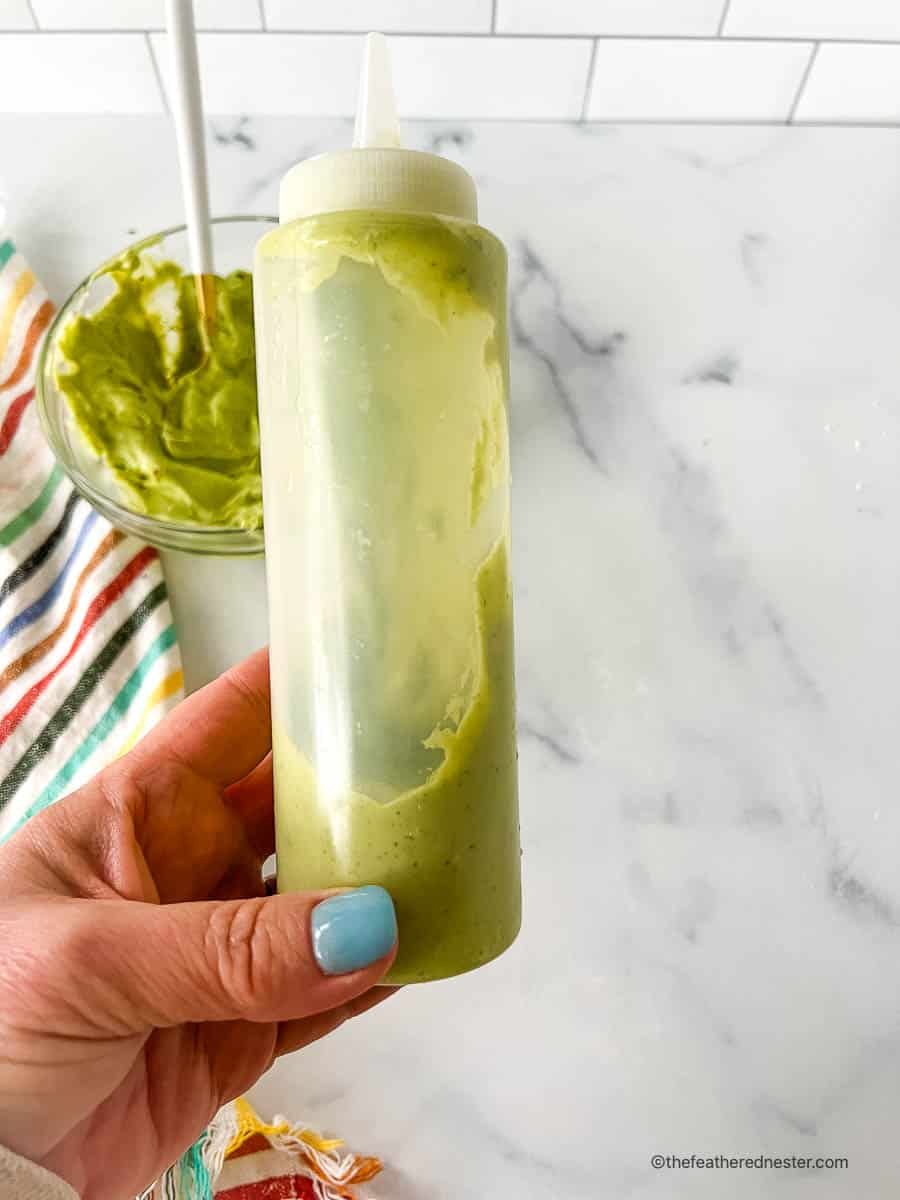 Crema avocado lasts for up to a week in the fridge. The lime juice helps to preserve and keep it from going brown, so it'll look appetizing from the first use till the last!
To Make Avocado Crema, Renae Recommends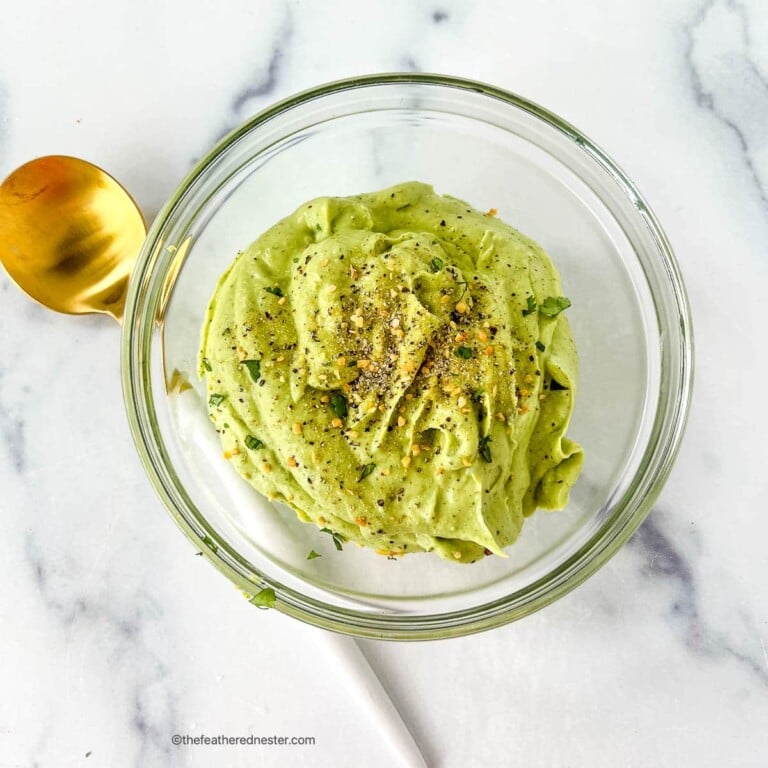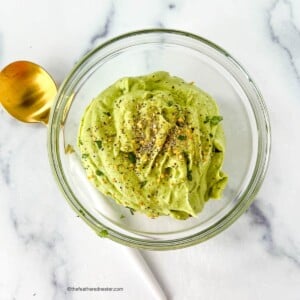 Avocado Crema
Avocado Crema is a creamy, refreshing sauce for fish tacos, nachos…you name it! Make this recipe for avocado cream sauce in just 10 minutes!
Equipment
1 food processor - OR

1 High-speed blender

1 squeeze bottle
Ingredients
2 large avocados peeled and pitted
½ cup sour cream or Mexican crema
4 Tablespoons lime juice (about 2 large limes)
1 clove garlic minced
¼ teaspoon salt or more/less, to taste
⅛ teaspoon black pepper or more/less, to taste
¼ cup chopped cilantro or flat leaf parsley (optional)
Instructions
To the bowl of a food processor or high speed blender, add all ingredients. Pulse a few times, then process on high speed until crema is smooth and creamy.

If crema is too thin, add 1 teaspoon additional sour cream or another 1/2 avocado, then pulse to combine.If crema is too thick, blend in 1 teaspoon of water at a time, until you reach the desired consistency.

Transfer avocado crema to a squeeze bottle or store in a small mason jar with a lid.Keep crema in the fridge and use within 1 week.
Notes
Mexican crema has a thinner consistency with a more bland flavor than sour cream. Also, your sour cream may have a thickener added to it, resulting in a thicker consistency.
For a kick of spicy flavor, add 1/8 teaspoon of cayenne pepper or a couple of dashes of hot sauce to the ingredients.
Nutrition
Serving: 2tablespoons | Calories: 89kcal | Carbohydrates: 5g | Protein: 1g | Fat: 8g | Saturated Fat: 2g | Polyunsaturated Fat: 1g | Monounsaturated Fat: 4g | Cholesterol: 7mg | Sodium: 65mg | Potassium: 220mg | Fiber: 3g | Sugar: 1g | Vitamin A: 160IU | Vitamin C: 6mg | Calcium: 18mg | Iron: 0.2mg
PIN THIS POST!