Treat this vibrant and healthy avocado spread like a creamy guacamole recipe. Schmear it on anything that needs a bit of freshness or a burst of flavor. Use it as a topping for toast, to calm down spicy nachos, as a sandwich spread, or just as a fabulous dip. This condiment will bring new life to your breakfast table!!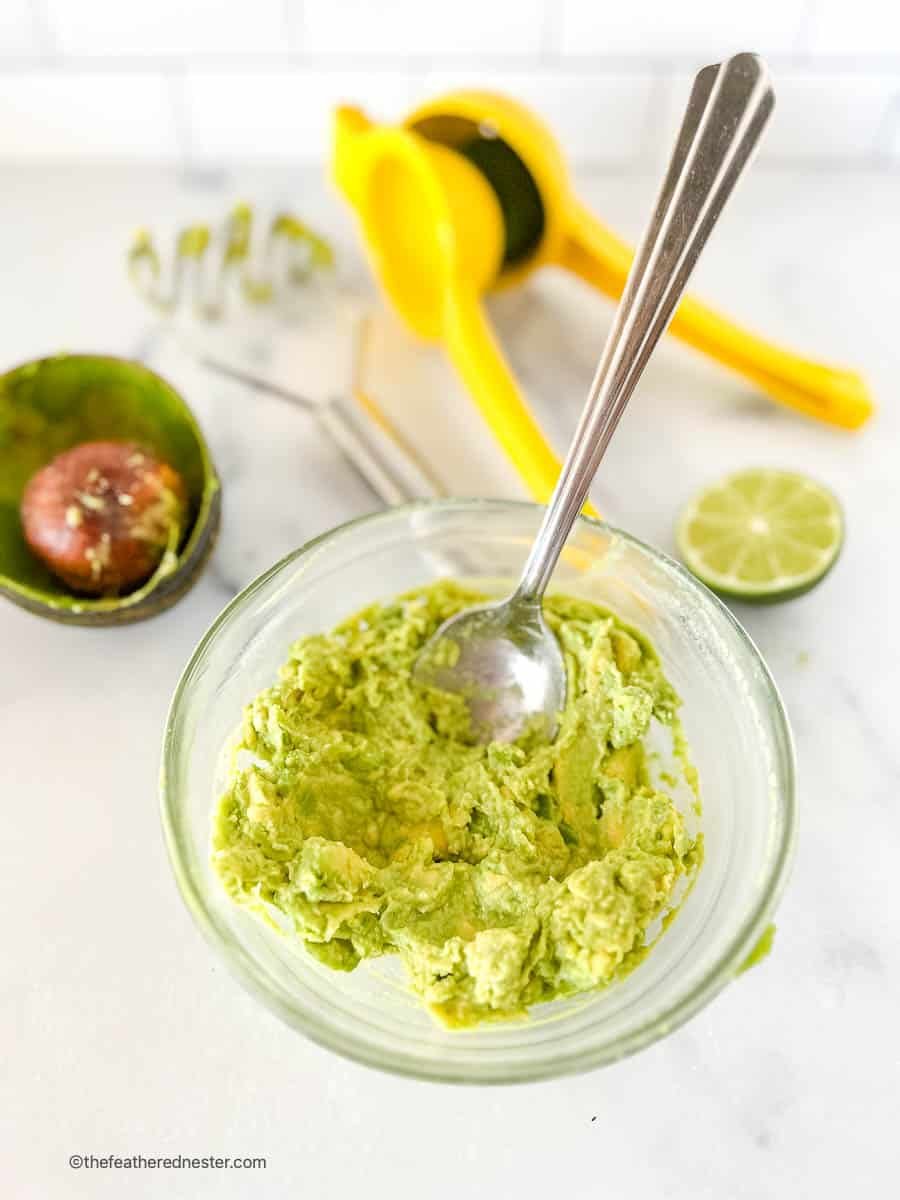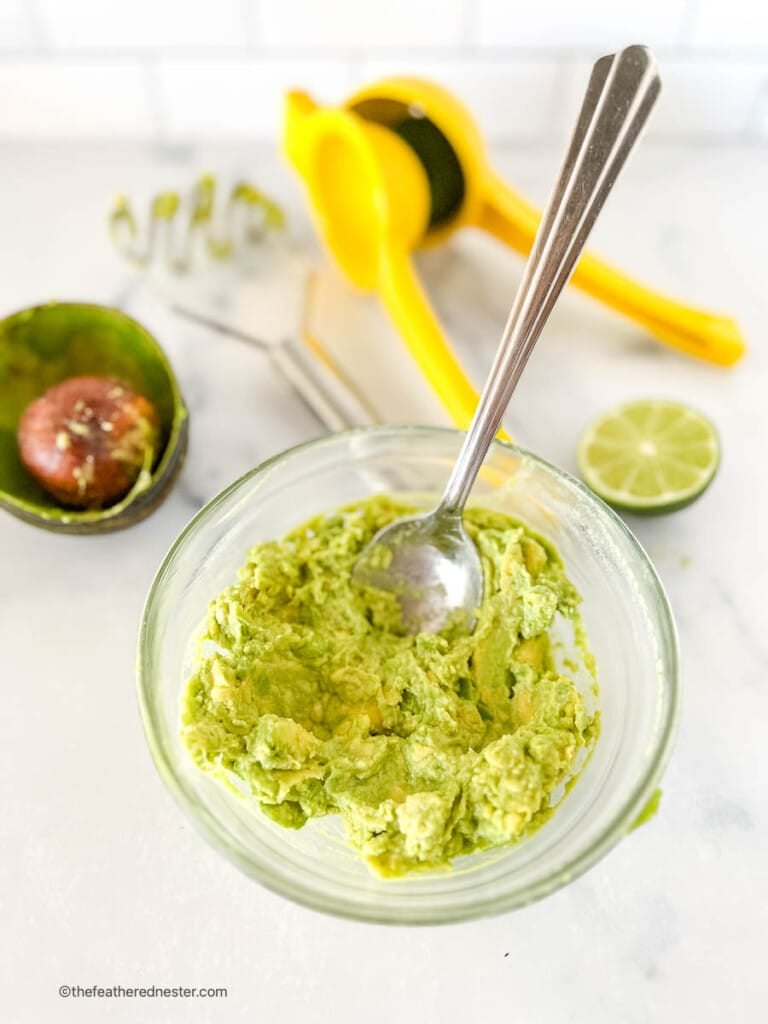 Reasons to Make Avocado Spread
Avocados are simply packed with nutrients, as well as fiber, healthy fats, and carbs to make you feel full and give you enough energy to face your day.

Takes just 5 minutes to make. This condiment is perfect for a busy morning.

Even on days when it feels like you don't have time for breakfast, this quick creamy guacamole recipe will save the day. Schmear it onto a piece of sourdough toast for a grab-n-go breakfast on your way out the door.

This 3-ingredient recipe can be scaled up to feed a crowd, or to freeze for easy meal prep later.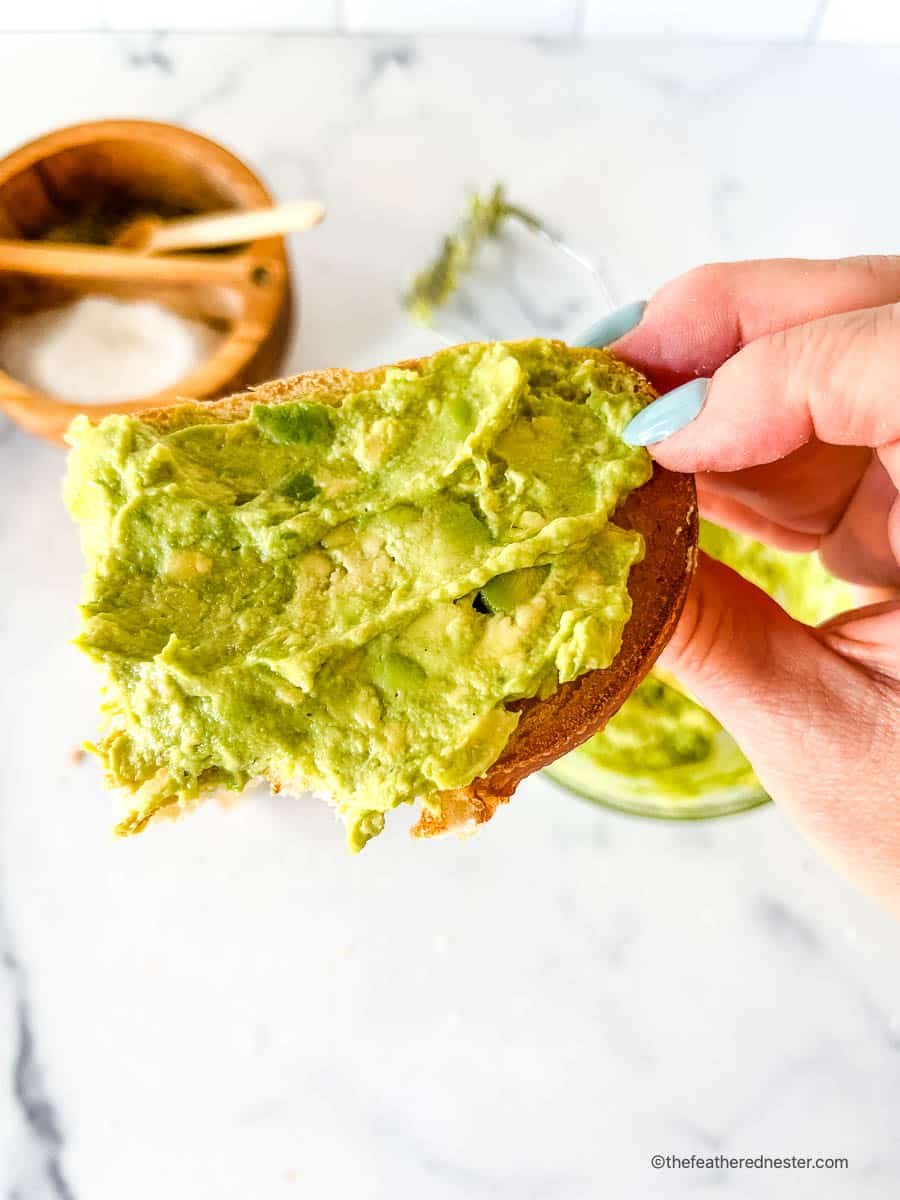 Ingredient Notes and Substitutions
Avocados – You only need one large avocado, or two smaller ones. Considering the nature of this recipe, it's incredibly easy to double or even triple the amount of avocado spread you're making – which is great if you have a couple of avos that are ripe and ready to go!
Lime Juice – Lemon juice can be used as a substitute with little to no change in flavor. The acid in citrus fruit helps to delay the fruit from browning. It also adds a hint of tanginess, filling out the profile of our creamy guacamole recipe.
Choosing Ripe Avocados
This really is a fickle fruit (yes, it's a fruit!) – it's like you're waiting forever for it to ripen, and then it's mushy before you know it!
Here are some tell-tale signs of an avocado that's ready to be used:
The fruit is somewhat firm, but still gives a little when you gently squeeze it.
It has no apparent bruises, blemishes, or discoloration.
It is dark green (almost black) in color.
If your avocado is ripe, but you're not quite ready to use it, put it in the fridge to help it last a little longer. And if you're getting impatient to make a recipe using avocados, but they're not quite ripe, store them at room temperature to help them ripen faster.
Great Uses for Ripe Avocados

You only need two of them to make this simple homemade condiment. But, to use up the rest, consider making avocado crema. Or, chop them up and serve them over walking taco casserole or Tex Mex Bisquick breakfast casserole.
Recipe Tips for Success
Use the right equipment.

You won't get the same result using a fork or even a potato masher. Of course, there's nothing wrong with some chunkiness. Actually, you can see in the photos, that's how we like it!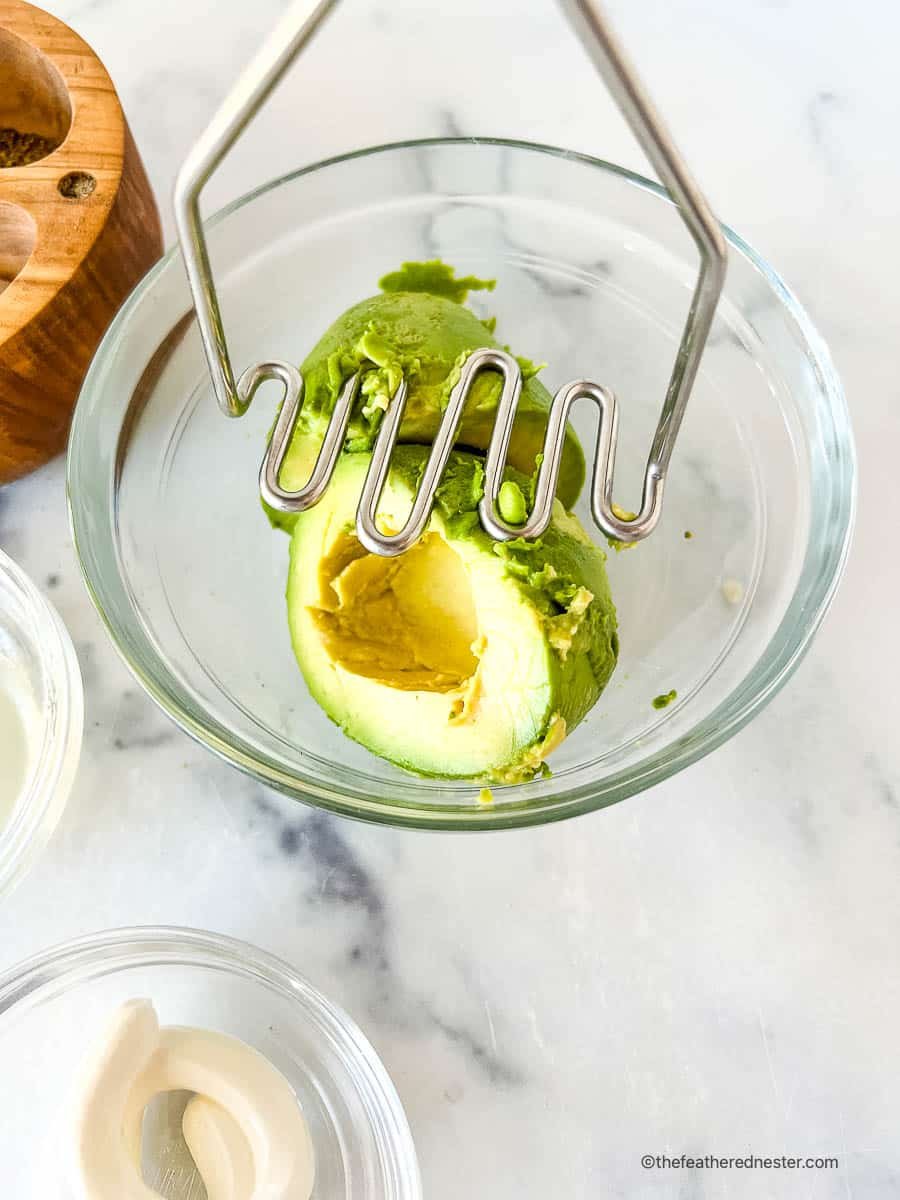 But, if your goal is to create a super creamy avocado spread, you absolutely need to use a food processor or high speed blender.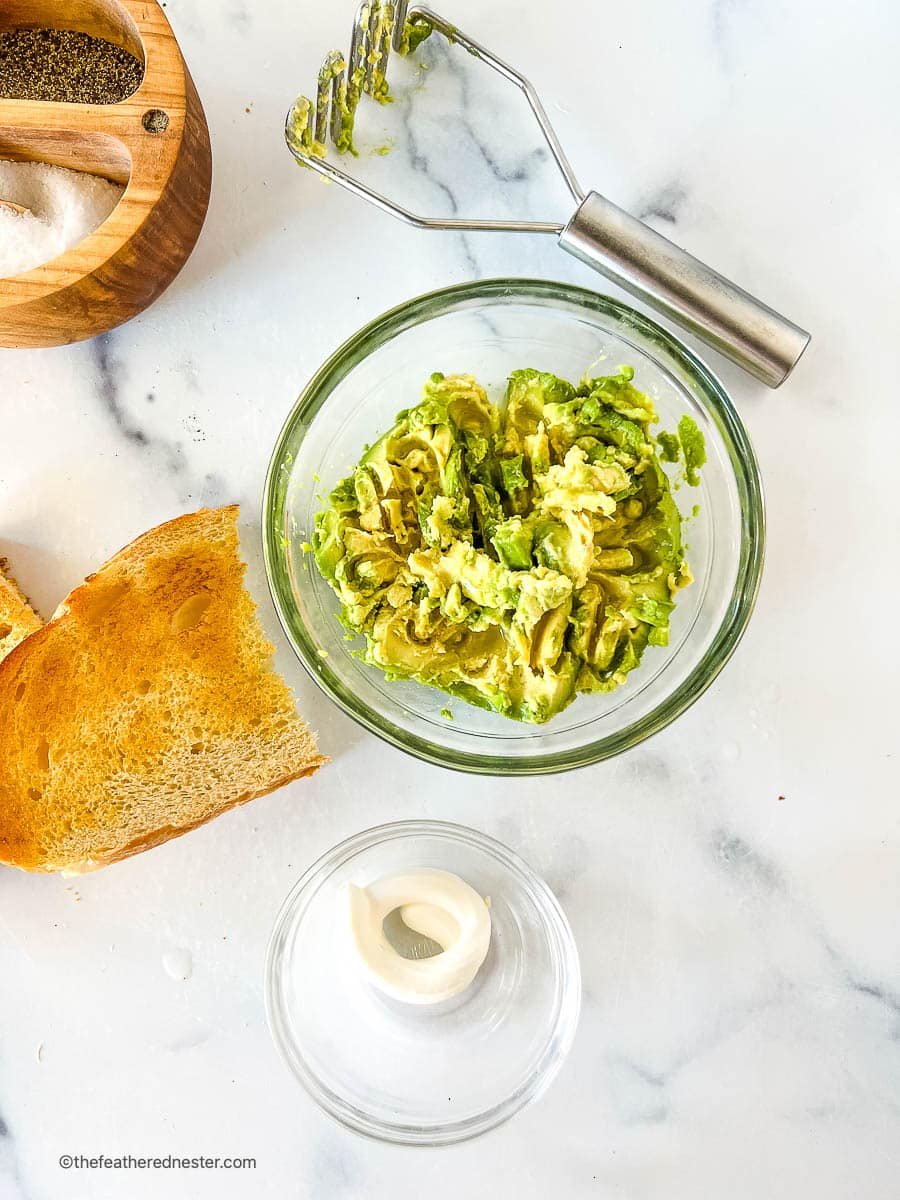 Adjust the consistency according to your desired use.

To make a creamy consistency for dipping chips, pretzels, etc., spoon in a bit more sour cream or Greek Yogurt. Then, continue to pulse until everything is well combined.

But if you plan to use it as a topping for toast, it should be perfect as-is! It's better when it's a bit thicker, because it's much easier to spoon out for spreading.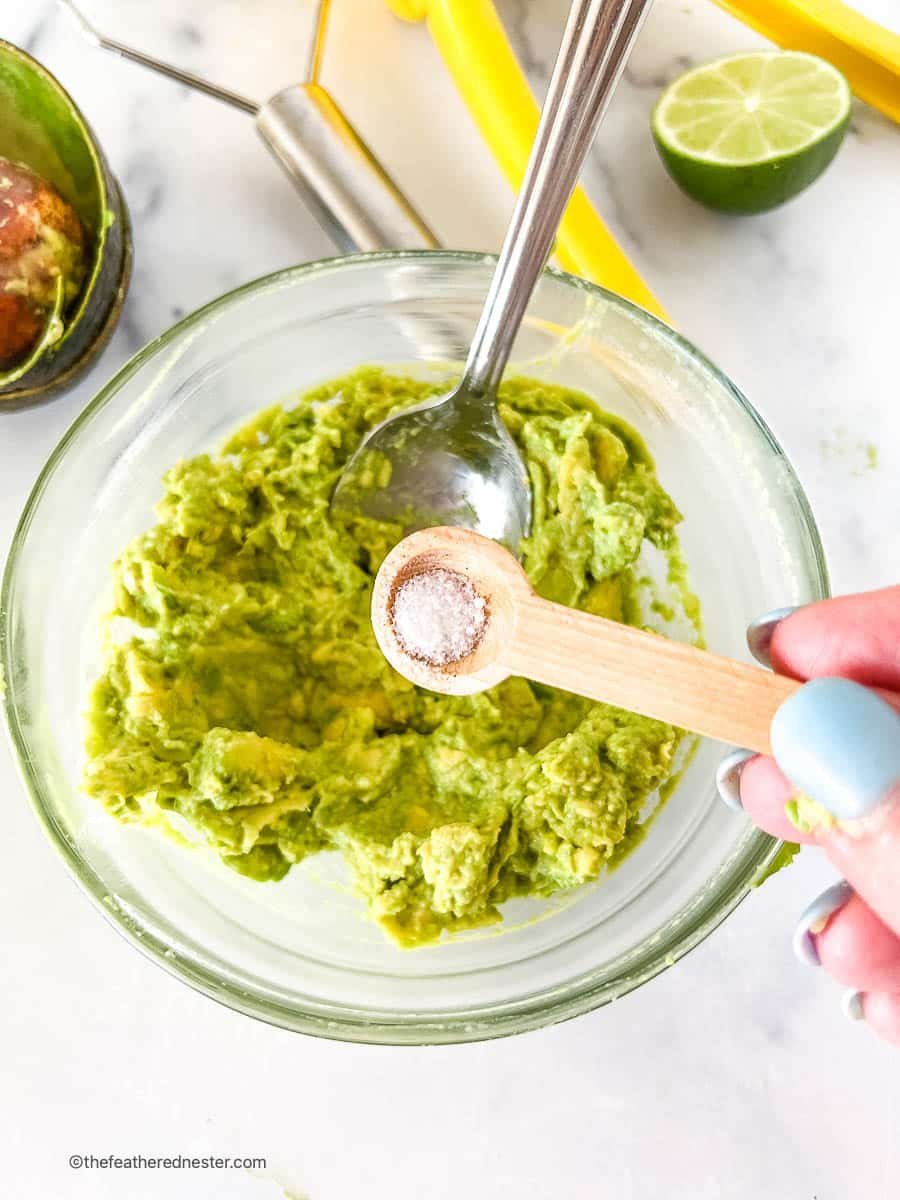 Wait to add seasonings.

You can always add more salt, but you can't take it away! Instead of adding a bunch of salt and pepper at once, wait until the end and add small amounts until it's just right.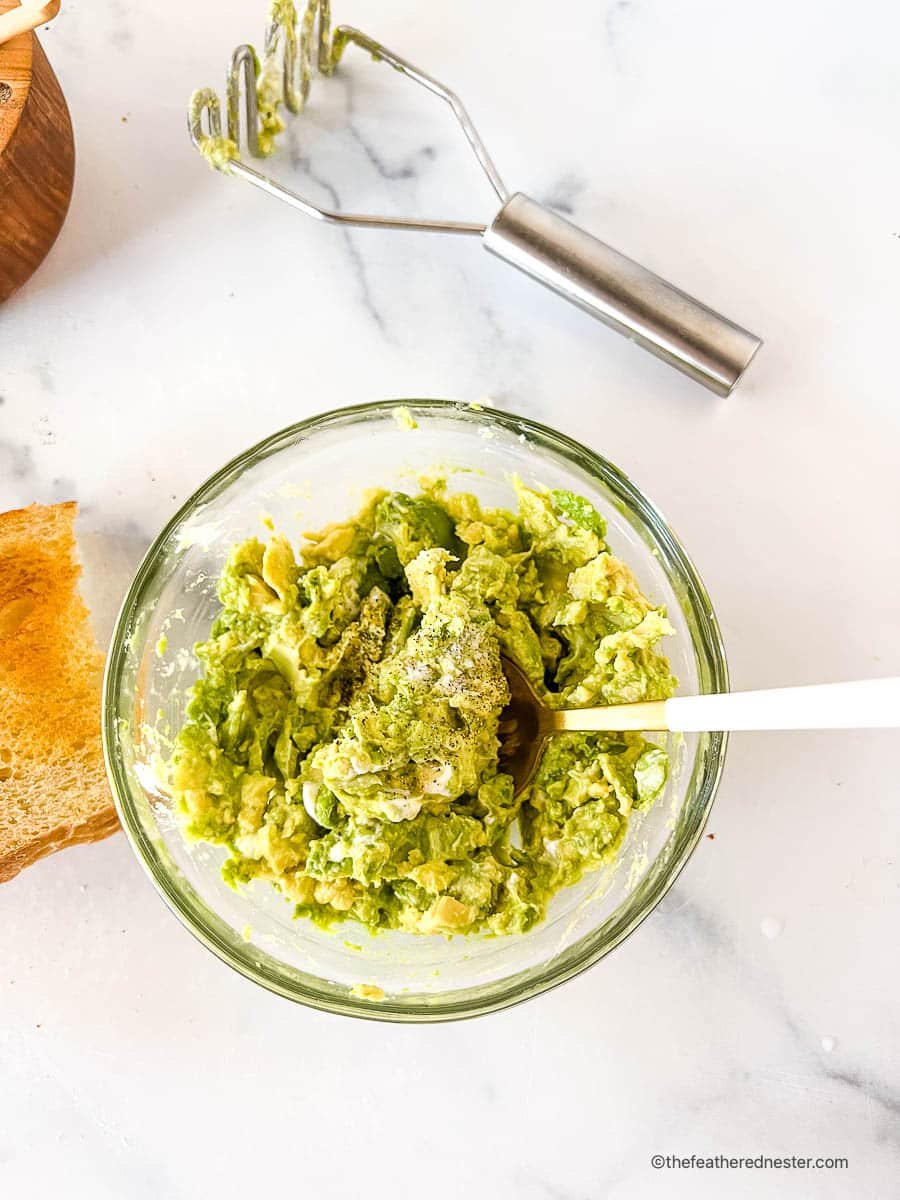 Creamy Guacamole Recipe FAQ
How healthy is avocado spread?
The schmear itself is quite healthy, but depending on what you eat it with, of course, it may or may not be healthy. If you're using it as a topping for toast, you need to consider the nutritional information of those other ingredients.

But the spread alone is bare-bones and maintains the nutritional value of the avocado. This fruit has protein and fiber as well as vitamins C, E, and K. It also has magnesium and potassium!
Is avocado spread the same as guacamole?
It depends on the recipe. Guacamole usually includes onions, peppers, and herbs, but it's going to be a topping for toast, it can be as plain as the fruit itself, lime juice, and a few seasonings.
Storing Avocado Spread
This spread will start to brown after one day in the fridge – that's just the nature of oxidation, and there's no way around it!
If you don't mind the change in color, it'll keep for about 3 days in the fridge, or for a month in the freezer.
Whatever you end up saving must be stored in an airtight container to keep it from browning even sooner.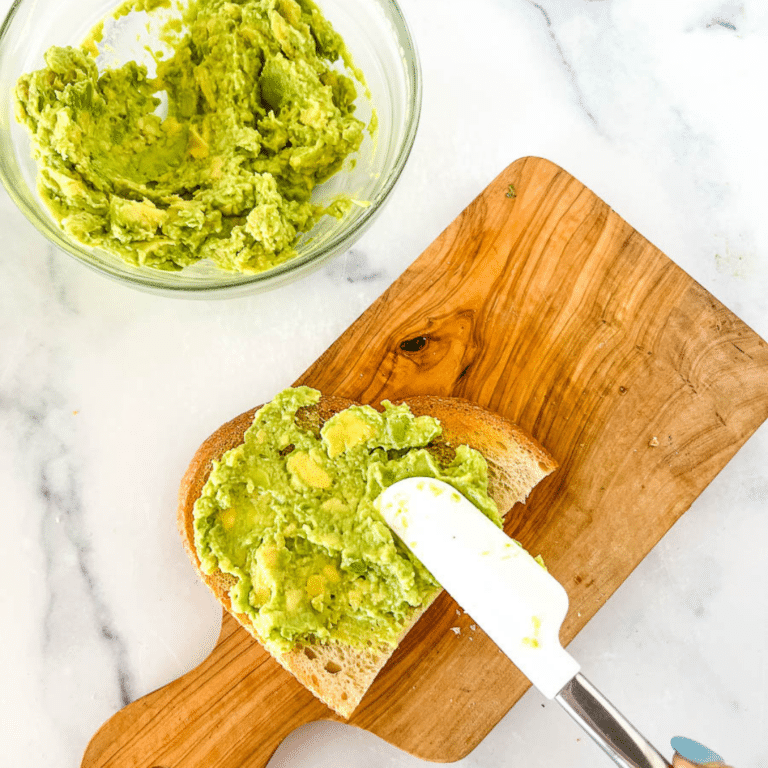 Avocado Spread – Great Topping for Toast!
Avocado Spread is our easy 5-minute recipe for a flavorful condiment that's similar to guacamole, and it's a fantastic topping for toast!
Equipment
food processor - or blender
Ingredients
1 large avocados peeled and pitted
1 teaspoon lime juice
1 teaspoon sour cream or plain Greek yogurt (use more for a dipping consistency)
salt and black pepper to taste
Instructions
To the bowl of a food processor or high speed blender, add all ingredients. Pulse to partially chop the avocado, then puree until mixture is creamy and well combined.

For a creamy, guacamole-type dip, add more sour cream or yogurt and process again to your desired consistency.

Use immediately, or transfer to a small Weck jar with a lid. Refrigerate until ready to use.Avocado spread will keep for 1 day in the refrigerator before it begins to oxidize and turn brown.
Nutrition
Serving: 1serving | Calories: 165kcal | Carbohydrates: 9g | Protein: 2g | Fat: 15g | Saturated Fat: 2g | Polyunsaturated Fat: 2g | Monounsaturated Fat: 10g | Cholesterol: 1mg | Sodium: 8mg | Potassium: 493mg | Fiber: 7g | Sugar: 1g | Vitamin A: 160IU | Vitamin C: 11mg | Calcium: 14mg | Iron: 1mg
PIN THIS POST!