Hibachi shrimp is one of the few outdoor summer recipes that fall right into that sweet spot between convenient and delicious! Shrimp are among the tastiest and easiest seafood ingredients to work with, and you can cook them fresh or frozen any time of the year. Our Blackstone hibachi recipe celebrates and highlights its flavors with simple, accessible ingredients — in less than 30 minutes!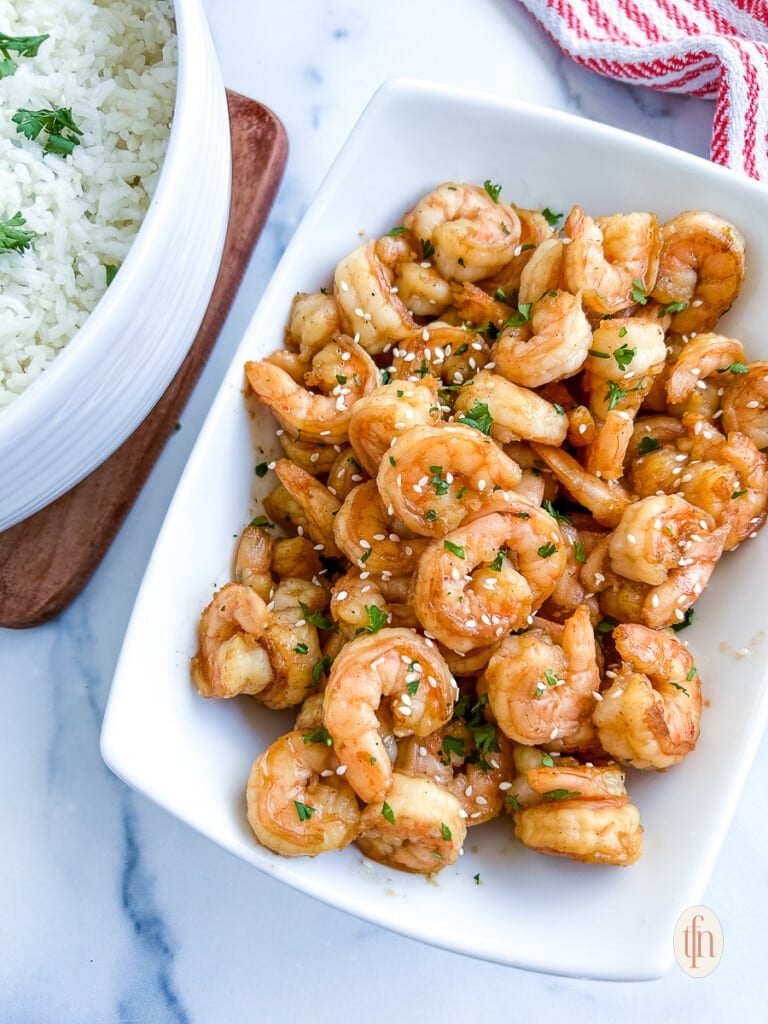 Why We Love Hibachi Shrimp
It's quick!

Our hibachi shrimp recipe is made on a Blackstone flat-top griddle, which is faster than other outdoor cooking methods like grilling.

It's more affordable to make Blackstone shrimp at home.

Eating out is expensive! Plus, making it yourself means you can customize the ingredients with your favorite vegetables and use as much Bang Bang sauce as you want!

It's a healthy seafood dinner.

This Japanese shrimp recipe uses whole ingredients that are as healthy for you as they are good to eat.
Ingredient Notes and Substitutions
Soy Sauce – We opt for low-sodium soy sauce to more easily control the salt level, but regular soy sauce works too.
Mirin – Mirin is a fermented rice wine that is common in Asian cuisine. Simple substitutes include sake or any sweet marsala wine. To prepare a non-alcoholic substitute for mirin, combine 3 tablespoons of rice wine vinegar with 2 tablespoons of honey (or 1 tablespoon of sugar).
Sesame Oil – This ingredient is key to achieving that characteristic Japanese flavor. But other high smoke-point oils, such as peanut or avocado oil, are also commonly used and perfectly acceptable.
Shrimp – Peel and devein before beginning. If using a package from frozen, first thaw it in the fridge. You could also place the shellfish in a colander under cold running tap water to speed things up! Pat them dry with paper towels before cooking.
Blackstone Hibachi Recipe Tips
Consider cooking the shrimp with the tails on.

The tails are actually easier to remove after cooking, and could make them easier to eat, depending on how you serve them!
Keep things moving!

Any Blackstone hibachi recipe — whether for rice, seafood (like our rockfish tacos), or chicken — involves cooking at high heat. For this recipe, we're cranking it up to 400°F!

At this temperature, and with most griddle grilling, it's crucial to keep the ingredients moving to avoid burning.

It won't take long — just 4 to 6 minutes — and letting it sit in any one spot for too long will make it stick to the flat top.
How to tell when shrimp are done cooking.

Eyeballing the doneness of shellfish becomes easier after you've done it a few times.

As soon as the flesh turns pink and is no longer translucent, get them off the heat!

Overcooked shrimp are rubbery and unappetizing, so this is perhaps the most important thing to know before preparing hibachi shrimp.
TFN PRO Tip: The right tools make all the difference.

Before beginning, we recommend you browse our list of the best Blackstone accessories! A Blackstone hibachi recipe is different from your average charcoal grill recipe, so the tools you'll need (or want) will be a bit different.

For example, the only way to truly determine the temperature of the Blackstone is with an infrared temperature gun. When dealing with multiple ingredients and phases of cooking, it's a lifesaver!
Hibachi Shrimp FAQ
What are the two sauces to serve with hibachi?
The dipping sauces served most often with Japanese shrimp are sweet, tangy ginger sauce, and a mayonnaise-based sauce like Yum Yum or Bang Bang.
Why do my shrimp curl up so much?
It's a matter of anatomy! When any crustaceans are cooked, the muscles in the body contract. This results in that curled "U" shape you often see.

To prevent this, you can stick a skewer in the shrimp (from tail to head) to hold its shape.
Are grilled shrimp and hibachi shrimp the same thing?
They're not — grilling and hibachi cooking are two separate cooking techniques.

Grilling generally involves cooking over an open flame. It's often done on a metal framework. Imagine your charcoal grill at home!

Hibachi cooking, on the other hand, is done on a flat iron griddle. Timing is key here, as the heat is very high and food can easily burn.
What to Serve with Blackstone Hibachi Shrimp
The first idea that comes to mind is, of course, rice! While you could prepare Blackstone fried rice simultaneously, you should know that our Instant Pot Jasmine rice has almost the exact same cooking time as this hibachi shrimp recipe!
Blackstone vegetables can also be prepared simultaneously on the other end of the flat top, if desired. The most popular options are asparagus, broccoli, zucchini, and bell peppers.
Storing and Reheating
Hibachi shrimp can be refrigerated for up to 4 days.
Reheating on the stovetop, to revive the texture and not overcook the shrimp, is the best way to go. We also suggest reheating separately from any rice or vegetables as it warms very quickly.
Microwaving is also possible, but don't overdo it! Heat them in short, 15-second rounds to avoid giving the flesh a rubbery texture.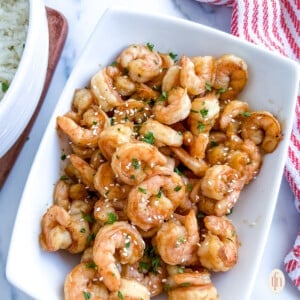 Blackstone Hibachi Shrimp
Hibachi Shrimp has an amazing grilled exterior and succulent center! Make this 30-minute Blackstone hibachi recipe for a delicious meal!
Equipment
Blackstone hibachi - or other flat top griddle or stove top griddle pan

2 large metal spatula

small prep bowls

small balloon whisk

Infrared thermometer - to measure the temperature of your cooking surface
Ingredients
3 tablespoons low-sodium soy sauce or regular soy sauce
3 tablespoons mirin *See Notes for substitutes
½ teaspoon ground black pepper
1 teaspoon toasted sesame oil or other high smoke point oil (ex: peanut, avocado, or grape seed)
2 tablespoons butter clarified butter, or ghee
1 tablespoon minced garlic (2 small cloves)
2 pounds raw shrimp peeled and deveined *See Notes
Instructions
Preheat a Blackstone hibachi griddle or a griddle pan over medium high heat to 400°F. *The best way to determine the temperature of the flat top is with an infrared temperature gun.

To a small prep bowl, add soy sauce, mirin (or substitute), and black pepper. Whisk to combine, then set aside.

Add the sesame oil and butter to surface of the hibachi, then use a large spatula to spread it out over the cooking surface. When the butter has melted, add the garlic and sauté until fragrant, about 30 seconds.

Add shrimp to the griddle, then use the spatula again to stir and combine the shrimp with the melted garlic butter mixture. Pour soy sauce mixture over the shrimp, then use your spatula to stir and combine again.

Cook the shrimp, stirring and flipping occasionally, for 4-6 minutes, or until it turns pink and is no longer translucent.

Remove shrimp from the griddle and serve warm with rice, fried rice, or noodles of choice.
Notes
Shrimp – The best sizes of shrimp to use for hibachi cooking are large or jumbo. Smaller sizes tend to overcook quickly. You can leave the shrimp tails on or remove them, whichever you prefer – tails are easier to remove after cooking. Frozen shrimp may be used, but will first need to be thawed in the refrigerator, or in a colander under cold running tap water. Be sure to pat the wet shrimp dry with paper toweling.
Mirin – This ingredient is fermented rice wine. Good substitutes with alcohol are sake or sweet marsala wine. For a non-alcoholic mirin substitute, use 3 tablespoons rice wine vinegar combined with 2 teaspoons honey or 1 tablespoon sugar.
Nutrition
Serving: 6 shrimps | Calories: 249kcal | Carbohydrates: 9g | Protein: 32g | Fat: 9g | Saturated Fat: 4g | Polyunsaturated Fat: 1g | Monounsaturated Fat: 2g | Trans Fat: 0.2g | Cholesterol: 301mg | Sodium: 1859mg | Potassium: 312mg | Fiber: 0.2g | Sugar: 3g | Vitamin A: 585IU | Vitamin C: 1mg | Calcium: 132mg | Iron: 1mg
PIN THIS POST!