For the perfect summer meal, fire up the grill for Rockfish tacos! This quick and easy meal has a light and refreshing flavor from a quick lime marinade that moistens and flavors the fish in just one hour. Nestle the filets in soft tortillas and serve with a tangy avocado crema or crunchy cucumber slaw…or both!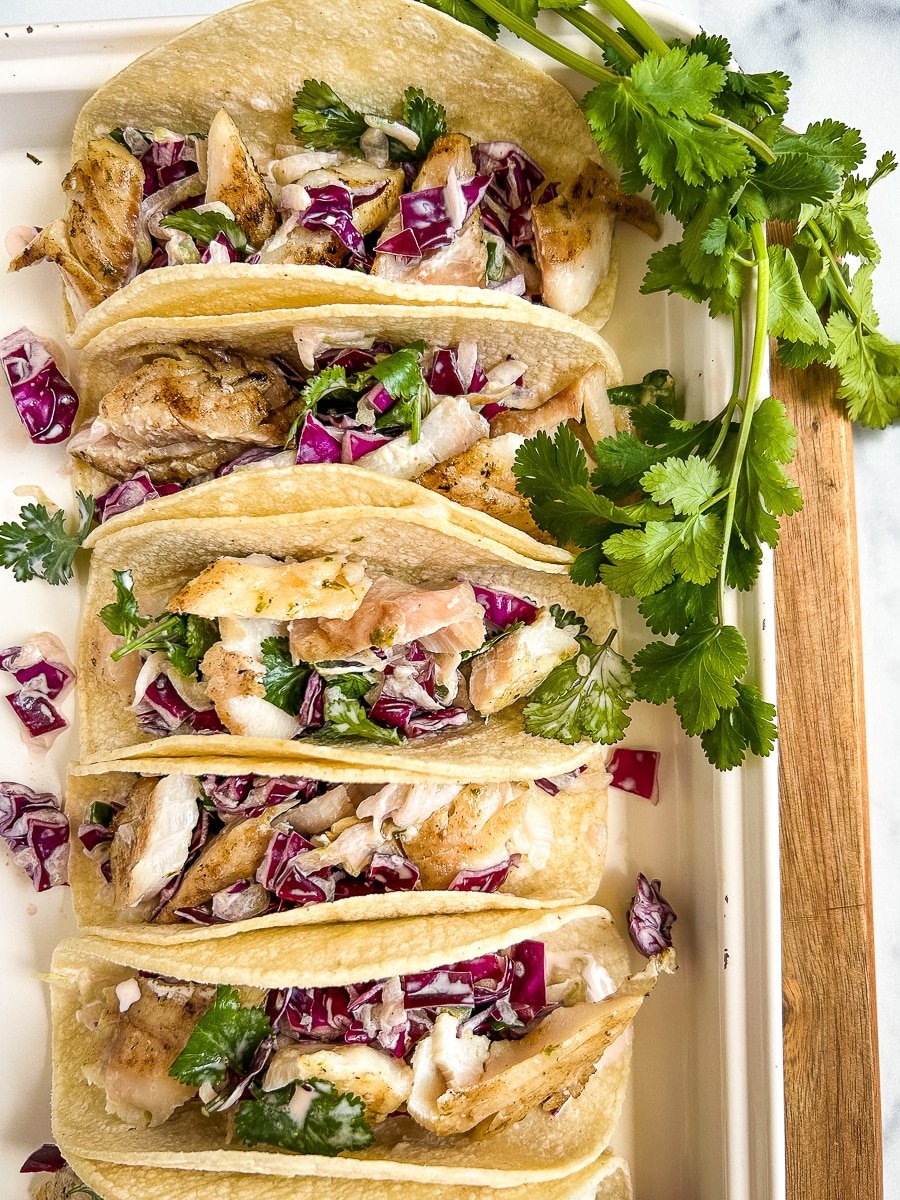 Why We Love Rockfish Tacos
It's a quick and delicious meal! Marinating time aside, it only takes about 15 minutes to prepare this rock fish recipe.
Rockfish is lean and healthy, with healthy fats for brain health, vitamin D for bone health, and a good helping of protein. Another really healthy fish recipe you may like is air fryer mahi mahi.
Very budget friendly! Unlike expensive varieties like salmon and mahi mahi, these filets are very budget friendly. In northern California grocery stores, rockfish filets cost an average of $6 a pound.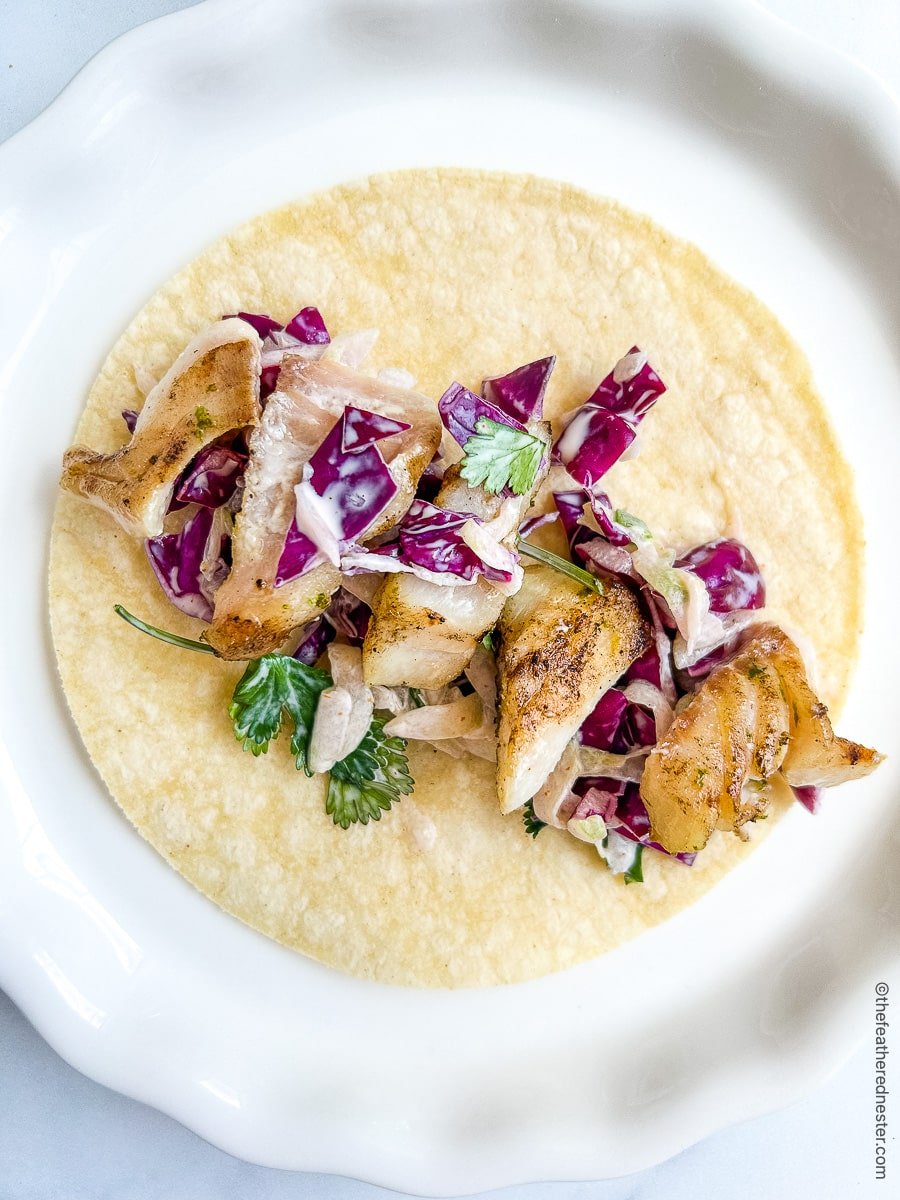 Ingredient Notes and Substitutions
Rockfish – Also known as Hawaiian rock cod. The flavor is slightly sweet and not overwhelmingly fishy at all. It cooks quickly, making it a great choice in this fish taco recipe.
Lime Juice – The citrus helps to brighten and counteract any "fishy" flavors. Lemon juice is a good substitute.
Tortillas – Either corn or flour tortillas are great. Corn tortillas are more traditional for tacos – particularly street tacos. However, flour tortillas are softer, which is what most kids like. Use whichever kind you prefer.
Best Fish for Tacos
Something we love about this rock fish recipe is that the simple flavors of the marinade work well with several other fish! If you're looking to try something new, or you're having a hard time getting your hands on rockfish, here are some good options:
Cod – This white fish is lower in calories and cholesterol – it's a nice, lean substitute.
Tilapia – A very inexpensive, freshwater alternative to saltwater rockfish.
Halibut – Halibut is a fantastic source of protein, magnesium, and antioxidants.
Salmon – This is the most fishy-tasting substitute but is loaded with vitamins and is one of the healthiest choices on the market.
Looking for other easy fish and seafood recipes?
Fresh fish and seafood are fantastic to use for light summer meals! We recommend trying our recipes for salmon pesto pasta and grilled shrimp fettuccine alfredo.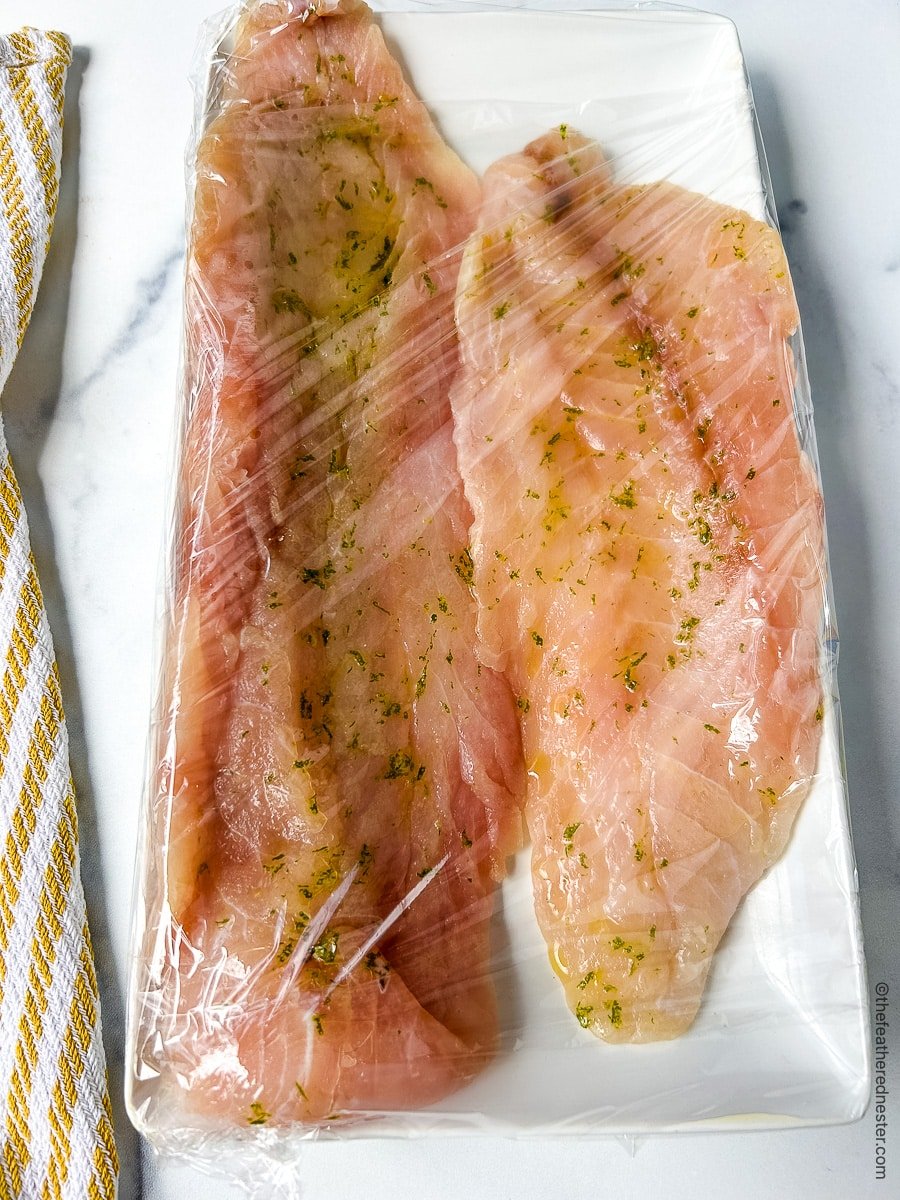 Rockfish Recipe Tips
Don't over marinate the filets.
Keep in mind that fish should only sit in a marinade for up to 4 hours. Seafood is very delicate, and it will break down in the acidic ingredients much quicker than pork, chicken, or beef will.

All the rockfish needs is 1 hour of marinating time to really take on the marinade flavors.
TFN Safety Tip
Don't ever reuse a marinade!

After it's had raw meat or fish in it, marinades should always be thrown out. This one is simple and inexpensive, so make a fresh batch the next time you want grilled rockfish tacos. It isn't worth risking food poisoning to save a few minutes!
How to Grill Rockfish For a 5-Star Presentation
It only takes 2 or 3 minutes of grilling to get nice, dark grill marks on the surface of the fish. After the first grill marks appear, use a fish spatula to rotate the grilled rockfish filets ¼ turn to create a beautiful crosshatch sear.
Pan Searing the Fish
You can still achieve beautiful hatch marks with pan fried rockfish if you have a meat skewer or long-pronged fork.
Heat the skewer or fork until very hot (almost glowing) and hold it against the surface of the meat. Repeat and rotate the fork or skewer to get these fake grill marks on pan seared rockfish.
Warm your tortillas for flexibility and flavor.
Something that really sets restaurant-quality and authentic-tasting rockfish tacos apart from most homemade rock fish recipes is the taste and texture of the tortillas.

Cover the tortillas with a damp paper towel (with a damp paper towel between each) and microwave for 30 seconds or so to make them malleable and soft. It makes a huge difference!
Rockfish Taco Recipe FAQ
What kind of fish makes the best fish tacos?
The best fish for tacos is both lean and flaky.

White fish varieties like Hawaiian rock cod are very popular for fish tacos because of their soft texture and mild flavor, which work well with different sauces, spices, and seasonings. It also tends to be less oily, which improves the overall flavor and bite!
How do I know when rockfish is cooked?
Cooked fish becomes opaque rather than transparent and flakes easily. To test, stick a fork into the flesh and twist. If the meat falls off in nice chunks, it should be ready to go.

You can also check the internal temperature of the fish. If it reaches 140F – 145F at the thickest point of the filet, it's safe to eat.
Storing and Reheating
Any cooked filets will keep for up to 4 days in the refrigerator. Keep them in an airtight container and assemble the fish tacos after you reheat the rockfish.
To regain some of the texture, reheat the fish on a baking sheet in the oven until warmed through.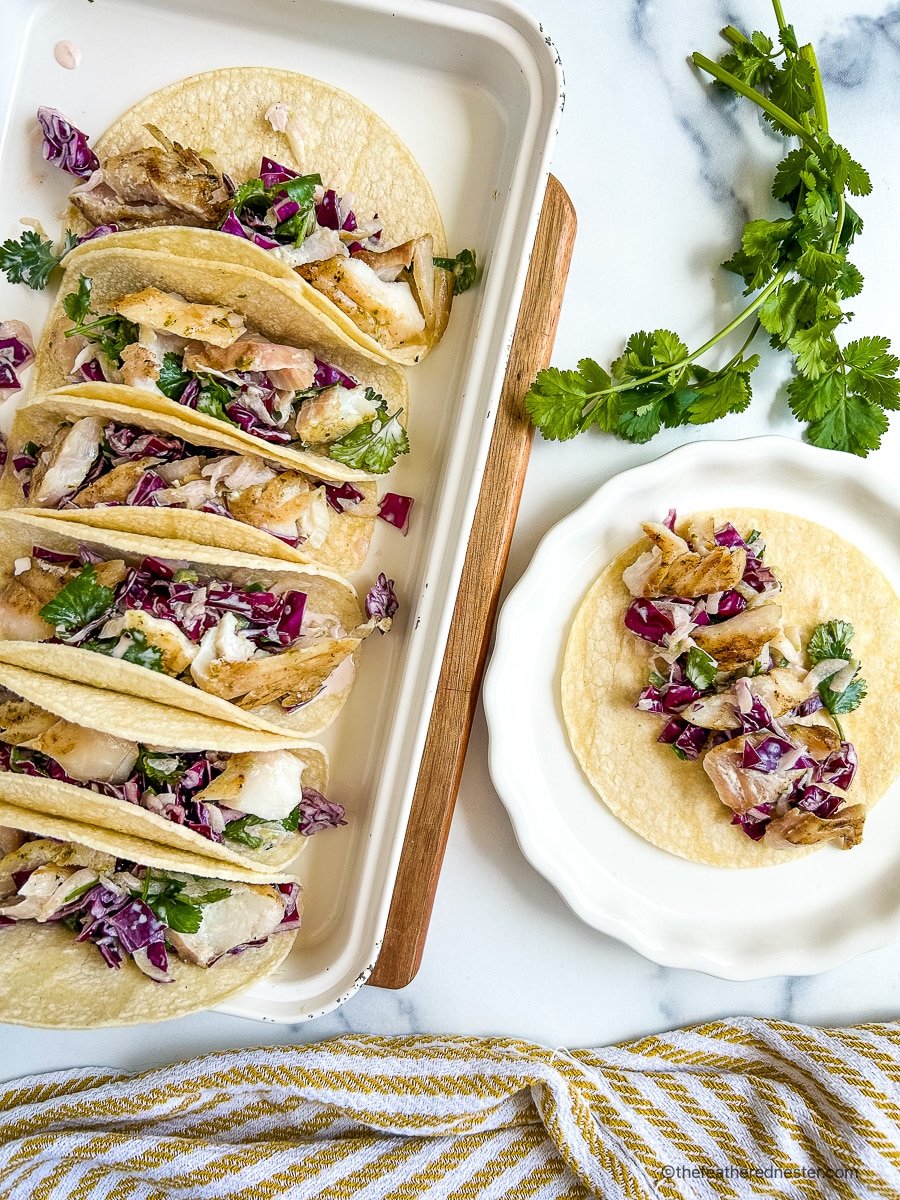 Delicious and Easy Sides to Serve with Fish Tacos
Because this meal already has a crisp fish slaw, you might want to skip a traditional garden salad. Instead, make some grilled pineapple or serve fresh tomato slices to serve in the tacos!
If you're looking for other Mexican-inspired sides, you can't go wrong with Instant Pot black beans or Instant Pot pinto beans!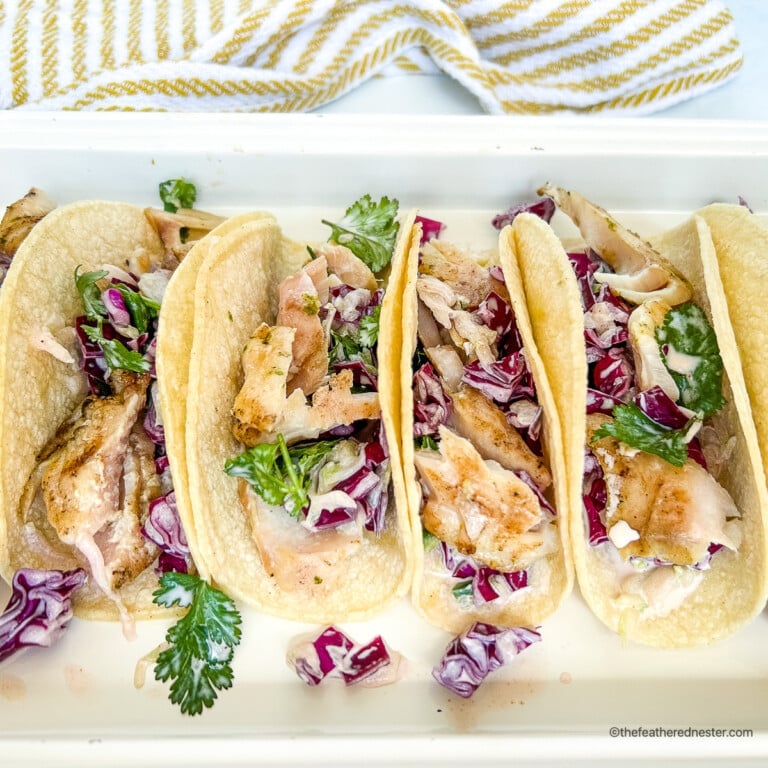 Rockfish Tacos (Grilled or Pan Seared)
Rockfish Tacos are an easy summer meal! Try our grilled rock fish recipe and simple lime marinade for deliciously flaky, tender fish tacos.
Equipment
grill

-

or large grill pan or cast iron skillet

shallow glass dish
Ingredients
3 tablespoon olive oil divided
1 medium lime zested and juiced
1 pound rockfish fillets rinsed and patted dry with paper towel (*see Notes)
For Serving
12 taco-size tortillas flour or corn
Instructions
In a shallow glass baking dish, whisk together 1 tablespoon olive oil, lime juice and zest. Add the fish, turning to coat. Cover and refrigerate for at least 1 hour, but no more than 4 hours.
How to Grill Rockfish
Preheat a grill on medium high (about 350ºF) and oil the grates to prevent sticking. *If using a charcoal grill, arrange briquettes for indirect cooking.

Drain marinade from the fish, then discard the marinade. Place fillets on the preheated grill.

Cook fish for 2-3 minutes, or until dark grill marks are visible on the grilled side. Rotate fish 1/4 turn and grill for another 2-3 minutes. Turning the fillets creates a beautiful crosshatch sear

Using a large spatula, carefully flip the fish over. Turn off the heat directly under the fish, but keep all the other burners on medium high (indirect cooking).

Close the grill cover and cook the fish for 5-6 minutes, until it's very moist and flakes easily when tested with a fork.
Pan Searing Rockfish
Preheat a non-stick skillet (or well seasoned cast iron pan) over medium-high heat. When pan is hot, add 2 tablespoons of oil.

Add fish and sear for 4-6 minutes, until bottom of filet.

Reduce heat to medium-low. Using a large spatula, carefully flip the fish over.

Cover pan with the lid and cook until fish is very moist and flakes easily when tested with a fork, about 5-6 minutes.
For Serving
Stack the tortillas on a microwave-safe plate. To prevent them from sticking together, place a paper towel between each.

Cover the plate with a damp paper towel, then microwave tortillas on high for about 30 seconds.

Serve rockfish tacos topped with cucumber slaw, avocado crema, and/or any other taco toppings of your choice.
Notes
If you are unable to find rockfish (also known as Hawaiian rock cod), you can substitute with cod, tilapia, halibut, or salmon)
Nutrition shown is for 2 grilled rockfish tacos, without slaw or avocado crema.
Nutrition
Serving: 2 tacos | Calories: 247kcal | Carbohydrates: 24g | Protein: 17g | Fat: 10g | Saturated Fat: 1g | Polyunsaturated Fat: 2g | Monounsaturated Fat: 6g | Trans Fat: 0.01g | Cholesterol: 38mg | Sodium: 80mg | Potassium: 400mg | Fiber: 4g | Sugar: 1g | Vitamin A: 18IU | Vitamin C: 3mg | Calcium: 56mg | Iron: 1mg
PIN THIS POST!