This Zuppa Toscana aka Kale Soup is an Olive Garden Copycat recipe that is full of flavor and perfect for a winter meal!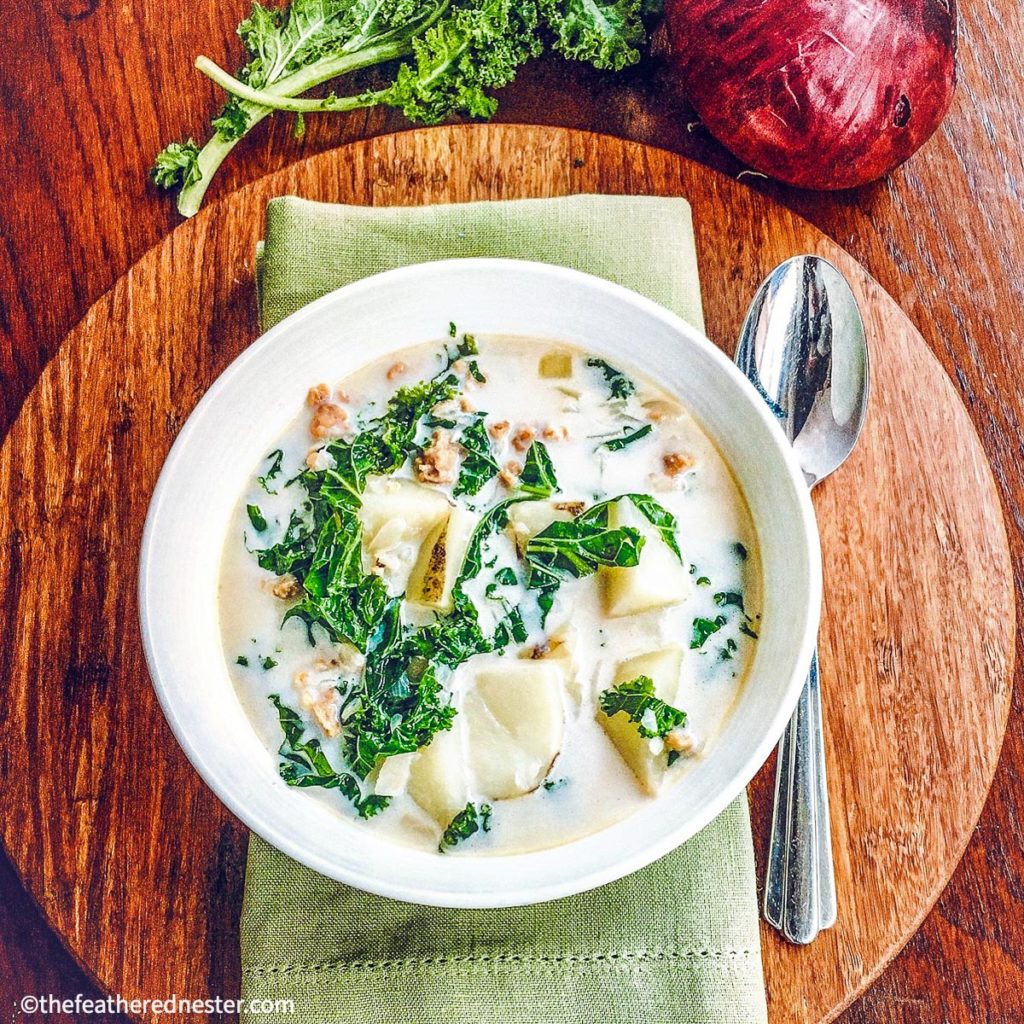 Zuppa Toscana is a delicious and hearty Italian classic soup that is made with potatoes and sausage and is packed with flavor. It's perfect for a cold winter day!
In this recipe, we'll show you how to make a copycat version of Olive Garden's Zuppa Toscana soup. It's just like the real thing, but much healthier!
Olive Garden Zuppa Tuscana Copycat Recipe
Zuppa Toscana soup was a welcome discovery at Olive Garden many years ago.
This Tuscan-inspired soup is packed with hearty potatoes, flavorful sausage, and kale to balance out the richness. I made this copycat recipe for Zuppa Toscana recently and it was a huge hit!
My family loved it and they all asked for seconds. This soup is definitely going into our regular rotation.
Best of all, you can have this Tuscan soup on the table in less than 45 minutes.
Since fresh kale isn't a vegetable that I ordinarily keep on hand, I keep frozen kale in the freezer. It is an easy way to sneak extra nutrition into soups. If you don't like the taste of kale, try frozen spinach instead.
For this olive garden soup recipe, I usually use Turkey Italian Sausage. That way I feel less guilty about using heavy cream.
But, any type of ground sausage works. Just be sure to drain off the fat once the sausage is browned.
So, let's make some Olive Garden Zuppa Toscana recipe right at home!
TFN Tip: for the creamiest potato sausage kale soup, use heavy cream. Although half and half work here, it won't be quite as rich. In case you didn't know, half and half is a mixture of milk and cream.
Love soups? Try our Chili Cheeseburger Soup, Ultimate Clam Chowder, Instant Pot Chicken Tortilla Soup, and Instant Pot Tortellini Soup.
Ingredients for Making Zuppa Toscana Soup Recipe
Italian Sausage
Onion, diced
Garlic cloves, minced
Chicken broth or stock
Water
Heavy cream or half-n-half – heavy cream gives the richest flavor
Russet potatoes
Kale
Equipment Needed
How to Make Zuppa Toscana Soup
Brown the sausage. Using a sturdy soup pot or Dutch oven cook the sausage on medium heat.
Break down the sausage into crumbles, uniform in size.
While browning the sausage, add the onions and garlic.
Stir, until the vegetables and sausage are mixed together. Cook for 3-4 minutes, until the onions are translucent.
To speed things along, use this time to pre-heat the chicken stock and water in the microwave.
Mix the broth and sausage. Add broth and water to the hot Italian sausage and onions, then add potatoes. Bring to a boil, then reduce heat to low.
Simmer. Add the lid to your soup pot and simmer for 15 minutes. Cook until the potatoes are tender.
Add the remaining ingredients. Stir in the half and half or cream. Be sure to keep the burner on your lowest setting after adding the cream to prevent it from curdling.
Ready to serve. Add the chopped kale 5 minutes before serving Zuppa Toscana.
Optional: You can garnish it with some cooked bacon, parmesan cheese, and some red pepper flakes for a bit of spice.
Olive Garden Zuppa Toscana Copycat Recipe Variations
To make this Vegan Zuppa Toscana soup, simply leave out the sausage. But, I would add some extra vegetables like carrots, celery, and zucchini.
Make this low carb by leaving out the potatoes and adding more kale or other greens.
Use coconut milk instead of heavy cream for dairy-free soup.
For a gluten-free version, use a gluten-free chicken broth.
What to Serve with Zuppa Toscana Soup?
This kale soup is hearty enough to be a meal on its own. But as with Olive Garden, this copycat Zuppa Toscana soup recipe pairs well with a little bread.
Check out these recipes that will pair perfectly with this soup:
How to Store and Reheat Zuppa Toscana Soup
This hearty Olive Garden kale soup will keep in the fridge for up to 3 days or can be frozen for 2 months. I like to portion it into single-serve containers for easy lunches or quick dinners.
When you are ready to reheat, simply place the desired amount into a pot on the stove over medium heat. You may need to add a little water to thin it out since it will thicken as it cools.
If you have frozen kale soup, place it in the fridge overnight to thaw. Then follow the above directions for reheating.
FREQUENTLY ASKED QUESTIONS
Is Zuppa Toscana really Italian?
Zuppa Toscana is a traditional Italian soup made with Italian sausage, chicken broth, bacon, cream, and vegetables such as onions, kale, and potatoes.
Can you freeze Zuppa Toscana?
Yes, you can freeze Zuppa Toscana. This is a freezer-friendly recipe. So if you don't plan to eat the whole batch of soup, simply let it cool down, and then freeze. I generally freeze my Toscana in a freezer friendly bag.
How do you reheat frozen Zuppa Toscana?
If you have Olive Garden inspired kale soup leftovers that you want to reheat, you can do so in the microwave or on the stove. On the stove, reheat over low heat, stirring occasionally.
Get the Full Zuppa Toscana Soup Recipe Below
Zuppa Toscana
Enjoy Olive Garden at home with our Zuppa Toscana Soup recipe. This quick Tuscan soup has sausage, potatoes and kale -hearty and delicious!
Ingredients
1 pound Italian sausage or turkey sausage
1 yellow onion peeled and diced
2 garlic cloves minced
2 cups reduced sodium chicken broth or stock
4 cups water
1 cup heavy cream or Half-and-Half (heavy cream gives the richest flavor)
3 russet potatoes scrubbed and cut into 2-inch diced pieces
2 cups rough chopped kale fresh or frozen
Instructions
Using a heavy stockpot or Dutch oven, brown the Italian sausage, breaking in into smaller pieces. Drain any visible fat.

Add onions and sauté until translucent, 3-5 minutes. Add garlic and sauté until fragrant, 1 minute.

Mix in broth, water, and potatoes. Bring to a boil and simmer for 15 minutes, and potatoes are softened.

Stir in cream, keeping your burner on its lowest setting to prevent burning. Add kale and serve.
Nutrition
Serving: 1 cup | Calories: 300kcal | Carbohydrates: 21g | Protein: 13g | Fat: 19g | Saturated Fat: 9g | Polyunsaturated Fat: 1g | Monounsaturated Fat: 3g | Cholesterol: 74mg | Sodium: 625mg | Potassium: 493mg | Fiber: 2g | Sugar: 3g | Vitamin A: 2312IU | Vitamin C: 22mg | Calcium: 83mg | Iron: 2mg
PIN THIS POST!