This San Francisco Clam Chowder recipe is what regional cooking is all about. In classic West Coast fashion, the creamy chowder is served in a crusty, chewy sourdough bread bowl. Cook some up when you're craving seafood and a Fisherman's Wharf breeze.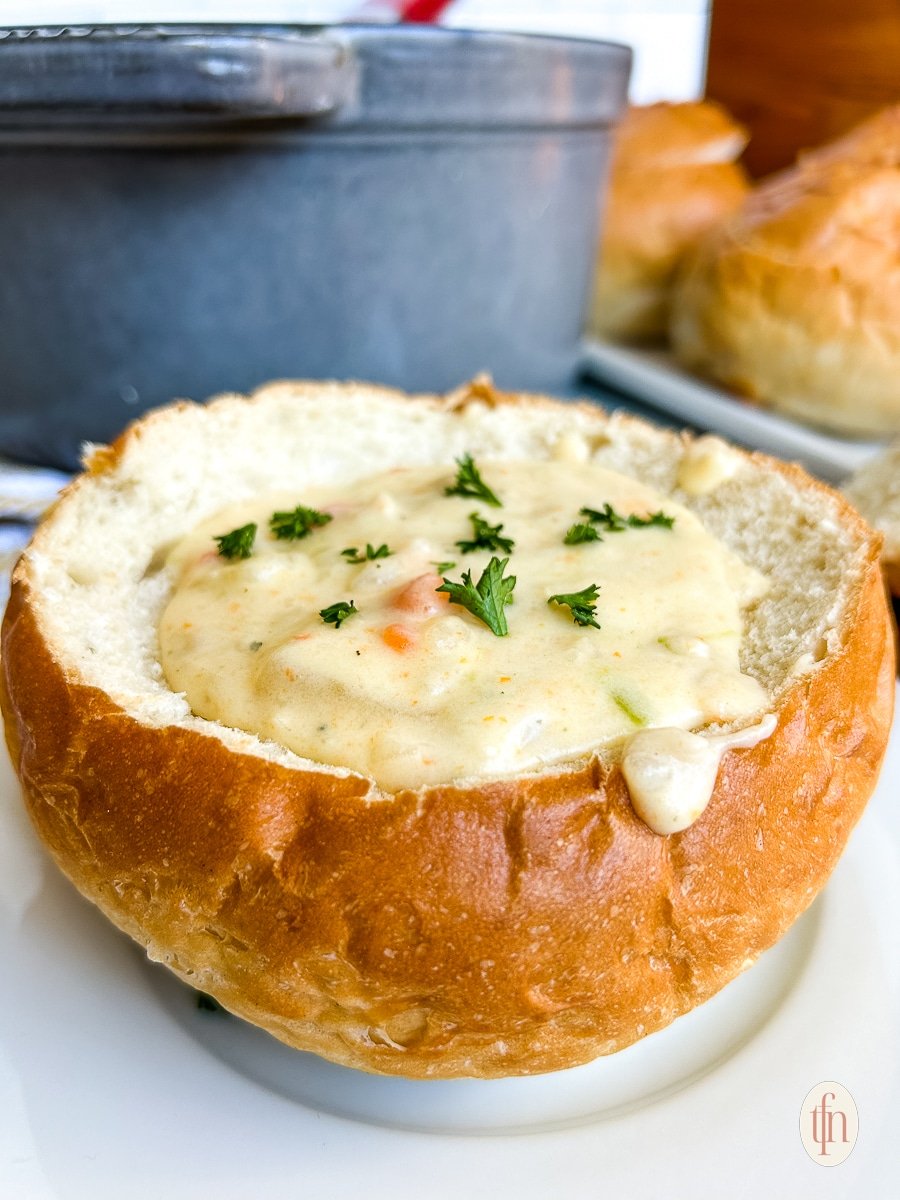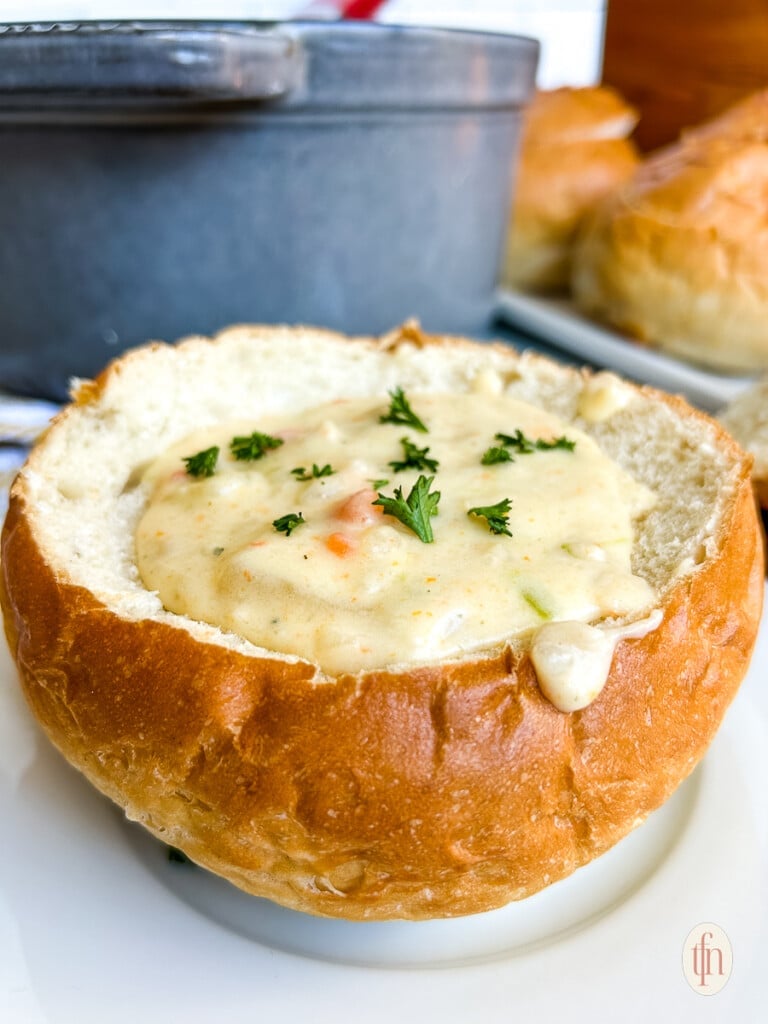 Why We Love Our San Francisco Clam Chowder Recipe
It's the perfect 30-minute recipe.
With ingredients you can easily prepare ahead of time and store for extended periods of time — a true "rainy day" San Francisco clam chowder recipe!
Serve it as a hearty clam chowder bread bowl!
It's also delicious with simple sourdough dinner rolls or even some quick Bisquick cheddar biscuits. Any hearty, tangy bread for soup is an excellent choice.
It keeps longer than other protein-rich soups with chicken or beef — up to 5 days! And with the tender ingredients, it reheats quickly with the same tasty texture.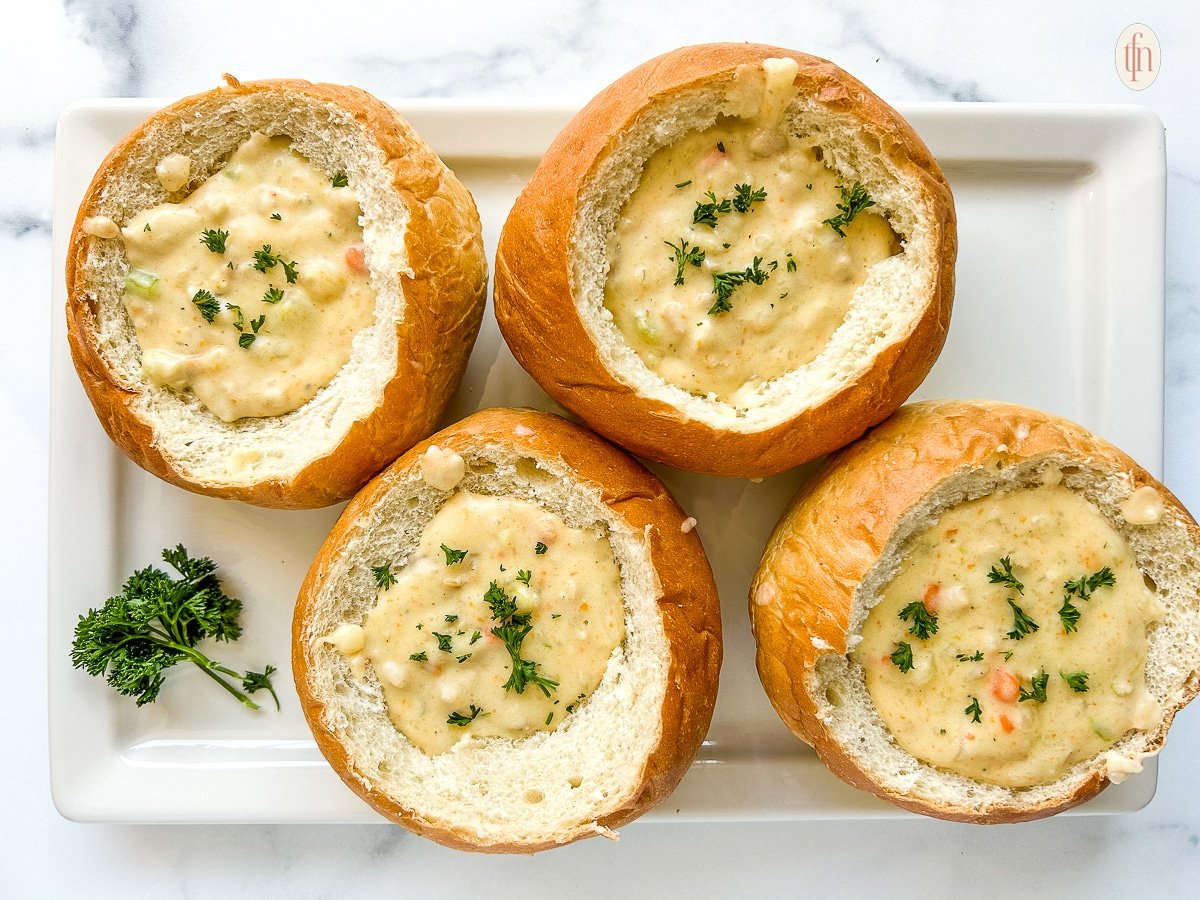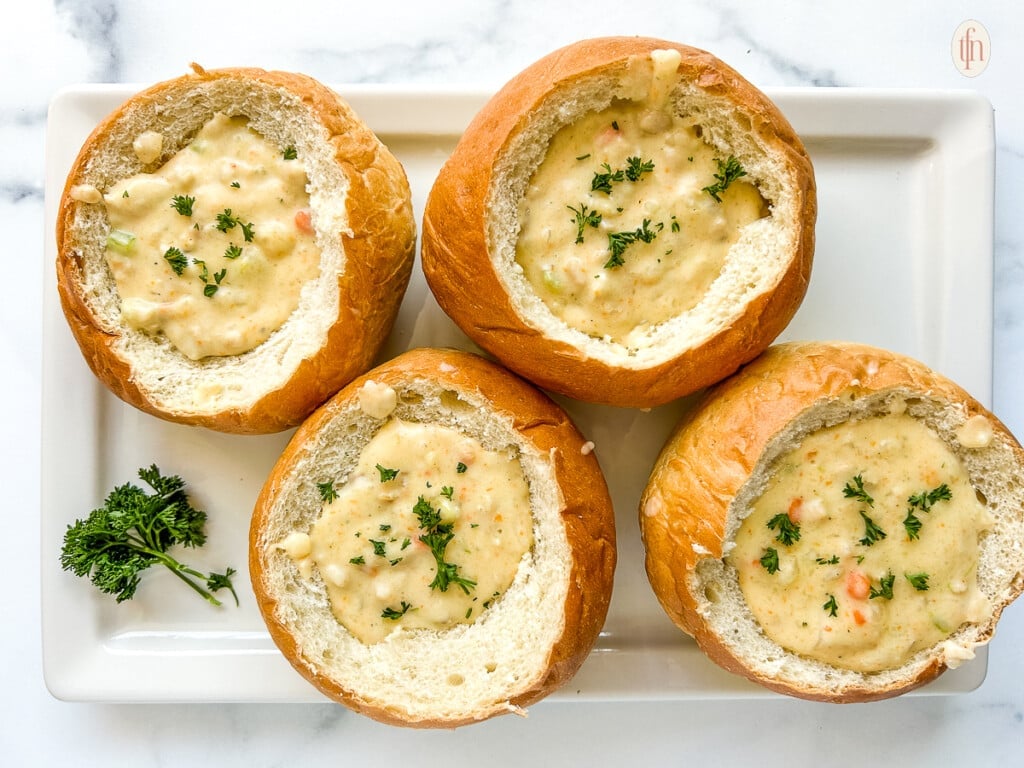 White vs. Red Chowder
This San Francisco clam chowder recipe is an example of a white, or cream-based, soup. Also known as Hatteras Style, Fisherman's Wharf, or New England clam chowder, this version of the dish usually features fresh-off-the-boat clams and a unique seaside flavor.
While we're using canned clams for convenience, you can use fresh if that's an option for you!
Manhattan clam chowder is a red, tomato-based version. It's a brothy soup, less thick, and features peeled tomatoes.
Ingredient Notes and Substitutions
Clams – We use 10 cups of minced clams, which equates to 51 ounces of canned.
Yellow Onion – This is a spectacular onion for soups! It keeps its crunch, even after a bit of simmering, and features a rich aroma. The next best option is a white onion.
Potatoes – Cube these uniformly, in 1-inch pieces, so that they cook evenly. We recommend the starchy Russet potato or a waxy Yukon Gold.
All Purpose Flour – This is used to form the roux. You can see more guidance on using this method in the section below.
Half & Half – You could thin out heavy cream with a bit of milk — or even water — if that's all you have in your refrigerator. It will have the same effect.
Kinders Buttery Steakhouse Seasoning – This is our preferred seasoning for this San Francisco clam chowder recipe, but any all-purpose seasoning is appropriate.
Sourdough Bread Bowls – Crusty on the outside and fluffy on the inside, a clam chowder bread bowl is what makes this a true San Francisco clam chowder recipe! You can use this homemade bowl for other thick soups like stovetop chili and Instant Pot navy bean soup. Be sure to learn how to cut bread bowls just right for serving!
Tips for a Successful Clam Chowder Bread Bowl
For even cooking, chop the veggies in similar sizes.
Also, be patient with the simmer — you want the potatoes to be fork tender so that they're easy to eat along the clams, and you want to let the veggies and broth marry for at least 10 minutes.

Remember to reserve the clam juice.
Instead of sending the flavorful juice down your drain, pour it into the saucepan to make the body of the soup! It makes for a savory and sweet seafood broth with no extra ingredients needed.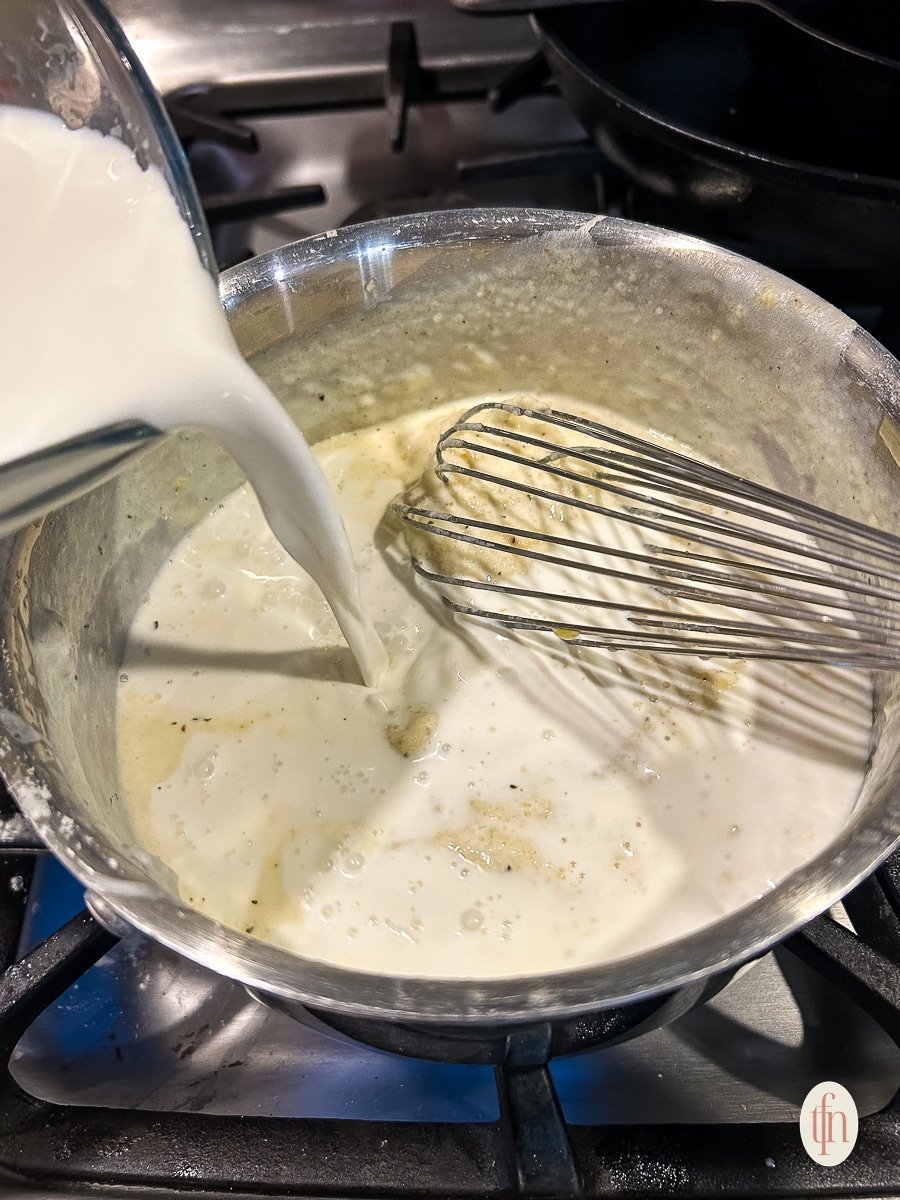 Avoid undercooking the roux.
You might think that your roux is complete as soon as the butter and flour are combined, but that's not the case.

Let the roux cook for 2 to 3 minutes, whisking continuously, until it bubbles. If it's undercooked, it'll give your clam chowder an unmistakable floury flavor.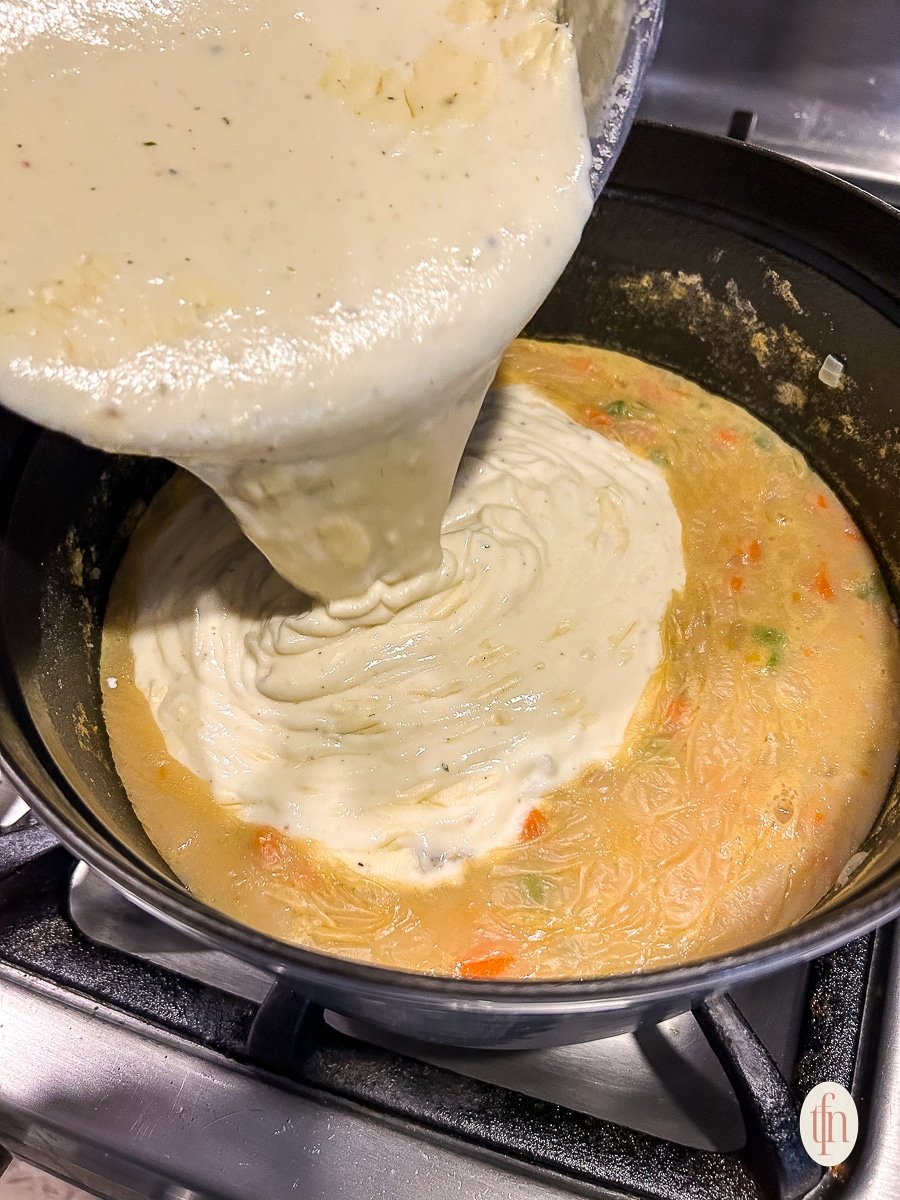 Carefully and gradually add the cream.
Adding too much cream at once can cause the fat and flour to separate, ruining the consistency of your homemade clam chowder.

To make sure it thickens properly, add the cream in small amounts, about 1 cup at a time, while continuously whisking. Once it's incorporated, add the next cup until it's all added, thick, and smooth.
Storing and Reheating
This soup will keep for up to 5 days in the refrigerator. Store in an airtight container and do not let it sit at room temperature for more than 2 hours. Playing around with safety precautions in regard to seafood-based dishes is a surefire way to get food poisoning!
Reheat slowly on the stovetop, stirring constantly, until the potatoes soften and the clams warm through.
San Francisco Clam Chowder FAQ
What is the difference between New England clam and San Francisco clam chowder?
The biggest difference is that an authentic San Francisco clam chowder recipe serves the soup in a bread bowl. The New England dish, alternatively, is served with oyster crackers.

And that's basically the only difference!
How do I keep my bread bowl from getting soggy?
Giving the bowl a quick run in the oven to firm up the crust and give the center a bit of a golden shield is one method.

But if you'd prefer to maintain that fluffy texture, use clean hands to press down on the soft center, sort of smushing the bread against the crusty sides so that the soup doesn't penetrate as much.
What is the best thickener for clam chowder?
Cornstarch is a popular option, as you only need a little for a big effect, but we use flour in the form of a buttery roux. Not only does it thicken the soup and make it creamy, but it also adds a silky, luxurious texture while deepening the flavor.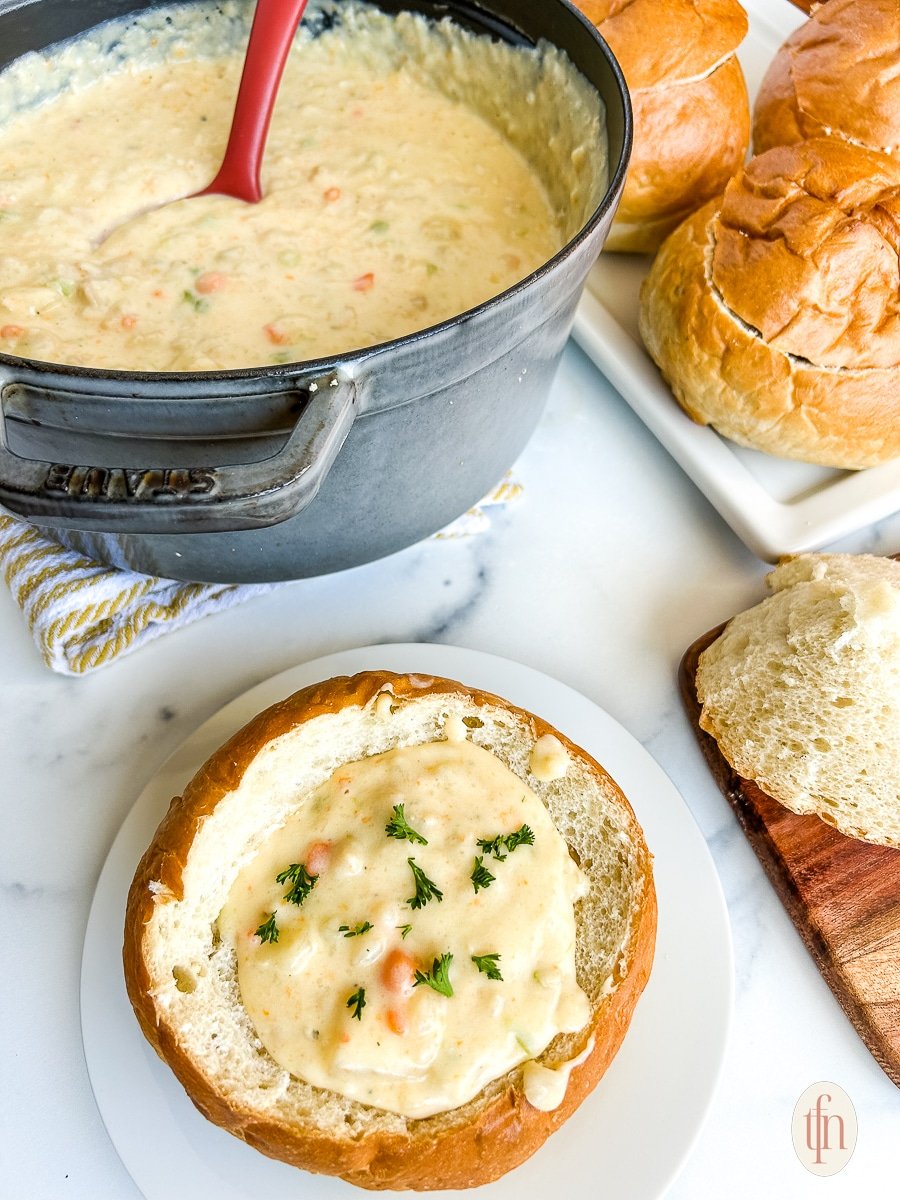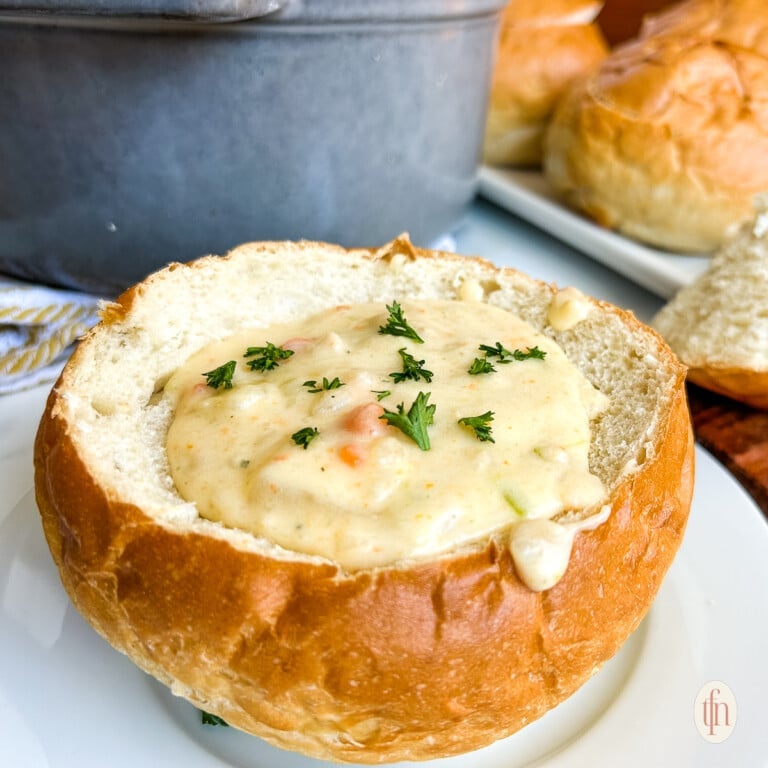 San Francisco Clam Chowder Recipe
For the best west coast clam chowder bread bowl, make our simple San Francisco clam chowder recipe. Enjoy a creamy soup in rustic sourdough!
Equipment
6-quart soup pot

2-quart saucepan
Ingredients
9 cups minced clams *See Notes
1 cup chopped yellow onion
1 cup diced celery
2 cups cubed potatoes dice into 1-inch cubes
1 cup diced carrots
¾ cup butter
¾ cup all-purpose flour
1 quart half-and-half cream or 50/50 combination of whole milk and heavy cream
2 teaspoons all purpose seasoning (we prefer Kinder's Buttery Steakhouse seasoning)
salt and ground black pepper to taste
Instructions
Drain juice from clams into a 6-quart saucepan or stockpot over medium heat. Add the onions, celery, potatoes and carrots. If needed, add water to cover the vegetables, and simmer over medium heat until tender.

Meanwhile, in a 2-quart saucepan, melt the butter over medium heat. Whisk in flour until smooth. Cook for 1-2 minutes, until bubbly. Gradually whisk in half-and-half, about 1 cup at a time, and keep whisking until thick and smooth.

Add half-and-half mixture to pot with vegetables. Stir in clams just before serving. When clams are heated through, stir in seasoning, then salt and pepper, to taste.
Notes
To make this soup more budget-friendly, we recommend checking big retailers, like Costco, Sam's Club, BJs, Smart & Final, Amazon or Walmart online for large cans of minced clams.
Nutrition
Serving: 1serving | Calories: 415kcal | Carbohydrates: 28g | Protein: 7g | Fat: 31g | Saturated Fat: 19g | Cholesterol: 92mg | Sodium: 266mg | Potassium: 521mg | Fiber: 3g | Sugar: 3g | Vitamin A: 3721IU | Vitamin C: 14mg | Calcium: 175mg | Iron: 2mg
PIN THIS POST!
This post, first published 6/21/2020, was updated with new content 9/23/2023.