Sourdough French toast is a fluffy, sweet and delicious breakfast treat. You can make it ahead so, it's the perfect sourdough breakfast recipe for a holiday brunch or any other special occasion. This meal is sure to wake up your taste buds!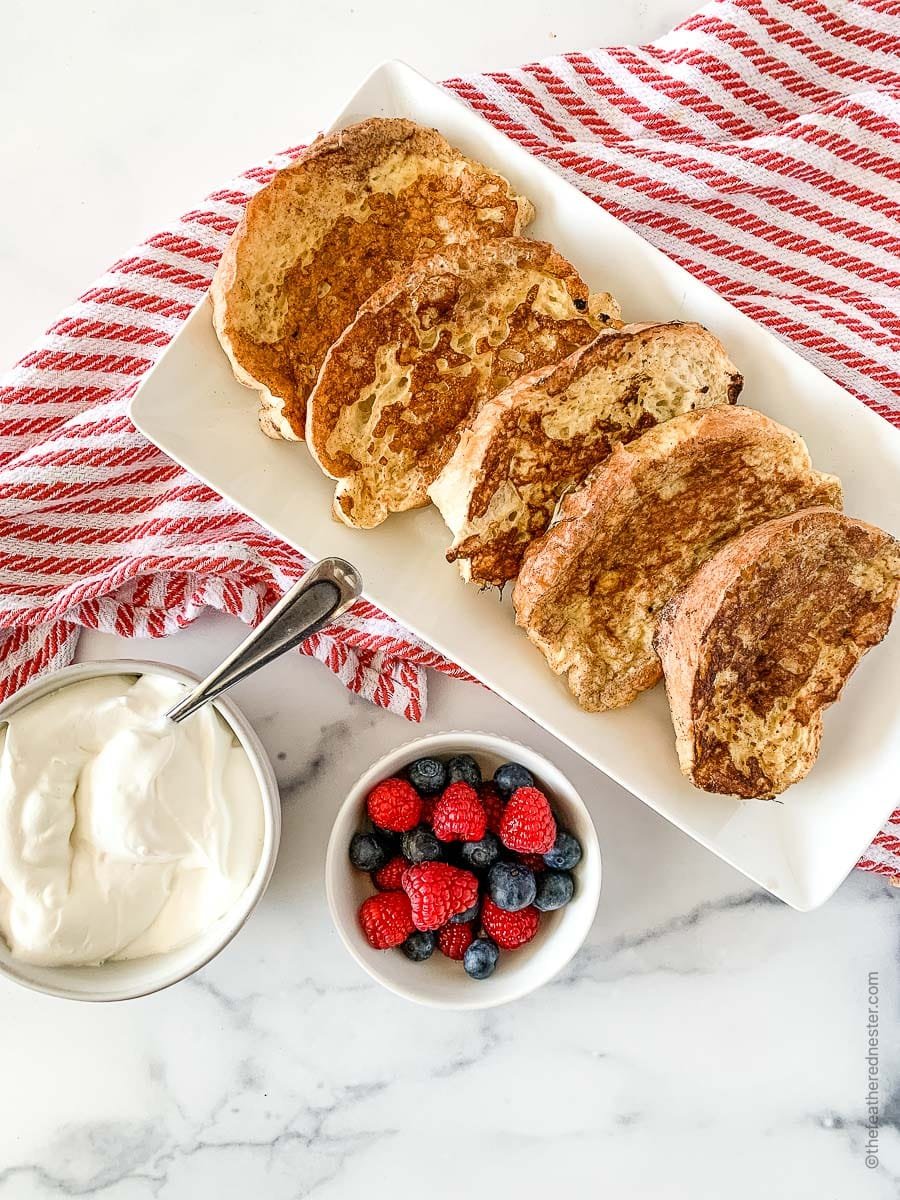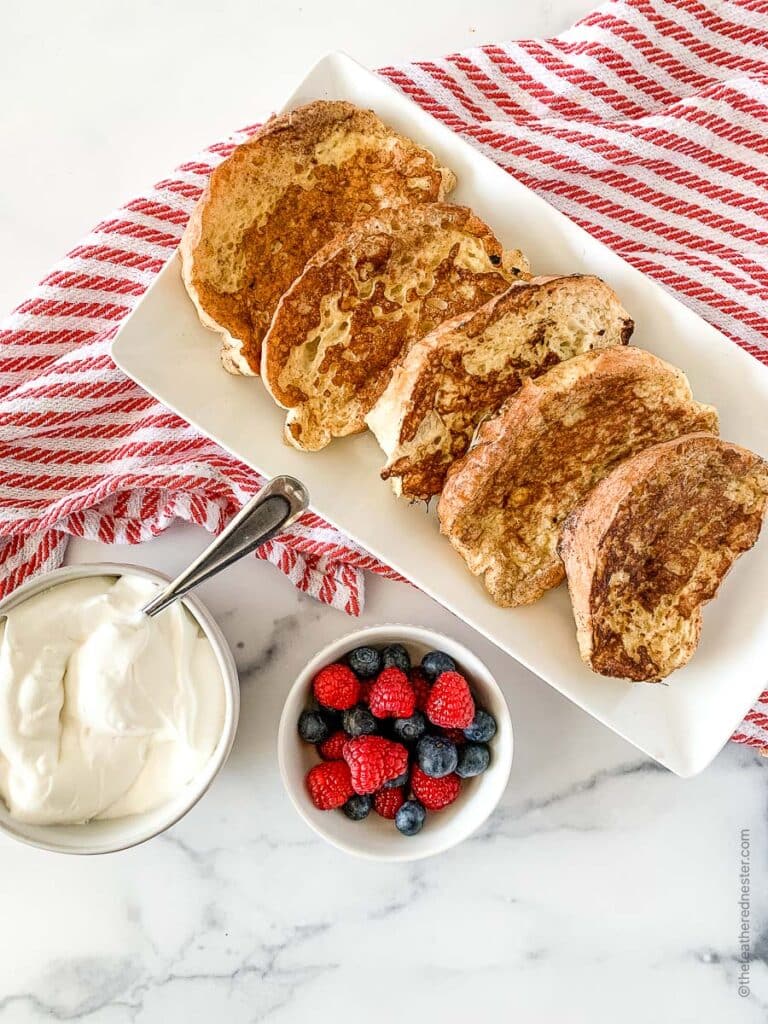 Sweet breakfast treats like pancakes, waffles, and cinnamon rolls are favorites of just about everyone, especially on the weekends.
We think there's something extra special about cutting into soft slices of eggy, lightly grilled French toast, especially when it's made with sourdough bread!
Why We Love Sourdough French Toast
Great use for day-old bread!
This easy sourdough recipe is the perfect way to use sourdough bread that's beginning to stale. Homemade sourdough stales a little faster than store-bought because there are no preservatives to help it last longer.
Freezer friendly for easy meal prep.
If you like to cook ahead for busy holidays, this sourdough breakfast recipe is calling your name! Not only is it a make-ahead meal, but French toast also freezes well for up to 2 months.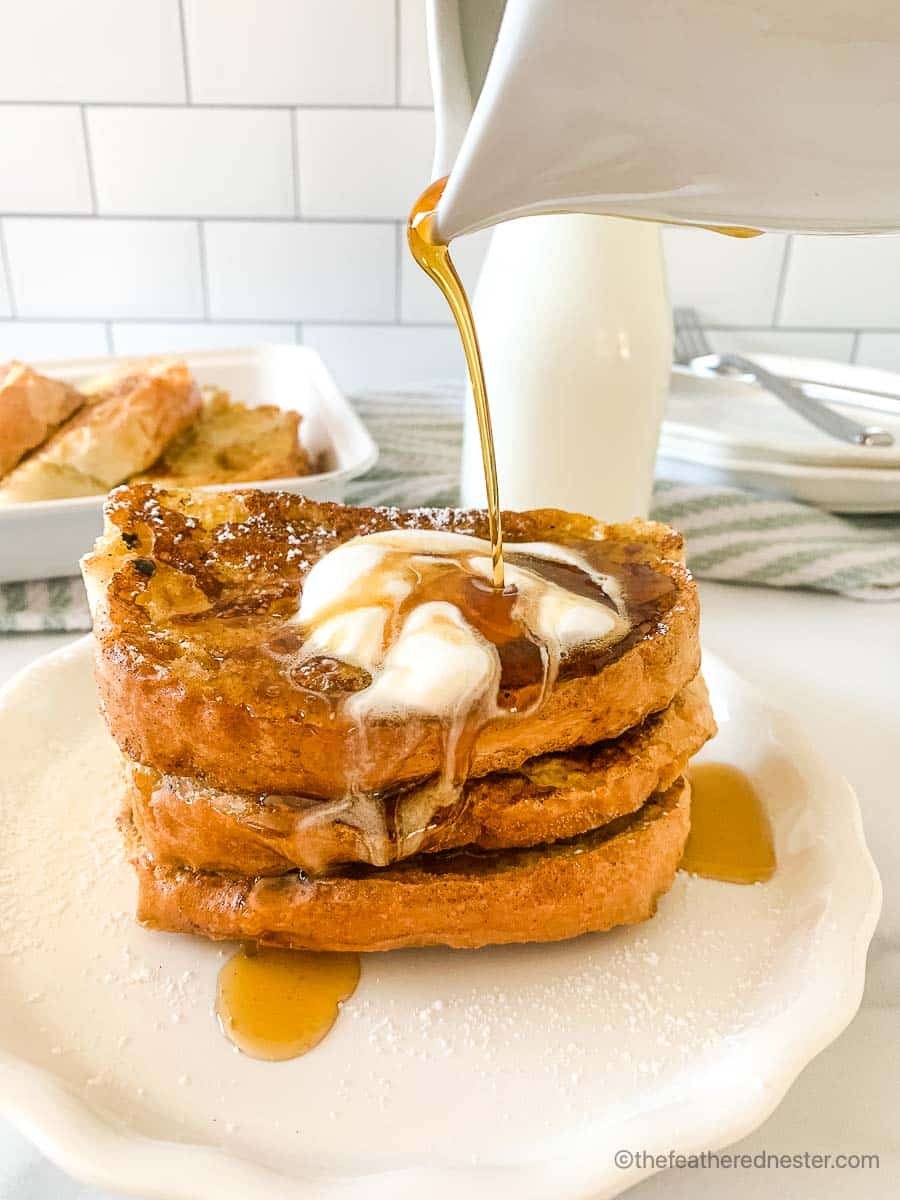 Not a fan of sourdough? You can put together an overnight French toast casserole instead. Or, maybe some strawberry French toast or a stack of fluffy Bisquick pancakes.
Ingredient Notes and Substitutions
We think the best bread for French toast is sourdough French bread. Unlike soft sandwich bread, artisan breads have a structure that's sturdy enough to hold up well to egg batter.
Using whole milk gives the egg batter a thick consistency and rich flavor. Of course, it has more calories, but when you treat yourself to a sweet breakfast treat like this, calories should be the last thing on your mind. 🙂
If you don't mind a little less richness, 2%, 1%, and even skim milk will work.
If you don't already have an active homemade sourdough starter to make the bread with, it doesn't take long. After you make it, it's just a matter of feeding it regularly to keep it active. There are dozens of recipes you can make from sourdough.
Tips for the Best Sourdough Bread French Toast
Use stale or day-old bread.
Bread that's 2-3 days old is the best! Be sure to allow the slices to dry out a little so that they soak up as much of the egg batter as possible. Otherwise, you'll end up with soggy French toast.
In fact, if you want to help it along, let the bread sit on a baking sheet on your kitchen counter overnight.
You can make French toast with sourdough that isn't stale, but honestly, dry bread is the best!
Cut the bread into thick slices.
Slices that are between 1.5 and 2 inches thick are perfect.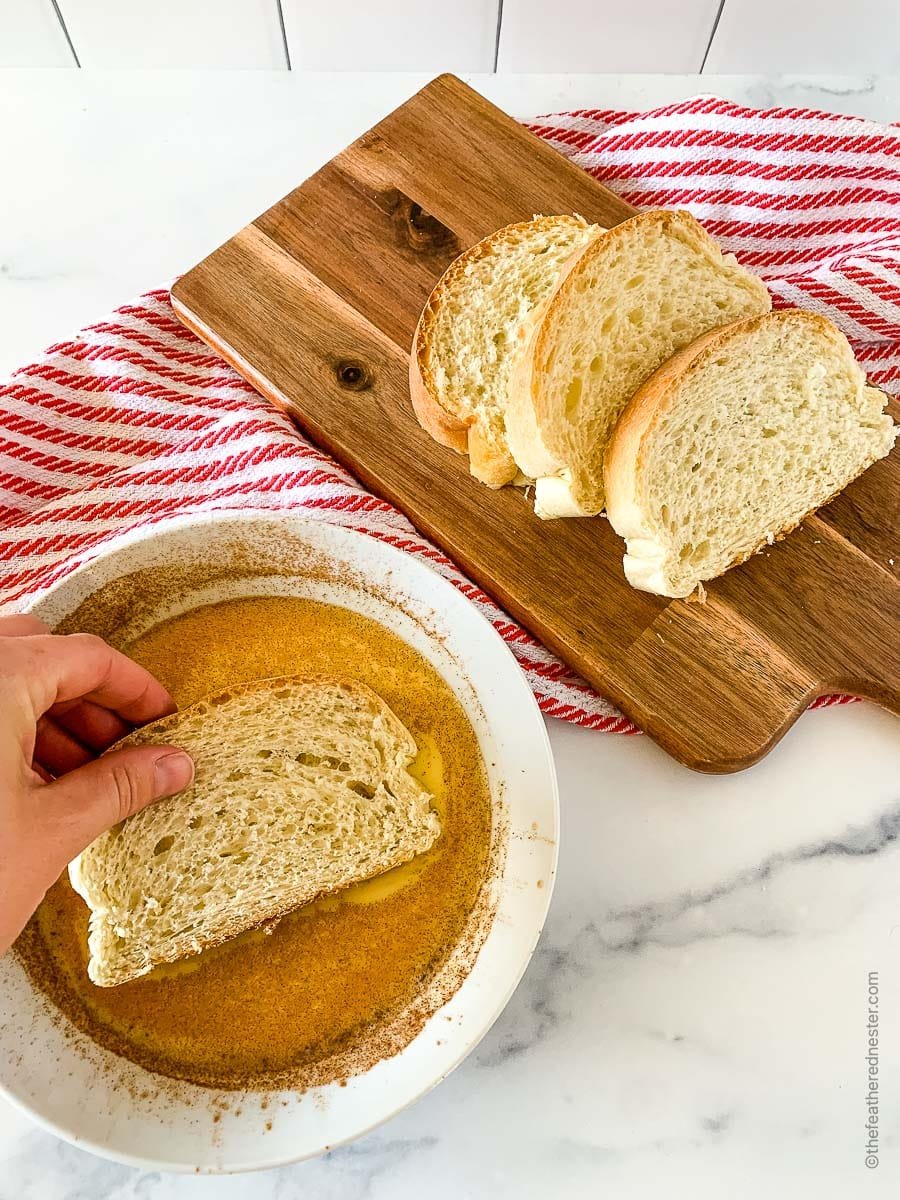 Avoid crowding the skillet.
If you've ever pan seared chicken thighs (or any other protein), you may know that to create a golden crust/sear on the outside, the surface of the food needs air circulating around it. Well, sourdough French toast is the same.
Space the slices out in the pan so they create a nice, golden-brown color. If you don't, the bread will steam and become mushy.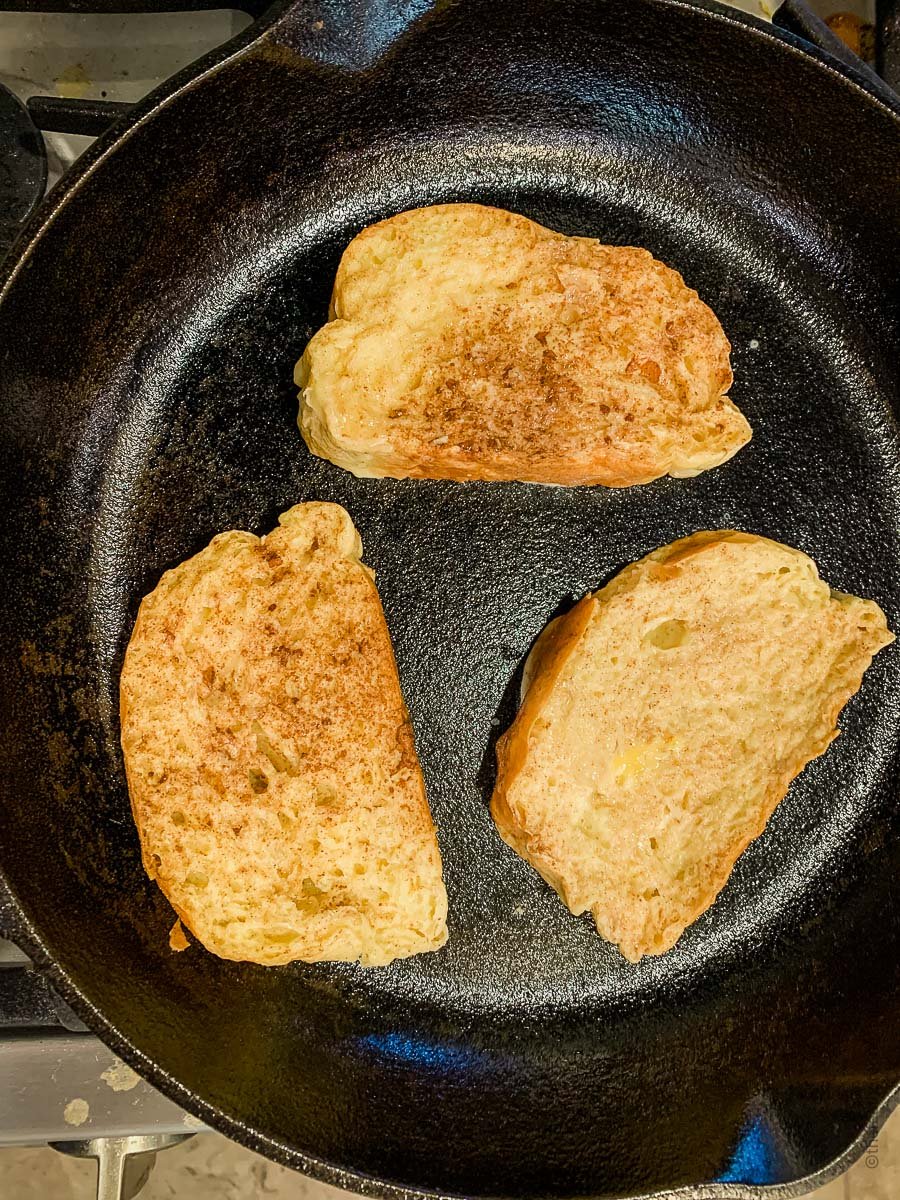 See tips below to keep your breakfast warm until serving. Drizzle with butter and warmed maple syrup or your favorite toppings and serve.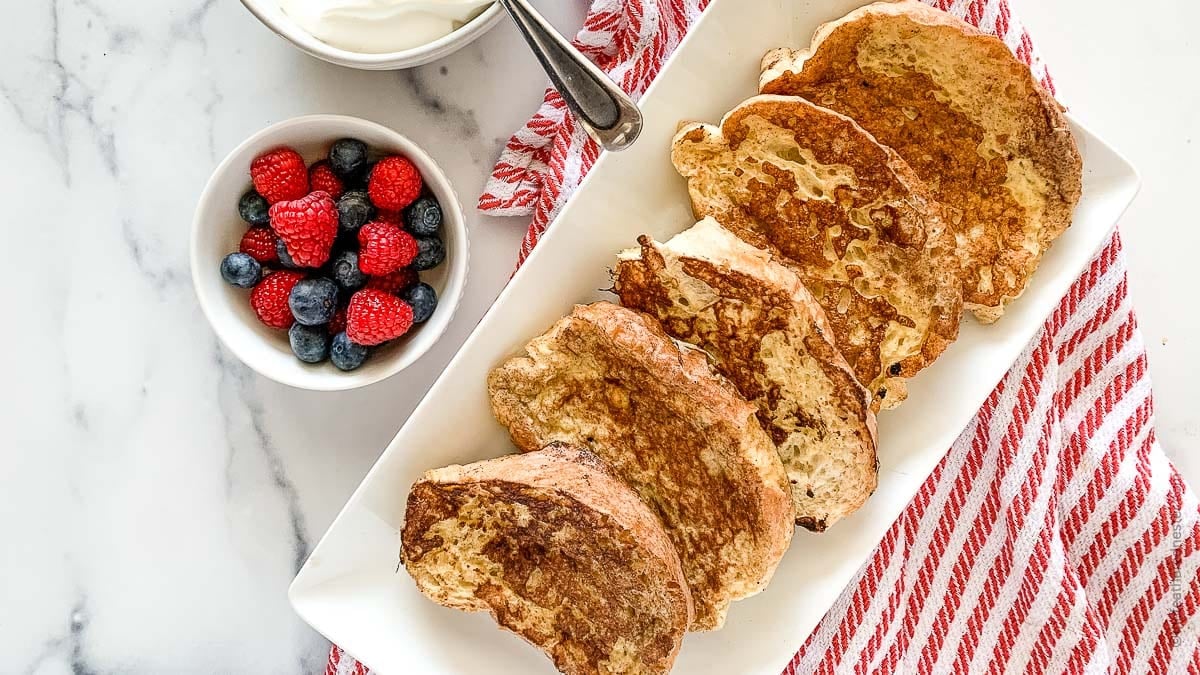 Best Way to Keep French Toast Warm
If you'll be making a large batch and want to serve everyone at the same time, you can keep the slices warm in your oven.
Set the oven to 175ºF. and place an oven-safe plate or baking dish in the oven to preheat. As you finish cooking slices of the sourdough French toast, transfer them to the warm oven and keep them there until you're ready to serve.
TFN Pro Tip
To prevent the slices from drying out, cover the plate with a clean, slightly damp kitchen towel.
Sourdough French Toast FAQ
How long should you soak bread for French toast?
This depends on how you plan to cook it. If you'll be frying in a pan, quickly dredge each side of the bread in the mixture. The quick cooking time means you don't want the middle to be soggy or it won't cook through.
If you are baking French toast casserole in the oven, you can soak the bread through.
Is sourdough bread healthier than regular bread?
Unlike traditional yeast-risen dough, sourdough is fermented. Studies have shown that fermented foods have anti-inflammatory properties. This makes French toast with sourdough a little bit healthier than when it's made with yeast bread.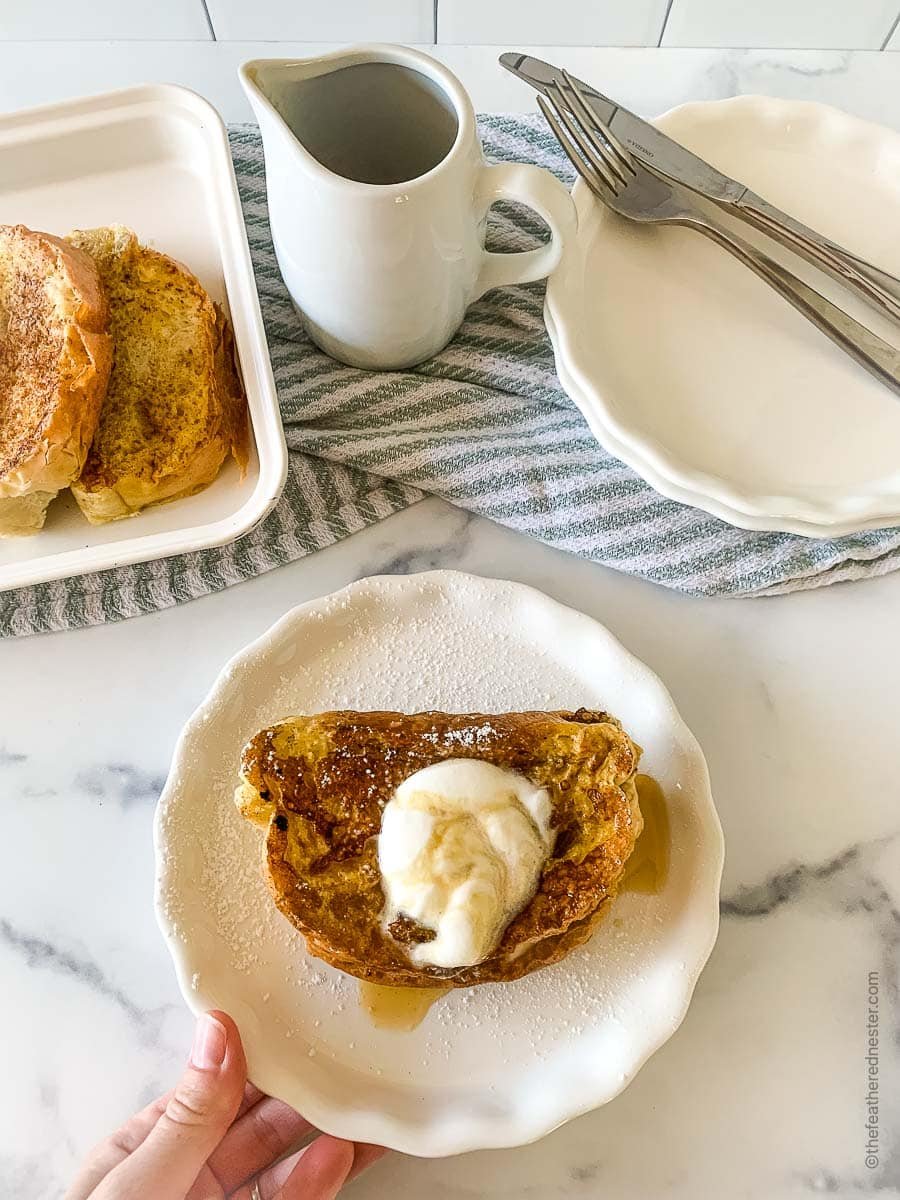 Sourdough Breakfast Recipe Variations
This sourdough French toast is sweet and golden brown, and tastes delicious with almost any toppings. There are so many options to dress up your sweet breakfast! Here are some ideas:
Use maple extract instead of vanilla extract, and skip the maple syrup

Sprinkle powdered sugar or cinnamon sugar on top for a prettier presentation. This makes it similar to a funnel cake!

Top it with fresh fruit like sliced bananas, strawberries, blueberries, or raspberries

Schmear the slices with chocolate hazelnut spread, peanut butter, or almond butter.

Add a layer of jam, lemon curd, apple butter, or orange marmalade

Sprinkle chocolate chips, coconut flakes, or chia seeds over the top
TFN Pro Tip:
Check out our strawberry French toast recipe to learn how to make fresh strawberry syrup. It is simple to make and it tastes fantastic!
Gluten Free and Dairy Free Options
This sourdough breakfast recipe can be made dairy free by replacing the cow's milk with any nut milk or other dairy-free alternative. If you're sensitive to butter, you can substitute it with coconut oil or any other plant-based butter.
How to Store Sourdough French Toast
Sourdough French toast is best served fresh and warm, but if you have leftovers, you can store them in the fridge for up to 2 days. Simply place the cooled toast on a plate or baking dish and cover it with plastic wrap or aluminum foil.
Freezing Instructions
We recommend cooking a few additional slices than you may need, because French toast of any kind freezes beautifully for up to 2 months.
Note: French toast freezes well, but only if there are no toppings on the slices.
Be sure the slices are cool first, then place them in a freezer storage bag or airtight container. When you're ready to enjoy your sourdough breakfast again, just let the slices thaw for 15-20 minutes before you reheat them.
Reheating Instructions
Like everything else about this sourdough breakfast recipe, reheating is easy! There are a few options; just choose a method that is the most convenient for you.
Oven
To reheat the slices all at one time, place a wire cooling rack over a rimmed sheet pan. Arrange the sourdough French toast in a single layer on the rack, then place the pan in a 350°F. oven.
Microwave
Toaster or toaster oven
Frying pan or cast iron skillet
For French Toast, Renae Recommends Using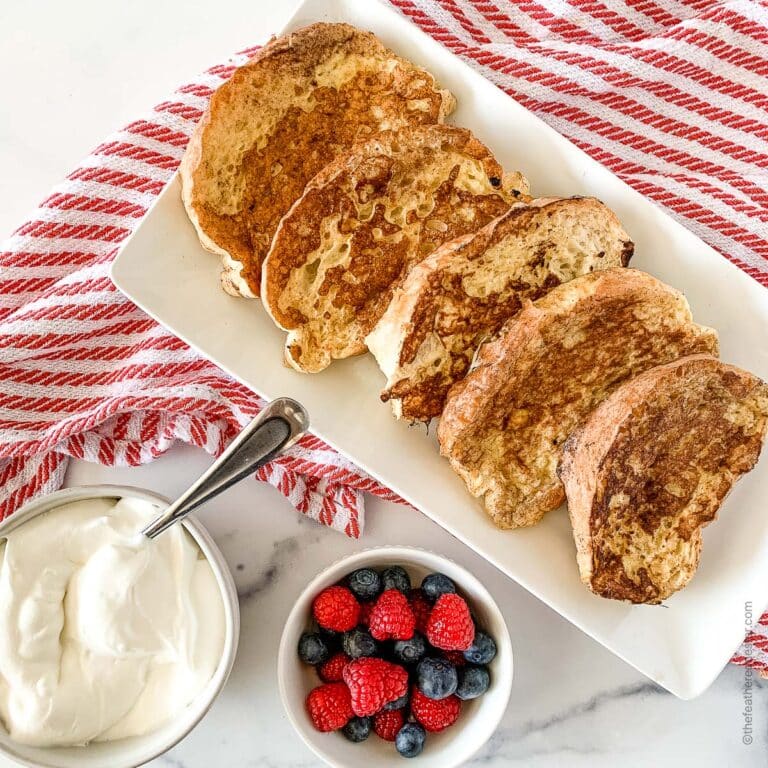 Sourdough French Toast
Sourdough French Toast is delicious, and a great use for stale bread! This sourdough breakfast recipe is a favorite for weekend brunch!
Equipment
bowl - (for mixing)

pie plate or dipping tray - (for dipping the french toast)
Ingredients
1 teaspoon ground cinnamon
¼ teaspoon ground nutmeg
2 teaspoon sugar
4 tablespoons butter
3 large eggs
⅓ cup milk whole or 2%
½ teaspoon vanilla extract
8 slices sourdough bread (slightly dry)
Instructions
Preheat electric griddle to 350ºF (if using). In a small bowl, combine cinnamon, nutmeg, and sugar and set aside.

Melt butter on the griddle or in a 12-inch skillet over medium heat. Whisk together the cinnamon mixture, eggs, milk, and vanilla. Pour the mixture into a shallow container such as a pie plate or dipping tray.

Dip each side of the sourdough bread in egg mixture, then place it on the griddle or skillet without crowding. Cook french toast slices until golden brown, then flip to cook the other side.

See tips below to keep them warm until serving. Top with butter and drizzle with warmed maple syrup before serving.
Notes
Keeping Sourdough Bread French Toast Warm Set your oven to 175ºF. Put an oven-safe plate, casserole, or baking sheet in the oven to preheat. Add your French toast slices to the oven as soon as they're finished cooking, and keep them in there until you're ready to serve. Cover the plate with a slightly damp, clean kitchen towel to keep the sourdough French toast from drying out.
Nutrition
Serving: 1serving (2 slices) | Calories: 525kcal | Carbohydrates: 70g | Protein: 19g | Fat: 19g | Saturated Fat: 9g | Polyunsaturated Fat: 2g | Monounsaturated Fat: 5g | Trans Fat: 0.5g | Cholesterol: 172mg | Sodium: 922mg | Potassium: 239mg | Fiber: 3g | Sugar: 9g | Vitamin A: 587IU | Vitamin C: 0.02mg | Calcium: 121mg | Iron: 6mg
PIN THIS POST!
This post, first published August 2022, was updated with new content in April 2023.