The smell of baking bread is one of the best smells that can come from a kitchen. It is something I always aspired to create in my own home. After years of trial-and-error, I found some secrets to creating a soft, tasty loaf of classic sandwich bread. The kind of bread that adults and kids love. Well, making your own delicious homemade sandwich bread will be a reality with this easy, literally fail-proof recipe with step-by-step directions and a short video.
In case you're thinking "there is no way I'll be able to make amazing homemade bread," I wish I could share a few photos of my early bread-making failures with you. They would be worth a few good laughs. Believe me when I tell you that you CAN do this. Homemade sandwich bread is within your reach.
For Bread Recipes, Renae recommends (and uses) these supplies
What you need to make Homemade Bread
Equipment & Supplies
Let's get this started with my fool-proof equipment and supplies:
Use a stand mixer with a dough hook
Have an instant read thermometer
Use fresh, unexpired yeast
Have 2-3 bread pans
Stand Mixer for Kneading
Although you can make amazing bread with hand kneading, a stand mixer makes quick work of kneading the dough. Kneading is work, and one of the biggest yeast bread failures comes from improper kneading. If you are a beginner, a stand mixer will help keep this fail-proof.
Kneading warms and stretches the gluten, creating a springy and elastic dough. It removes gas pockets that form in the dough, creates an even texture in the bread, and redistributes nutrients for the yeast to work.
Pro Tip: kneading dough is hard on mixers. If your mixer isn't heavy-duty, you risk burning out the motor if you use it regularly for bread dough. See my recommended mixers below.
Instant Read Thermometer
I rely on an instant-read thermometer because I tend to overheat the water. Adding water that is too hot kills the yeast. And, the yeast is what rises the dough. So, take a moment and measure the water temperature before adding it to the yeast. You will be glad you did.
Another failure on my part had been buying yeast packets and forgetting they have expiration dates. When I needed one, I would use it without a thought that it might be expired.
Use Fresh Yeast
If you use packets of yeast, check the expiration date. If you rely on jar yeast, use a Sharpie to mark the date you open it. Toss it after 6 months. This will ensure that your yeast dough rises to the occasion.
Having enough bread pans to bake your bread at the same time is important. You can make do by freezing some dough (see "notes" in the recipe) and baking it on different days. This will allow you to use just one or two bread pans.
Homemade Bread Ingredients
granulated sugar or coconut sugar
active dry or instant yeast
vegetable or coconut oil
an egg
salt
How to Make Amazing Homemade Bread
Now that you have the basics, let's make some amazing homemade bread!
Make the Dough
In a large bowl (if you are using your mixer then use that bowl) add your warm water and sugar. Stir it, then sprinkle the yeast on top. Let stand 10 minutes.
While the yeast is activating, measure out your flour. Since there several cups involved, I like to measure it out beforehand.
Add the bowl to your mixer and fit on the dough hook. If mixing by hand, get a sturdy wooden spoon or dough whisk to mix. Stir in the oil, egg, and salt to the yeast mixture.
Slowly add flour, one cup at a time, and mix well between cups. After the 6th cup, observe how the dough looks. If using regular bread flour, 7 1/2 cups should be enough.
Remember: add less Kamut flour or sprouted wheat flour. Start with 6 1/2 cups and work up to 7 cups.
Pro Tip: Factors like the level of humidity or even the season of the year can affect how much flour you need.
Kneading yeast dough
As mentioned above, kneading yeast dough long enough is an important process. With a stand mixer, knead for 3 – 4 minutes. By hand, knead for at least 5 minutes. Here is a video to show you how to knead the dough by hand:
How do you know if you've kneaded the yeast dough long enough?
If kneading in a mixer, the sides of the bowl should be clean and the dough in a ball.
Whether you are kneading by hand or mixer, look for these factors in homemade yeast dough:
the dough is tacky but not sticky
the surface of the dough is smooth like the inside of your cheek
the dough is pliable and stretchy enough to stretch for 3-4″ without tearing
Rising yeast dough
First Rise
Cover dough with a clean, lightly dampened kitchen towel. Allow the bread dough to rise until doubled, about 45 minutes.
Then punch the dough down to deflate it. I punch down the center, then draw in the sides of the dough into the middle.
Second Rise
Cover and let rise again, for 30-45 minutes or until doubled in size.
Measure the size of your bread pans. If they are 4″ x 8″ or 4′ x 9″ then divide the sandwich dough into three equal pieces.
If your pans are 4.5″ x 12″ then divide the dough into two.
I use larger loaf pans. These longer pans make the bread look more like homemade sandwich bread. My bread pans and other bread-making supplies are linked at the end.
Spray the bread pans with cooking oil, even if they are non-stick. Roll out the dough into a rectangle.
For smaller bread pans, to 5″ x 12″. For larger bread pans, into 6″ x 18″. Roll up from smaller end as it will stretch during the rolling process. Pinch the ends into the dough, and lay the bread dough seam side down.
Third Rise
Cover dough pans with a dampened kitchen towel. Let rise 30 minutes, until dough is over the top of the pan.
Then it's time to bake the homemade sandwich bread! Bake at 350º for 30-45 minutes, checking after 30 minutes. The bread is done when the crust is firm and brown, and the underside of the loaf is firm and makes a hollow sound when tapped. Remove from the pan immediately and cool on a rack.
FREQUENTLY ASKED QUESTIONS
What ingredient makes bread moist?
Whole wheat flour and mostly whole grain ones absorb more liquid than other flours such as white flour. In whole wheat flour, the whole grain is used, the grain is rich in fiber that loves to trap water and therefore the flour will be able to retain more moisture.
What is the secret to making good bread?
It needs to be at the right temperature the recipe asks for. Preheat it for at least 15 minutes. For bread, it's important the oven to be at the right temperature so the yeast can make the loaf rise enough before the flour set. Placing the dough into a cold oven will affect negatively its rising.
What makes bread soft and fluffy?
Yeast releases gases when it consumes the sugars in the flour. These gases get trapped inside the dough by the mesh the gluten makes. This is what causes your bread to be airy and fluffy. This mesh is formed by kneading the dough.
Get the recipe for the best Sandwich Bread below!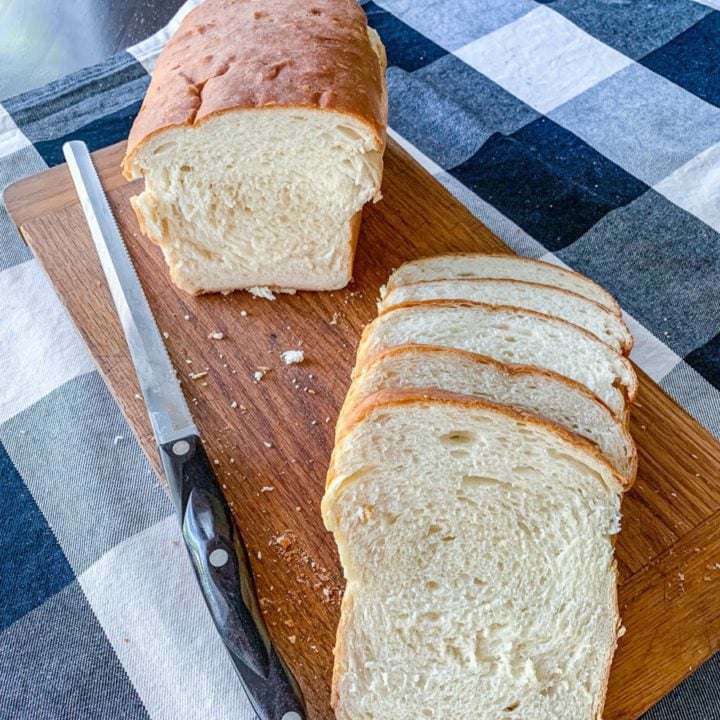 Classic Sandwich Bread
This is the easiest and best sandwich bread out there! Once you've made this bread, storebought bread will be a thing of the past.
Ingredients
¾ cup sugar coconut sugar is fine
3 cups warm water 105º – 110º temperature
2¼ teaspoon active dry yeast (1 packet)
⅓ cup vegetable oil or butter (melted)
1 egg, beaten
1 tablespoon fine sea salt
7-8 cups bread flour (if using Kamut flour or sprouted flour, reduce to 6 1/2 to 7 cups)
Instructions
Combine sugar and warm water in a large bowl. If using a stand mixer, use that bowl. Stir together, then sprinkle yeast on top. Let stand for 10 minutes while the yeast disolves and activates. The mixture will become very foamy on top.

If using a mixer, attach bowl to mixer, and connect the dough hook. Add oil, egg, and salt to yeast mixture. Mix to combine. Slowly add flour, one cup at a time, mixing well between cups. After the 6th cup, watch the dough to make sure it's not getting too dry. It should look very shaggy. Remember to add less flour if you are using Kamut flour or sprouted flour. After mixing the 7th cup, the dough should start to come together as a ball. Do not add too much flour! Usually 7 ½ to 8 cups of bread flour is enough, or 6½ to 7 cups for Kamut flour or sprouted flour.

Knead the dough (see video in post for kneading by hand). If using a stand mixer, knead 3-4 minutes. By hand, at least 5 minutes. The dough should be tacky but not sticky, smooth like the inside of your cheek, pliable and stretch 3"-4" without tearing.

Cover bowl with a clean, dampened kitchen towel and let rise until doubled. This should take about 45 minutes.

Punch down dough to deflate it, and pull the sides into the middle. Cover and let rise again until double, about 30-45 minutes. Spray bread pans with oil, even if they are non stick pans.

Divide dough. If using smaller pans (4" x 8") then divide into 3. For larger pans (4" x 12") divide into 2. Roll out dough into rectangles about 5" x 12" or 6" x 18" (depending on loaf size). Starting on narrower end, roll up the dough. Pinch the ends. Place in bread pans, seam side down. Cover and let rise for 30 minutes. Preheat oven to 350º.

Bake for 30-45 minutes, checking after 30 minutes. Bread is done when crust is firm and golden brown, and the underside of the loaf is firm and makes a hollow sound when tapped. Remove the bread from the pan and let cool on a rack.
Notes
To freeze dough to bake later:
After Step 4 (first rise), punch down dough. If you are baking some, and freezing some. Divide up dough. Follow Step 5 for the portion to bake.
For dough to freeze: place the loaf (or loaves) in a bread pan lined with greased plastic wrap to prevent sticking. This also allows the dough loaves to hold their shape when frozen.
Place the bread pans in the freezer and let the dough freeze for about 10 hours.
Remove the frozen bread dough from the pans. Wrap it in plastic wrap and place it in a resealable plastic freezer bag.
Date the bag(s) of dough and place in the freezer immediately. Your dough can be frozen for up to four weeks.
Nutrition
Serving: 1slice | Calories: 107kcal | Carbohydrates: 19g | Protein: 3g | Fat: 2g | Saturated Fat: 1g | Cholesterol: 4mg | Sodium: 161mg | Potassium: 27mg | Fiber: 1g | Sugar: 3g | Vitamin A: 5IU | Calcium: 4mg | Iron: 1mg
PIN THIS POST!
I am so excited for you to try this homemade sandwich bread! It is delicious! Store-bought bread will never taste as good as this.
Check Out These Bread Recipes