There's nothing easier or tastier than a scrambled egg sandwich for breakfast. Crack some eggs, toast some bread, and in minutes, you'll have a grab 'n go meal. We'll show you how to make fluffy eggs in a snap, for a sourdough breakfast sandwich that's sure to start your day in a delicious way!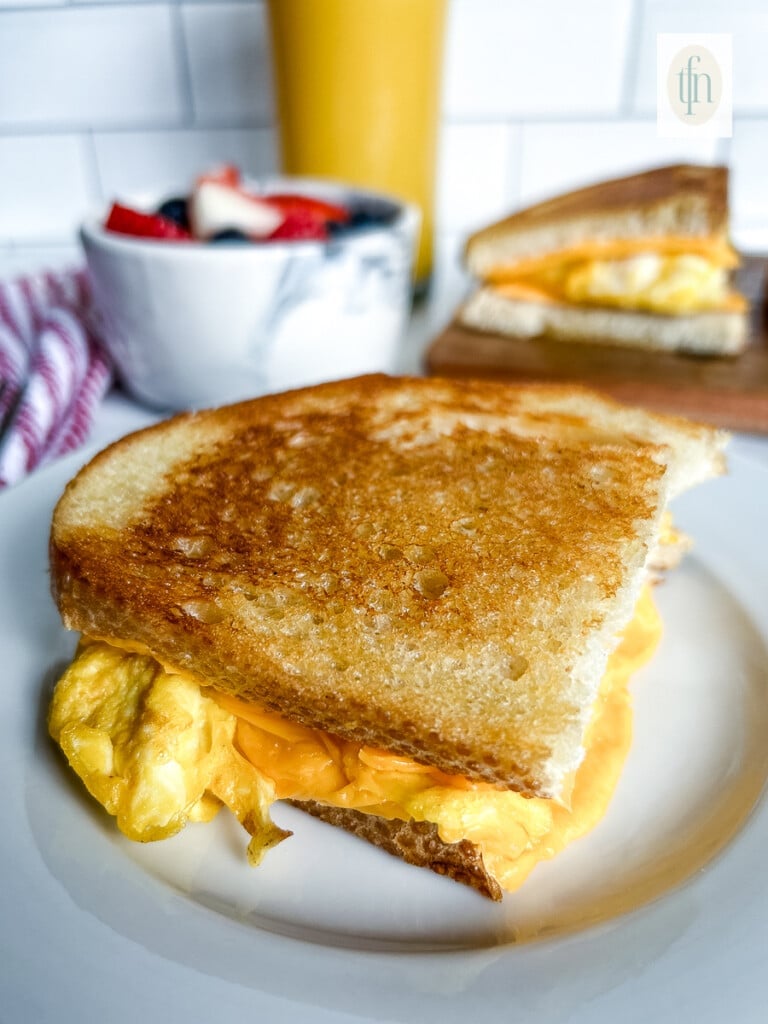 Reasons to Make a Scrambled Egg Sandwich
It's a quick, easy meal. It takes 20 minutes total to make a sourdough breakfast sandwich, and even quicker if you make the eggs ahead of time.
Customizable and adaptable. Vegetables and proteins can be mixed into the scramble or layered onto your egg and cheese sandwich. You can use gluten free bread or non-dairy cheese for those with allergies.
Eggs make a great meal any time of the day! We always mention having eggs for breakfast in a casserole or sandwich, but they taste just as delicious at the end of the day. (Make our ham and tater tot casserole and you'll see what we mean!)
Ingredient Notes and Substitutions
Eggs – Medium- to large-sized eggs are preferred. If you're watching your cholesterol, feel free to use only egg whites.
Water, Half & Half, or Cream – All are suitable, but half & half and cream will result in creamier, fluffier eggs.
Sourdough Bread – It's sturdy, it's tangy, and it toasts well — the perfect vehicle for our sandwich egg sandwich! Another great option is sourdough French bread.
American Cheese – This cheese melts easily and has a nice creamy texture. Cheddar, Swiss, and Provolone are very tasty on a scrambled egg sandwich as well!
Sourdough Breakfast Sandwich Variations
Leafy greens are great for adding nutritional value and fresh flavors to your otherwise heavy, buttery sourdough breakfast sandwich! Spinach, kale, and arugula are all perfect to use, but iceberg lettuce is rather wet and slippery, so we don't recommend it.
Chives or scallions add some spicy, garlicky flavor without changing the texture much at all.
Tomatoes and bell peppers are also pleasantly sweet, giving some dimension to the texture of your scrambled egg sandwich. They're great to dice and add to the scrambled egg mixture itself.
Finally, breakfast meats can't be beat! We recommend slices of bacon or ground breakfast sausage thrown right into the eggs before they're cooked.
How to Make Fluffy Eggs
Tap the eggs on a flat surface first. This might seem counter-intuitive, but you're less likely to get shells in your eggs this way.

Crack the eggs into a bowl and add the liquid. Whisk until the mixture is bright yellow in color.
Preheat your pan or skillet to medium-low heat. Add the butter and wait until it melts to add the eggs to the pan.
Let the eggs cook until the edges begin to set, about 2 minutes. Slide a silicone spatula along the edges of the pan, working toward the center.
Don't let the eggs sit still and burn! Repeat this sweeping motion, lifting the eggs, until the runny egg mixture no longer comes spilling to the edges.
Once the eggs are cooked all the way, remove them from the heat right away so that they don't dry out! That would completely undo all of your hard work to make fluffy eggs.
Helpful Tips
Use a silicone spatula.

A silicone spatula will mold along the shape of your pan, helping to grab the uncooked eggs in a way that metal utensils simply cannot. Plus, they are much, much easier to clean — no burnt bits that take ages to scrub away.
Let the pan come to temperature before you start cooking the sourdough sandwich.
Wipe down the skillet and let it reach the right temperature before adding the bread to the pan.

You don't want to wait for the pan to get hot when the bread is already in the skillet, because it will soak up too much butter. Ultimately, this weighs it down, and will also lead to both sides of the sourdough sandwich cooking unevenly.
Scrambled Egg Sandwich FAQ
Is a scrambled egg sandwich healthy?
While eggs offer plenty of protein and vitamins (A, D, and B12, specifically), we are cooking them in butter and covering them in melted cheese. Consider the calorie and fat content of all ingredients in a recipe when weighing the health pros and cons.
Do you add milk to scrambled eggs?
Most people do, but it's not required — plain water is a perfectly acceptable substitute for half & half, milk, or cream. However, dairy adds fluffiness and creaminess, so know that the overall texture and flavor will be different without it.
Serving Suggestions
It can be nice to have several flavors and textures on your plate! We recommend whipping up some turkey bacon and crispy breakfast potatoes for a very classic breakfast.
Or if you'd prefer something fruity, try a simple strawberry blueberry salad (seasonal in the spring and summer!) or homemade pop tarts.
Storing and Reheating
Cooked scrambled eggs can be refrigerated for up to 4 days, so they may very well be worth meal-prepping! However, due to concerns of potential bacterial contamination, be sure to reheat them properly (the FDA recommendation is 165°F).
Renae Recommends These Tools for Making Breakfast Sandwiches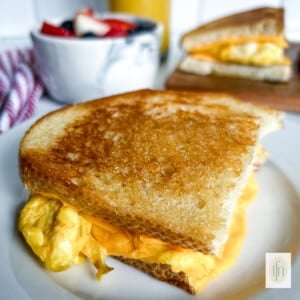 Sourdough Scrambled Egg Sandwich
A scrambled egg sandwich is a delicious way to enjoy eggs for breakfast! Our sourdough breakfast sandwich recipe is easy to customize, too.
Equipment
medium bowl

medium nonstick skillet

sandwich griddle

large cast iron skillet
Ingredients
6 eggs
1 ½ tablespoon water half & half, or cream
1 tablespoon butter
½ teaspoon salt
¼ teaspoon pepper
8 slices sourdough bread
8 slices American cheese divided
3 tablespoons butter softened
Instructions
Scramble the eggs
Crack the eggs into a medium sized bowl. Tip: crack eggs on a flat surface to minimize shell fragments. Add water or cream to the eggs and whisk to combine, until eggs are a uniform color throughout.

Preheat a medium sized non-stick or cast iron skillet over medium-low heat. Add butter and once it melts and foams, add the egg mixture.

Cook for 2 minutes or so, until the eggs' edges begin to set. Using a silicone spatula, slide the eggs from the edge of the skillet toward the center. Continue working this way along the edge of the skillet until the runny egg no longer moves back toward the edges of the pan. When cooked, the eggs should look like large curds. Sprinkle with salt and pepper. Remove from heat.
To assemble
Lay out the bread slices, 4 will be the bottoms, and 4 will be the tops of the sandwiches. Place a slice of cheese on each of the bottom slices. Cover each cheese slice with 1/4 of the scrambled eggs and then another slice of cheese. Cover them with the top slices. Spread the softened butter on the outside of the bread.

Heat a griddle or large skillet over medium-high heat. Add the sandwiches to the pan buttered side down, leaving some space between each (don't overcrowd the pan).

Cook for 3 minutes or until bread is golden brown. Use a large spatula to flip sandwiches over and cook for 3 more minutes, or until the cheese melts.
Nutrition
Serving: 1sandwich | Calories: 699kcal | Carbohydrates: 69g | Protein: 30g | Fat: 34g | Saturated Fat: 18g | Polyunsaturated Fat: 3g | Monounsaturated Fat: 9g | Trans Fat: 1g | Cholesterol: 318mg | Sodium: 1947mg | Potassium: 301mg | Fiber: 3g | Sugar: 7g | Vitamin A: 1104IU | Calcium: 547mg | Iron: 6mg
PIN THIS POST!