Strawberry blueberry salad is a festive and light summer side for the 4th of July and other summer celebrations! It's a sweet mixed berry salad with bursts of fresh fruit, pockets of mini marshmallows, and a fantastic citrus poppy seed dressing that ties it all together.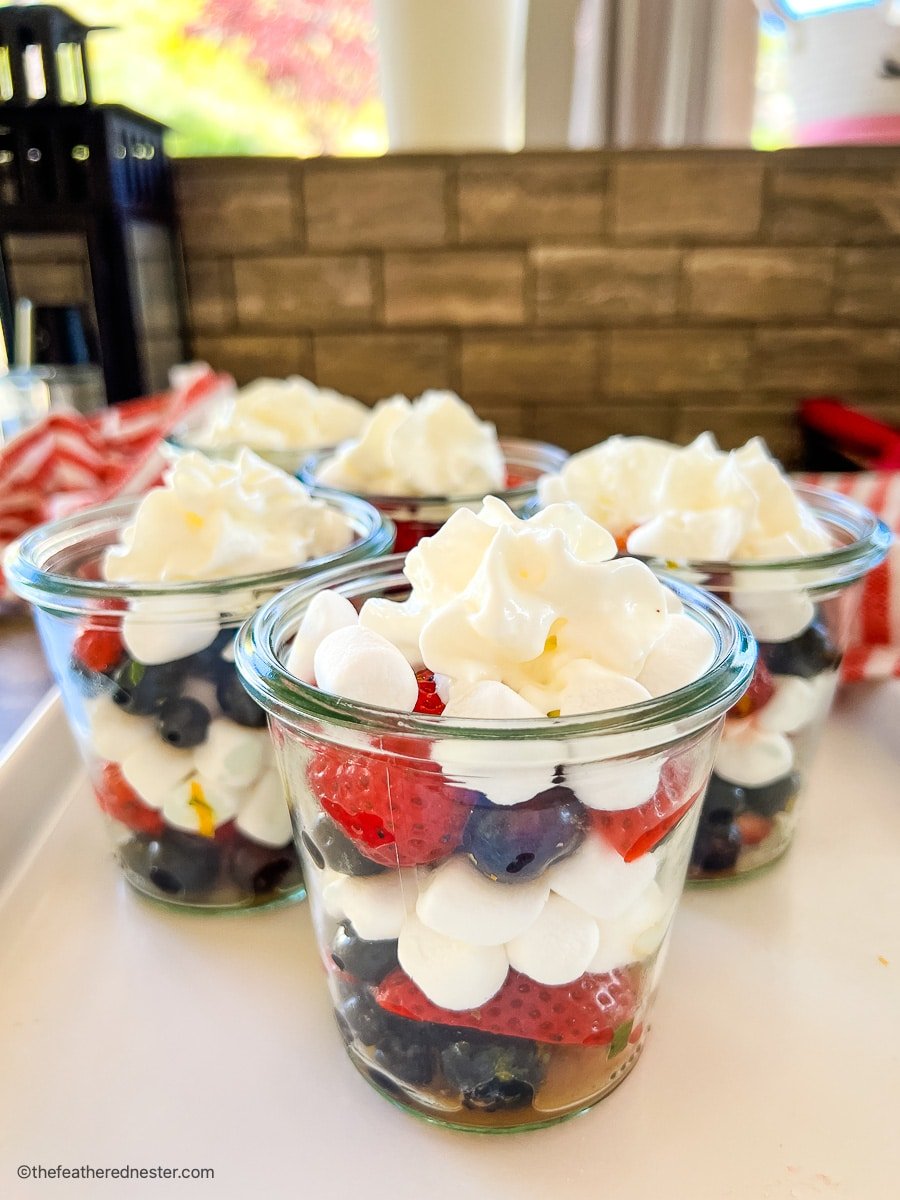 Easy fruit salads like this one work perfectly for May celebrations like Mother's Day and Memorial Day. And, because this recipe has no mayo or dairy products that can spoil in the heat, it's also perfect in the hot months of summer!
The red white and blue colors make it a festive side dish for your July 4th cookouts, pool parties, and picnics.
Why We Love Strawberry Blueberry Salad
It's a tasty way to enjoy fresh summer fruit. And if your favorite berries aren't in season, it's just as easy to make with frozen fruit!
Easy to make ahead. As long as you leave the dressing off, you can prep the berries up to 4 days ahead of time.
It doesn't weigh you down. We love picnic sides like calico beans and potato salad, but they're a bit heavy. It's nice to have a lighter option for the really hot days. And the dressing tastes great with almost any salad you can think of!
Looking for something sweeter to make with summer berries?

Use your blueberries to make our homemade blueberry Pop Tarts or blueberry cobbler. Strawberry dessert lovers go crazy for Bisquick strawberry cobbler and apple strawberry crisp!
Ingredient Notes and Substitutions
Strawberries and Blueberries – Any substitutions that keep this a red white and blue salad are great! Raspberries, blackberries, even cherries — just consider how easy they are to slice, and if they might break up the texture of the salad overall.
For the Fruit Salad Dressing
Citrus fruit – We use the zest and juice of an orange and a lime. Oranges are easy to find almost all year long, but the lime crops have had rough year weather-wise. If you have trouble finding good limes, lemons will do just fine.
Honey or Maple Syrup – For a lighter taste that highlights the fruitiness of the strawberry blueberry salad, go with honey. But if you enjoy the vanilla-like taste of maple with your fruit, use maple syrup as your dressing base. Or use a mix of both!
Poppy Seeds – These seeds don't just add texture, they have a subtle nutty and pleasantly sweet flavor, too.
Making Mixed Berry Salad With Frozen Fruit
We actually love working with frozen fruit. It's usually harvested when it's perfectly ripe, which actually means that frozen fruit can sometimes have more nutritional value than fresh.
Frozen fruit is also easier to slice! The harder flesh won't squish and leak juice while you're cutting into it, and you can get slices that are both thinner and more uniform.
Just be sure to give the fruit a bit of time to thaw before you serve the strawberry blueberry salad. An hour or so in the fridge is usually plenty of time after the fruit has been sliced!
Sometimes you can even find frozen strawberries that have already been sliced to save even more time!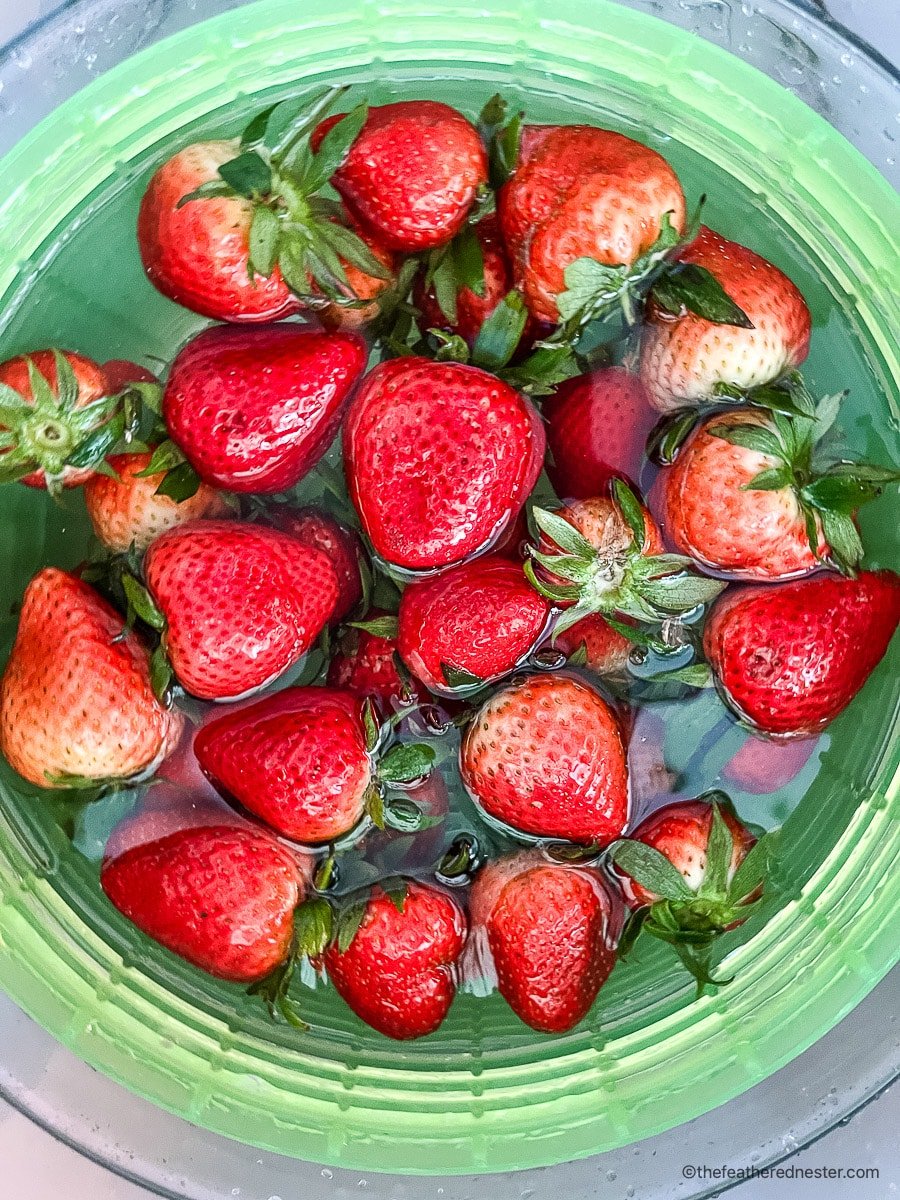 Strawberry Blueberry Salad Recipe Tips
1. Give the berries a good rinse to brighten their color.
Of course, you should avoid using any fruit that has visible signs of mold or dark black spots. However, if your strawberries are just a little mushy looking, a quick rinse in cool water can spring them back to life!
1. Don't toss the fruit salad until just before serving.
As any mixed berry salad lover knows, the longer fruits sit together, the more likely the flavors are to meld together. This means, eventually the fruits will lose their individual flavor.
It's ideal to wait until the day of serving to combine the fruits for the best possible flavor and texture.
2. Use freshly zested and juiced limes and oranges.
Concentrated juice (lime, lemon, and orange alike) has a very artificial, abrasive flavor. The dressing will maintain a much fresher, sweeter flavor when you use freshly squeezed juice.
As for the zest, be sure to not zest down to the pith (that's the white, spongy part below the peel). The pith is bitter and doesn't taste good at all.
3. You can make strawberry blueberry salad with or without marshmallows.
The dish is just as delicious without them! Alternatively, a small bowl of colored marshmallows or even marshmallow fluff can be served on the side for friends and family to add on their own.
If you'd like to serve a sweet dessert salad, try our red white and blue cheesecake salad! It's definitely more dessert-like than this 4th of July salad. Kids love the sweet cream cheese and pudding mix base!
Mixed Berry Salad FAQ
What other fruits go well with strawberries and blueberries?
Blackberries and raspberries would be our first two recommendations. For more of a classic easy fruit salad, sliced oranges, apples, grapes, and bananas are great options.
If you're willing to go outside the fruit category, spinach and other leafy greens are a great addition to build a more substantial salad!
Storing and Serving
The mixed berry salad will stay fresh for up to 5 days in the fridge. However, the dressing will make the berries get soggy pretty quickly. If you anticipate leftovers, store the dressing and fruit separately. The dressing will keep a little longer than the fruit.
TFN Serving Tip
Wait until just before serving to add the marshmallows to prevent them from getting too soggy before they even reach the plate.
For this easy fruit salad recipe, Renae recommends:
Strawberry Blueberry Salad
Strawberry Blueberry Salad is an easy mixed berry salad with marshmallows tossed in a bright citrus poppy seed dressing. Perfect for July 4th!
Ingredients
6 cups sliced strawberries (2 16-ounce packages, hulled)
4 cups blueberries (2 12-ounce packages)
2 cups colored mini marshmallows optional
Citrus Dressing
1 navel orange zested and juiced
2 limes zested and juiced
2 tablespoons honey or maple syrup
1 teaspoon poppy seeds
Garnish
2 tablespoons chopped fresh mint optional
Instructions
To a large serving bowl, add sliced strawberries and blueberries. Then, using a large spoon, stir to combine. Set aside.

In a small mixing bowl, whisk together the dressing ingredients. Pour the dressing over the fruit, then toss with a large spoon to combine.

Just before serving, stir mini-marshmallows (if using) into the mixed berry salad. This way, they won't become too soggy.
Notes
If fresh berries aren't in season, frozen strawberries and blueberries will work perfectly! Just be sure to let them thaw, then dry them off with paper towel to remove the excess moisture.
Nutrition
Serving: 1serving | Calories: 141kcal | Carbohydrates: 36g | Protein: 2g | Fat: 1g | Saturated Fat: 0.1g | Polyunsaturated Fat: 0.4g | Monounsaturated Fat: 0.1g | Sodium: 13mg | Potassium: 280mg | Fiber: 5g | Sugar: 24g | Vitamin A: 158IU | Vitamin C: 86mg | Calcium: 44mg | Iron: 1mg
PIN THIS POST!