Summertime means strawberries are in season. What better way to use up those perfectly ripened strawberries than with a delicious Strawberry fruit Cobbler? My Bisquick Strawberry Cobbler is the best fruit cobbler recipe. Using Bisquick to make the cobbler topping is brilliant. After all, you only need two ingredients to make the biscuit topping. Just mix the Bisquick and milk and drop it right on top of the strawberry filling.
Fresh Strawberries
Although strawberries are available year round in the grocery store, they are at their peak in the summer. Is there anything more delicious than biting into a fresh, juicy strawberry?
Freshly picked strawberries are abundant in the summer and available at farmers markets and fruit stands. That's where you will get the freshest, best strawberries, short of picking them yourself!
Once you've tasted freshly picked strawberries you may notice they taste better than store bought strawberries. Unfortunately, cold temperatures like refrigeration, decrease the intense fresh strawberry flavor.
Of course, fresh strawberries will make the most delicious, freshest tasting Strawberry Cobbler.
How to store fresh strawberries
Strawberries have delicate outer skin. Did you know that ripening strawberries on the vine can be ruined by heavy rainfall? The rain damages the soft fruit and leads to the fruit soaking up water.
To preserve your fresh strawberries:
Don't wash strawberries until you are ready to use them.
If you are using them the same day, keep them on the counter at room temperature.
To store for strawberries for use within a few days, insulate them with paper towels. Add a layer on top and one on the bottom of your strawberries and keep in a sealed storage container.
If you cannot use your strawberries within a few days, freeze them with the directions below.
To make this Cobbler Recipe, Renae recommends (and uses) these supplies
Frozen Strawberries
Fresh strawberries have a short refrigeration life. So, you might need to freeze your fresh strawberries to preserve them for later use.
How to freeze strawberries
Without washing, place them on a single layer on a baking sheet until frozen solid.
Then, store in an airtight container or ziptop freezer bag.
Let thaw in refrigerator or in a colander.
Wash just before using.
By freezing strawberries with this method, they can be used as fresh in this strawberry cobbler recipe.
Ingredients for Bisquick Strawberry Cobbler
To make this Bisquick Strawberry Cobbler, you'll need the following ingredients:
strawberries
instant or minute tapioca
sugar
Bisquick
milk
This recipe is pretty adaptable. So, I have suggestions for substitutions that I'll cover below.
Cobbler Ingredient Substitutions
Fresh or frozen strawberries can be used. For the best results with frozen strawberries, drain them well before using them. Use a colander to ensure that all the moisture is drained from the strawberries.
Look for "instant" or "minute" tapioca. There is a difference. The right tapioca will turn the strawberries and sugar into a perfectly jelled base for this amazing fruit cobbler.
Whole or 2% milk will yield the most tender biscuits. It is because the milk fat helps raise the biscuits during baking. You can use non-fat and lactose-free milk in this recipe.
Bisquick Substitutions
Out of Bisquick? Check out our Strawberry Blueberry Cobbler recipe instead.
To make this recipe without Bisquick, use my Easy 3 Ingredient Biscuits to top your cobbler. Pat the dough to 1/2″ thick and use 2″ biscuit cutters. What if you don't have biscuit cutters? Cut them into 2″ squares.
Or make your own Bisquick! Here is my easy homemade baking mix recipe to keep on hand.
Easy Strawberry Pie Filling from scratch
This Bisquick Strawberry Cobbler recipe is essentially strawberry pie filling with biscuit topping. But, it is so quick and easy and tastes so much better than canned fruit filling.
Plus, making homemade strawberry cobbler solves all these questions:
What can I make from strawberries?
I need a good dessert for a potluck or picnic.
What do I do with all these strawberries?
Is there a dessert I can take camping?
What to do with strawberries that are going bad.
The answer to each of those questions is Strawberry Cobbler! If you have a lot of strawberries, you can easily make double this recipe. Just use two casserole dishes or skillets.
Cast Iron Cooking
Using a cast-iron skillet to make a cobbler is genius. Especially if you are going camping or having a campfire. The cast-iron skillet can go right over a fire grate. Once the cobbler is bubbly and the biscuits are golden, you will know it's done.
As you can see, Strawberry Cobbler served in a cast-iron skillet makes such a nice presentation. Especially for an outdoor potluck or BBQ.
How to make the Best Strawberry Cobbler
Wash, hull, and quarter or slice strawberries and place in a medium-sized bowl. Add sugar and tapioca and mix well.
Let the strawberries, sugar, and tapioca rest for 15 minutes. This allows the tapioca to activate and thicken the mixture while baking.
Preheat the oven to 350º. Gently stir together Bisquick and milk until only large lumps of flour are visible.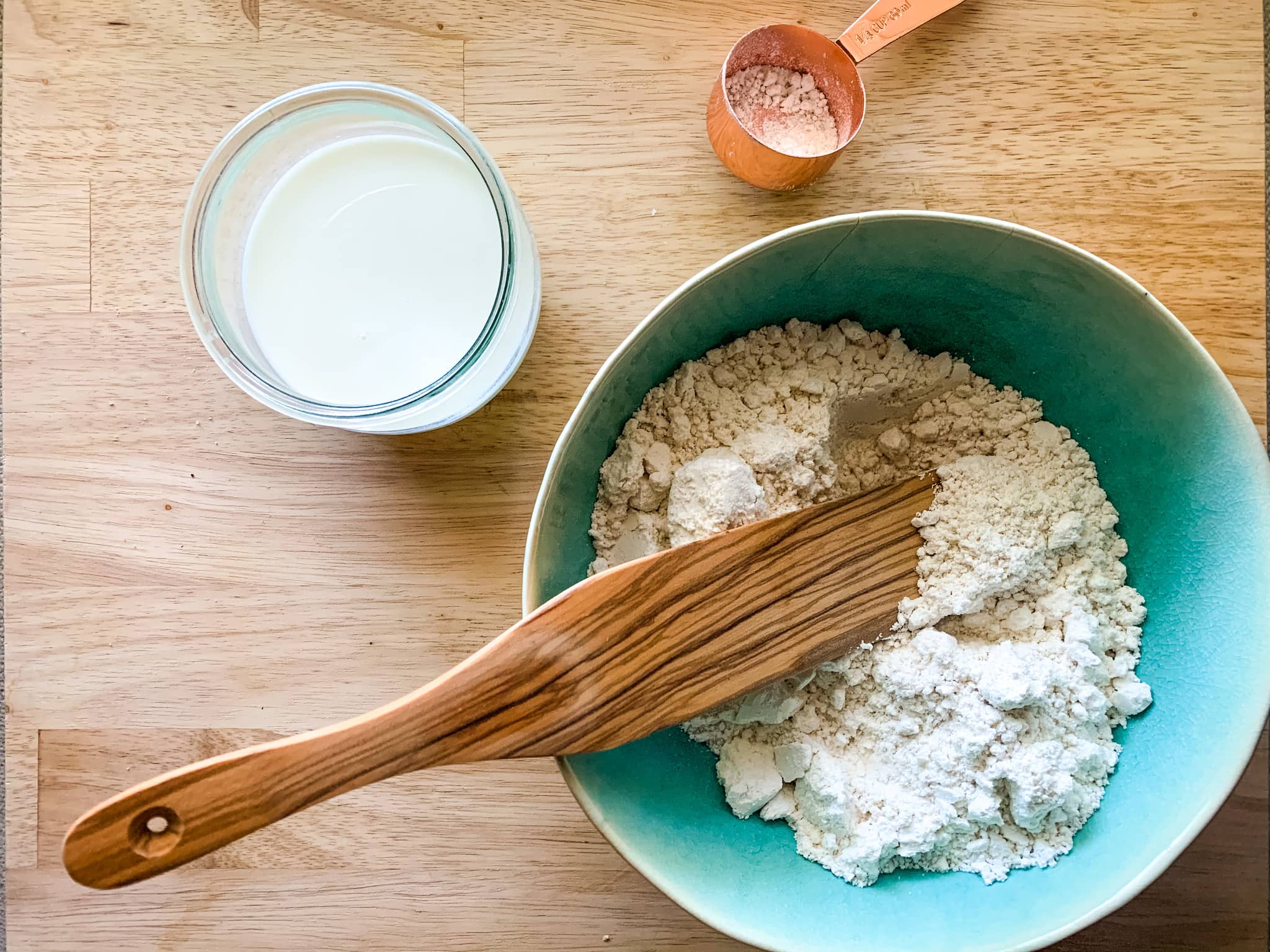 Add the strawberries to the bottom of the casserole dish or skillet. Drop biscuits mixture by the spoonfull, about 8 biscuits total.
Bake at 350º for 35-40 minutes, until the strawberry filling is bubbly and the biscuits on top are golden. Serve warm with vanilla ice cream, whipped cream, or cream cheese.
How to serve Strawberry Cobbler With Bisquick
Top your Strawberry Cobbler with Bisquick off with these delicious toppings to make:
Strawberry Cobbler with Cream Cheese
Whipped Cream topping on Strawberry Cobbler
Strawberry Cobbler with Vanilla Ice Cream
Cooking With Strawberries
Now that you know about fresh strawberries, how to store them, and when and how to freeze them, you are set for strawberry season. I'm sure that you will make some amazing strawberry desserts with the season's bounty.
Don't limit yourself to strawberries. You can make so many variations of Strawberry Cobbler and fruit cobbler. Below I have listed just a sampling of other kinds of cobbler.
Fruit Cobbler Variations
You can easily make variations of this fruit cobbler. Just use 2 cups of strawberries and 2 cups of these other fruits:
Strawberry Rhubarb
Peach Strawberry
Strawberry Blueberry
Mixed Berries (Blackberries and Strawberries)
Cherry Strawberry
Frequently Asked Questions
Can you freeze cobbler?
Yes, you can freeze cobbler in a tightly sealed container for up to three months. To reheat, bake at 350º for 30 minutes.
I have a bag of frozen strawberries in the freezer. Can I use them?
If they are commercially frozen strawberries, they will have a lot of moisture. So, defrost them as directed the bag. Then let them drain in a colander so you can remove the excess moisture. This will keep the filling thick and jelled, instead of runny.
Is Bisquick gluten free?
Bisquick does make a gluten-free version. Use it for the perfect gluten-free Strawberry Cobbler. See notes section of recipe for gluten-free Bisquick Strawberry Cobbler directions.
Can I make strawberry cobbler ahead?
Yes, you can prepare the strawberries ahead. Mix them in a bowl and keep them in the refrigerator for up to two days.
Can I make this without Bisquick?
Yes, see above (Bisquick substitutions) for how to make these biscuits if you don't have Bisquick.
Easy Bisquick Cobbler Recipe
Bisquick Strawberry Cobbler
Bisquick Strawberry Cobbler is a mouthwatering, light summer dessert. Use fresh or frozen berries to make this easy fruit cobbler recipe!
Equipment
cast iron skillet 11-12 inches - or 8×10-inch casserole dish or baking pan
Ingredients
2 pounds strawberries hulled and quartered or sliced – ** 2 pounds = two 16 oz containers
¼ cup instant tapioca
½ cup granulated cane sugar
2½ cups Bisquick or gluten free Bisquick
1 cup whole milk or 2%
Instructions
Wash, hull, and quarter or slice strawberries and place in a medium bowl. Add sugar and tapioca and mix well. Let strawberries rest for 15 minutes (to activate the tapioca) while you prepare the biscuit mixture below.

Preheat oven to 350º F. Gently stir together Bisquick and milk in a medium mixing bowl until only large lumps of flour are visible.

Add the strawberry mixture to the bottom of the casserole dish or skillet. Drop the biscuits mixture by the spoonful, about 8 biscuits total.

Bake in preheated oven for 35-40 minutes, until the strawberry filling is bubbly and the biscuits on top are golden. Serve warm with vanilla ice cream, whipped cream, or cream cheese.
Notes
Make your own Bisquick with my DIY baking mix recipe (linked).
Bisquick gluten-free version:
Substitute 2.5 cups of Bisquick and 1 cup of milk with:
2 cups Gluten Free Bisquick, 1/3 cup of shortening, 2/3 cup of milk, 3 eggs. Cut shortening into the Bisquick with a fork until it resembles small pebbles. Add the rest of the ingredients. Continue onto Step 3 of Instructions above.
For more substitutions, see "Ingredients" above in post.
Nutrition
Serving: 1serving | Calories: 369kcal | Carbohydrates: 66g | Protein: 6g | Fat: 9g | Saturated Fat: 3g | Cholesterol: 5mg | Sodium: 657mg | Potassium: 282mg | Fiber: 3g | Sugar: 32g | Vitamin A: 77IU | Vitamin C: 57mg | Calcium: 151mg | Iron: 2mg
PIN THIS POST!
Get more easy Bisquick Recipes!