Grown up comfort food doesn't get tastier than smoked mac and cheese with bacon! You can serve this as a full meal, or as a side with other BBQ favorites like burgers, ribs, and chicken sliders. Our pellet grill macaroni and cheese recipe will be the hit of any potluck, game day party, or tailgating event.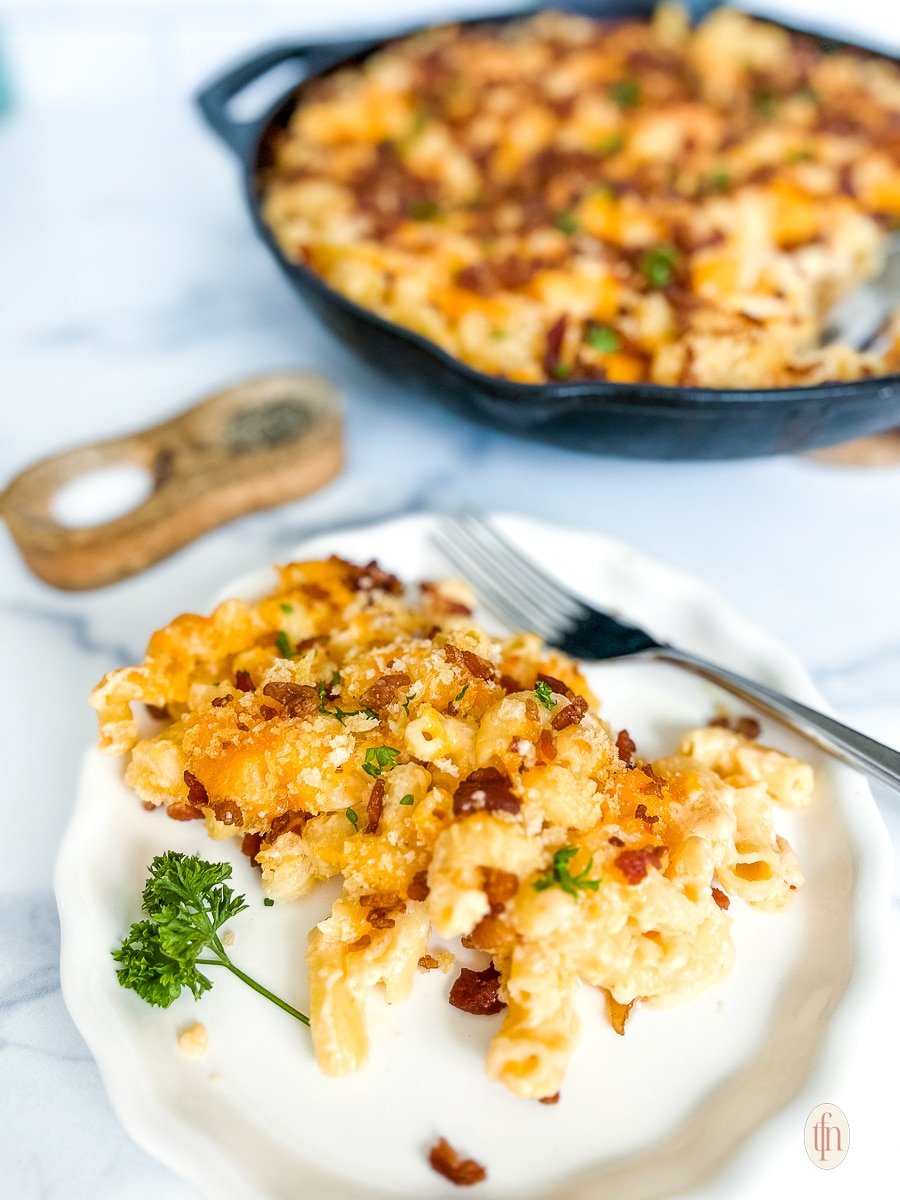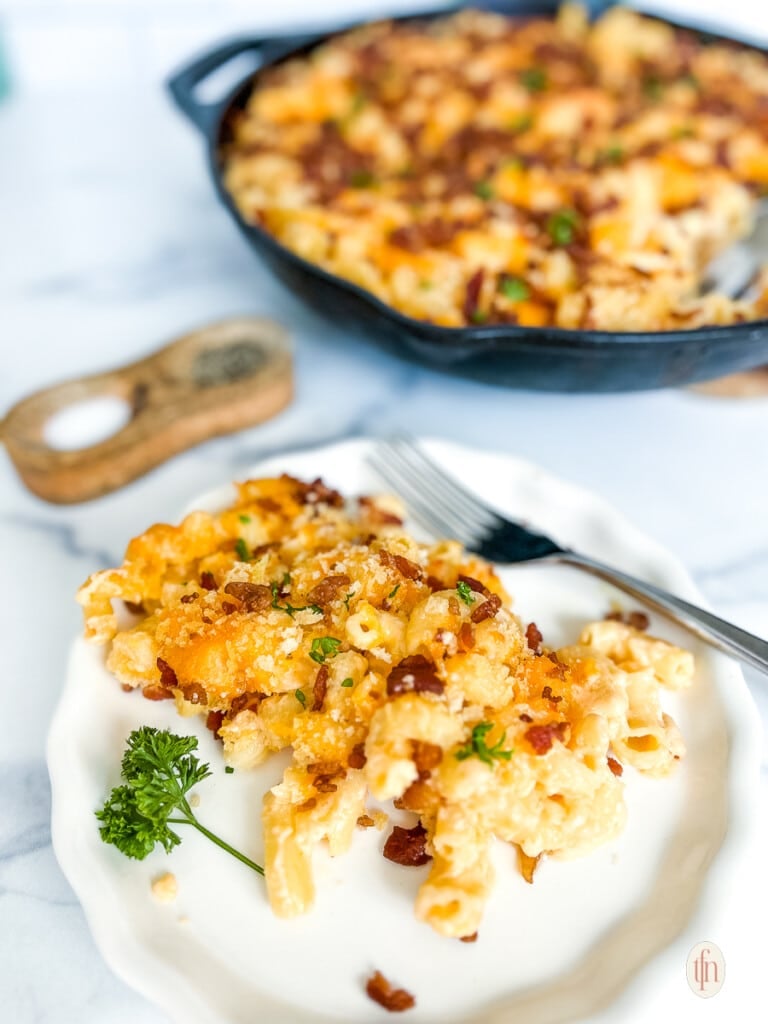 Why We Love Smoked Mac and Cheese with Bacon
The smoky flavor is well-developed and interesting.
Mac and cheese baked in the oven or on the stovetop will always be a popular favorite. But the flavors that you get by smoking it on a pellet grill (or using a pellet smoke tube) are out of this world delicious!

Plus, there's an entire layer of smoky bacon on top of the dish! Who doesn't love bacon??
It's mostly hands-off.
After making the cheese sauce and combining the ingredients, everything goes right into the smoker. There's no fussing or coddling involved!
It freezes well and is easy to transport.
Pack this casserole up and take it with you to the tailgate potluck party!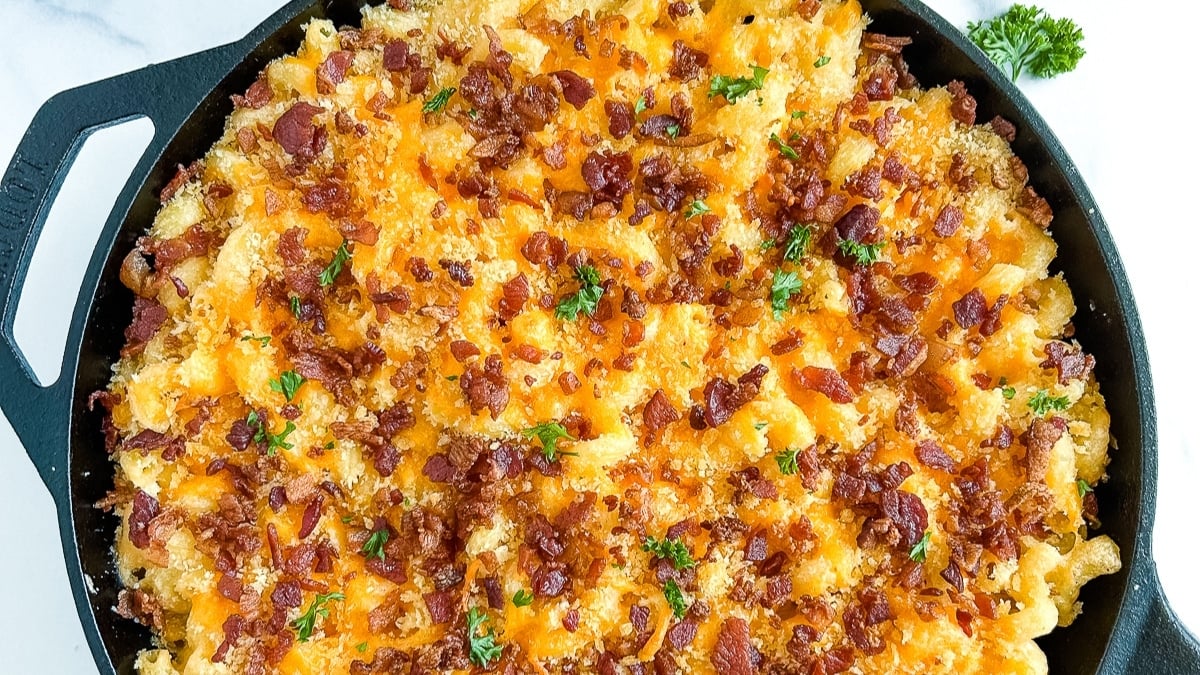 Ingredient Notes and Substitutions
Here are the ingredients and substitutions you'll need to make this pasta side dish.
Elbow macaroni: This is the classic pasta used in mac and cheese. Other small pastas, like shells, farfalle (bowtie pasta) and penne, also work.
Butter: Unsalted butter is best. If you use salted butter, leave out the salt in the recipe.
Flour: A little flour helps thicken the sauce. If you need a gluten free option, all-purpose flour can be substituted with gluten free all-purpose flour, cornstarch, or arrowroot.
Half-and-half: This adds creaminess to the sauce, but without all of the fat and calories of heavy cream. For an extra indulgent dish, use heavy cream. To reduce the fat and calories a little bit, use whole or 2 percent milk.
White pepper: Ground white pepper adds flavor, but without adding visible black specks in the smoked mac and cheese. You can use black pepper if you prefer.
Cheese: We use 3 varieties: cream cheese, cheddar, and gruyere. You can use other high quality meltable cheeses, but be sure to buy them in blocks, then shred them yourself. Pre-shredded cheese has subpar flavor, and it doesn't melt as well.
Breadcrumbs: Panko breadcrumbs are what we prefer, but you can use traditional bread crumbs, or even crushed crackers instead.
Bacon: For the best results, avoid using thick-cut bacon. It doesn't render down as well or as quickly as thin slices do. You want it to be crispy, not fatty and soggy.
Tips for Success with Pellet Grill Mac and Cheese
Slightly undercook the pasta.
Cook the macaroni until it's just barely al dente. It's important to avoid over cooking, because it will continue to cook in the smoker. You definitely do not want mushy pasta!

Also, don't rinse the pasta after draining it. You want to leave the starches on the macaroni- the cheese sauce clings to the pasta more easily that way.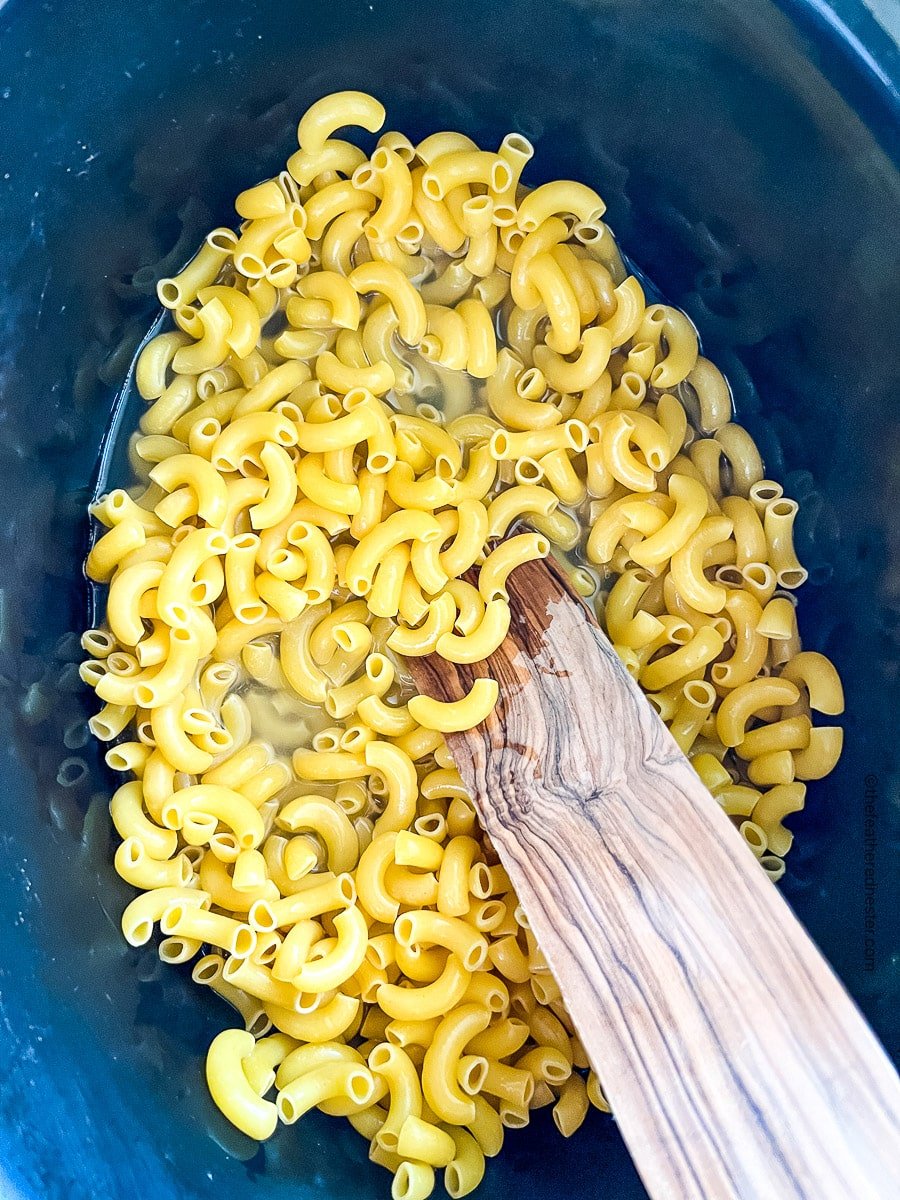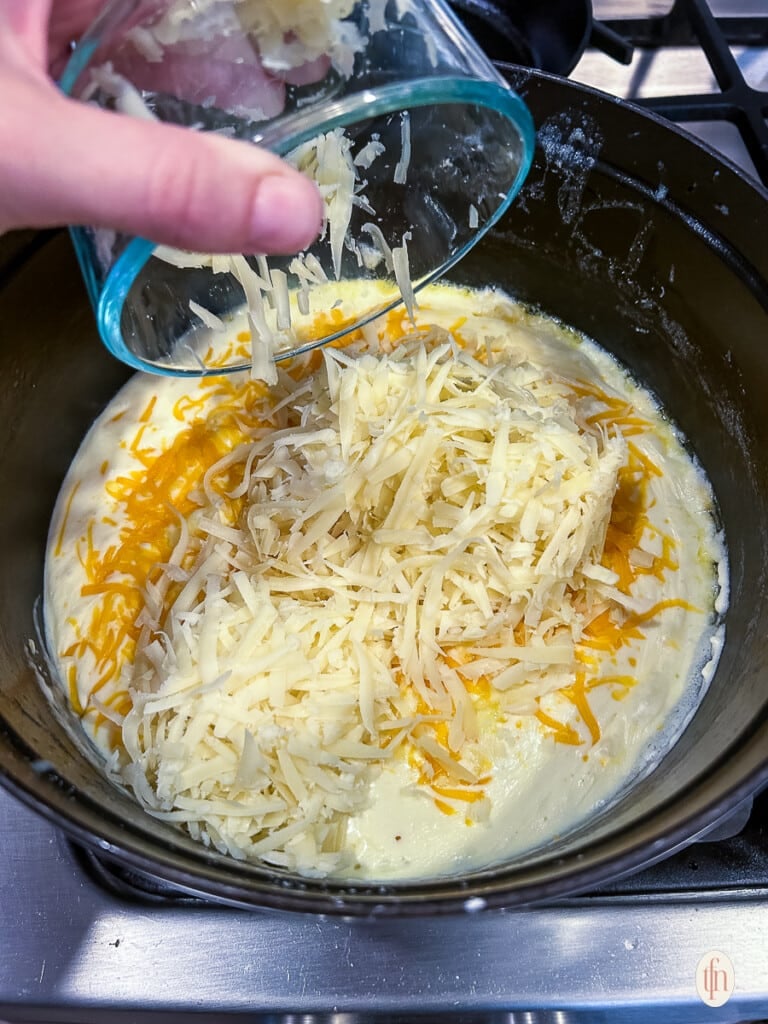 Add the breadcrumbs and bacon before smoking.
Sprinkling the topping over the cheesy pasta before putting it in the pellet grill or smoker allows time for it to crisp up as it cooks.
Use a broiler to create an extra crispy topping.
To crisp up the top of the pellet grill mac and cheese with bacon, put the dish under the oven broiler for a couple of minutes.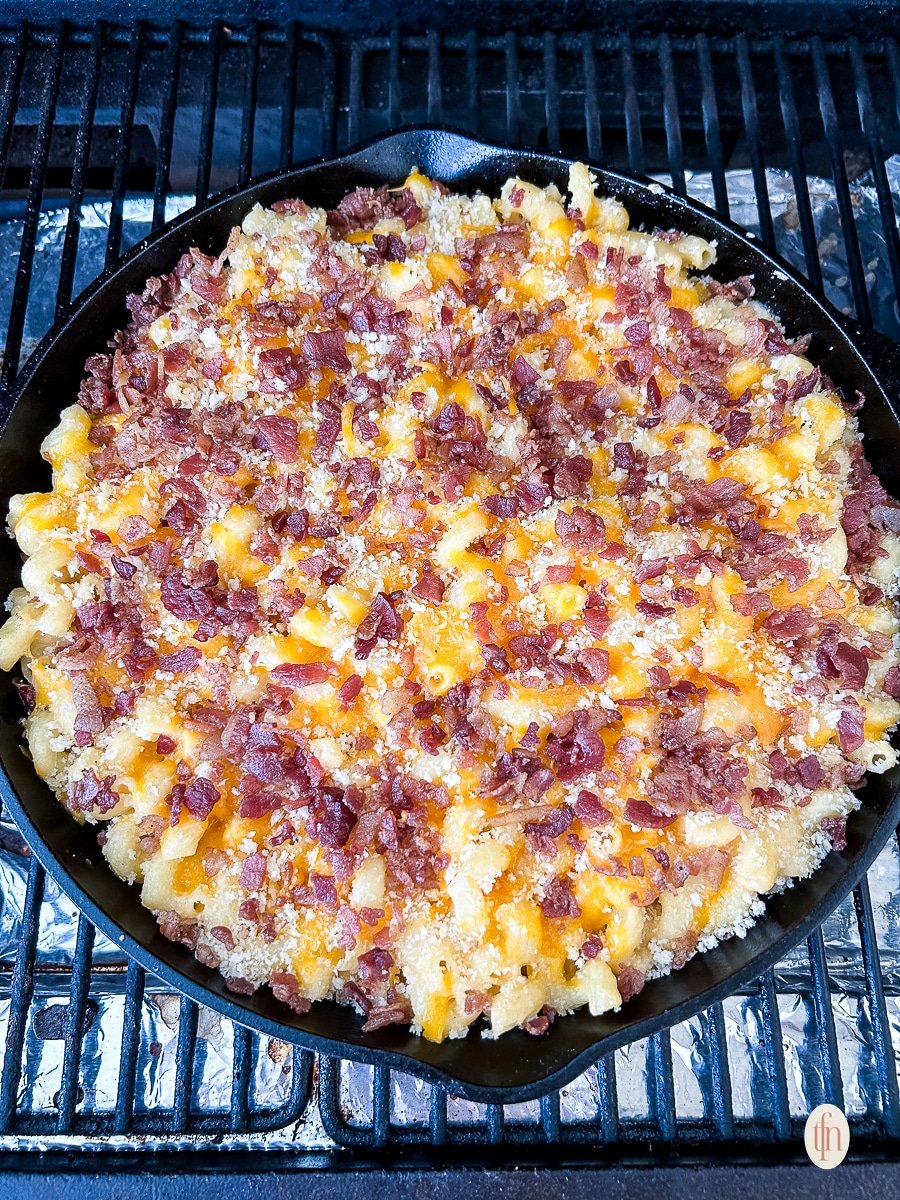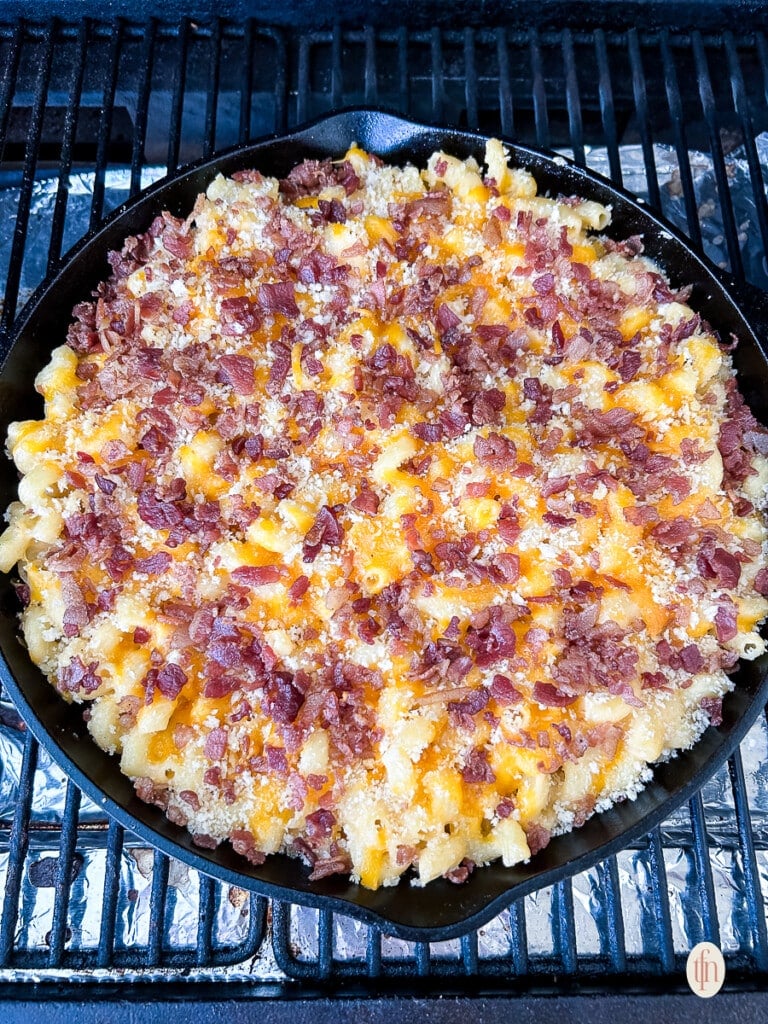 Looking for other easy recipes for grown up comfort food?
Sometimes it's okay to not share with the kids!
Make your game day crowd a big platter full of stuffed jalapeno poppers, and a bowl of hot cream cheese corn dip.
Troubleshooting Smoked Mac and Cheese
How can I keep macaroni and cheese from becoming greasy when reheated?
One of the catastrophes of cheese sauce is when the fat separates, creating an oily layer. This happens a lot when reheating mac and cheese in a microwave oven.

Heating and reheating cheese sauces requires a more delicate approach. For the best results, reheat in a pan on the stove. You can add a little butter or milk if you want the sauce to remain creamy.
Making Bacon Mac and Cheese without a Smoker
If you have a gas or charcoal grill, you can still make a delicious smoky macaroni and cheese! For details, check out our tutorial on how to use a pellet smoke tube.
Or, if you don't have a grill or a smoker, go ahead and make our crock pot 3 cheese recipe instead. Another popular recipe with our TFN followers is white cheddar mac and cheese.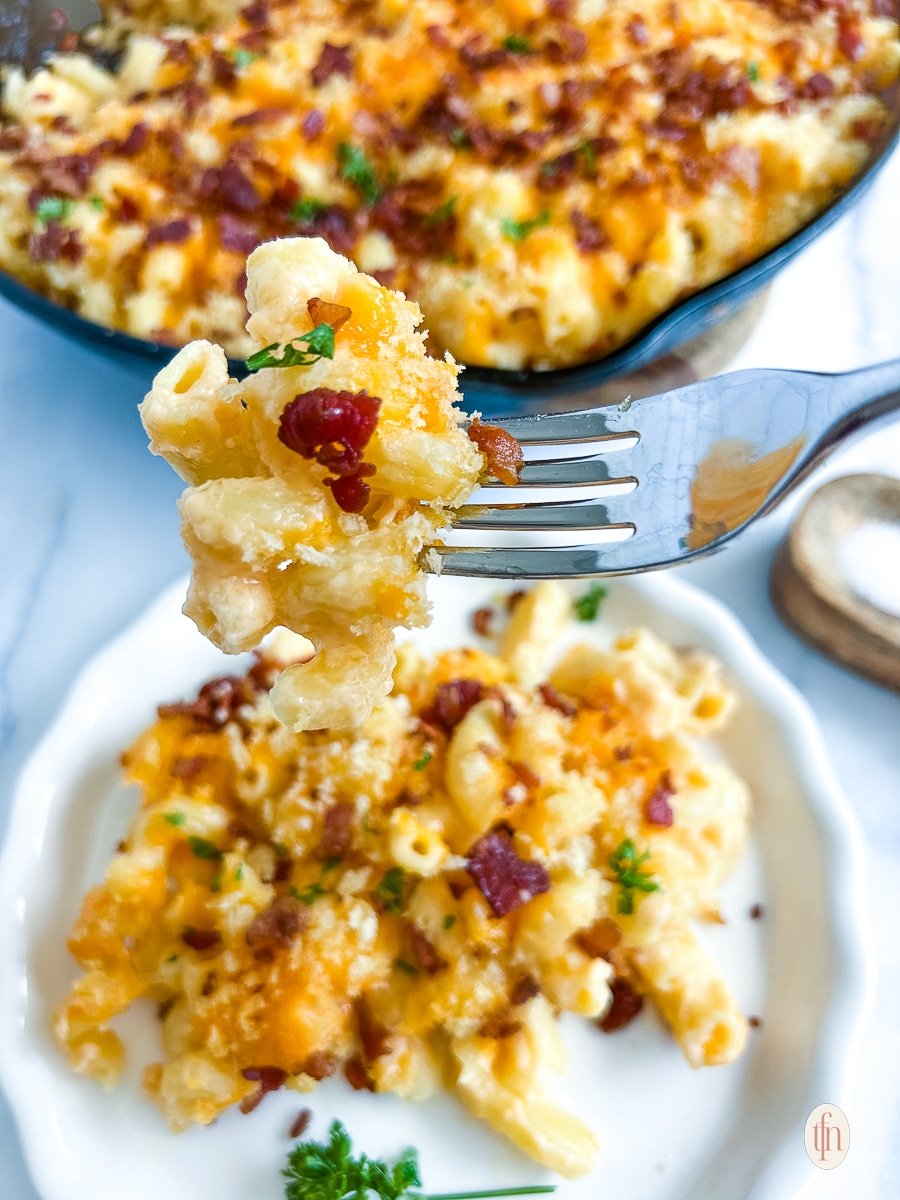 Storing and Reheating
Keep leftovers in an airtight container in the refrigerator, and use them up within 5 days.
Reheat it in the microwave using half power (50%) and in 30-second increments, until it's hot all the way through. Don't try to heat it up too quickly or the cheese sauce might separate.
Freezing is not recommended for this pellet grill mac and cheese recipe. This is because as frozen dairy products thaw, they often break down and take on an unpleasant, grainy texture.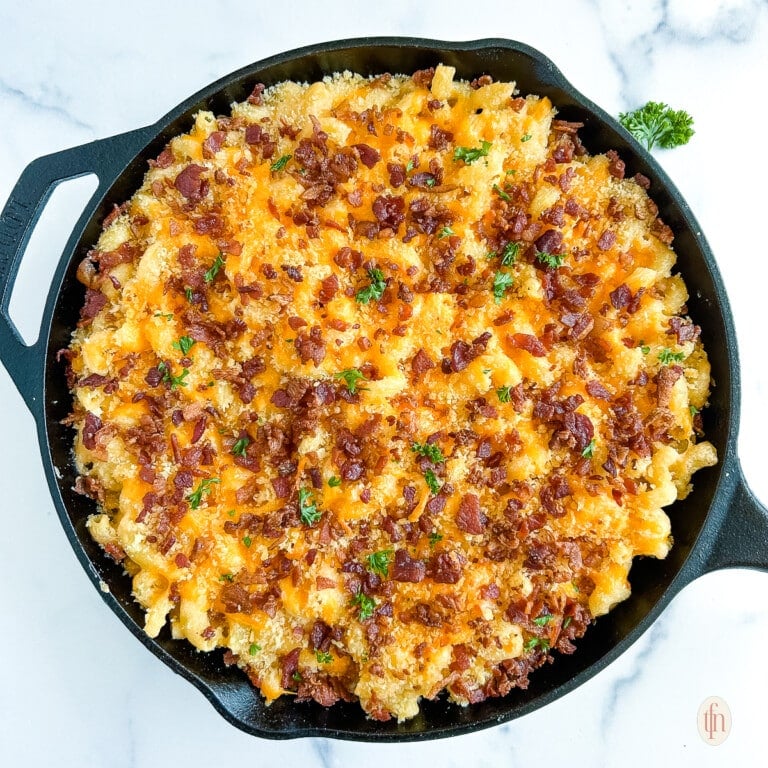 Smoked Mac and Cheese with Bacon
Smoked Mac and Cheese with bacon is cheesy comfort food with smoky flavors. Make this pellet grill macaroni and cheese recipe for game day!
Ingredients
1 pound elbow macaroni or other small pasta, such as penne or shells
½ cup butter
4 tablespoons all-purpose flour
2 cups half-and-half
2 teaspoons ground mustard
2 teaspoons ground white pepper *See Note 1
½ teaspoon salt
4 ounces softened cream cheese cut into cubes
12 ounces sharp cheddar cheese shredded and divided *See Note 2
6 ounces Gruyere cheese shredded *See Note 2
Bacon Bread Crumb Topping
1 cup bread crumbs *we like to use sourdough bread crumbs
¼ pound bacon cooked and crumbled (may substitute with 1/3 cup bacon bits)
Instructions
If the cast iron skillet is not already well seasoned, use canola oil (or another high smoke point oil) to grease the insides. If using a foil pan, grease with non-stick cooking spray. Set aside.Prepare and preheat the smoker to 250ºF.

Boil macaroni in salted water to al dente according to box directions. **Do not completely cook the pasta, as It will continue cooking in the smoker. Drain in a colander and set aside. *Do not rinse the cooked pasta with water or the cheese sauce may end up watery.

Melt butter in a 4-quart (or larger) saucepan over medium heat. Whisk in flour and cook for 1 minute. Gradually whisk in half-n-half (about 1/2 cup at a time). Reduce burner heat to medium-low and allow mixture to cook for 3 minutes.

Stir in 2 cups of cheddar (reserving 1 cup), the gruyere, cream cheese, and seasonings. Continue cooking on medium-low heat until sauce is smooth and bubbly, stirring frequently. Taste for seasoning, and add more salt and/or pepper if needed.

Add the cooked macaroni to the pot of cheese sauce. Using a large spoon, stir to combine. Pour contents into the prepared skillet or foil pan. Sprinkle remaining cup of cheddar cheese in an even layer over the mac and cheese.

In a small bowl, use a small spoon to stir bread crumbs and crumbled bacon to combine. Sprinkle topping over the mac and cheese casserole.

Smoke at 250ºF for 45 minutes. Serve right away, or for a crispier, more golden brown topping, place the smoked mac and cheese under an oven broiler for 5 minutes.

Serve warm. Store leftovers in an airtight storage container in the refrigerator for up to 5 days.
Notes
Black pepper may be substituted for white pepper, but black pepper will be noticeable in the mac and cheese sauce.
For semi-hard cheeses like cheddar and Gruyere, the general rule of thumbs is that 4 ounces yields 1 cup of shredded cheese.
The sauce may seem runny at first, but it will thicken during the smoking or baking process.
To Bake in an Oven
If you want to cook the bacon mac and cheese in the oven, prepare according to directions shown, but bake in a 300ºF oven for 35-40 minutes, or until topping is light golden brown.
Nutrition
Serving: 1serving | Calories: 769kcal | Carbohydrates: 60g | Protein: 31g | Fat: 45g | Saturated Fat: 26g | Polyunsaturated Fat: 2g | Monounsaturated Fat: 11g | Trans Fat: 0.5g | Cholesterol: 132mg | Sodium: 997mg | Potassium: 329mg | Fiber: 3g | Sugar: 6g | Vitamin A: 1275IU | Vitamin C: 1mg | Calcium: 644mg | Iron: 2mg
PIN THIS POST!
This post, first published in June 10, 2020, was updated with new content on September 22, 2023.