If you love cheesy pasta, our Crock Pot 3 Cheese Mac and Cheese recipe is calling you! The rich creamy sauce includes cream cheese for the cheesiest dinner ever! This meal will definitely fuel any comfort food craving you have.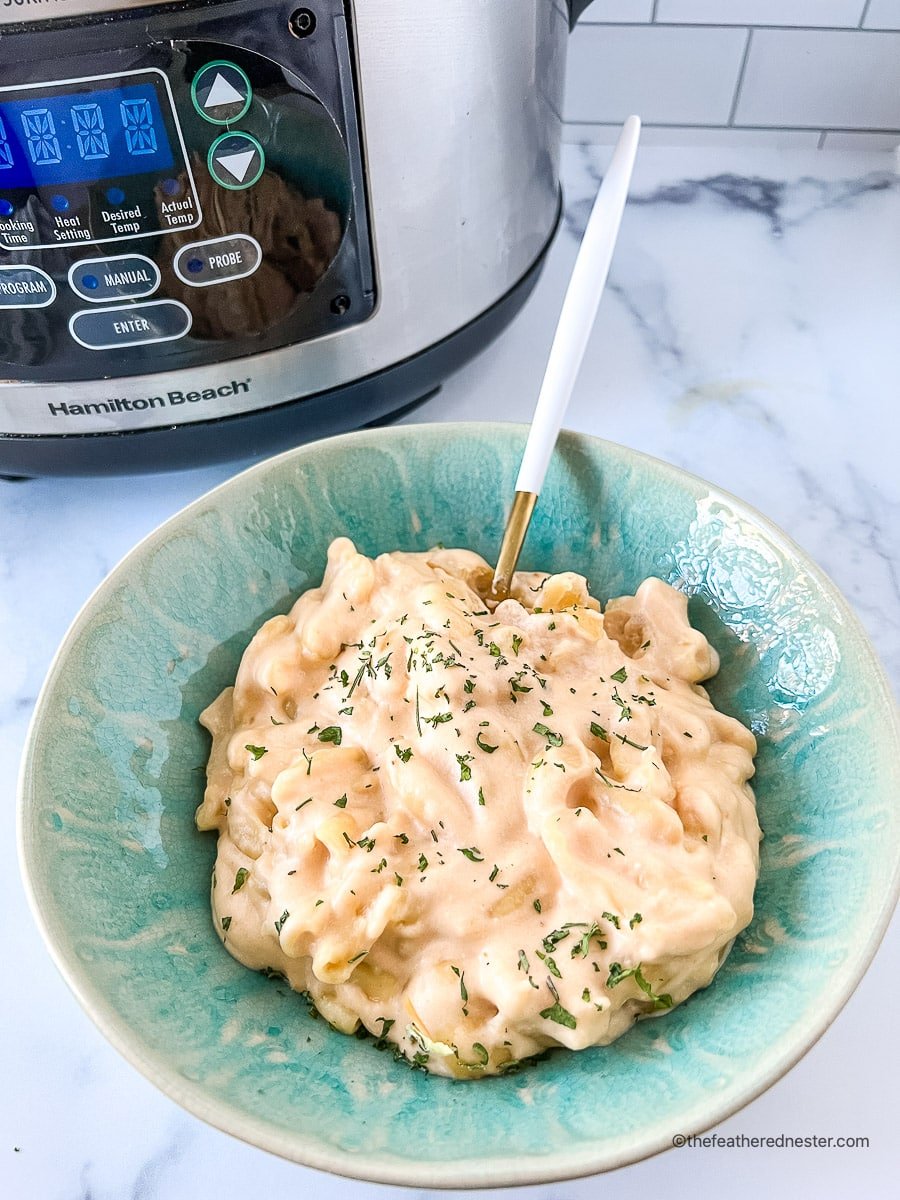 Macaroni and cheese is a classic comfort food dish that never goes out of style. But, if you have a busy schedule, you may not have time to bake our classic mac and cheese recipe.
This slow cooker recipe is the perfect solution for you, and it's so simple to make!
Why We Love 3 Cheese Mac and Cheese
Ultra cheesy comfort food.
Using a variety of three cheeses creates extra flavor and a creamier texture. If you have never tried mac n cheese with cream cheese, prepare to be wowed!

Great dinner solution for busy families.
Making macaroni and cheese the traditional way can be a bit time-consuming. That's where this crockpot mac and cheese recipe comes in handy.

Our recipe for Instant Pot chili mac and cheese is a quick dinner solution, but you still have to stay in the kitchen to make it.

With this slow cooker recipe, you can make a classic dish without spending hours in the kitchen.

Freezes well and reheats quickly for easy meal prep.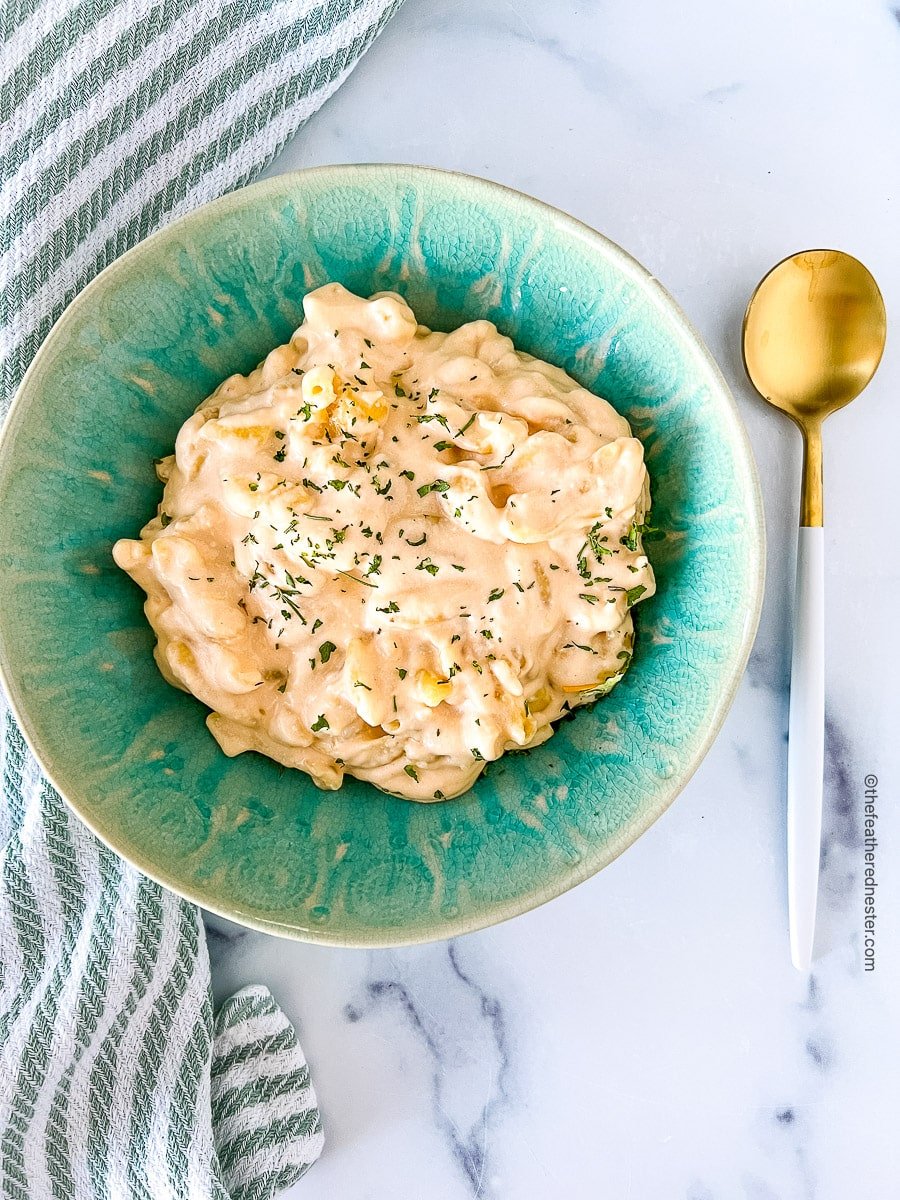 Ingredient Notes and Substitutions
Pasta
We like to use elbow macaroni for a traditional mac n cheese. Any small pasta shape such as rotini, shells, or ziti are great substitute for elbow mac.

Cream cheese
Using full fat cream cheese creates the creamiest cheese sauce, but light cream cheese will also work. Avoid using fat-free cream cheese.

Cheeses
For our 3 cheese mac and cheese, we use cream cheese, plus a blend of cheddar cheese and either Monterey Jack or Gruyere.

Dry mustard
This spice is made by grinding mustard seeds. It can be found in the spice aisle of the grocery store.
Stone ground mustard or yellow mustard can be used as a substitute for dry mustard.
Evaporated milk
Don't confuse this ingredient with condensed milk, which is milk that's been boiled down and sweetened. Evaporated milk is highly concentrated, shelf-stable cow's milk.

Evaporated milk adds a creamy and rich flavor to this dish. It also helps to thicken the sauce and prevents it from separating. See below for substitutions.
How to Make Evaporated Milk from Whole Milk
Add 5 cups of whole or 2% dairy or non-dairy milk to a saucepan to make your own evaporated milk.
Bring the milk to a simmer over medium-high heat, then reduce heat to medium.
Gently cook/reduce until 3 cups of milk is left in the saucepan. Allow the mixture to cool before using.
Mac n Cheese Recipe Variations
Make it spicy. Add a pinch of cayenne pepper to the mix for a little heat.

If you like extra spicy pasta, you might enjoy our recipe for Instant Pot Chili Mac with Cheese.

Make it extra cheesy.
We make crock pot mac and cheese with cream cheese, plus two other kinds of cheese. But if you want it cheesier, add an extra 1/2 cup of cheese to the top.

Add veggies.
Mix in some chopped broccoli, frozen peas, or spinach for an extra nutritional boost.

Use different cheeses.
Gruyere and cheddar are delicious, but you can use nearly any type of cheese that melts well. Great options include Colby Jack, Swiss, Provolone, American, or even Velveeta.
Kitchen Tools Needed
Tips for making Crock Pot Mac and Cheese
Oil the crockpot, or use a slow cooker liner.
Spraying the insides of the slow cooker crock with cooking spray helps to prevent the macaroni and cheese from sticking. Another option is to use a slow cooker liner.

The bonus of using a liner is that in most cases, you won't even need to wash the crockpot! After removing the mac n cheese from the pot, remove the liner and throw it away.
Cut the cheeses into small cubes or shred on a box grater.
This will help the cream cheese and other cheeses to melt completely.

Be sure to use hot (preferably boiling) water.
If you add cold water to the slow cooker, your pasta may be slightly undercooked.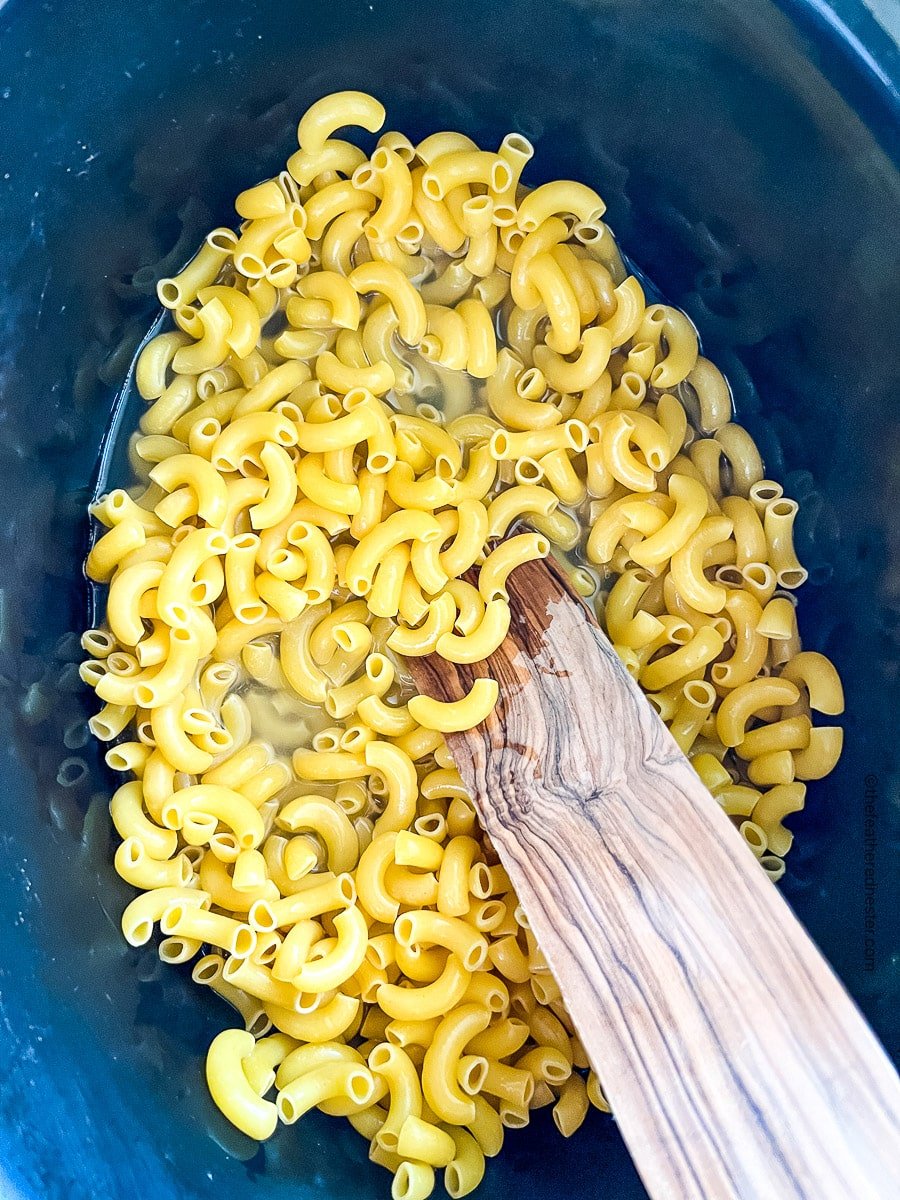 Test the pasta for doneness.
After two hours of slow cooking time on HIGH power, the macaroni should be cooked completely.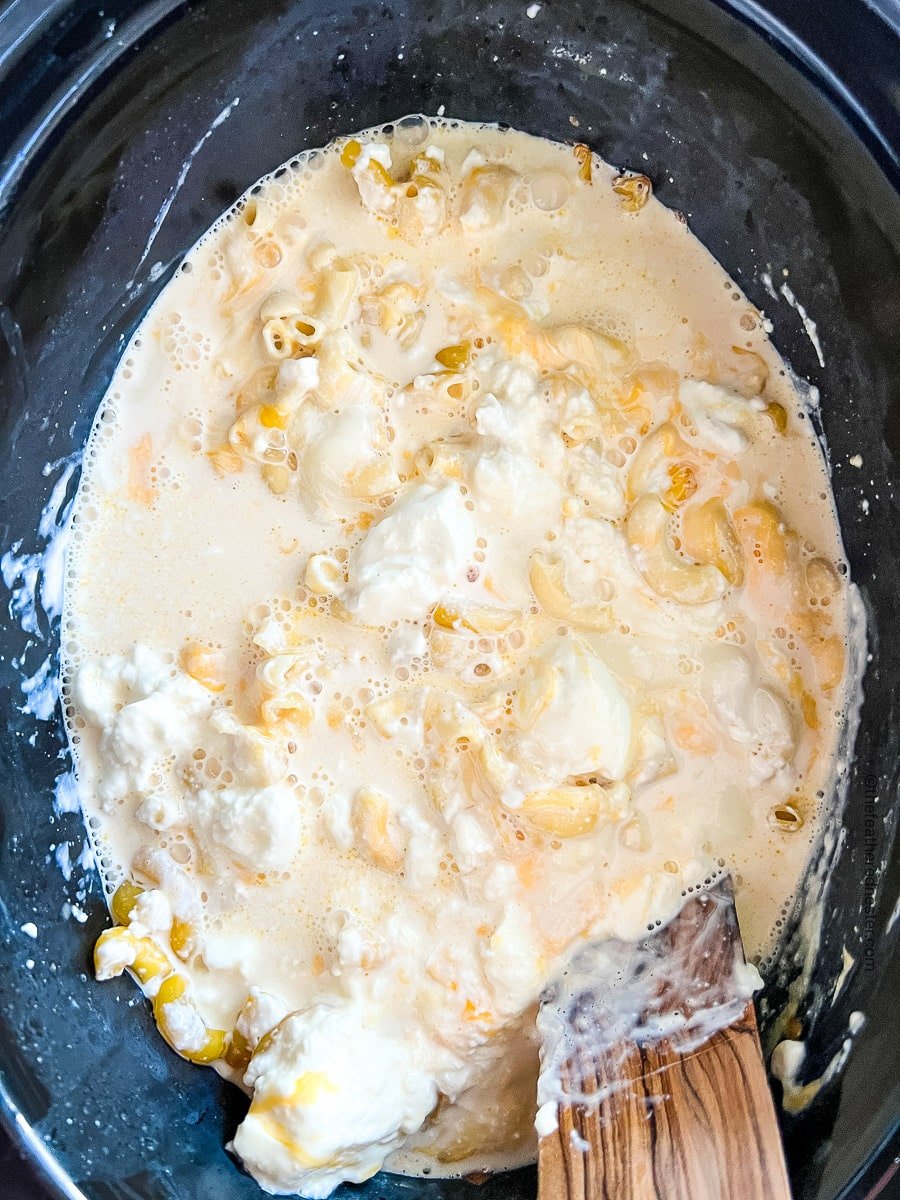 If the pasta is still chewy, place the cover back on the slow cooker and continue cooking your mac and cheese on LOW power for 30 more minutes.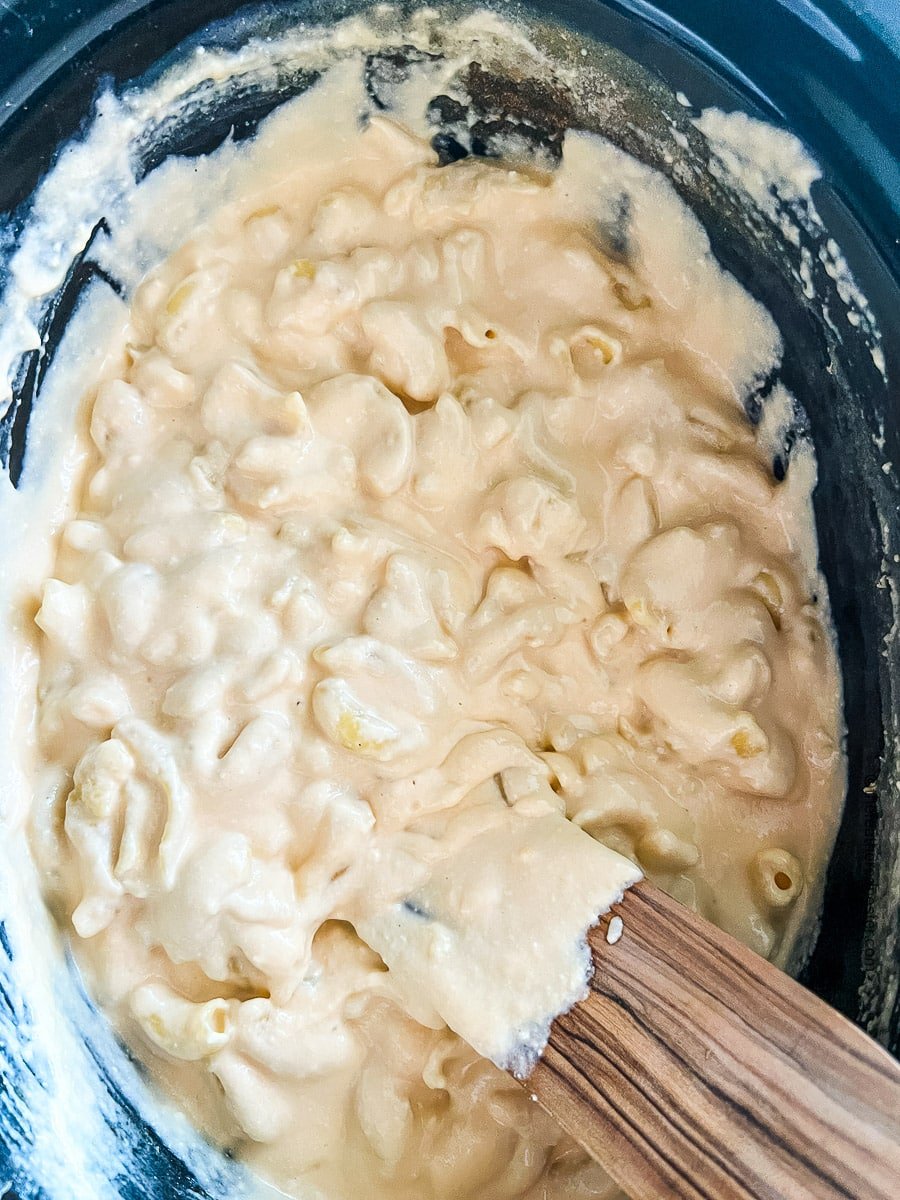 If your sauce is grainy, it could be because the cheese has not melted completely. Or it may have cooked for too long, causing the sauce to separate.

To fix either of these problems, turn the crock pot to LOW heat and stir gently to recombine the sauce and/or help the cheese to melt completely.
Serving Suggestions
This dish is best served warm, straight from the slow cooker. Serve it as a main dish or a side dish.
It pairs well with just about anything, but we especially love it with ham (use your leftover holiday ham or chicken).
To serve macaroni n cheese as a side dish, we recommend our baked chicken tenderloins, cast iron skillet chicken, or oven-roasted turkey tenderloin as easy entrée ideas.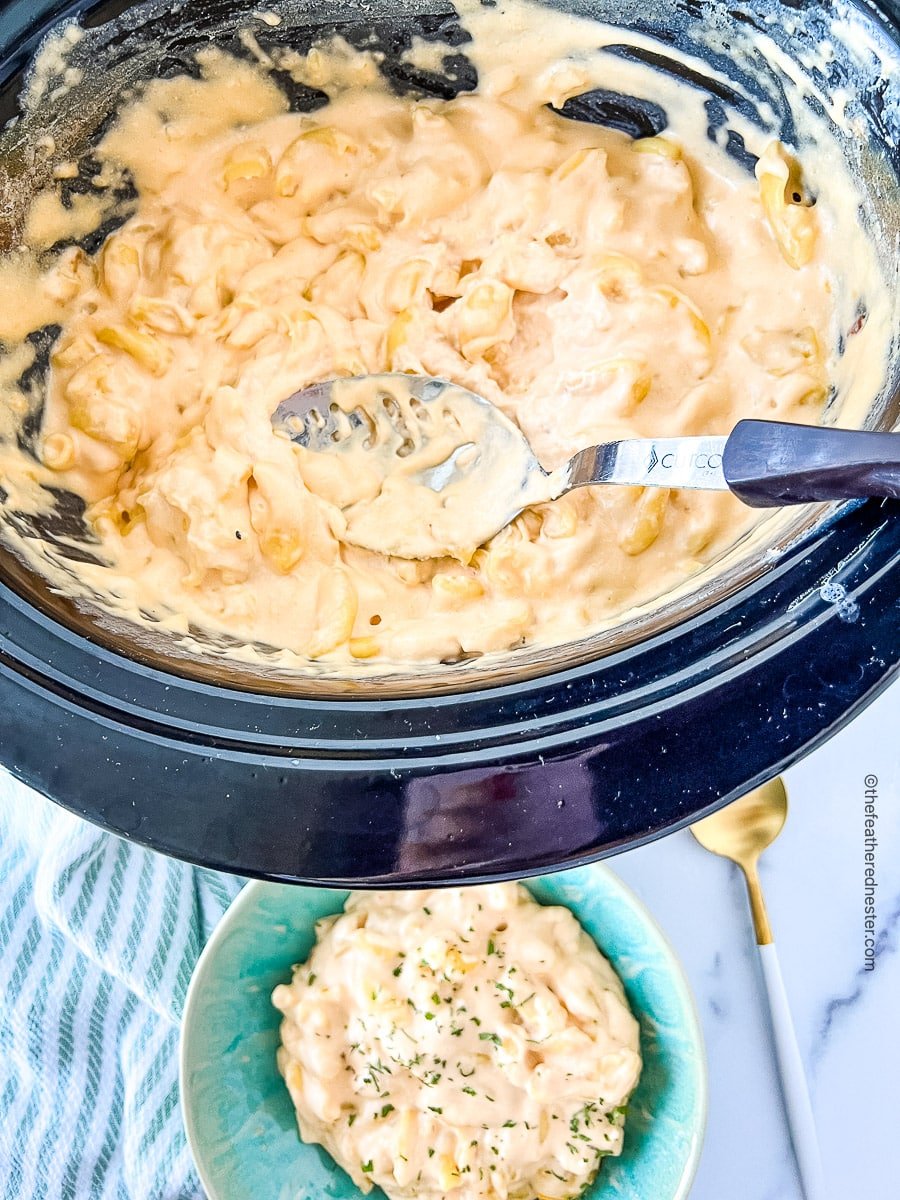 Storing and Reheating
Leftovers can be stored in an airtight container in the fridge for up to 3 days.
To reheat, cook it at 50% power in the microwave until warm. You can also reheat it in the Crock Pot on low for 30 minutes or in a saucepan on the stovetop over medium heat.
Freezing 3 Cheese Mac and Cheese
This meal holds up really well in the freezer, so it's perfect for making quick and easy meals. Just thaw in the fridge overnight before reheating. However, the pasta may be a little bit mushy after being frozen and reheated.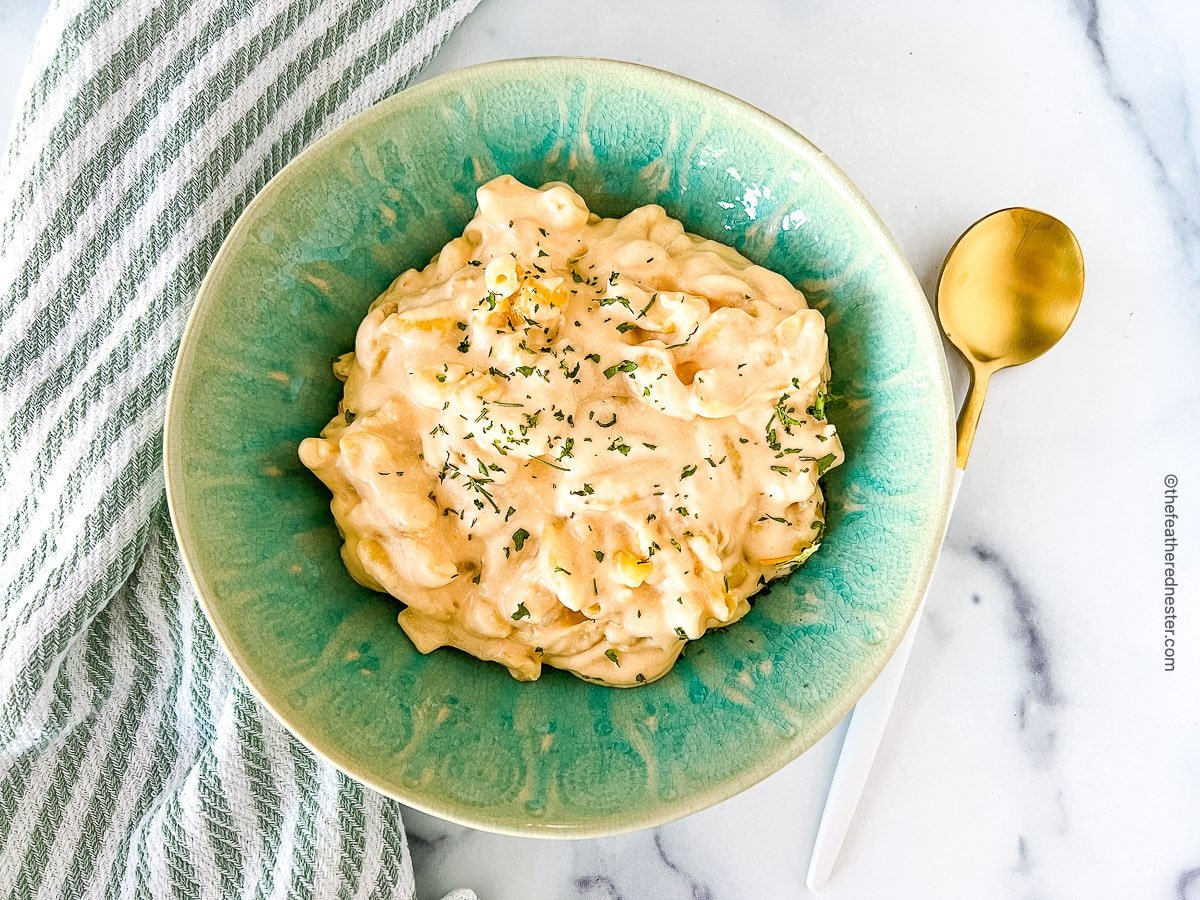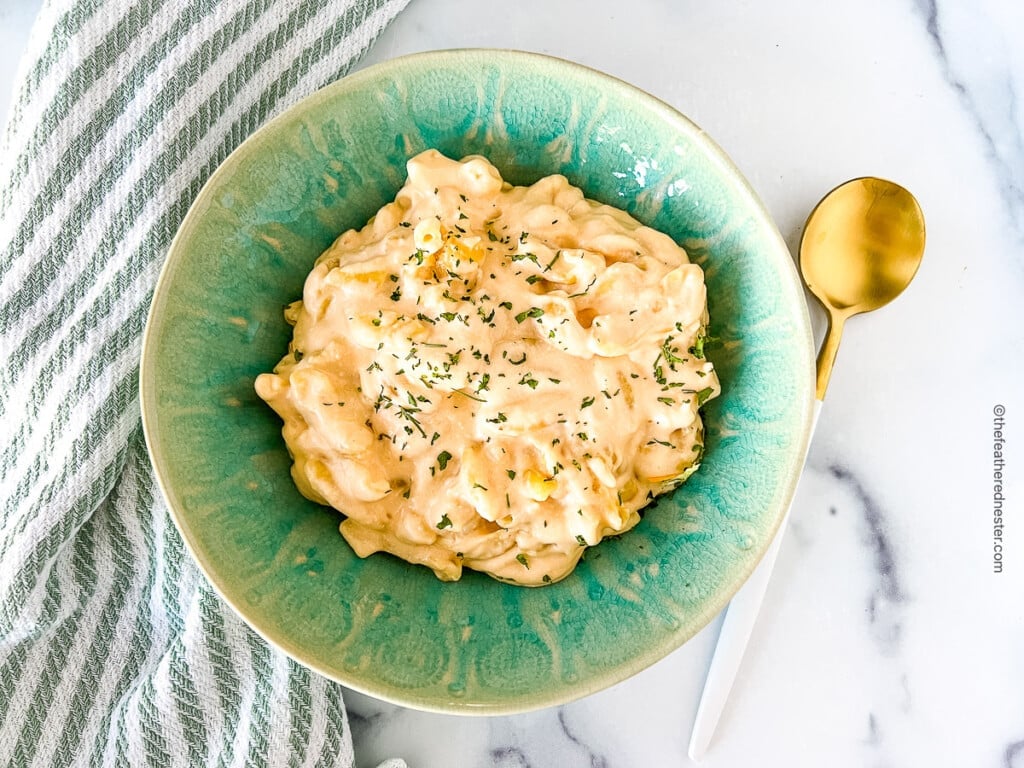 3 Cheese Mac and Cheese (in Crock Pot)
3 Cheese Mac and Cheese in a Crock Pot is a cheesy comfort food, made easy! With cream cheese in the sauce, this pasta recipe is perfection!
Ingredients
1 pound elbow macaroni or other small pasta such as rotini or shells
2 cups boiling water
24 ounces evaporated milk see Notes for homemade evaporated milk
8 ounces cream cheese cut into 8 cubes
8 ounces cheddar cheese cut into 8 (1-inch) cubes
8 ounces Monterey Jack or Gruyere, cut into 8 (1-inch) cubes
2 teaspoons ground mustard
Instructions
Spray inner crock of slow cooker with cooking spray or line it with a disposable cooking liner.

Add uncooked pasta and hot water (just off the boil), stirring well. Add evaporated milk, cream cheese, cheddar cheese, Monterey Jack cheese, and dry mustard. Stir well to combine.

Cover with the lid. Cook on high for 2 hours, stirring after the first hour.

After 2 hours, test the tenderness of the pasta. If too chewy, continue cooking on low for 30 minutes more.

This recipe makes a very creamy sauce. Add more water as needed to thin the sauce. Keep the slow cooker set to warm until ready to serve.
Notes
Homemade evaporated milk
To make your own evaporated milk, add 5 cups of whole or 2% milk to a saucepan.
Bring the milk to a simmer over medium-high heat, then reduce heat to medium.
Gently cook/reduce until 3 cups of milk is left in the saucepan. Allow the mixture to cool before using.
Nutrition
Serving: 1serving | Calories: 519kcal | Carbohydrates: 44g | Protein: 21g | Fat: 30g | Saturated Fat: 17g | Polyunsaturated Fat: 1g | Monounsaturated Fat: 7g | Cholesterol: 82mg | Sodium: 476mg | Potassium: 87mg | Fiber: 1g | Sugar: 1g | Vitamin A: 884IU | Vitamin C: 0.04mg | Calcium: 441mg | Iron: 1mg
PIN THIS POST!