Melt-in-your-mouth Crock Pot Cube Steak is the perfect comfort food. With our simple cube steak recipe, you can make a delicious country-style steak for dinner tonight!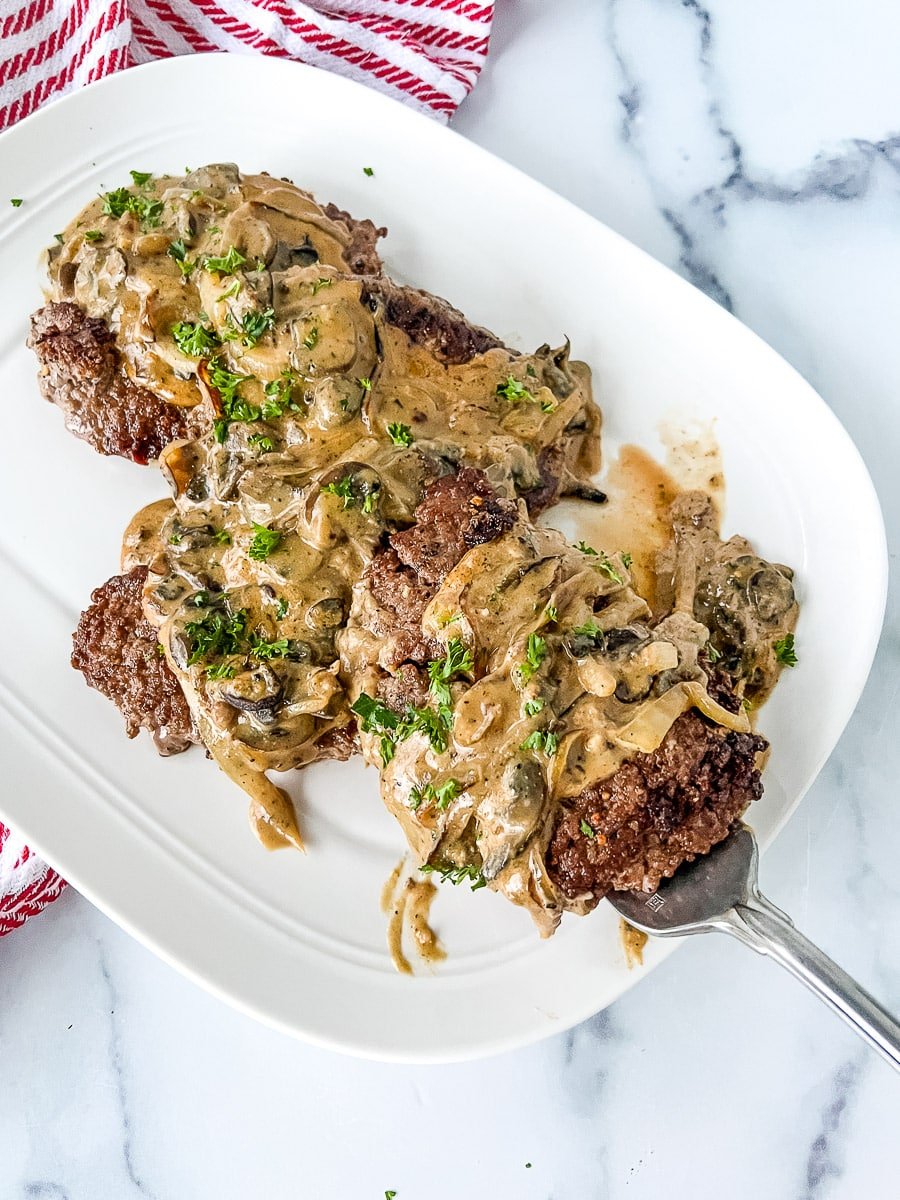 For busy families, is a big time saver, and it's also just an all-around easier way to prepare meals. Most crockpot recipes require very little effort; Just prep the ingredients, set it, and forget it!
Why We Love Crock Pot Cube Steak
Hands-off cooking.
The crock pot does all the work! You can go about your busy day and then come back to a perfectly cooked dinner.
Ideal for slow cooking.
Cube steak is the ideal cut of beef to for a and ability to retain flavor while staying moist and tender.
Makes its own gravy!
As the meat slow cooks, the juices from the beef help to create a creamy mushroom gravy that goes deliciously with creamy mashed potatoes.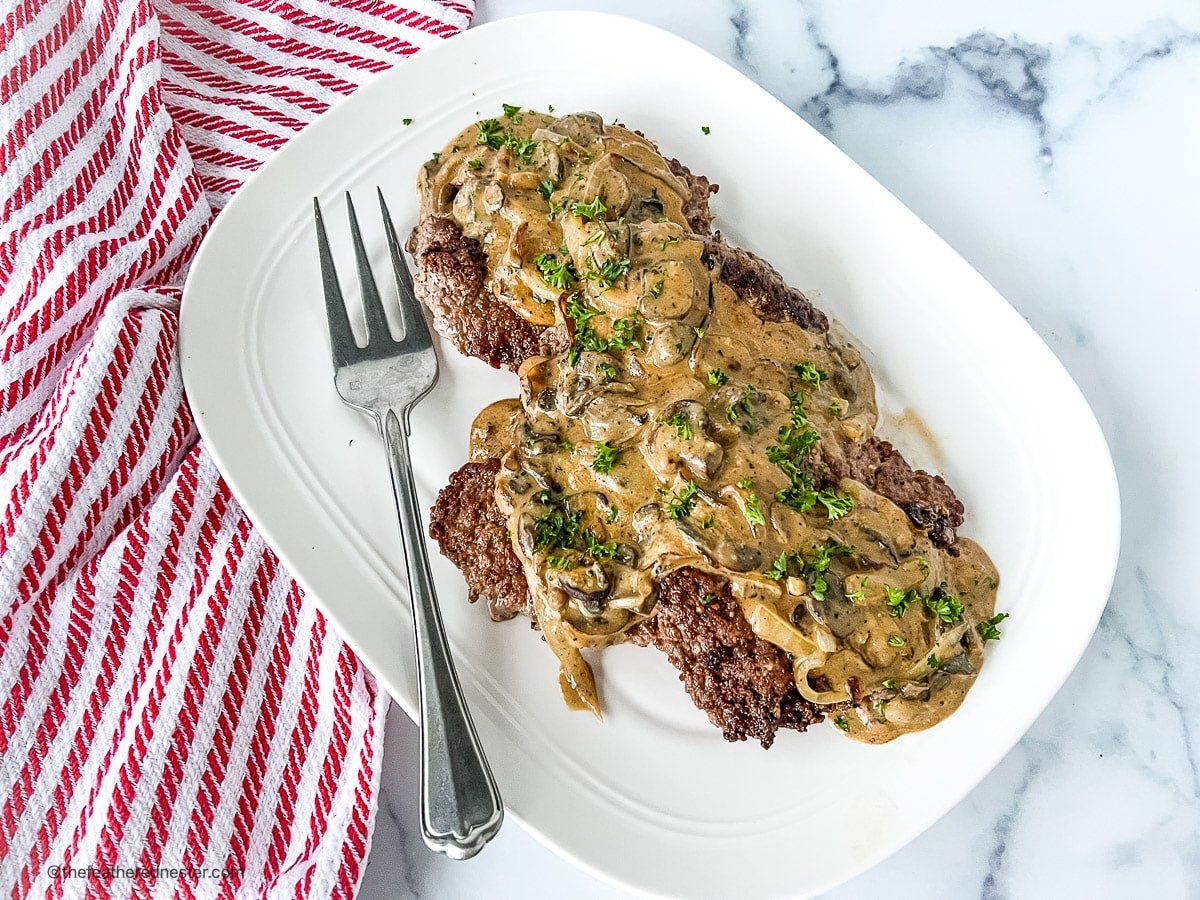 Love beef recipes?
Try our Blackstone Griddle Steak and Short Rib Rigatoni.
Cube Steak FAQ
Cube steak is a type of beef that comes from the shoulder, round, or chuck.
This cut of beef is tenderized by pounding it with a meat tenderizer, which makes small dents in the steak. This helps to break down the tough fibers, making them more tender and easier to chew.
The name cube steak (also known as cubed steak and country style steak) comes from the fact that the dents look like small cubes.
Does cube steak get tender the longer it cooks?
Not exactly. Crock pot cube steak does become more tender the longer it cooks, but like any other cut of meat, it is possible to overcook it. The slow cooker helps to break down the connective tissues in the meat, making it tender and juicy.
Should cube steak be marinated before cooking?
No, marinating isn't necessary. The process of cubing tenderizes the meat.
Ingredient Notes and Substitutions
Montreal steak seasoning– You can substitute Montreal seasoning with an all-purpose seasoning, dry onion soup mix, or a combination of your favorite herbs and spices. Good choices are garlic powder, onion powder, paprika, cumin, oregano, and black pepper.

Cooking oil – Choose a mild flavored oil such as avocado, canola, vegetable, or even sunflower.

White mushrooms – Sliced button mushrooms are the common choice for this cube steak recipe, but Cremini mushrooms work well, too.

Beef broth – Feel free to use concentrated beef base mixed with water (according to the package directions). In a pinch, you can substitute chicken or vegetable broth for beef broth.

Worcestershire sauce – This condiment adds a classic flavor to all cube steak recipes. The Food Network website has a post with several substitutes for Worcestershire sauce.

Heavy cream – You can substitute half-and-half for heavy cream, but the cube steak gravy won't be quite as rich and creamy.
Tips For a Perfect Country Style Steak
Prepare the slow cooker.
Spray the insides and bottom with cooking spray, or use a slow cooker liner. Place the cube steaks in the bottom, then sprinkle Montreal steak seasoning over the meat.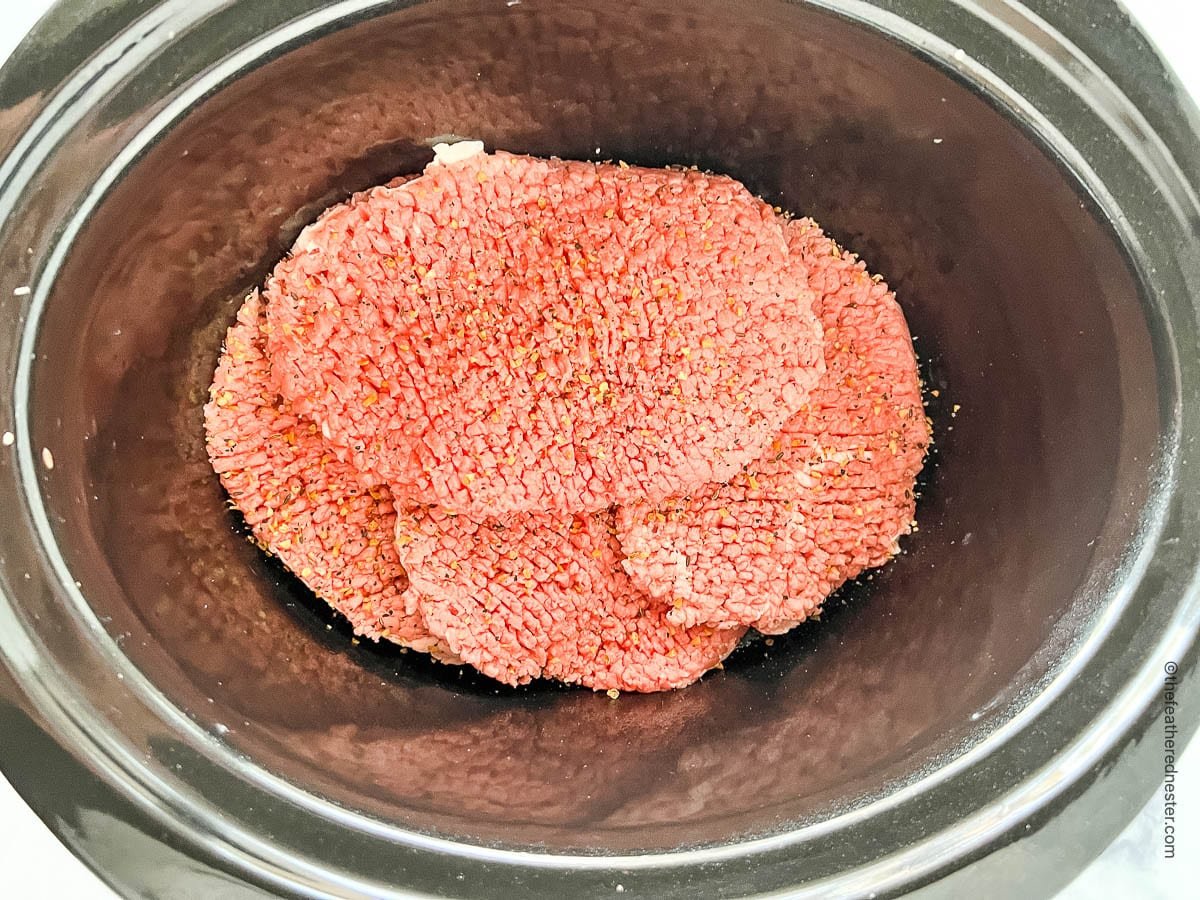 Saute onions and mushrooms until just brown.
Cook in oil in a large skillet. Mushrooms and onions will look dry and slightly browned when they are ready.
Deglaze the skillet for extra flavorful gravy.
The little brown bits of onion and mushroom in the bottom of the skillet are full of flavor. Adding a liquid to the hot pan, like broth, water, or wine, helps to release those brown bits and bring them together with the other gravy ingredients.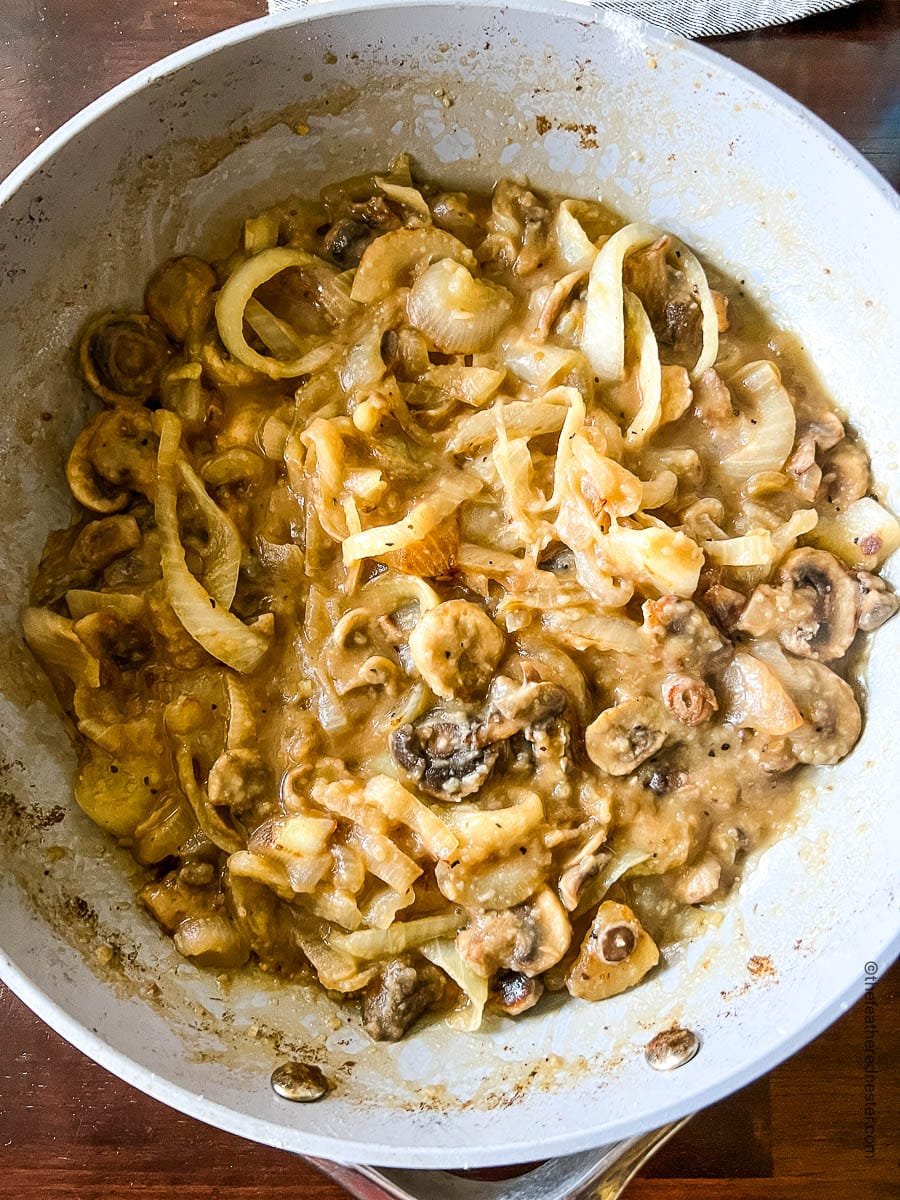 Pour the mushroom gravy over steaks.
Slow cook for 6 to 7 hours on Low, or 3 to 4 hours on High. The gravy will help to keep the steaks moist while they are cooking.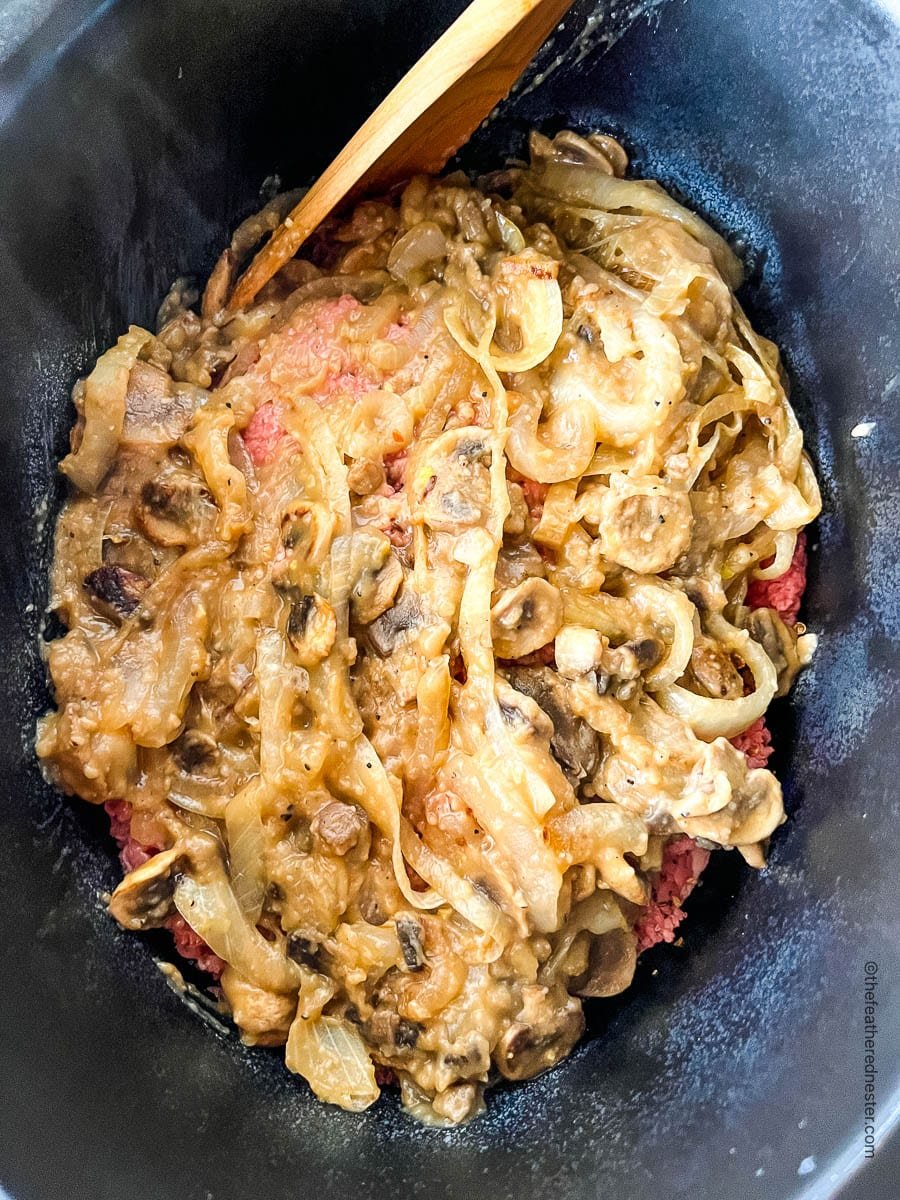 🎯 TFN Pro Tip
The cube steak gravy will be thin at first; keep stirring until it thickens.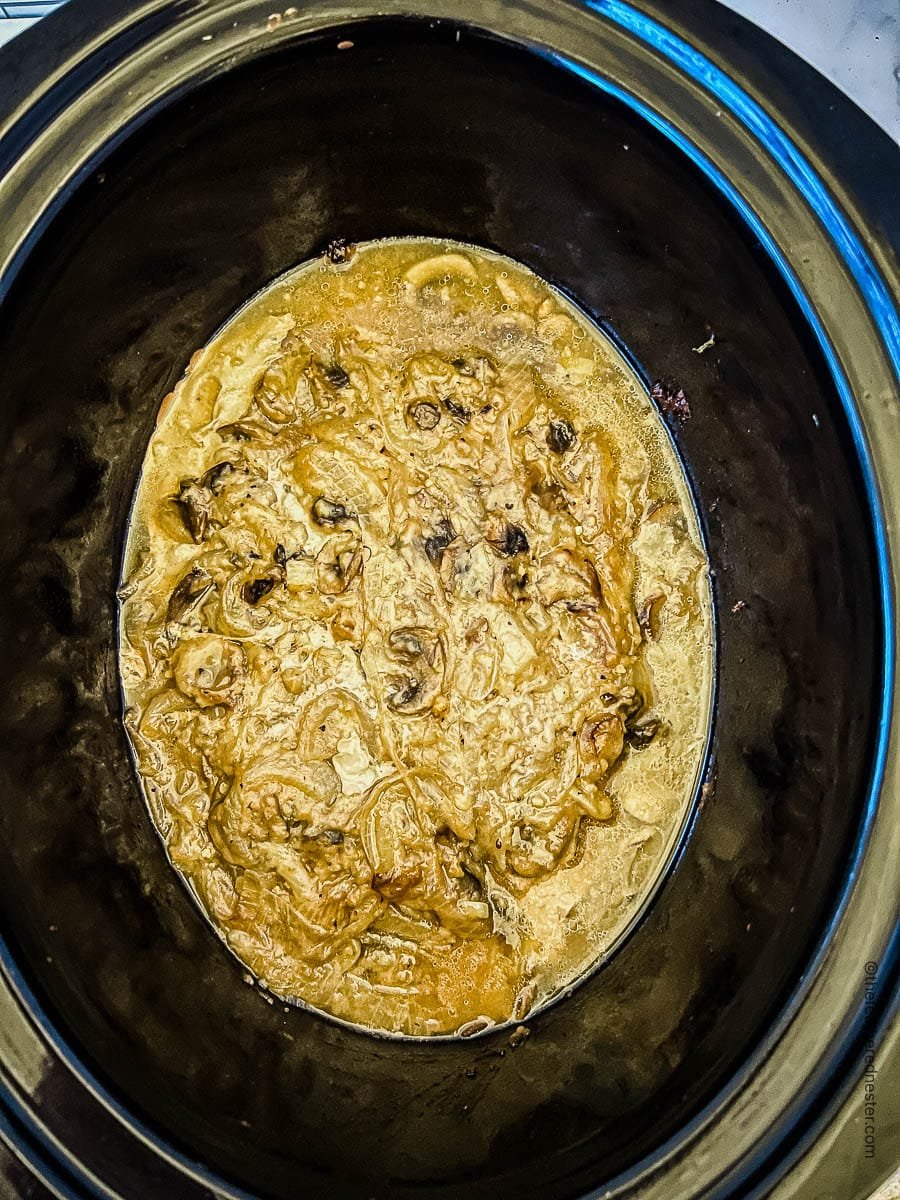 Cube Steak Recipe Variations
Sandwiches: serve the meat and gravy on hamburger buns or slider buns.
Cube steak and potatoes: add cubed potatoes to the slow cooker for the last hour of cooking.
Add other vegetables to the crock pot in the last hour, such as carrots and celery.
Make them spicy by adding a few dashes of hot sauce or your favorite spices.
Serving Suggestions
This meal is fantastic over mashed potatoes or rice. Some people prefer it with buttered egg noodles. It's also delicious with a side of crock pot mac n cheese!
If you want to add some healthy veggies to the plate, consider green beans or Instant Pot steamed broccoli.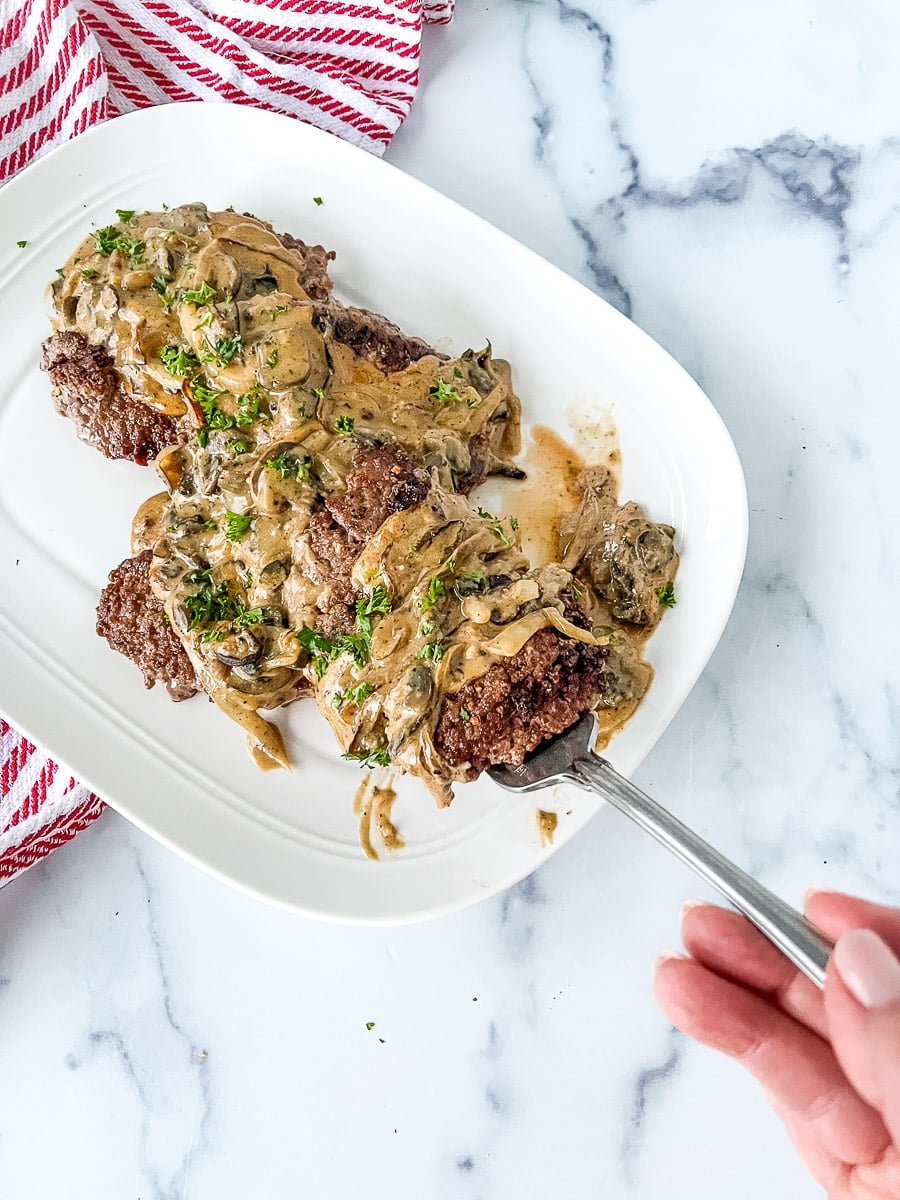 Storing and Reheating Crock Pot Cube Steak
Fridge: Store cubed steaks in an airtight container or wrap them tightly with plastic wrap. Store in the refrigerator for up to 3 days.
For the gravy, store it in a separate airtight container or jar and refrigerate for up to 5 days.
Freezer: Slow cooker cube steak can be frozen for up to 3 months. Wrap each steak individually in plastic wrap and place it in a freezer bag or airtight container.
Reheating: To reheat country style steak, place it in a covered dish and bake at 350°F until heated through.
For the gravy, heat in a saucepan over low heat until warm. You can also reheat both of them in the microwave for 2 to 3 minutes.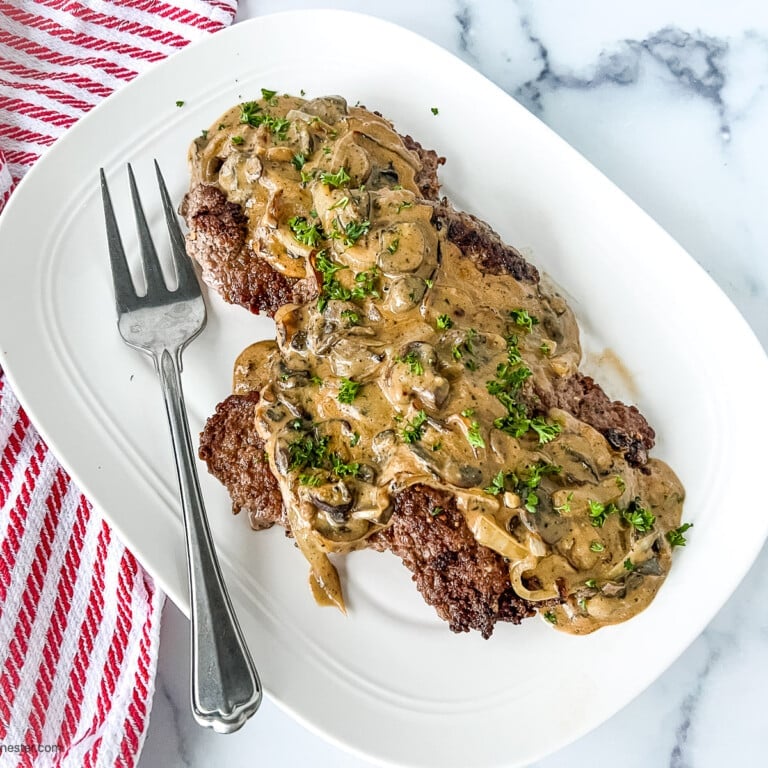 Crock Pot Cube Steak
Make our easy recipe for tender, delicious crock pot cube steak with mushroom gravy! The hearty country style steak is a family favorite!
Equipment
large skillet

dipping trays or plate - for dipping and coating cube steaks
Ingredients
4 cube steaks
2 teaspoons Montreal steak seasoning, divided (or all-purpose seasoning)
2 teaspoons cooking oil
1 yellow onion thinly sliced
1 pound white mushrooms sliced
¼ cup all-purpose flour
1 cup beef broth
1 teaspoon Worcestershire sauce
¼ cup heavy cream
Instructions
Prepare the crock pot by spraying the liner with cooking spray or line it with a slow cooker liner. Place the cube steaks in the bottom of the slow cooker. Sprinkle with 1 teaspoon of Montreal steak seasoning.

Heat oil in a large skillet over medium heat. Add onions and mushrooms, and saute for 5 minutes, until the onions and mushrooms are dry and beginning to brown.

Stir in flour and 1 teaspoon Montreal steak seasoning, and cook for 1 – 2 minutes. Add broth and Worcestershire sauce to deglaze the skillet, stirring to smooth any lumps, and bring to a simmer.

Pour the onion and mushroom skillet sauce over the cube steaks. Add lid and slow cook the cube steaks for 6 to 7 hours on low or 3 to 4 hours on high.

When done, use tongs to remove the steaks to a plate or serving dish. Stir in the heavy cream, until thickened. Spoon mushroom cream sauce over the steaks before serving.
Nutrition
Serving: 1cube steak | Calories: 459kcal | Carbohydrates: 14g | Protein: 41g | Fat: 27g | Saturated Fat: 11g | Polyunsaturated Fat: 2g | Monounsaturated Fat: 11g | Trans Fat: 0.01g | Cholesterol: 139mg | Sodium: 356mg | Potassium: 1044mg | Fiber: 2g | Sugar: 4g | Vitamin A: 247IU | Vitamin C: 5mg | Calcium: 75mg | Iron: 4mg
PIN THIS POST!