You'll love these Crockpot Funeral Potatoes for an easy dish that will be a big hit at any potluck. It's the richest and most creamy side dish you will ever make, and the slow cooker does all the work!
There's nothing quite like cheesy hash browns to comfort you on a cold winter day, and this slow cooker version is just as creamy and delicious as the classic, but with the added convenience of cooking in your crockpot!
Whether you're serving them at a potluck or family gathering, or just want a cozy side dish for dinner, these slow cooker cheesy hash browns are sure to please.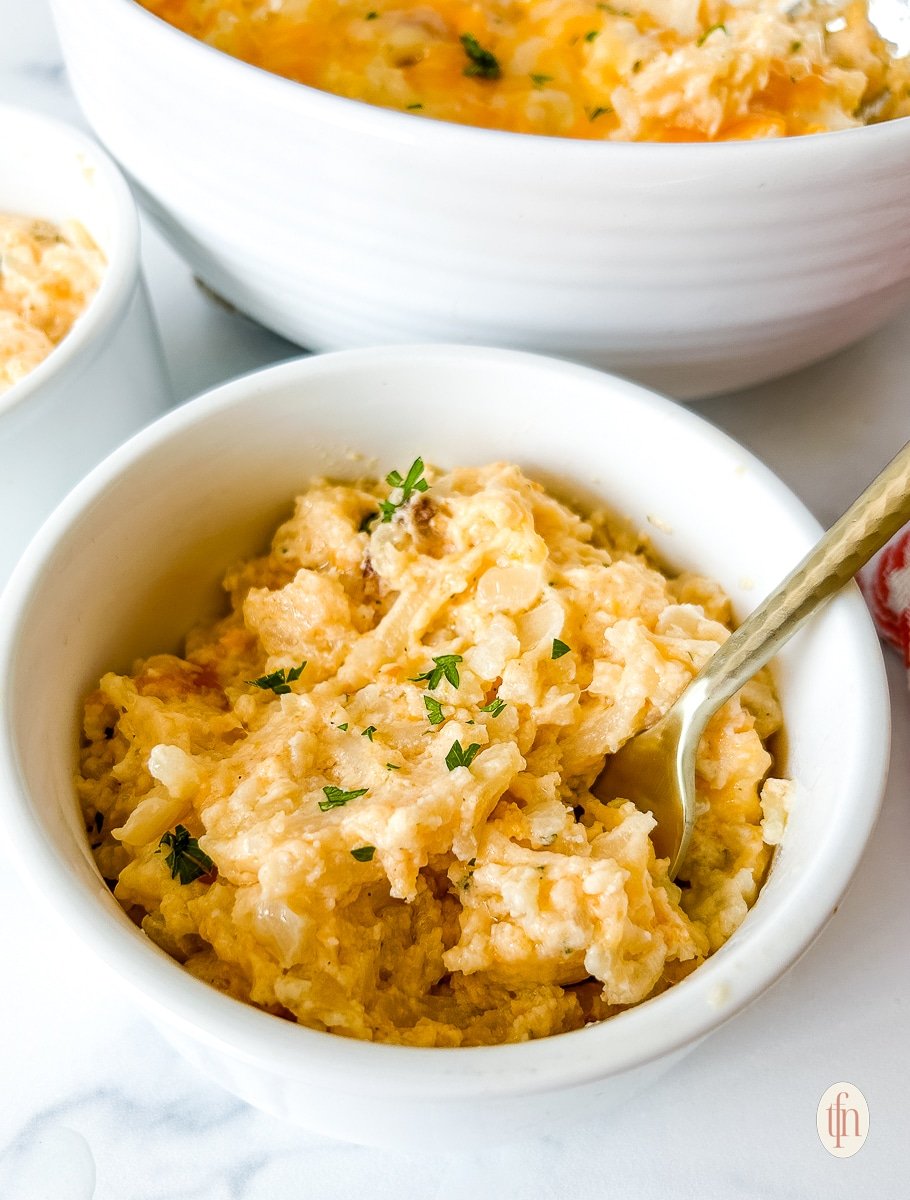 Why We Love Crockpot Funeral Potatoes
The slow cooker does the heavy lifting in this recipe.
Our Cracker Barrel copycat cheesy hash brown casserole recipe has long been a big hit on the blog, but, there are times when you don't have the oven space for it, like during the holidays, parties, or family dinners. So, we decided to see if you could make it in the slow cooker and it was just as delicious as oven baked!
Plenty of cheese, melted to perfection.
We used Colby jack shredded cheese to balance the cheddar with a pleasantly light flavor. Plus, it melts very well to create that beautifully thick and gooey slice of cheesy casserole that you crave.
Easy recipe using pre-shredded potatoes.
The recipe is essentially mixing all the ingredients and heating them up! So easy and tasty.
Want more potato recipes? Try our Mashed Red Potatoes, Instant Pot Breakfast Potatoes, Loaded Hashbrown Casserole, and Instant Pot Smashed Potatoes for a dose of delicious potato goodness!
Ingredients For Crockpot Hash Brown Casserole
Shredded hash browns – fresh or frozen (we prefer Ore Ida or Simply Potatoes brands)
Colby jack cheese or sharp cheddar – freshly shredded is best. Use both cheeses for extra flavor!
Onion – finely chop for best results.
Dry ranch dressing mix – see our DIY recipe in the recipe for the best homemade ranch yet!
Tips for Thawing Frozen Hash Browns
If you use Ore Ida or other frozen hash browns to make this Crock Pot cheesy hashbrown casserole recipe, they will need to be thawed before making it.
Our preferred way to thaw shredded potatoes is to spread them evenly on a baking sheet and let them sit at room temperature for 30-60 minutes.
To make the process a bit quicker, place the baking sheet in a 175°F oven for 15 minutes.
You also have the option to thaw the hashbrowns in the refrigerator overnight. Put them frozen in a colander in the fridge with a dish underneath to catch moisture.
For the best texture and taste, we suggest you keep thawed hash brown potatoes in the fridge for no more than 3 days before using them.

Whether fresh or frozen, DO NOT RINSE the hash browns. Shredded potatoes will soak up the water and release moisture into your casserole. No one wants that!
Recipe Tips – Cheesy Hash Browns Crockpot Recipe
If using frozen hash browns, make sure they are thawed before mixing ingredients.
Check above section for info on thawing hash browns overnight or on the countertop for about an hour.
Finely chop onions before mixing in.
You want the taste of onions, but no big bites of them.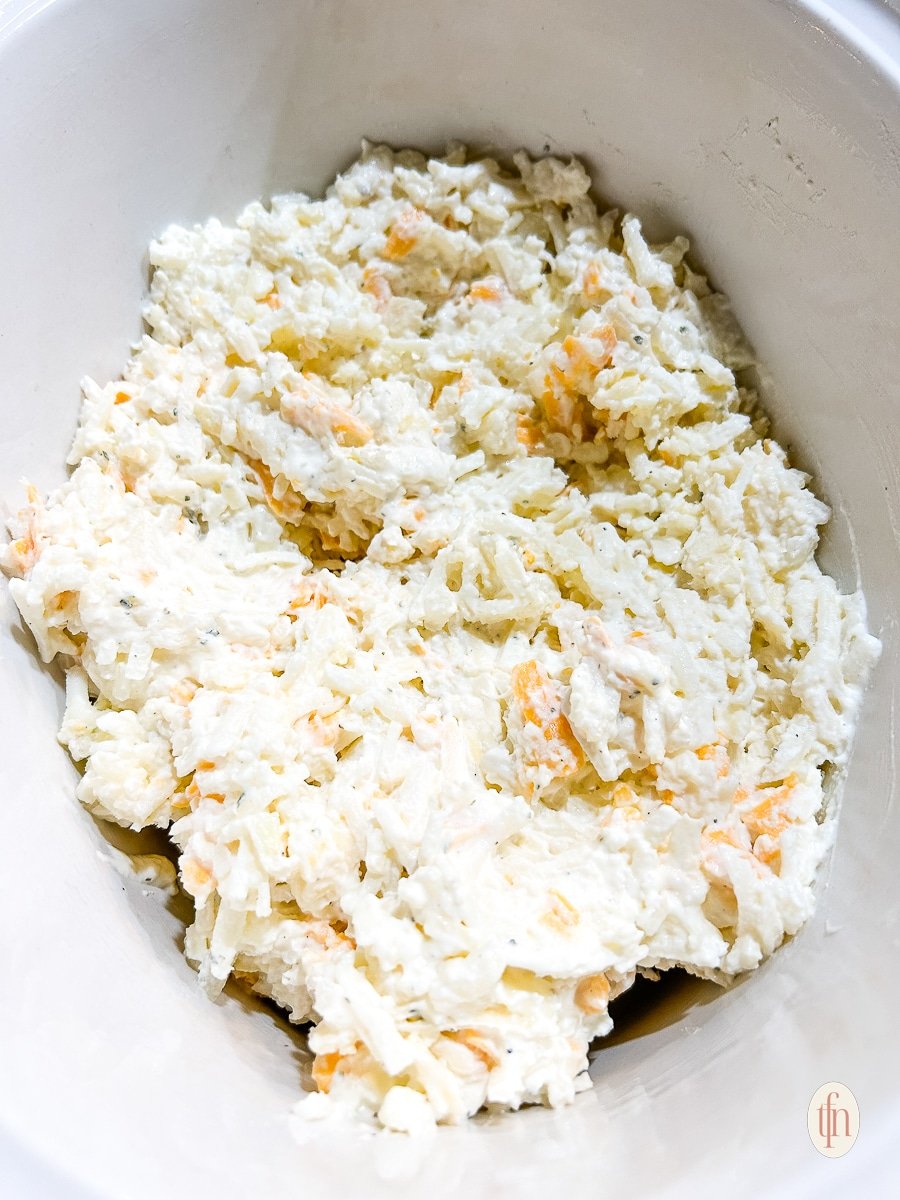 3. Add plenty of dairy to the hash browns.
Making this recipe with shredded cheese, sour cream, and softened cream cheese adds so much flavor and creaminess, plus keeps the hash browns from drying out in the slow cooker.
5. Top with even more cheese before serving.
Adding a layer of grated cheese and chopped onions gives the casserole a great presentation and extra flavor!
Recipe Variations For Crockpot Funeral Potatoes
Mix in some chopped cooked bacon or crumbled sausage for a hearty breakfast casserole.
Stir in a can of green chiles or diced jalapeños for a bit of spice.
Add some frozen corn, diced bell peppers, or other veggies to make it a complete meal.
Use gluten-free hash browns to make this slow cooker dish gluten-free.
Replace the ranch dressing with Italian seasoning for a flavor change.
Try other shredded cheese like pepper jack, Swiss, or Gouda. Gruyere would be delicious too!
Use Velveeta or American cheese instead of shredded cheese for an extra cheesy casserole.
To substitute sour cream, use a 1:1 ratio of either plain Greek yogurt, cream cheese, or cottage cheese in place of the sour cream.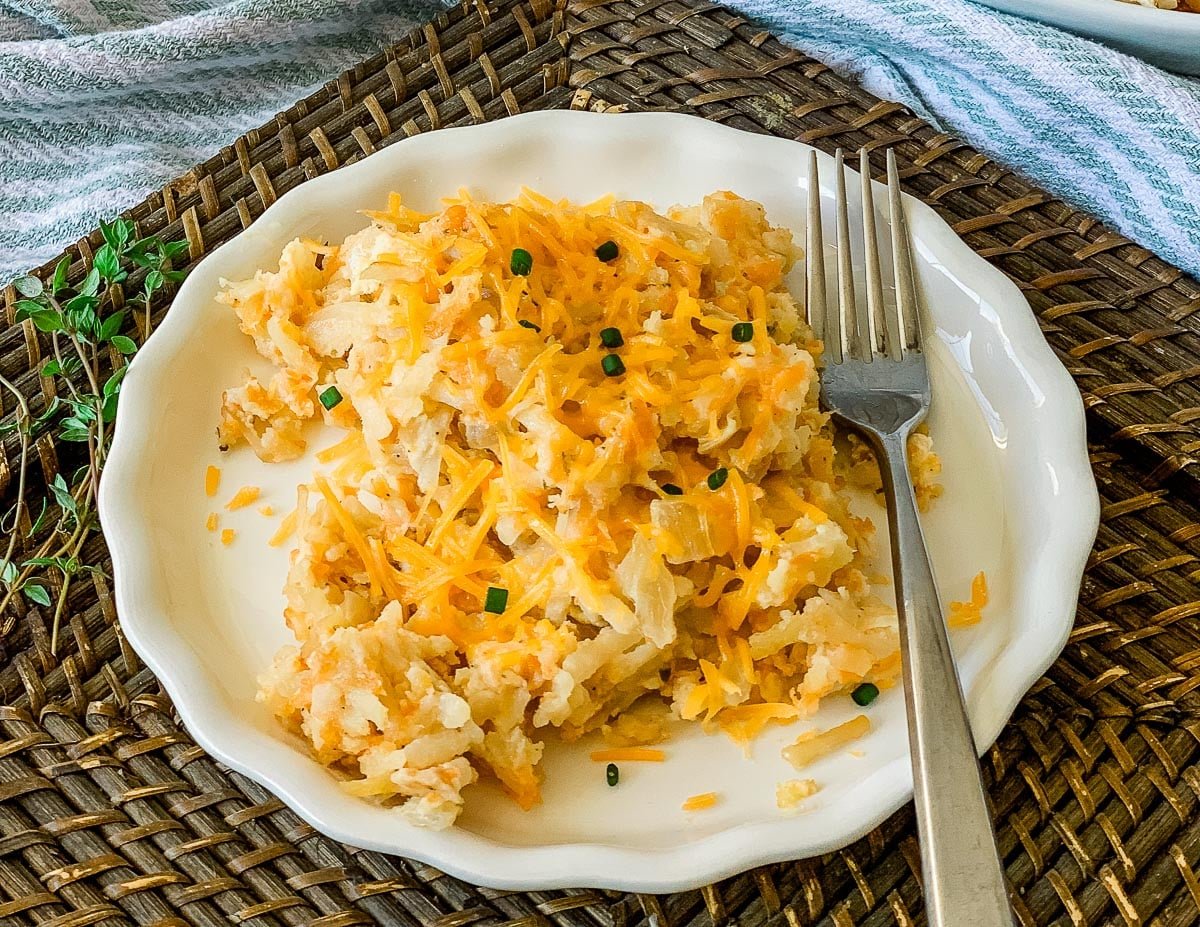 What to Serve with Crock Pot Hash Browns
This cheesy, gooey, rich, and satisfying crockpot hashbrown casserole is great with all your favorite comfort foods!
Serve as a delicious side dish alongside Instant Pot Chicken Tenders or Bisquick Oven Fried Chicken.
It's also fantastic with Crockpot Ranch Pork Chops, Buttermilk Brined Pork Chops, and Turkey Meatloaf.
Storage and Reheating Instructions
For the easiest prep and reheating, we highly recommend you use a foil pan to make and freeze the casserole. That way, you can quickly go from freezer to oven!
Make the cheesy hash brown casserole recipe as instructed, but do not bake. Instead, wrap the casserole with a layer or two of foil and keep it in the freezer for up to 3 months.
Bake from frozen (uncovered) in a 375°F oven as directed in the original recipe, but add another 15 minutes to the cooking time.
Frequently Asked Questions – Crockpot Funeral Potatoes
Can I add meat to the recipe?
Sure you can! As-is, this is cheesy hashbrown casserole recipe is vegetarian. However, you can add cooked chopped ham or turkey, crumbled cooked bacon, or cooked and crumbled sausage.
How do I double or halve the casserole?
We love to double the recipe of this Cracker Barrel cheesy hash brown recipe. Cook one, then add another to a foil casserole container to freeze – see our Hashbrown Casserole for baking directions.

Then, you have one to serve the family that night and one in the freezer. You never know when you'll need to bring a hot dish to a BBQ or potluck or share as part of a meal train.
How long do cheesy hash brown potato casserole leftovers last?
The baked casserole will keep well for up to 4 days in the refrigerator. Let the leftovers cool completely before transferring them to a sealed container and storing them in the fridge.
Crockpot Funeral Potatoes
Rich and creamy, crockpot funeral potatoes is a popular potluck side dish. Use your slow cooker to make this delicious hash brown casserole!
Ingredients
½ cup melted butter
30 ounces shredded hash browns fresh or thawed from frozen
½ cup yellow onion peeled and finely chopped
12 ounces Colby jack cheese freshly shredded (3 cups shredded), divided
2 cups sour cream
4 ounces cream cheese softened
1 packet dry ranch dressing mix *See recipe Notes on making dry ranch seasoning yourself
¼ teaspoon black pepper
garnish
½ cup thinly sliced green onions green part only
Instructions
Prepare the slow cooker by spraying the liner with non-stick cooking spray.

To a very large mixing bowl, add melted butter, hash browns, yellow onion, 2 1/2 cups of shredded cheese, sour cream, cream cheese, dry ranch dressing, and pepper.

Pour the mixture into the prepared crock pot. Cover and cook on high power for 3 1/2 hours, or low power for 5-6 hours. **Check on it every 2 hours (if possible) as some slow cookers cook hotter and faster than others.

Just before serving, garnish the top of the funeral potatoes with the remaining 1/2 cup of grated cheese and the sliced green onions.
Notes
Homemade Ranch Dressing Seasoning:
Add the following to a small bowl and stir well with a spoon to combine.
2 tablespoons buttermilk powder
1 tablespoon garlic powder
1 teaspoon dried parsley
1 teaspoon dried chives
2 teaspoon onion powder
1 teaspoon dried dill
Leftovers will keep for up to 5 days in the fridge if stored in an airtight container.
Make Ahead Instructions
To make the dish in advance and freeze it for up to 3 months, we recommend that you place it in a freezer-safe Ziploc bag. About 24 hours before you want to cook it, transfer the freezer bag of funeral potatoes to the fridge to thaw. After thawing, add the contents to the crockpot and cook according to the instructions shown above.
Alternatively, assemble the casserole as directed and refrigerate for up to 3 days. Then, follow the cooking instructions shown above.
Nutrition
Serving: 1serving | Calories: 378kcal | Carbohydrates: 18g | Protein: 11g | Fat: 30g | Saturated Fat: 14g | Polyunsaturated Fat: 3g | Monounsaturated Fat: 9g | Cholesterol: 64mg | Sodium: 522mg | Potassium: 331mg | Fiber: 1g | Sugar: 2g | Vitamin A: 1081IU | Vitamin C: 7mg | Calcium: 290mg | Iron: 1mg
PIN THIS POST!
Here Are Even More Delicious Side Dish Recipes!