Rise and shine with our Instant Pot hash brown casserole! This simple cheesy potato casserole is delicious as a side with eggs for breakfast, or plate it alongside chicken, pork, or beef for dinner. It's a great make-ahead side dish, and it reheats like a dream!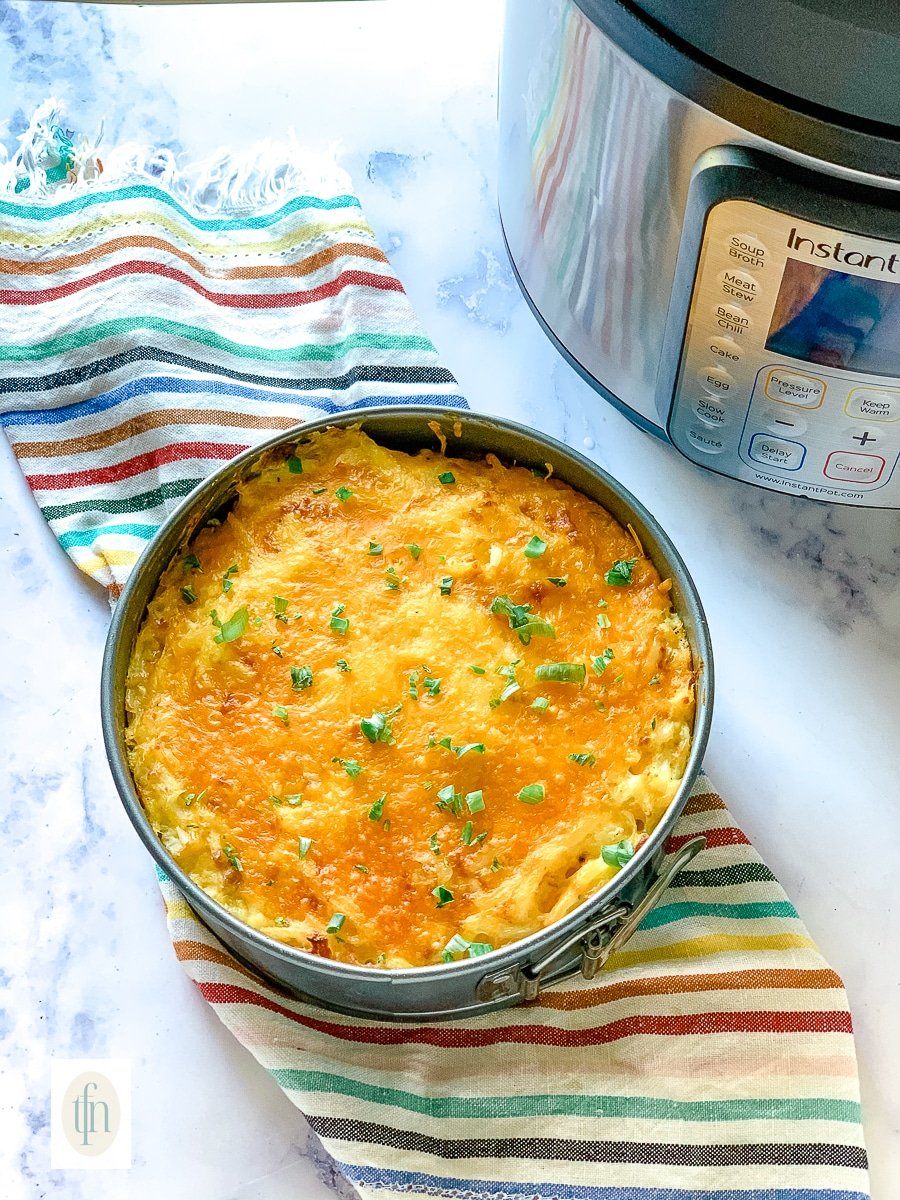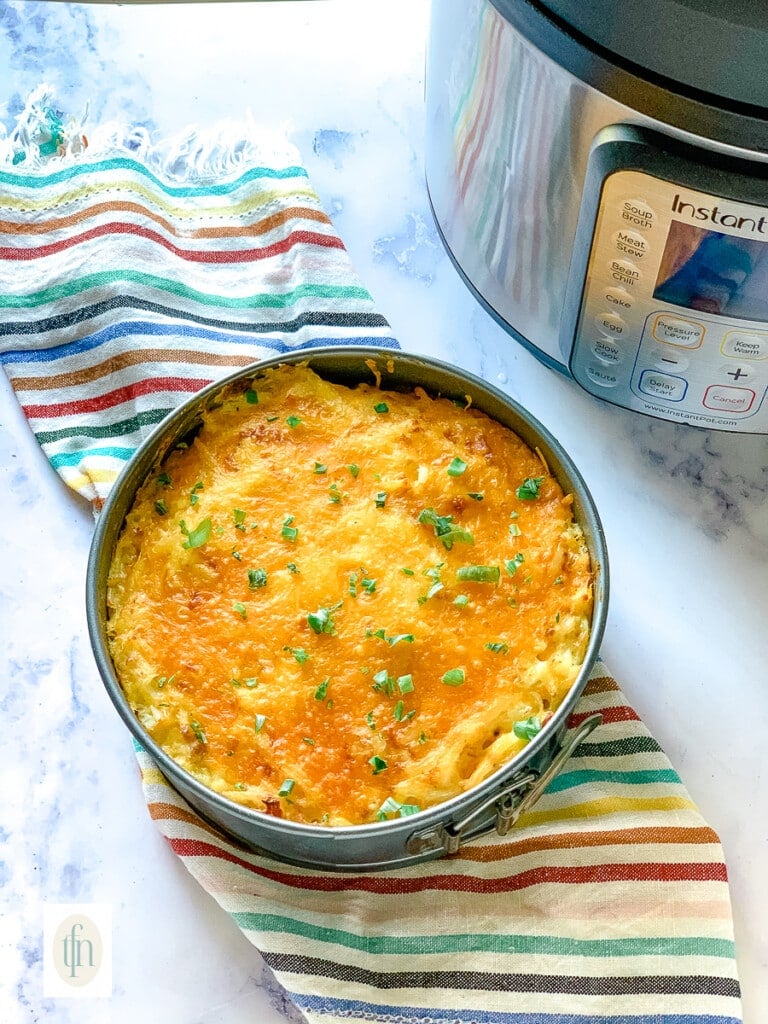 Why We Love Instant Pot Hash Brown Casserole
The "pan in pot" method lets you serve Instant Pot cheesy potatoes in the pan you cook them in, and with almost no mess to clean inside of the pot afterward!
Easy to customize. There are plenty of extra ingredients that you can add to bulk it up for a more filling meal, but it's also delicious just as it is.
Budget friendly side dish. There are no fancy ingredients needed for this comfort food!
Pressure cooked potato side dishes go with everything!
Breakfast potatoes in the morning, mashed garlicky or red potatoes, and chunky smashed potatoes…they're all delicious, versatile, and easy to make in the Instant Pot.
Ingredient Notes and Substitutions
Hash Brown Potatoes – These are available fresh and pre-shredded. You can also use 16 ounces of frozen hash browns, but be sure to thaw and pat them dry before beginning!
Cheddar Cheese – Gruyere and Gouda are two fantastic alternatives, and Swiss is another good potato casserole recipe option.
For the best melting cheese, it's always best to buy a block of cheese and shred it yourself.
Condensed Cream of Chicken Soup – Not everyone likes the convenience of using condensed soup. If you would rather thicken the casserole another way, it isn't difficult to do – just takes a few extra minutes.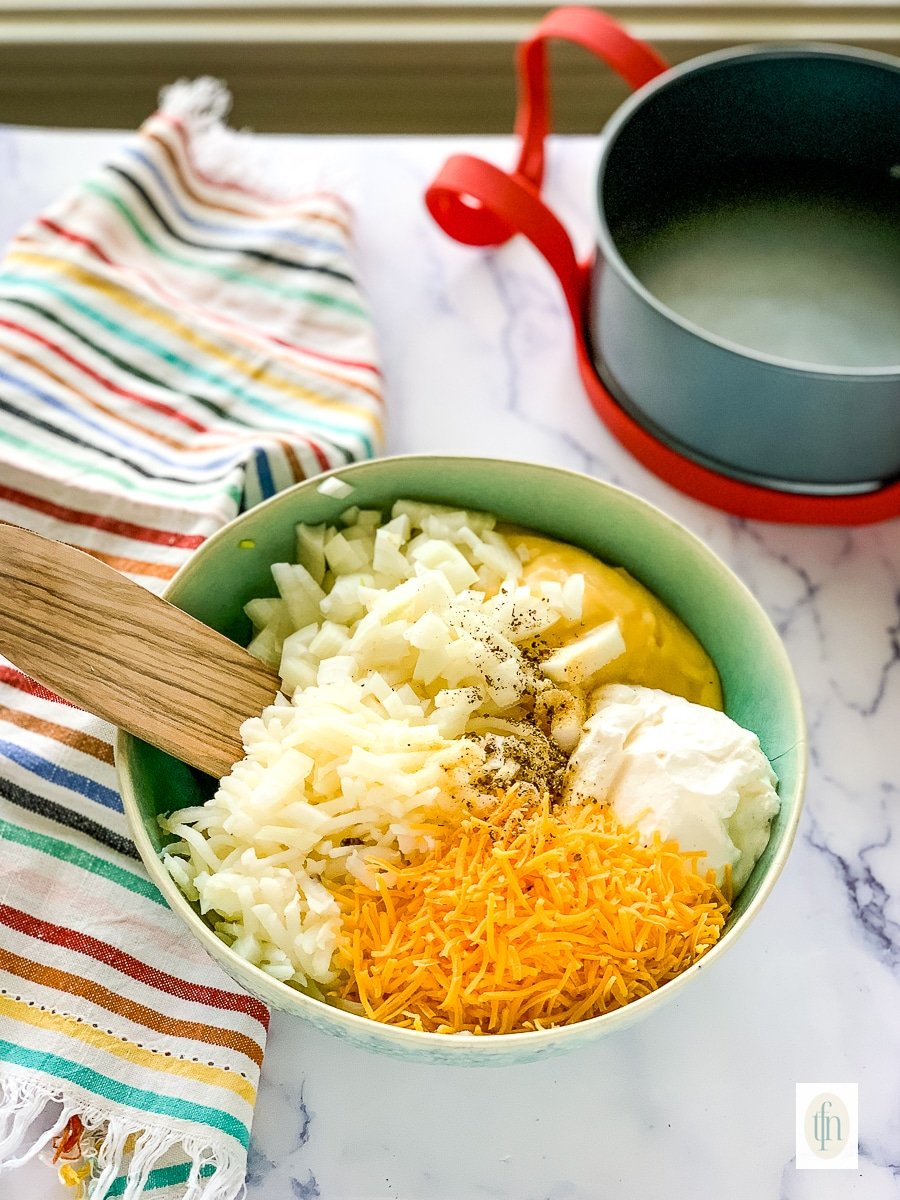 To make hash brown casserole without condensed soup:
Melt 3 tablespoons of butter over medium-low heat.
Whisk in 1 tablespoon all-purpose flour until a smooth, bubbly roux forms.
Gradually add ½ cup chicken broth and ½ cup milk. Whisking it in slowly prevents the fat and flour from separating.
Bring to a boil as the mixture thickens while constantly whisking.
For a Heartier Instant Pot Casserole
Ham is our favorite thing to add to hashbrowns in the pressure cooker. Actually, we love it so much that we have a recipe for hashbrown and ham breakfast casserole!
Leftover glazed ham or even deli meat will bulk up this dish like nothing else.
Crumbled breakfast sausage and chorizo are good choices, too.
Adding chopped bacon makes these cheesy hash browns taste a lot like our hash brown egg cups!
Cooked vegetables
Mushrooms and bell peppers are also right at home in this Instant Pot hash brown casserole.
Pro Tip:
Veggies have a lot of moisture that can water down your side dish, so it's best to slice and sauté them first.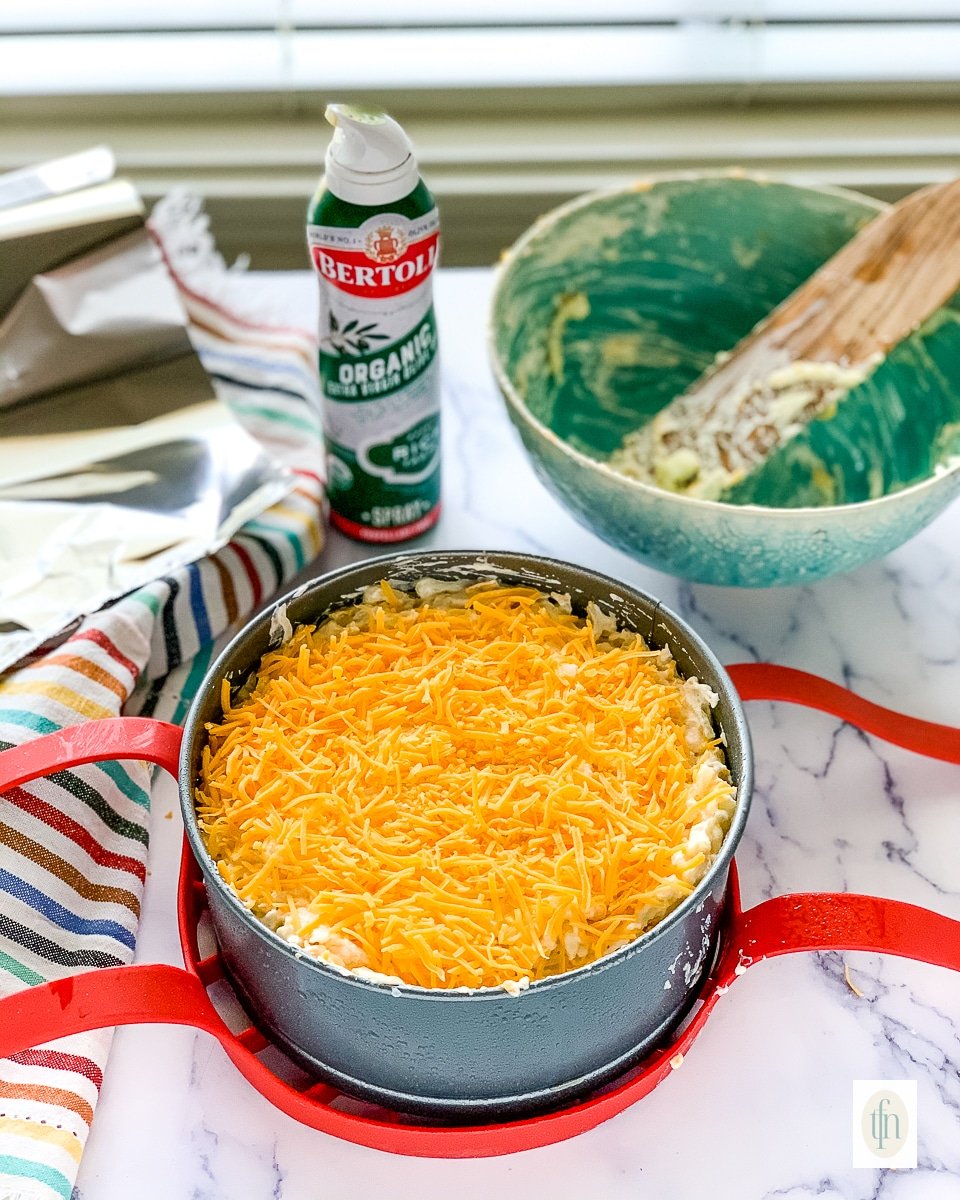 Finally, some like to top off their casseroles with breadcrumbs for a little crunch and texture. Another way to accomplish that crunchy goodness is by browning the top – learn how in the tips below!
Instant Pot Potato Casserole Recipe Tips
Make a simple sling out of tin foil to easily remove the pan.

Tear two 30" strips of aluminum foil and fold them into thirds lengthwise to create two, long, thick strips.
Lay the strips in opposite directions under the bottom of the pan to form a cross. Then, bring the strips up the sides and over the top. This makes a convenient handle for raising and lowering the pan!
Brown the cheesy topping for a nicer appearance.
As you can see in the photo below, without browning the cheese, the baked hash brown casserole looks a little blah.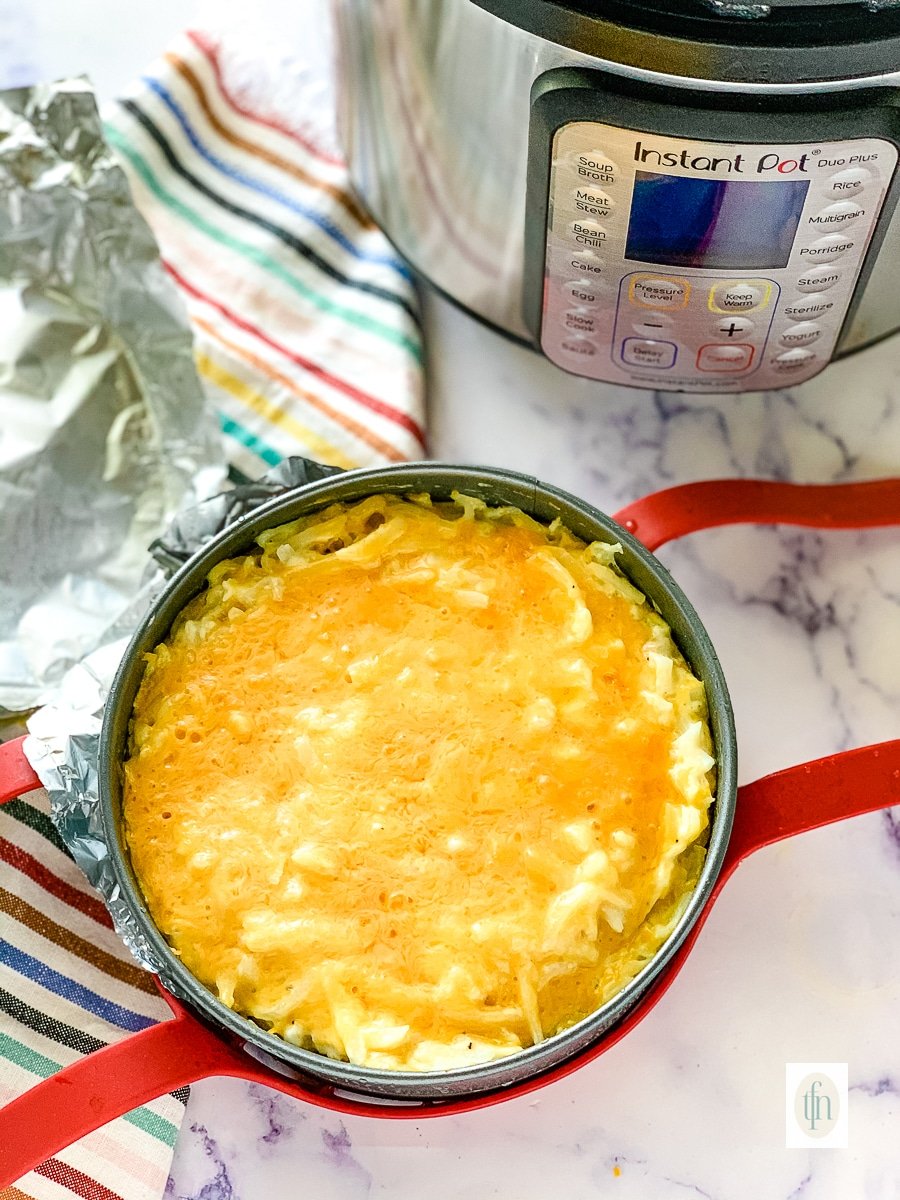 We have an air frying lid attachment for our Instant Pot. If you don't have that, a regular air fryer or oven broiler can do the job. Use pot holders or oven mitts to carefully drain the water. Return the casserole pan to the sling and lower it back into the Instant Pot or air fryer.
Air fry the hash brown casserole at 350ºF for 5-10 minutes, until the cheese bubbles and browns.
Alternatively, you can place the dish in the oven and broil at 350ºF for 5-10 minutes for the same results!
Want ideas for other freezer-friendly hash brown casseroles?
You can make our Cracker Barrel copycat, a slow cooker cheesy potato casserole, or even our chicken hashbrown casserole!
Instant Pot Hash Brown Casserole FAQ
Why is my hash brown casserole watery?
This can happen if the potatoes are not properly thawed and dried before they're added to the casserole. Additionally, leafy greens or moisture-rich vegetables such as squash and tomatoes can add a lot of moisture to the mix, leading to a soggy casserole.
Is it better to cook hash browns frozen or thawed?
For the best results, we recommend using refrigerated shredded potatoes rather than frozen. Even after thawing, the potatoes will have a lot of excess water that you won't find in fresh or refrigerated hash brown potatoes.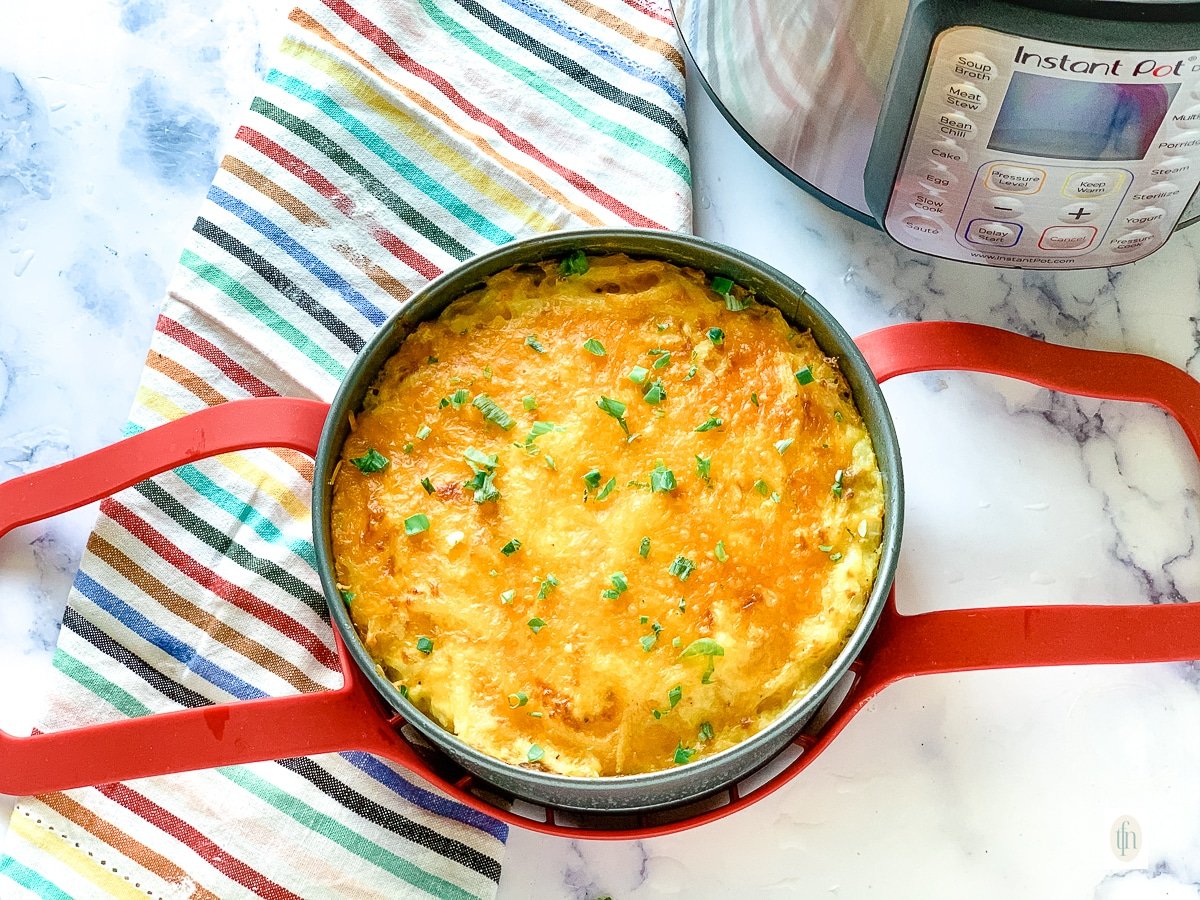 Serving Suggestions
Instant Pot cheesy potatoes are delicious all on their own! But as a side, we like to serve them with crock pot ham and buttermilk pork chops.
The hash brown casserole would also be the perfect side with pan seared chicken breasts, or any of our chicken tenderloin recipes.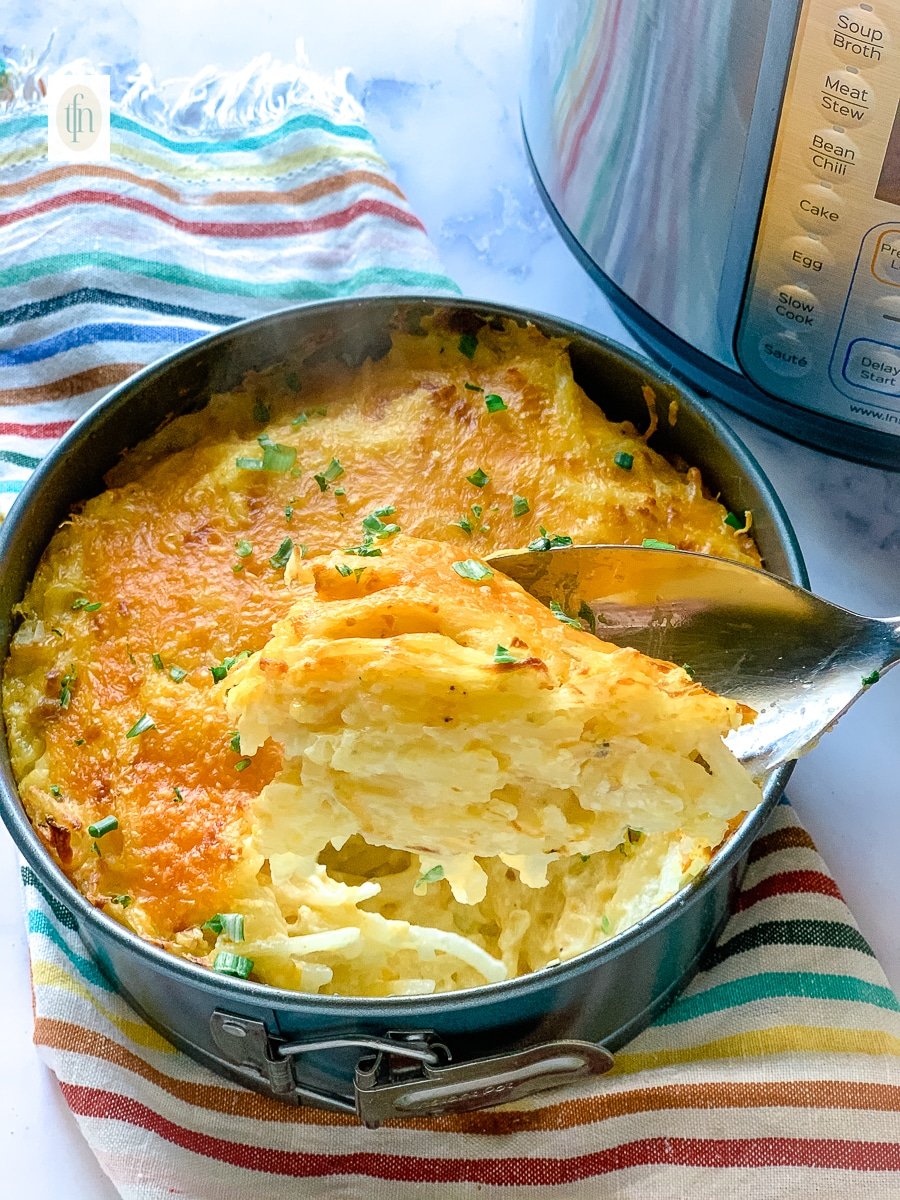 Storing and Reheating
Refrigerate any leftovers for up to 5 days in an airtight container. Instant Pot hash brown casserole dries out as the days pass, so reheat in the oven or air fryer sooner rather than later.

Hash brown dishes freeze really well, and can be kept frozen for up to one month. You can also prep and freeze Instant Pot hash brown casserole before baking and it can be frozen for up to 3 months.
For this Instant Pot casserole recipe, Renae recommends: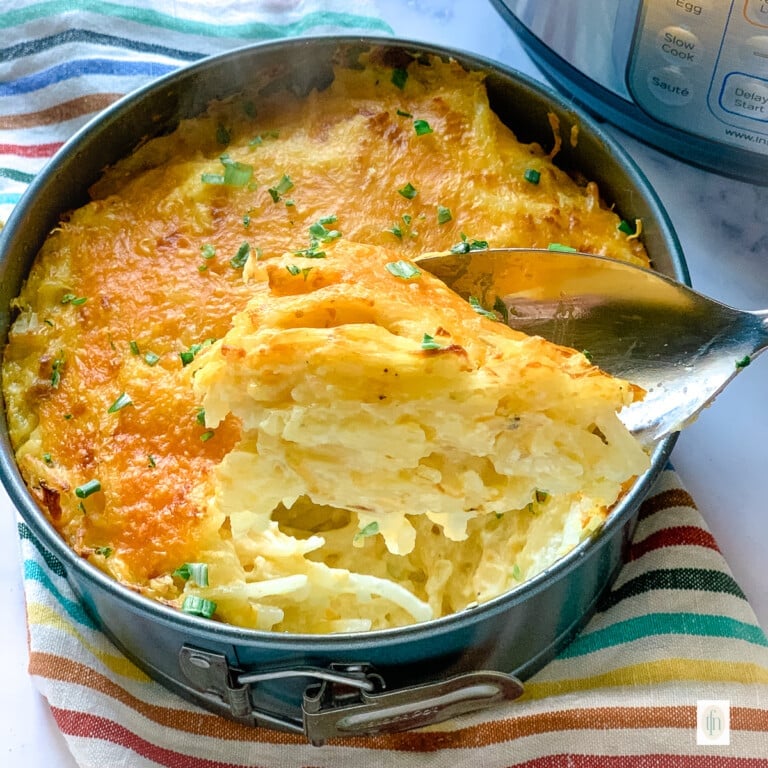 Cheesy Instant Pot Hash Brown Casserole
For cheesy potatoes made in a flash, this Instant Pot hash brown casserole will be your go-to recipe! A great side for breakfast or dinner.
Ingredients
20 ounces shredded hash brown potatoes refrigerated (like Simply Potatoes) is recommended, or frozen hash browns, if thawed
10 ounces condensed cream of chicken soup (see Notes below for canned soup substitution)
1 cup sour cream light sour cream, or plain Greek yogurt
1 small onion yellow or white, diced small
2 cups shredded sharp cheddar cheese divided in half
1 teaspoon garlic powder
1 cup water
Instructions
Lightly grease 7" – 7.5" cake pan or springform pan with non-stick cooking spray.

In a medium mixing bowl, stir together shredded potatoes, condensed soup, sour cream, onion, 1 cup of cheese, and garlic powder. Add to prepared pan and use a spatula or knife to smooth the top. Sprinkle remaining grated cheese over the top.

Tear off a long piece (about 18 inches) of aluminum foil. Spray the underside of the foil with cooking spray to prevent sticking. Wrap the hash brown casserole pan tightly in foil, over the top and under the bottom of the pan. This prevents water from getting into the pan during the pressure cooking cycle.

Place trivet inside the inner pot of your Instant Pot, then pour 1 cup of water into the bottom. Place foil-wrapped pan with cheesy potatoes into a silicone sling or foil sling (see notes below for making a foil sling). Lower the sling with the pan of hash browns into the Instant Pot and set it on the trivet.

Secure lid on the IP and set the pressure valve to 'seal' (if needed). Manually set the IP to cook at high pressure for 35 minutes.

When cook cycle is over, allow a 5 minute natural release of pressure, then perform a quick release of remaining pressure. Using pot holders, lift sling from the Instant Pot and transfer to a cooling rack or other heat-safe surface. Carefully remove the foil from the pan.

If serving without browning (see below), let casserole cool for at least 10 minutes before removing springform pan. This ensures that the casserole stays together when the ring is removed.
Browning Top of Casserole (optional)
Using pot holders, carefully drain water from Instant Pot inner pot, then place the empty pot back inside of the IP. Place the casserole back on the sling. Lower the sling back into the Instant Pot or place in your air fryer.

Set air fryer lid (or air fryer) to cook at 350º for 5-10 minutes, until top of cheesy potato casserole is golden and bubbly.If using an oven broiler, set casserole under oven broiler for 3-5 minutes. Watch carefully to prevent cheese from burning.

If using a springform pan, let cheesy hash brown casserole cool for at least 10 minutes to ensure that the casserole stays together when the ring is removed.
Notes
How to make a foil sling:
Tear two 30″ strips of heavy-duty aluminum foil and fold the strip into thirds, lengthwise. You can use the ends of the foil to make handles for lowering and raising the pan. Place them in the bottom of the pot in separate directions, so they form a cross in the middle.
To make this recipe without canned soup:
You will need: 1 tablespoon flour, 3 tablespoons butter, 1/2 cup chicken broth, and 1/2 cup milk.
Melt the butter in a small sauce pan over medium-low heat. When melted, use a whisk to stir in the flour and continue whisking until smooth and bubbly.
Gradually whisk in the chicken broth and milk, about 1/2 cup at a time. Turn heat to medium and bring to a gentle boil, whisking constantly, until the soup thickens. Add salt and pepper to taste.
Nutrition
Serving: 1serving | Calories: 231kcal | Carbohydrates: 3g | Protein: 10g | Fat: 20g | Saturated Fat: 12g | Cholesterol: 59mg | Sodium: 268mg | Potassium: 111mg | Fiber: 1g | Sugar: 2g | Vitamin A: 617IU | Vitamin C: 1mg | Calcium: 317mg | Iron: 1mg
PIN THIS POST!