Hash Brown Egg Cups (aka Birds Nest Eggs), are an easy breakfast or holiday brunch idea. Shredded hash brown potatoes are baked in a muffin tin to create a crispy crust for baked eggs, cheese, and crispy bacon bits. These egg breakfast cups are super simple to make, and scrumptious, too!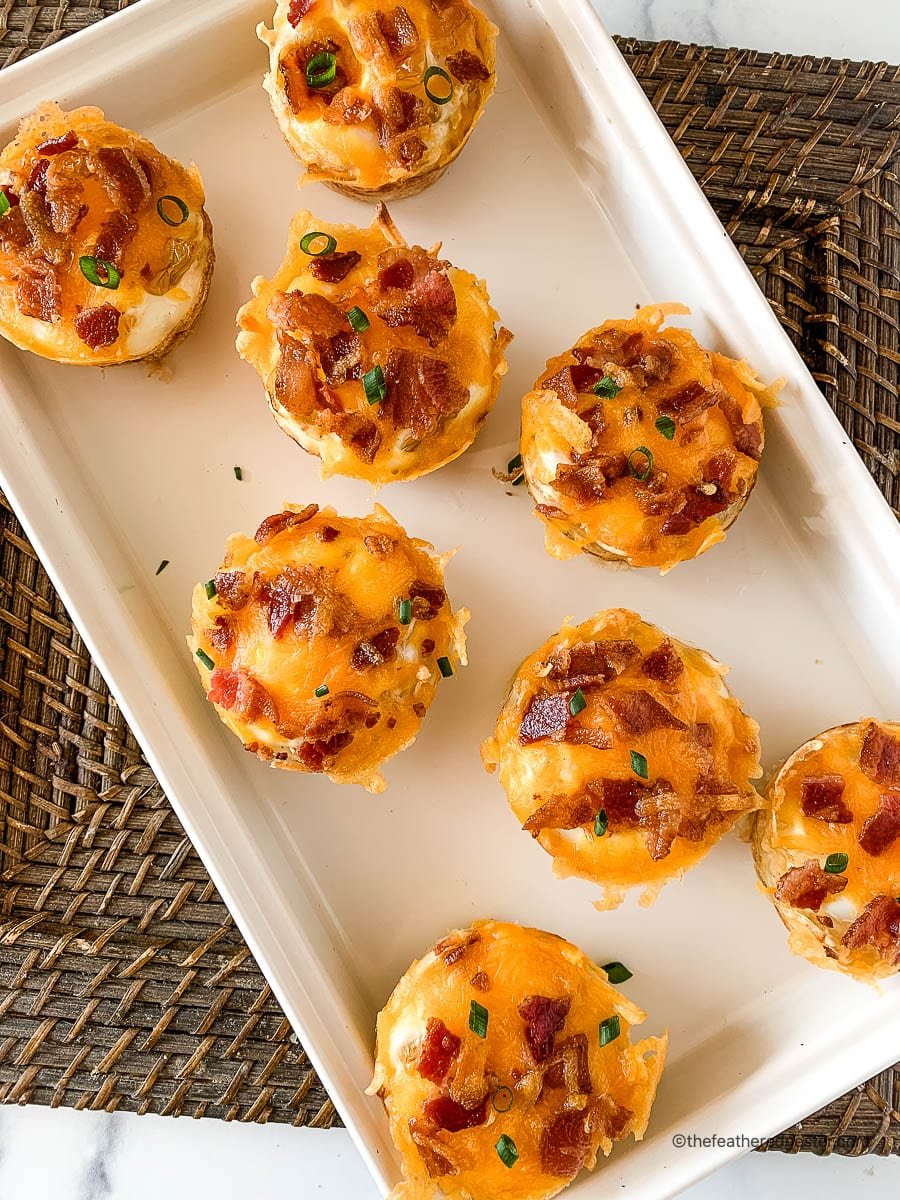 Hash brown breakfast cups are sure to impress your family and friends. Nearly everyone has heard of hash brown casserole, but that dish doesn't typically include eggs.
We took the shredded potatoes and turned them into something extra special by baking them in mini muffin tins.
Reasons to Love
A hearty and wholesome breakfast dish.
Easy to make with simple ingredients.
Single-serving portions, and they're portable, for breakfast on the go!
Whether it is a special occasion or simply a relaxing weekend, a delicious meal of potatoes, eggs, cheese, and bacon is always welcome by all!
They are perfect for special occasions, especially Easter brunch and Christmas morning. They're great for bridal and baby showers, too!
Each nest is just the right portion size and great to enjoy as you socialize.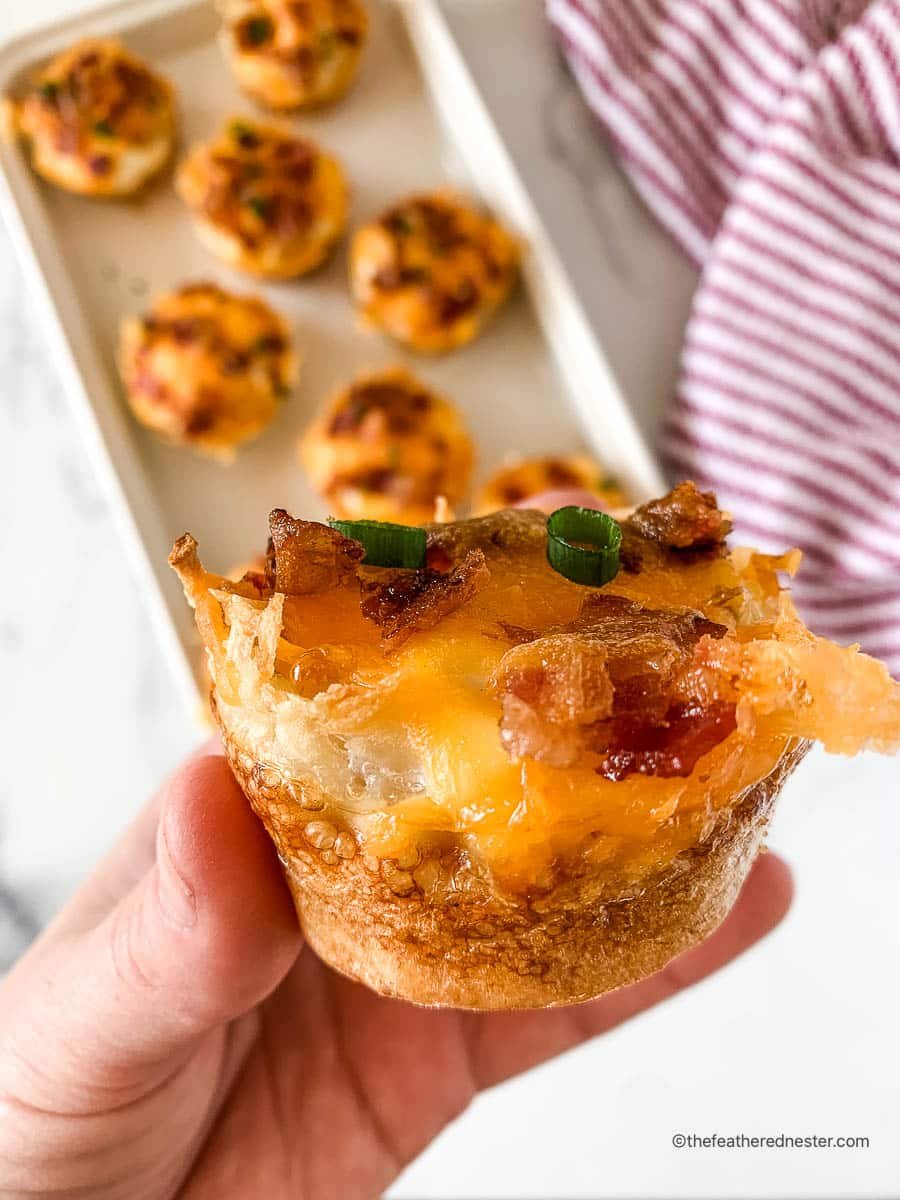 Ingredient Notes and Substitutions
Hash browns – You can use refrigerated shredded hash browns (Simply Potatoes is a popular brand) or thawed frozen shredded potatoes. *See recipe tips below for how to defrost them.

Eggs – Because the eggs are baked in the cups, it's best to use them whole. Although, you could substitute with all whites if you'd like.

Cheese – Cheddar is our favorite, but feel free to use any cheese that melts well.

Bacon – Either bacon bits or cooked and crumbled bacon. Feel free to substitute the bacon with diced ham or turkey bacon.

Green onions – These are also known as scallions. If you don't tolerate onions well, feel free to leave them out of your recipe. Or, use shallots instead – they have a milder onion flavor.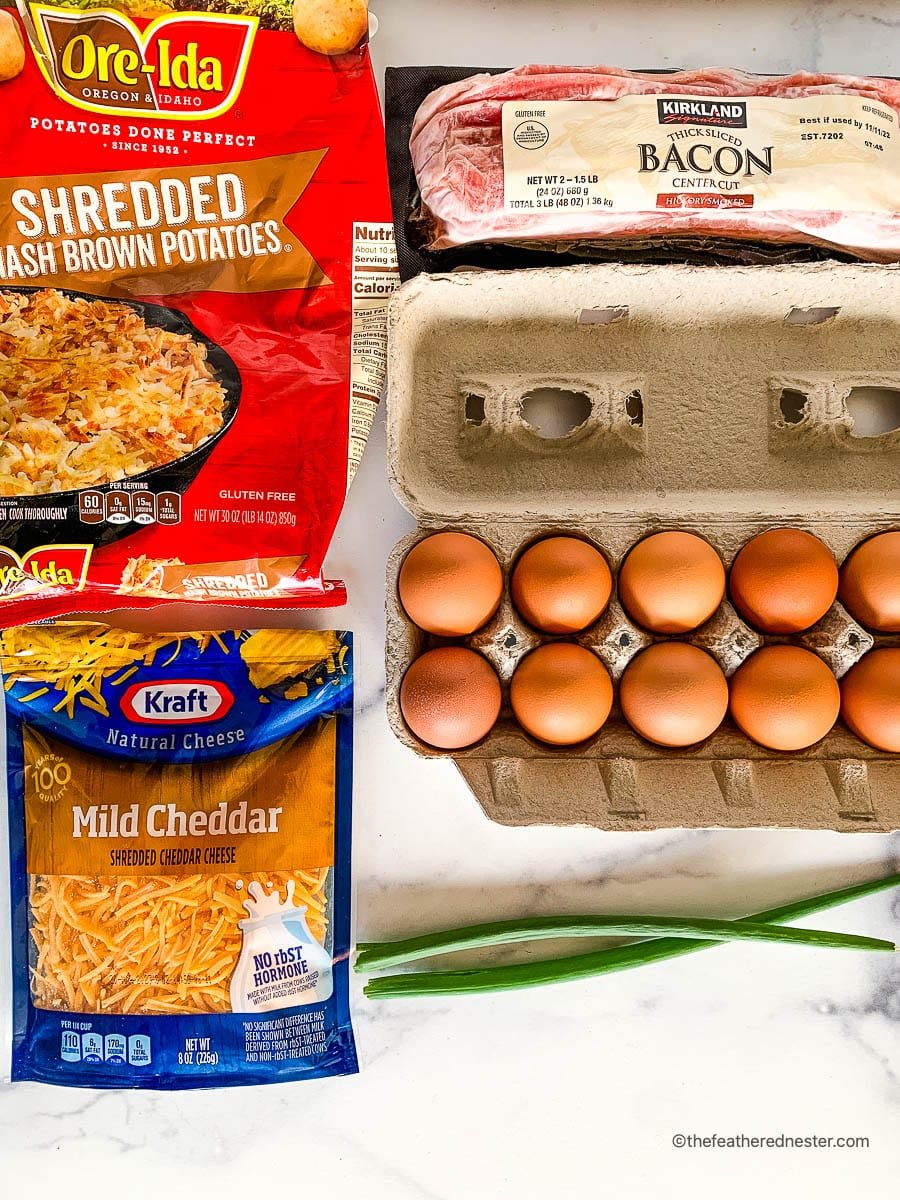 Love this recipe?
Try our Chicken Hashbrown Casserole, Loaded Hashbrown Casserole, Cracker Barrel Copycat Hashbrown Casserole, and Instant Pot Cheesy Hashbrown Casserole.
Egg Nest Recipe Notes and Tips
Grease the pan to prevent sticking.
Remember to apply cooking spray to the wells of the muffin tin, to prevent sticking. Using non-stick spray works better than melted butter or oil.
Prepare the potatoes.
If you are using frozen hashbrowns, you will need to thaw them first. If you're using fresh (refrigerated), it's important to squeeze out any excess water.
PRO TIP!
Do NOT rinse hash browns, whether they're fresh or frozen. The shredded potatoes will soak up the water and make them soggy.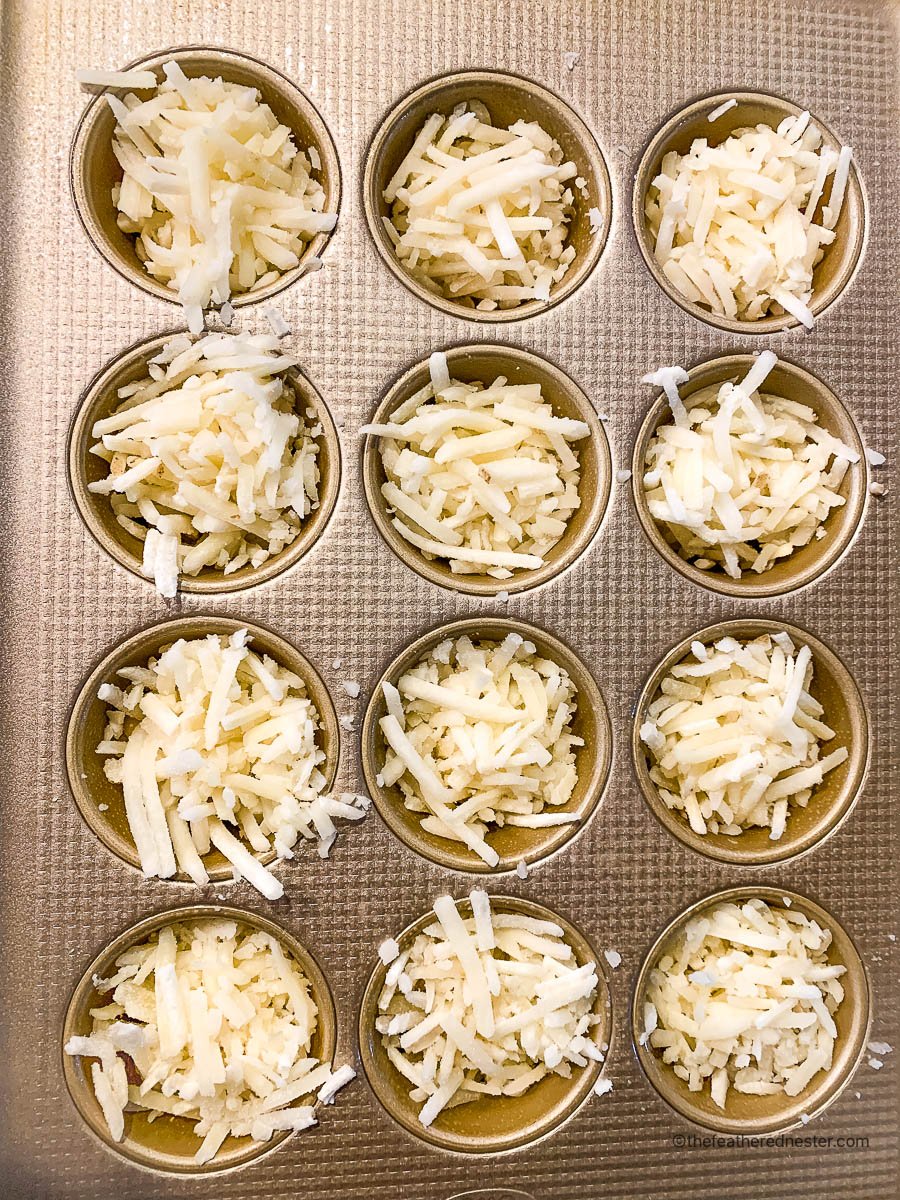 How to Thaw Frozen Potatoes
The easiest and most preferable method to thaw frozen shredded potatoes is to defrost them on a baking sheet.
Spread the hash browns out evenly on the baking sheet and leave them out at room temperature for 30-60 minutes.
To thaw them more quickly, bake them on a baking sheet for 15 minutes in a preheated 170°F oven.
Alternatively, you can defrost them overnight in the refrigerator. Place the whole package on a plate to keep the water from pooling in the fridge.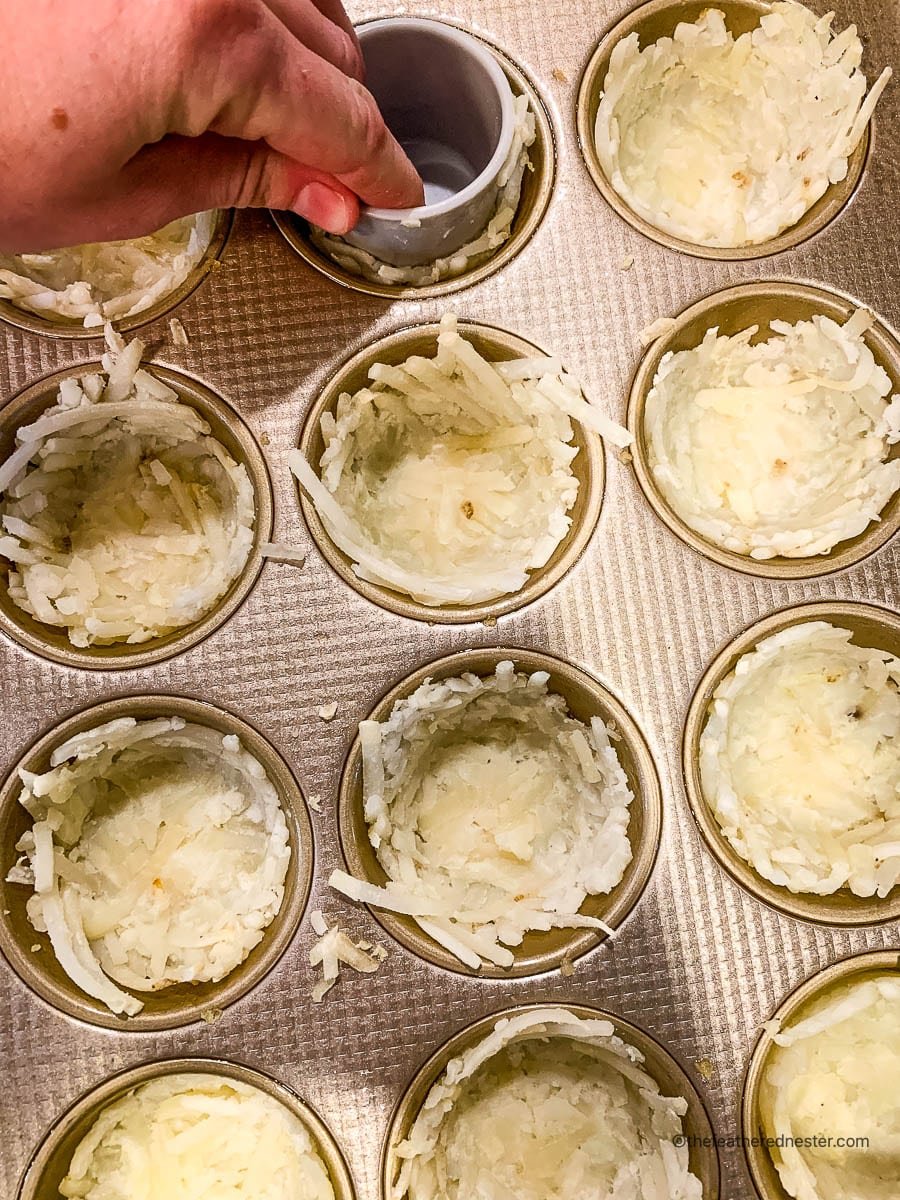 Press them down into the pan – don't leave them loose.
Spray some cooking oil on the bottom of a small juice glass. Twist the glass around inside each muffin cup to create a potato birds nest.
Turn the glass until they come up the sides and reach the top of each muffin cup opening. Add more mixture if necessary.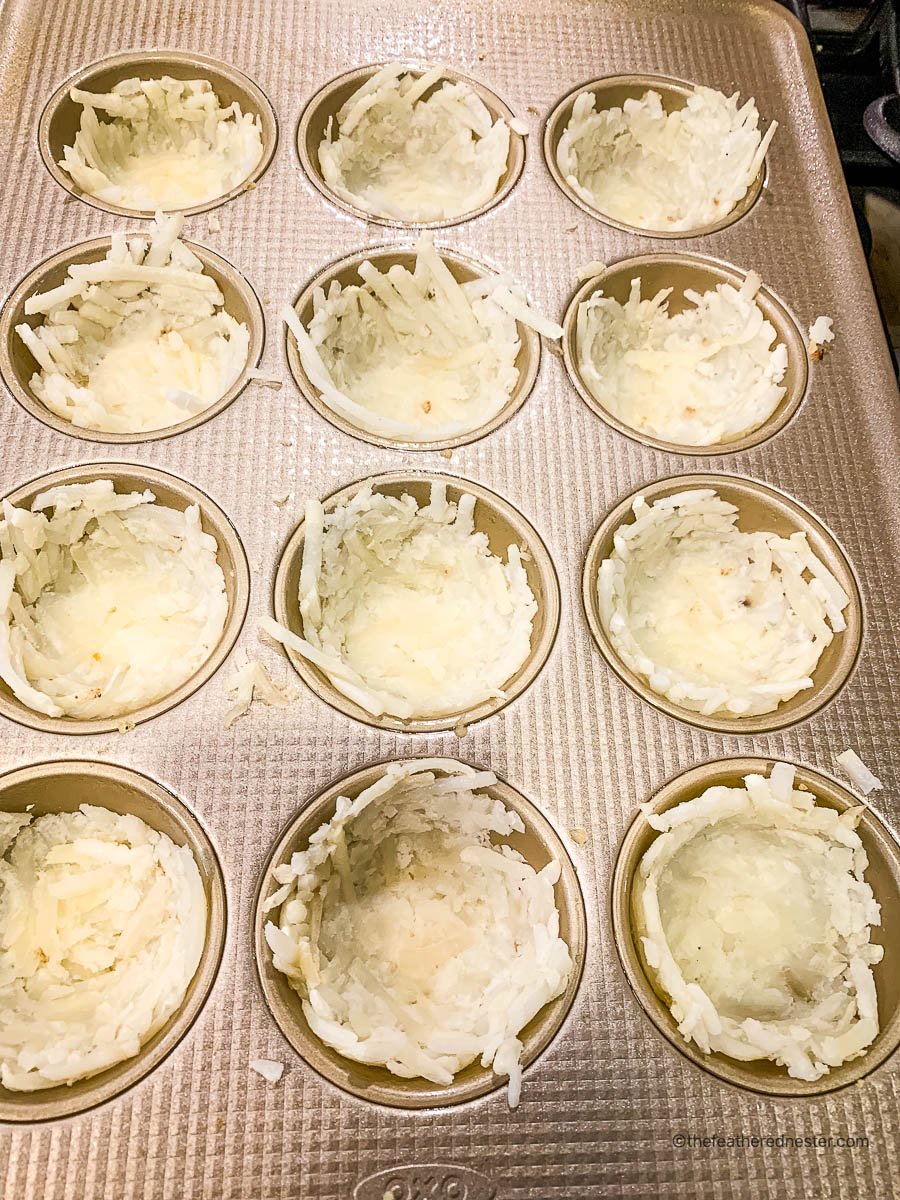 Avoid over baking.
Bake the cups for 10 minutes, until the tips are golden in color. Do NOT overbake, or they will become dry.
Use caution when adding the eggs to avoid broken pieces of shell.
Carefully crack one egg directly into each muffin cup. Or, to help prevent pieces of shell from falling in, crack each one into a small ramekin or bowl first. Then slide it from the ramekin into the muffin cup.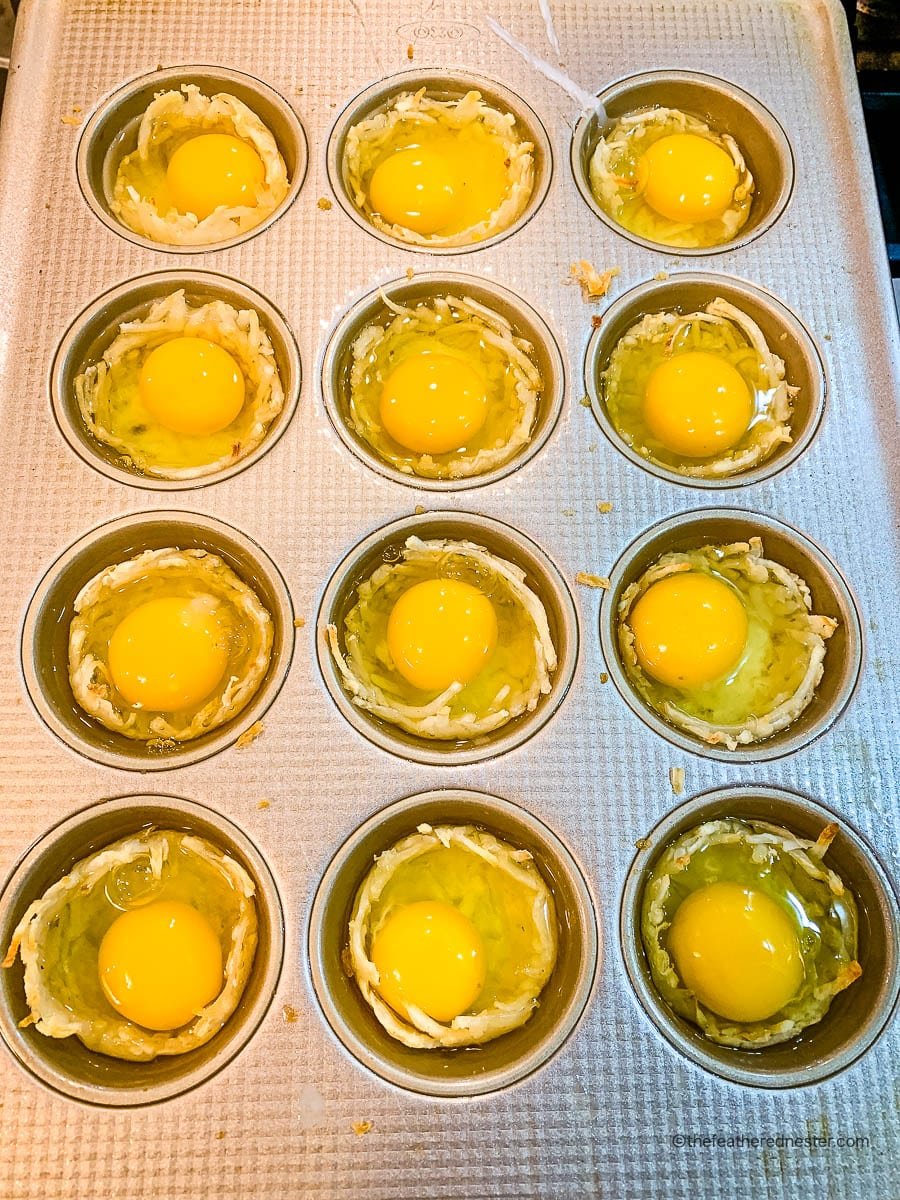 Baking time is according to your preference for doneness.
Bake for 15 more minutes for medium-cooked yolks.
Bake for 10 minutes for runny yolks, and up to 20 minutes for hard-cooked yolks.
Add toppings of choice and bake one final time.
Take them out of the oven, add cheese and bacon bits on top, and then put them back in the oven for 2-3 minutes until the cheese has melted.
Cool the cups before removing them from the muffin pan.
To help loosen them, run a knife around the edges, then slip a fork or small spatula underneath the bottom of each birds nest.
What To Serve With Birds Nest Cups
Our favorite way to enjoy them is with a dollop of sour cream. It adds a cool balance to the savory shredded potatoes and salty bacon.
Or serve them with fresh fruit, a side of bacon or sausage, and some breakfast pastries.
They're also delicious with other classic condiments, like ketchup, salsa, guacamole, and hot sauce.
Recipe Variations
For a vegetarian version, exclude the bacon bits.
Replace the cheddar cheese with your favorite shredded cheese like pepper jack, Swiss, mozzarella, or cream cheese for a rich and decadent quiche.
Add sautéed veggies like mushrooms, bell peppers, onions, and spinach before baking.
Make a Southwestern breakfast by adding salsa, diced avocado, and chopped cilantro to the toppings.
Storing and Reheating
Store them in an airtight container in the refrigerator. They should keep well for up to 4 days.
To reheat, place them on a sheet pan in a 350ºF oven until warm, about 10 minutes.
Note: Microwaving is not recommended for this recipe, because the potatoes will become soggy.
Make Ahead Instructions
Prepare the recipe according to the instructions in the recipe card below, through step 5, then cover and refrigerate for up to 12 hours.
When ready to bake, preheat the oven to 400° F and continue with the recipe as directed.
Freezing them will result in a soggy dish.
Birds Nest Recipe FAQ
Why are my hash browns soggy?
If you're using frozen potatoes, be sure to thaw them completely before using them.

If you use refrigerated, be sure to squeeze out as much moisture as possible before shaping them into nests.
Can I use butter instead of oil for hash brown cups?
Yes, you can use melted butter in place of cooking oil. You can also try using bacon grease for extra flavor!
Why does my hash brown cup burn?
If they are burning, it's likely that they were baked for too long.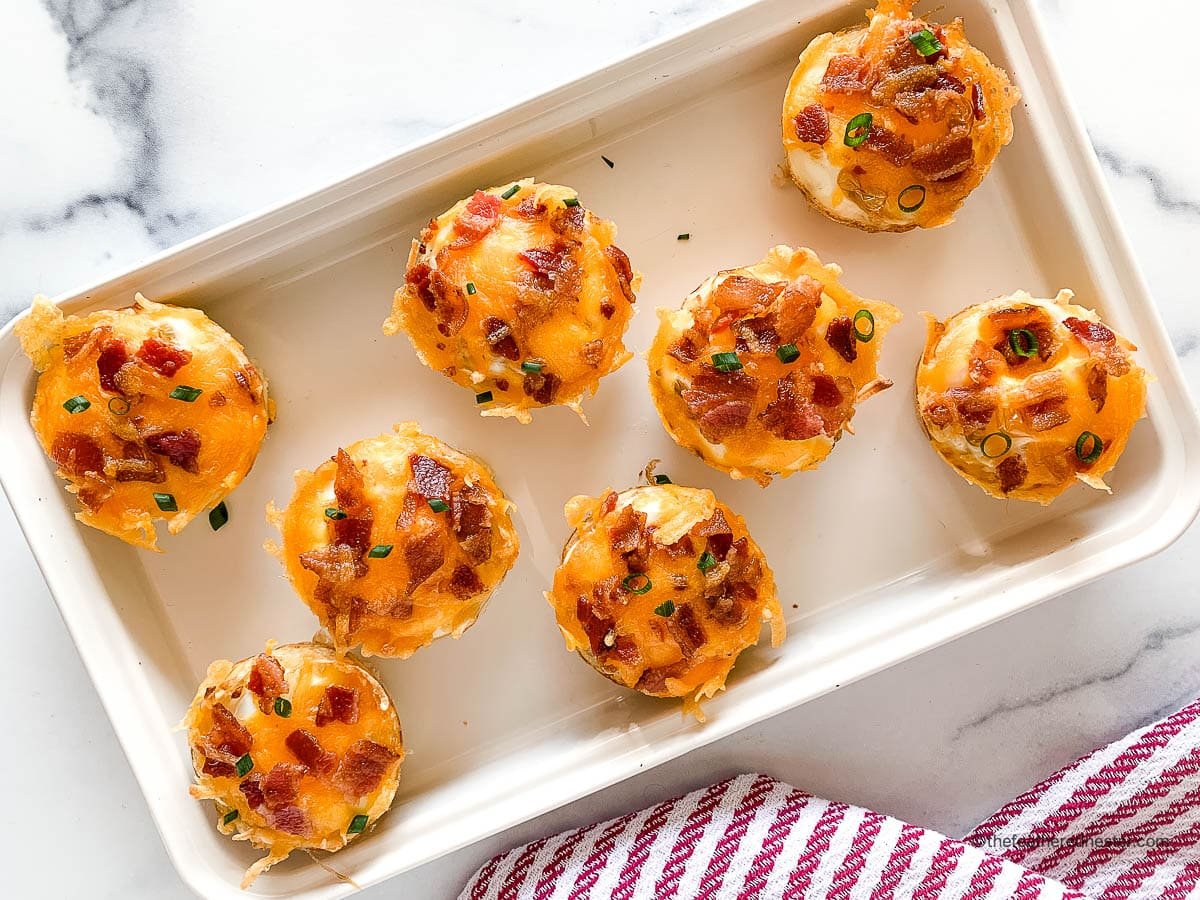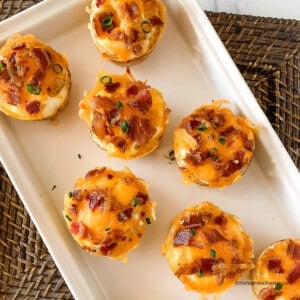 Hash Brown Egg Cups
Hash brown egg cups (birds nest eggs) is an easy breakfast or brunch idea. This egg nest recipe bakes up in a muffin pan with easy cleanup!
Equipment
1 muffin pan with 12 cups
Ingredients
32 ounces hash browns, refrigerated or thawed (use the shredded potato style)
12 large eggs
2 cups (8 ounces) cheddar cheese, grated or shredded
½ cup bacon bits or bacon, cooked and crumbled (about 4 slices of bacon)
¼ cup green onion, thinly sliced, green part only
Instructions
Preheat oven to 400º F.

Spray the muffin tin cups with cooking oil. Place 1/3 cup of hash brown potatoes into each muffin cup well. Bake at 400º F for 10 minutes, then remove the muffin pan from the oven.

Spray the bottom of a small juice glass or shot glass (2" in diameter) with cooking oil. Twist the glass around the inside of each muffin cup creating a potato cup nest. Twist until the sides of the potato cup reach the top of each muffin cup opening. Bake them for 10 minutes, until the tips are golden in color.

After removing the muffin pan from the oven, carefully crack an egg into each of the potato nests. Bake for another 15 minutes (10 minutes for runny yolks, and up to 20 minutes for hard-cooked yolks).

Remove them from the oven, add cheese and bacon bits on top and return to oven for 2-3 minutes until cheese has melted.

Wait for a few minutes for the hash brown egg cups to cool, then run a knife around the edges of the muffin cups to loosen them. Carefully remove the baked hash brown cups with tongs. Garnish with green onions and sour cream when serving.
Nutrition
Serving: 1egg cup | Calories: 301kcal | Carbohydrates: 14g | Protein: 19g | Fat: 19g | Saturated Fat: 10g | Polyunsaturated Fat: 1g | Monounsaturated Fat: 5g | Trans Fat: 1g | Cholesterol: 212mg | Sodium: 466mg | Potassium: 321mg | Fiber: 1g | Sugar: 1g | Vitamin A: 653IU | Vitamin C: 7mg | Calcium: 318mg | Iron: 2mg
PIN THIS POST!
Other Easy Breakfast and Brunch Recipes