A simple baking mix can help you create fluffy Bisquick pumpkin pancakes! With real pumpkin puree, these fluffy homemade pancakes make the perfect fall breakfast!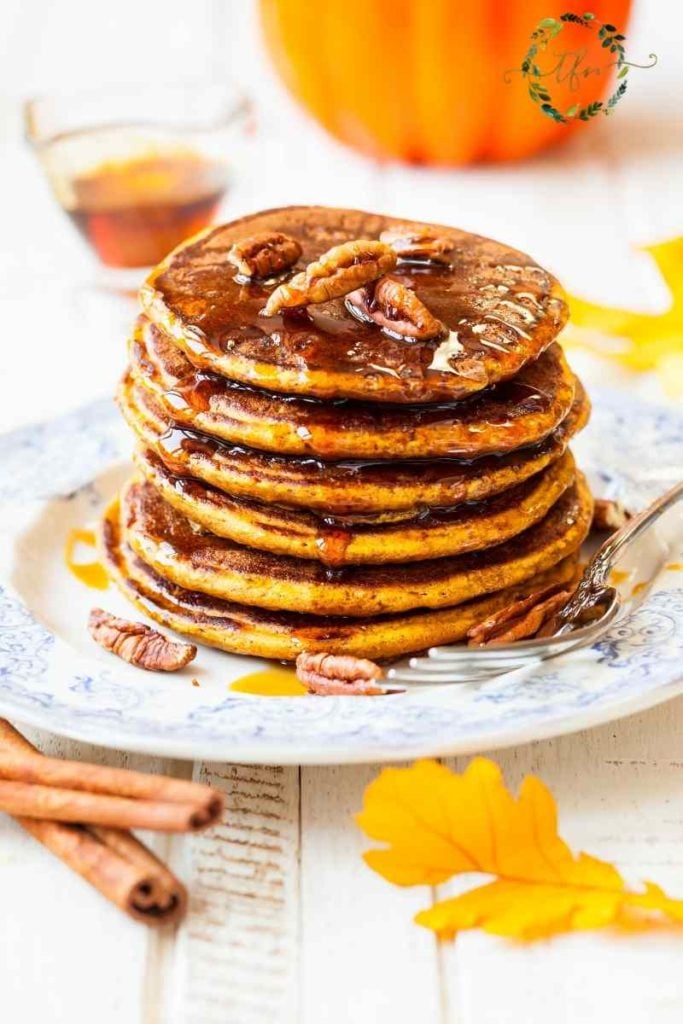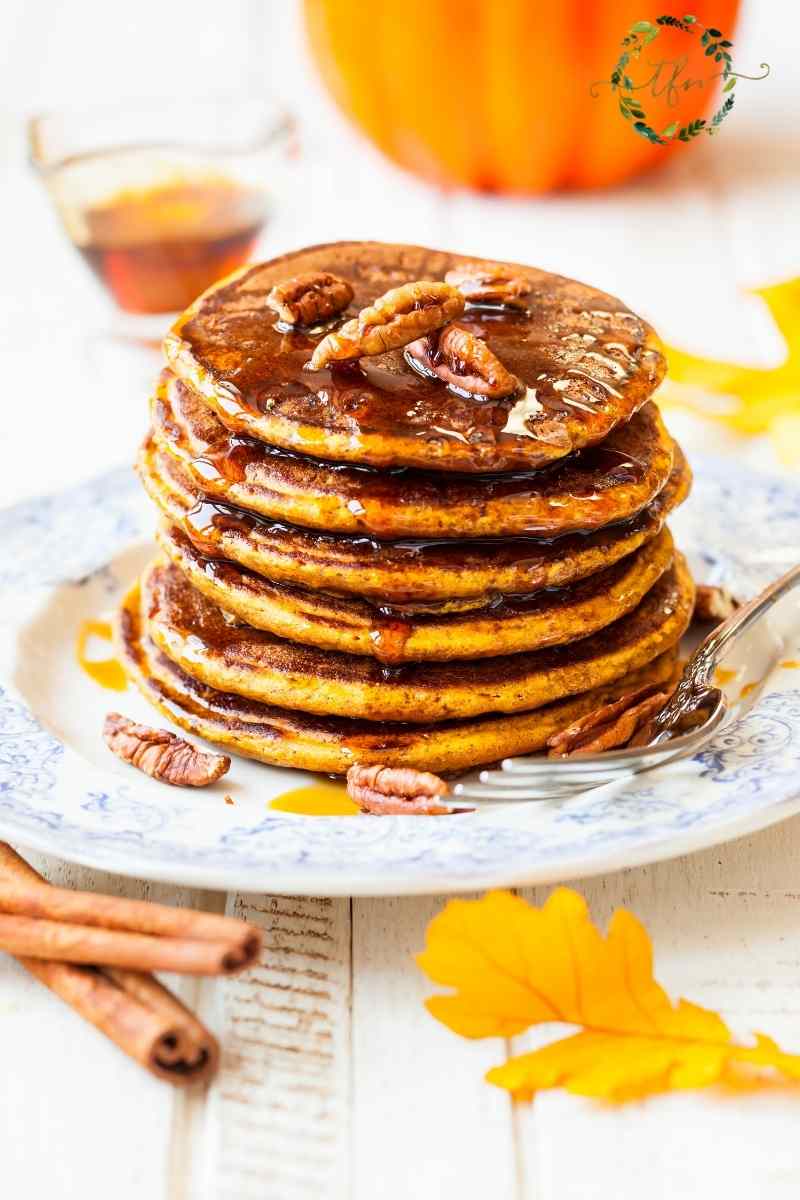 All you need is that classic yellow box and a handful of simple ingredients, and in 15 minutes you have a sweet breakfast treat that's still on the healthy(ish) side. The whole family is going to love this Bisquick pumpkin pancake recipe all season long!
Why We Love Bisquick Pumpkin Pancakes
Made with simple pantry ingredients.
Enjoy your favorite autumn flavors in every bite of these yummy pumpkin pancakes! They're made with classic Bisquick pancake mix.
Beyond quick and easy to make!
Simple ingredients are mixed together in one bowl and cooked to perfection on a griddle or in a skillet. By the way, if you have an outdoor griddle, you can use it to make Blackstone pancakes!
Easy to make in bulk, and freezer friendly, too.
Make a batch (or two) for breakfast and save some for later to grab on the go! And, for the perfect side, make turkey bacon in the oven. It is so easy to make with your pancakes.
Hey sourdough lovers, make our sourdough pancakes! They are the perfect sourdough discard recipe to make from your sourdough starter.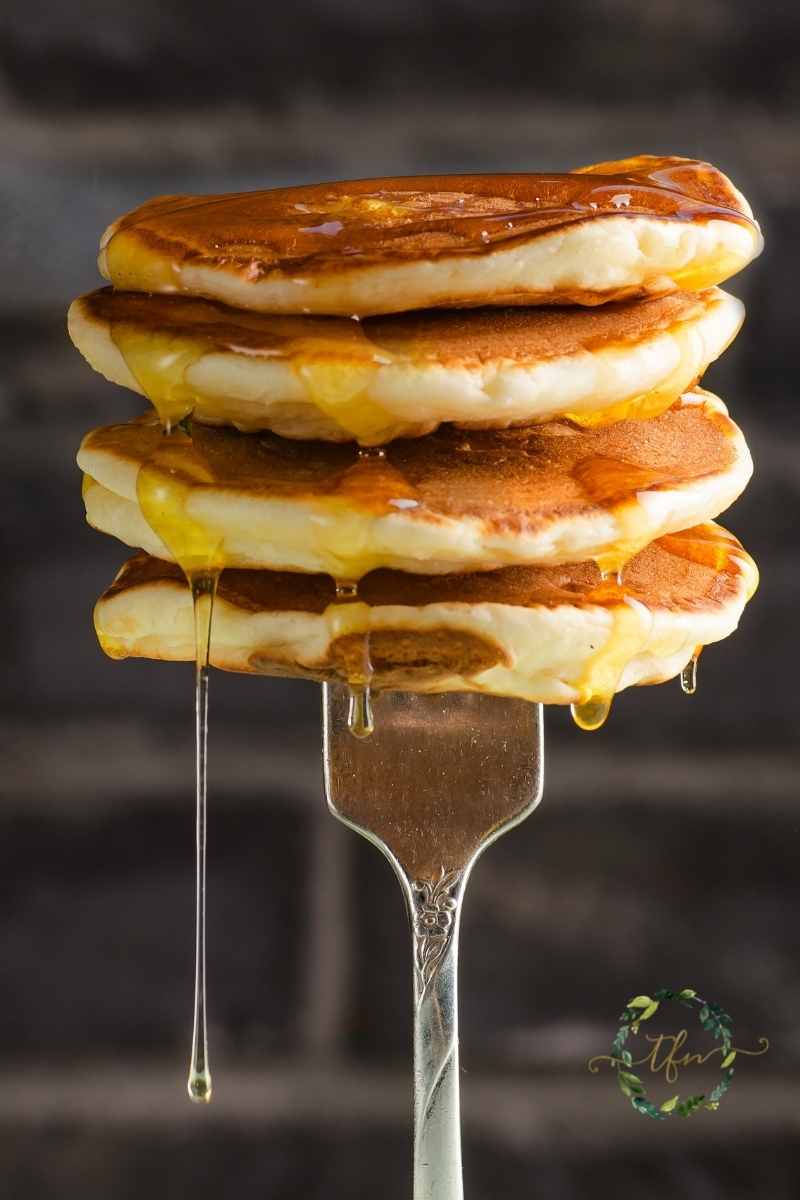 Love Bisquick recipes?
Use the world-famous baking mix to create other delicious treats, like Bisquick Funnel Cake, banana muffins, or Bisquick cheddar biscuits.
Ingredient Notes and Substitutions
Bisquick baking mix – If you don't have one in hand, you make your own baking mix with our recipe (linked).

Eggs – You can substitute this with mashed banana or flaxseed with 3 tbsp of water.

Milk – You can also substitute 1 cup of buttermilk for the milk.

Pumpkin puree – This adds a sweet and earthy flavor to the pancakes.

Sugar – Can also use honey or maple syrup.

Melted butter – This adds richness to the recipe. You can also use vegetable oil if you don't have butter in hand.

Baking powder – This is the key ingredient to make our pancakes rise and become fluffy.

Pumpkin pie spice – If you don't have one then you can make your own pumpkin pie spice blend. Mix together 1 teaspoon of ground cinnamon, 1/2 teaspoon of ground ginger, and 1/4 teaspoon each of ground allspice, ground clove, and ground nutmeg.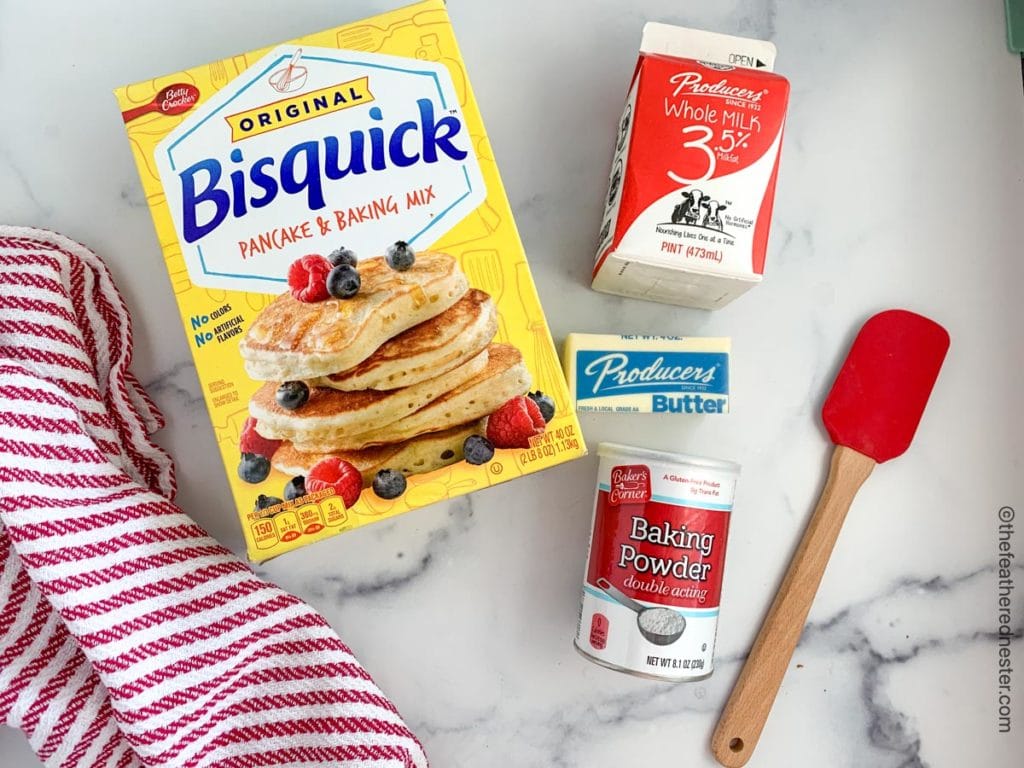 Turn this pumpkin pancake recipe into a gluten-free pancake recipe by using Gluten Free Bisquick! You can also use Heart Smart Bisquick for this recipe, too.
Tips for Making Pumpkin Pancakes With Bisquick
Here are the 4 simple steps to make the tastiest and fluffiest Bisquick breakfast:
Lightly grease a griddle or large skillet with cooking spray. Then set the griddle temperature to 350°F, or set the skillet over medium-low heat on the stove.
Add all of the ingredients to a large mixing bowl, then whisk or use a fork to stir until just blended. You do not want to over-mix the batter, and a few clumps of flour are fine. Let the pumpkin pancake Bisquick batter rest for a few minutes; when it starts to bubble a bit, it's ready to cook.
Use a measuring cup to scoop 1/4 to 1/3 cup of pancake batter and carefully add to the hot griddle or skillet. Cook them for a minute or two until the edges become solid and light brown, and flip.
Continue to cook each pancake until the top and bottom are golden. You can flip back and forth one more time to get both sides evenly cooked.
Serve them warm with your favorite toppings and breakfast dishes.
Recipe Variations
Pumpkin Chocolate Chip Pancakes: Add 1/2 cup of chocolate chips to the batter before cooking.
Pumpkin Spice Pancakes: Add an extra 1/4 teaspoon of pumpkin pie spice, or to taste.
Pecan Pumpkin Pancakes: Stir 1/4 cup of chopped pecans into the batter.
Is baking all things pumpkin a fall passion of yours?
If so, there are plenty of other great things to make with a can of pumpkin puree! In the breakfast department, grab a cup of coffee and enjoy it with a soft and tender slice of pumpkin coffee cake.

If desserts and snacks are your thing, make a pumpkin custard or some pumpkin bread twists!
Serving Suggestions
These pancakes are amazing all on their own, but if you want to add a little something extra, try one of these delicious toppings:
Butter and 100% pure maple syrup
Whipped cream and cinnamon sugar
Fresh berries or sliced bananas
Chopped pecans or walnuts
Cream cheese frosting
Caramel sauce
Chocolate chips or chocolate syrup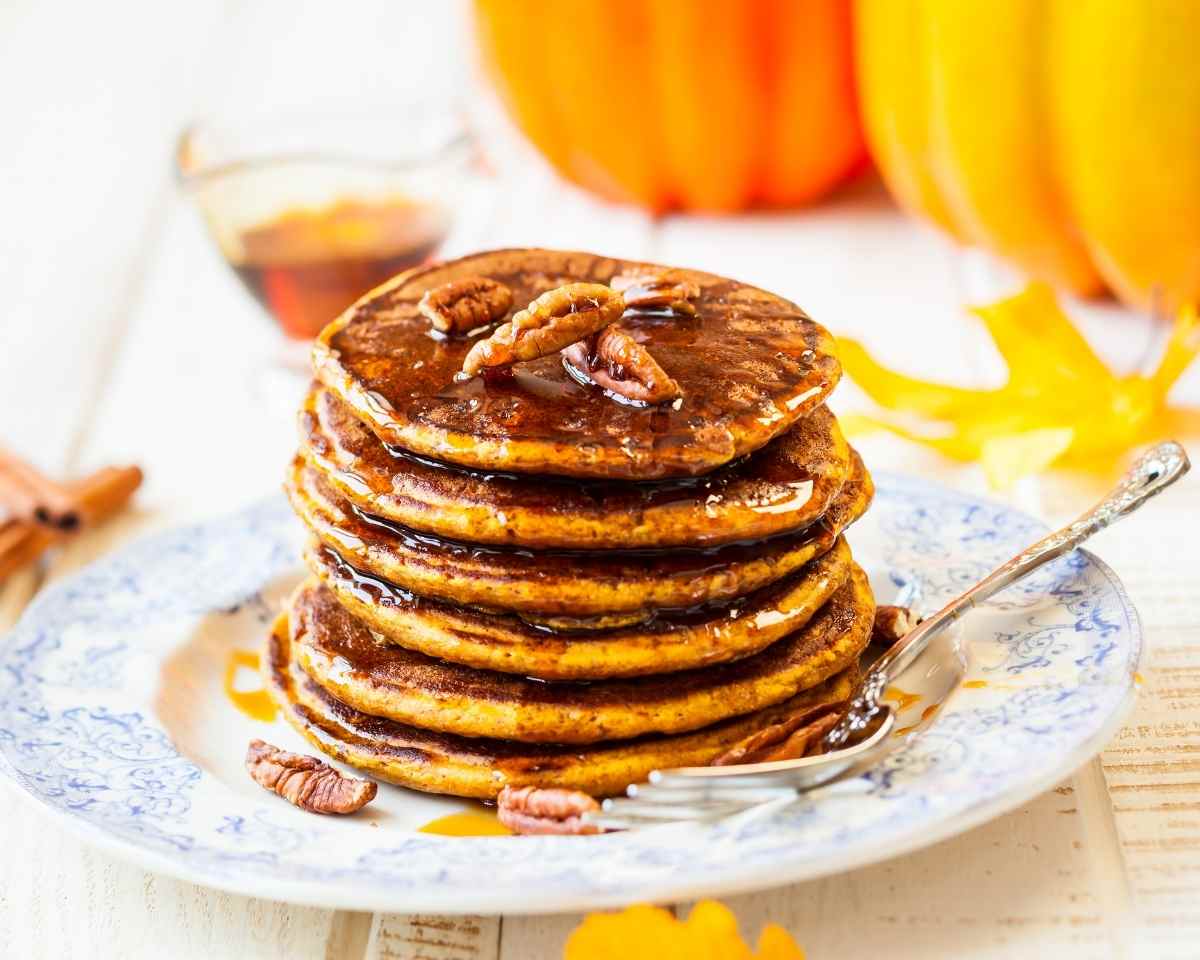 Storing and Freezing Instructions
Pancakes are best served fresh and warm from the griddle. However, if you need to store them, place them in a single layer on a cooling rack set over a baking sheet. Cover with foil or plastic wrap and store in the fridge for up to 5 days.
Leftover pumpkin pancakes made with Bisquick freeze really well! Stack cooled pancakes with pieces of parchment or waxed paper between the layers. Then wrap the entire stack in a layer of aluminum foil.
They will keep well for up to 2 months.
Pumpkin Pancakes with Bisquick FAQ
How do I make vegan or dairy-free Bisquick pumpkin pancakes?
Bisquick pancake mix is itself vegan and dairy-free, and it's easy to substitute the added dairy components.
Instead of butter and milk, use your favorite plant-based butter and your preferred non-dairy milk. Almond and oat milk are both nice options that go well with the pumpkin flavor.
What's the best way to reheat frozen pancakes?
Cover each pancake with a damp paper towel and place it on a microwave-safe plate. Microwave in 30-second intervals on 50% heat until warm.

To crisp them up a bit, bake them from frozen in a 400º F. preheated oven for about 5 minutes. Or toast them in the toaster on the lightest setting.
Bisquick Pumpkin Pancakes
Bisquick pumpkin pancakes are perfect for a fall breakfast. You'll love this 15-minute pancake recipe made with baking mix.
Ingredients
2 cups Bisquick baking mix (see notes for a DIY baking mix recipe)
2 large eggs, slightly beaten
¾ cup milk
½ cup pumpkin puree
2 tablespoons melted butter
2 teaspoons granulated sugar
2 teaspoons baking powder
1 teaspoon pumpkin pie spice seasoning (see notes for substitution)
Instructions
In a medium bowl, mix all ingredients together with a whisk or fork until just blended. There may be some small lumps. Once the pancake mixture starts to bubble, it's ready to cook.

Depending on the size of pancakes you prefer, use 1/4 to 1/3 cup of batter for each pumpkin spice pancake. Add pancake batter to the hot griddle.

Cook about 1-2 minutes, until there are bubbles across the top of the pancakes and the edges are dry. Using a pancake turner, turn and cook the other side until the pancake is golden brown.

Serve immediately with butter and warmed maple syrup.
Video
Notes
Make your own Bisquick with my DIY baking mix recipe (linked).
Make your own pumpkin pie spice blend: mix 1 teaspoon of ground cinnamon, 1/2 teaspoon of ground ginger, and 1/4 teaspoon each of ground allspice, ground clove, and ground nutmeg.
Cooled pancakes can be stored in an airtight container and kept in the refrigerator for 4-5 days.
To freeze pumpkin pancakes, let cool completely. Freeze in stacks with a piece of wax paper or parchment paper between pancakes. To reheat, microwave 1-2 pancakes for 30 seconds at a time until heated through.
Nutrition
Serving: 1pancake | Calories: 191kcal | Carbohydrates: 22g | Protein: 5g | Fat: 9g | Saturated Fat: 3g | Polyunsaturated Fat: 2g | Monounsaturated Fat: 5g | Trans Fat: 1g | Cholesterol: 49mg | Sodium: 550mg | Potassium: 130mg | Fiber: 1g | Sugar: 5g | Vitamin A: 2614IU | Vitamin C: 1mg | Calcium: 150mg | Iron: 1mg
PIN THIS POST!