Sourdough pancakes are light and fluffy, slightly tangy, and delicious! This recipe uses an active sourdough starter discard, butter, eggs, buttermilk, and a natural sweetener (no added sugar!) to make pancakes. Your kids will love them!
As an Amazon Associate I earn from qualifying purchases, at no extra cost to you. See my disclosure policy here.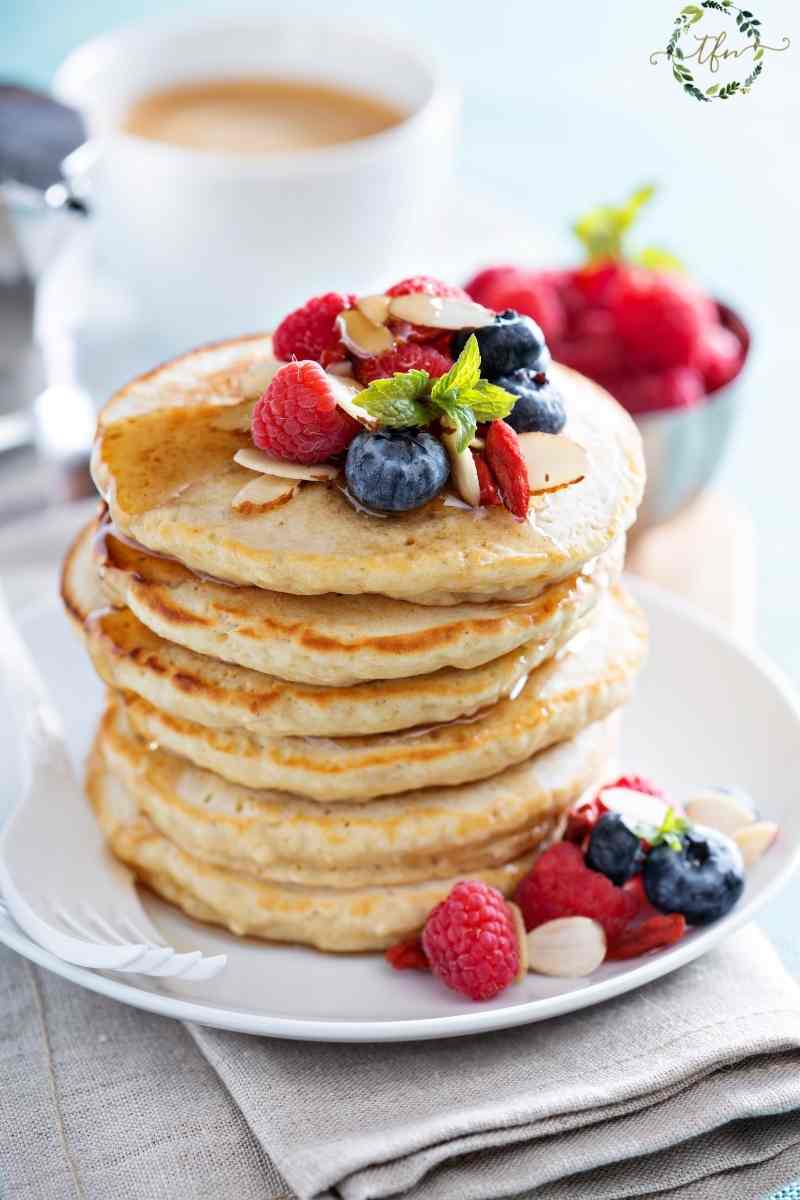 This is a great recipe to use when you have an active sourdough starter discard that needs to be used. They're amazingly easy to make and can turn your usual cereal and toast breakfast into a family meal with a pile of warm pancakes topped with maple syrup and whipped cream.
You can also top your pancakes with extra goodies to make them even more fun. Some examples are chocolate chips, blueberries, peanut butter, applesauce, Nutella, and fruit jellies, and jams of all kinds. You could even have "Irish" style pancakes with an egg on top. It all depends on what you like!
No sourdough starter? Get one in less than a week with my Quick Sourdough Starter recipe. Or make my Ultimate Bisquick Pancakes instead!
What to do With Sourdough Discard
As you probably know by now, I love my sourdough starter! So I'm always looking for ways to use leftover sourdough starter. No one wants to actually discard any starter when feeding their starter.
What can you do to keep from having to actually discard the sourdough discard when feeding?
My first tip is to keep a discard jar in your refrigerator to save your sourdough discards. Use a spare canning jar, or my favorite weck jar, to keep any discarded sourdough you can't use right away. Since it's stored in the cold refrigerator, you don't need a large jar.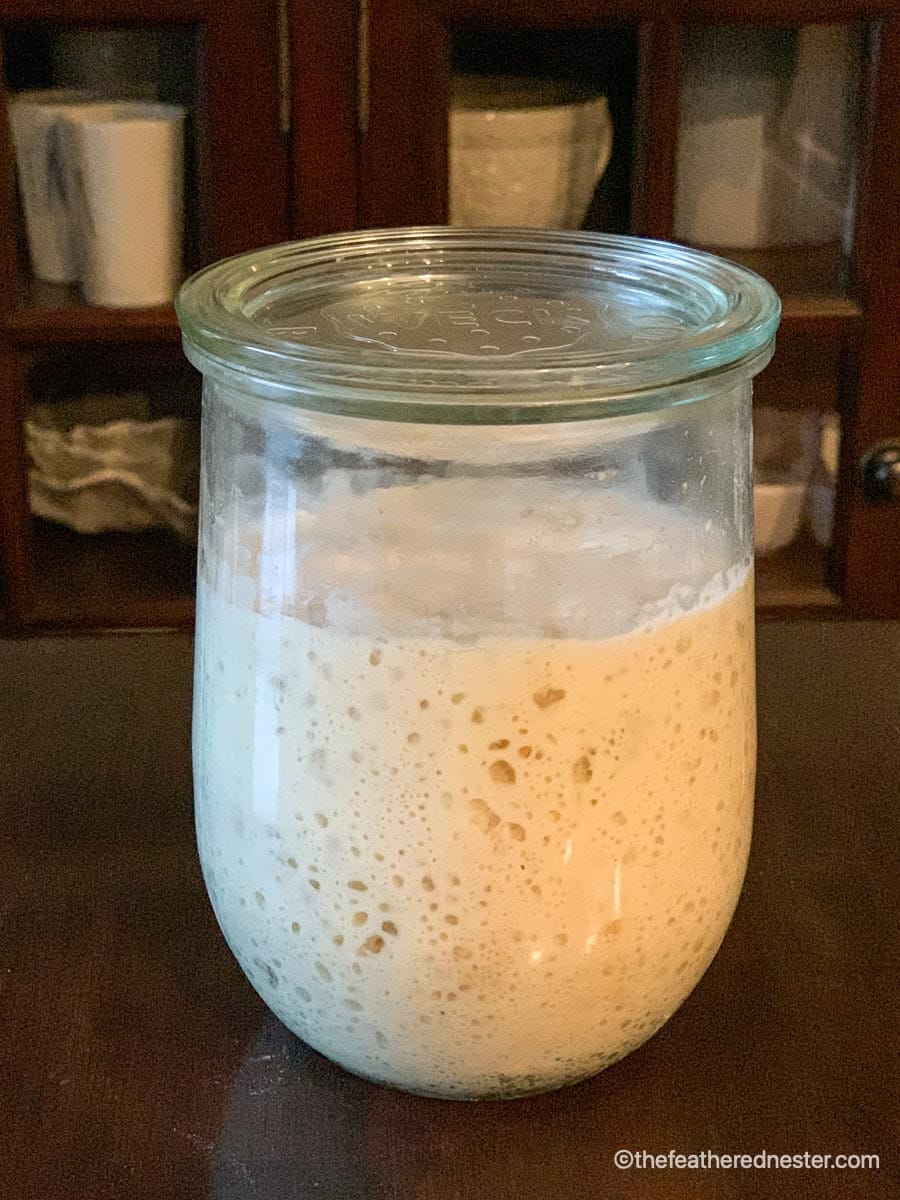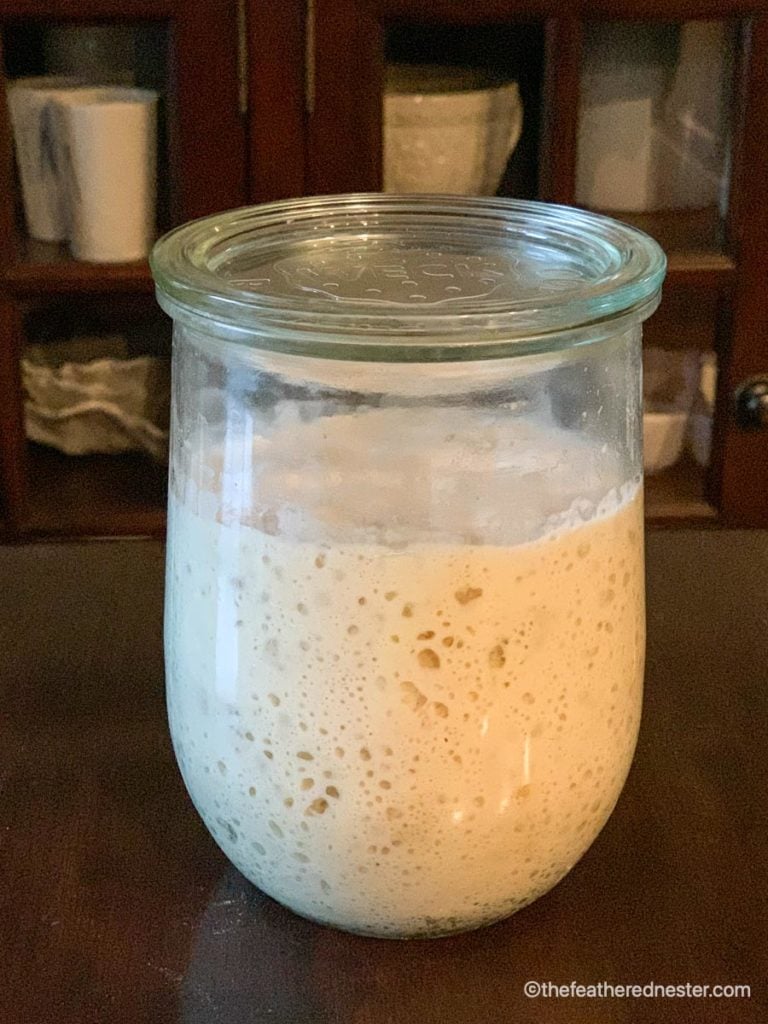 Here's how it works:
Add any surplus sourdough discard that you would ordinarily throw out. It will keep for several weeks in the fridge. Then, I add two tablespoons of flour and one tablespoon of water to the discard jar once a week to feed it.
This way, I always have enough starter on hand to make multiple loaves of bread or other recipes that use 1 cup or more in the recipe. Plus, my real sourdough starter is smaller since I have the discard jar for larger amounts of discard.
My second tip is to gift a sourdough starter to a friend! Post a photo of your latest sourdough recipes on social media and ask if any local friends would like to start making sourdough. An easy way to gift a starter is to put it in a plastic Ziploc bag.
Ingredients for Fluffy Sourdough Pancakes
Most sourdough pancakes recipes include added sugar, but this one is sugar-free! You could add a natural sweetener like honey or use fruit topping as I do.
Butter: Make sure to use unsalted butter, melted, and cooled
Eggs: Slightly beat the eggs in a bowl before adding them in
Buttermilk: If you don't have any you can substitute milk or easily make your own buttermilk
Maple extract: If you don't have any of this you can use vanilla extract instead
Sourdough starter: If your starter is being kept in the fridge, bring what you need to room temperature before using it
All-purpose flour: You can also substitute this with bread flour, Kamut flour, einkorn flour, or 1/2 cup whole wheat flour. I use King Arthur Flour.
Baking soda: This is a leavener that will help the pancakes rise
Baking powder: This is also a leavener
Salt: Using salt adds a much-needed flavor balance
Kitchen Tools Needed
Shop The Products shown in the Post
How to Make Sourdough Starter Pancakes
You may think that because you're not pouring out a pre-made mix into a bowl and adding water, it's not easy to make pancakes. That's not true. They're very easy to make.
Just follow these 3 simple steps for the best fluffy pancakes you've ever had!
Lightly grease the griddle or skillet (or waffle iron!) with cooking oil. Heat the griddle to 350°F, or heat a skillet over medium-low heat.
In a medium bowl, whisk together the wet ingredients, then stir in the dry ingredients. There may be some small lumps. Let the batter sit for a couple of minutes. Once the pancake mixture starts to bubble, it's ready to cook. If pancake batter is too thick, add a little more buttermilk.
Depending on the size of pancakes you prefer, use 1/4 cup to 1/3 cup to make each sourdough pancake. Cook for about 1-2 minutes until there are bubbles across the top and the edges are dry. Using a pancake turner, turn and cook another side until golden brown.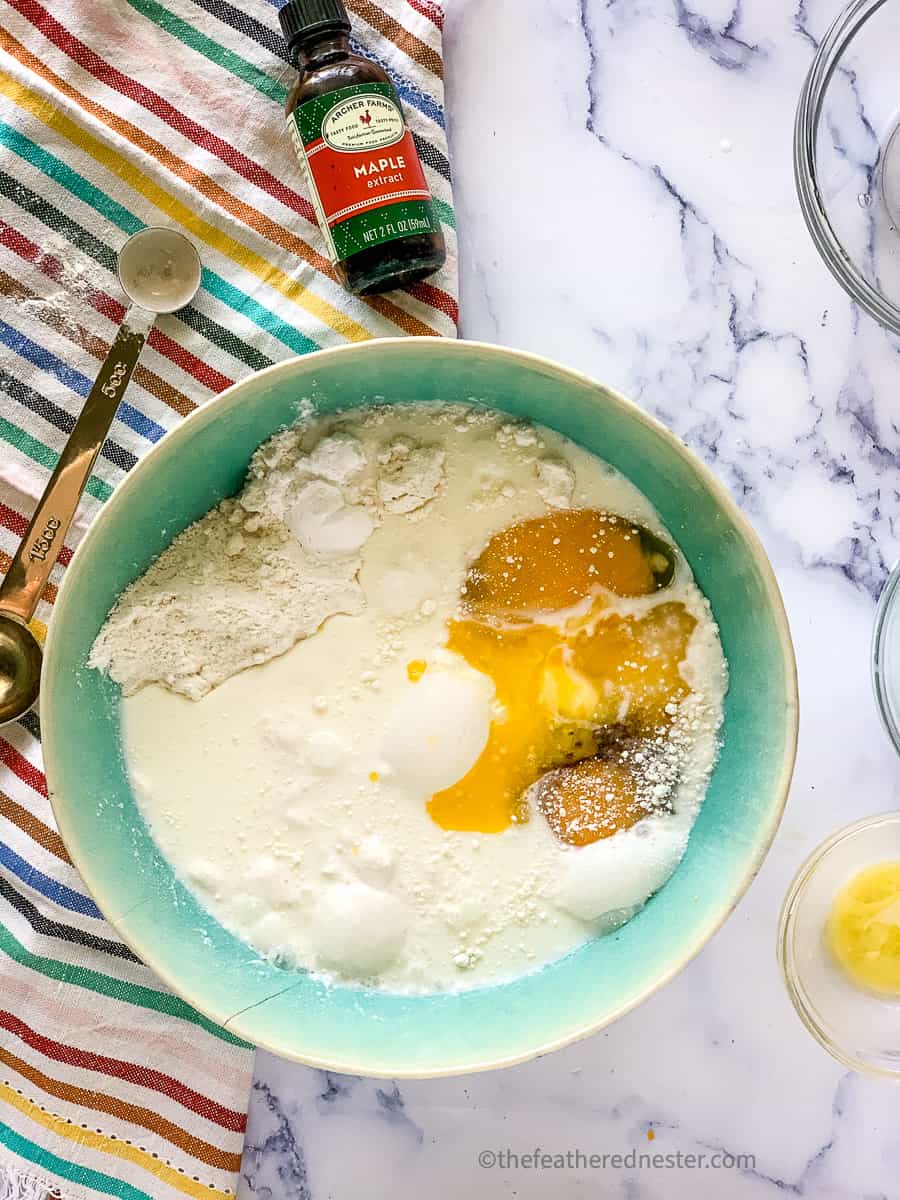 5 Tips to Make Pancakes Fluffy
Here are 5 tips to make sure you have amazing sourdough pancakes every time.
Allow your milk and eggs to come to room temperature. If you're worried about leaving milk out of the fridge, microwave it for 5-10 seconds to take the chill from it. Using cold milk and eggs will make your pancakes dense.
Use a kitchen scale to measure the starter discard. If you don't one, I highly recommend making this inexpensive investment. My favorite kitchen scale (only $8) is linked. It makes feeding and maintaining your sourdough starter a breeze!
When cooking this sourdough pancakes recipe, use a nonstick griddle or a skillet over medium heat. If you don't have either, a cast iron pan works great too!
It's also important that you don't over mix the batter. You want to mix everything together until it's just combined so your pancakes will be light and fluffy.
If you're using blueberries or chocolate chips in your sourdough pancakes, toss them in a tablespoon of flour first. This helps them not stick to the pan.
Sourdough pancakes don't have any rising time, so they're perfect for breakfast on busy mornings!
More Sourdough Recipes
Frequently asked Questions
Why are my sourdough starter pancakes gooey?
When the pan's temperature is too hot, the outside gets cooked before the inside is done. Also, make sure that the ingredients are all room temperature. If they're cold, the middle of the batter will take longer to cook.
What is the secret to making good pancakes?
The secret to these pancakes is using sourdough starter discard and quality flour – I recommend King Arthur flour. The sourdough makes the pancakes delightfully tangy. Also, see my 5 tips to make pancakes fluffy for the best sourdough discard pancakes.
Is it better to cook pancakes with butter or oil?
It's great to add butter to the batter for flavor, but it's better to use a neutral oil like canola, coconut, or shortening to cook them in since oil has a higher heat point and can get the edges of your pancakes nice and crispy without burning.
Can I make these sourdough discard pancakes gluten-free?
Start with a gluten-free sourdough starter, then use almond flour in place of all-purpose flour for a gluten-free pancake recipe.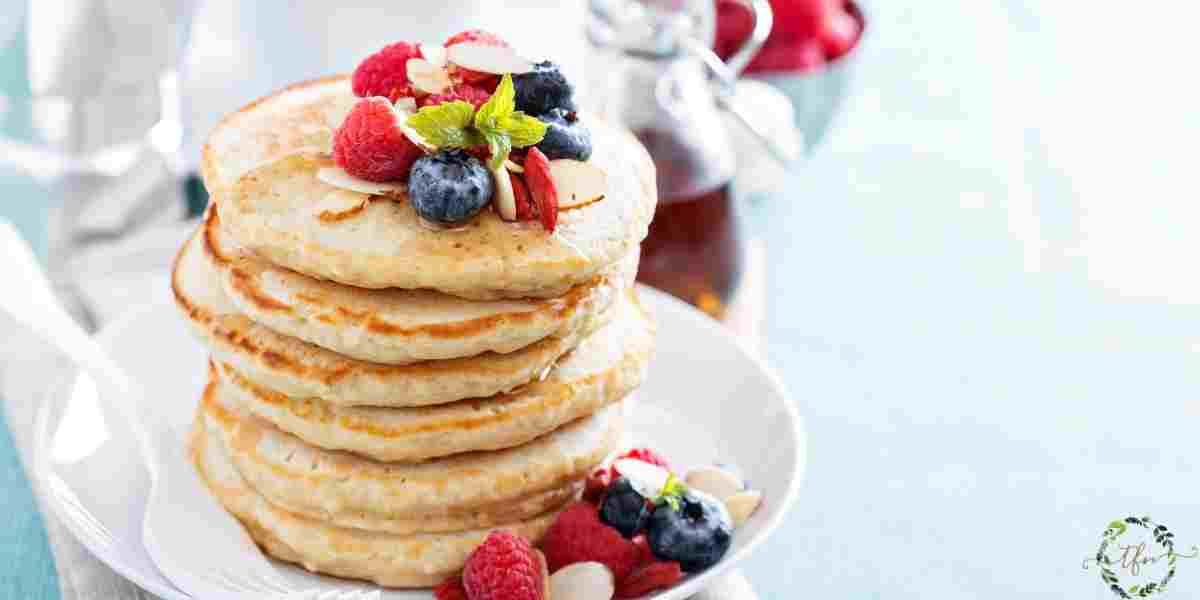 Sourdough Pancakes Recipe
Sourdough Pancakes
Enjoy the best, melt-in-your-mouth sourdough pancakes made from your sourdough starter discard. It's the ideal way to use up leftover sourdough starter, too. This easy sourdough pancake recipe makes fluffy pancakes that everyone will love!
Equipment
electric griddle or skillet

medium bowl

whisk

pancake turner
Ingredients
4

Tbsp

unsalted butter, melted and cooled

2

large

eggs, slightly beaten

1

cup

buttermilk

(can substitute milk)

1

tsp

maple extract (or vanilla extract)

2

cups

all-purpose flour

(can substitute with bread flour, Kamut flour, einkorn flour, or 1/2 whole wheat)

1

tsp

baking soda

1

tsp

baking powder

1

tsp

salt
Instructions
In medium bowl, whisk together the wet ingredients: butter, eggs, milk, maple extract, and sourdough starter until just blended. Stir in the dry ingredients: flour, baking soda, baking powder, salt. There may be some small lumps. Once the pancake mixture starts to bubble, it's ready to cook. If pancake batter is too thick add 1 Tablespoon of buttermilk.

Depending on the size of pancakes you prefer, use 1/4 to 1/3 cup of batter for each sourdough pancake. Add batter to the hot griddle. Cook about 1-2 minutes, until there are bubbles across the top and until edges are dry. Using a pancake turner, turn and cook another side until golden brown. Serve warm with butter and maple syrup, or fresh fruit.
Notes
Cooled pancakes can be stored in an airtight container and kept in the refrigerator for 4-5 days. Reheat in the microwave oven, covered with a damp paper towel, for 30-second intervals.
Nutrition
Serving:
1
pancake
|
Calories:
208
kcal
|
Carbohydrates:
25
g
|
Protein:
5
g
|
Fat:
10
g
|
Saturated Fat:
3
g
|
Trans Fat:
1
g
|
Cholesterol:
50
mg
|
Sodium:
553
mg
|
Potassium:
108
mg
|
Fiber:
1
g
|
Sugar:
10
g
|
Vitamin A:
243
IU
|
Vitamin C:
1
mg
|
Calcium:
155
mg
|
Iron:
1
mg
Get More Breakfast and Brunch Recipes