Salmon alfredo is a very high-end tasting dish that's rather low-effort to prepare — that's the best combination! Our Italian salmon recipe features flaky, buttery baked fish stirred into a plate full of rich, creamy fettuccine alfredo. The result is a restaurant-quality dinner in less than 30 minutes!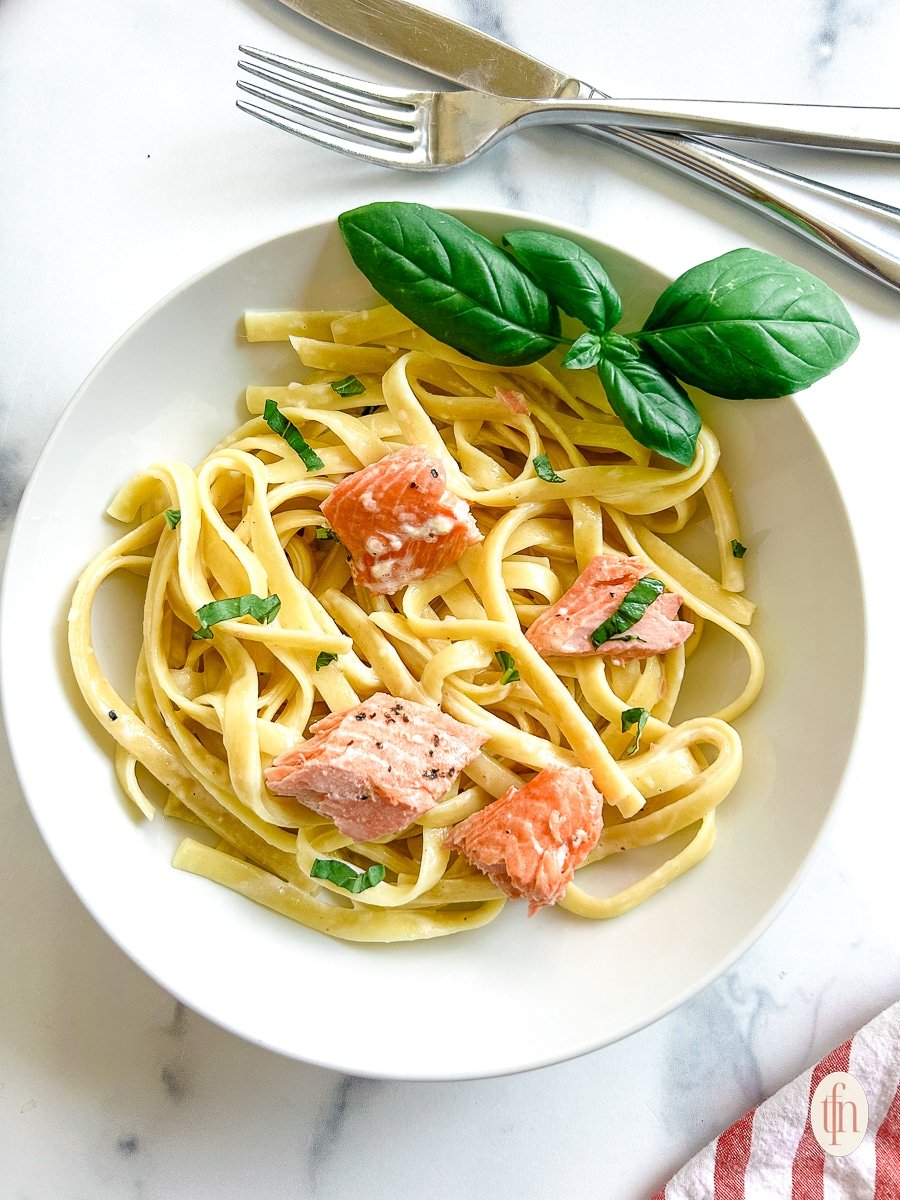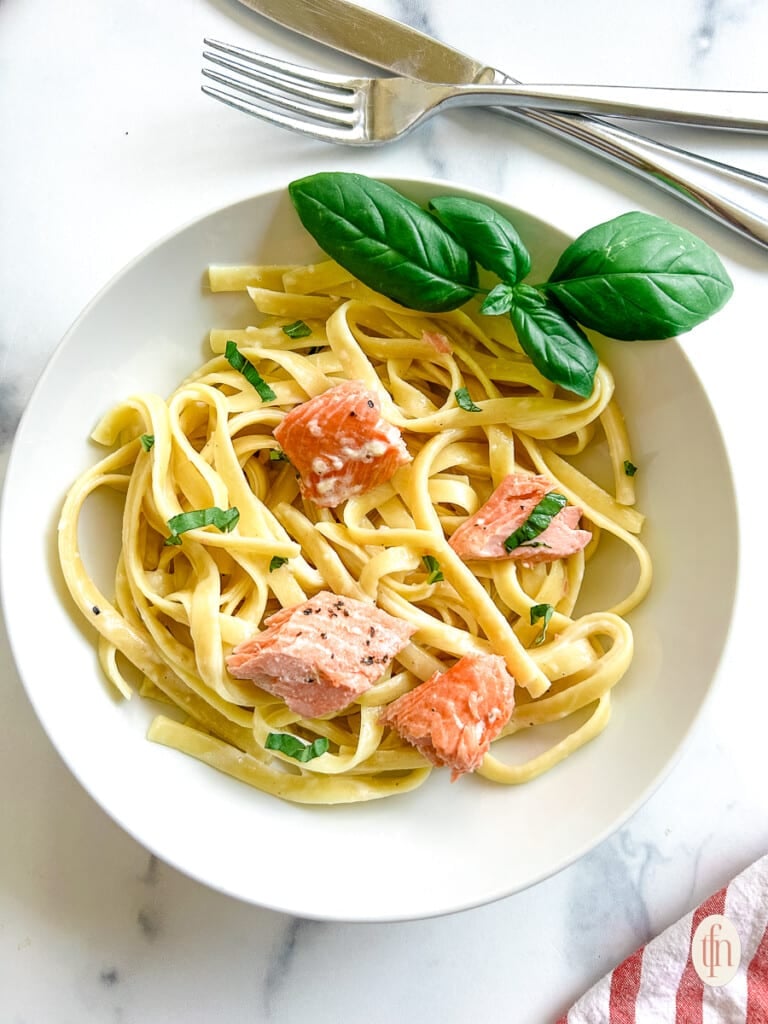 Why We Love Salmon Alfredo
A quick recipe for a restaurant-quality meal.
This meal comes together really quickly, just like our recipes for rigatoni pomodoro and 30-minute pasta with meat sauce. If you're constantly on the go, you will love how prep-ahead-friendly the fish is.
Fills you up, but it isn't too heavy.
This Italian salmon recipe is a favorite because it makes a creamy and filling meal, but it doesn't make us feel sluggish, like lasagna and other heavier pasta dishes can.

A similar dish is our salmon pesto pasta. It's light and has bright flavors, so it's a great option for an easy meal in the summertime!
Ingredient Notes and Substitutions
Salmon – Skin-on filets are best for an abundance of flavor and texture. Sockeye, King, and Atlantic filets are all good options.
Fettuccine – Other long strand pastas will work, too. Good substitutes are angel hair, linguine, tagliatelle, spaghetti, and even spaghettini will be delicious with a coating of creamy sauce!
Heavy Cream – We don't recommend using low-fat substitutes in salmon alfredo — see our recipe tips for more information.
Parmesan – Freshly shredded cheese will melt down miles better than pre-shredded cheese. The best substitutes are Gruyere and Pecorino Romano.
Nutmeg – This may be surprising to see, but nutmeg is a traditional ingredient in Alfredo for a bit of warmth. Mace, garam masala, and ground cloves are good substitutes.
Best Practices for Seasoning Salmon and Pasta
All this fresh-tasting salmon fettuccine requires is a light dusting of salt and pepper. That's it!
Like with mild-tasting white fish, this is the best way to enjoy the flavor of the baked fish without overpowering it — after all, the sauce is loaded with flavor as-is.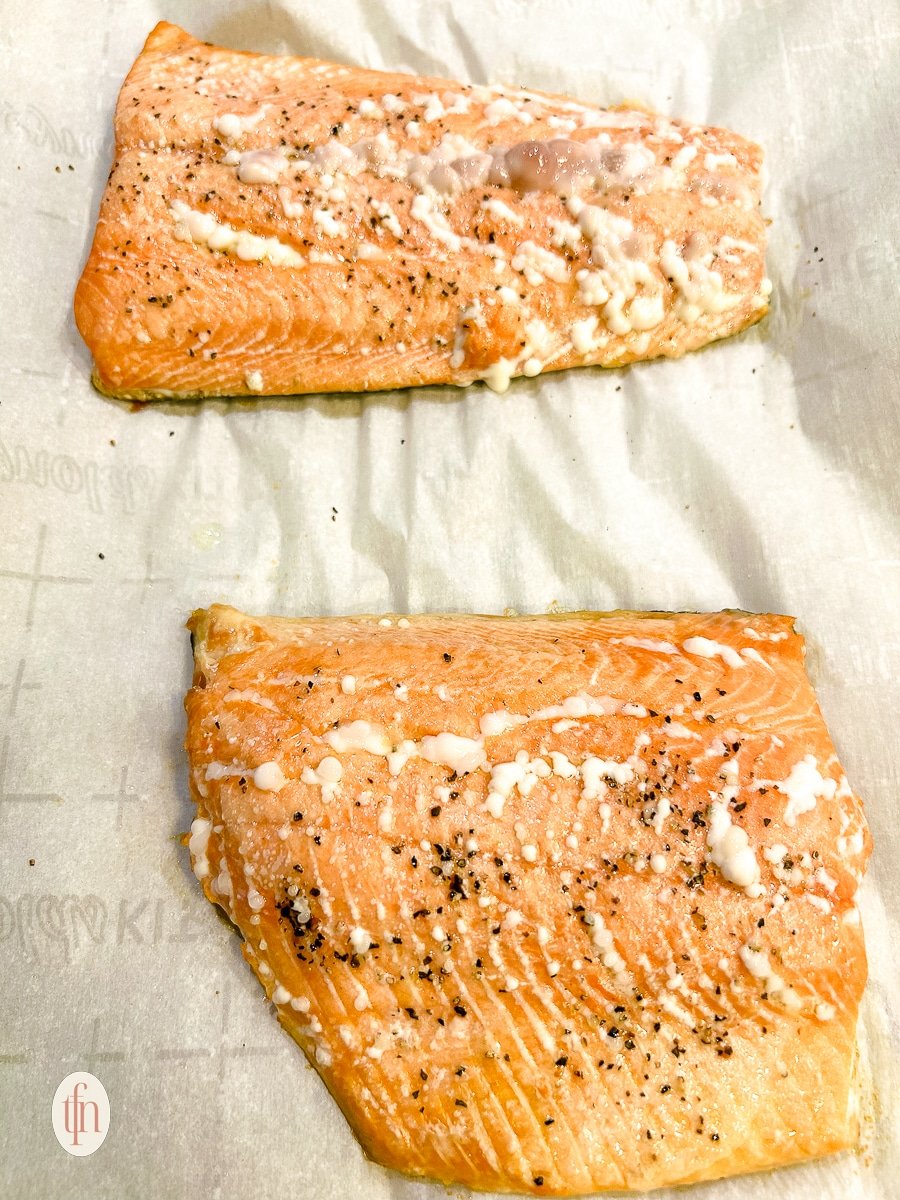 Herbs are the best additional seasoning for salmon alfredo pasta, if you truly wish to go the extra mile. Rosemary and thyme both taste lovely with both the filets and Italian notes in the pasta.
Making any baked fish with slices of lemon in the pan is also never a bad idea to add some extra vibrancy and acidity to the dish.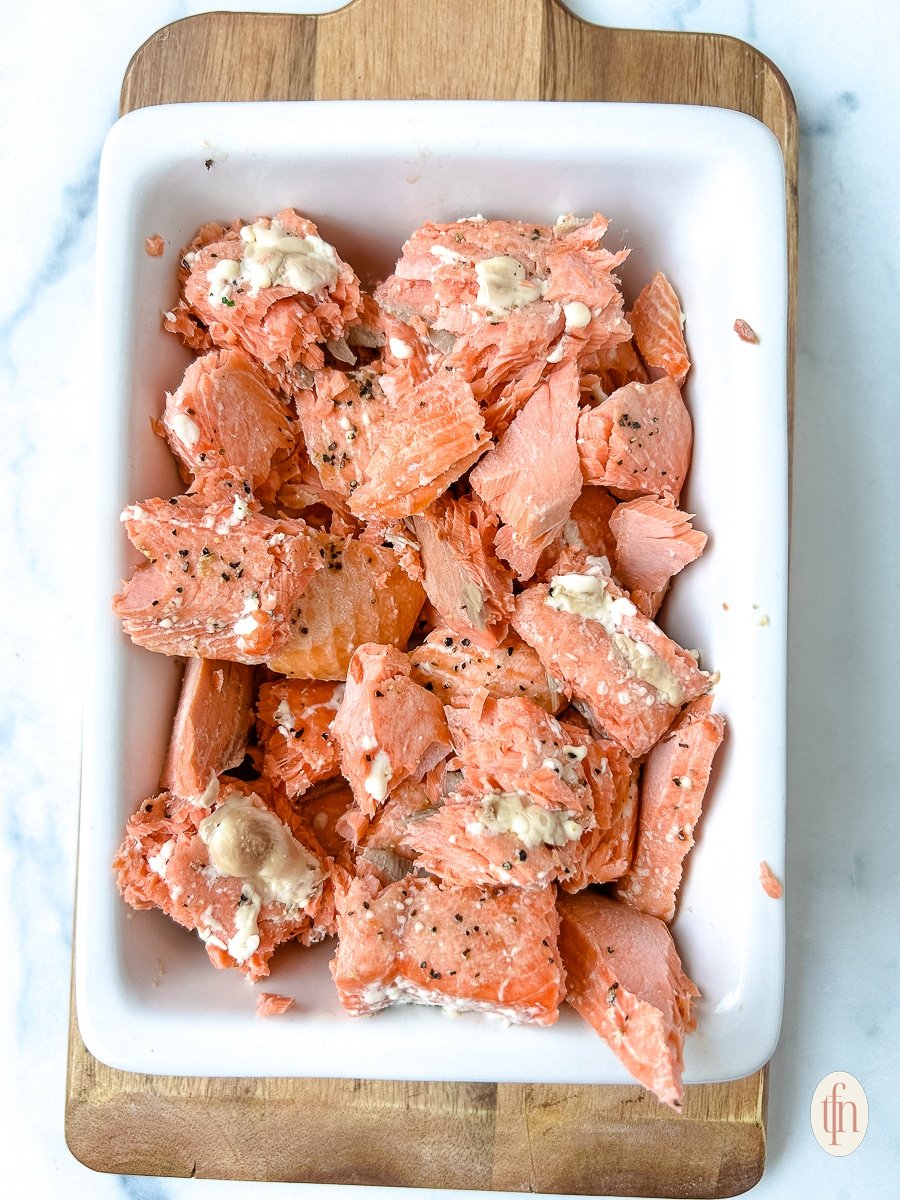 Italian Salmon Recipe Tips
Have everything ready to use before you begin.
There is a bit of concurrent cooking involved in our Italian salmon recipe. You'll be going back and forth between the salmon, alfredo, and fettuccine, so be sure everything is close by and ready to use.

Before you start, preheat the oven and fill the pot with water.

When the fish is in the oven, you'll start working on the sauce. Start boiling the water and begin reducing the cream. Keep going back and forth so that you can salt the pasta water once it hits a rolling boil while continuously stirring the cream.

The sauce only needs 8 minutes to cook, and you need to take care not to let the baked fish sit in the oven for longer than 12 minutes. Otherwise, it can overcook and become dry.
Avoid overcooking the pasta.
Meanwhile, you'll want to cook the fettuccine al dente, which is generally 2-3 minutes less than the time suggested on the package of pasta.
Be sure to reserve some pasta cooking water.
The starches in the cooking water help to loosen up the sauce, and also help it cling to the fettuccine.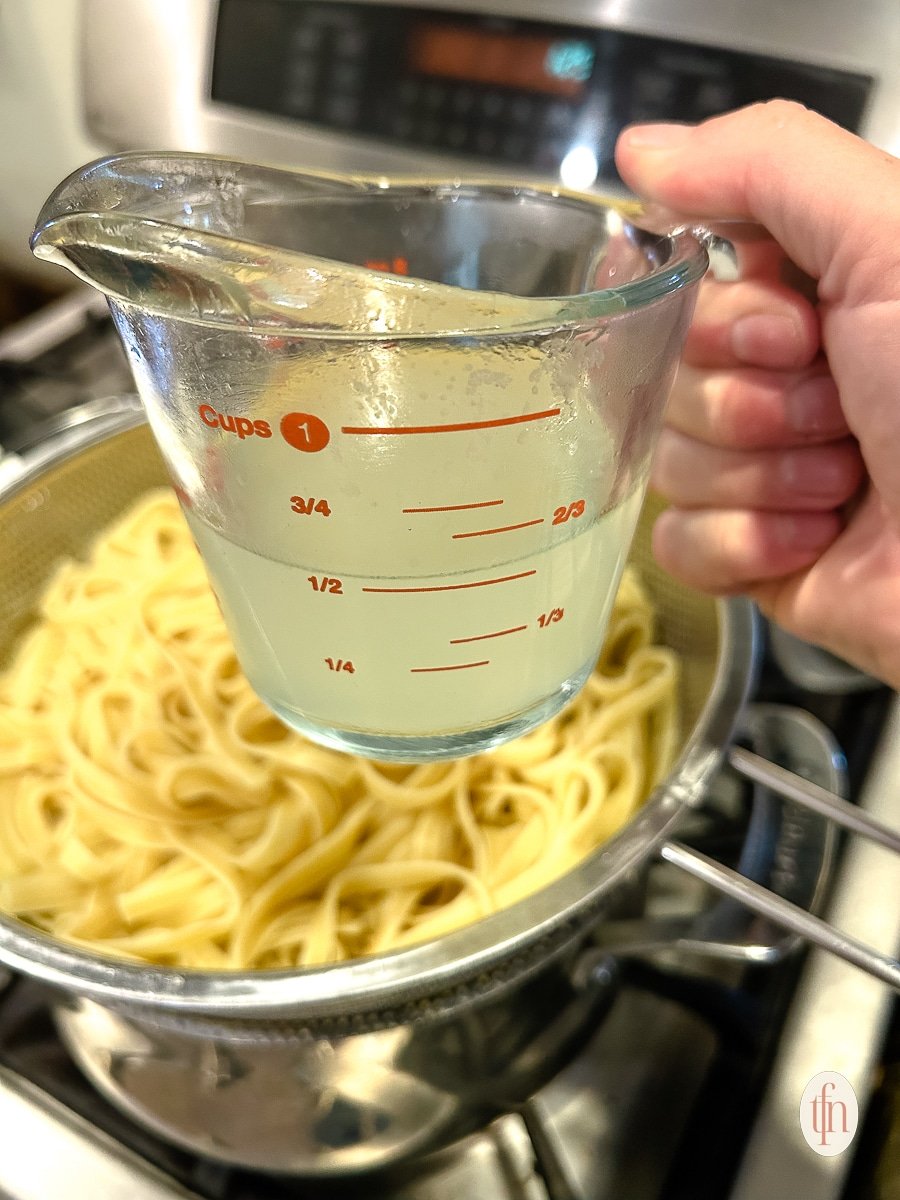 Making Silky Smooth Alfredo Sauce for Salmon Fettuccine
Making the sauce for salmon alfredo pasta is the definition of slow and steady. There are 3 important tips to keep in mind:
Gradually reduce the cream, to prevent it from separating. Otherwise, it will take on a grainy, gritty texture.
Use freshly grated cheese. Pre-shredded cheese contains a starch that prevents the shreds from clumping in the bag. Ultimately, the cheese becomes clumpy as it melts down.
Finally, don't use low-fat dairy. The fat is important for seamlessly melding the cheese into the cream-based sauce.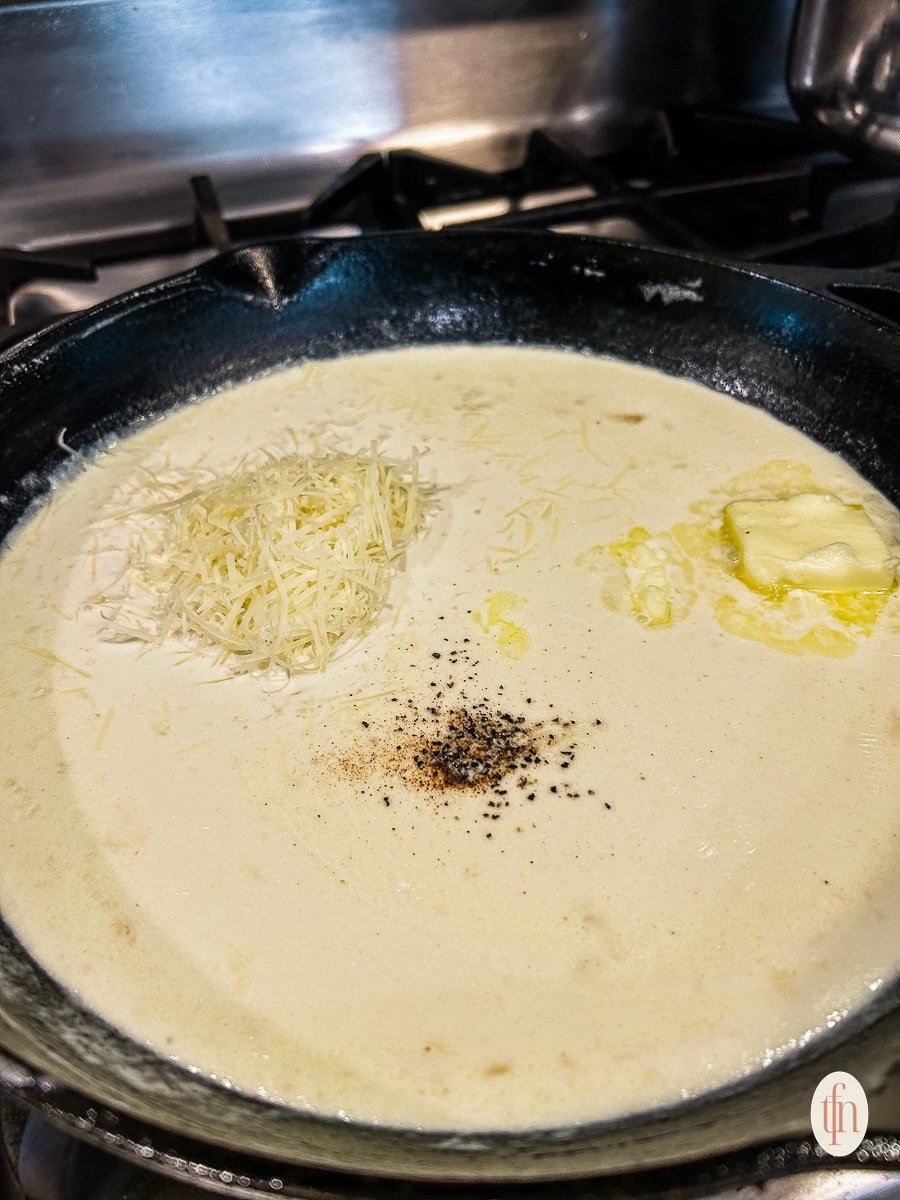 Salmon Alfredo FAQ
Is salmon high in calories?
The calorie count varies, depending on whether the fish is farmed or wild caught, the exact variety (Sockeye, King, or Atlantic), and how it's prepared. For baked fish, the calories for a 4-ounce portion are generally between 150 and 210 calories.
What is al dente pasta?
Al dente pasta has been cooked just slightly under "done." It's just slightly firm, with a bit of a bite, rather than completely tender. However, it's not so hard that it disrupts the texture of the dish.

The general rule of thumb is to cook it for 2 minutes less than the package instructs to reach al dente.
How do I thicken Alfredo sauce?
The sauce for salmon fettuccine alfredo may seem thin at first, but be patient; It needs to reduce gradually, at a lower temperature. It will thicken even more when the butter and cheese are added.

If the sauce is still thinner than you'd like after all ingredients are added, you can continue to reduce the cream for a short while. Or, a quicker, easier option is to add more parmesan for a thicker (albeit cheesier and gooier) sauce.
Storing and Reheating
Leftovers can be refrigerated for up to 4 days. Because of the cream in the sauce, salmon alfredo should not be frozen as the fat in the cream will separate once thawed.
We recommend storing the baked fish and fettuccine separately so that the fishy flavor doesn't seep into the sauce and overtake the whole dish.
To prevent the sauce from separating, reheat slowly in short 10-15 second bursts in the microwave, stirring in between.
For this Italian Salmon Recipe, Renae Recommends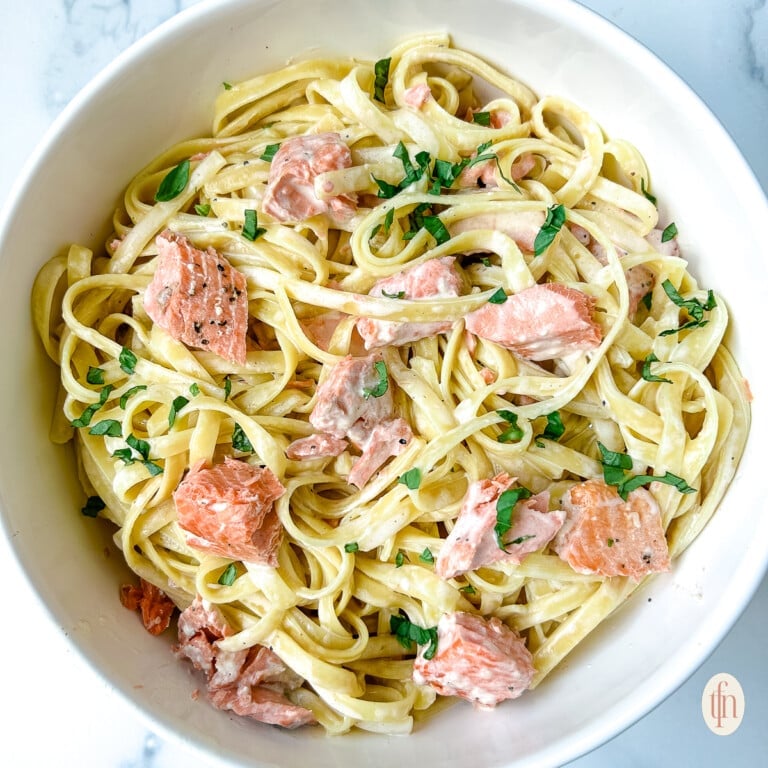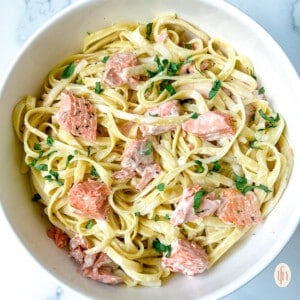 Salmon Alfredo
Salmon Alfredo is what's for dinner tonight! Enjoy a luxurious Italian meal in only 20 minutes with our recipe for salmon fettuccine alfredo.
Equipment
stock pot

glass measuring cups

colander

rimmed baking sheet

tongs
Ingredients
1 ½ pounds salmon six (4-ounce) skin-on filets of Sockeye, King, or Atlantic salmon
1 teaspoon kosher salt
¾ teaspoon coarsely ground black pepper
1 pound fettuccine or other fresh or dried long pasta or noodle of choice
2 cups heavy cream
2 tablespoons unsalted butter
1 cup shaved parmesan cheese
1 pinch nutmeg
salt and black pepper to taste
Instructions
Set oven to 400°F.

Arrange salmon filets, skin side down, on a large rimmed baking sheet lined with parchment paper. Sprinkle each filet with some of the salt and pepper.Bake salmon in preheated oven for 10-12 minutes, or until fish flakes easily with a fork.

Meanwhile, as the fish cooks, bring 4 quarts of water to a heavy boil in a large pot over high heat. Add 1 tablespoon salt to the boiling water, then add the fettuccine. Cook pasta to al dente (about 2 minutes less than stated on pasta package directions).

Meanwhile, as the fettuccine cooks, prepare the alfredo sauce. Add cream to a 12-inch (or larger) skillet. Cook over medium heat until cream thickens slightly and reduces to approximately 1.5 cups. This will take about 8 minutes.

Remove salmon from oven and set aside to cool. When cool enough to handle, use your fingers to loosen and remove the skin from each filet. Chop or flake fish into large chunks and set aside. *Optional – see Notes.

When pasta is cooked to al dente, reserve 1/2 cup of the pasta water in a heat-safe measuring cup. Set the water aside, then drain the remaining water and pasta through a colander. Return pasta to the pot it was cooked in.

Whisk the butter, parmesan cheese, and nutmeg into the reduced cream, then taste the sauce and season with salt and pepper as needed. Pour the sauce into the pot of pasta; using tongs, toss to coat. Gradually whisk in the reserved pasta water, a little at a time, to allow the sauce to cling better to the pasta. Add salmon pieces to the pasta and sauce and very gently toss with tongs to coat with sauce. Alternatively, arrange fish over the top of the fettuccine alfredo.Serve salmon alfredo pasta while it's warm.
Notes
Flaking the salmon into chunks is optional. If you prefer, serve each filet whole, over a portion of fettuccine alfredo.
Nutrition
Serving: 1serving | Calories: 821kcal | Carbohydrates: 57g | Protein: 41g | Fat: 47g | Saturated Fat: 25g | Polyunsaturated Fat: 5g | Monounsaturated Fat: 13g | Trans Fat: 0.2g | Cholesterol: 237mg | Sodium: 742mg | Potassium: 833mg | Fiber: 3g | Sugar: 4g | Vitamin A: 1505IU | Vitamin C: 0.5mg | Calcium: 291mg | Iron: 3mg
PIN THIS POST!