A cheesy, bubbling baked rigatoni with sausage is the perfect meal to make at the end of a busy day! It's a really simple 5 ingredient casserole recipe but it has all of the components to satisfy everyone at the table. Even better, you can make it ahead to save time!!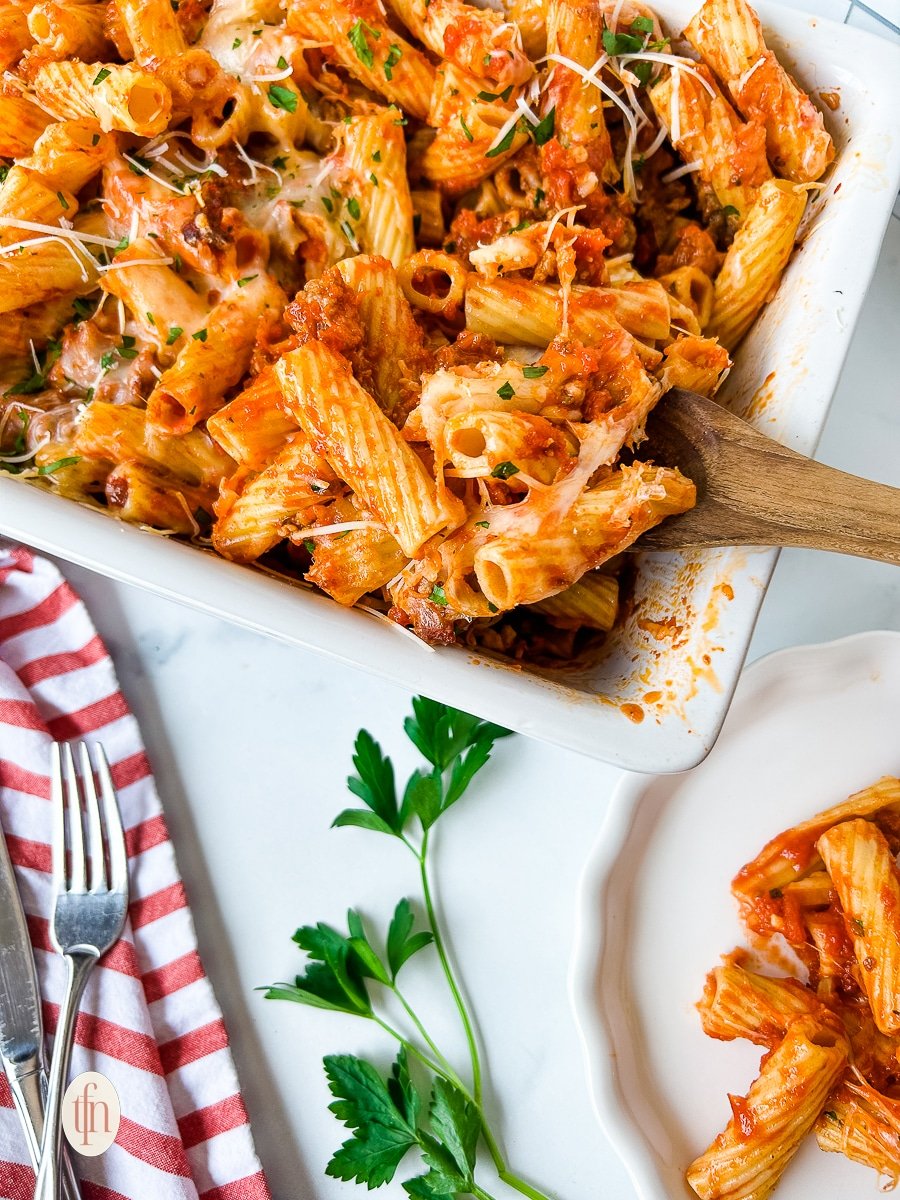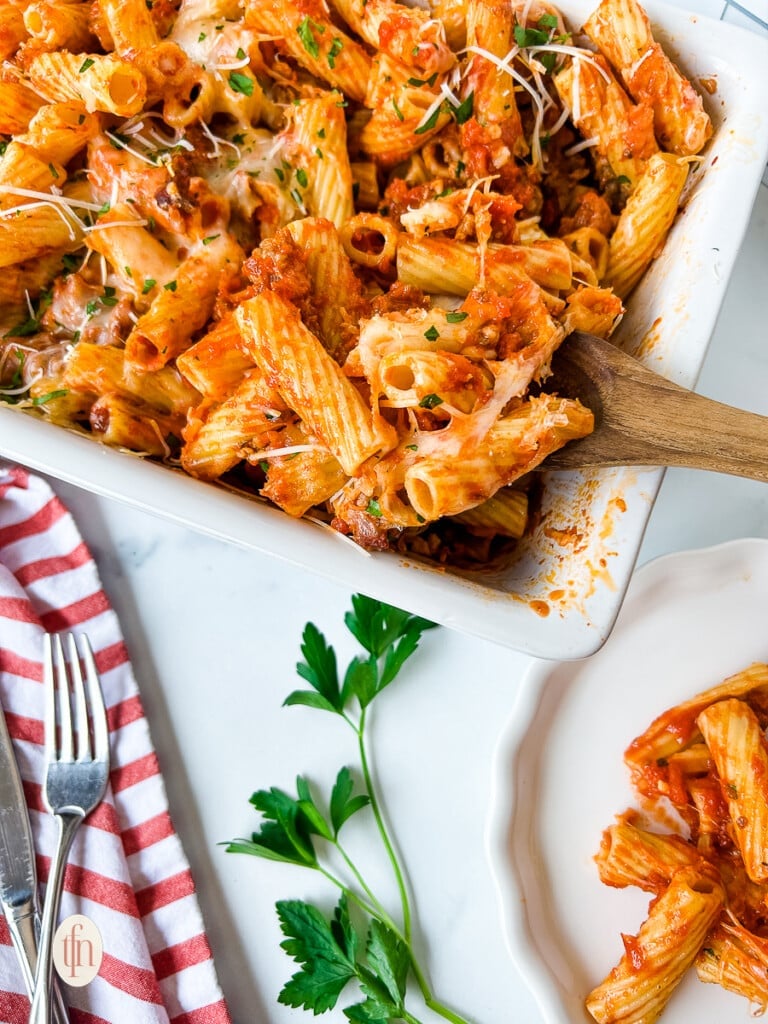 Our sausage rigatoni is just one of our favorite 30 minute meals! If you're in an Italian mood, we recommend making our penne pomodoro and meatball marinara recipes, too.
Why We Love Baked Rigatoni With Sausage
It's perfect for meal prep! Bake it all the way to enjoy for up to three days, or freeze for months to bake later on.
You can substitute proteins and vegetables for whatever is seasonal, on sale, or suits your cravings on any given day.
There's so much room to customize, including using different types of noodles or adding a bit of spice to keep things interesting!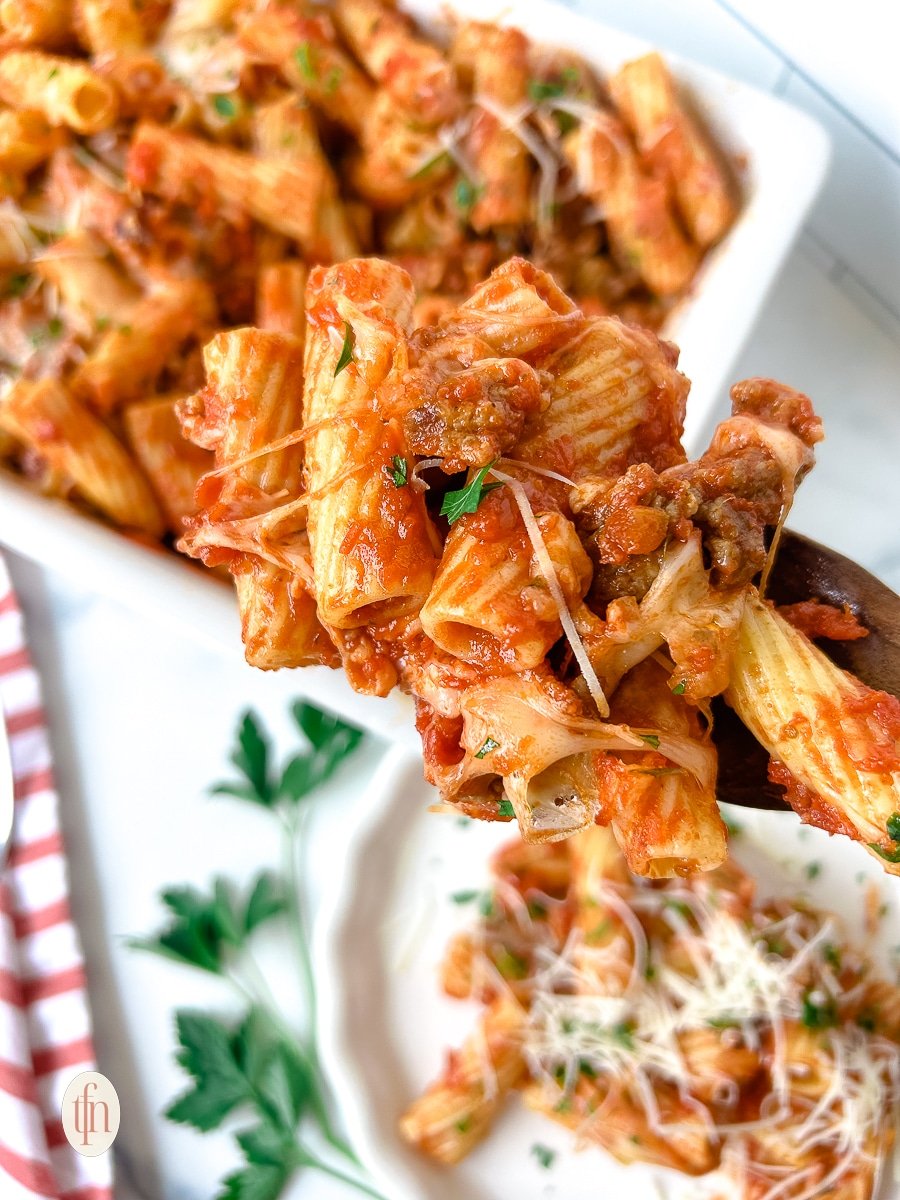 Ingredient Notes and Substitutions
Rigatoni – We love rigatoni pasta recipes — that's why we have so many of them here on TFN. Good substitutes for rigatoni, if need be, are penne and ziti.
Italian Sausage – Other ground proteins can be used in place of sausage in this rigatoni recipe. Chicken and turkey are both lean, tasty options, but even a meatless alternative will take on the sauce and seasonings well.
Sauce – Consider a couple of different sauce options: a quick, easy homemade San Marzano sauce, a meat sauce for extra protein, or a quick and painless store-bought pasta sauce.
Mozzarella – Provolone or cheddar are good substitutes, but you can also use them alongside the mozzarella!
Parmesan – Nothing will melt as well as freshly grated cheese, especially nothing that comes in a bag or little green container!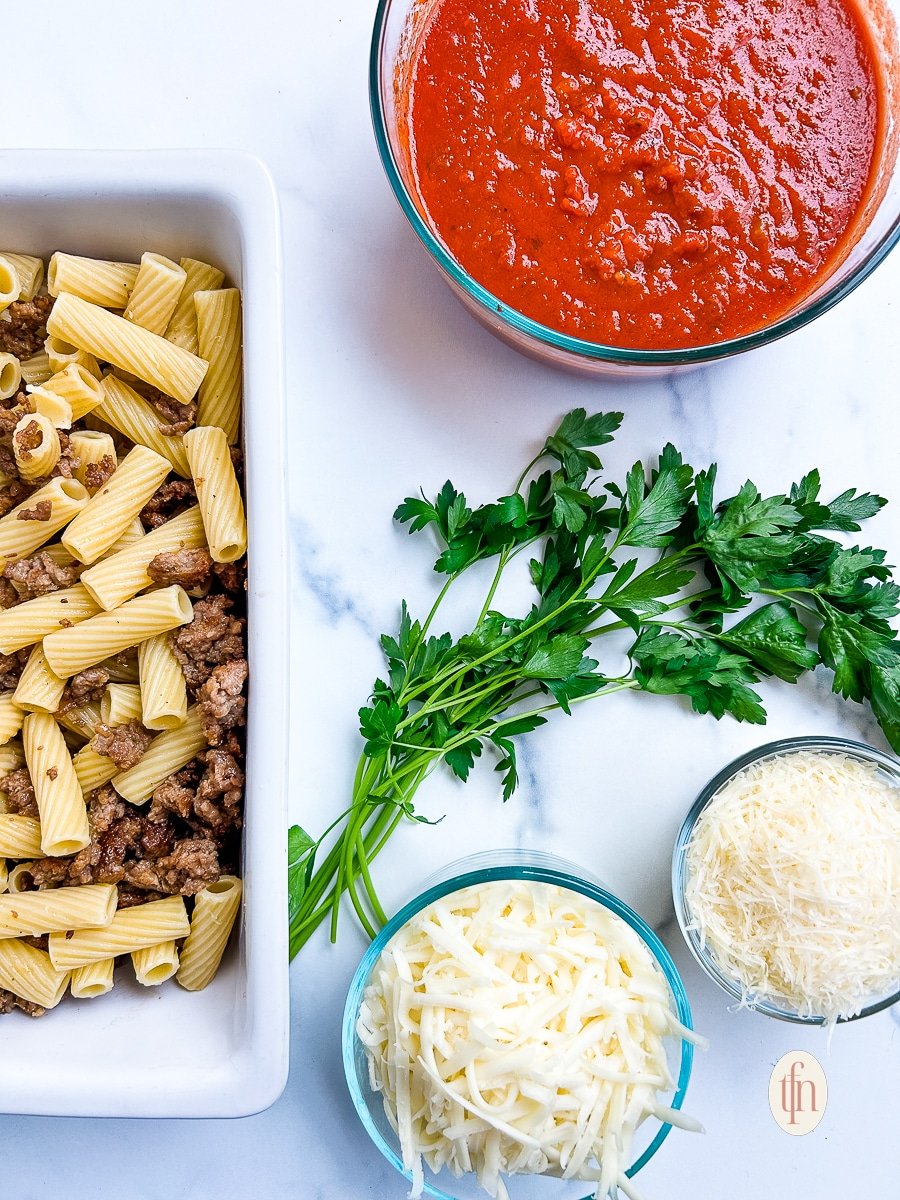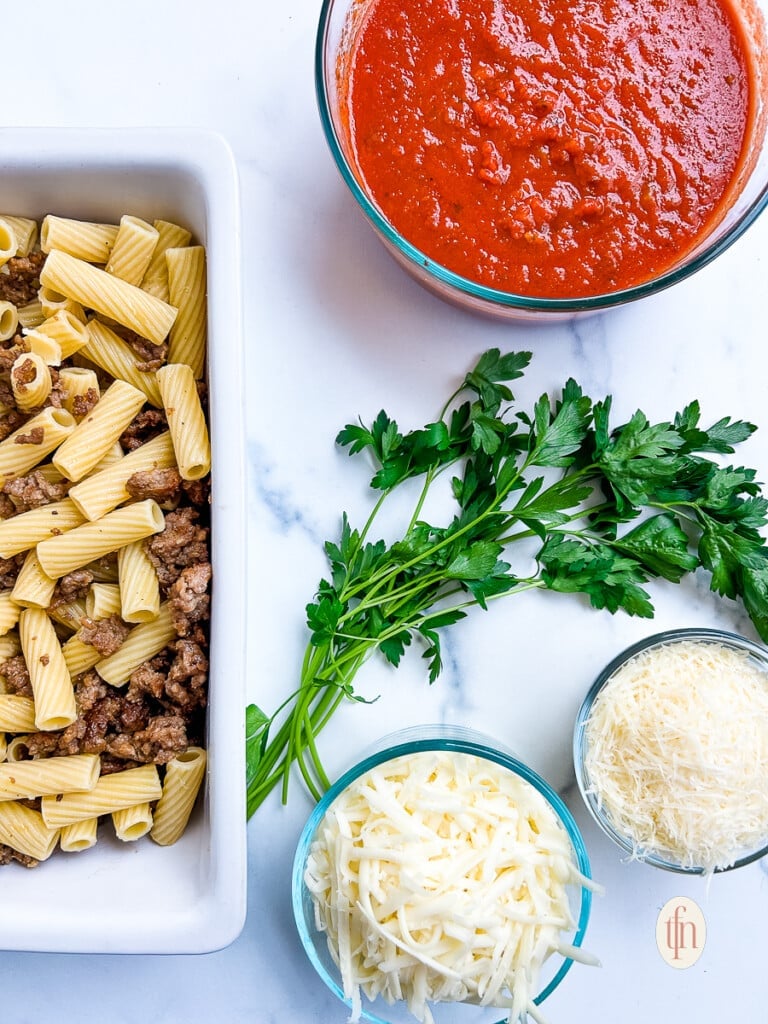 Variations of Sausage Rigatoni
Spice it up!
Make any store-bought or homemade sauce a bit spicier by adding crushed red pepper flakes or plain black pepper.
Additionally, you can use sweet, mild, or hot Italian sausage to heighten the flavors of the meat sauce in the pasta bake. If you prefer small bites of heat throughout the casserole rather than an all-around spicy flavor, this is the way to go!
Include some veggies.
There are a handful of vegetables that taste great in baked rigatoni with sausage.
Zucchini, eggplant, and roasted bell peppers add bulk and body along with some great, fresh flavor and texture. Roasted tomatoes are also great and go right along with the flavors in the sauce!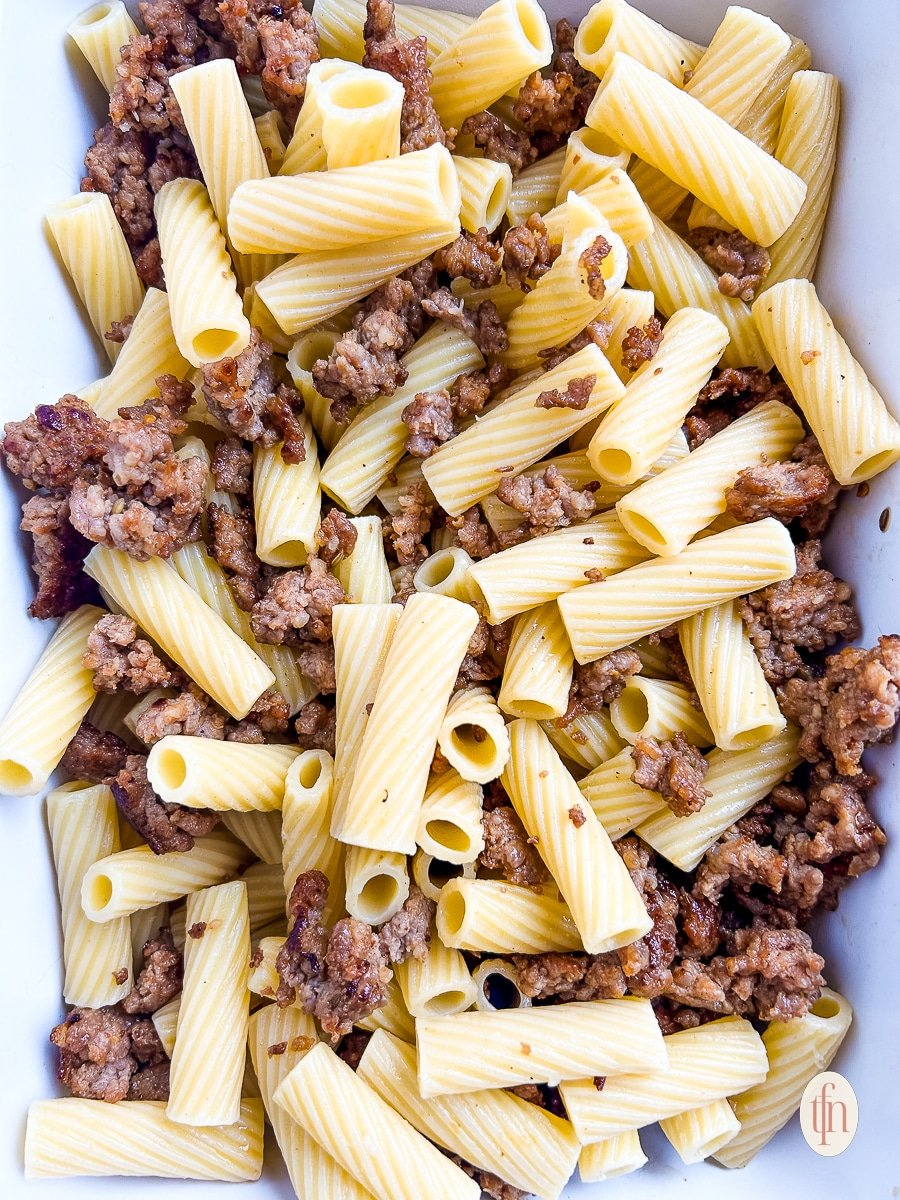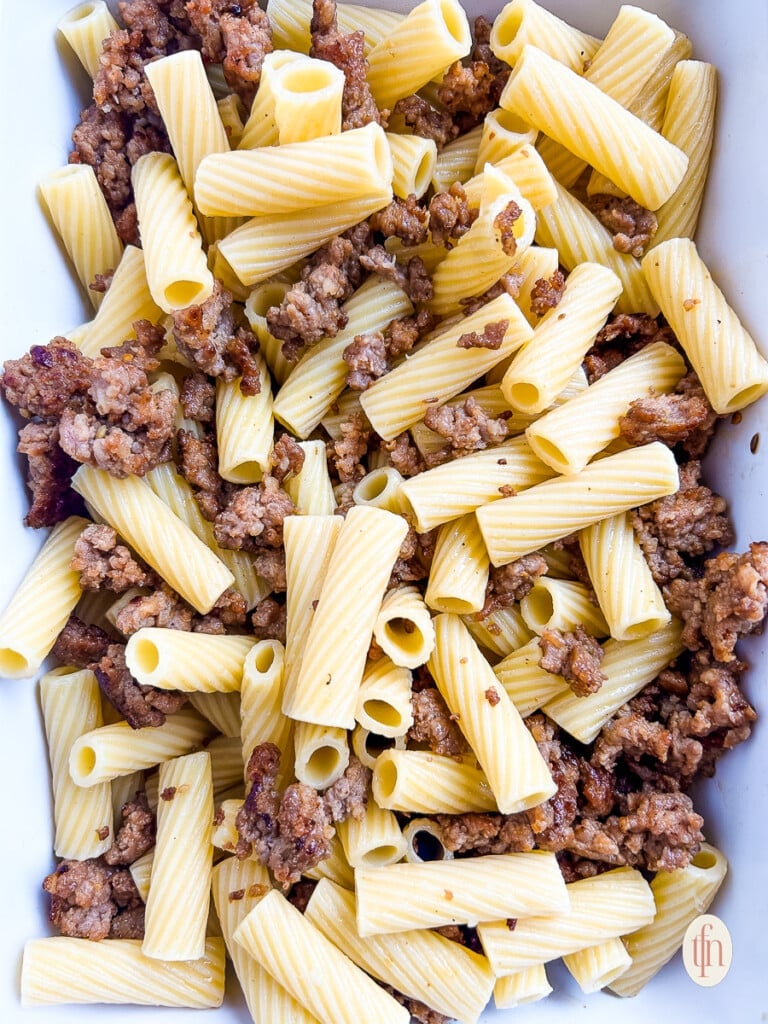 Tips for Making Baked Rigatoni with Sausage
Drain any excess grease.
There will be a bit of visible fat in the pan after browning the Italian sausage. Take a moment to drain it off before mixing it in with the pasta. Otherwise, the greasy flavor and consistency will take over the entire pasta bake.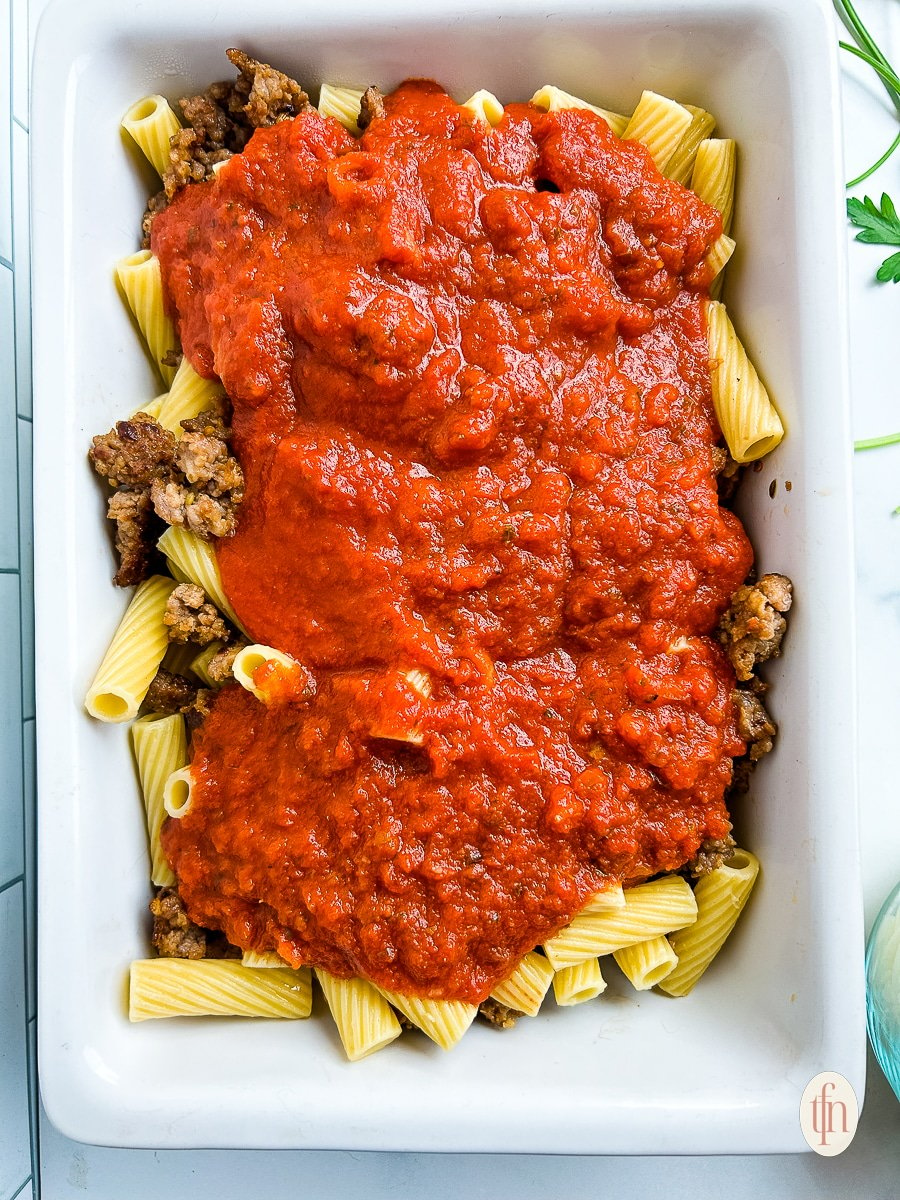 Cook the noodles al dente.
Keep in mind that the casserole will finish baking in the oven. To prevent the rigatoni from overcooking and becoming soggy, simply boil it for about 2 minutes less than the package instructions recommend.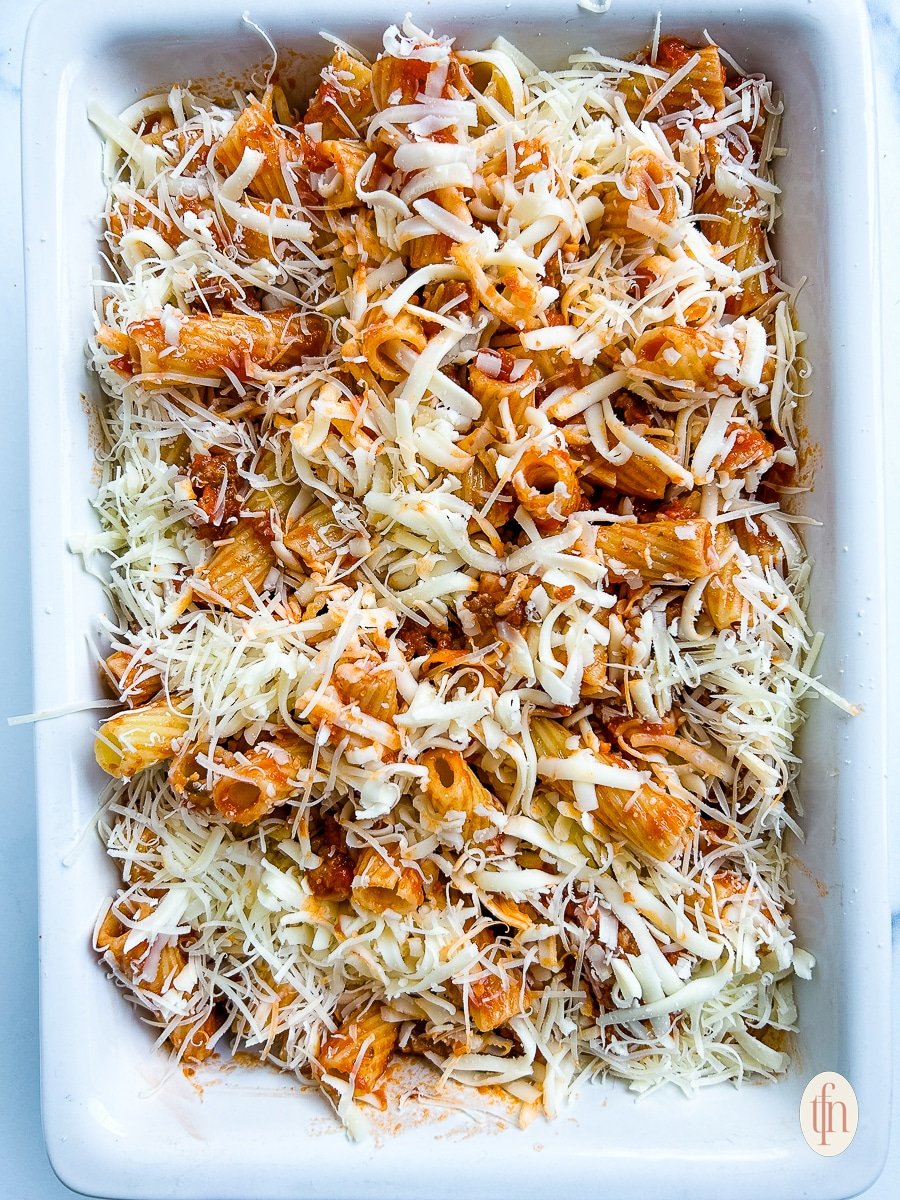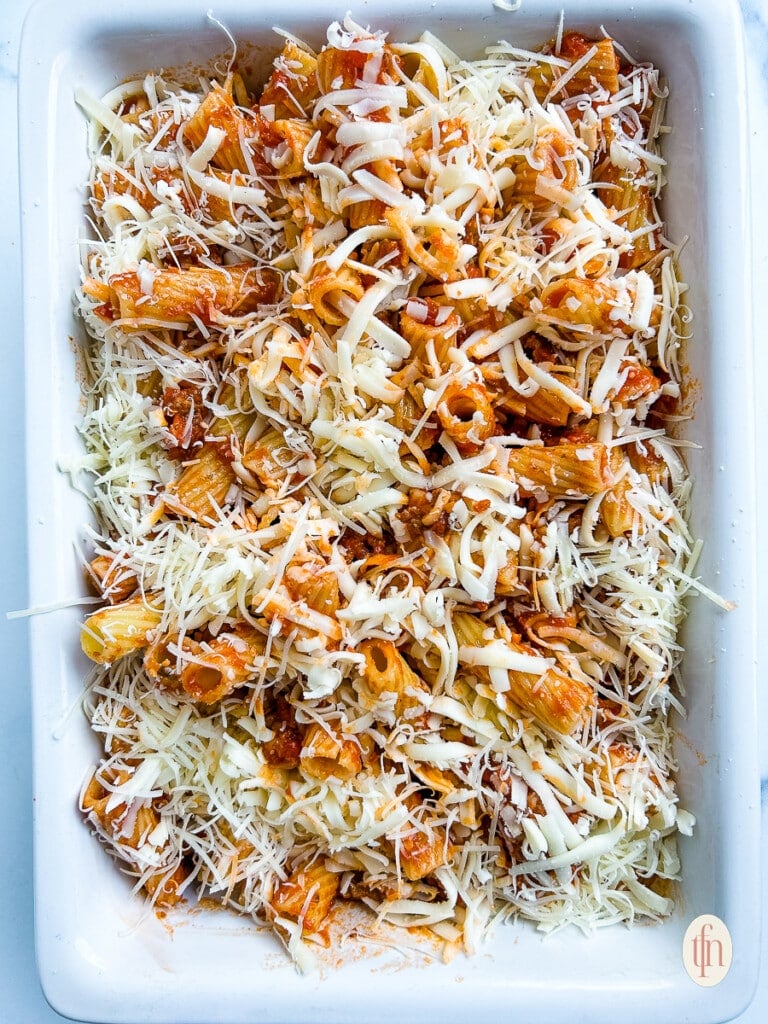 Shred the cheeses yourself.
For the best flavor and meltability, we recommend that you use blocks of cheese – it only takes a couple of minutes to grate/shred it yourself. Packages of shredded cheese include an anti-caking agent that can affect how well the cheese melts.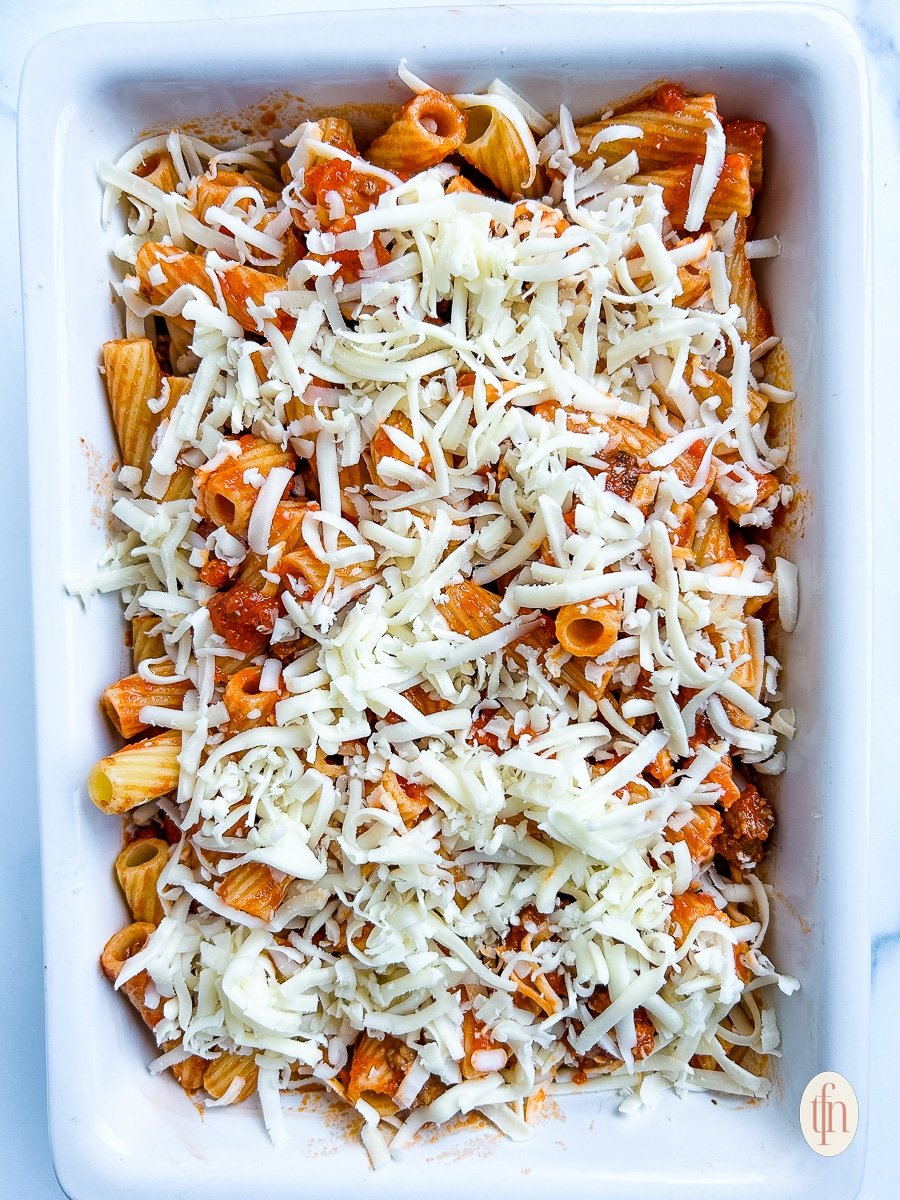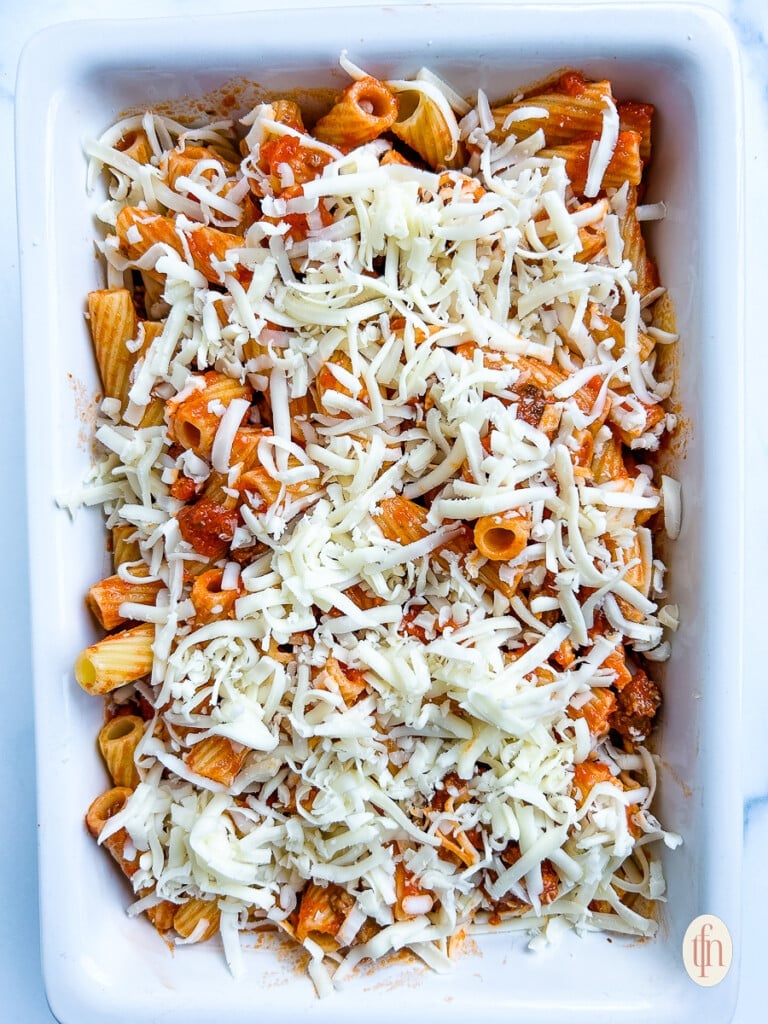 Rigatoni Recipe FAQ
What sauces go with rigatoni?
The shape of the short, ridged tubes brings a lot of sauce into each bite!

Hearty meat sauces go very well with nearly any rigatoni recipe. For those who want a meatless pasta dish, marinara and alfredo are great choices.
Can I make and freeze an unbaked rigatoni casserole?
You can, and it's a great way to meal prep and save time! Go ahead and prep everything as per recipe instructions but don't bake it. Instead, cover and freeze. It will keep for a few months!

It's best to thaw the dish before baking, but you don't have to… Just keep in mind that it will need extra baking time to warm all the way through.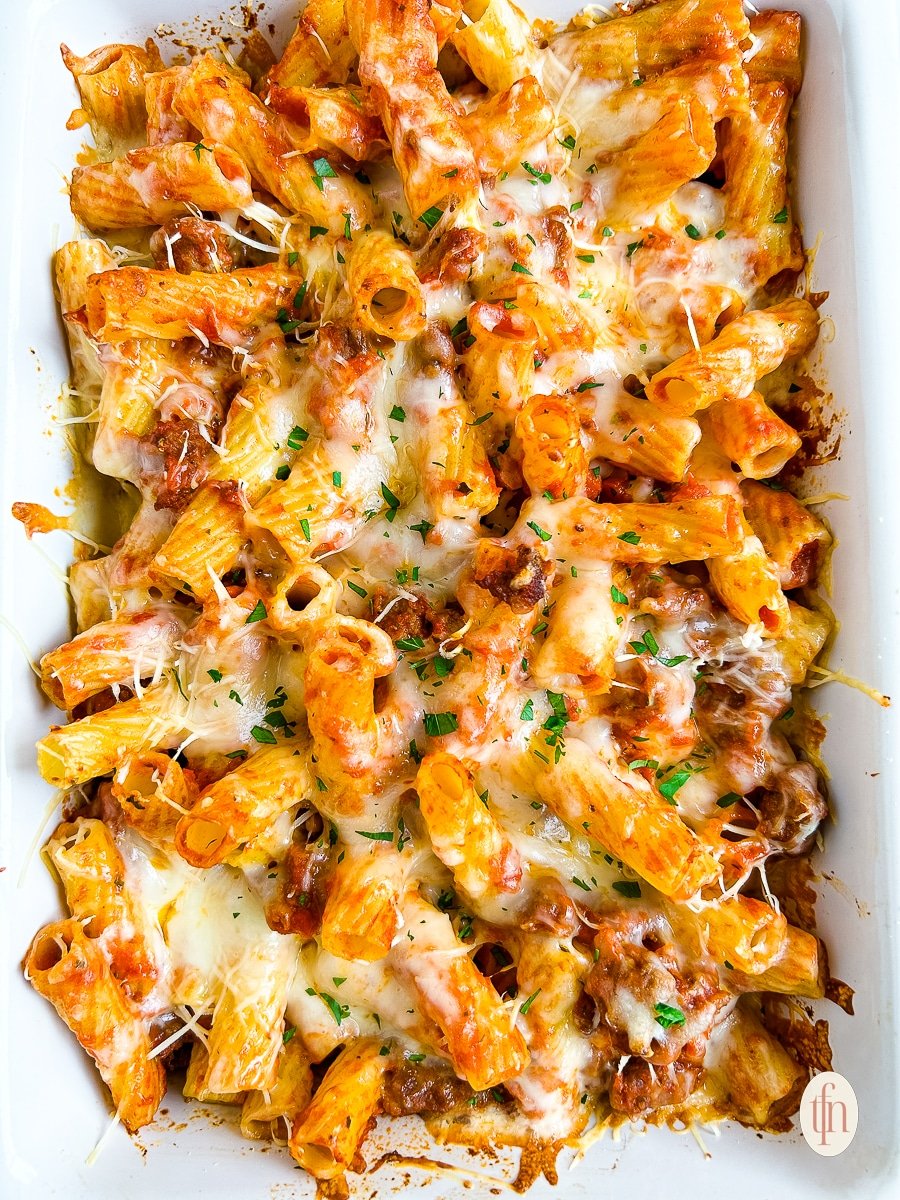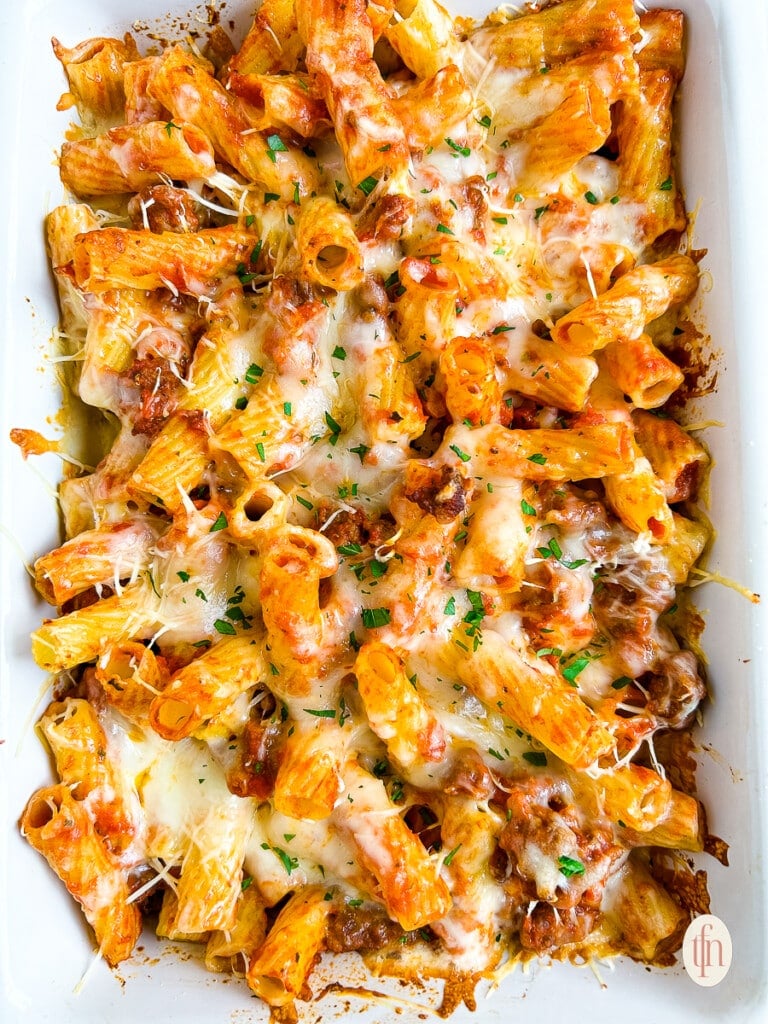 Serving Suggestions for Baked Sausage Rigatoni
A delicious garlic bread is never out of place next to this pasta casserole. Other crusty breads like sourdough or French bread are great options for soaking up any sauce on your plate!
For a bit of healthy greens on the plate, consider serving Instant Pot green beans or a garden salad.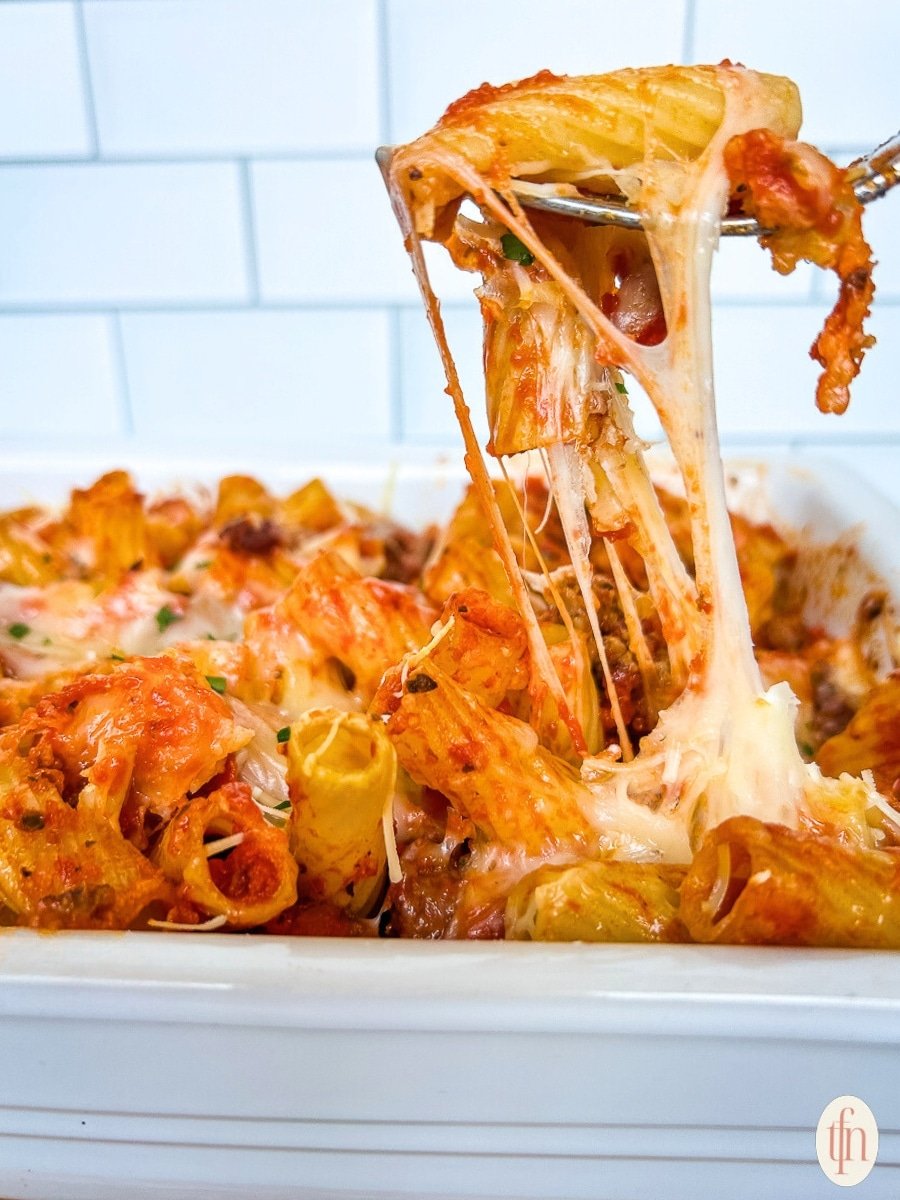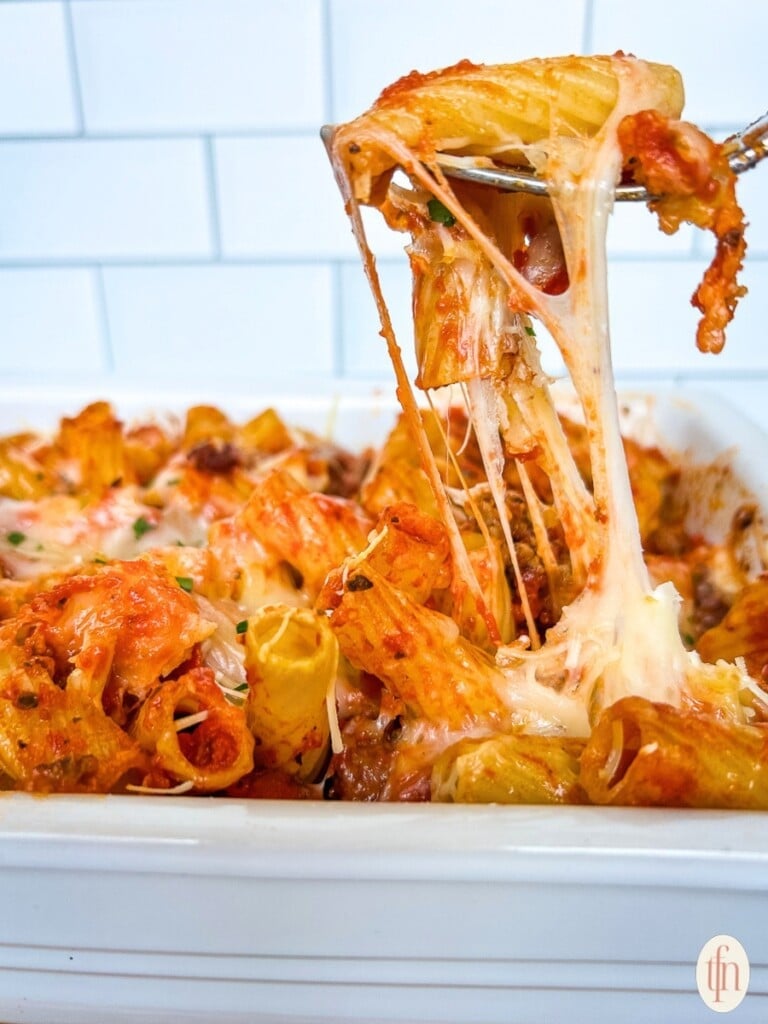 Storing and Reheating
Baked rigatoni with sausage can be refrigerated for up to 3 days. To reheat, put it right back in the oven at 350°F. Cook until the casserole warms through and the cheese is bubbling on the surface.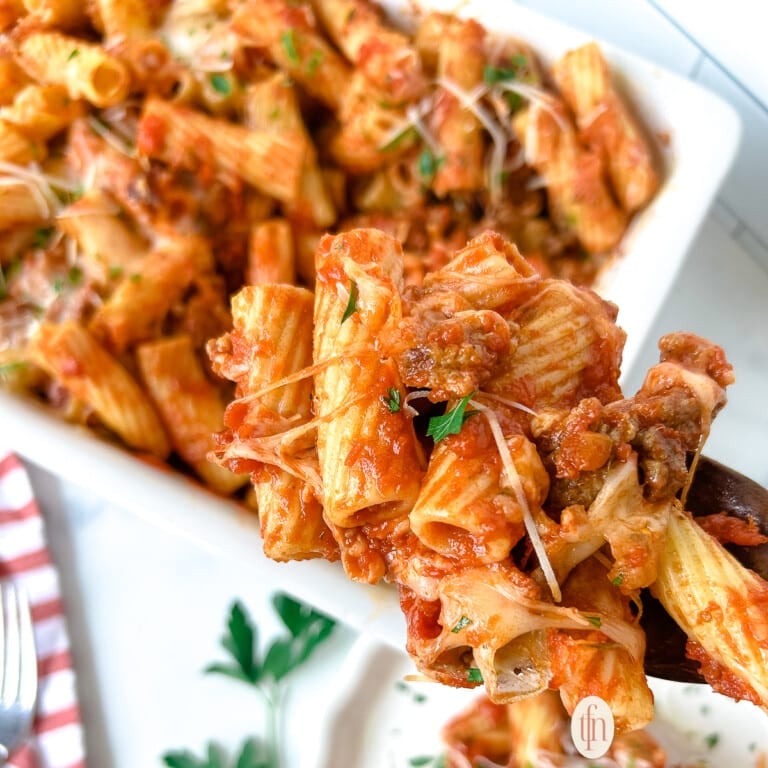 Baked Rigatoni with Sausage
Sausage rigatoni is the best dinner when you're craving a creamy pasta Italian meal. This comforting 5 ingredient dish takes just 30 minutes to make!
Equipment
large skillet

Casserole dish
Ingredients
16 ounces rigatoni pasta
16 ounces Italian sausage
3 cups marinara sauce homemade meat sauce or a 26-ounce jar spaghetti sauce.
8 slices mozzarella cheese or 8 ounces fresh mozzarella, cut into 8 slices.
4 ounces grated parmesan cheese use real Parm, not the kind in the green plastic canister.
Instructions
Fill a stockpot with about 6 quarts of water, for the pasta. Heat on high until boiling.

In a skillet, brown the sausage. Drain off visible fat. Preheat oven to 350°.

Add pasta to boiling, salted water and cook according to directions. Drain.

Mix the pasta and sausage together in the baking dish. Pour over the pasta sauce. Evenly nestle the mozzarella cheese balls throughout the casserole. Sprinkle with parmesan cheese. See notes below to serve this without baking.

Bake at 350° for 20 minutes, until the top is bubbly and golden. Garnish with parmesan cheese and fresh basil.
Notes
In a hurry? Make this rigatoni pasta recipe no bake! After cooking the pasta, just mix in the other ingredients. Stir well, allowing the cheeses to melt. Then serve. Store leftovers in an airtight container for up to 3 days in the refrigerator.
Nutrition
Serving: 1serving | Calories: 547kcal | Carbohydrates: 44g | Protein: 27g | Fat: 29g | Saturated Fat: 13g | Cholesterol: 75mg | Sodium: 823mg | Potassium: 304mg | Fiber: 2g | Sugar: 2g | Vitamin A: 302IU | Vitamin C: 1mg | Calcium: 333mg | Iron: 2mg
PIN THIS POST!