This chicken and gravy recipe creates juicy, pan seared chicken breast with a rich and creamy gravy. The meal is a favorite of kids and adults, but the best part is, you only need one skillet, 3 ingredients, and 30 minutes to put dinner on the table!!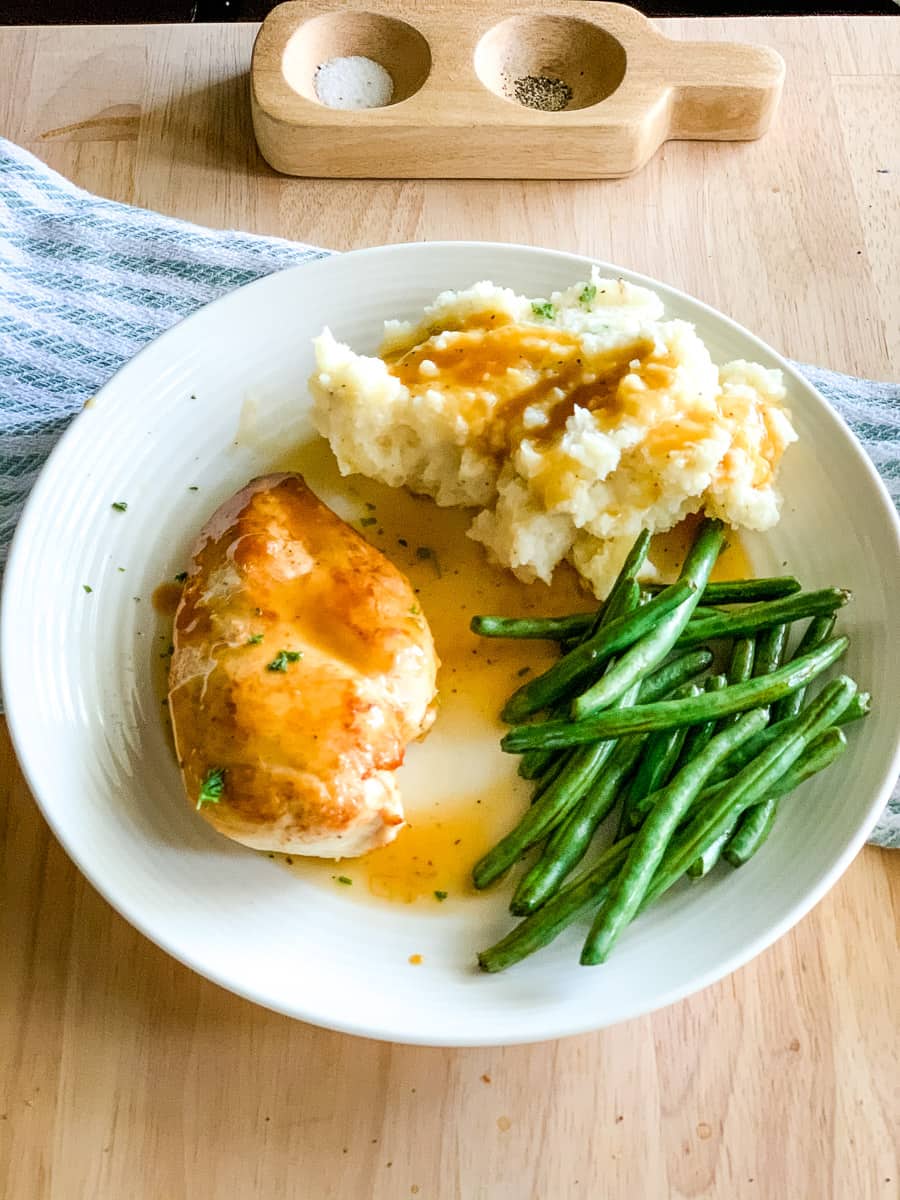 Do you love 30-minute meals as much as we do? They're a huge help at the end of a long day! It's the best feeling to know that you can make a comfort food meal in less time than it would take to order and pick up a chicken dinner from your favorite restaurant.
Chicken breasts are one of the most common proteins to have on hand, but they can be difficult to work with. While white meat is lean and healthy, it can be a bit boring in the flavor department.
There are a million different ways to add flavor, but some recipes are very labor-intensive, and/or take too long to cook. It's even worse then you end up with a dried-out and rubbery piece of meat on your plate.
Sometimes you just need to get back to basics!
30 Minute Chicken and Gravy Recipe
Keep reading, because we'll show you how to cook the juiciest chicken breasts by perfecting a simple, classic searing method… in less than 30 minutes!
By pan searing chicken breasts in a hot skillet, the outside of the poultry becomes beautifully caramelized and flavorful. The juices are sealed inside, so every bite is moist and tender.
You don't need lots of seasonings or anything special – the chicken and gravy have plenty of flavor!
Not only is this an easy recipe to make, but it is also a healthier alternative to fried and breaded chicken recipes.
This healthy chicken and gravy recipe is low in carbs, but still high in protein, and very tasty.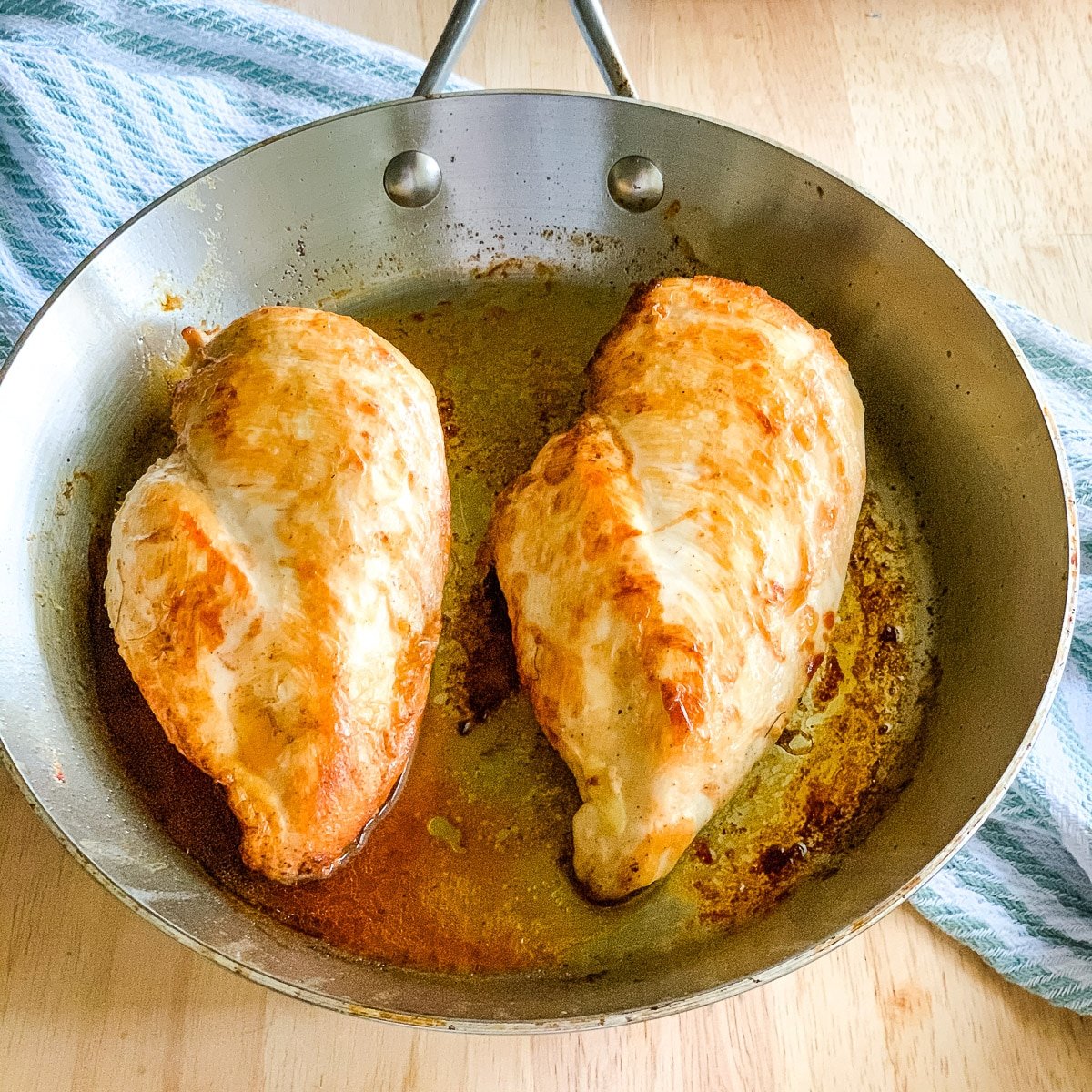 Ingredient Notes and Substitutions
Chicken – We use skinless, boneless chicken breasts, but you can use skin-on pieces if you don't mind the extra calories and fat.

Seasoning – Black pepper and kosher salt is used to add flavor to our recipe. However, you can also add your favorite blend of seasonings. Good choices are dried Italian seasoning, paprika, dried thyme, garlic powder, dried oregano, or dried basil.

Olive oil – Used for searing and to keep the chicken from sticking to the pan. You can use any cooking oil of your choice, such as avocado oil, vegetable, grapeseed, or even ghee or butter.

Gravy – We use stock, cornstarch, and butter to make the gravy that complements this chicken and gravy recipe.
Tips for the Best Pan Seared Chicken Breast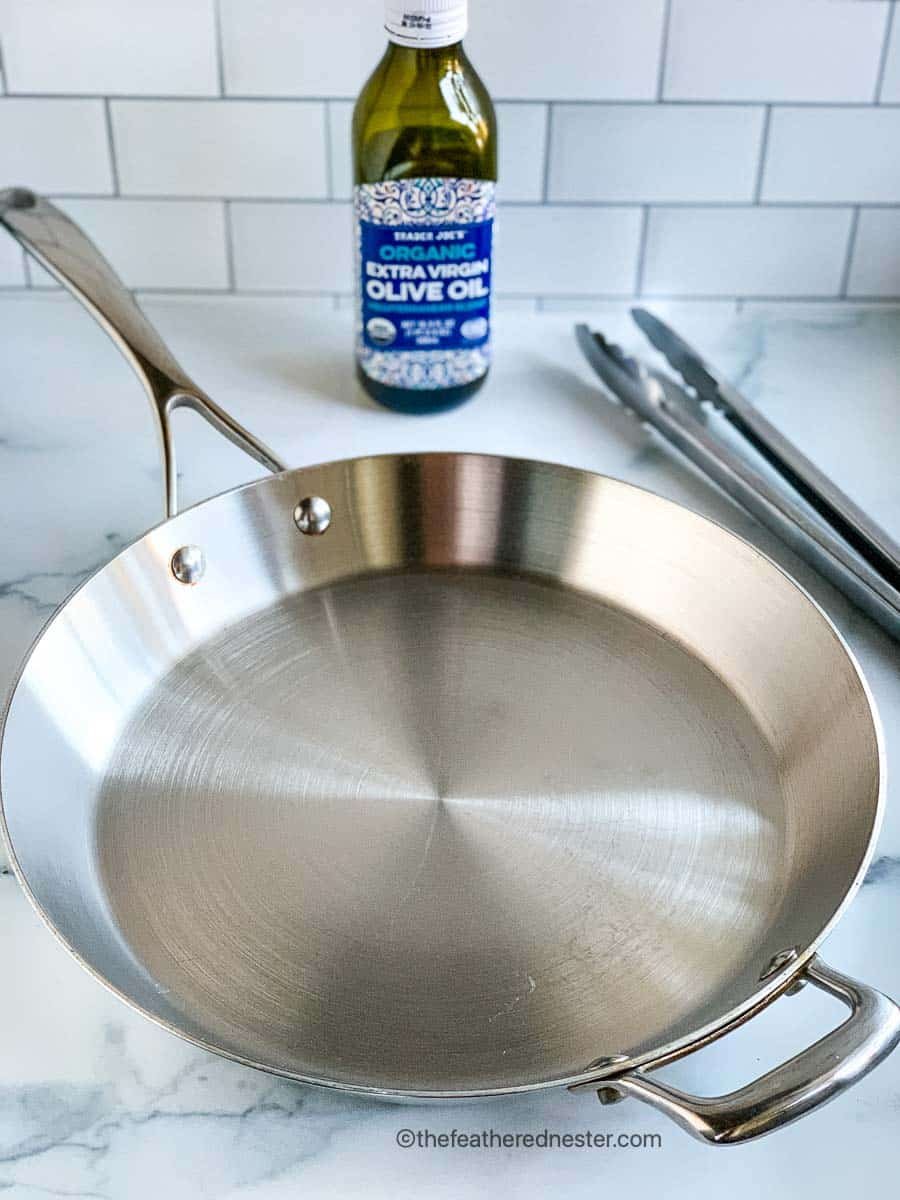 Use a heavy-bottomed, stainless steel skillet.
This is not the time to use a non-stick skillet. In fact, you want as much contact with the hot pan as possible.
Be sure the chicken is dry.
Excess moisture will prevent the meat from getting that perfect golden brown crust that you want. So, use paper towels to pat the meat completely dry.
Pound them to an even thickness.
After you've thoroughly dried the breasts, use a meat mallet to pound them flat. This will help them to cook quicker and more evenly.
Heat and temperature are key!
After the chicken is seared, turn down the heat for the rest of the cook time. This prevents overcooking, which will dry out the meat.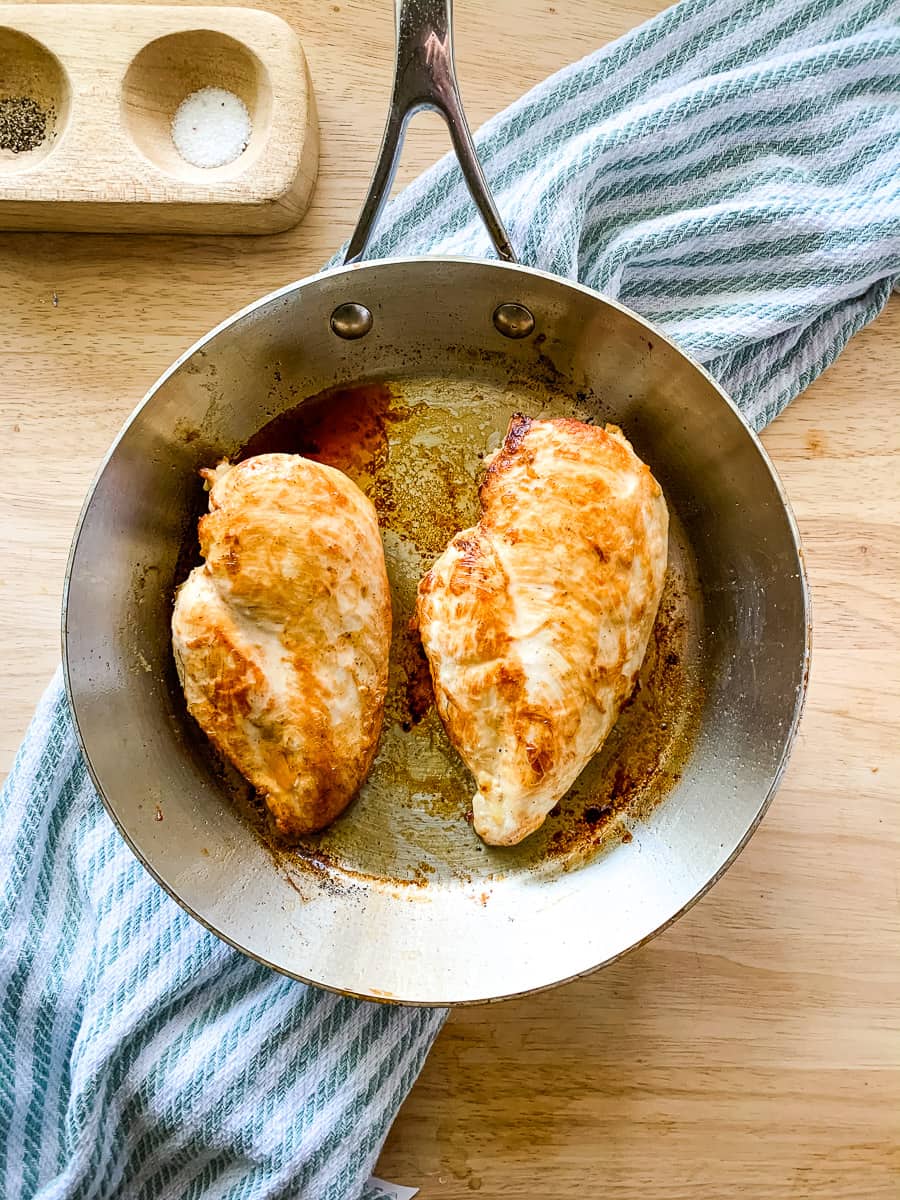 Cover the skillet with a lid.
As you continue cooking on low in the skillet, cover the pan to keep the moisture inside. This ensures that there are juices in the meat and pan for your chicken and gravy.
For more tips on pan searing chicken (including video prep), see our chicken piccata recipe.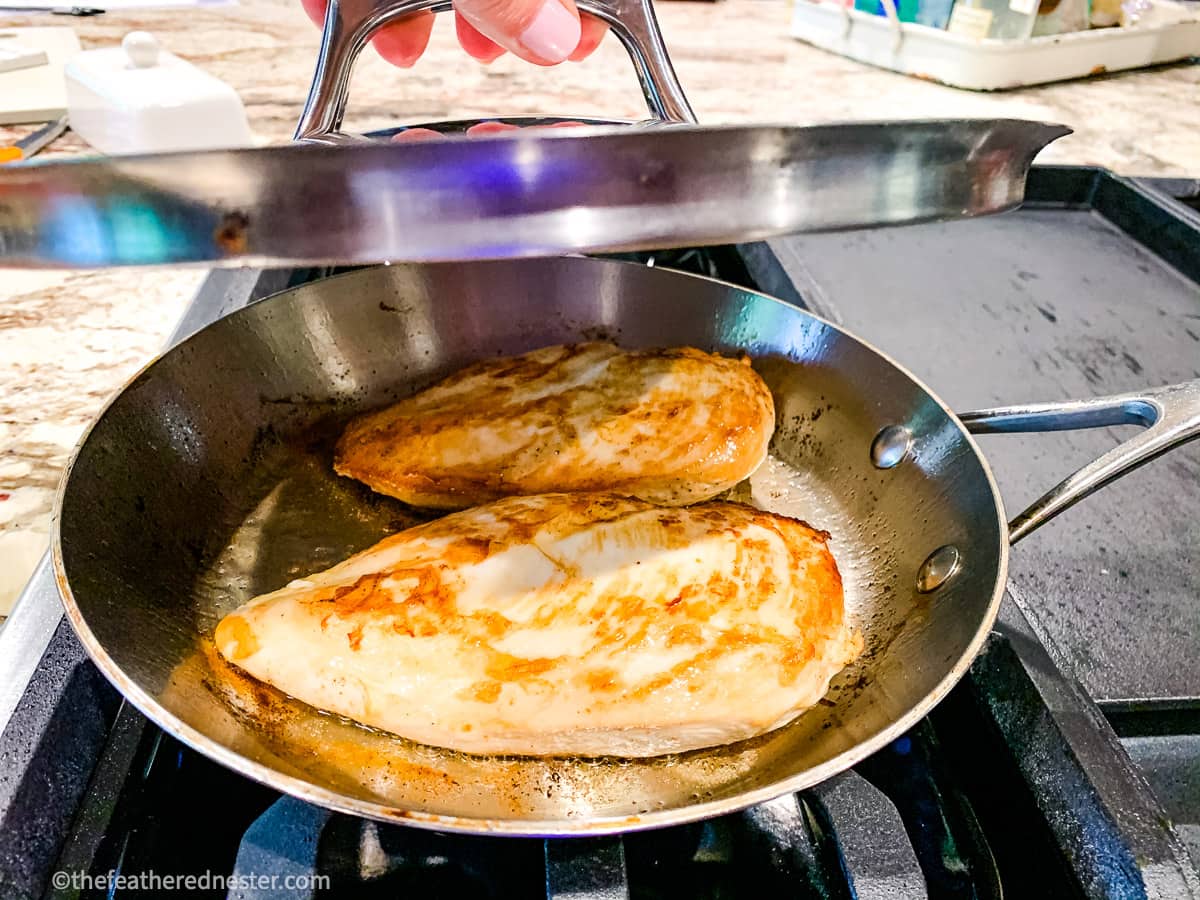 Let the pan seared chicken breasts rest before serving.
To keep the chicken breasts moist, let them rest for at 5-10 minutes before serving. This is the perfect time to finish making the meal!
Tips for the Best Pan Gravy
Use the same skillet you cooked the poultry in – the drippings make a fantastic, creamy and flavor-packed gravy.
Deglaze the pan. When you sear any type of meat, whether it's a Dutch oven pot roast, pork tenderloin, steak, or poultry, little bits of food are left behind on the bottom of the pan. That 'fond' is full of flavor, so use it as the base for your gravy!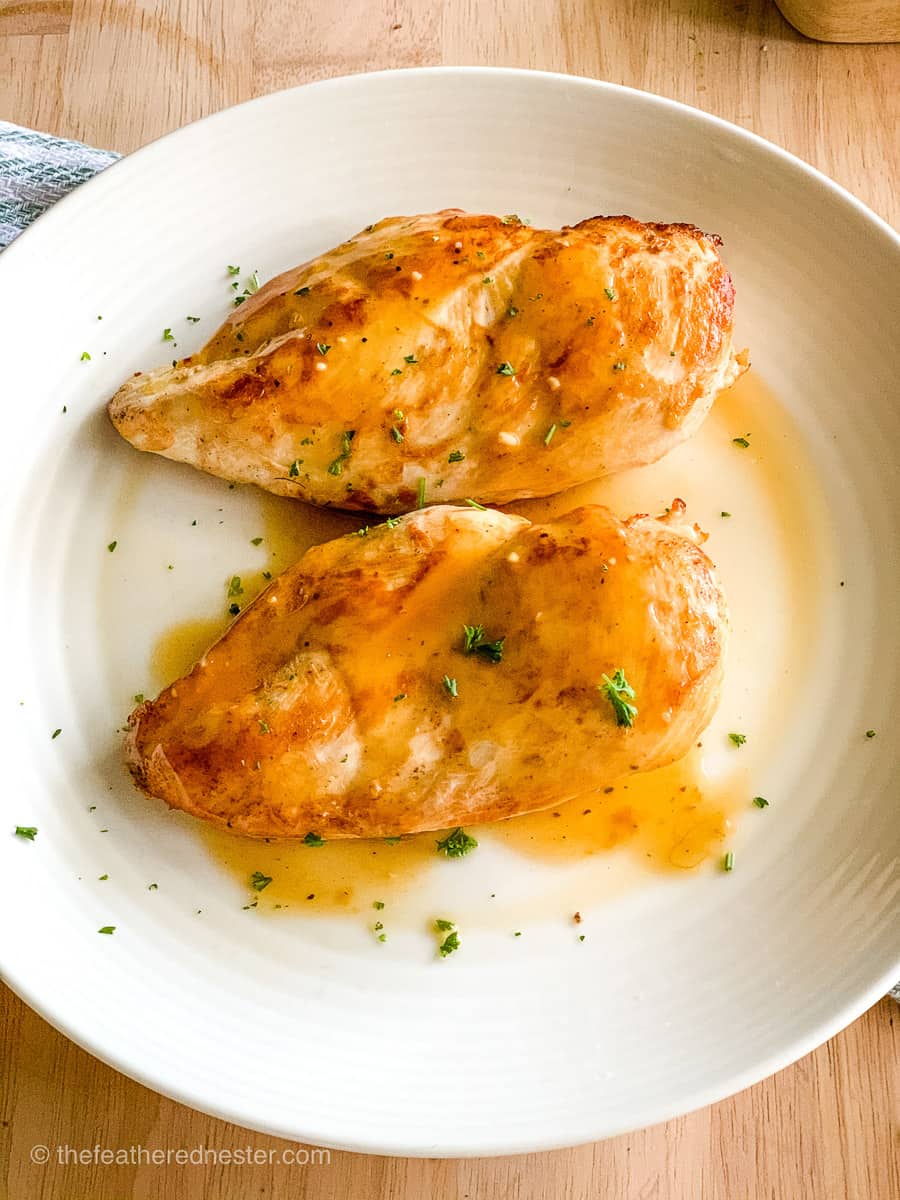 What To Serve with Chicken and Gravy
Potatoes are a popular starch to serve with pan seared chicken breast. Our favorite choices are Instant Pot mashed potatoes and hasselback potatoes. For something a bit heartier, we recommend making Instant Pot loaded potato casserole.

Our sourdough stuffing recipe is perfect for a holiday-inspired meal and goes great with the homemade pan gravy from this recipe.

And you should definitely have a basket of fresh, hot buttermilk drop biscuits or some French bread on the dinner table!

Need something sweet after a wonderfully hearty, savory meal? Give this quick Bisquick Strawberry Cobbler a try!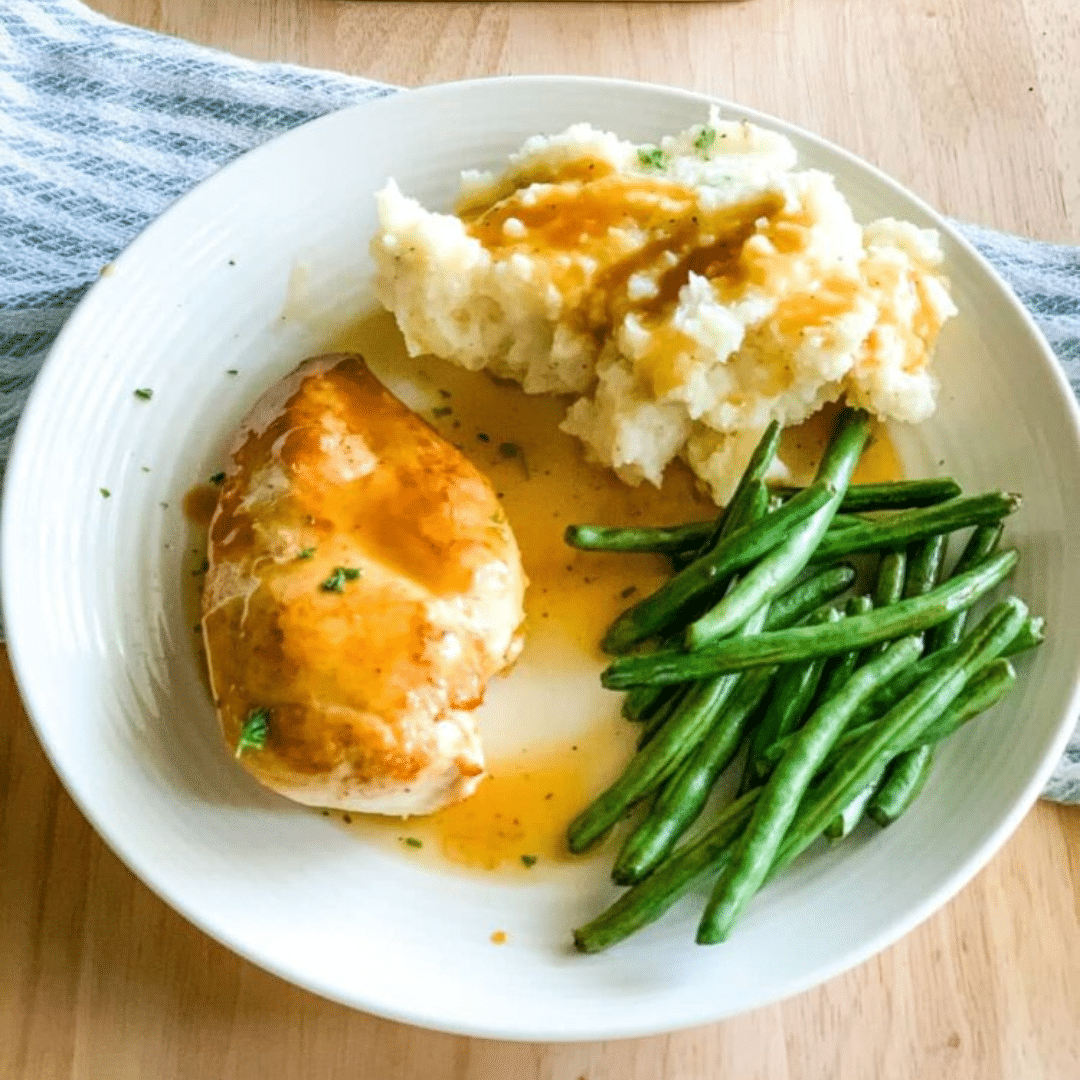 Other Easy Chicken Recipes
If you're looking for a new chicken dish to try, check out our blackened chicken tenders recipe. The simple spices give a delicious New Orleans Cajun flavor. You may also want to try our Bisquick chicken tenders and baked chicken tenderloins.
If you love to pan fry chicken, pan seared chicken thighs and chicken piccata are great options for you.
Frequently Asked Questions
Are cooked chicken breasts good for meal prepping?
Pan seared chicken breasts are a great protein to use for make-ahead meals. They keep well in the fridge for up to 4 days and in the freezer for up to 3 months when properly sealed in airtight containers.
How long to pan sear chicken breast?
It takes about 4-5 minutes per side to cook poultry to a safe internal temperature of 165°F. However, the cook time may vary depending on the size and thickness of your chicken breasts. To be sure it's cooked properly, use a meat thermometer to check the internal temperature at the thickest portion of the meat.
To Make Our Chicken and Gravy Recipe, Renae Recommends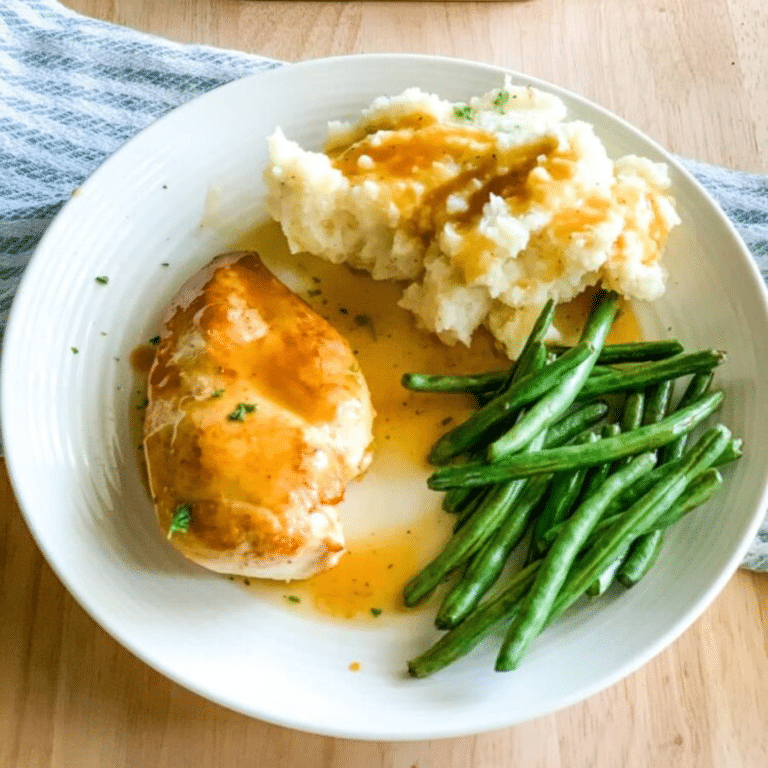 30 Minute Chicken and Gravy
This easy chicken and gravy recipe will help you put juicy pan seared chicken breasts and creamy pan gravy on the table in only 30 minutes!
Ingredients
1 ½ pounds boneless skinless chicken breasts (4 breasts, 6 ounces each)
½ teaspoon freshly ground black pepper divided
1 teaspoon kosher salt divided
2 tablespoons olive oil divided
For Pan Gravy
½ cup cold low sodium chicken stock
2 teaspoons cornstarch
1 tablespoon butter
Optional Garnish
2 tablespoons chopped flat-leaf parsley
Instructions
Pat chicken breasts dry with paper towels. Set aside for 10 minutes to bring them to room temperature.

Place breasts between sheets of plastic wrap. Using the flat side of a meat tenderizer or a rolling pin, flatten breasts to an even thickness of 1 to 1.5 inches. Remove and discard top piece of plastic wrap.Use a pastry brush to apply 1 Tbsp of olive oil to the tops and bottoms of chicken pieces, and season each with some of the salt and pepper.

Heat a large stainless-steel skillet over medium-high heat. Add 1 Tbsp of olive oil to the pan and swirl to coat. When oil is shimmering, place chicken in pan, top (rounded) side down, and cook on medium-high without moving the pieces for 4 minutes. Use tongs to flip breasts over and cook for another 4 minutes. Turn heat down to low, cover skillet with its lid and let breasts cook for 5 minutes.

Check internal temperature of chicken with a thermometer. Chicken is done when the internal temperature is at least 163º. Remove chicken from pan and transfer to a plate or platter. Lightly cover plate with foil and let chicken rest while preparing gravy.
Make the Gravy
In a small bowl, make a slurry by stirring together cold chicken broth and cornstarch until smooth. Add butter to the skillet you cooked the chicken in and set over medium-high heat. When butter has melted, whisk in the cornstarch slurry. Bring mixture to a boil, then deglaze the pan by using a wooden spoon or spatula to scrape the bottom of the pan to loosen the browned bits.

Reduce heat to medium-low and simmer gravy for 3 minutes, or until thickened. Remove pan from heat. Spoon gravy over chicken breasts before serving.
Notes
Cooked chicken breasts can be kept in an airtight container in the fridge for up to 4 days, or in the freezer for up to 3 months.
Nutrition
Serving: 1breast | Calories: 231kcal | Carbohydrates: 2g | Protein: 25g | Fat: 13g | Saturated Fat: 4g | Cholesterol: 81mg | Sodium: 781mg | Potassium: 450mg | Fiber: 1g | Sugar: 1g | Vitamin A: 123IU | Vitamin C: 1mg | Calcium: 6mg | Iron: 1mg
PIN THIS POST!
This post, first published in June 2021, was last updated with new content in April 2023.