This Popeyes-inspired Blackened Chicken Tenders recipe is easy to follow and yields juicy, flavorful chicken strips that are perfect for a quick dinner or lunch! Cajun blackened chicken has never tasted so good!
This post may contain affiliate links. As an Amazon Associate, I earn from qualifying purchases at no extra cost to you. See my disclosure policy here.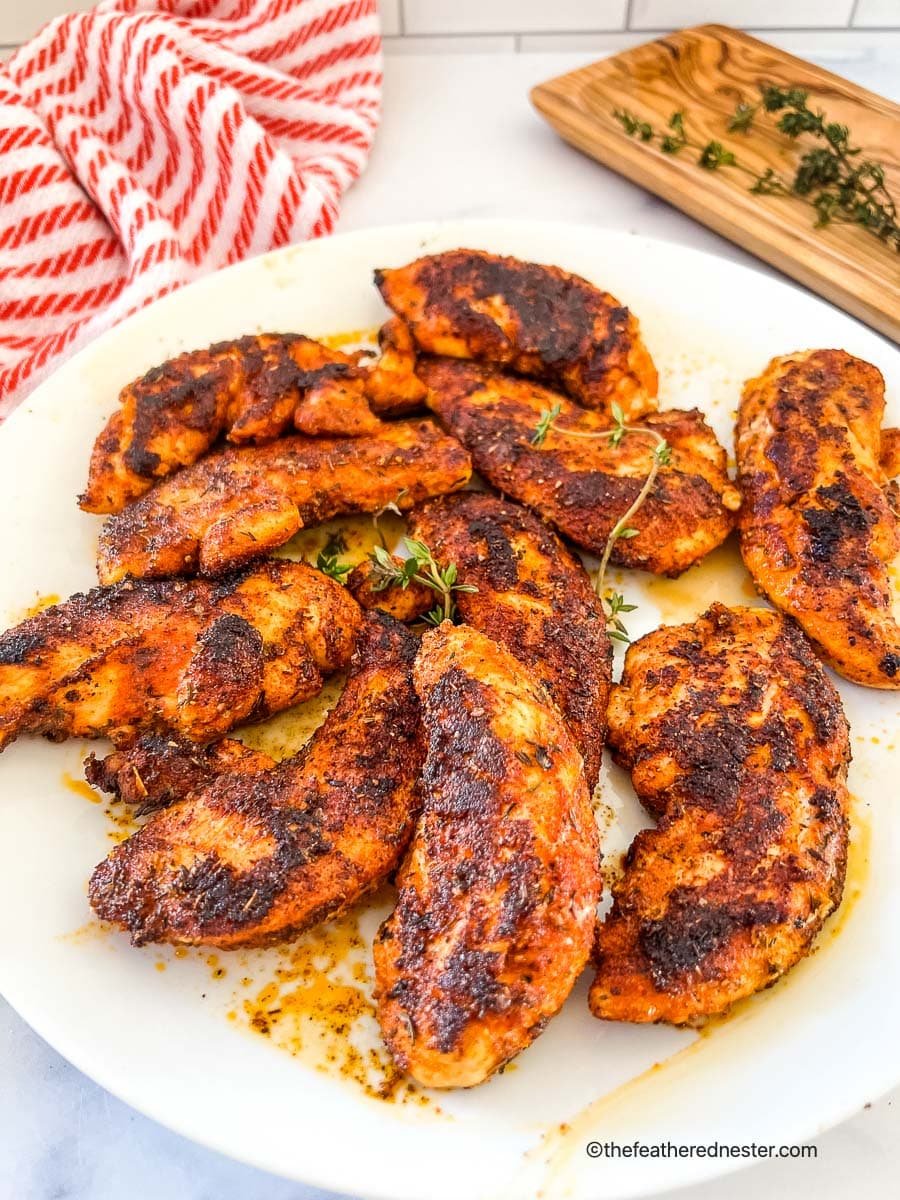 Bring some excitement to your healthy weeknight dinner routine with this blackened chicken strips recipe! Similar to the classic Popeyes menu favorite, these low carb blackened chicken tenders have bold flavors in every bite. But, are easy to make at home with simple pantry staples. Lean chicken tenderloins are quickly pan-seared with Cajun seasonings for a tasty (keto-friendly!) dish. They're ready to serve with your favorite comfort side dishes in less than 30 minutes. You'll surely love this recipe!
Easy Blackened Chicken Strips
Truly, you just can't beat chicken tenders recipes for easy and healthy meals!
Lean strips of poultry are great for jazzing up with spices. And, they are easy to prep with endless cooking methods.
Pan searing is one of my favorite ways to quickly make chicken tenderloins on a busy weeknight.
First, this chicken recipe is lightly coated with oil and spices. Then, it's cooked over medium-high heat for a few minutes on each side.
In less than 15 minutes the tenders are ready to plate! Serve them with yummy sides and dipping sauces!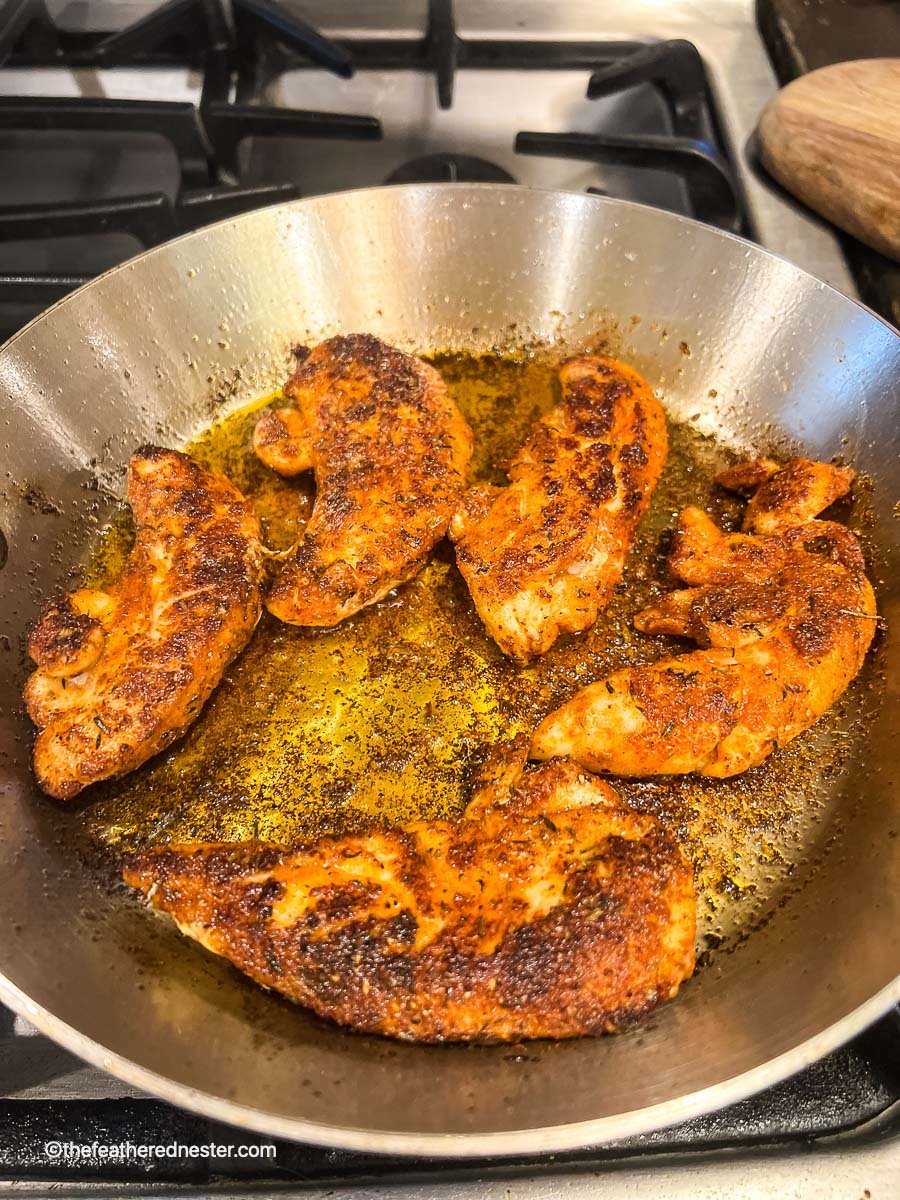 We love these Cajun blackened chicken strips for a simple dinner that is low carb but still has serious pep.
The spicy seasoning mix is like what Popeyes uses for their blackened chicken tenders. It includes a pinch of cayenne pepper for a bit of heat.
Although I wouldn't say they are necessarily child-friendly, older kids and adults who like some spiciness will love the bold taste.
If you have children you are cooking for, I suggest leaving off the cayenne for theirs and cooking them first.
And, not only are they flavorful but blackened chicken tenders are low carb, low fat, and keto-friendly! I call that a win-win.
Chicken Tenderloin vs Breast
What is the difference between chicken breasts and tenderloins?
Although they are from the same area of the bird, the breasts and tenderloin are different cuts of meat.
The chicken breasts are on top of the breastbone, while the tenderloin is a thin strip under the breast. It is in fact a muscle but does not actually get much exercise. So, the tenderloin is very, well, tender!
How To Make Chicken Tenders From Breast
Make chicken tenderloin recipes quickly and easily from whole boneless chicken breasts. If using bone-in chicken, remove the breast from the bones first.
First, take the whole boneless chicken breast and find the piece that hangs off the side and pull it from the breast. That is the tenderloin!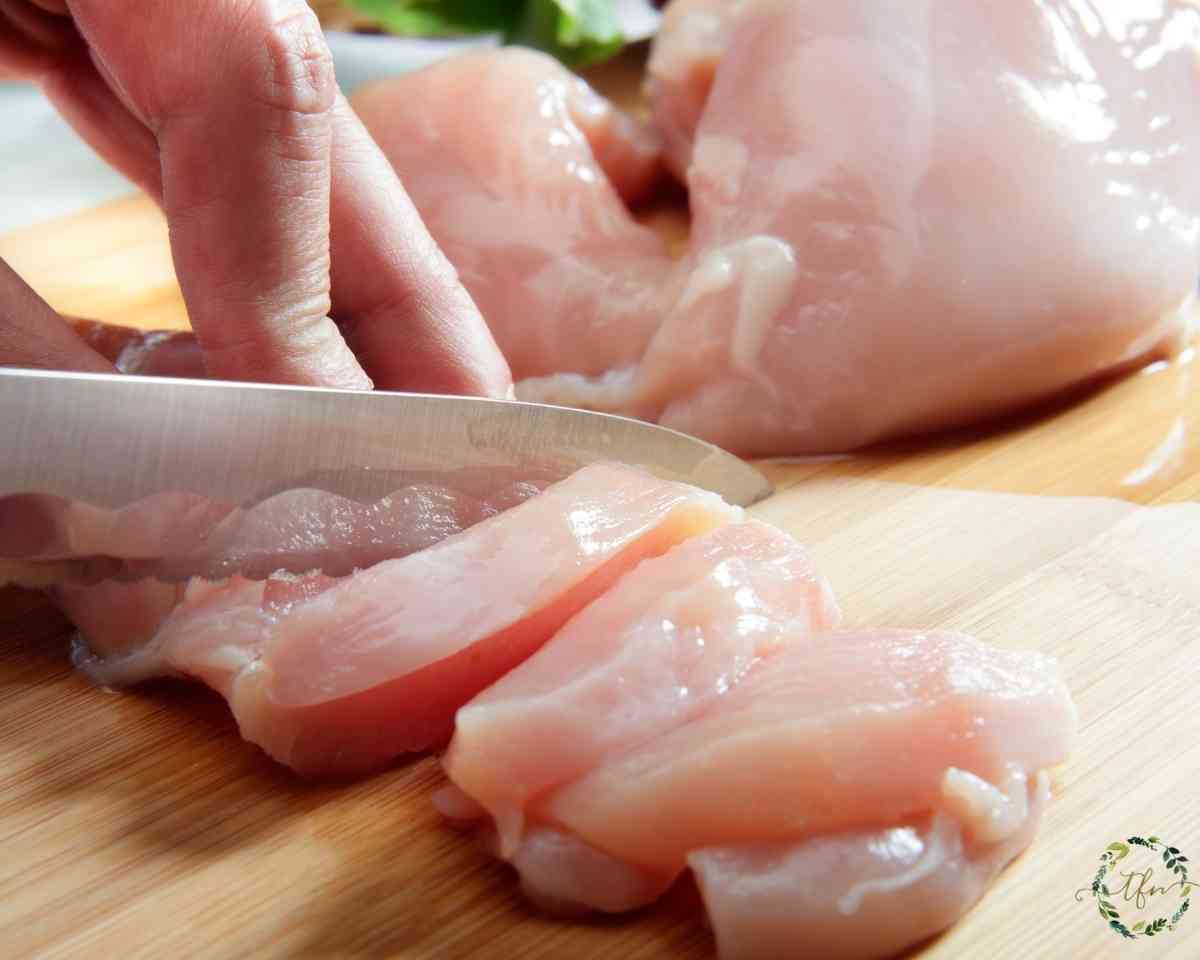 Now you can make chicken strips from the entire breast without waste.
Ingredients For Low Carb Blackened Tenders
For this low carb chicken tender recipe, you will need:
chicken tenderloins – also called chicken tenders and chicken strips. You can make them from chicken breasts (see below).

cooking oil – is used to coat the chicken strips for a lightly crispy exterior. You can also use olive oil, avocado oil, or even coconut oil.

unsalted butter – to saute the chicken. You can use salted butter, but please do not substitute it with margarine. Instead, use cooking oil in the pan.

Cajun seasoning – this is great for adding bold flavor and a hint of heat. If you don't have one, check out how to make your own Cajun seasoning below.
There's no need for another store bought pre-made packaged spice mix blend! Make your own Cajun seasoning with these spice rack staples:
Paprika
Kosher salt
Garlic powder
Ground black pepper
Onion powder
Dried oregano
Cayenne or red chile pepper
Dried thyme
Mix all of these in a small bowl and it's good to go!
Kitchen Tools Needed
How to make this Spicy Chicken Tender Recipe
Make spicy chicken tenders quick and easy with these simple steps:
Melt the butter in a skillet over medium heat until the skillet is hot and the butter is foamy and bubbly.
Mix the chicken and seasonings together while the skillet is heating. (You can also use a cast iron skillet)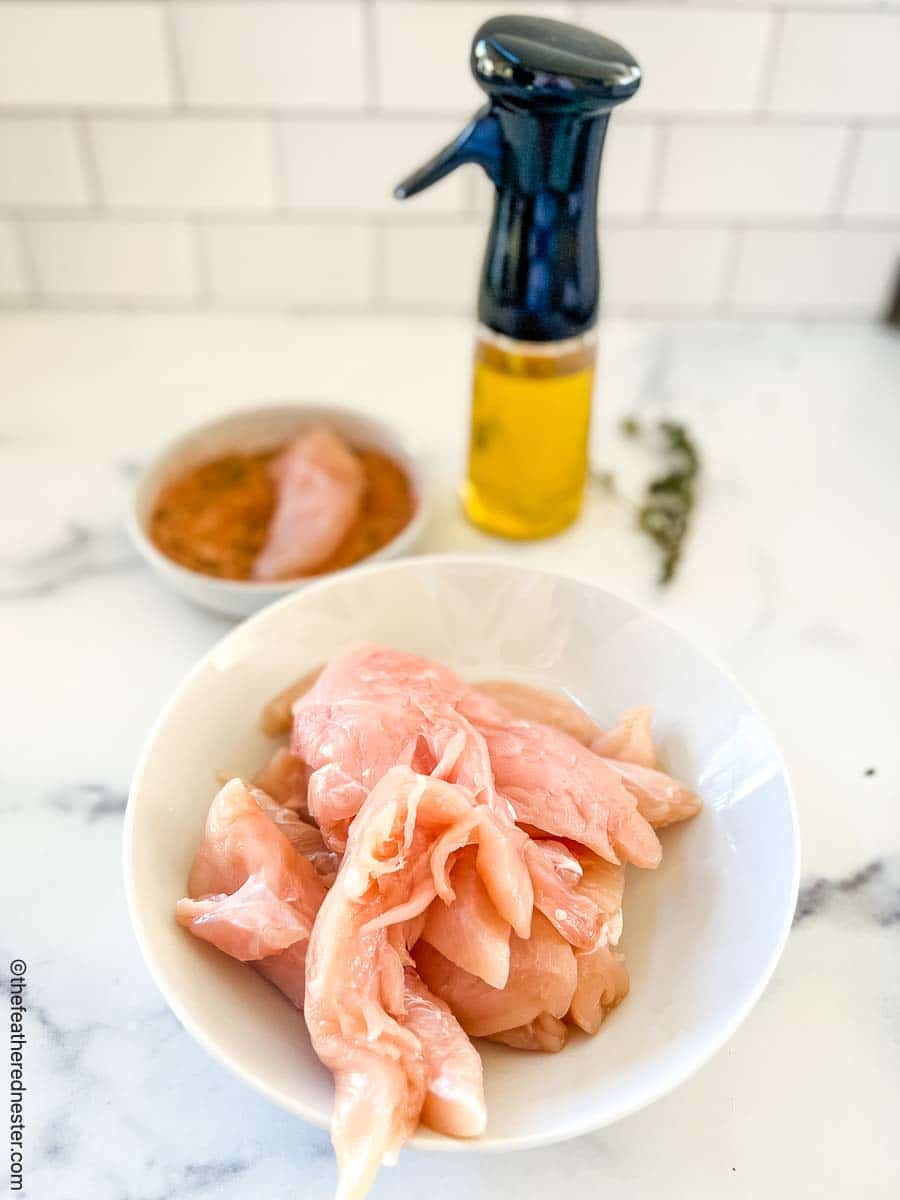 Use a basting brush to coat the chicken tenderloins with olive oil on both sides.
Then, mix together the Cajun seasoning. Generously sprinkle the blackened seasoning over both sides of the chicken tenders. Or, dip the chicken into the seasoning.
Add the chicken breast tenders to the skillet. Avoid overcrowding. If your skillet is small, cook them in two batches.
Let the chicken cook (without moving it) for 3-4 minutes. A lightly browned crust will form on the chicken.
Then, turn the chicken strips and the cooking time is another 3-4 minutes.
Check the temperature of the chicken with an instant-read thermometer. If it's 165º F, then it is ready.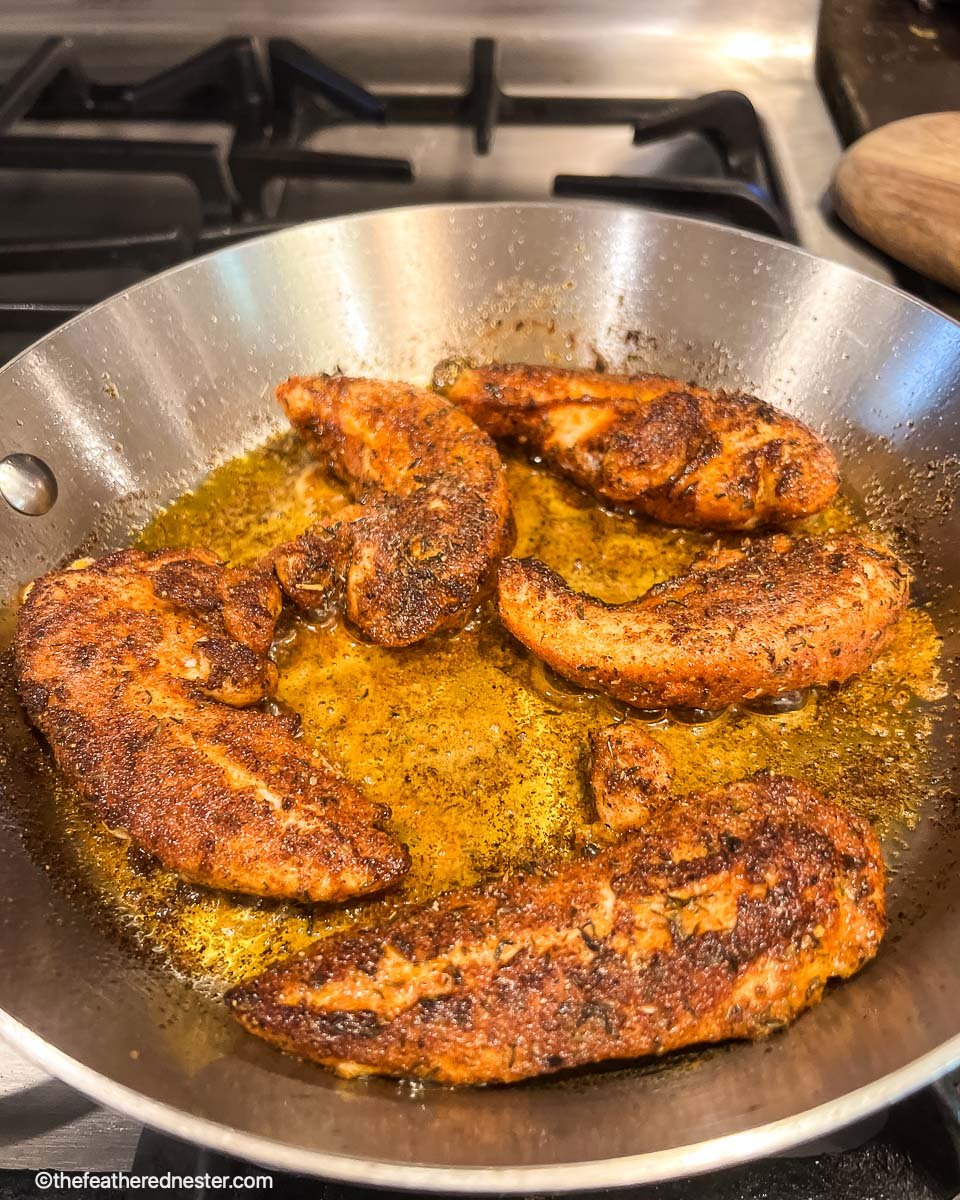 If cooking in batches, cover the cooked chicken tenderloin with foil until they are ready to serve.
Serve these delicious, crispy chicken strips with a creamy dipping sauce after you finished cooking. Think ranch dressing or blue cheese dip. For a lighter dipping sauce, try our Mango Sweet Chili Sauce.
Frequently Asked Questions
Can I make my own chicken tenders from breasts?
Yes, you can make chicken tenderloins quickly and easily from whole boneless chicken breasts. Simply slice the chicken breast from top to bottom vertically with a sharp knife into 2-inch strips. For full instructions,
see my notes above on how to turn chicken breasts into chicken tenders.
What makes blackened chicken?
This blackened chicken recipe is made with chicken breast tenderloins that are tossed in cajun style seasoning and pan fried without any breading just like Popeyes blackened chicken tenders.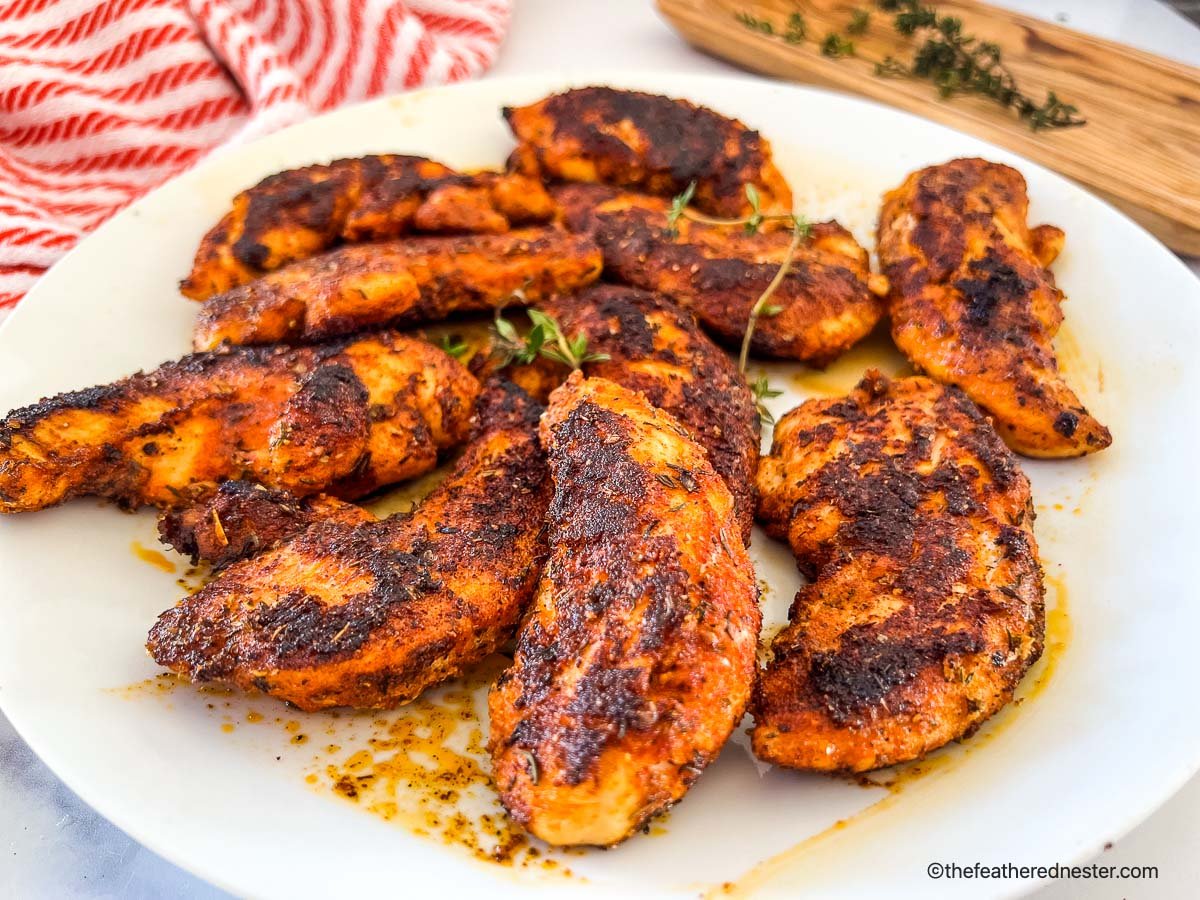 Full Cajun Blackened Chicken Tenderloins Recipe
Blackened Chicken Tenders
Bring some excitement to your dinner with this blackened chicken recipe! Cajun blackened chicken tenders have big, bold flavor in every bite – but are easy to make in under 30 minutes.
Ingredients
Chicken Tenders
1½

pounds

chicken tenders

or tenderloins *See Notes

2

tablespoons

unsalted butter
Cajun Seasoning
1

tablespoon

smoked paprika

2

teaspoons

salt

2

teaspoons

garlic powder

1

teaspoon

ground black pepper

1

teaspoon

onion powder

1

teaspoon

dried oregano

½ – 1

teaspoon

cayenne

use less seasoning for milder spiciness

1

teaspoon

dried thyme
Instructions
Place a cast iron skillet or other heavy bottomed pan over medium-high heat. Meanwhile, prepare the chicken and seasonings.

Using a basting brush, coat both sides of the chicken with melted butter. Season both sides generously with blackened seasoning. Alternatively, dip the chicken tenders into a bowl of melted butter, and then dredge through the seasonings.

When the pan is smoking hot, carefully arrange the tenders inside, avoiding over crowding them. If your skillet is less than 10-inches, you may need to cook in two batches.

Let the chicken cook without moving it, for 3 minutes, until a browned crust forms on the bottom.

Use tongs to carefully turn the chicken strips over, and continue cooking for another 3-4 minutes.

Use an instant-read cooking thermometer to read the internal temperature at the thickest portion of one of the pieces. Blackened chicken tenders are ready to remove from the pan when the internal temp is163º F.

Transfer to a serving platter and let the meat rest for 2 minutes before serving.
Notes
How to make chicken tenders from boneless skinless breasts:
Slice the breast from top to bottom with a sharp knife into 2-inch strips. If the breasts are very large, slice them in half by placing your hand flat against the top of the chicken and carefully slicing horizontally through the chicken.
Nutrition
Serving:
4
ounces
|
Calories:
236
kcal
|
Carbohydrates:
2
g
|
Protein:
25
g
|
Fat:
12
g
|
Saturated Fat:
3
g
|
Polyunsaturated Fat:
1
g
|
Monounsaturated Fat:
7
g
|
Trans Fat:
1
g
|
Cholesterol:
83
mg
|
Sodium:
942
mg
|
Potassium:
479
mg
|
Fiber:
1
g
|
Sugar:
1
g
|
Vitamin A:
878
IU
|
Vitamin C:
2
mg
|
Calcium:
23
mg
|
Iron:
1
mg