Cajun blackened chicken tenders have a big, bold flavor in every bite. This perfectly seasoned southern meal comes together using very few ingredients, and in just 15 minutes. Keep reading to learn how to blacken chicken to perfection!!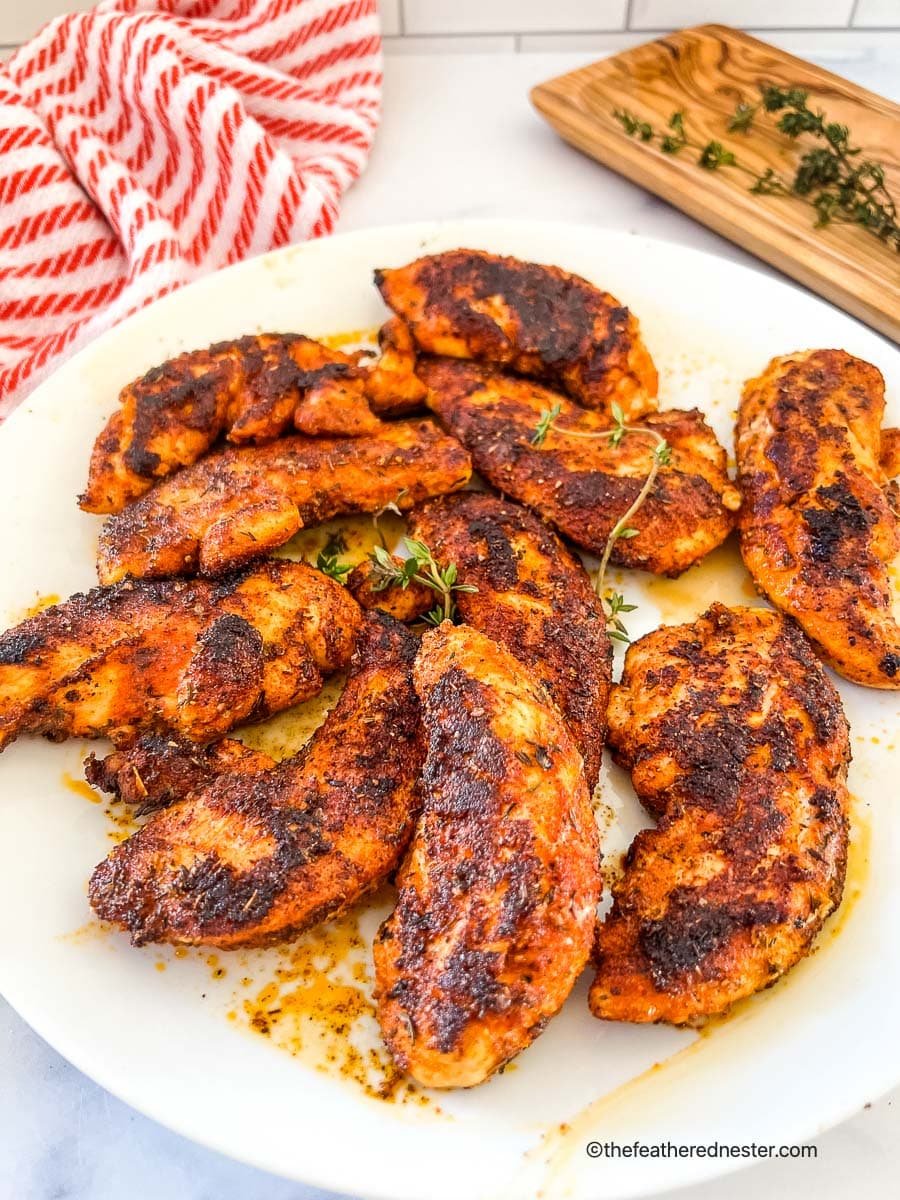 When you need a new healthy meal idea, you can't go wrong with chicken tenderloin recipes. With no skin or bones to remove, tenders, strips, and tenderloins are convenient, quick, and easy to use!
Add just a few common spices and in no time, you'll have a bold and flavorful dinner that the whole family is sure to love.
Why We Love Blackened Chicken Tenders
Flavorful and Hearty
This recipe makes a filling, flavorful, protein-rich meal.
Quick and Easy
Learning how to blacken chicken isn't difficult, and it only takes 20 minutes. This is including the prep work and cooking time!
Allergy Friendly
Not only is this meal flavorful, but our blackened chicken recipe is low carb, low fat, gluten-free, and keto-friendly! As a result, it is a great option for people on special diets or with gluten allergies or sensitivities.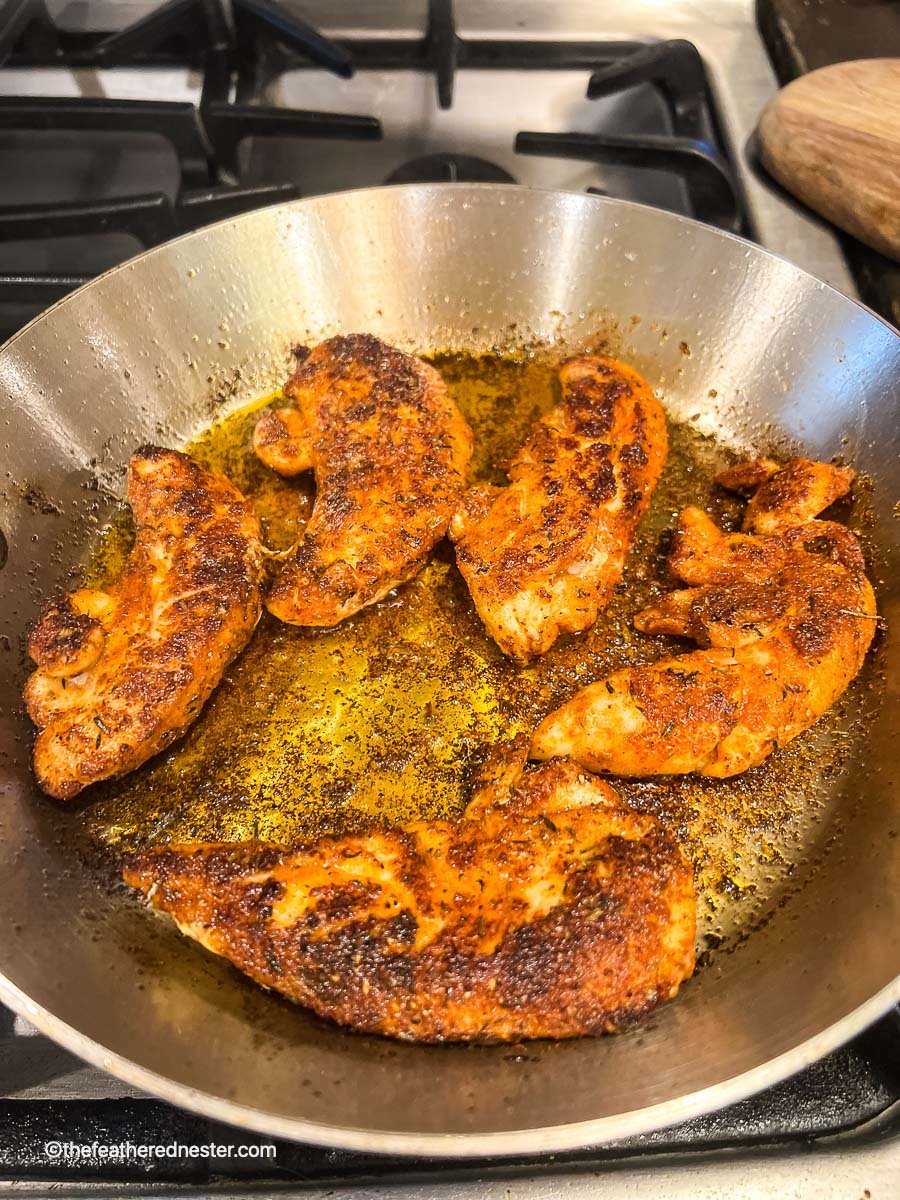 Blackened Chicken Recipe FAQ
Is blackened food just burned?
This is a common misconception; blackened food is not burned at all. Rather, blackening is a cooking process that involves using a special blend of spices (also called blackening) to season food at very high heat. It's commonly used on poultry, seafood, and even steak and fish.
Is blackened chicken spicy?
The cayenne pepper gives this Cajun chicken a nice, spicy flavor. However, you are more than welcome to omit it if you want a little less spice.
Do I need a cast iron skillet to make a blackened chicken recipe?
A cast iron skillet works best because iron retain heats better than stainless steel or aluminum. This helps cook your chicken faster and more evenly. It also helps prevent the spices from burning before the chicken is done cooking.
Ingredient Notes + Substitutions
The spicy blackening mix we use is similar to Popeye's blackened chicken seasoning. It includes a pinch of cayenne pepper for a bit of extra heat.
Boneless skinless chicken
Although there is a slight difference between chicken tenders and tenderloins, the two are similar enough that it's perfectly fine to substitute one for the other.
How To Make Chicken Tenders From Boneless Breasts
Make chicken tenderloin recipes quickly and easily from whole boneless chicken breasts. If using bone-in chicken, remove the breast from the bones first.
First, take the whole boneless chicken breast and find the piece that hangs off the side and pull it from the breast. That is the tenderloin!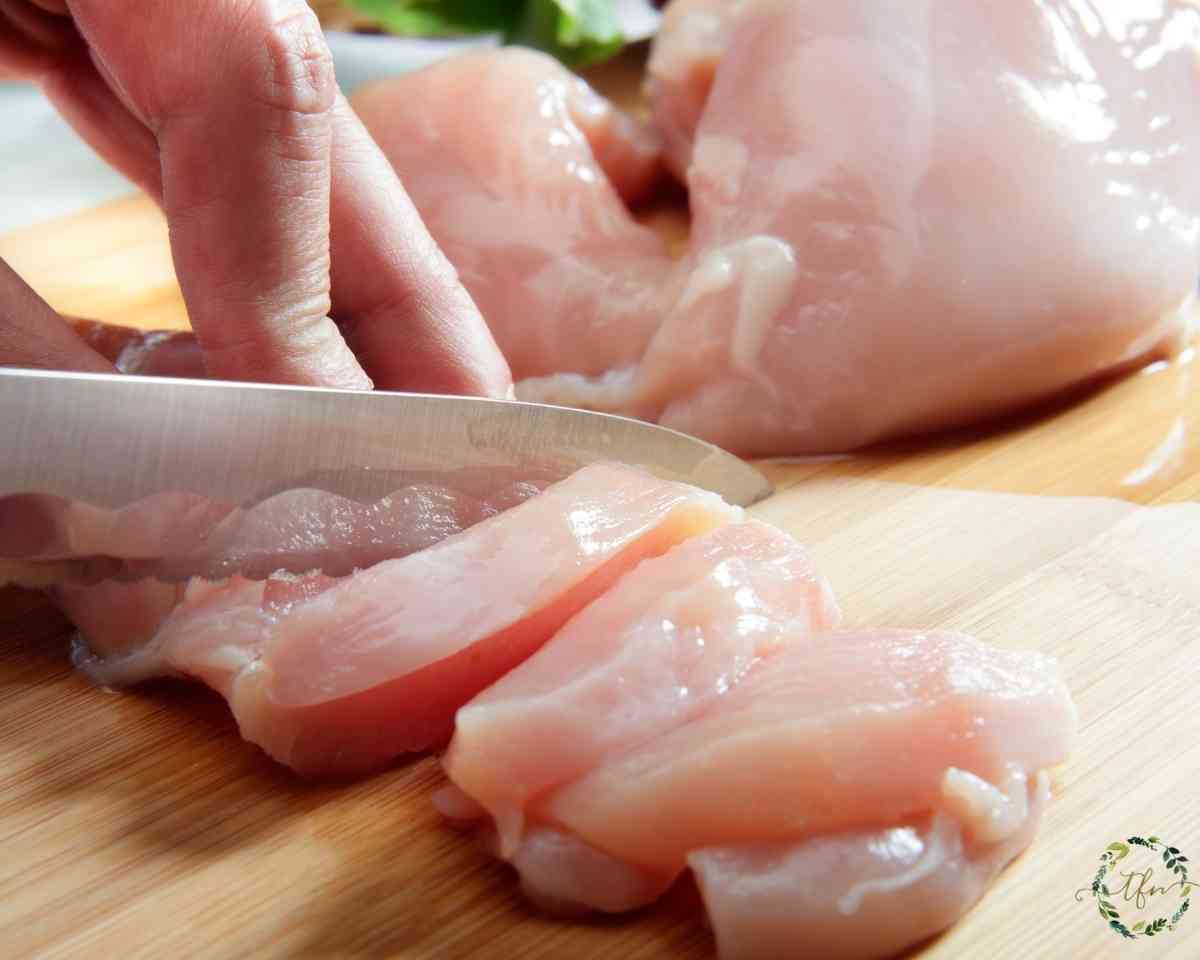 Almost every grocery store sells blackening spices, but there's no need to buy anything premade when it's so simple to make at home! (See the recipe card at the bottom of this post for the amount of each spice to use).
Paprika
Kosher salt
Garlic powder
Ground black pepper
Onion powder
Dried oregano
Cayenne or red chile pepper
Dried thyme
Measure the seasonings into a small bowl, whisk them together, and it's ready to use!
DINNERS WITH SPICE ARE NICE!

If spicy foods are your favorite, you'll go crazy for Buffalo chicken wonton cups. Or, for some Tex-Mex heat, make a walking taco casserole, or some stuffed jalapeno poppers.
How to Blacken Chicken Like a Pro
Preheat the skillet before adding any ingredients.
You need the pan to be smoking hot. This is what helps the seasonings adhere to the tenders.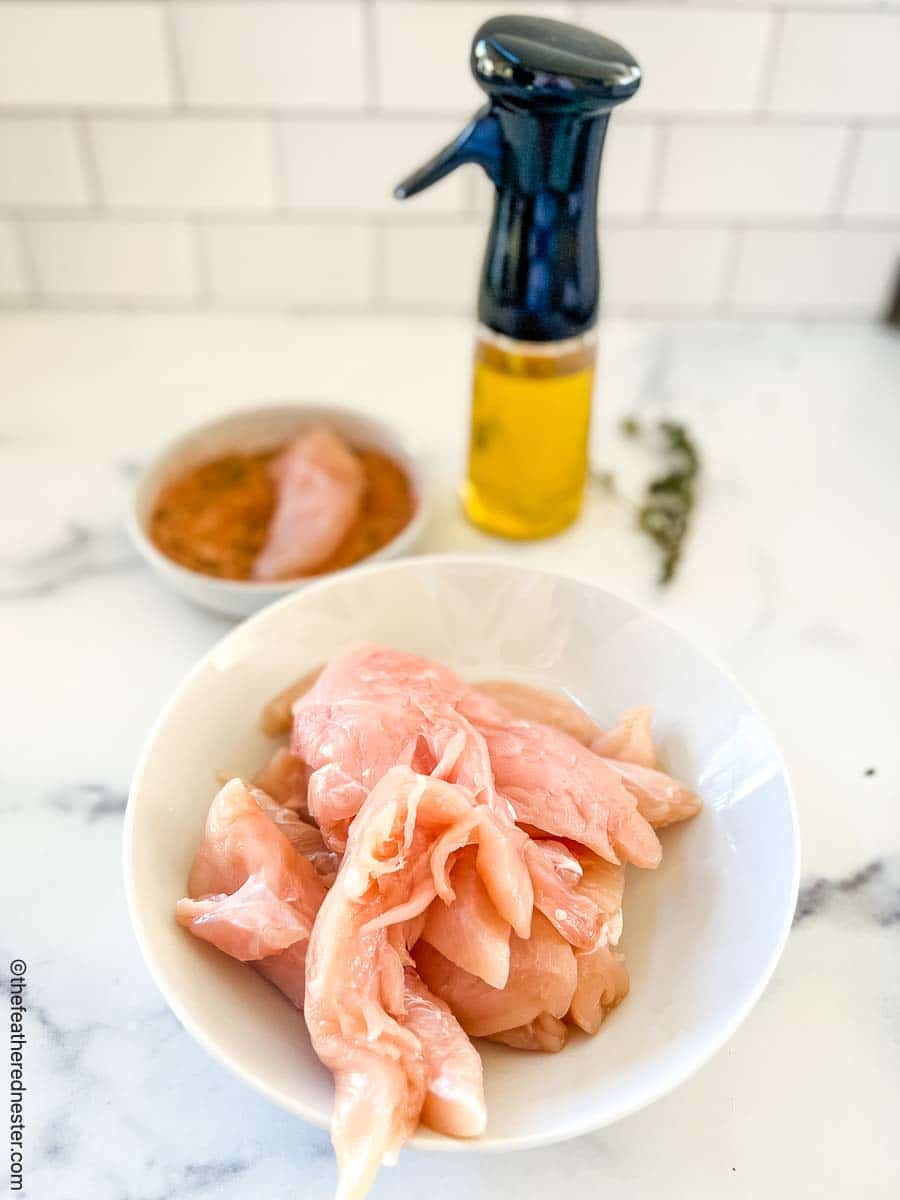 Dredge your chicken through the spice mixture for a thick, even coating.
You want to coat the chicken with as much flavor as possible.
Don't overcrowd the skillet.
Too many chicken tenders in the pan will slow down the cook time. Leave at least an inch in between each piece.
Don't move the meat around.
Let the chicken cook (without moving it) for 3-4 minutes. After the seasoning forms a crust on the poultry, the blackened chicken tenders will naturally release themselves from the pan.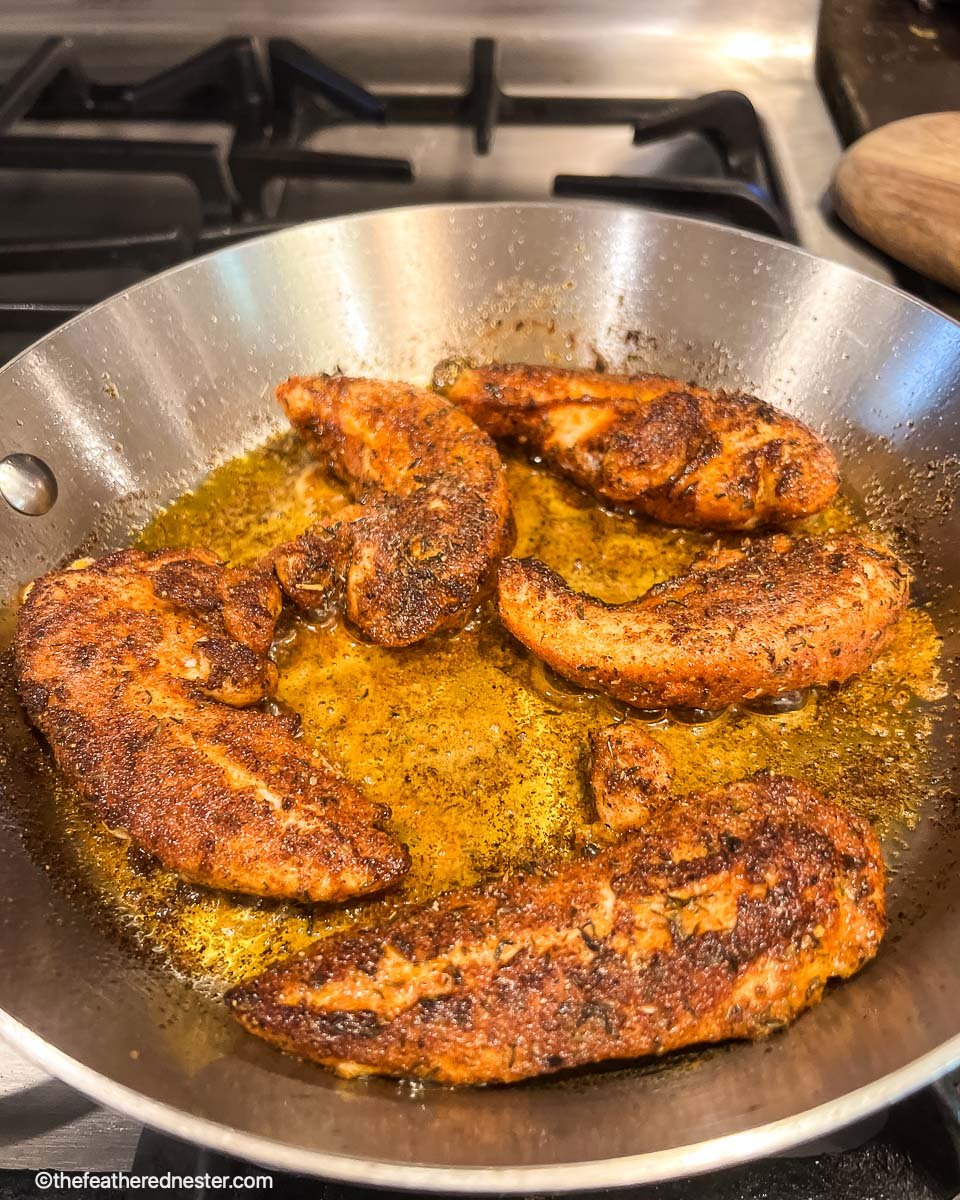 Check for doneness by taking the internal temperature of the chicken.
Use an instant-read kitchen thermometer to ensure the blackened chicken tenders are fully cooked. When the internal temp is 165º F. in the thickest portion of the meat, the chicken is safe to eat.
If you like quick dinners, you'll flip for Instant Pot chicken tenderloins.
The IP makes cleanup easy, and that's a big plus on a busy night!
Recipe Variations
Make it kid-friendly.
As-is, this meal is not very toddler-friendly. But, older kids and adults who like a little bit of spice will love the bold flavor of the blackened chicken strips.
If you'll be making this meal for younger kids, we suggest cooking their portion first, without any seasoning. Then, add the blackening spices to the remaining pieces and cook them up.
What to Serve with Blackened Chicken
Another way to mellow the spiciness of blackened food is with a creamy dipping sauce. A classic Cajun dish like this is often served with a mayo-based remoulade sauce, but they can be pretty spicy too!
Something cool and creamy like buttermilk ranch, In n Out sauce, or blue cheese dressing will help tame the heat.
For a complete New Orleans-style meal, include some cornbread and/or hush puppies, and a side of Instant Pot rice.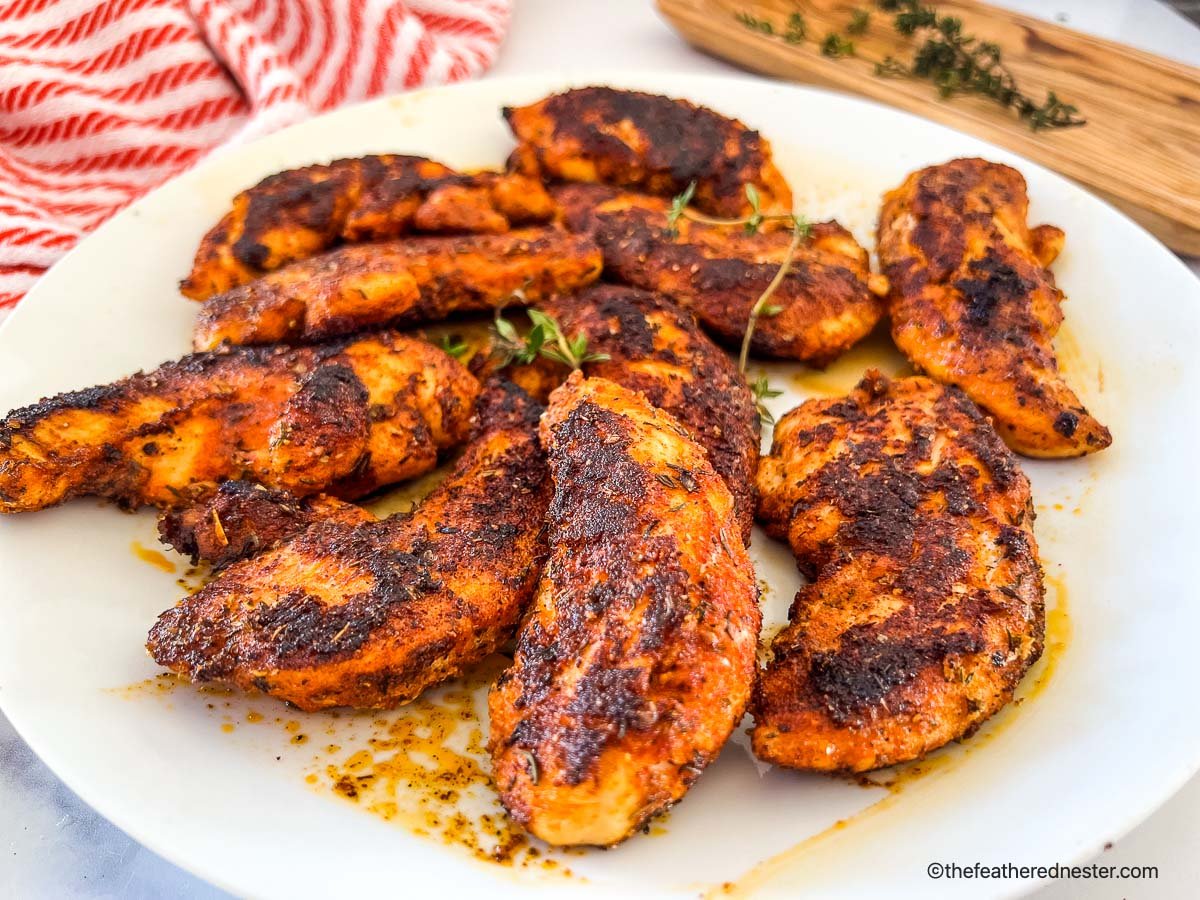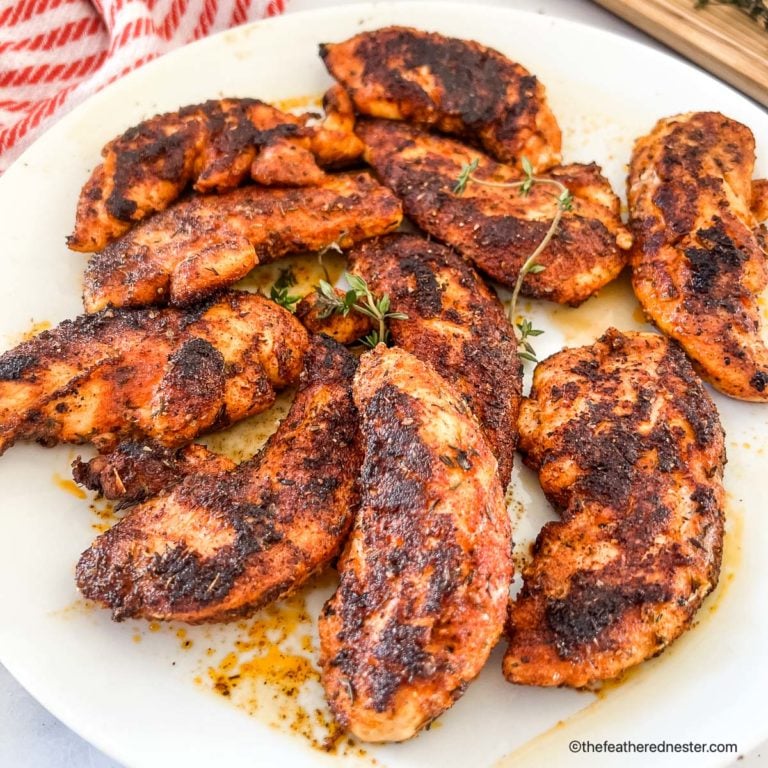 Blackened Chicken Tenders
Blackened chicken tenders have tongue-tingling Cajun flavors. Our recipe + tips explain how to blacken chicken perfectly in 15 minutes!
Ingredients
Chicken Tenders
1½ pounds chicken tenders or tenderloins *See Notes
2 tablespoons unsalted butter
Cajun Seasoning
1 tablespoon smoked paprika
2 teaspoons salt
2 teaspoons garlic powder
1 teaspoon ground black pepper
1 teaspoon onion powder
1 teaspoon dried oregano
½ – 1 teaspoon cayenne use less seasoning for milder spiciness
1 teaspoon dried thyme
Instructions
Place a cast iron skillet or other heavy bottomed pan over medium-high heat. Meanwhile, prepare the tenders with seasonings.

Using a basting brush, coat both sides of the chicken with melted butter. Season both sides generously with blackened seasoning. Alternatively, dip the chicken tenders into a bowl of melted butter, and then dredge through the seasonings.

When the pan is smoking hot, carefully arrange the tenders inside, avoiding over crowding them. If your skillet is less than 10-inches, you may need to cook in two batches.

Cook the tenders 3 minutes without moving them, until a flavorful crust forms on the bottom side. Use tongs to carefully turn the strips over, and continue cooking for another 3-4 minutes. Use an instant-read cooking thermometer to read the internal temperature at the thickest portion of one of the pieces. Remove from the pan when the internal temp is 163º F.

Transfer to a serving platter and let the meat rest for 2 minutes before serving.
Notes
How to make chicken tenders from boneless skinless breasts: Slice the breast from top to bottom with a sharp knife into 2-inch strips. If the breasts are very large, slice them in half by placing your hand flat against the top of the chicken and carefully slicing horizontally through the chicken.
Nutrition
Serving: 4ounces | Calories: 236kcal | Carbohydrates: 2g | Protein: 25g | Fat: 12g | Saturated Fat: 3g | Polyunsaturated Fat: 1g | Monounsaturated Fat: 7g | Trans Fat: 1g | Cholesterol: 83mg | Sodium: 942mg | Potassium: 479mg | Fiber: 1g | Sugar: 1g | Vitamin A: 878IU | Vitamin C: 2mg | Calcium: 23mg | Iron: 1mg
PIN THIS POST!
This post, first published in Jan. 2022, was updated with new content in March 2023.