Because it's an affordable and versatile protein, knowing how to cut a chicken breast for multiple dishes will save you money and time with your menu planning and meal prep! Just follow the simple steps below. After a little practice with a sharp knife, you'll be cutting chicken breast into cutlets, strips, diced pieces, and cubes!
Benefits of Learning How to Cut a Chicken Breast
Save time in the kitchen.
It'll become second nature to grab your knife and know exactly how to chop, slice, and dice the poultry for your go-to chicken recipes.
You'll have the right cut for each dish.
With a little practice, you'll instantly know how to cut a chicken breast into the right cut for soups, salads, stir-fries — whatever's on your menu for the day.
It makes meal planning a breeze.
Raw chicken can last up to a year in the freezer, so prep a whole bunch to thaw as needed later on!
Supplies to Gather Before You Start
Cutting board
Kitchen towel – Laying a damp towel beneath your cutting board will keep it from slipping as you slice.
Sharp kitchen knives – Using a sharp knife (either a chef's or filet knife is best) is the best way to prevent kitchen injuries. You won't need to apply extra pressure like you might with a dull blade, avoiding unnecessary slips and struggles.
Plastic wrap – This is a helpful item to have if you're going to be tenderizing/pounding with a meat mallet. When you're learning how to filet or dice chicken breast, this item is a must!
Scrap bowl – A secondary bowl to throw the trimmed fat into is important for preventing contamination throughout your kitchen. It's definitely better than constantly going back and forth from the prep area to the trash can.
Storage container w/ lids or food storage bags– Always necessary for properly storing your meal prep, and also helpful when a recipe calls for using a chicken marinade.
And of course, the most important thing… chicken breasts!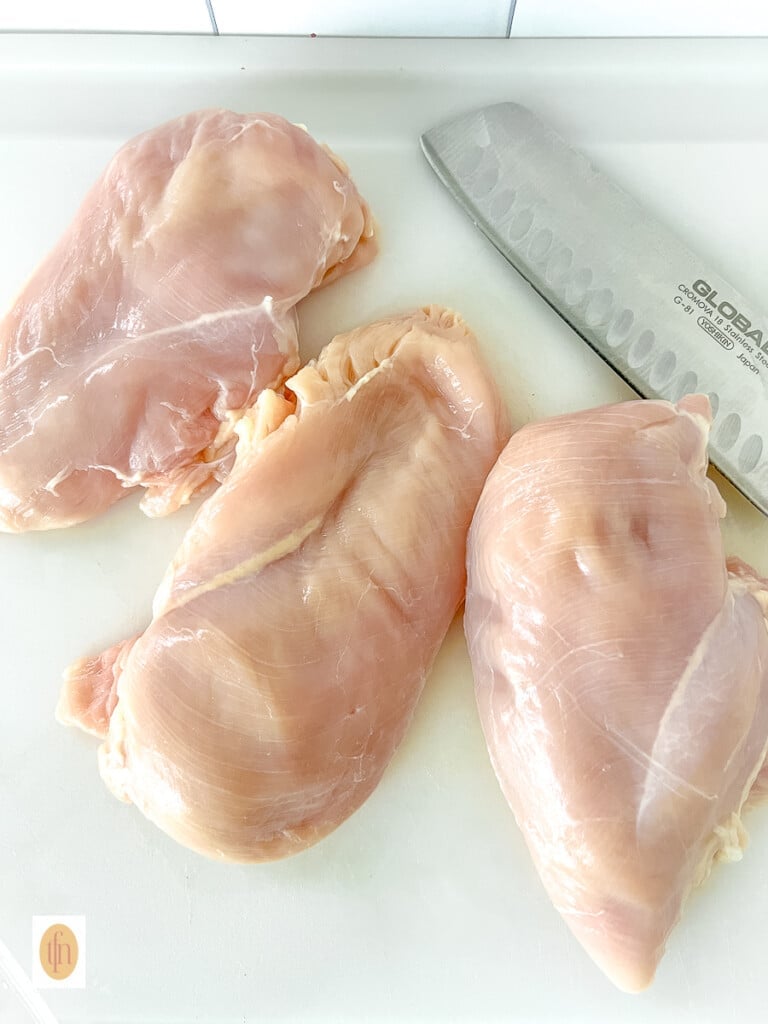 How to Cut a Chicken Breast FAQ
Do you cut a chicken breast with or against the grain?
Good question! The way you slice a raw chicken breast actually has a big impact on the overall texture of the meat. You always want to cut against the grain.

Identify the grain of the chicken breast by looking at the muscle fibers. These fibers are little lines running through the meat. Simply hold your knife perpendicular to these lines and cut against them.
Is it okay to cut chicken when it's frozen?
Yes! In fact, sometimes it's actually the best method. Cutting boneless chicken while it's frozen is perfect for making evenly sized pieces and very thin slices. In general, cutting frozen or partially frozen meat requires a lot less effort than when it's a solid block.
How to Cut Chicken Breast into Strips (Tenders)
Making tenders is very simple! Just cut through each breast vertically (from the top to the bottom).
Technically, tenders can be as thick as you want them. To make them toddler-friendly, we recommend that you cut chicken breast into strips about 1 inch thick.
Because one end of the breast is thicker than the other, one end of your chicken breast strips will be a little bit thinner. Trim a little of the thinner end piece off, if possible, so you end up with tenders of the same size and thickness. This ensures that they will cook evenly.
TFN Pro Tip:
Hang on to those thin pieces – you can toss them into a salad or cook them up and dip them into shawarma sauce.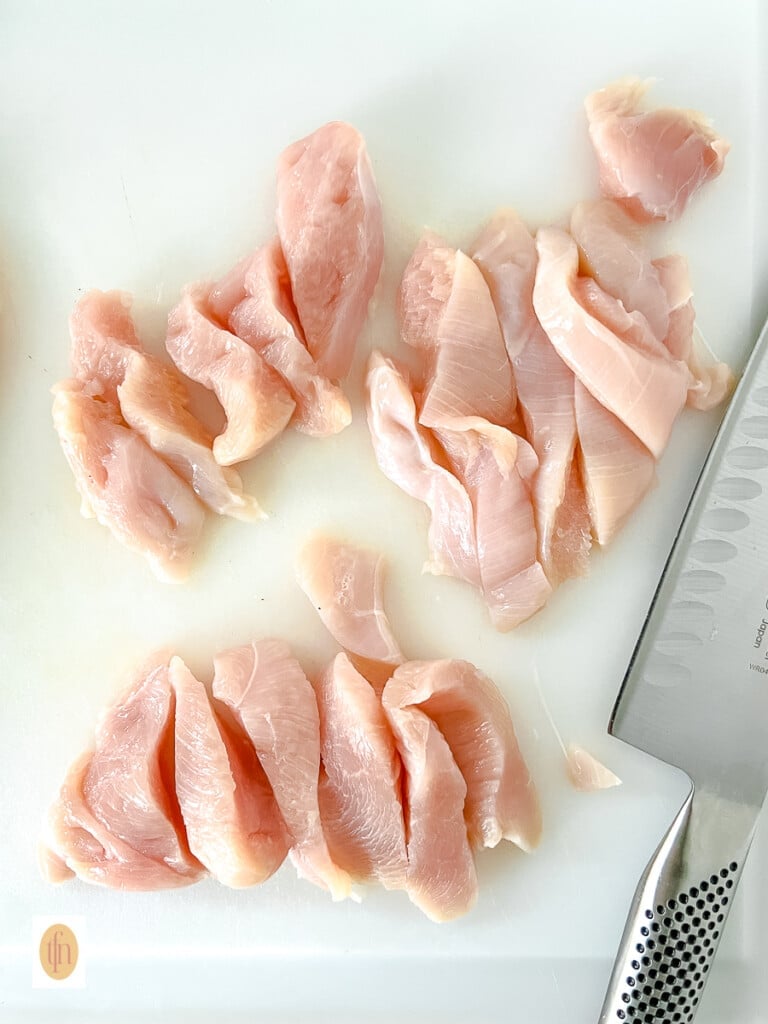 After you cut chicken breast into strips or tenders, you can cook them in a lot of different ways! From baked chicken tenders to panko crusted chicken, or even a delicious sheet pan meal.
Strips are also fantastic for pan frying and grilling.
How to Cut Chicken Breast into Cutlets (Filets)
To cut chicken breast into cutlets, you are basically cutting it into two, thinner pieces. This is a fantastic method for recipes where you want chicken extra crispy and crunchy, or when you want to cook it as quickly as possible.
Our chicken piccata Cheesecake Factory copycat recipe is a great example. The thin cutlets soak up flavors well and cook in about 20 minutes!
To cut chicken breast into cutlets: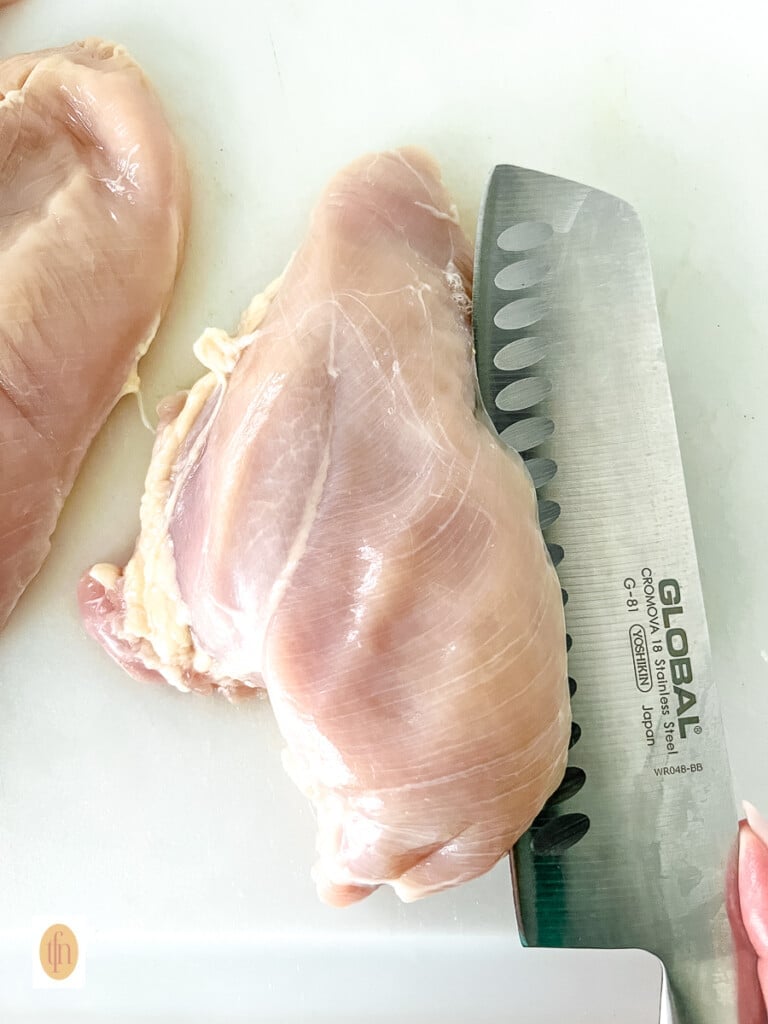 Set the boneless, skinless piece on a cutting board.
Next, place the knife horizontally against the center of the breast, as shown in the photo above.
Keeping your non-cutting hand on top of the breast to hold it steady, slowly and carefully slice horizontally through the meat until you're left with two thin cutlets.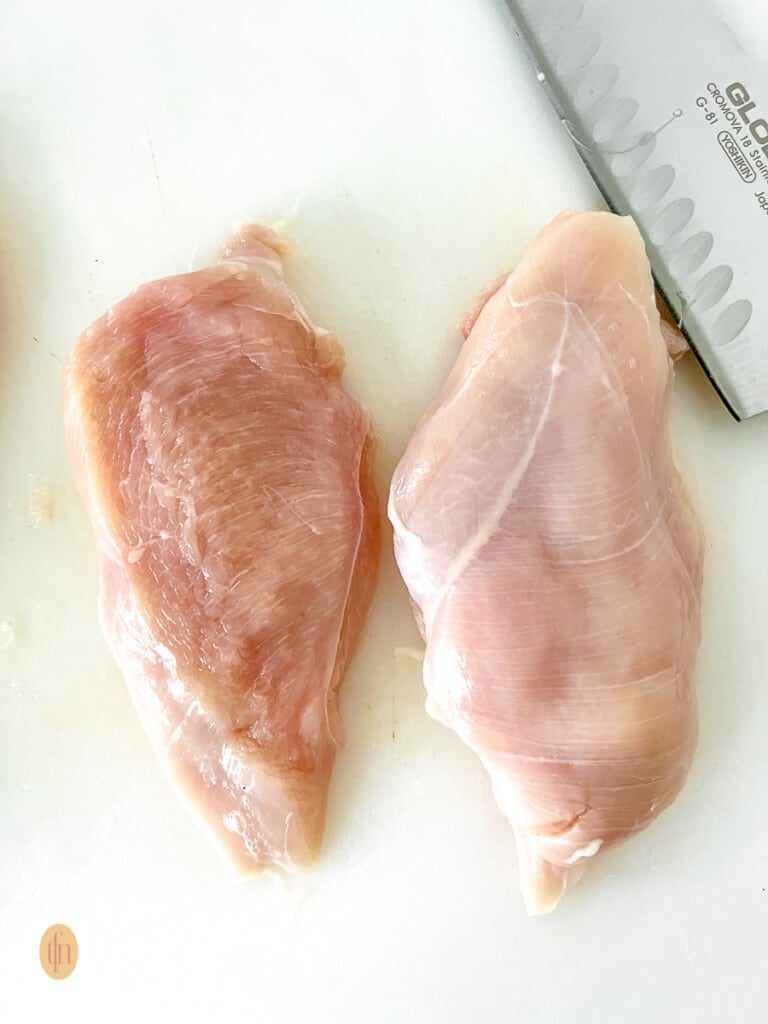 Chicken cutlets are perfect for making German schnitzel, or to coat in breading and pan fry for chicken sandwiches and sliders.
Did you know?
While making cutlets, if you stop cutting the chicken breast just before your knife reaches the other side, you'll have a butterfly cut!

Like cutlets, butterflied meat cooks very quickly, and you can use it to make roll ups or stuffed dishes like Ruth Chris stuffed chicken or air fryer chicken cordon bleu.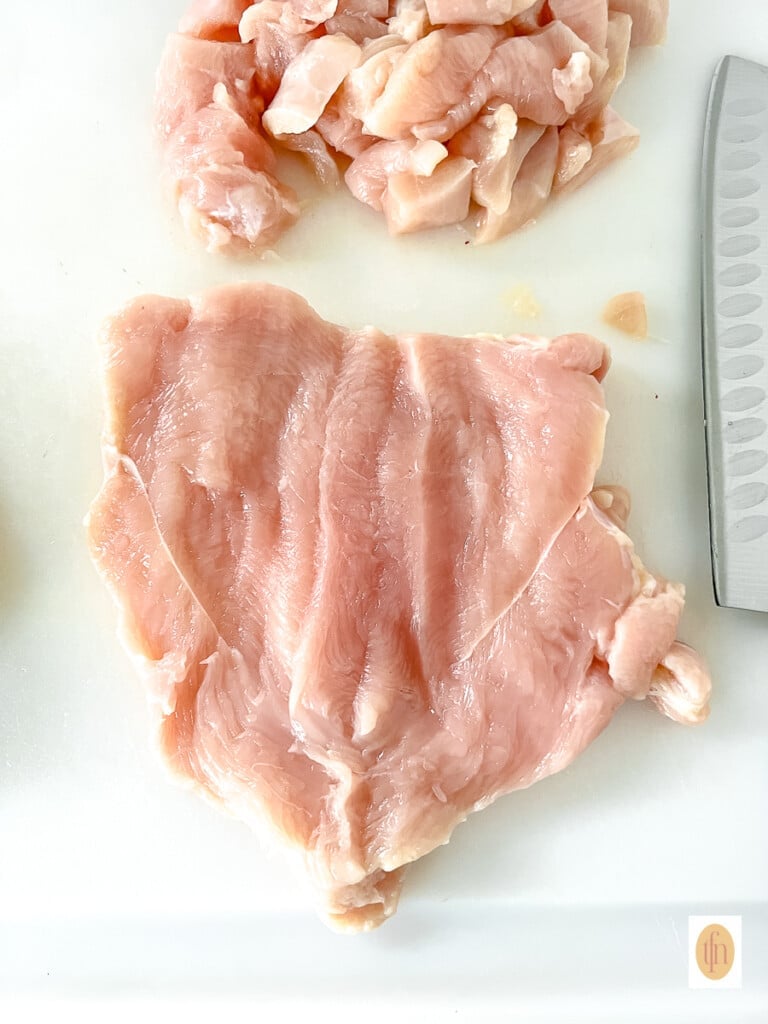 How to Cube Chicken Breast
First, make strips, as described above. Slice through the breast so that each strip is roughly 1 to 2 inches long.
Turn the strips so the long side is facing you. Now, cut each strip into pieces, roughly 1 to 2 inches each.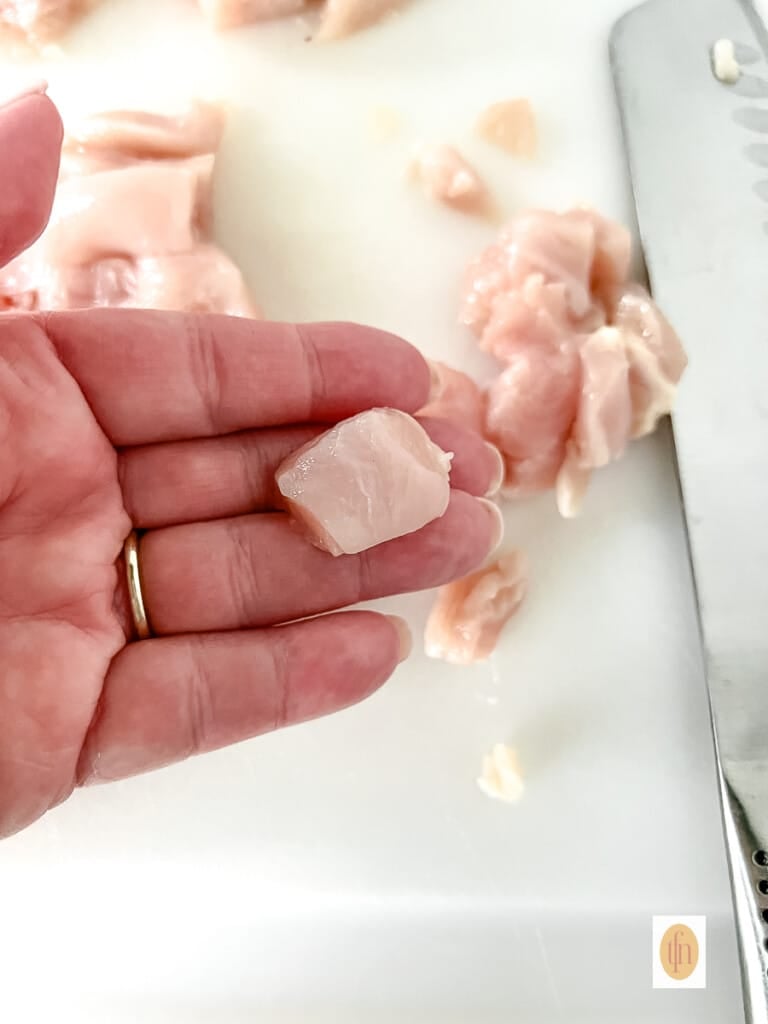 Once you know how to cube chicken breast, you can add them to skewers or kabobs, or make a stir fry. You can also cube chicken breast to make our chicken tater tot casserole or Chick Fil A grilled nuggets!
Note: Making chicken cubes is not the same as to dice chicken breast. As you'll see below, dices are quite a bit smaller in size.
How to Dice Chicken Breast
Typically, dices are only 1/2 inch square – they're pretty tiny! If that size is too small for what you're making, diced pieces can be as large as 3/4 of an inch square.
To make diced pieces, you need to start by cutting the breast into cutlets. This is because dices are thinner than the average chicken breast.
Next, slice each cutlet into very thin strips vertically (top to bottom). Ideally, each strip should be 1/2 to 3/4 inches wide.
Now, place your hand over the strips and turn the entire group of them one quarter turn (45 degrees) to the right.
Finish up by making 1/2 inch cuts horizontally through all of the strips at one time. Now you should have perfectly diced chicken breast!
After dicing chicken breast, you can use it to make chicken salad sandwiches, chicken fried rice, or a pot pie. Those tiny pieces are also great in dips, and appetizers like egg rolls or buffalo chicken wonton cups.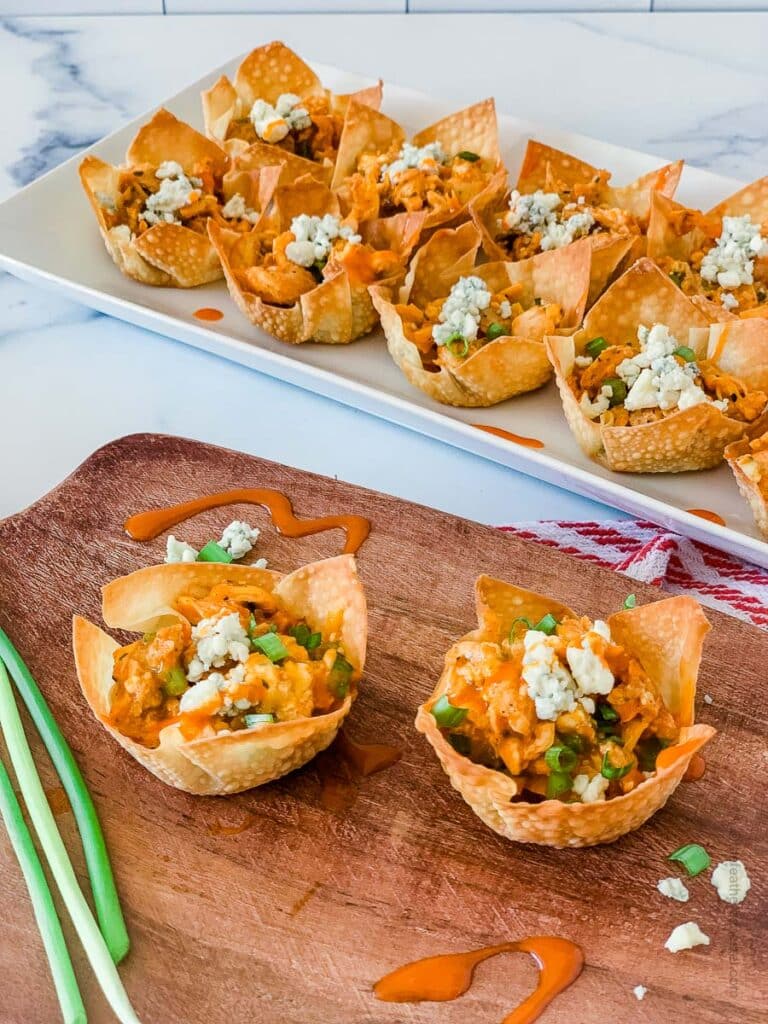 Renae Recommends These Supplies