A bit of citrus and a touch of heat is what makes this panko crusted chicken so irresistible! It has the perfect balance of flavors. You won't believe how juicy and tender lemon pepper chicken breast is, and just wait until you hear the crunch of the panko breading. You and your family are going to love this yummy and easy 30 minute meal!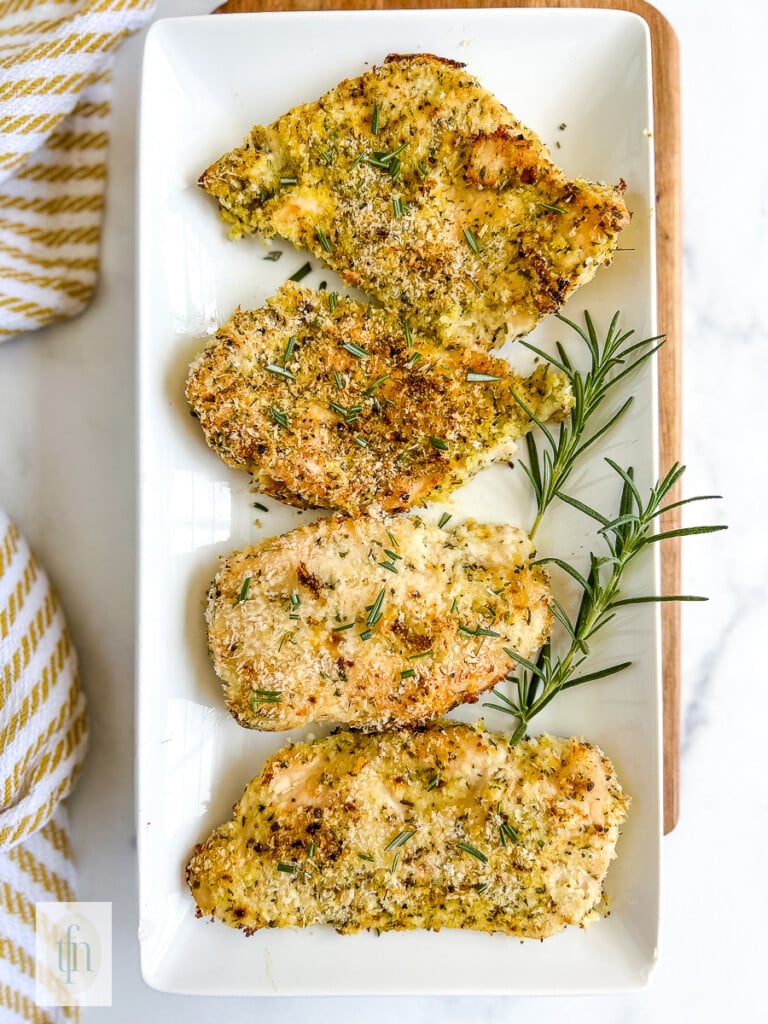 Why We Love Panko Crusted Chicken
A healthy baked chicken recipe.
We use lean white meat, and even though it includes breading, the dish is oven baked, not deep fried. This means it isn't bogged down by excess oils that sit heavy in your stomach.
Quick and easy to prepare.
Chicken breasts are relatively inexpensive, and all of the seasonings can be found year-round in almost any store. One of our specialties is making delicious entrees easy and accessible.
You can bake it in the oven or the air fryer. Versatility is the name of the game with this lemon pepper chicken recipe!
If you enjoy quick and easy chicken dinners, be sure to check out our super simple recipe for Bisquick chicken pot pie! There's no pie crust to mess with, because this classic is topped with biscuit dough!
Ingredient Notes and Substitutions
Chicken Breasts – To help the meal cook more quickly, you'll be cutting each breast in half horizontally. This creates what is essentially chicken cutlets. Feel free to use those if you'd like.
Italian Seasoned Panko – You can also toss unseasoned bread crumbs with Italian seasoning to get the same result. (If you're looking for an oven baked chicken recipe without breading, try our Italian chicken tenders.)
Lemon Pepper Seasoning – A pre-mixed blend of dried lemon zest, salt, and pepper. This is another seasoning you can make from scratch with some fresh lemons — and we do have fresh lemon juice in this recipe, so you'll already have them on hand!
Variations of Lemon Pepper Chicken Breast
Chicken breasts are our favorite for panko breaded chicken because they're easy to coat and cook well, but you can really use any cut of boneless skinless meat. You could even use tenders (though we recommend one of our tender-specific recipes if that's the cut you want to use).
As for the seasonings, there are some other things you can add to the breading:
Parmesan cheese is really easy to add to the bread crumbs and it doesn't melt when it bakes.
A bit of paprika, cayenne, or even chili powder will add a tiny kick of spice to your panko crusted chicken than the black pepper on its own.
A secret ingredient you can use (that is hotly debated!) is mayo. Use it to coat the chicken along with the oil and lemon juice — or in place of it. The bread crumbs stick to it well, and it helps to keep the chicken moist and flavorful. To keep the meal healthier, use fat-free mayo.
Looking for other healthy baked chicken dinner ideas?

Some of our most popular chicken recipes are also the healthiest! Family favorites include oven baked marinated chicken tenders and our Chicken Piccata Cheesecake Factory Copycat.
Tips for the Best Panko Breaded Chicken
Use a meat mallet or rolling pin to flatten the breasts.
A mallet is faster and easier, but a rolling pin will also do the trick. Even an empty wine bottle or bottom of a heavy skillet or saucepan will work.

The idea is to get the chicken breasts to an even thickness so that they cook faster as well as cook evenly.
Use your fingers to help the bread crumbs stick.
To prevent the breading from falling off the, use your fingers to press the crumbs into the breasts.
Keep the pieces in a single layer on the pan.
Overlapping the cuts is a surefire way to end up with undercooked chicken. Whether oven baking or air frying, you want to be sure all surfaces of the panko crusted chicken cook at the same rate.
Don't cook it all the way through!
We're going a little against our normal method here – shoot for an internal temperature of 163°F., not 165°F. This is because baked chicken continues to cook as it rests after coming out of the oven.

By doing this, the panko breaded chicken will be perfectly moist and juicy, more so than if you cook it completely before letting it rest.
DID YOU KNOW?

The term 'carryover cooking' describes the process where food continues to cook after it has been removed from its heat source.
An instant-read digital cooking thermometer is required to perform the carryover cooking method.
Panko Crusted Chicken FAQ
How do you get panko to stick to chicken?
Using oil helps to create well-coated panko crusted chicken. The technique is also important – press gently and wiggle the piece as you press it down into the breadcrumbs.

Generally, it's easier to get a thick coating of crumbs using the press method rather than shaking them in a Ziploc bag.

What is panko breading?
Steamed bread is used to create this Japanese-style of breadcrumb. The pieces are bigger and flakier than traditional breading. Panko is the key to creating extra crispy baked lemon pepper chicken breasts!
Storing and Reheating
Keep leftover panko breaded chicken breasts in the refrigerator for up to 4 days.
To reheat in the oven, lay the pieces on a baking sheet and reheat at 350°F. until warmed through – 5 or 10 minutes. You can broil for the last few minutes to really regain the crunch!
To reheat in the air fryer, set to 350°F. and reheat for 3 to 5 minutes. This is definitely the best reheating method for very crispy leftovers!
To Make Lemon Pepper Panko Crusted Chicken, Renae Recommends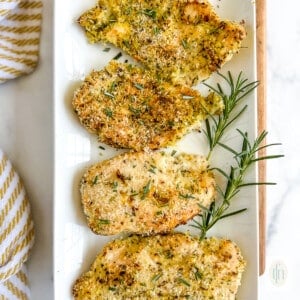 Lemon Pepper Panko Crusted Chicken
Lemon Pepper Panko Crusted Chicken is a 30-minute recipe for healthy baked chicken breast. Don't wait to make this delicious, easy dinner!
Equipment
9×13-inch baking dish - or rimmed sheet pan

basting brush

gallon size Ziploc bag - pie plates, or dipping trays

air fryer - (if air frying)
Ingredients
1½ pounds boneless skinless chicken breasts (6 breasts, 4 ounces each) or cutlets *See Notes
2 tablespoons avocado oil olive oil, or melted butter
¼ cup lemon juice (approx. 1 large or two small lemons)
½ cup Italian seasoned panko (Japanese bread crumbs) or gluten free panko
1 tablespoon lemon pepper seasoning
1 teaspoon garlic powder
½ teaspoon fine ground sea salt
¼ teaspoon ground black pepper
Optional Garnish
1 lemon cut into slices
¼ cup chopped flat leaf parsley
Instructions
Preheat oven to 375ºF. Prepare a shallow 9×13-inch baking dish or rimmed sheet pan by lining with aluminum foil. Grease foil with nonstick cooking spray or oil. Set aside.

Place the chicken breasts between sheets of wax paper or plastic wrap.Using the flat side of a meat mallet or a rolling pin, gently pound the breasts to create an even thickness (This will help them to cook evenly). Remove the top piece of plastic wrap. Then, use a basting brush to apply oil/lemon juice mixture to both sides of all chicken pieces.

Stir to combine panko and the seasonings together in a gallon size Ziploc bag, breading tray, or pie plate.If using zip top bag, place one breast into the bag, seal to close, then shake bag to coat. Remove the coated breast from bag and transfer to the prepared baking dish before coating the next one.Otherwise, place one breast at a time into the panko seasoning mixture in pie plate or dipping tray. Press down gently to help the coating to stick; Be sure to coat both sides with panko.Arrange panko crusted chicken breasts in a single layer in the baking dish.
Oven Baking Instructions
Place dish of chicken breasts in preheated oven. Bake for 12 minutes, then use a spatula to flip the breasts over in the pan. Continue baking until exterior is crispy and golden brown.Use an instant-read digital thermometer to check the internal temperature of the poultry. When the internal temperature reaches 163Fº, remove chicken from oven.

Let chicken rest in pan for 5 minutes. If desired, garnish each piece with a slice of lemon and fresh chopped parsley before serving.
Air Fryer Instructions
Preheat/set air fryer to 350ºF.

Add the panko coated chicken to the air fryer basket. Air fry for 18-20 minutes, until golden and crisp. Use an instant-read digital thermometer to check the internal temperature of the poultry. When the internal temperature reaches 163Fº, remove chicken from air fryer.

Let chicken rest on serving platter for 5 minutes. If desired, garnish each piece with a slice of lemon and fresh chopped parsley before serving.
Notes
If your chicken breasts are on the large side, cut them in half to create two thinner pieces. You could also use chicken cutlets for this recipe.
To store leftovers: Place cooled pieces inside an airtight container with a lid and keep them in the fridge for up to 3-4 days.
To freeze panko crusted chicken, seal in an airtight bag or storage container and keep in the freezer for up to 3 months.
*Nutritional facts are based on using avocado oil, not melted butter
Nutrition
Serving: 4ounces | Calories: 203kcal | Carbohydrates: 7g | Protein: 25g | Fat: 8g | Saturated Fat: 1g | Polyunsaturated Fat: 1g | Monounsaturated Fat: 4g | Trans Fat: 0.01g | Cholesterol: 73mg | Sodium: 364mg | Potassium: 499mg | Fiber: 1g | Sugar: 1g | Vitamin A: 255IU | Vitamin C: 18mg | Calcium: 29mg | Iron: 1mg
PIN THIS POST!