Savory and oh-so-satisfying, this recipe for Bisquick Chicken Pot Pie Casserole is the perfect combination of flaky crust, tender chicken, and creamy filling.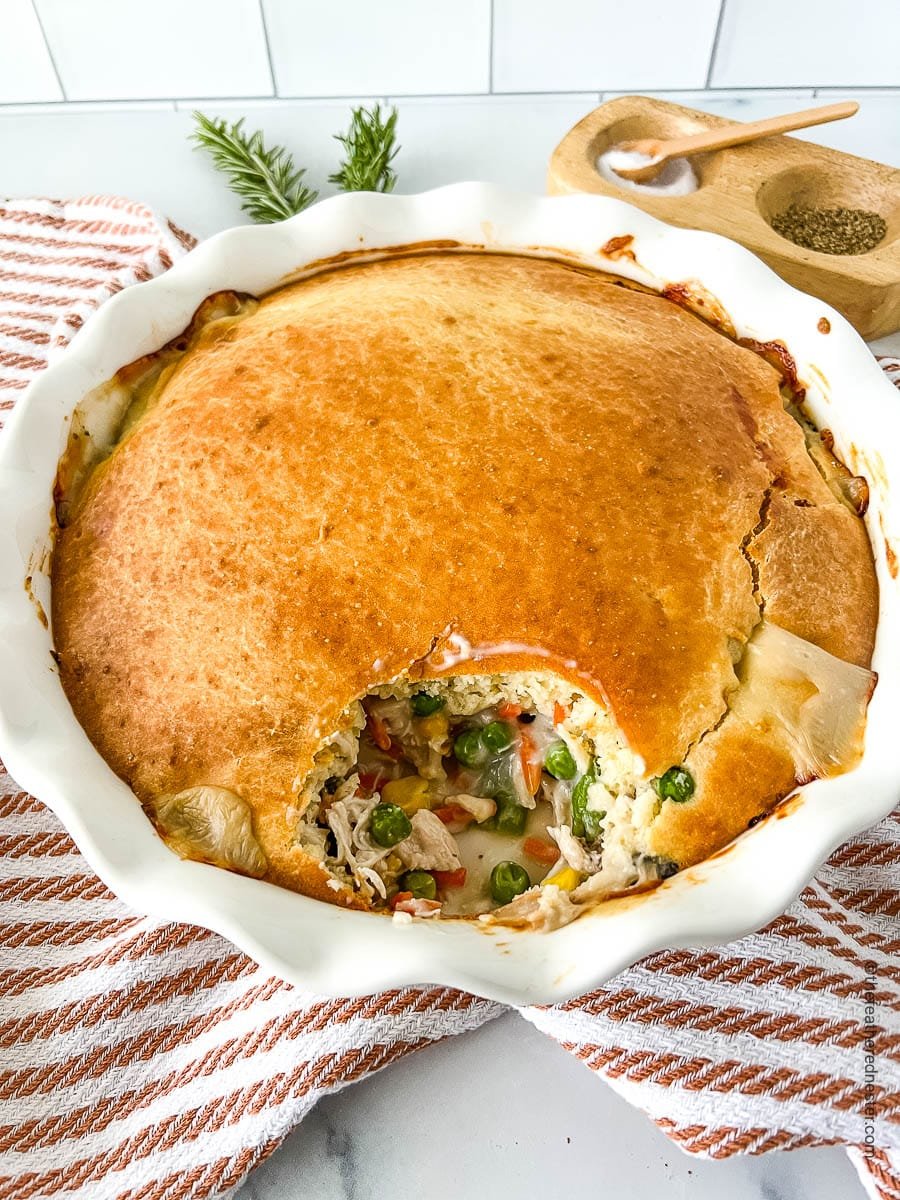 Casseroles and hot dishes have been around for decades, and with good reason! They're baked dinners that come together in a snap, and they are super versatile. On a busy night, you can grab whatever leftovers are in your fridge to use for a comfort food meal that the whole family will enjoy.
Reasons We Love Bisquick Chicken Pot Pie
It's beyond easy to make. When I say "impossible easy chicken pot pie", I mean it! There's not a pie crust to deal with – the baking mix forms an unforgettably flaky crust.

Great use for leftovers. We like to use baked chicken tenderloins or shredded rotisserie chicken.

No need to make a crust from scratch. Since it's made with Bisquick, you can whip up a savory and flaky pot pie in no time.

It's budget-friendly. Most of the ingredients for this casserole are pantry staples, so you can easily whip up a delicious dinner that won't break the bank.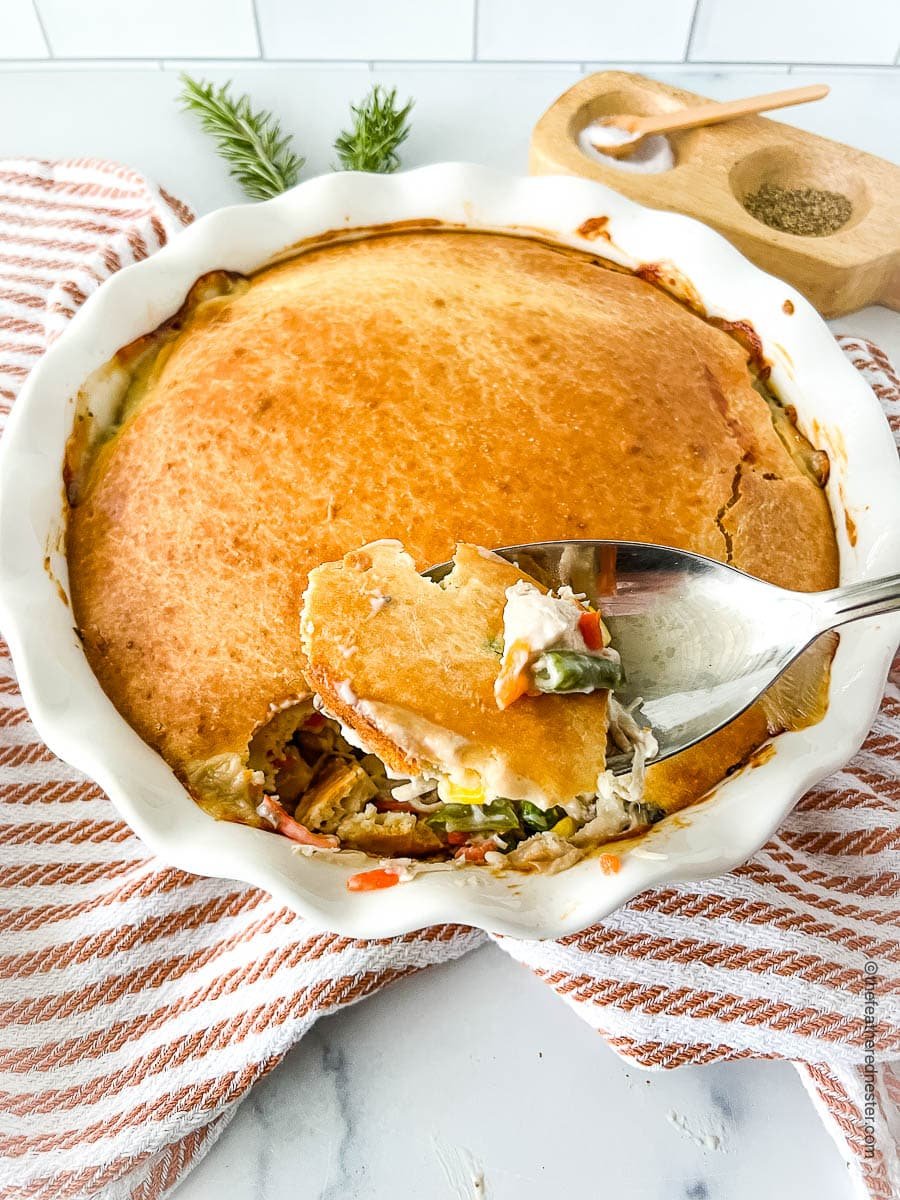 Ingredient Notes and Substitutions
Chicken – You can use leftover chicken, shred up a rotisserie chicken, or even use canned chicken. You can also substitute turkey breast – a fantastic idea for Thanksgiving leftovers!

Pie crust – To make the pot pie crust, you'll need Bisquick mix. You can use gluten-free Bisquick if you want to make a gluten-free pot pie casserole.

Filling – We use a mix of frozen vegetables, chicken broth, and cream of mushroom soup. You can substitute any combination of vegetables you like.
Are you a fan of easy dinner casseroles?
We have lots of other recipes to choose from! Favorites include Slow Cooker Cheesy Hash Brown Casserole, Bisquick Cheeseburger Pie, and Chicken Tater Tot Casserole.
Kitchen Essentials For This Recipe
Helpful Tips for Making Chicken Pot Pie Casserole
Avoid using too much filling.
To avoid a soggy pot pie, don't over fill the dish with chicken mixture filling.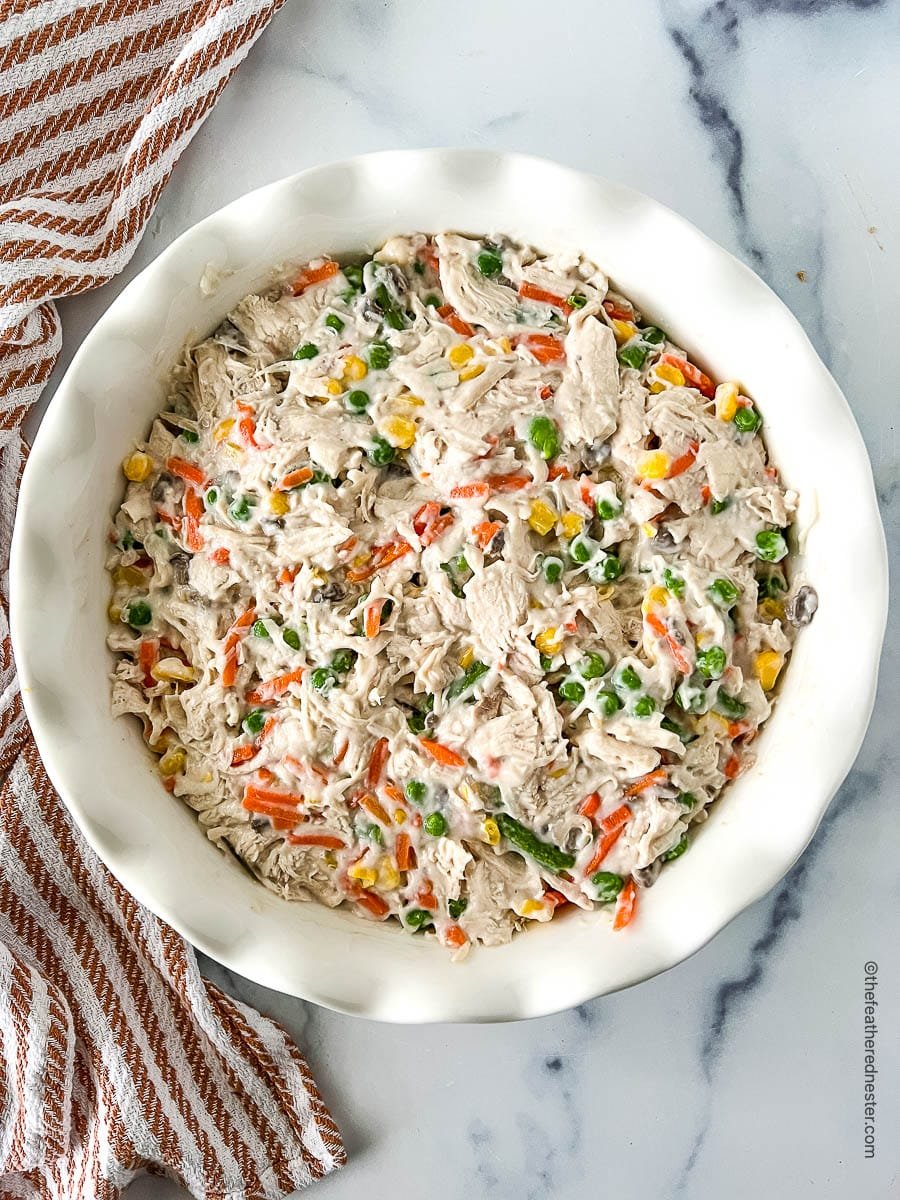 Allow the the steam to escape.
Poking a few holes in the top of the crust before baking will let the steam escape and avoid a mushy or soggy crust.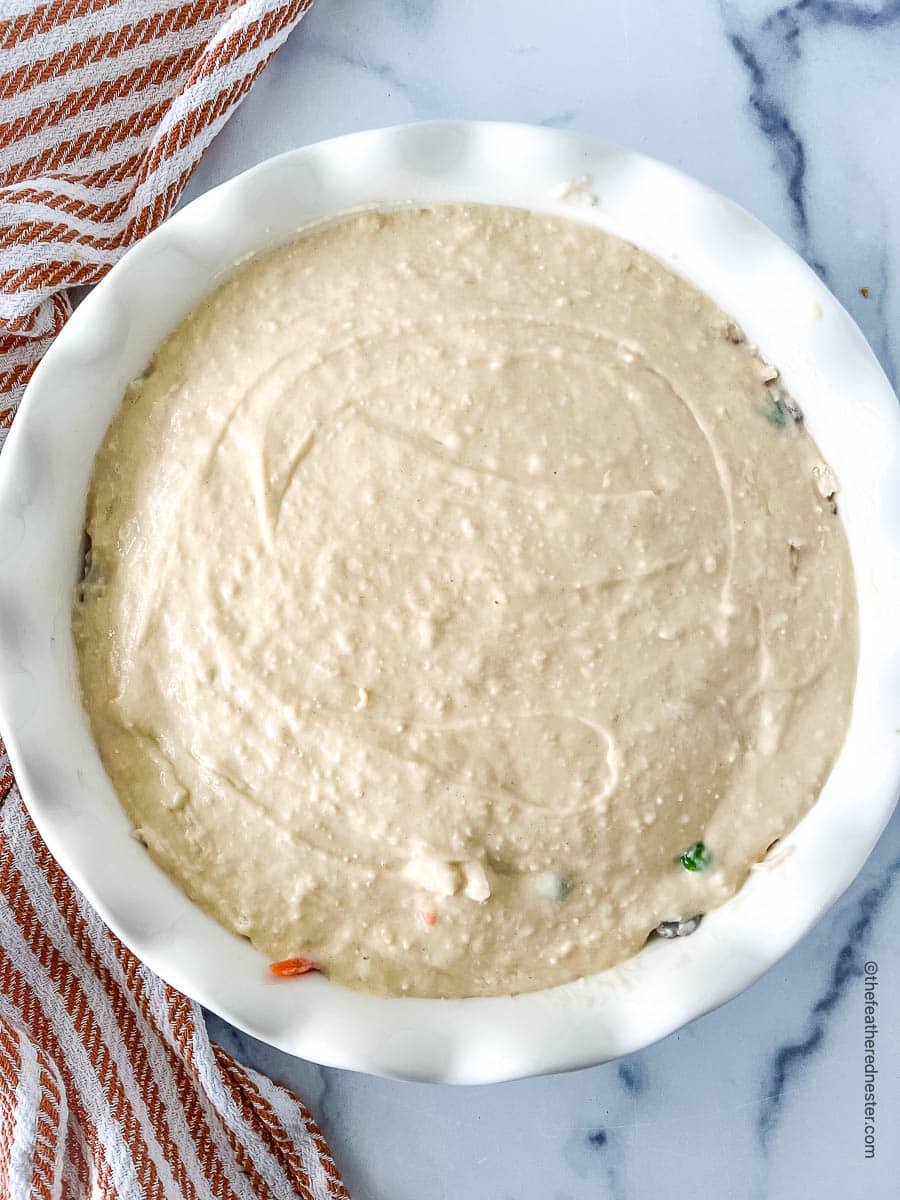 Let the casserole rest for at least 5 minutes before serving.
This ensures that the filling has time to set up and thicken properly.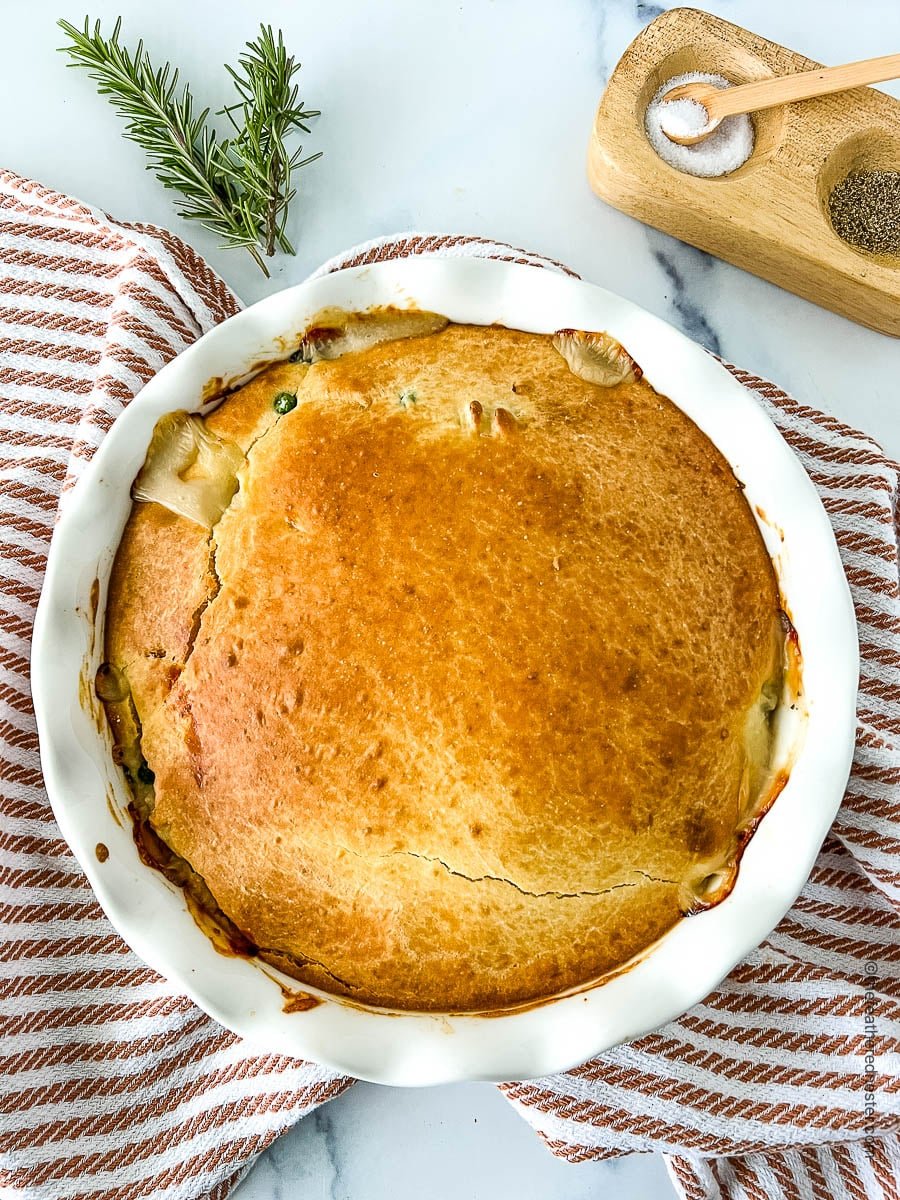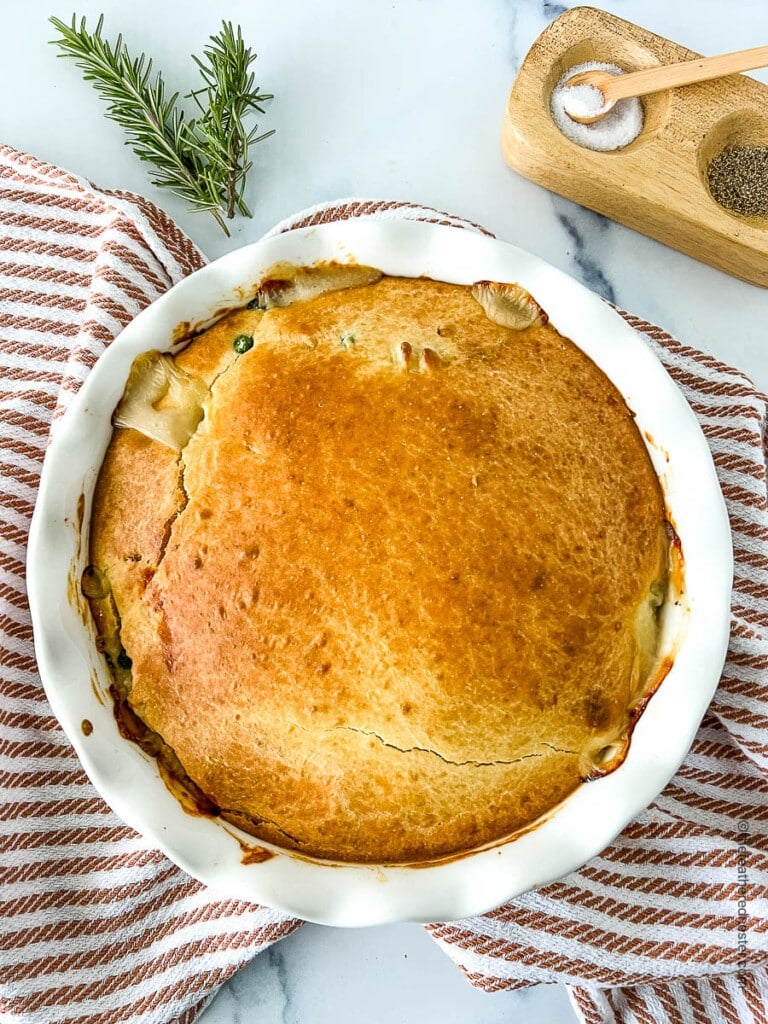 Bisquick Pot Pie Recipe Variations
Making Bisquick pot pie without condensed soup.

If you don't want to use condensed soup, this is a great substitute! To replace 1 can of condensed cream of chicken soup, mix 2 teaspoons of cornstarch in a small bowl with 1/2 cup of cold chicken stock. Then, slowly stir in 4 ounces (1/2 cup) of heavy cream.

Or, instead of heavy cream, combine 1 tablespoon of cornstarch, 1/2 cup of chicken stock, and 1/2 cup of Half & Half or whole milk.
Making chicken pot pie casserole without Bisquick.

If you have a hard time finding Bisquick mix at your local grocery store, you can use our homemade baking mix recipe instead.
Add herbs and spices for extra flavor.

This chicken pot pie casserole with Bisquick can be taken to the next level with a few simple herbs and spices. To add that little something extra, try adding 1 teaspoon of dried thyme, rosemary, or garlic powder to the filling.
Chicken Pot Pie Casserole FAQ
Why did my pot pie turn out watery?
Watery pot pie filling is often the result of either using too much liquid, or too much filling. If the casserole dish is too full, the liquid will leak out and make your crust soggy.
How do I thicken chicken pot pie filling?
This Bisquick pot pie recipe uses cream of mushroom soup to thicken the filling. If you find that your filling is still not thick enough, a cornstarch slurry will help. Simply combine a tablespoon of cornstarch and a tablespoon of very cold water, then stir it into the filling.
How long should my pie be in the oven?
Our recipe for Bisquick chicken pot pie calls for baking it at 400°F., for 30 minutes. The filling should be bubbling and the topping should be golden brown.

If the crust is becoming too dark, just cover it loosely with aluminum foil for the remaining bake time.
Serving Suggestions
There are plenty of veggies packed inside of this impossibly easy chicken pot pie, so it isn't necessary to serve additional vegetables. However, kale salad and mashed potatoes are delicious side dishes for pot pie casserole.
This is also best paired with our side dish recipes like: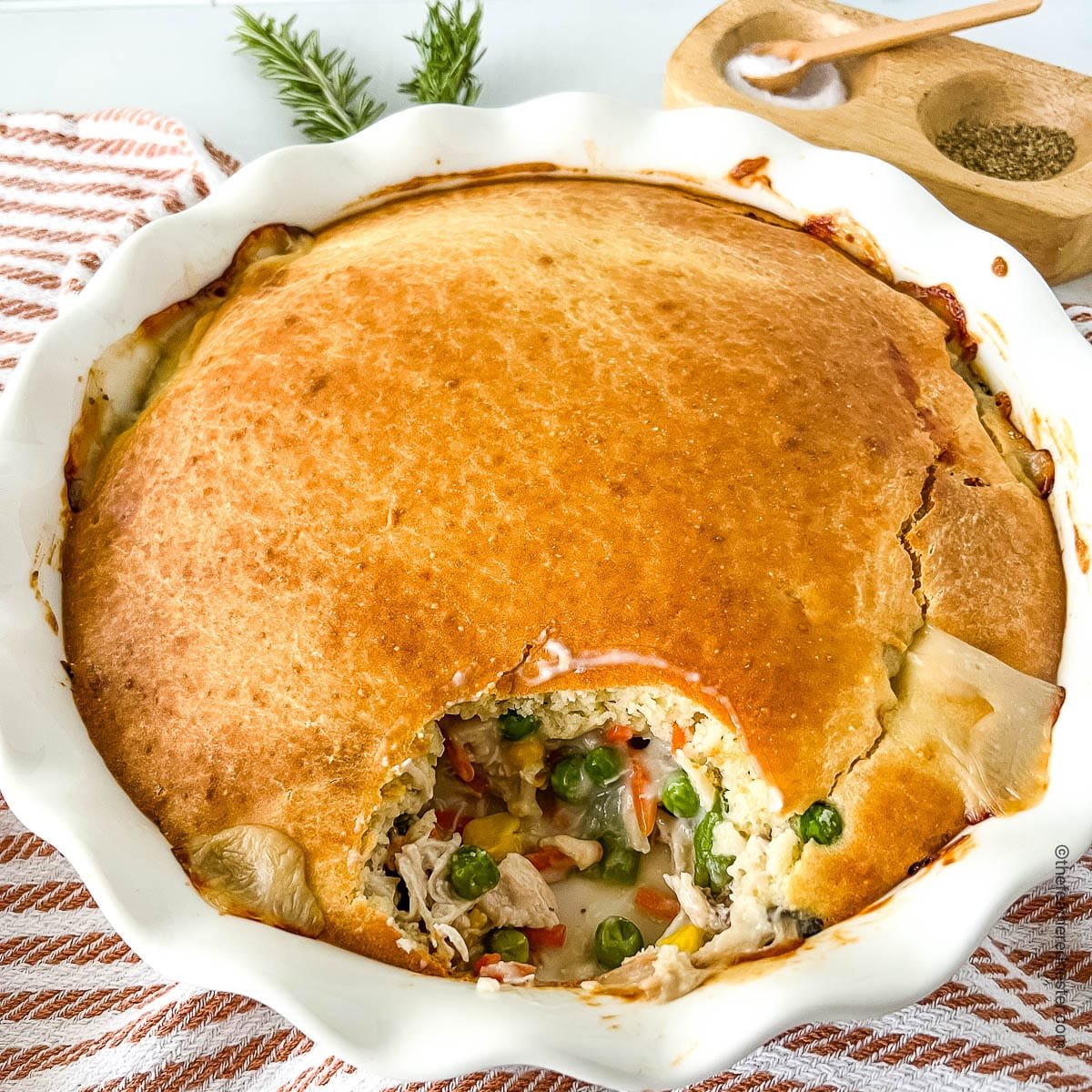 Storing and Reheating Leftovers
Store: Leftover pot pie casserole can be stored in an airtight container in the refrigerator for up to 4 days.
Reheat: You can reheat leftovers in the oven or microwave. If reheating in the oven, cover with foil and bake at 350°F for about 20-25 minutes. If reheating in the microwave, transfer to a microwave-safe dish and heat for 1-2 minutes.
Freezing Chicken Pot Pie Casserole
If you want to freeze the meal to enjoy later, allow it to cool completely before transferring it to an airtight container. Place the container in the freezer it should keep well for up to 3 months.
When ready to enjoy, transfer the dish to the refrigerator to thaw overnight. Once thawed, reheat in the oven or microwave as instructed above.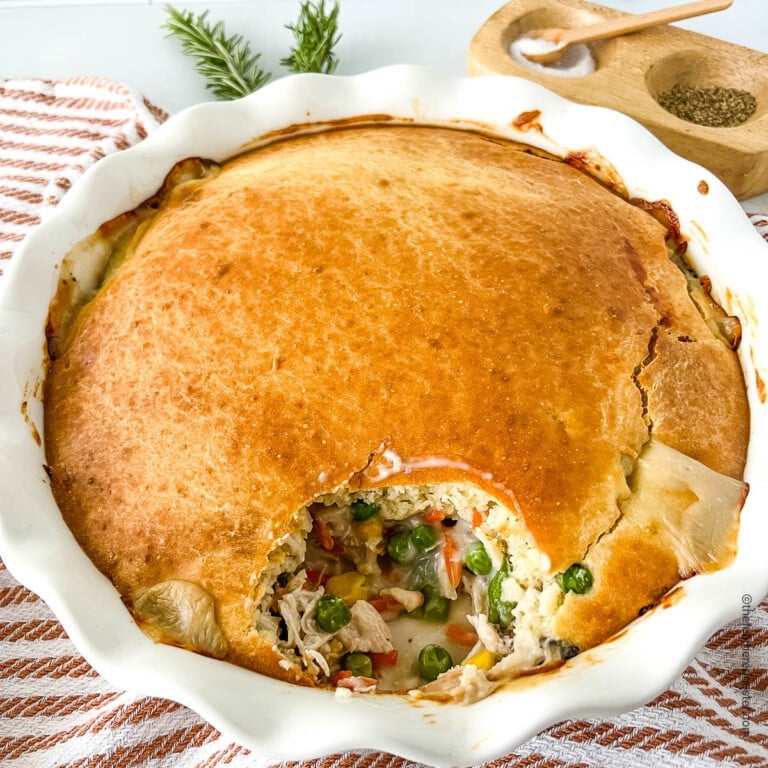 Bisquick Chicken Pot Pie
Bisquick chicken pot pie casserole is an impossibly easy recipe for dinner! Plus, it's a great use for leftover chicken, turkey, and vegetables.
Equipment
9" pie pan

medium bowl

spatula
Ingredients
2 cups cooked chicken, shredded (I like using leftover chicken or turkey)
12 ounces (1½ cups) frozen mixed vegetables thawed
1 can (10 ounces) cream of chicken condensed soup (can substitute with cream of mushroom)
1½ cups Bisquick baking mix (see notes for how to make homemade baking mix)
1 cup milk, divided (use whole milk to 2% for best results)
1 large egg beaten
1 teaspoon salt
Instructions
Preheat oven to 400ºF.

Add chicken, vegetables, condensed soup, and 1/3 cup milk to the pie plate or casserole dish. Stir together to mix well.

In a medium bowl, stir together Bisquick, 2/3 cup of milk, egg, and salt until mixed (there may be small lumps). Pour the topping over the chicken mixture and use a spatula to spread it until smooth. Use a fork to poke holes on top to let the steam vent.

Bake for 30 minutes, until the topping is golden and the filling is bubbly. Let cool at least 5 minutes before serving.
Notes
Make your own DIY Bisquick baking mix with our homemade baking mix recipes.
This recipe is perfect for using up leftover holiday turkey or rotisserie chicken. To cook your own chicken, see our recipe for how to poach your own chicken.
To make this recipe without cream of chicken or cream of mushroom condensed soup:
Mix 2 teaspoons of cornstarch in a small bowl with 1/2 cup of cold chicken stock. Then slowly stir in 1/2 cup of cream.
If you don't have cream, use 1 tablespoon of cornstarch, 1/2 cup of chicken stock, and 1/2 cup of whole milk.
Nutrition
Serving: 1serving | Calories: 274kcal | Carbohydrates: 28g | Protein: 13g | Fat: 12g | Saturated Fat: 4g | Polyunsaturated Fat: 2g | Monounsaturated Fat: 5g | Trans Fat: 0.04g | Cholesterol: 63mg | Sodium: 459mg | Potassium: 293mg | Fiber: 3g | Sugar: 5g | Vitamin A: 3022IU | Vitamin C: 7mg | Calcium: 110mg | Iron: 2mg
PIN THIS POST!