For pizza with a super soft and thick crust, start with Bisquick pizza dough! This no yeast crust recipe is easy to make and after just 20 minutes of rise time, it's ready to roll. Kids absolutely love it, and you'll be amazed at the incredible flavor and texture. Bisquick pizza crust is so tasty, you may never want to use premade dough again!
Great Reasons to Make Bisquick Pizza Dough
It's budget-friendly.
With no yeast or expensive flour blends to use, this Bisquick recipe is an easy and affordable substitute!
You can easily double the recipe to make multiple pizzas.
Make a double batch to have on hand for game day, tailgating, or when you're pressed for time and are looking for a quick meal to make.
Easy recipe for kids to make. This is a fun recipe to make with your kids. Let them get creative with toppings – they'll love building their own pizzas from start to finish!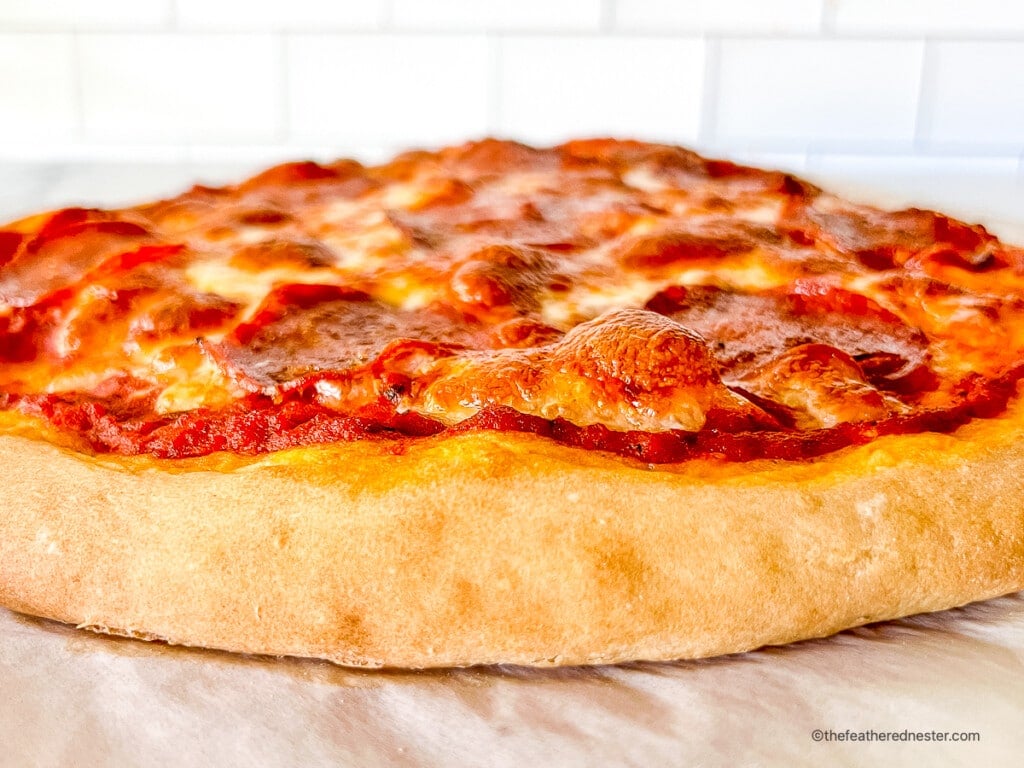 Looking for other budget-friendly, cheap meal ideas?
Run to the kitchen and whip up a delicious turkey meatloaf or crock pot smothered chicken for dinner!
Ingredient Notes and Substitutions
Bisquick Baking Mix – Keep things simple and buy a box from the store, or make our homemade Bisquick. Either way, using an all purpose baking mix makes the entire pizza-making process practically fail-proof!
Flour – You can use all-purpose or 00 flour (what some of the best Italian chefs and home cooks use in their pizzas and homemade pasta recipes!)
Using a little bit of flour creates the light texture that everyone loves about pizza crust!
Baking Powder – When you're making a no yeast pizza dough, you need to use a different ingredient to create the rise. This is what we use baking powder for.
Olive Oil – We love adding flavorful olive oil to this pizza crust with Bisquick recipe. It makes rolling out and stretching your pizza dough a lot easier, and it also adds flavor.
Dried Italian Seasoning – This ingredient is optional, but it does add a nice flavor to the crust.
Need a gluten-free option? You can use Gluten-Free Bisquick (by following the replacement instructions on the box) and any cup-for-cup gluten-free flour. King Arthur Flour even has a gluten free pizza flour.
The Best Way to Bake Pizza Dough at Home
Once you've prepared your Bisquick pizza dough, all that's left is to load it up with ingredients and bake it in the oven!
Before you do, check out our post on how to roll out pizza dough. It's full of tips for success, and instructions on how to do it without ripping the dough.
For the best results, we suggest using a cookie sheet, pizza stone, or baking pan without rimmed sides.
Ideally, the hot air in your oven should circulate completely around the top and sides of the pizza crust to help it bake evenly. Using a baking pan without sides allows for the best possible rise and a lovely golden brown crust.
If you're curious about other types of pizza dough, check our recipes for sourdough pizza crust and traditional pizza dough!
Recipe Tips
Be sure the water is warm enough.
You need to add liquid to your Bisquick batter, and it must be hot water that's between 105 and 115° F. This will encourage the leavening and rising agents to do what they do best: create a soft and fluffy crust.
Let the dough rest.
To make it easier to stretch and roll out pizza dough with Bisquick, you need to allow the protein strands (gluten) to relax. Allow at least 20 minutes of rest time for this; the dough will rise during this time as well.
Aim for a soft but slightly tacky texture.
After the rest, the dough should be soft, but slightly tacky.
Knead and stretch the dough before rolling it.
It can be so frustrating to work with pizza dough that won't hold its shape! We suggest that you knead and stretch the dough for about 15 seconds before rolling it — this tightens the dough so that it doesn't shrink down as you're trying to roll it.
Use parchment paper for the best results.
After you've formed the dough ball, place it on a sheet of parchment paper before you take your rolling pin to it. This makes transferring the dough to the pan or pizza stone a lot easier.
Get the kids involved!
Once you have your perfectly shaped pizza dough ready, it's time to add your favorite toppings! This is a great moment to get your kids involved. They'll love watching their creations bake up in the oven.
Pizza Crust with Bisquick FAQ
What is the secret to great homemade pizza dough?
The key is hydration, with hot water. Homemade pizzas typically need more time in the oven than they would in a restaurant oven. This means the dough needs to be properly hydrated. If not, it will dry up very quickly, and you'll end up with rock-hard results.
What's the difference between pizza dough and biscuit dough?
There are a few key differences between traditional pizza dough and biscuit dough. Pizza dough uses olive oil for extra flavor, as well as yeast to help it rise.

In comparison, biscuit dough leans on butter for added flavor, and baking soda or baking powder to create the rise.
The great news is, this is a yeast pizza dough recipe. So, you've got the amazing flavor of classic pizza dough with 00 flour, but without the hassle of using yeast!
Storing and Reheating
Bisquick pizza dough will last for up to 4 days on its own in the fridge in an airtight container. Let it rest at room temperature for 10-15 minutes before using.
This recipe makes enough for one 12-inch pizza crust. If you want to double the recipe and save some dough to use later, see our post for instructions on freezing pizza dough.
If you have leftover pizza, it will keep in the fridge for 3-4 days wrapped in plastic. Reheat in the microwave, an oven, or enjoy leftover fire grilled pizza!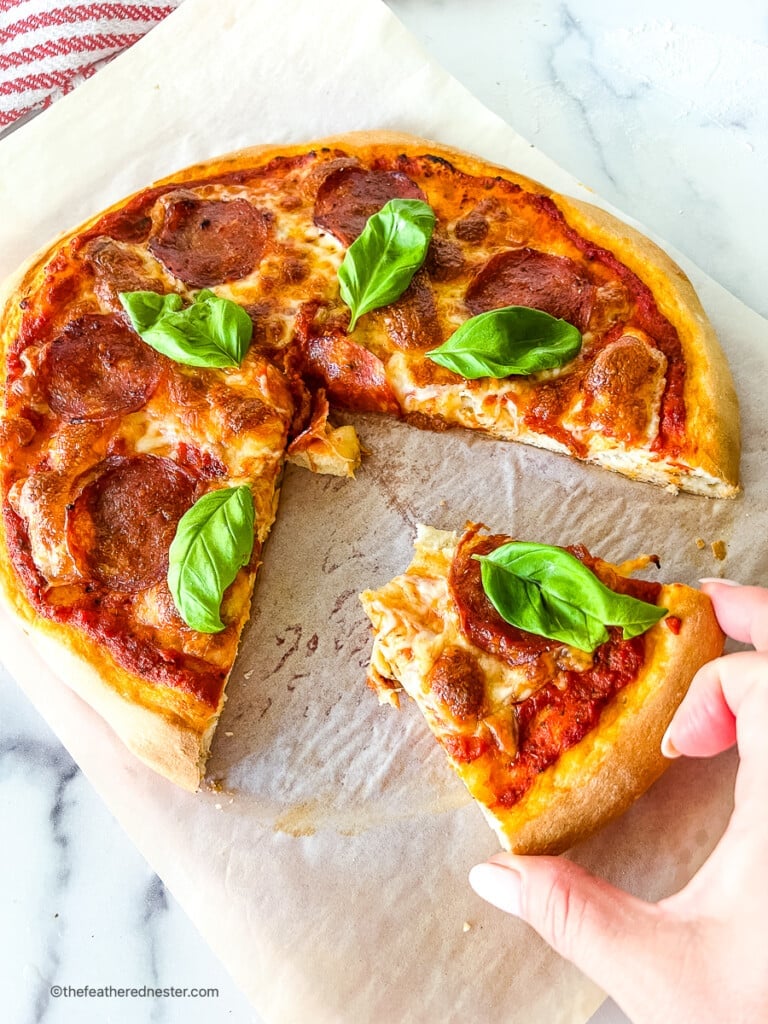 To Make Pizza Dough with Bisquick, Renae Recommends
Bisquick Pizza Dough + Baking Instructions
Bisquick pizza dough makes a pillowy soft pizza crust that kids love! This easy no yeast pizza dough recipe is better than packaged crusts!
Equipment
large mixing bowl

rolling pin

cookie sheet
Ingredients
1 ½ cups Bisquick baking mix
¾ cups 00 flour or all purpose flour
1 ½ teaspoons baking powder
½ teaspoon kosher salt or 1/4 teaspoon sea salt
½ teaspoon dried Italian seasoning optional
2 teaspoons olive oil
⅔ cup hot water
Instructions
To a large mixing bowl, add Bisquick, flour, baking powder, salt and optional Italian seasoning; whisk to combine. Add hot water and olive oil to the bowl and using a dough whisk, stir to combine until the dough comes together and clears the sides of the bowl.

Cover bowl with a clean kitchen towel and let the dough rest for 20 minutes.

At this point, the dough can be rolled out (below) for a 12-14-inch pizza crust or 3-4 stromboli or calzones.
Rolling and Baking Instructions for Pizza
Preheat oven to 450°F.

Set the Bisquick pizza dough on a lightly floured work surface and sprinkle a little flour on top. Knead the dough for 15 seconds until it tightens.

Transfer dough to a sheet of parchment paper or well oiled cookie sheet. **See NotesUse a rolling pin to roll the dough into a 12 to 14-inch circle, about 1/4-inch thick.

Use a large spoon to spread pizza sauce over crust, leaving a 1-inch margin on the outer edge. Add desired toppings.

If pizza is on parchment paper, gently pull or slide the paper to move both the paper and pizza onto a baking sheet. Bake in preheated oven for 15-18 minutes, until the crust is golden and the center is bubbly.
Notes
For baking, we recommend using a cookie sheet, pizza stone, or a baking pan without rimmed sides. This allows the hot air to circulate around the entire crust, creating the best possible rise and golden color.
Nutrition
Serving: 1 slice | Calories: 149kcal | Carbohydrates: 23g | Protein: 3g | Fat: 5g | Saturated Fat: 1g | Polyunsaturated Fat: 1g | Monounsaturated Fat: 3g | Cholesterol: 0.5mg | Sodium: 513mg | Potassium: 51mg | Fiber: 1g | Sugar: 3g | Vitamin A: 3IU | Vitamin C: 0.1mg | Calcium: 89mg | Iron: 1mg
PIN THIS POST!