Have you ever wondered if can you use frozen bread dough to make pizza? Well, I did, too, and decided to try it out. After lots of testing (and tasting), I created this foolproof recipe for how to make pizza from frozen dough. And I'm so excited to share it with you!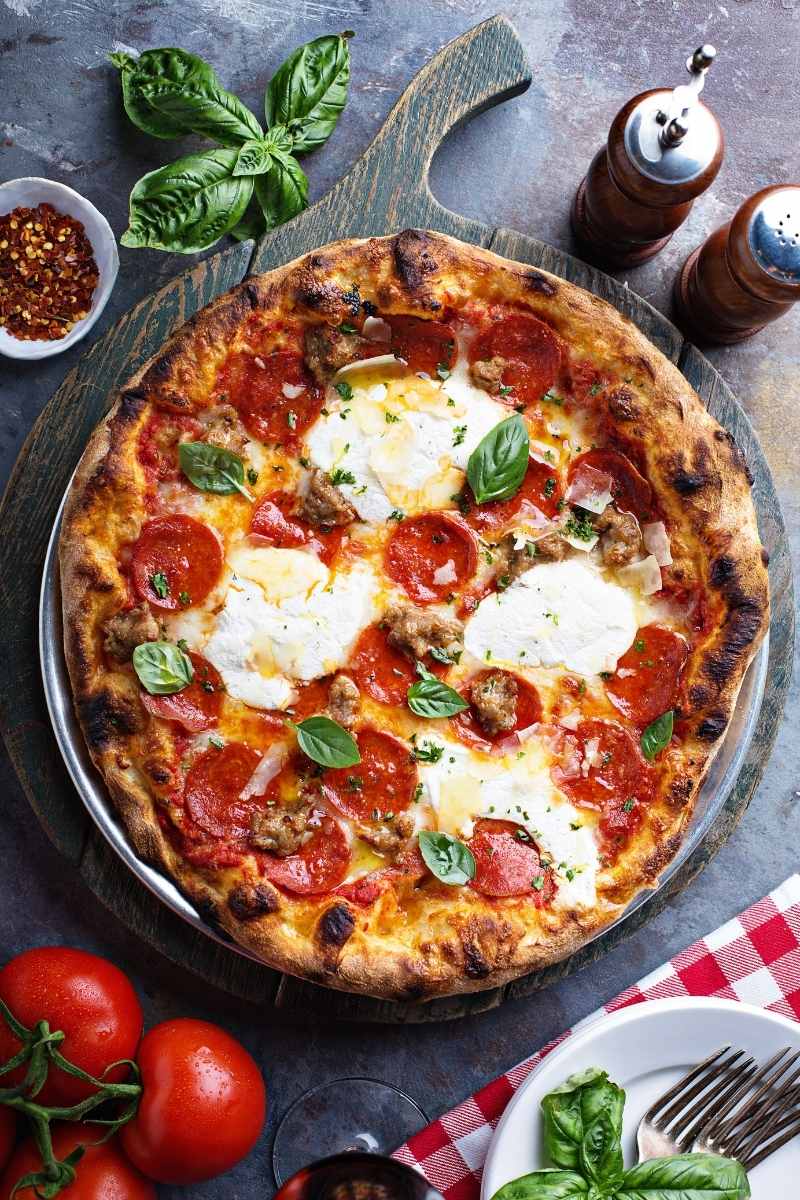 Homemade pizza with store-bought dough is easy and fast to prepare. Simply thaw the ready-made rough, shape it, and load it with your favorite pizza toppings, and bake to perfection.
Homemade Pizza With Ready Made Frozen Dough
I am a big fan of frozen bread dough. It's such a simple and handy ingredient – and much more versatile than you might think.
I have made many frozen bread dough recipes over the years…from sweet dishes like Monkey Bread to savory favorites like this Pesto Cheese Bread Twist. And each one is always a hit!
In fact, I always keep a bag of Bridgford Ready-Dough in the freezer. That way I can make a variety of comforting meals in a snap.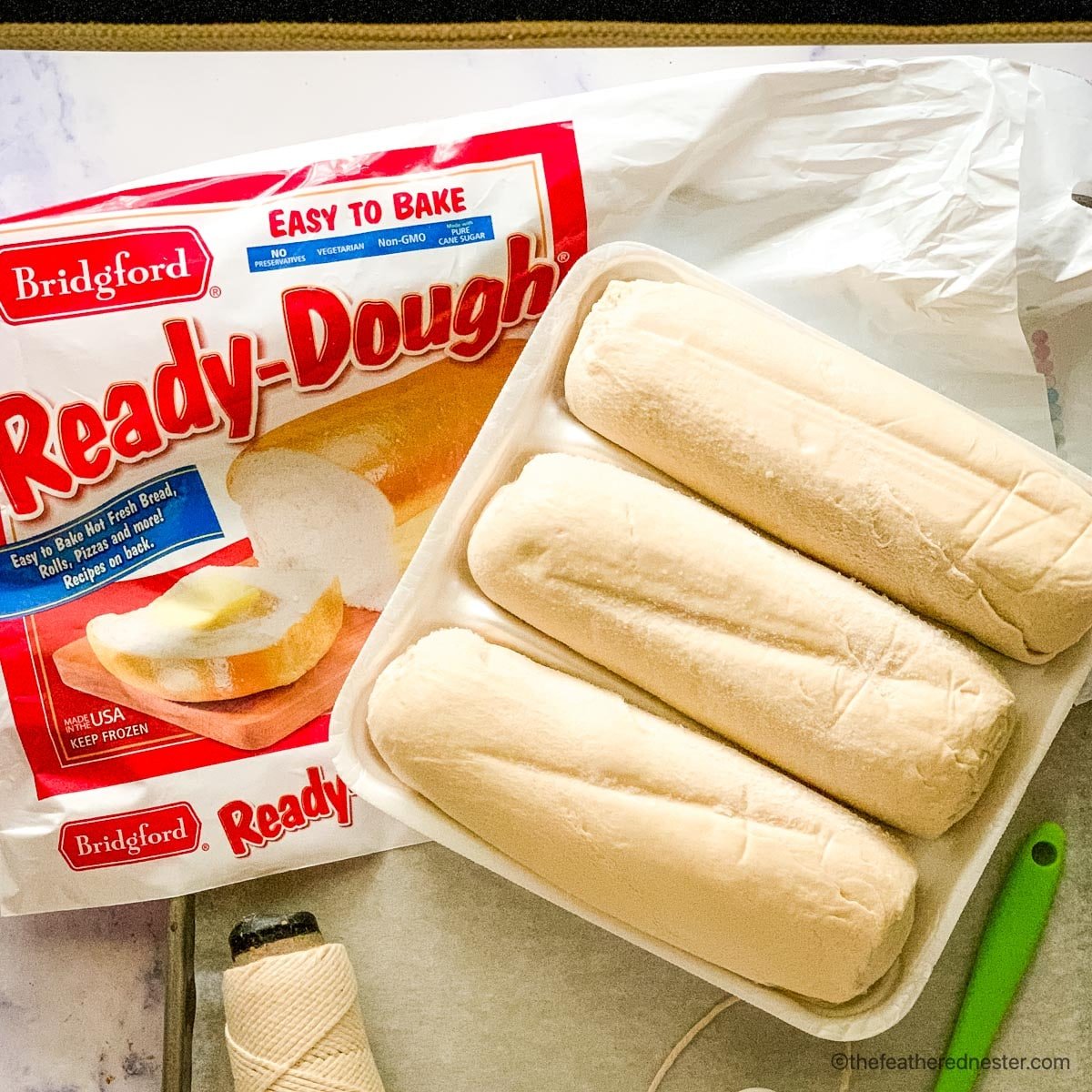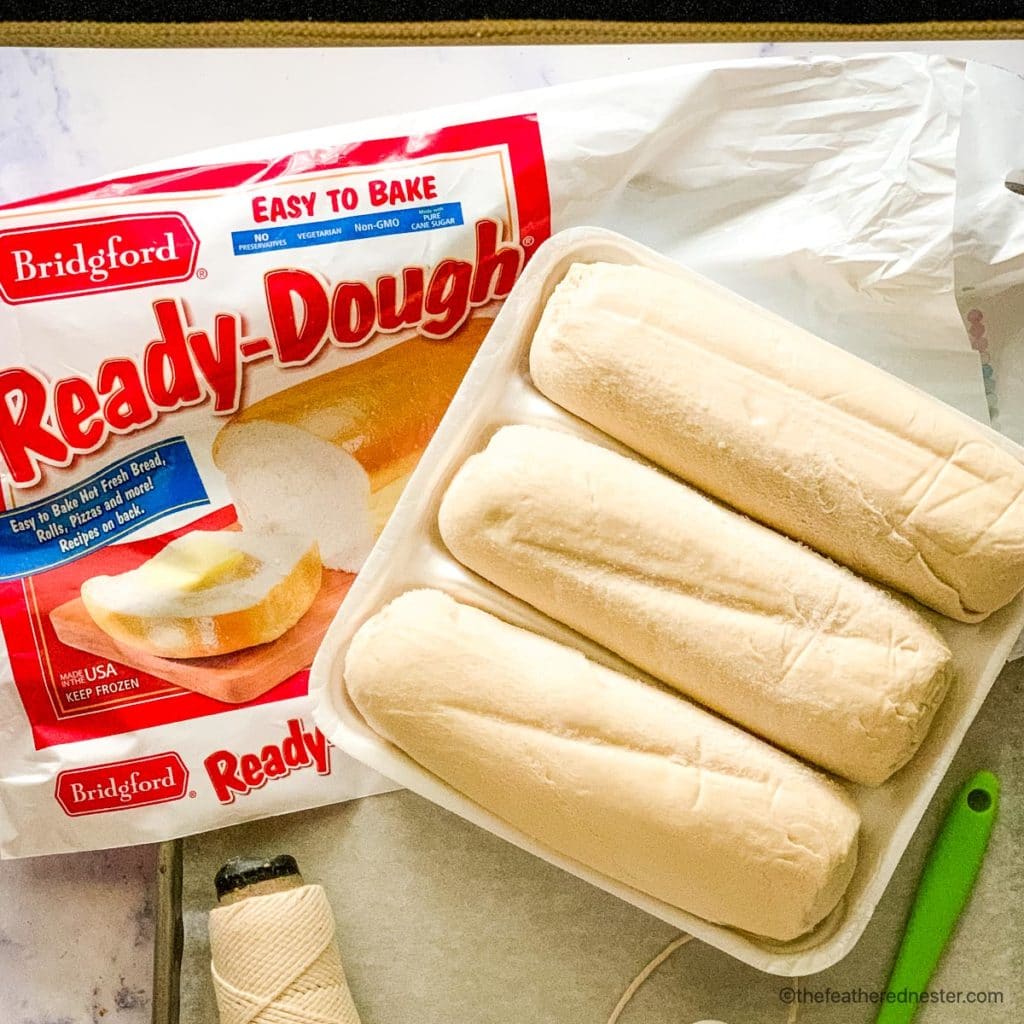 Although frozen dough does need to be thawed first (see tips below), it's still much easier than making dough from scratch.
This delicious homemade pizza recipe is one of my family's favorites. It's quick to prepare once the dough is thawed, and the kids love to help.
Plus, you get a lot of bang for your buck: There are 3 frozen bread loaves in each bag, and one loaf is enough dough for two personal pizzas. So that's six individual pizzas per bag of Bridgford Ready-Dough!
What makes this pizza recipe a big hit is that using store-bought dough ensures the crust will be perfect every time.
Pizza night is always a special night in our house. From time to time, I have forgotten to prepare my pizza dough ahead of time.
When that happens, I can always pull out a loaf of frozen dough to save pizza night!
Get more recipe ideas for frozen bread dough in this post on frozen bread dough recipes.
Ingredient Notes And SUbstitutions
Frozen bread dough – I prefer using Bridgford Ready-Dough.

Pizza sauce – You can also use our marinara sauce.

Italian seasoning – If you don't have Italian seasoning, some fresh herbs, like basil, thyme, or rosemary, are really nice. They add a great pop of fresh flavor after the pizza has been baked.

Olive oil – Or use any other type of oil, such as vegetable or canola oil if you prefer.

Kosher salt – This is used to season and adds flavor. However, you can also use sea salt or table salt for this recipe.

Shredded mozzarella – This is the most commonly used cheese in making pizza because it melts and mild flavor. But you can also use any cheese or mix of cheeses for more flavor.
Plus whatever toppings you like. Personally, I love pepperoni, salami, diced ham (or chicken), and pineapple.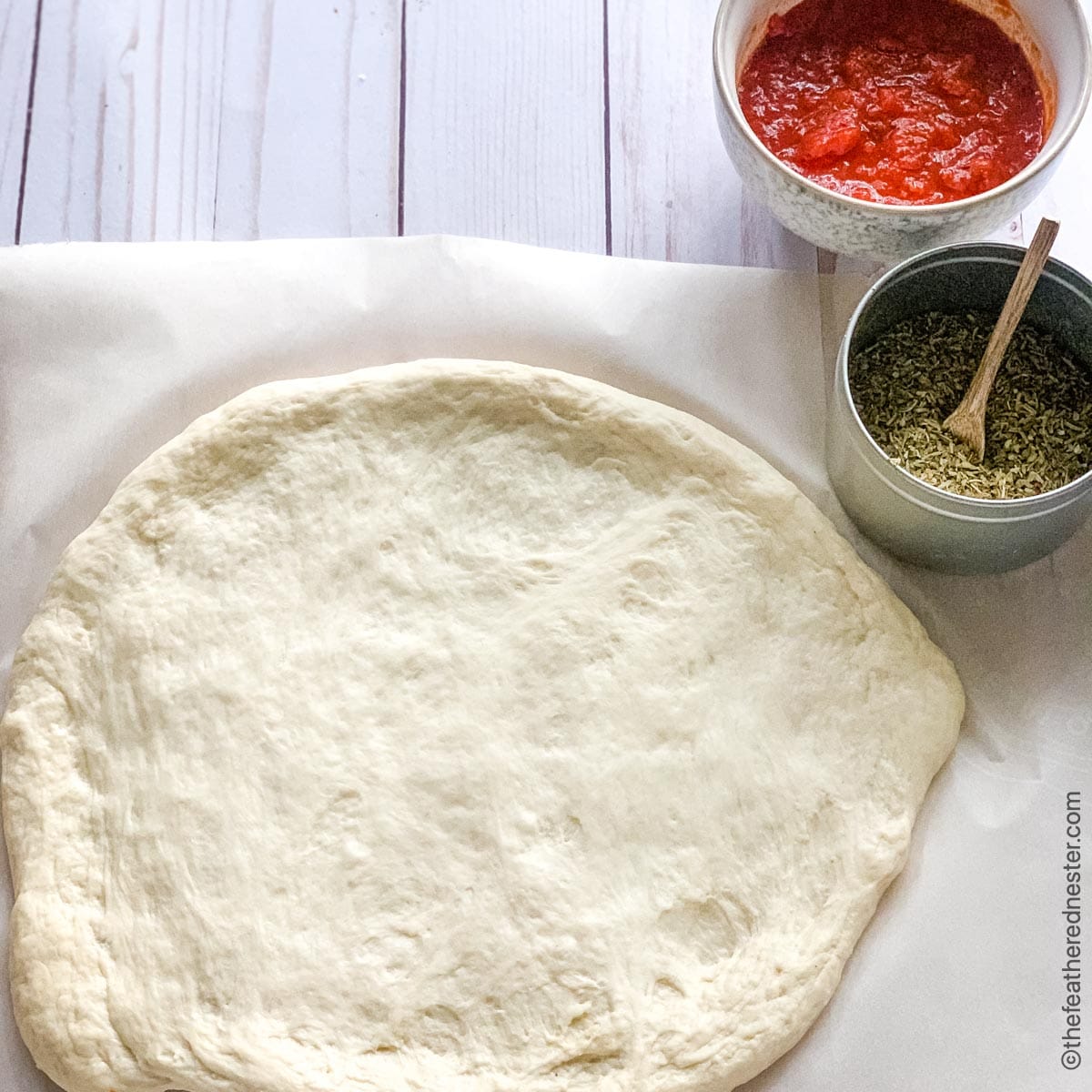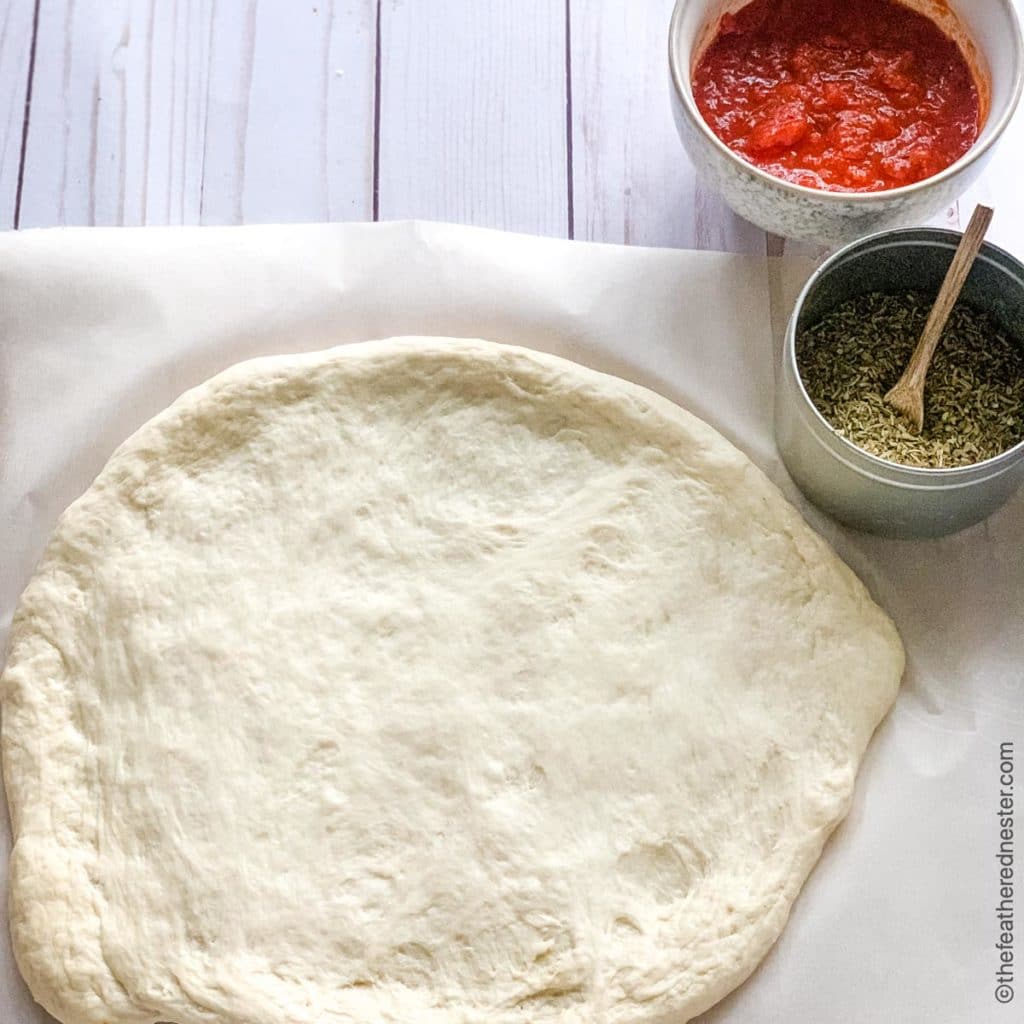 How Do you make pizza from frozen dough?
The first step for making homemade pizza with ready-made bread dough is to thaw from frozen. There are two methods for doing so:
Defrost in the fridge overnight for 8-10 hours. Place the frozen loaves on a baking sheet and cover them with plastic wrap. Both the baking sheet and plastic wrap should be first sprayed with cooking oil. DO NOT skip the oil.
Quickly defrost at room temperature in 2-3 hours. Prepare the frozen dough as described above. Then leave it on the countertop to thaw.
Once thawed, separate each loaf into two sections of dough. Shape each section into a ball.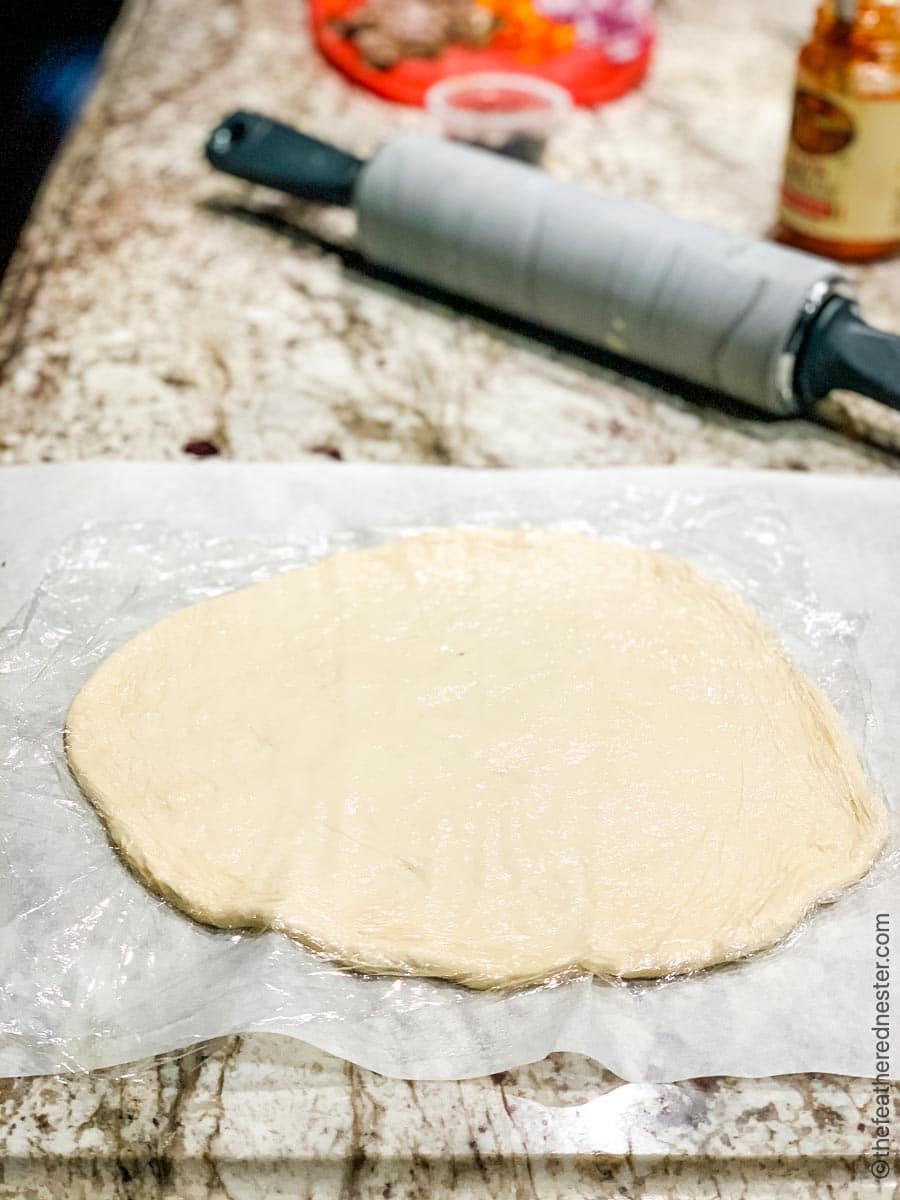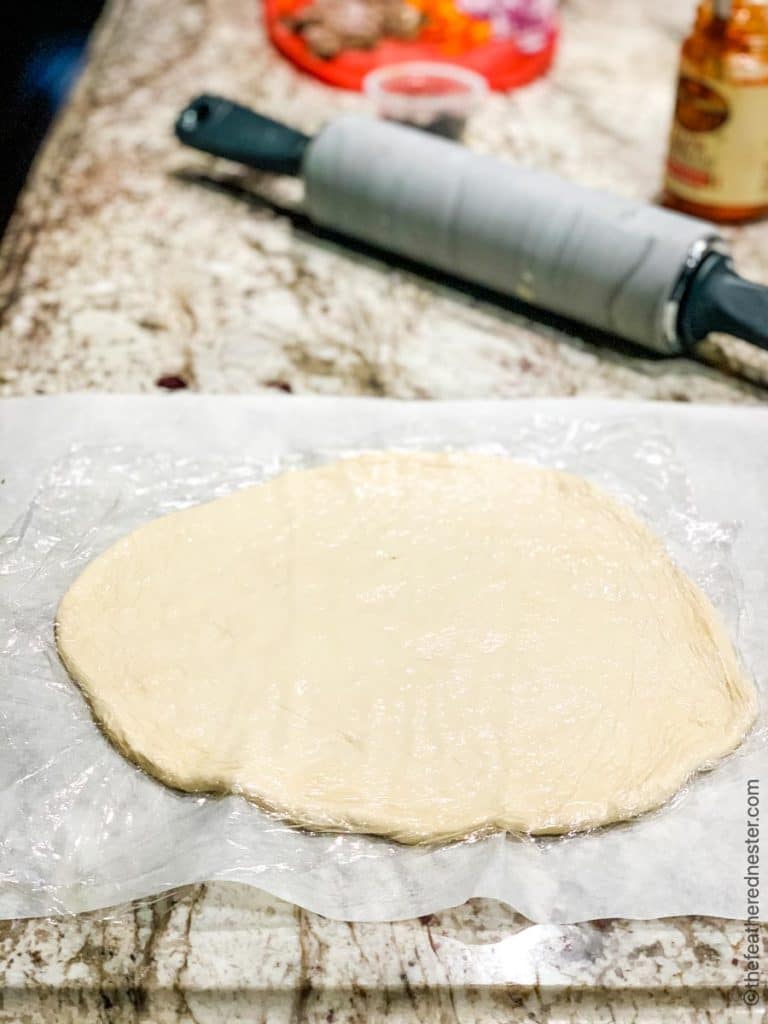 Then use a rolling pin or your hands to stretch the dough into a round shape. Transfer the pizza crust to a baking sheet, and lightly drizzle with oil.
Pre-bake the crust for 5 minutes in a 450° preheated oven. Meanwhile, prepare the toppings.
Remove the dough and increase the oven temperature to 500 degrees. First, add the sauce to the pizza, then seasonings, shredded cheese, and toppings.
Leave about an inch around the edge of the dough. Brush this outer crust with olive oil and add a sprinkle of salt.
Bake the pizza for 7-10 minutes. The cheese should be bubbly, and the crust light golden. Take the pizza out of the oven, and let it cool for several minutes before cutting and serving.
Tips for making the best homemade pizza with Store bought Dough
Let the pizza dough rise for a few hours at room temperature so it is easy to shape. If your dough is hard to shape, place it between two pieces of plastic wrap.
If you like to add a lot of toppings or cheese, baking the crust first (see below) is a must.
Brushing a little olive oil around the crust of the dough is what creates that signature golden crust. Don't skip this step!
Add any fresh herbs, like basil, after the pizza is done in the oven. The herbs will turn brown and wilt if baked.
See below for our complete pizza recipe with ready-made frozen dough!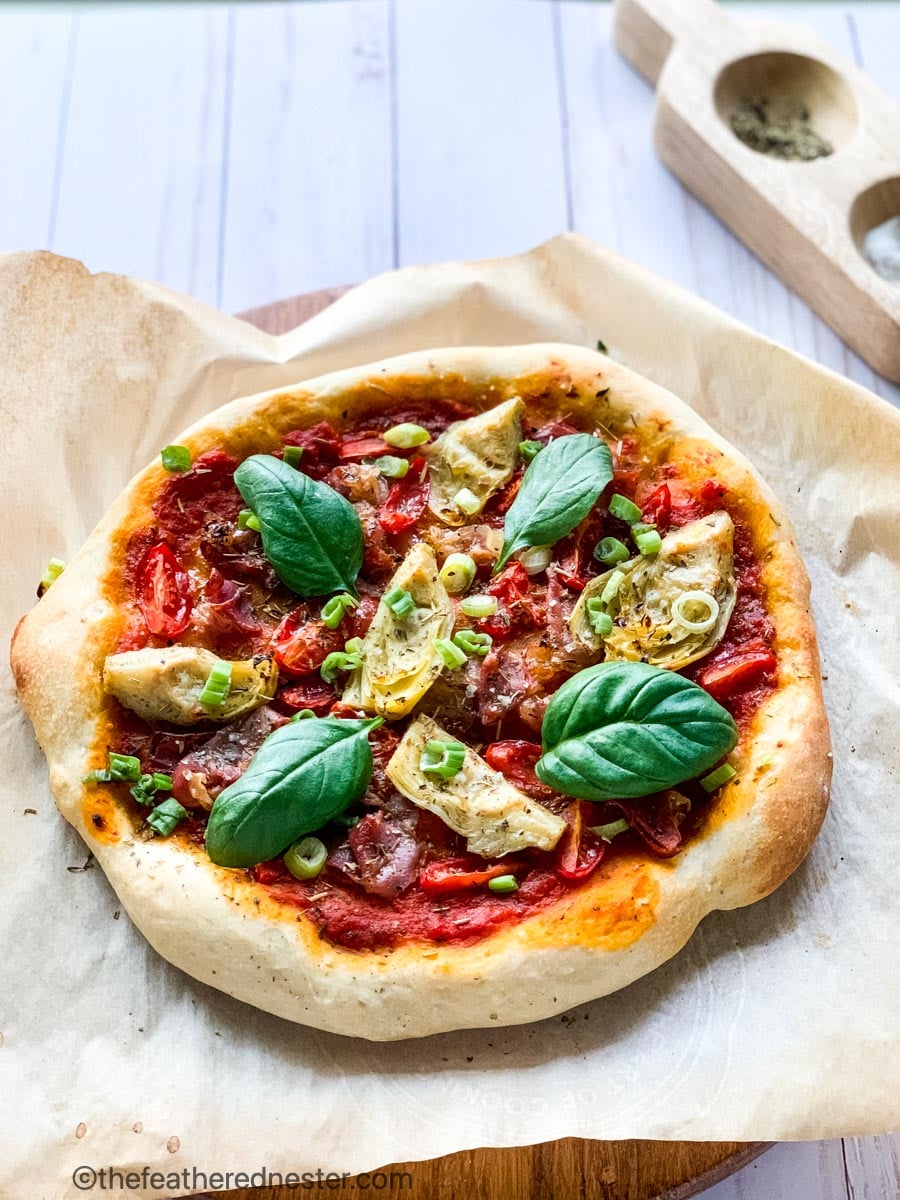 How to Reheat Leftover Pizza
My favorite way to reheat pizza is in the air fryer! I air fry the pizza at 325º for 5 – 7 minutes.
The second favorite is in the oven. Bake at 350º for 10 minutes. For a crispier crust, place a sheet of foil under the pizza.
My least favorite way is to microwave leftover pizza. To keep it from becoming soggy, I place a paper towel under the pizza and cover it with parchment paper. Microwave the pizza in 30-second increments to prevent it from overcooking.
Frequently Asked Questions
Why do you bake the pizza crust before putting toppings on?
For a variety of reasons: First, frozen bread dough has a higher protein flour, so pre-baking the pizza first prevents the crust from becoming soggy. Second, if you add a lot of toppings (like my husband does) it ensures an evenly baked crust.
How long does homemade pizza made with store bought dough last?
Cooled leftovers can be kept in the fridge for about 3-4 days. See my tips above on how to reheat leftover pizza.
the recipe to make pizza from Bridgford ready made frozen dough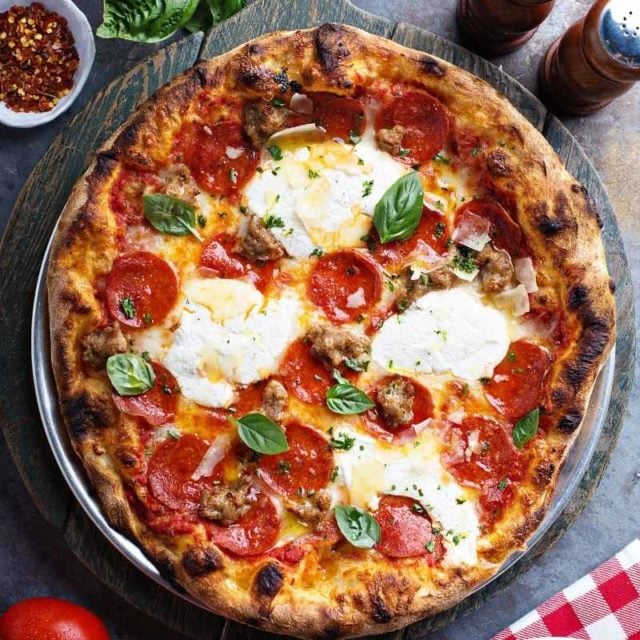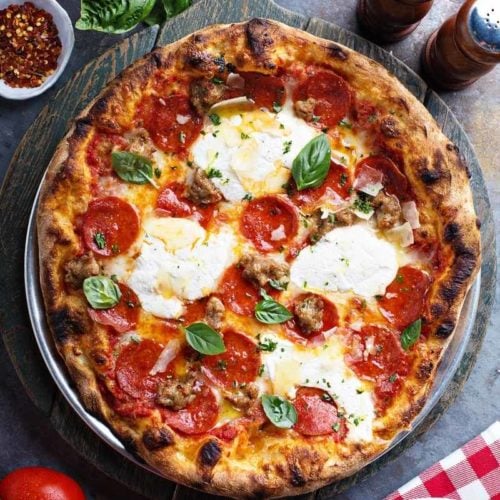 Pizza from Frozen Bread Dough
Make the easiest pizza crust ever using frozen, pre-made dough. Skip the hassle of making yeast dough Just thaw, shape, and bake. It's that easy!
Ingredients
1 loaf frozen bread dough (there are 3 loaves in a bag)
1 cup pre-made pizza sauce
2 teaspoons dried Italian seasoning
1 tablespoon olive oil
¼ teaspoon Kosher salt
1 cup (8 ounces) shredded mozzarella
2 cups pepperoni, salami, diced ham or chicken, pineapple, onions,
2 tablespoons fresh herbs basil, thyme, rosemary
Instructions
Thaw frozen dough
Let dough thaw overnight in the refrigerator (see here for other ways to thaw frozen dough). Pull it out and set it out on a counter for 30 minutes up a few hours before making pizza. When you're ready to shape and bake the pizza, preheat the oven to 450ºF.
Shape and stretch the dough
Divide the pre-made pizza dough into two. Shape each half into a ball. Use a floured rolling pin to shape the dough into a round crust. Or, shape it by hand by stretching it with your upturned hands to pull the dough from underneath in an outward motion.

When the crust is the desired size, transfer it to a sheet pan lined with parchment paper and a light drizzle of olive oil.
Pre-bake the crust
Bake the bare pizza dough in the oven at 450ºF for 5 minutes. While it is baking, prepare your toppings.

Once the dough is ready, take it out and preheat the oven to 500ºF. Add the sauce, dried herbs, cheese, and other toppings to the pizza crust, leaving a 1" edge around. Brush olive oil around the outer crust of the dough, then lightly sprinkle the edges with salt.

Bake the pizza at 500º F for 7-10 minutes or until the cheese is bubbly and the edges of the crust are golden. Let the pizza cool for a few minutes before adding fresh herbs, then slice and serve.
Notes
Get tips on how to thaw pizza dough.
Cooled leftovers can be kept in the fridge for about 3-4 days. Reheat cold pizza in a 350º oven for 5-10 minutes for the best taste and texture.
Nutrition
Serving: 1pizza | Calories: 697kcal | Carbohydrates: 11g | Protein: 49g | Fat: 51g | Saturated Fat: 21g | Polyunsaturated Fat: 5g | Monounsaturated Fat: 20g | Trans Fat: 1g | Cholesterol: 178mg | Sodium: 1760mg | Potassium: 756mg | Fiber: 3g | Sugar: 7g | Vitamin A: 1859IU | Vitamin C: 16mg | Calcium: 663mg | Iron: 4mg
PIN THIS POST!
For more meal inspiration, follow me on Instagram or on Facebook!
Make Pizza Night a Regular thing! Here are more Pizza recipes you'll love